The Best Animated Movies of 2016
By now, most discerning adults know big screen cartoons aren't necessarily "kid stuff." That doesn't mean they're all masterpieces either.
With so many animated films arriving in theaters every week -- often boasting famous celebrity voices, cute character designs, and an annoying song you won't be able to get out of your head -- it can be challenging to know which ones are worth checking out and which ones feature irritating Justin Timberlake songs. (Sorry, Trolls.) To help you make sense of this brightly colored landscape, we've selected the best animated movies of the year, with winners from blockbuster studios like Disney, Pixar, and DreamWorks, along with smaller titles that perhaps haven't made it to your local cinema yet, but are totally worth seeking out.
Pixar
8. Finding Dory
Released: June 17
Director: Andrew Stanton
Sometimes the best supporting characters are second bananas for a reason, existing to prop up the hero on his or her journey. The forgetful bluefish Dory is the rare sidekick who can swim on her own. While Finding Dory hits many of the same emotional and story beats as the original -- this time Dory is the one looking for her parents, leaving Marlin (Albert Brooks) to track her down to a fish rehabilitation center in California -- this clever sequel delivers enough memory-loss gags, light parental trauma, and show-stopping, Fast and Furious-style set pieces to keep adults entertained and kids enthralled. While it lacks the poignancy of the Toy Story sequels, there's still a surprising amount of depth to this DeGeneres deep dive. -- Dan Jackson
Where to watch it: Stream it on Netflix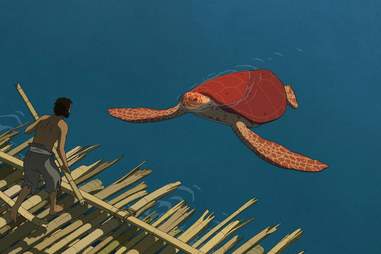 Wild Bunch/Studio Ghibli
7. The Red Turtle
Released: September 17 (in Japan)
Director: Michaël Dudok de Wit
This co-production between Dutch animator Michaël Dudok de Wit and Studio Ghibli, the Japanese studio behind classics like Spirited Away and Princess Mononoke, is the story of a man who fucks a turtle. Technically. The romance is more elegant under Dudok de Wit's melancholic and meditative direction; after several attempts to escape his deserted island, thwarted by the rosy reptile's knack for destroying bamboo rafts), the man flips the turtle on her shell, sentencing her to a slow-baked death. His guilt transforms the animal into a human woman, who becomes a much needed companion (... and lover). The metaphors don't quite add up, but The Red Turtle is so gorgeous, so restrained, and so curious about life's tiniest moments that it's hard not to lose oneself to Dudok de Wit's meditative vision. Where a man fucks a turtle. -- Matt Patches
Where to watch it: Back in theaters after a limited 2016 release.
Disney
6. Moana
Released: November 13
Director: Ron Clements and John Musker
Disney Animation's second feature film of 2016 applies the Princess Movie blueprints to an ancient Polynesian tribe. Moana is the rightful heir to her island's throne, but the call of the wild -- not to mention an incoming attack by a neighboring lava demon -- send her sailing across the Pacific to discover her true destiny. With a muscle man demigod (voiced by The Rock) as her sidekick, and empowered by songs from Hamilton writer-star Lin-Manuel Miranda, Moana is a breezy, elemental follow-up to Disney's plasticized phenomenon, Frozen. -- MP
Where to watch it: In theaters
Columbia Pictures
5. Sausage Party 
Released: August 12
Director:  Greg Tiernan and Conrad Vernon
With a worldwide box office haul of over $140 million, this gross-out food pun epic made history by becoming the highest grossing R-rated animated film of all time. (Suck it, Waking Life.) Unsurprisingly, star and co-writer Seth Rogen's movie racked up those impressive numbers by sticking closely to the Pixar playbook, flipping the central concept of Toy Story into a filthy culinary bonanza. Instead of Buzz and Woody, we follow the plight of titular sausage Frank (Rogen) as he attempts to woo hot dog bun Brenda (Kristen Wiig) and lead a revolt on behalf of his fellow supermarket products. Though the film gets incredibly dirty -- the climactic orgy scene can't be unseen -- the story has a wholesome heart and a humanistic message. Like the family-friendly films on this list, it uses animation to enrich the imagination, tickle the funnybone, and enhance the mind. There's just more dick jokes here. So many more. -- DJ
Where to watch it: Rent on iTunes, Amazon, and VOD
Dreamworks Animation
4. Kung Fu Panda 3
Released: January 29
Director: Jennifer Yuh Nelson and Alessandro Carloni
If you've written off the previous two installments of Jack Black's chopping, kicking, skidooshing animated franchise off as kiddie fare, take a hard look in the mirror and ask yourself: Do I really love fun? The Kung Fu Panda movies are among the best action movies today, achieving a zen balance of ecstatic motion and colorful composure, an antidote to the ocular chaos of, say, the Transformers franchise. Black rocks out as the gleeful Po, and this second sequel adds a dozen more pandas, who roll and bounce and eat dumplings and bust up the villain, an ox voiced by J.K. Simmons. -- MP
Where to watch it: Stream it on Netflix
Toho
3. Your Name
Released: August 26 (in Japan)
Director: Makoto Shinkai
This Japanese animated film won't hit US theaters until later this year, but after becoming the first anime not directed by the revered Hayao Miyazaki to rake in over $100 million, the country's fourth highest-grossing film of all time, and proving that anime can still be prestigious in these corporate times, Your Name is affixed to a place in 2016 history. The movie begins as a body-swap dramedy, following two teenagers, a boy from Tokyo and girl from the boonies who dreams of moving to the big city, as they sporadically jump into each other's lives. The narrative twists even further -- and we won't dare spoil how. Visibly recoiling from the 2011 Fukushima disaster, Your Name deals with loss, love, and heritage in a hyper-vivid style that heightens the drama even as the logic becomes more Christopher Nolan-y. If only American animation took life this seriously.  -- MP
Where to watch it: In theaters in North America on April 7
Focus Features
2. Kubo and the Two Strings
Released: August 19
Director: Travis Knight
The stop-motion animators at Laika are the artisanal cheesemakers to Hollywood's Kraft Single-processing machine -- you can just taste the difference. Even with Coraline, ParaNorman, and The Boxtrolls under Laika's belt, Kubo, a mythic parable of sword fights, moon demons, and talking monkeys, is the company's most imaginative ride yet, East meeting West in an adventure tinged with introspection. The sights come as big as a snarling, 40ft skeleton and as small as an origami samurai, come to life through the title character's magical shamisen. Laika's dedication to subtle movement (and occasionally scaring the shit out of us) makes Kubo the most artful animated film of the year by a long mile. -- MP
Where to watch it: Rent on iTunes, Amazon, and VOD
Diseny
1. Zootopia
Released: March 4
Director: Byron Howard and Rich Moore 
They say we're in the second Disney renaissance. Debatable (c'mon, is Frozen really up there with Beauty and the Beast?), though Zootopia is the strongest piece of evidence. What looks like another anthropomorphized animal adventure, adorable and Happy Meal-ready, is a vivid reimagining of Philip Marlowe-style noir, made sharper with a message on race and class in America. Seriously. Judy Hopps (Goodwin) is a bunny cop at a time when bunnies aren't supposed to be cops. Nick Wilde (Bateman) is her confidante, a fox facing prejudice against his "predator" biology. Together they solve a mystery that parallels every societal conversation we're having in 2016. It's heavy! Yet the movie still gets away with tender friendships, pop-music interludes, and sloth jokes. Impressionable kids and adults who swear they're progressive will both take something away from Zootopia. -- MP
Where to watch it: Stream it on Netflix
Sign up here for our daily Thrillist email, and get your fix of the best in food/drink/fun.
Follow the Thrillist Entertainment editors on Twitter @ThrillistEnt.