Netflix still hasn't managed to nab much of the Pixar collection, but don't let the absence of Up or WALL-E turn you off from its animated film offerings. There are still classics from Disney, modern surrealist flicks from France, and even existential shorts to suit every taste. Here are your best options currently streaming.
Anastasia (1997)
The 1997 animated musical you think is a Disney movie isn't a Disney movie. Renowned animator Don Bluth (The Secret of NIMH, An American Tail) retells the legend of Russia's Grand Duchess Anastasia Nikolaevna with magical flair and a talking bat. With original songs from Lynn Ahrens and Stephen Flaherty (Ragtime), Anastasia is little more serious and sophisticated than your average Princess hero journey, which turns out to be just the right thing for Netflix-scrolling adults in need of whimsy.
Bee Movie (2007)
Oh, man. This unbelievable Jerry Seinfeld vehicle, in which a talking bee sues the human race for stealing HONEY, registers high on the ridiculous scale. Renée Zellweger voices a woman who kind of falls for said bee, they land an airplane together at one point, and, well, you just have to go along for the ride, because people STILL LOVE IT. Maybe it's because of the all-star cast (Patrick Warburton, John Goodman, Chris Rock, and Kathy Bates), maybe it's because people like the justice-for-bees message, or maybe -- just maybe -- it's because it is highly, highly memeable. Not saying you necessarily have to love what everyone else does, but aren't you just a tad curious about this 21st-century chunk of Seinfeld gold?
Chicken Run (2000)
A dramatic story about a group of prisoners banding together to escape the murderous wrath of villains intent on turning them into pies, Chicken Run nabbed the voice of Mel Gibson for a reason. Revered studio Aardman Animation (Wallace and Gromit) created the stop-motion claymation for Chicken Run, which was its first full-length feature and still its highest grossing film ever. It's a classic "there's something for everyone" kids movie, with the dark theme -- death comes for us all, so you better figure out how to live! -- undercut by the levity of slapstick humor and the absurdity of anthropomorphization.
Coraline (2009)
Imagine your mom and dad had buttons for eyes -- it would be pretty terrifying, right? That's the driving conceit of Coraline, stop-motion master Henry Selick's adaptation of Neil Gaiman's dark children's novella, and the movie delivers plenty of unnerving images that make sewing kits feel like deadly weapons. When lonely, young Coraline moves across the country with her parents, she discovers a secret door that introduces her to an "Other Mother" and "Other Father," who are more accommodating than her real family but also much scarier. As a twisted fairy tale the story can be a bit cerebral, but for surreal nightmare fodder, Selick, who made the equally GIF-able Nightmare Before Christmas, can't be beat.
The Emperor's New Groove (2000)
The Emperor's New Groove arrived in 2000, right as Disney's so-called "renaissance" run was ending, and it definitely feels like an oddball. There are no spunky princesses, no singing genies, and no Shakespearean lions -- just a dude named Kuzco who's crazy full of himself. This slight break in form makes for one of Disney's most purely funny movies to date. (Well, Eartha Kitt and Patrick Warburton also had something to do with that.) Seriously, why do they even have that lever?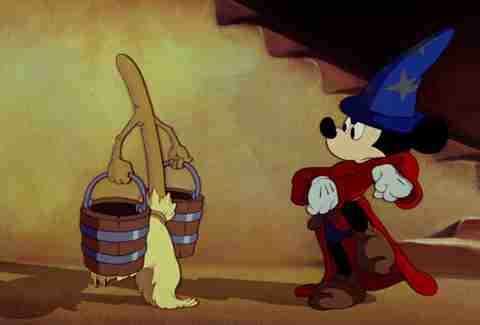 Fantasia (1940)
Here's a great personality test: what's your favorite Fantasia sequence? Maybe you're a cat-video enthusiast whose love of goofy animals began with "Dance of the Hours." Or perhaps you're a reformed goth kid who delights in "Night on Bald Mountain." Regardless, Fantasia is one of those movies we've never stopped watching, for good reason: it's inventive, it's timeless, and it has all the dancing hippos a kid could ever want.
Finding Dory (2016)
Sometimes the best supporting characters are second bananas for a reason: they exist to prop up the hero on his or her journey. Luckily, the forgetful bluefish Dory is the rare sidekick who can swim on her own. While it hits many of the same emotional and story beats of the original -- this time Dory is the one looking for her parents, leaving Marlin (Albert Brooks) to track her down to a fish rehabilitation center in California -- this clever sequel delivers enough memory-loss gags, light parental trauma, and show-stopping, Fast and Furious-style set pieces to keep adults entertained and kids enthralled. Sure, it lacks the poignant, manipulative power of the Toy Story sequels, but there's still a surprising amount of depth to this DeGeneres vehicle.
Kung Fu Panda (2008)
Sure, Kung Fu Panda and its two sequels don't exactly offer airtight plots or exceptional originality, but Jack Black's force of personality wins the day, as it so often does in kids movies. If you're looking for pure escapism and a positive ne'er-do-well-turned-savior story packed with plenty of action, Kung Fu Panda will be as effective as a roundhouse to the side of your head.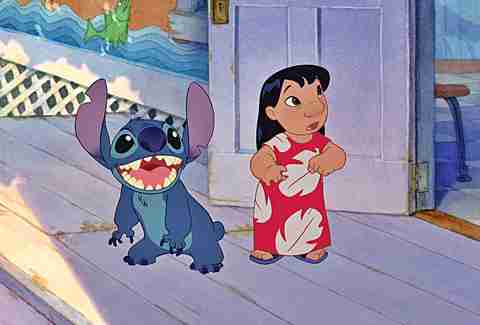 Lilo & Stitch (2002)
In the early-'00s, Disney was in a weird place: After a decade of animated blockbusters, the House of Mouse took some creative detours. Like similarly quirky The Emperor's New Groove and Atlantis: The Lost Empire, Lilo & Stitch isn't cut from the same sumptuous musical cloth as the company's '90s hits like Beauty and the Beast, Aladdin, or The Lion King. Instead, this tale of a mischievous Hawaiian girl (Lilo) and a genetically modified alien-like creature (Stitch) is a laid-back comedy packed with Elvis songs, Roswell references, and beautiful surfing sequences. It's a low-key oddity in the Disney canon, a testament to what talented artists can do when they deviate from the formula.
The Little Prince (2015)
Netflix rescued this animated adaptation of the popular French sci-fi novel after a major Hollywood studio dumped it. Watching The Little Prince, you can see why; following a girl who tests her overbearing mother's life plan by dreaming big and adventuring into space, the movie is a little too melancholy, a little too freeform, and a little too poetic -- at least side-by-side with the Ice Age movies. For Netflix, the result is a huge win.
Minions (2015)
This Despicable Me prequel comes with equal portions charm and hilarious physical comedy. The walking Mike and Ikes, who exist solely to serve evil masters, must find a new fearless leader because they've, uh, had unfortunate accidents with all the other ones. Since the beginning of time. A motley crew of the dopey little cracked corn kernels -- Stuart, Kevin, and Bob -- heads to Villain-Con to complete their mission, one that recruits the talents of Sandra Bullock, Jon Hamm, Michael Keaton, Allison Janney, and Steve Carell. Are these little Pikachu droppings annoying, absurd, and unforgivable at times? Yes! But between the stacked voice cast and the undeniably adorable hijinks, you'll still have a good time. IF YOU JUST ACCEPT IT.
The Nightmare Before Christmas (1993)
If you spend your time debating whether Tim Burton and Henry Selick's macabre, stop-motion cartoon is a "Halloween movie" or a "Christmas movie," you'll overlook the celebratory message that proves why it's both. Crossing over from his world, a ghoulish nightmare stuck in perpetual trick-or-treat mode, into the snow-caked Christmas Town, convinces Jack Skellington that there's a "right" way to live. With a little help from his Frankensteined girlfriend Sally, his spectral dog Zero, and Santa Claus himself, Halloween Town's Pumpkin King finds a way to transplant the beating heart of Christmas into the chest cavity of his ghoulish existence. If Danny Elfman's devilish original songs don't sound like holiday-appropriate carols to you, maybe it's time to rewatch The Nightmare Before Christmas.
Sausage Party (2016)
With a worldwide box office haul of over $140 million, this gross-out food pun epic made history by becoming the highest grossing R-rated animated film of all time. (Suck it, Waking Life.) Unsurprisingly, star and co-writer Seth Rogen's movie racked up those impressive numbers by sticking closely to the Pixar playbook, flipping the central concept of Toy Story into a filthy culinary bonanza. Instead of Buzz and Woody, we follow the plight of titular sausage Frank (Rogen) as he attempts to woo hot dog bun Brenda (Kristen Wiig) and lead a revolt on behalf of his fellow supermarket products. Though the film gets incredibly dirty -- the climactic orgy scene can't be unseen -- the story has a wholesome heart and a humanistic message. Like the family-friendly films on this list, it uses animation to enrich the imagination, tickle the funnybone, and enhance the mind. There's just more dick jokes here. So many more.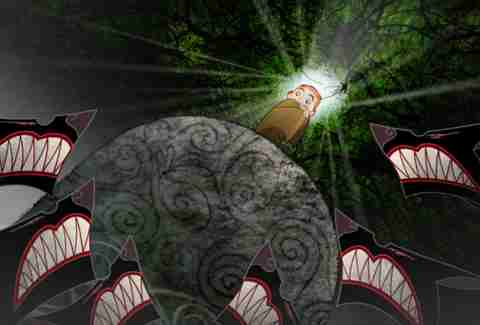 The Secret of Kells (2009)
The Secret of Kells is a fantastical retelling of how Dublin's legendary Book of Kells came to be. And just like the actual book, it's utterly gorgeous. The whole thing plays like a meticulously illustrated medieval manuscript from start to finish, with beautifully rendered versions of the real (e.g., Brendan, our protagonist) and the ethereal (e.g., Aisling, his fairy friend). Considering the plane ride to see the actual Book of Kells is pretty steep, this is a decent substitution.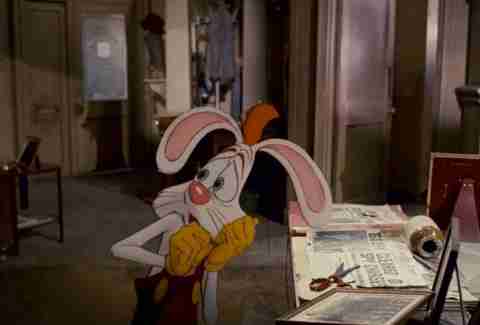 Who Framed Roger Rabbit (1988)
Looking back, it's sort of unbelievable that someone green-lit a hybrid live-action-animated movie inspired by 1940s film noir. It's also unbelievable how great it is. If you haven't watched Roger Rabbit in years, you probably just remember the sultry Jessica Rabbit number. But queue it up again, and you'll get reintroduced to that foulmouthed diva Baby Herman, some fantastic old-timey slang, and one of the best bartenders in all of cinema.
World of Tomorrow (2015)
Considering we've already named World of Tomorrow one of the best sci-fi movies on Netflix, this might seem like overkill. But it's really that good! It's also shorter and less bleak than director Don Hertzfeldt's other offering on Netflix, It's Such a Beautiful Day, which you should only watch if you have a bucket of puppies to console you after the fact.
Zootopia (2016)
What looks like another anthropomorphized animal adventure, adorable and Happy Meal-ready, is a vivid reimagining of Philip Marlowe-style noir, made sharper with a message on race and class in America. In one of the best movies of 2016, Judy Hopps is a bunny cop at a time when bunnies aren't supposed to be cops. Nick Wilde is her confidante, a fox facing prejudice against his "predator" biology. Together they solve a mystery that parallels every current societal conversation. It's heavy, but it still gets away with tender friendships, pop-music interludes, and sloth jokes.
Sign up here for our daily Thrillist email, and get your fix of the best in food/drink/fun.