Netflix still hasn't managed to nab much of the Pixar collection (and probably won't anytime soon), but don't let the absence of Up or WALL-E turn you off from its animated film offerings. There are still classics from Disney, modern surrealist flicks from France, and existential shorts to suit every taste. Here are your best animated movie options currently streaming.
Recommended Video
Netflix's New Sci-Fi Show Is Its Biggest Production to Date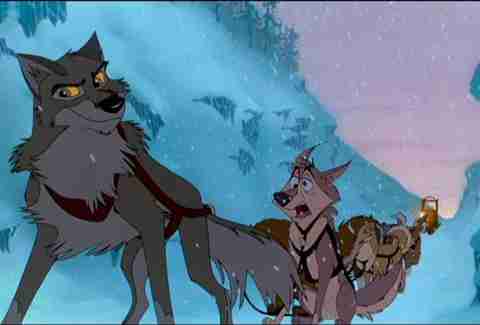 Balto (1995)
During the Disney Renaissance of the '90s, Universal Pictures was also busy releasing beautiful, less frequently recalled animated films. Think Anastasia, The Land Before Time, and Balto, the latter of which is an adventure tale loosely based on the real-life story of a dog who helped retrieve medicine amid the diphtheria epidemic of the early 20th century. The movie was the last produced by Steven Spielberg's former animation studio, Amblimation, so grand illustrations of a hero's journey are a given. It's likely you saw Balto on VHS way back when, and the film featuring a Kevin Bacon-voiced half-wolf/half-dog is worth a rewatch today for all of its Alaskan imagery and heart. 
Bee Movie (2007)
Oh, man. This unbelievable Jerry Seinfeld vehicle, in which a talking bee sues the human race for stealing HONEY, registers high on the ridiculous scale. Renée Zellweger voices a woman who kind of falls for said bee, they land an airplane together at one point, and, well, you just have to go along for the ride, because people STILL LOVE IT. Maybe it's because of the all-star cast (Patrick Warburton, John Goodman, Chris Rock, and Kathy Bates), maybe it's because people like the justice-for-bees message, or maybe -- just maybe -- it's because it is highly, highly memeable. Not saying you necessarily have to love what everyone else does, but aren't you just a tad curious about this 21st-century chunk of Seinfeld gold?
The Boss Baby (2017)
What sounds like a cheap, metaphoric gag about parenting amounts to the most worthy successor to Chuck Jones-era animation in ages -- and one of the best cartoons of 2017. Where do babies come from? Baby Corp., of course, a sky-high family factory run by a population of hyper-intelligent 2-week-olds. Seven-year-old Tim stumbles onto the secret operation when his new baby brother, Teddy (Alec Baldwin) comes home and flexes his business acumen. An initial parental affection war leads to brotherly bonding and a heroic team-up against an ex-Boss Baby and his super-cute puppy that never ages -- an invention that threatens to replace babies forever! Colorful and spastic, The Boss Baby is an unabashed cartoon that leans on artistry -- 3D, 2D, and storybook illustration -- to land any joke. It is a movie where Boss Baby's head is lionized in a radiated mushroom cloud, and it's all the better for it.
Chicken Run (2000)
A dramatic story about a group of prisoners banding together to escape the murderous wrath of villains intent on turning them into pies, Chicken Run nabbed the voice of Mel Gibson for a reason. Revered studio Aardman Animation (Wallace and Gromit) created the stop-motion claymation for Chicken Run, which was its first full-length feature and still its highest grossing film ever. It's a classic "there's something for everyone" kids movie, with the dark theme -- death comes for us all, so you better figure out how to live! -- undercut by the levity of slapstick humor and the absurdity of anthropomorphization.
Coco (2017)
When 12-year-old aspiring musician Miguel confronts his family's longstanding ban from playing music on El Día de Muertos, he is accidentally transported to the Land of the Dead. There, he meets his great-great-grandfather, a legendary singer, and learns the magic of music and family. Taking a page out of the traditional Disney playbook, this is the first Pixar film to heavily rely on original songs, and they're stunners accompanied by equally stunning Mexican heritage-inspired animation. The film features the Oscar-winning original song, "Remember Me," complete with a sequence that belongs in Pixar's tearjerker Hall of Fame. You'll never feel so emotionally connected to skeletons. 
Coraline (2009)
Imagine your mom and dad had buttons for eyes -- it would be pretty terrifying, right? That's the driving conceit of Coraline, stop-motion master Henry Selick's adaptation of Neil Gaiman's dark children's novella, and the movie delivers plenty of unnerving images that make sewing kits feel like deadly weapons. When lonely, young Coraline moves across the country with her parents, she discovers a secret door that introduces her to an "Other Mother" and "Other Father," who are more accommodating than her real family but also much scarier. As a twisted fairy tale the story can be a bit cerebral, but for surreal nightmare fodder, Selick, who made the equally GIF-able Nightmare Before Christmas, can't be beat.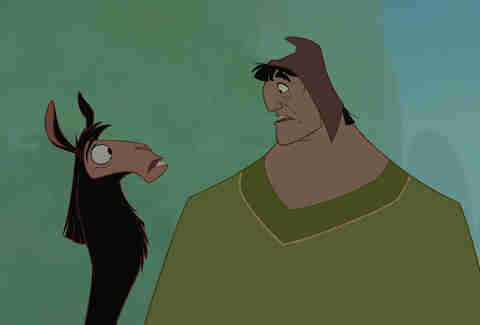 The Emperor's New Groove (2000)
In this Disney film, David Spade provides the voice of an egotistical Incan ruler who gets tricked into losing his throne when he's magically transformed into a llama. Just when the narcissistic Emperor Kuzco believes he'll never be able to caress his perfect skin or sit on his throne again, he meets Pancha, a local villager he places his trust in to get him back to his rightful spot in the kingdom. The pairing of Spade with Pacha's John Goodman makes this kids' movie a very fun buddy comedy.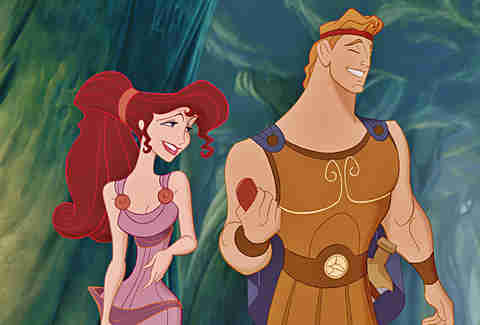 Hercules (1997)
Disney has a habit of taking pretty grim folklore and transforming it into heartwarming romances for children. See any of its Grimms' fairy-tale adaptations, or this Greek mythology remake in which underworld demons have the competency of a Will Ferrell character, and Zeus isn't screwing every living thing in sight. But Hercules, despite its relatively low rank on the Disney totem pole, is massively entertaining -- and it has a secret weapon in the Muses. This singing quintet gives Hercules a killer soundtrack that any Mmotown fan will love. And really, if you're a human with ears, that includes you.
Kung Fu Panda (2008)
Sure, Kung Fu Panda and its two sequels don't exactly offer airtight plots or exceptional originality, but Jack Black's force of personality wins the day, as it so often does in kids movies. If you're looking for pure escapism and a positive ne'er-do-well-turned-savior story packed with plenty of action, Kung Fu Panda will be as effective as a roundhouse to the side of your head.
The Land Before Time (1988)
It's easy to forget, more than a dozen sequels later, how fresh the original Land Before Time was when it appeared in the late 1980s. Exploring issues of prejudice and climate devastation that remain relevant today, Don Bluth's animated classic is ultimately a friendship road story that explores what it means to feel at home. You'll shed a tear or two when you travel back into a world inhabited by Littlefoot, Cera, Petrie, Spike, and Ducky.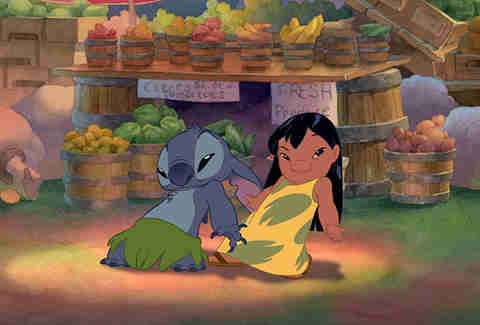 Lilo and Stitch (2002)
Before Moana was Disney's resident Polynesian princess, there was Lilo, a sassy, hula-dancing little girl from Hawaii who adopts an alien named Stitch from the pound without realizing her furry friend is an intergalactic maniac. Lilo and Stitch may be one of Disney's oddest animated entries, getting into the extraterrestrial, but it's just as sweet as any other, following one girl's pursuit of family. Remember, "Ohana means family. Family means nobody gets left behind or forgotten." This flick will have you tearing up and hoping for an odd alien friend who does a killer Elvis Presley impersonation of your own. 
The Little Prince (2015)
Netflix rescued this animated adaptation of the popular French sci-fi novel after a major Hollywood studio dumped it. Watching The Little Prince, you can see why; following a girl who tests her overbearing mother's life plan by dreaming big and adventuring into space, the movie is a little too melancholy, a little too freeform, and a little too poetic -- at least side-by-side with the Ice Age movies. For Netflix, the result is a huge win.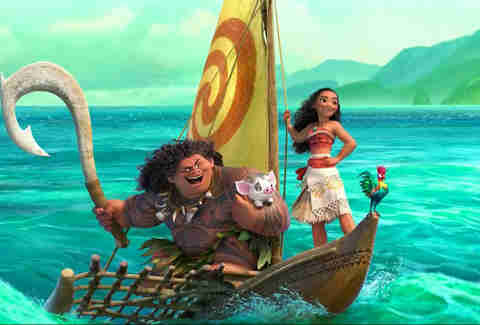 Moana (2016)
Disney Animation's second feature film of 2016 applies the Princess Movie blueprints to an ancient Polynesian tribe. Moana is the rightful heir to her island's throne, but the call of the wild -- not to mention an incoming attack by a neighboring lava demon -- send her sailing across the Pacific to discover her true destiny. With a muscle man demigod (voiced by The Rock) as her sidekick, and empowered by songs from Hamilton writer-star Lin-Manuel Miranda, Moana is a breezy, elemental musical that should warm even the chilliest cynic's heart.
Mulan (1998)
Disney's late-'90s adaptation of legendary Chinese figure Hua Mulan may not deliver the powerful feminist message to which it pretends to aspire, but it's still a strong entry in the Disney renaissance of the 1990s. Driven by one of Disney's more memorable original scores, the computer-assisted animation honed in films like Beauty and the Beast, Aladdin, and The Lion King makes the film a dazzling visual display that touches on themes of identity, family, and honor. Plus it gave birth to the now-legendary McDonald's Szechuan sauce. 
Pocahontas (1995)
Sure, this love story set against the backdrop of European colonial conquest doesn't quite live up to the lofty standards Disney set in the '90s, but there's still a lot to love about Pocahontas, which features an all-time classic song in "Colors of the Wind." It's the American Romeo and Juliet, only with the total decimation of a native population as the backdrop, which is where the movie ultimately struggles the most: It's difficult to remain a kids' movie when you're running up against a very real, very painful history. Still, those songs! 
Shrek (2001)
This hilarious (both ironically and non-ironically) DreamWorks film has exactly what a children's film needs to be just as palatable to adults: inappropriate humor, pop culture references, and Eddie Murphy voicing a wisecracking donkey. Set in a fantastical enchanted forest, the story features spoofs of all the fairy tale characters everyone knows and loves, along with an ornery ogre named Shrek (Mike Myers) whose lawn they're encroaching on at the order of the evil Lord Farquaad (John Lithgow), a ruler with an inferiority complex and an impeccable bob. To get the Three Little Pigs and others off his dang property, Shrek sets out on a quest to rescue the princess Fiona (Cameron Diaz) from a particularly lustful lady dragon in order to get his solitude back. Instead of delivering the princess to Farquaad as promised, Shrek breaks a curse caging Fiona, and they all live happily ever after.
Tarzan (1999)
One of the few Tarzan adaptations that will have you wishing you were raised by apes, Disney's '99 version features plenty of warm-and-fuzzy talking animals and an Oscar-winning soundtrack courtesy of Phil Collins. The visuals are some of the Mouse House's 2D finest, as the titular character swings from vines and dives off waterfalls, and Tony Goldwyn and Minnie Driver's voicing of Tarzan and Jane lends the 'toon some much-needed chemistry.
Sign up here for our daily Thrillist email and subscribe here for our YouTube channel to get your fix of the best in food/drink/fun.