The Best Animated Movies on Netflix
Cartoons aren't just for kids!
'Corpse Bride'

| Warner Bros.
'Corpse Bride'

| Warner Bros.
With HBO Max nabbing the exclusive rights to stream Studio Ghibli films and the existence of Disney+, Netflix is facing an increasingly competitive landscape for animation. But don't let the absence of Ponyo or WALL-E turn you off from its animated film offerings—it's even doing a pretty damn good job producing its own gorgeous animation. There are still a few Disney classics, modern surrealist flicks from France, and existential shorts to suit every taste. Here are your best animated movie options currently streaming on Netflix.
ALSO READ: Our lists of the best movies streaming on Disney+ and the best anime on Netflix right now
Bubble (2022)
It's a tale as old as time: a boy meets and falls in love with a sentient bubble that dresses like an idol. Set in a Tokyo where most of the city resides underwater following a mysterious ecological disaster, it's now the domain of adolescents with a free running obsession, taking part in rooftop-bound games of capture the flag before going back to their shared home on an abandoned Japanese coast guard ship. Bubble riffs on Hans Christian Andersen's classic fairytale The Little Mermaid for inspiration in its wild coming-of-age, tragic romance story between the introverted teenager Hibiki and the mysterious Uta, a girl made of bubbles who emerges from the water and joins him on a journey of introspection (and parkour).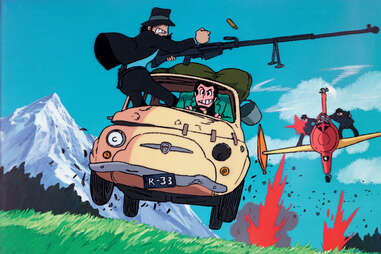 The Castle of Cagliostro (1979)
The Castle of Cagliostro, directed by Hayao Miyazaki, is a rollicking comedy of errors masquerading as an anime heist, starring Arsène Lupin III, the ladykiller gentleman thief of Monkey Punch's manga and corresponding anime series. Lupin and his loyal sidekick Daisuke Jigen investigate the source of expertly crafted counterfeit money, a fictional European duchy that just so happens to be mired in its own drama involving an aristocratic villain bent on forcing a marriage to secure his inheritance of the throne. Woman respecter that he is, Lupin figures he can help out the princess while making off with as much of Cagliostro's fortune as he can.
Children of the Sea (2020)
This feature film from Studio 4C and director Ayumu Watable is a lush dive into the fauna of the ocean itself. Adapted from Daisuke Igarashi's manga of the same name, the film follows Ruka, a young girl whose father works at an aquarium. There, she meets Umi and Sora, two boys who were raised by dugongs and feel just as drawn to the sea as she does. However, it's only the children who hear the call as adults like Ruka's father are caught up in the mystery of the world's fish disappearing. Featuring music from frequent Studio Ghibli collaborator Joe Hisaishi, this one's certainly an emotional journey.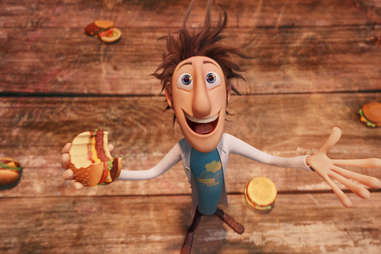 Cloudy With a Chance of Meatballs (2009)
It might seem like a dream come true if, say, burgers started falling from the sky whenever you're really hungry—or any time, really. This, plus other snack-based precipitation, is in the forecast of this animated feature loosely inspired by the picture book of the same name. In the movie, Bill Hader voices an awkward, unaccomplished scientist who tries to invent a machine that turns water into food when his town hits an economic crisis. But things go awry when his invention is accidentally launched into space, which is where the meatballs come in, as well as a whole lot of silliness. In other words, it's exactly what you want out of a solid animated movie.
Corpse Bride (2005)
Fun fact: Tim Burton didn't actually direct The Nightmare Before Christmas. He conceived it and produced it, but he didn't make his stop-motion directorial debut until Corpse Bride. The gothic folktale follows the love story between a shy groom (Johnny Depp) and a melancholy bride (Helena Bonham Carter) who he inadvertently brings back from the dead when she hears him practicing his vows from her grave. Both whimsical and macabre, it's a bittersweet musical-ghost-story hybrid with stop-motion that's to die for.
End of Evangelion (1997)
Neon Genesis Evangelion is one of the best and most popular anime series of all time, but its final episodes remain more contentious than the entirety of the series—so much so that fan demand has prompted multiple alternative endings to be released after the original was through. End of Evangelion has been hailed by devotees as the most satisfying (albeit emotionally draining) ending to the epic. Retelling the final 25th and 26th episodes of the series, this was series creator Hideaki Anno's "fuck you" to those originally dissatisfied with the end of the show, and watching it for the first time, End of Evangelion absolutely feels made out of spite, purposefully mind-melting, massive, and very fucked up. Still, you'll find it's absolutely glorious in its own right and unlike anything you've ever seen as Shinji and co. see the truth to NERV's shadowy Human Instrumentality Project.
Flavors of Youth (2018)
This Chinese-Japnese co-production feels like a set of loosely connected beautiful, animated tone poems. Told as a three-part anthology, which may seem like an alternative format for animated storytelling but is quite common overseas, Flavors of Youth explores different anecdotes of youth, each set somewhere in China. As it reminisces on its characters' pasts, it's equal parts sentimental and wistful—leaving you to conjure up your own memories left in a bowl of noodles or the one that got away.
Happy Feet (2006)
Riding the high of 2005's Oscar-winning March of the Penguins, Happy Feet chronicles a different type of journey: a tap-dancing penguin's journey towards self-acceptance. Inspired by the very real way penguins have distinct calls to communicate with their families, the penguins in Happy Feet are a community of singers, belting covers of club bangers from yesterday and today, from "Boogie Wonderland" to "No Scrubs," to find mates. But Mumble (voiced by Elijah Wood) is ostracized from the flock as he is unable to sing at all, tap-dancing his way through songs instead. His journey to find a home for himself is an antarctic odyssey, and a pretty impressive feat of dancing penguin animation, too.
The House (2022)
This anthology of three shorts capitalizes on stop-motion's sinister, uncanny aura, using one setting to tell three distinct stories of fear, friendship, and tap-dancing insects. A peasant family moves into a mansion built by the wealthy man who manages their land. At first a dream come true, the house soon proves more than they bargained for. A rat contractor is in the process of flipping the house for potential buyers, but he has a persistent bug infestation that mirrors the invasion by two squatters who practically move in on the first day the house is shown. Then, the house is populated by a group of cat renters and overseen by a cat landlord whose dream is to restore the house to its former glory, never mind the apocalyptic floodwaters that have turned the surrounding area into an endless ocean and lap increasingly close to the front steps.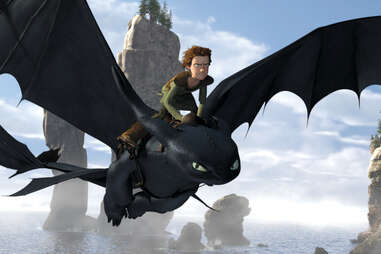 How to Train Your Dragon (2010)
For young Viking prince Hiccup and his hometown of Berk, dragons are a menace to be feared and destroyed. But when he accidentally makes friends with the most deadly dragon of all, a black Night Fury he names Toothless, Hiccup has to convince his father and the rest of his people that dragons are more than the fearsome beasts they always thought they were. How to Train Your Dragon is a classic with some of the most stunning animation and music you'll ever find in a kids' movie.
How to Train Your Dragon 2 (2014)
How to Train Your Dragon 2 opens in a very different place than its predecessor did. Whereas the original was all about the Vikings' long-running conflict with the fire-breathing beasts, this sequel opens on a dazzling round of "dragon racing." (Think an amped-up version of Quidditch.) It appears the villagers of Berk are now great pals with the dragons, but of course, one megalomaniac wants to ruin it for everyone. In the middle of all the action, the movie also digs into Hiccup's family history, which means there's some pretty poignant stuff. But mostly it'll remind you, yet again, how cool it would be to have a dragon for a pet.
If Anything Happens I Love You (2020)
This Oscar-winning short film uses simple, 2D animation to examine the grief of two parents after their preteen daughter is killed in a school shooting. Shadows expressing their true emotions flit around in the background as the grieving adults grow estranged from each other, but are brought together again by memories of their child. It's heavy subject matter, but worth watching, and the writers and animators worked closely with the nonprofit Everytown for Gun Safety.
I Lost My Body (2019)
A loose adaptation of Academy Award nominee Guillaume Laurant's (Amelie) 2006 novel, Happy Hand, I Lost My Body is truly an unodorothox and surreal animated feature. In short, this French film is about a severed hand attempting to reunite with the rest of its body, but it's more a meditation on humanity and wholeness than it is a gross-out horror film. Netflix acquired the movie after it premiered at the prestigious Cannes Film Festival to critical acclaim and was nominated for a 2020 Oscar in the Animated Feature category—all signs that the streaming giant's creative ambition is pushing it into exciting new territory.
Invader Zim: Enter the Florpus (2019)
Invader Zim has always been weird as hell. And Enter the Florpus, a feature film that arrived almost 20 years after the series debut, is pure Invader Zim shenanigans in the most endearing way possible. Zim and Dib are still locked in their everlasting rivalry, Dib is still trying to get through to his father, Gaz still likes video games, and GIR is… well, GIR is GIR. The film brings all of Invader Zim's trademark weirdness back into play and finally gives us some closure through what very well may be Zim's most apocalyptic scheme yet. For fans of the original series, Enter the Florpus is a must-watch spectacle that'll send you straight back.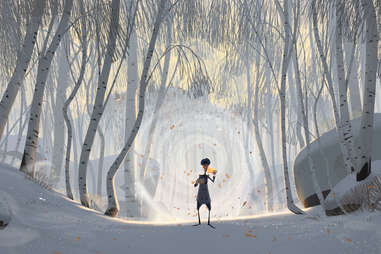 Klaus (2019)
By returning to 2D, hand-drawn animation, writer/director Sergio Pablos (Despicable Me, Smallfoot) created a contemporary holiday marvel (and Oscar-nominated feature) in Klaus. The gorgeous film gives an origin story to Santa and the tradition of children writing him letters by following a postal service worker named Jesper (Jason Schwartzman) sent to work on a desolate, wintery isle where he eventually meets a reclusive toy maker named Klaus (J.K. Simmons). Rashida Jones and Joan Cusack join an A+ cast that brings their charm, but it's the detailed backdrop of the endearing Nordic-inspired art that gives this movie all the whimsical joy needed to warm your heart around the holidays, or anytime, we guess! We wouldn't be surprised if this goes on to become a new Christmas classic.
Legend of the Guardians: The Owls of Ga'hoole (2010)
Don't be fooled by its needlessly confusing title: Zack Snyder's adaptation (yes you read that right) of the popular children's book series Guardians of Ga'hoole is much better than we all gave it credit for. Young owlet Soren (Elijah Wood) is kidnapped and taken to an owl orphanage where young owls are brainwashed into becoming owl soldiers. Soren and his friends eventually escape and journey to find a lost owl island paradise where they hope to fight off the evil owl army for good. It's a lotta owls!! It's also pretty darn good.
Lu Over the Wall (2017)
Lu over the Wall, directed by the singular Masaaki Yuasa (Devilman Crybaby), is fantastical, but even more imaginative than its story is Yuasa's signature bright, inspired animation. Following the friendship between a young boy and a mermaid with a mesmerizing voice who he meets when he joins a band upon moving to a new seaside village, it's a dazzling, modern fairy tale that will capture your heart. Accompanied by infectious original songs and art that is characteristically more perspective-bending than your average anime, the already cute movie becomes outright darling.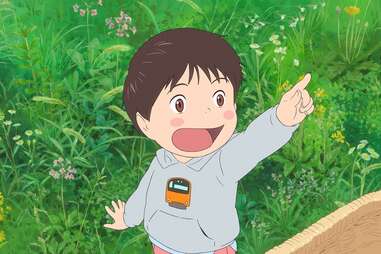 Mirai (2018)
Mirai is Mamoru Hosoda's (The Girl Who Leapt Through Time, Wolf Children) film most geared at younger audiences, but the Oscar-nominated family movie still contains multitudes. When a little boy feels neglected with the arrival of his baby sister, he encounters an enchanted garden that allows him to travel through time and meet his ancestors, and sister from the future. The concept is magical and warm, and ends up creating a colorful world in a feature truly about children coming to terms with their emotions.
The Mitchells vs. The Machines (2021)
The Mitchells vs. The Machines is, quite frankly, one of the best animated movies in recent memory. Animated in the same hybrid 3D and 2D style that made Spider-Man: Into the Spiderverse so special, The Mitchells vs. the Machines comes from the same producers (Phil Lord and Chris Miller) and the same studio (Sony) as that superhero toon, but it stands alone in its boundless creativity. Groundbreaking in more ways that one, the movie is narrated by Katie Mitchell (Abbi Jacobson), a film-loving teen who is about to fly to her her dream college when her dad (Danny McBride) decides to take the family on a cross-country road trip with aims of repairing their fractured relationship. And then the robot apocalypse happens. But even through goofy gags and all-out action sequences, The Mitchells vs. the Machines never loses its focus on a father and daughter learning to understand one another.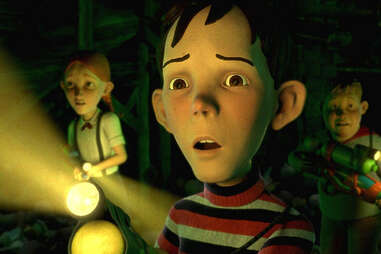 Monster House (2006)
Anyone who's grown up in the suburbs knows there's often that one house at the end of the lane that's a bit creepier than the rest of the neighborhood, the one rumored to be haunted. The spooky, yet hilarious, Monster House makes that fear really something to worry about, telling the story of a haunted house and a group of friends who get trapped in it. But as the title suggests, it's not about who lurks inside the decrepit home—the building itself is trying to gobble up whoever crosses it. What could be a full-blown horror movie is instead a humorous children's flick with scares to accompany the devilishly fun animation.
Ne Zha (2019)
American audiences may not be totally familiar with this movie or the mythology it's based on, but this Chinese film broke all kinds of box offices records overseas. It's even been hailed as one of the best Chinese animated movies in recent history, bringing to life the nation's classic fable about a boy warrior sent from the heavens to save the world, but is accidentally reincarnated as a demon. Set in the world of almighty gods and villainous demons, this foreign feature is full of spectacle and action sequences—the kind that can get just about anyone revved up and feel empowered.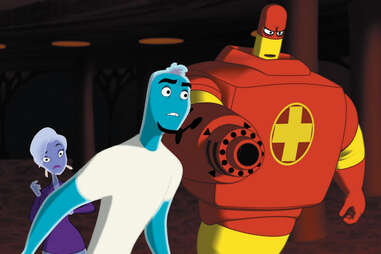 Osmosis Jones (2001)
If you're a millennial, chances are you've already seen this one in your biology class, but in case you were sick that day, or if you're of a slightly younger generation interested in anthropomorphized microscopic organisms, we have the movie for you. Osmosis Jones, directed in part by the Farrelly Brothers (yes, really), features bits of live action interspersed with animated sequences as a white blood cell cop (the titular Jones, voiced by Chris Rock) and his buddy cold pill Drix Koldreliff (David Hyde Pierce) work to save a zookeeper from a deadly virus called Thrax (Laurence Fishburne).
Over the Moon (2020)
If you grew up during Disney's Golden Age and miss animated movies with that sense of musical grandeur, you should check out this Oscar-nominated Netflix original. Directed by Glen Keane, the lead animator on Walt Disney classics like The Little Mermaid, Beauty and the Beast, Aladdin, and, more recently, Tangled, Over the Moon is a colorful, celestial adventure tale. Inspired by Chinese myths, the film follows a 13-year-old girl named Fei Fei and her mission to build a homemade rocket and blast off into space to meet the moon goddess Chang'e when tragedy strikes her family. It's a luminous journey that sends you among the stars and moon beams.
Rocko's Modern Life: Static Cling (2019)
It's been a hot, hot minute since Rocko's Modern Life was on air. A beloved '90s Nickelodeon cartoon, it was known for its earnest charm, slapstick comedy, and social satire. Static Cling brings all of that same charm with a bit of a twist: the special takes place in the present. After Rocko and his friends Heffer and Filburt spend 20 years careening around space, they return to a present day O-Town full of smartphones, coffee shops, and other 21st century technological marvels. Much to Rocko's dismay, his favorite TV show The Fatheads has also gone off the air. Rocko sets out to find Rachel Bighead, the creator of The Fatheads, who was previously known as Ralph in the original series and has transitioned in Rocko's absence. Rachel is reluctant to leave her life selling Fatheads-inspired ice cream, and Rocko must convince her to come back to O-Town and help reboot the series. Perfectly nostalgic and genuinely warm as ever, Static Cling is a fitting addition to the series.
A Silent Voice (2016)
Based off of Yoshitoki Ōima's manga of the same name, A Silent Voice follows teenager Shōya Ishida, who spent his elementary school days bullying deaf classmate Shōko Nishimiya. As a result, he ended up being ostracized by his classmates throughout the rest of his school years. Now in his last year of high school, Shōya attempts to reconnect with Shoko and some of their other elementary school classmates in the hopes of mending what has been broken and finding personal redemption. Beautifully animated by acclaimed studio Kyoto Animation (K-On!, Violet Evergarden), A Silent Voice is a moving coming-of-age story.
A Whisker Away (2020)
As signs of good luck in Japanese culture (and just being generally cute), cats often show up in anime films, including Studio Ghibli hits like Kiki's Delivery Service, Whisper of the Heart, and The Cat Returns. These are clear inspirations for this recent Netflix original, and the sweet feline imagery is what will draw you in. About a teenage girl who acquires the ability to transform into a cat, doing so in order to get closer to the boy she's pining over from school, it's the story of first love and embracing identity that will leaving you purring. For a movie about cats, it's enchantingly human.