The Best Animated Movies on Netflix
Cartoons aren't just for kids!
With HBO Max nabbing the exclusive rights to stream Studio Ghibli films and the existence of Disney+, Netflix is facing an increasingly competitive landscape for animation. But don't let the absence of Ponyo or WALL-E turn you off from its animated film offerings—it's even doing a pretty damn good job producing its own gorgeous animation. There are still a few Disney classics, modern surrealist flicks from France, and existential shorts to suit every taste. Here are your best animated movie options currently streaming on Netflix.
Bee Movie (2007)
Oh, man. This unbelievable Jerry Seinfeld vehicle, in which a talking bee sues the human race for stealing HONEY, registers high on the ridiculous scale. Renée Zellweger voices a woman who kind of falls for said bee, they land an airplane together at one point, and, well, you just have to go along for the ride, because people STILL LOVE IT. Maybe it's because of the all-star cast (Patrick Warburton, John Goodman, Chris Rock, and Kathy Bates), maybe it's because people like the justice-for-bees message, or maybe—just maybe—it's because it is highly, highly memeable. Not saying you necessarily have to love what everyone else does, but aren't you just a tad curious about this 21st-century chunk of Seinfeld gold?
Children of the Sea (2020)
This feature film from Studio 4C and director Ayumu Watable is a lush dive into the fauna of the ocean itself. Adapted from Daisuke Igarashi's manga of the same name, the film follows Ruka, a young girl whose father works at an aquarium. There, she meets Umi and Sora, two boys who were raised by dugongs and feel just as drawn to the sea as she does. However, it's only the children who hear the call as adults like Ruka's father are caught up in the mystery of the world's fish disappearing. Featuring music from frequent Studio Ghibli collaborator Joe Hisaishi, this one's certainly an emotional journey.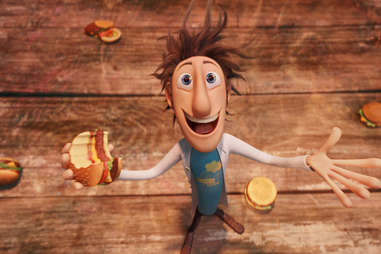 Cloudy With a Chance of Meatballs (2009)
It might seem like a dream come true if, say, burgers started falling from the sky whenever you're really hungry—or any time, really. This, plus other snack-based precipitation, is in the forecast of this animated feature loosely inspired by the picture book of the same name. In the movie, Bill Hader voices an awkward, unaccomplished scientist who tries to invent a machine that turns water into food when his town hits an economic crisis. But things go awry when his invention is accidentally launched into space, which is where the meatballs come in, as well as a whole lot of silliness. In other words, it's exactly what you want out of a solid animated movie.
End of Evangelion (1997)
Neon Genesis Evangelion is one of the best and most popular anime series of all time, but its final episodes remain more contentious than the entirety of the series—so much so that fan demand has prompted multiple alternative endings to be released after the original was through. End of Evangelion has been hailed by devotees as the most satisfying (albeit emotionally draining) ending to the epic. Retelling the final 25th and 26th episodes of the series, this was series creator Hideaki Anno's "fuck you" to those originally dissatisfied with the end of the show, and watching it for the first time, End of Evangelion absolutely feels made out of spite, purposefully mind-melting, massive, and very fucked up. Still, you'll find it's absolutely glorious in its own right and unlike anything you've ever seen as Shinji and co. see the truth to NERV's shadowy Human Instrumentality Project.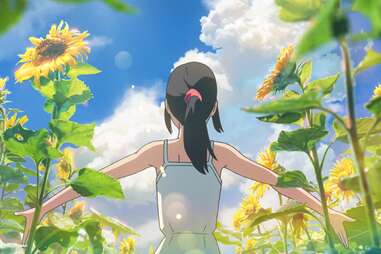 Flavors of Youth (2018)
This Chinese-Japnese co-production feels like a set of loosely connected beautiful, animated tone poems. Told as a three-part anthology, which may seem like an alternative format for animated storytelling but is quite common overseas, Flavors of Youth explores different anecdotes of youth, each set somewhere in China. As it reminisces on its characters' pasts, it's equal parts sentimental and wistful—leaving you to conjure up your own memories left in a bowl of noodles or the one that got away.
The Garden of Words (2013)
Primarily documenting the conversation between two people in the confines of one garden, The Garden of Words seems like a very humble, even limited film. It's actually anything but. The film from Makoto Shinkai (Your Name.) is painfully beautiful with lush animation and a story about loneliness at the heart of it: A 15-year-old boy who'd rather spend his days designing shoes than at school connects with a coy 27-year-old woman and they continually meet, without intending to, at the same garden on rainy days. It's absolutely worth viewing for the breathtaking art and the way it captures Tokyo's Shinjuku Gyoen National Garden alone, and you'll be left thinking about the potency of longing and companionship well after its brief runtime.
How to Train Your Dragon 2 (2014)
How to Train Your Dragon 2 opens in a very different place than its predecessor did. Whereas the original was all about the Vikings' long-running conflict with the fire-breathing beasts, this sequel opens on a dazzling round of "dragon racing." (Think an amped-up version of Quidditch.) It appears the villagers of Berk are now great pals with the dragons, but of course, one megalomaniac wants to ruin it for everyone. In the middle of all the action, the movie also digs into Hiccup's family history, which means there's some pretty poignant stuff. But mostly it'll remind you, yet again, how cool it would be to have a dragon for a pet.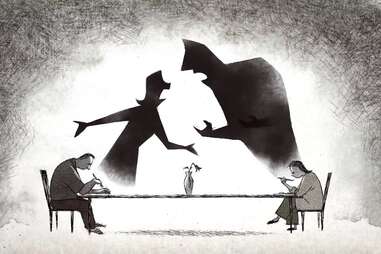 If Anything Happens I Love You (2020)
This Oscar-winning short film uses simple, 2D animation to examine the grief of two parents after their preteen daughter is killed in a school shooting. Shadows expressing their true emotions flit around in the background as the grieving adults grow estranged from each other, but are brought together again by memories of their child. It's heavy subject matter, but worth watching, and the writers and animators worked closely with the nonprofit Everytown for Gun Safety.
I Lost My Body (2019)
A loose adaptation of Academy Award nominee Guillaume Laurant's (Amelie) 2006 novel, Happy Hand, I Lost My Body is truly an unodorothox and surreal animated feature. In short, this French film is about a severed hand attempting to reunite with the rest of its body, but it's more a meditation on humanity and wholeness than it is a gross-out horror film. Netflix acquired the movie after it premiered at the prestigious Cannes Film Festival to critical acclaim and was nominated for a 2020 Oscar in the Animated Feature category—all signs that the streaming giant's creative ambition is pushing it into exciting new territory.
In This Corner of the World (2016)
Sunao Katabuchi's In This Corner of the World is an exquisite wartime epic, but it's less about what's happening on the battlefront and more about life having to carry on elsewhere. The hand-drawn film adapted from Fumiyo Kōno's manga is set in a small town outside of Hiroshima over the course of World War II, following an adventurous 18 year old named Suzu who is torn away from her family when she receives a marriage proposal that forces her into a life of domesticity. It's tragic not only because the threat of war is so close by, but because of how intimately it document's Suzu's personal battle of finding the will to preserve a semblance of life as she knows it. It's a period piece that will make your heart swell.
Invader Zim: Enter the Florpus (2019)
Invader Zim has always been weird as hell. And Enter the Florpus, a feature film that arrived almost 20 years after the series debut, is pure Invader Zim shenanigans in the most endearing way possible. Zim and Dib are still locked in their everlasting rivalry, Dib is still trying to get through to his father, Gaz still likes video games, and GIR is… well, GIR is GIR. The film brings all of Invader Zim's trademark weirdness back into play and finally gives us some closure through what very well may be Zim's most apocalyptic scheme yet. For fans of the original series, Enter the Florpus is a must-watch spectacle that'll send you straight back.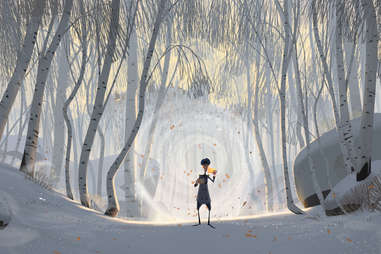 Klaus (2019)
By returning to 2D, hand-drawn animation, writer/director Sergio Pablos (Despicable Me, Smallfoot) created a contemporary holiday marvel (and Oscar-nominated feature) in Klaus. The gorgeous film gives an origin story to Santa and the tradition of children writing him letters by following a postal service worker named Jesper (Jason Schwartzman) sent to work on a desolate, wintery isle where he eventually meets a reclusive toy maker named Klaus (J.K. Simmons). Rashida Jones and Joan Cusack join an A+ cast that brings their charm, but it's the detailed backdrop of the endearing Nordic-inspired art that gives this movie all the whimsical joy needed to warm your heart around the holidays, or anytime, we guess! We wouldn't be surprised if this goes on to become a new Christmas classic.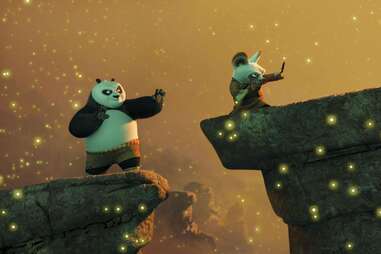 Kung Fu Panda (2008)
It's tough to find an animated movie more underrated than Kung Fu Panda, which cast Jack Black as a roly poly panda who finds out he's supposed to become the best martial artist of his time and save the world from an evil villain. The only problem is he's completely hopeless at anything that doesn't involve eating dumplings. Black and his co-stars offer plenty of kid-friendly jokes to pad out the film, but what really sets it apart is its sharp, evocative animation, its absolutely killer soundtrack, and a sensibility about knowing your own strength in the face of doubt that will resonate no matter how old you are.
The Lorax (2012)
The Lorax may not be Dr. Seuss' most frequently revisited work, with the holiday-themed The Grinch having stake in seasonal rewatches, or Green Eggs and Ham being many kids' first reads, but it might just be his most thoughtful. This adaptation certainly expands upon the children's author's original—like by including a teen love story voiced by none other than Zac Efron and Taylor Swift—but it brings Seuss's whimsical illustrations to screen and maintains its environmentalist spirit, as the titular character aims to protect his home from encroaching destruction. It shouldn't take a furry, little orange guy voiced by Danny DeVito to get you caring about the environment, but regardless, this kid's flick will have you devoted to the sanctity of the trees after one watch.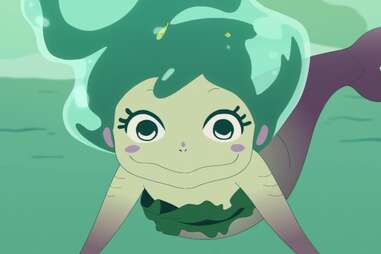 Lu Over the Wall (2017)
Lu over the Wall, directed by the singular Masaaki Yuasa (Devilman Crybaby), is fantastical, but even more imaginative than its story is Yuasa's signature bright, inspired animation. Following the friendship between a young boy and a mermaid with a mesmerizing voice who he meets when he joins a band upon moving to a new seaside village, it's a dazzling, modern fairy tale that will capture your heart. Accompanied by infectious original songs and art that is characteristically more perspective-bending than your average anime, the already cute movie becomes outright darling.
Madagascar 2: Escape to Africa (2008)
2005's Madagascar was a pretty big deal among families at the time. The animated comedy featuring Ben Stiller, Chris Rock, David Schwimmer, and Jada Pinkett Smith as animals from the Central Park Zoo accidentally shipped to Madagascar was an outrageous romp quoted by kids everywhere, and eventually spawned a franchise. Standing apart from many cartoons, the sequel actually did the movie justice, catching up with Alex the Lion, Gloria the Hippo, Marty the Zebra, and Melman the Giraffe as their plan to return home reversed course and crash-landed them on the mainland of Africa. Introducing each zoo animal to their own tribe out in the wild, the follow-up introduces a whole new cast of characters and even more laughs. It's a rare family sequel that truly delivers (and leaves "I Like To Move It" stuck in your head for days).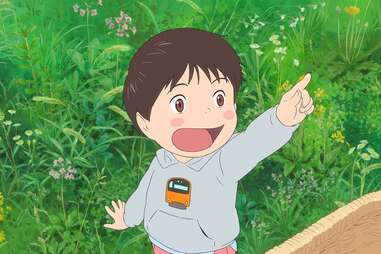 Mirai (2018)
Mirai is Mamoru Hosoda's (The Girl Who Leapt Through Time, Wolf Children) film most geared at younger audiences, but the Oscar-nominated family movie still contains multitudes. When a little boy feels neglected with the arrival of his baby sister, he encounters an enchanted garden that allows him to travel through time and meet his ancestors, and sister from the future. The concept is magical and warm, and ends up creating a colorful world in a feature truly about children coming to terms with their emotions.
The Mitchells vs. The Machines (2021)
The Mitchells vs. The Machines is, quite frankly, one of the best animated movies in recent memory. Animated in the same hybrid 3D and 2D style that made Spider-Man: Into the Spiderverse so special, The Mitchells vs. the Machines comes from the same producers (Phil Lord and Chris Miller) and the same studio (Sony) as that superhero toon, but it stands alone in its boundless creativity. Groundbreaking in more ways that one, the movie is narrated by Katie Mitchell (Abbi Jacobson), a film-loving teen who is about to fly to her her dream college when her dad (Danny McBride) decides to take the family on a cross-country road trip with aims of repairing their fractured relationship. And then the robot apocalypse happens. But even through goofy gags and all-out action sequences, The Mitchells vs. the Machines never loses its focus on a father and daughter learning to understand one another.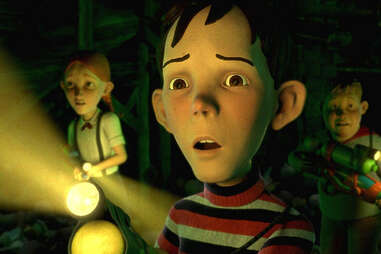 Monster House (2006)
Anyone who's grown up in the suburbs knows there's often that one house at the end of the lane that's a bit creepier than the rest of the neighborhood, the one rumored to be haunted. The spooky, yet hilarious, Monster House makes that fear really something to worry about, telling the story of a haunted house and a group of friends who get trapped in it. But as the title suggests, it's not about who lurks inside the decrepit home—the building itself is trying to gobble up whoever crosses it. What could be a full-blown horror movie is instead a humorous children's flick with scares to accompany the devilishly fun animation.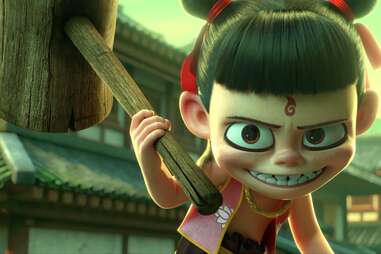 Ne Zha (2019)
American audiences may not be totally familiar with this movie or the mythology it's based on, but this Chinese film broke all kinds of box offices records overseas. It's even been hailed as one of the best Chinese animated movies in recent history, bringing to life the nation's classic fable about a boy warrior sent from the heavens to save the world, but is accidentally reincarnated as a demon. Set in the world of almighty gods and villainous demons, this foreign feature is full of spectacle and action sequences—the kind that can get just about anyone revved up and feel empowered.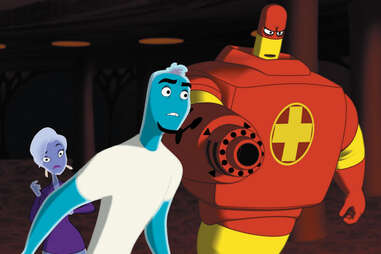 Osmosis Jones (2001)
If you're a millennial, chances are you've already seen this one in your biology class, but in case you were sick that day, or if you're of a slightly younger generation interested in anthropomorphized microscopic organisms, we have the movie for you. Osmosis Jones, directed in part by the Farrelly Brothers (yes, really), features bits of live action interspersed with animated sequences as a white blood cell cop (the titular Jones, voiced by Chris Rock) and his buddy cold pill Drix Koldreliff (David Hyde Pierce) work to save a zookeeper from a deadly virus called Thrax (Laurence Fishburne).
Over the Moon (2020)
If you grew up during Disney's Golden Age and miss animated movies with that sense of musical grandeur, you should check out this Oscar-nominated Netflix original. Directed by Glen Keane, the lead animator on Walt Disney classics like The Little Mermaid, Beauty and the Beast, Aladdin, and, more recently, Tangled, Over the Moon is a colorful, celestial adventure tale. Inspired by Chinese myths, the film follows a 13-year-old girl named Fei Fei and her mission to build a homemade rocket and blast off into space to meet the moon goddess Chang'e when tragedy strikes her family. It's a luminous journey that sends you among the stars and moon beams.
ParaNorman (2012)
Coming off the release of Coraline, fans of the innovative animation studio Laika (Kubo and the Two Strings) were nervous their next creepy kids movie would be too similar to their last release to stand on its own. They managed to conjure up another hit, though, and ParaNorman is a ghastly good animated movie about a boy who can talk to ghosts. It's not just that he can to talk to the dead, though—it's like if the kid from The Sixth Sense was actually destined to use his powers to serve the greater good, as it's up to him to protect his Massachusetts town from a centuries-old curse cast by a witch that makes those who wronged her rise from the dead as zombies. The gothic stop-motion imagery is enchanting as it is haunting. When many movies make us want to run from the supernatural, this is a paranormal journey you want to take.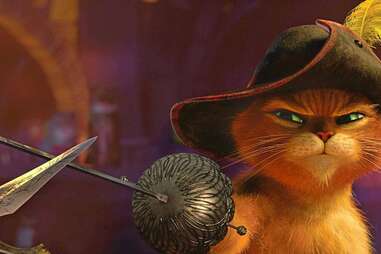 Puss in Boots (2011)
Shrek was a mega success, so much so that it spawned three follow-ups. The real winner of the Shrek franchise, though? The actually wonderful spin-off featuring your favorite furry character: Puss in Boots. Antonio Banderas reprises his fan favorite role which first appeared in Shrek 2, voicing the little but stealthy kitty on an adventure (pre-Shrek) with the equally sneaky Kitty Softpaws (Salma Hayek) and Humpty Dumpty (Zach Galifianakis) to try to clear his name of his fugitive status. As you might've expected, this is no average Mother Goose nursery rhyme: It's all the chaos of Shrek and more.
Rango (2011)
Rango is a Quentin Tarantino-esque satirical Western directed by Gore Verbinski (The Pirates of the Caribbean). Although, the titular Rango is a chameleon, and the gore has been toned down quite a bit. Borrowing heavily from classic Western comedies, doggonit, this animated feature is a hell of a good time. With Rango being a housepet who ends up in a desert Wild West community desperate for a new sherif, and him willing to take on the role, it's opportune for a whole cast of fun critters and good ole Hollywood gunslinging.
Rocko's Modern Life: Static Cling (2019)
It's been a hot, hot minute since Rocko's Modern Life was on air. A beloved '90s Nickelodeon cartoon, it was known for its earnest charm, slapstick comedy, and social satire. Static Cling brings all of that same charm with a bit of a twist: the special takes place in the present. After Rocko and his friends Heffer and Filburt spend 20 years careening around space, they return to a present day O-Town full of smartphones, coffee shops, and other 21st century technological marvels. Much to Rocko's dismay, his favorite TV show The Fatheads has also gone off the air. Rocko sets out to find Rachel Bighead, the creator of The Fatheads, who was previously known as Ralph in the original series and has transitioned in Rocko's absence. Rachel is reluctant to leave her life selling Fatheads-inspired ice cream, and Rocko must convince her to come back to O-Town and help reboot the series. Perfectly nostalgic and genuinely warm as ever, Static Cling is a fitting addition to the series.
A Silent Voice (2016)
Based off of Yoshitoki Ōima's manga of the same name, A Silent Voice follows teenager Shōya Ishida, who spent his elementary school days bullying deaf classmate Shōko Nishimiya. As a result, he ended up being ostracized by his classmates throughout the rest of his school years. Now in his last year of high school, Shōya attempts to reconnect with Shoko and some of their other elementary school classmates in the hopes of mending what has been broken and finding personal redemption. Beautifully animated by acclaimed studio Kyoto Animation (K-On!, Violet Evergarden), A Silent Voice is a moving coming-of-age story.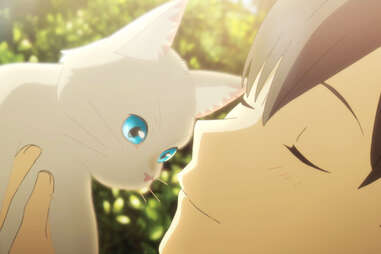 A Whisker Away (2020)
As signs of good luck in Japanese culture (and just being generally cute), cats often show up in anime films, including Studio Ghibli hits like Kiki's Delivery Service, Whisper of the Heart, and The Cat Returns. These are clear inspirations for this recent Netflix original, and the sweet feline imagery is what will draw you in. About a teenage girl who acquires the ability to transform into a cat, doing so in order to get closer to the boy she's pining over from school, it's the story of first love and embracing identity that will leaving you purring. For a movie about cats, it's enchantingly human.