With HBO Max nabbing the exclusive rights to stream Studio Ghibli films and the launch of Disney+, Netflix will be facing an increasingly competitive landscape for animation. But don't let the absence of Ponyo or WALL-E turn you off from its animated film offerings. For now, there are still some Disney classics and recent Pixar movies, modern surrealist flicks from France, and existential shorts to suit every taste. Here are your best animated movie options currently streaming.
Recommended Video
Debatable: Is Shake Shack Really Fast Food?!?
An American Tale (1986)
Most of us probably have vague memories of Fievel, the little mouse with the floppy hat, crooning "Somewhere Out There," an innocently sweet song lamenting his separation from his family. The desperate melancholy of that number carries throughout the entire movie, which tells the story of the Ukranian-Jewish Mousekewitz family, who immigrate to the United States after their village is destroyed by a group of Cossacks and their cats in an anti-Semitic raid. While en route to America (where there are reportedly no cats), Fievel falls off the ship, causing his family to think him dead. He spends the rest of the film navigating New York City in an effort to meet with them once again. An American Tale is almost too heavy to be wholly considered as a kids' flick, but its genuine charm ultimately makes it a heartwarming, if tragic, tale.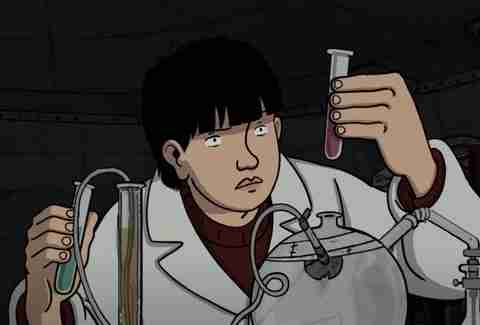 April and the Extraordinary World (2015)
This French animated film might be the one good thing to ever come from steampunk. Set in a 1930s where the world's greatest scientists have disappeared, leaving society to smolder in a coal-burning dystopia, April (Marion Cotillard) is on the run from the state police, who believe she holds the secrets to her late parents' anti-aging serum (which has also gifted her pet cat the ability to speak). With the imagination of Studio Ghibli and the action-pacing of a Guillermo del Toro movie, April and the Extraordinary World is a sci-fi thriller that manages to be whimsical through gunfire and clouds of black smoke.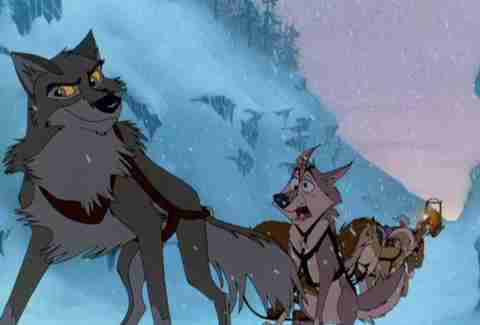 Balto (1995)
During the Disney Renaissance of the '90s, Universal Pictures was also busy releasing beautiful, less frequently recalled animated films. Think Anastasia, The Land Before Time, and Balto, the latter of which is an adventure tale loosely based on the real-life story of a dog who helped retrieve medicine amid the diphtheria epidemic of the early 20th century. The movie was the last produced by Steven Spielberg's former animation studio, Amblimation, so grand illustrations of a hero's journey are a given. It's likely you saw Balto on VHS way back when, and the film featuring a Kevin Bacon-voiced half-wolf/half-dog is worth a rewatch today for all of its Alaskan imagery and heart. 
Bee Movie (2007)
Oh, man. This unbelievable Jerry Seinfeld vehicle, in which a talking bee sues the human race for stealing HONEY, registers high on the ridiculous scale. Renée Zellweger voices a woman who kind of falls for said bee, they land an airplane together at one point, and, well, you just have to go along for the ride, because people STILL LOVE IT. Maybe it's because of the all-star cast (Patrick Warburton, John Goodman, Chris Rock, and Kathy Bates), maybe it's because people like the justice-for-bees message, or maybe -- just maybe -- it's because it is highly, highly memeable. Not saying you necessarily have to love what everyone else does, but aren't you just a tad curious about this 21st-century chunk of Seinfeld gold?
The Breadwinner (2017)
Based on the novel of the same name by Deborah Ellis, The Breadwinner tells the story of Parvana (Saara Chaudry), an 11-year-old living in Kabul, Afghanistan under the reign of the Taliban. After a young member of the Taliban arrests her father, Parvana and her family are left without a means of support given that they cannot travel outside unaccompanied by an adult, male relative. Facing dire circumstances, Parvana disguises herself as a boy in order to earn money for her family and find her father. The film, which was directed by Nora Twomey (The Secret of Kells) and executive produced by Mimi Polk Gitlin (Thelma & Louise) and Angelina Jolie, features stunning animation and a compelling narrative of human resilience. 
Cloudy With a Chance of Meatballs (2009)
It might seem like a dream come true if, say, burgers started falling from the sky whenever you're really hungry -- or any time, really. This, plus other snack-based precipitation, is in the forecast of this animated feature loosely inspired by the picture book of the same name. In the movie, Bill Hader voices an awkward, unaccomplished scientist who tries to invent a machine that turns water into food when his town hits an economic crisis. But things go awry when his invention is accidentally launched into space, which is where the meatballs come in, as well as a whole lot of silliness. In other words, it's exactly what you want out of a solid animated movie. 
Coco (2017)
When 12-year-old aspiring musician Miguel confronts his family's longstanding ban from playing music on El Día de Muertos, he is accidentally transported to the Land of the Dead. There, he meets his great-great-grandfather, a legendary singer, and learns the magic of music and family. Taking a page out of the traditional Disney playbook, this is the first Pixar film to heavily rely on original songs, and they're stunners accompanied by equally stunning Mexican heritage-inspired animation. The film features the Oscar-winning original song, "Remember Me," complete with a sequence that belongs in Pixar's tearjerker Hall of Fame. You'll never feel so emotionally connected to skeletons. 
Coraline (2009)
Imagine your mom and dad had buttons for eyes -- it would be pretty terrifying, right? That's the driving conceit of Coraline, stop-motion master Henry Selick's adaptation of Neil Gaiman's dark children's novella, and the movie delivers plenty of unnerving images that make sewing kits feel like deadly weapons. When lonely, young Coraline moves across the country with her parents, she discovers a secret door that introduces her to an "Other Mother" and "Other Father," who are more accommodating than her real family but also much scarier. As a twisted fairy tale the story can be a bit cerebral, but for surreal nightmare fodder, Selick, who made the equally GIF-able Nightmare Before Christmas, can't be beat.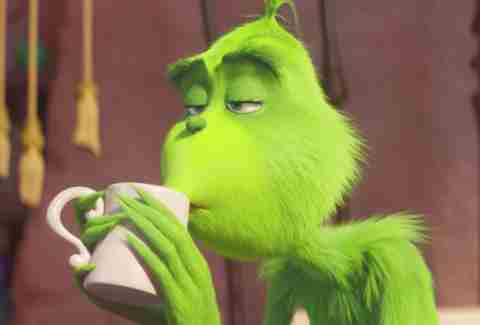 The Grinch (2018)
OK, yes, it's 2018's The Grinch, but hear us out -- Illumination's remake of this tried-and-true holiday classic actually manages to add new flavor to a very familiar character. Unlike other adaptations of the classic Dr. Seuss story, Benedict Cumberbatch's Grinch has a pretty simple backstory: He grew up in an orphanage and is jealous of everyone's familial yuletide warmth. As an adult, he's surprisingly relatable, living alone with only his dog and having to force himself into any kind of social interaction. A genuinely emotional retelling of a well-tread tale, The Grinch is worth a holiday watch. Also, Tyler, the Creator did a remix of the classic "You're a Mean One, Mr. Grinch," and it totally slaps. 
Incredibles 2 (2018)
After over a decade in hiding, Brad Bird's Incredibles, a superpowered family of neurotic do-gooders, return for a sequel that takes a little while to get going but still delivers the visual goods from characters you know and love. As Elastigirl goes on a mission and Mr. Incredible must stay at home to fulfill domestic responsibilities, the characters' skills are put to the test in a variety of fun action sequences. It may have taken 10 years, but the follow-up was worth the wait. 
Invader Zim: Enter the Florpus (2019)
Invader Zim has always been weird as hell. Almost 20 years after it's 2001 premiere, Enter the Florpus is pure Invader Zim shenanigans in the most endearing way possible. Zim and Dib are still locked in their everlasting rivalry, Dib is still trying to get through to his father, Gaz still likes video games, and GIR is… well, GIR is GIR. The film brings all of Invader Zim's trademark weirdness back into play and finally gives us some closure through what very well may be Zim's most apocalyptic scheme yet. For fans of the original series, Enter the Florpus is a must-watch spectacle that'll send you straight back.
The Little Prince (2015)
Netflix rescued this animated adaptation of the popular French sci-fi novel after a major Hollywood studio dumped it. Watching The Little Prince, you can see why; following a girl who tests her overbearing mother's life plan by dreaming big and adventuring into space, the movie is a little too melancholy, a little too freeform, and a little too poetic -- at least side-by-side with the Ice Age movies. For Netflix, the result is a huge win.
Mary and the Witch's Flower (2017)
Created by former Studio Ghibli illustrators, this Japanese film features similar-looking beautiful, fantastical imagery to tell a mystical story. Inspired by the classic children's book The Little Broomstick, Mary and the Witch's Flower follows the magical journey of a young girl sent to live in the country who stumbles upon a charmed broomstick and a flower in the forest that send her away to a secret school for magic. There, a wildly fantastical adventure told through powerful animation unfolds like a storybook.
Ralph Breaks the Internet (2018)
It's nigh-impossible to make a movie that accurately spoofs the internet. Given that internet culture, humor, and trends fall in and out of favor at the tip of hat, making a movie that captures the experience of being online at any given moment is a tall order. While Ralph Breaks the Internet felt almost outdated by the time that it premiered (it's all about apps, apps, apps!), it does its best to tackle concepts like virality, online community, and the fleeting connections we attempt to maintain online. There's also some great riffing off of basically every single IP that Disney owns as well as a genuinely charming number about Vanellope's infatuation with the gleefully violent Slaughter Race.
Rocko's Modern Life: Static Cling (2019)
It's been a hot, hot minute since Rocko's Modern Life was on air. A beloved '90s Nickelodeon cartoon, it was known for its earnest charm, slapstick comedy, and social satire. Static Cling brings all of that same charm with a bit of a twist: the special takes place in the present. After Rocko and his friends Heffer and Filburt spend 20 years careening around space, they return to a present day O-Town full of smartphones, coffee shops, and other 21st century technological marvels. Much to Rocko's dismay, his favorite TV show The Fatheads has also gone off the air. Rocko sets out to find Rachel Bighead, the creator of The Fatheads, who was previously known as Ralph in the original series and has transitioned in Rocko's absence. Rachel is reluctant to leave her life selling Fatheads-inspired ice cream, and Rocko must convince her to come back to O-Town and help reboot the series. Perfectly nostalgic and genuinely warm as ever, Static Cling is a fitting addition to the series.
A Silent Voice (2016)
Based off of Yoshitoki Ōima's manga of the same name, A Silent Voice follows teenager Shōya Ishida, who spent his elementary school days bullying deaf classmate Shōko Nishimiya. As a result, he ended up being ostracized by his classmates throughout the rest of his school years. Now in his last year of high school, Shōya attempts to reconnect with Shoko and some of their other elementary school classmates in the hopes of mending what has been broken and finding personal redemption. Beautifully animated by acclaimed studio Kyoto Animation (K-On!, Violet Evergarden), A Silent Voice is a moving coming-of-age story. 
Spider-Man: Into the Spider-Verse (2018)
In this shrewd twist on the superhero genre, the audience's familiarity with the origin story of your friendly neighborhood web-slinger -- the character has already starred in three different blockbuster franchises, in addition to countless comics and cartoon TV adaptations -- is used as an asset instead of a liability. The relatively straight-forward coming-of-age tale of Miles Morales (Shameik Moore), a Brooklyn teenager who takes on the powers and responsibilities of Spider-Man following the death of Peter Parker, gets a remix built around an increasingly absurd parallel dimension plotline that introduces a cast of other Spider-Heroes like Spider-Woman (Hailee Steinfeld), Spider-Man Noir (Nicolas Cage), Peni Parker (Kimiko Glen), and, most ridiculously, Spider-Ham (John Mulaney), a talking pig in a Spider-Suit. The convoluted set-up is mostly an excuse to cram the movie with rapid-fire jokes, comic book allusions, and dream-like imagery that puts the rubbery CGI of most contemporary animated films to shame.
Tarzan (1999)
One of the few Tarzan adaptations that will have you wishing you were raised by apes, Disney's '99 version features plenty of warm-and-fuzzy talking animals and an Oscar-winning soundtrack courtesy of Phil Collins. The visuals are some of the Mouse House's 2D finest, as the titular character swings from vines and dives off waterfalls, and Tony Goldwyn and Minnie Driver's voicing of Tarzan and Jane lends the 'toon some much-needed chemistry.