Don't miss Thrillist's guides to the best action anime and the best anime on netflix right now. And don't sleep on last year's best anime series either.
We've yet to experience most of 2018's anime, but a few months time is enough to uncover plenty of goodness already. Throughout the year, this list will highlight the most outstanding new titles, with new updates anytime something earns a mention. These are the 2018 you should keep an eye on, so get watching.
Recommended Video
Behold The Super Bowl For Cat Lovers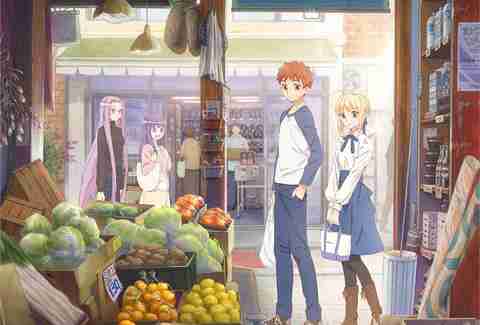 10. Today's Menu for the Emiya Family
Director: Takahiro Miura, Tetsuhito Sato
Script: ufotable
Character designer: Touko Uchimura
Animation production: ufotable
As if to make up for today's turbulent times, 2018 kicked off with a few calm series to heal our souls, 24 minutes at a time. Today's Menu for the Emiya Family is one of the most curious spinoffs of the Fate/ franchise, which, not content with constantly putting out popular action series, has also been branching off towards more comedic ends. While this Today's Menu is fairly amusing if you're acquainted with the characters, as their leisurely behavior is quite the contrast with their usual fights to the death, the goal is something else: relaxing with food. The unparalleled thoroughness when preparing the dishes almost makes this show into an animated cooking tutorial, and the coziness when eating it is incredibly contagious. Accompanied by a pleasant, warm aesthetic, Today's Menu for the Emiya Family is the perfect series to unwind while eating yourself. If it weren't for the fact that the episodes are released monthly, this could be the perfect series to watch every day.
Available on: Crunchyroll
9. Karakai Jozu no Takagi-san
Director: Hiroaki Akagi
Series composer: Michiko Yokote
Character designer: Aya Takano
Animation production: Shin-Ei Animation
Nishitaka, fed up with the fact that the classmate he has an obvious crush for keeps teasing him, keeps coming up with increasingly convoluted challenges in which to outwit her. What he may never realize is that his subject of affection Takagi doesn't only share those feelings, but is also always prepared to make his plans collapse on themselves. Told in a series of daily-life vignettes, a show like this could easily come across as mean, seeing how much the poor boy ends up suffering. But most of the time it's his silly proud middle-schooler attitude that earns him his defeats, and the efforts to underline the affection she feels ends up being quite charming. While not as outrageously funny as some similar series like My Neighbor Seki, this adaptation ended up in the right hands to make its more mundane stories feel fulfilling. Leaving aside the one recurring short segment involving other classmates, Karakai Jozu no Takagi-san focuses exclusively in one set of interactions, but it gets it so right that it doesn't matter.
Available on: Crunchyroll
8. Sanrio Boys
Director: Masashi Kudo
Series composer: Takashi Aoshima
Character designer: Atsuko Nakajima
Animation production: Studio Pierrot
What could have been one of the most disingenuous product placement series ended up being... a very soulful product placement series. The massive corporation Sanrio once again uses a property to promote their merchandise, but this time, the series is a platform to spread a lovely message. Protagonist Kota Hasegawa is a bit of an insecure teenager who is so embarrassed about his fondness of the cutesy mascot Pompompurin that he rejects fond family memories tied to it, but his meeting with popular schoolmates Yu Mizuno and Shunsuke Yoshino, both huge fans of different Sanrio mascots, allows him to accept himself. Viewers who stuck with the show beyond its nice initial message were delighted to find out that its pleasant vibes continued with understated qualities, like its ability to capture believable friendly interactions, both the playful teasing and the genuine caring. Despite seeming like nothing but a promotional tool at a first glance, this is one of the most unusually sincere anime you'll come out across.
Available on: Crunchyroll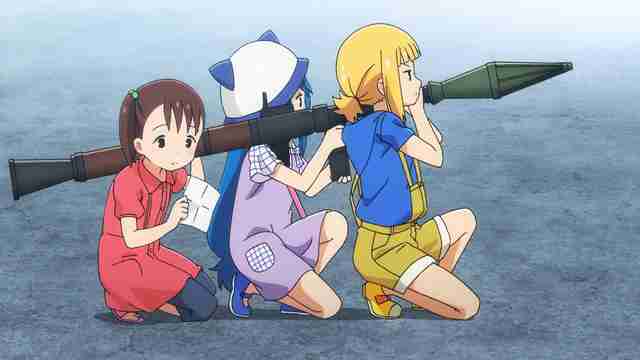 7. Mitsuboshi Colors
Director: Tomoyuki Kawamura
Series composer: Shougo Yasukawa
Character designer: Takumi Yokota
Animation production: Silver Link
Kotoha a game-loving child who, despite being very sharp, can't clear any video game with all the cheats in this world; Yui, a leader who might break into tears at any moment; Sacchan, a bright kid whose mind is filled with feces; together they're the "Colors," a group of children beloved by their neighborhood but feared by the jerk of a policeman they love to annoy during their free time. With just the right amount of exaggeration, Mitsuboshi Colors escalates their childlike behavior and ridiculous conversations in hilarious ways, and becomes even funnier when the adults jump in on their ridiculous game. Beyond all that fun hides a real sense of community, with plenty of incidental interactions that really make you feel all those side characters are neighbors. There's no denying that the source material is doing the heavy lifting here since the anime's production is rough around the edges, to say the least, but the charm of the kids bringing chaos to the neighborhood and terrorizing a cop is undeniable.
Available on: HiDive
6. Laid-Back Camp
Director: Yoshiaki Kyougoku
Series composer: Jin Tanaka
Character designer: Mutsumi Sasaki
Animation production: C-Station
While not extraordinary on paper, Laid-Back Camp is one of the most inspired takes on the popular premise of a group of teenagers focusing on a specific activity. Lone-wolf Rin meets massive airhead and her-soon-to-be schoolmate and Nadeshiko in the wilderness, which gets the latter to fall in love with outdoors activities. This could be the start of a typical story: extrovert meets introvert and teaches her how doing stuff with friends is simply better. Laid-Back Camp instead chooses to take a more nuanced approach, and while Rin starts sharing her hobby with Nadeshiko, she still gets to relax by herself regularly while her new friend hangs out with the school's outdoor activities club. A similar level of respect is shown when it comes to the depiction of camping, with many of their activities and the countryside landscapes carefully drawn off footage of the real thing, despite the production as a whole not being outstanding. Laid-Back Camp is a little show that cares, one that may help you understand the appeal of the so-called healing anime.
Available on: Crunchyroll
5. Pop Team Epic
Director: Jun Aoki, Aoi Umeki
Series composer: Jun Aoki
Animation production: Kamikaze Douga
Pop Team Epic is at the same time one of the most memorable anime experiences in recent times, and one of the hardest recommendations I'll ever make. True to the spirit of the original comic, its adaptation is a series of very carefully constructed non-humor skits that, thanks to the audiovisual medium, have only ramped up the madness. Despite technically being a 3-D, CG production, at any point it may switch to intentionally hideous 2-D animation, gorgeous hand-drawn art, pixelated game parodies made by a university student, or an arts-and-craft stop-motion spectacle. While it does have a recurring couple of characters – the small ball of anger Popuko and her equally dangerous friend Pipimi – it's hard to say what Pop Team Epic is about; if it really were about something, it would quickly get tired of that and move on to something else. And that, of course, does apply to the voice actors as well, as each episode loops with two different sets of voices, just to get replaced on the next episode. This show could either amuse you more than anything else or come across as an inexplicable alien relic, but it's worth a try either way.
Available on: Crunchyroll, HiDive, Funimation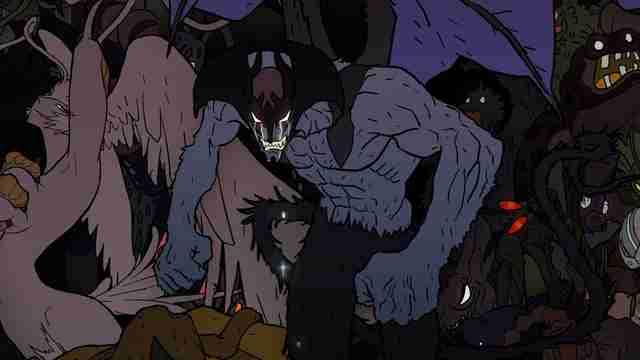 4. DEVILMAN crybaby
Director: Masaaki Yuasa
Series composer: Ichirou Ookouchi
Character designer: Ayumi Kurashima, Kiyotaka Oshiyama
Animation production: Science Saru
Beloved auteur Masaaki Yuasa has been quite active ever since he co-founded Science Saru, but he hadn't had a chance to direct a full-length series at his new studio until now. His first go at it was nothing other than a fascinating reinterpretation of Go Nagai's classic Devilman series, which brings it to modern times and changes all events according to the setting while somehow keeping its core intact: the immensely kind teenager Akira Fudo is still pushed into fusing with a demon by his cryptic friend Ryo Asuka as a way to fight back against humanity's impending doom, but the narrative that unfolds has been fully transformed in a way that feels very respectful towards the source material. Don't get me wrong: This adaptation is every bit as gruesome as the original work and then some, Yuasa exploiting Netflix's lack of restrictions to make a visceral spectacle of hyper-violence, sex, and death. It took a long time to digest DEVILMAN crybaby, and two months after the fact, I'm still not entirely sure about my feelings on it. What I do know for sure though is that it was one of the most impactful, unforgettable experiences in this medium, and based on that alone it's easily earned a recommendation -- as long as you see yourself being able to stomach it!
Available on: Netflix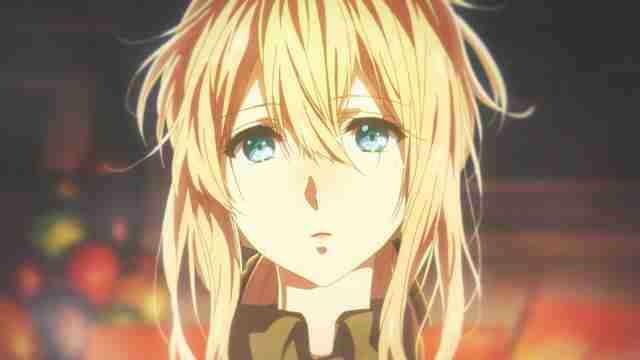 3. Violet Evergarden
Director: Taichi Ishidate, Haruka Fujita
Series composer: Reiko Yoshida
Character designer: Akiko Takase
Animation production: Kyoto Animation
Having lost the parental figure that meant the world to her, and dwelling on her single role as a tool of war, Violet finds herself with no purpose. Pushed into accepting a job as an "Auto Memory Doll," essentially a writer for hire gussied up with Victorian flair, her almost robotic self gradually grows to understand the power of communication and the many forms affection can take. Although her development is slow and she's not the most immediately compelling character, the show's impact increases tenfold when it switches to episodic tales that sometimes have Violet as a mere spectator. Her job takes her to different settings with palpable, distinct identities, but it stays thematically consistent, with each episode pushing her closer to the answer she seeks. It's a sentimental series to the point of being cheesy, but it earns that grandeur through the masterful direction and obscenely lavish production. If you want an anime to make you cry, Violet Evergarden will be delighted to provide just that.
Available on: Netflix worldwide on a weekly basis, batch release planned for the US in April 4.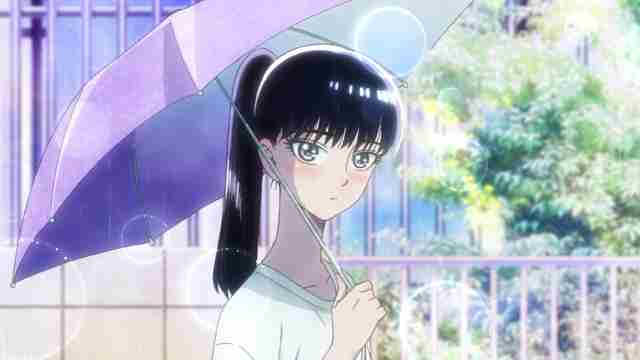 2. After the Rain
Director: Ayumu Watanabe
Series composer: Deko Akao
Character designer: Yuka Shibata
Animation production: WIT
Behind a dubious age-gap romance premise hides a beautiful, introspective tale about finding a new reason to live at two very different points in life. Akira Tachibana's injury forces her to quit the track club to which she had dedicated her youth, clouding over her happiness. It's only after meeting a dining place's disillusioned middle-age manager that she can see what awaits after the rain, and perhaps begin moving on. Tying the weather to emotions is an old trick, but this show's graceful direction is miles ahead of the competition, capable of nailing both juvenile femininity and painful sorrow. A masterful melancholic piece that will unfortunately put off some viewers.
Available on: Amazon
1. A Place Further Than the Universe
Director: Atsuko Ishizuka
Series composer: Jukki Hanada
Character designer: Takahiro Yoshimatsu
Animation production: Madhouse
If we're talking about proudly sentimental anime, A Place Further Than the Universe is also an excellent example of loud delivery of emotions not necessarily erasing their nuance -- a trademark of director Atsuko Ishizuka. High-schooler Tamaki Mari wants to achieve something big while she's still at an age where distractions are allowed, but she's always hesitated when it comes to taking the last step. She's quickly drawn to her schoolmate Shirase Kobuchizawa, who has a reputation of being a bit of a weirdo because of her dream to go to Antarctica. And that's exactly where they'll go, accompanied by two other very believable teenage characters with a bit of a tendency to get into amusing problems. Successful as a coming of age series, respectable as character vignettes, and simply hilarious when it's goofing around -- this show does so many things well that you're very likely to get something out of it.
Available on: Crunchyroll
Sign up here for our daily Thrillist email and subscribe here for our YouTube channel to get your fix of the best in food/drink/fun.