Listen here: if you still equate anime with the dubbed Pokémon and Dragon Ball Z episodes you watched on Cartoon Network in middle school, your life is all mixed up. There's a whole big world of animated 'toonage that's less like whatever's airing on Disney Channel these days and a lot more like Westworld, Game of Thrones, and even non-action/adventure series like Freaks and Geeks and Twin Peaks. Streaming services see the untapped potential and are programming anime for American audiences who don't know niche sites like Crunchyroll or Kissanime, and plating up a well-balanced dose of beloved favorites and new (and sometimes currently airing) shows. If you have nary a clue where to start, look no further than this primer.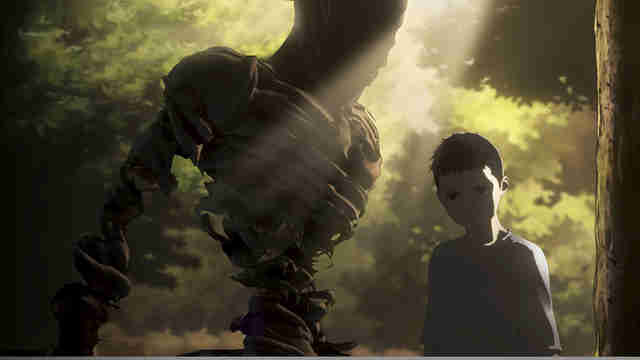 Ajin: Demi-Human
It might take a second to adjust yourself to the style of this series, which is animated in 3D to push the limits of human suffering. Which is to say, Ajin: Demi-Human doesn't shy away from violence, both delivered and self-inflicted to "ajin," a form of half-human, half… creature with the power to resurrect itself as a "black ghost," a wispy, spiraled, bandaged humanoid with the power to wreck shit. Ajin: Demi-Human follows high schooler Nagai Kei, who learns that he's an ajin after being hit by a truck. After he resurrects in front of many of his peers, he goes into hiding -- captured ajins are subjected to brutal torture veiled as governmental research. While Kei's on the run, a morally bankrupt ajin, known colloquially as "the Hat," terrorizes the public and incites a full-blown war with humanity over the "oppression of ajins." Season 1 ends on a steep cliffhanger, but look for Season 2 to roll out sooner than later (it's currently airing in Japan and is rumored to hit Netflix in early 2017).
Robotech
This is the godfather of anime television in the United States. Robotech -- released as an American adaptation of three unrelated sci-fi robot series -- first introduced American audiences to classic space opera anime tropes. Newcomers should expect awkwardly dubbed accents, silly musical numbers, a sweeping orchestral score, and cosmic battles over some Cold War analogue called "Protoculture." The mixture is potent drama; as Seth Green recently declared: "[Robottech] took its material so seriously and had such gravity….I still remember when [redacted for spoilers] got killed and came home to his girlfriend because he had such vicious internal bleeding, and she was so excited to see him, horrified that he might not have made it through the battle. And then he died in her arms on the couch." Oh, right. It also has transforming robots.
Knights of Sidonia
Robotech has a number of spiritual successors, but on Netflix, none of them eclipse Knights of Sidonia. Released exclusively on Netflix in 2014, Sidonia's crisp animation and easily approachable story make it an excellent gateway drug to an anime neophyte. Equal parts Battlestar Galactica and Alien, the show follows the last remnants of humanity as it fights the Gauna, gigantic alien monsters terrorizing the human ark ferrying them through space. Unlike many other titles in its genre, Sidonia does a lot with subtle dialogue and character development, and mostly stays clear of over-the-top indulgences and sexualized "fan service" the genre's unfortunately known for. Much has been made of how realistic the show is, and it makes all the difference.
Mushishi
A "mushi" aren't quite physical, aren't quite spiritual, but the molecular, abstract forms have always existed. They're mostly innocuous, though occasionally pernicious, like when certain species nestle themselves into the eyes or ear canals because they "eat" light and sound. Only certain kinds of people can even perceive the mushi, and that's where a wandering one-eyed man named Ginko, a mushi master (mushi-shi), steps in.
An anthology following Ginko's exploits solving mushi-related afflictions in the far-reaching towns during Edo-era Japan, Mushishi is supernatural and soft around the edges. It leaves you feeling generally positive about the motives of humanity, even when stories aren't neatly resolved. Don't expect sword fights or high-intensity action here, folks. This is meditative, tactfully told anime. The dumb news is that only Season 2 is on Netflix -- you'll have to scoot over to Hulu for the first 26 episodes of the series. But, as mentioned, you can start watching from pretty much wherever and still get the point. It's best to ride this one slowly.
Attack on Titan
What if the skinned humanoids from The Bodies exhibit attacked major cities like Godzilla? From the mind of Tetsurō Araki, one of anime's great directors, Attack on Titan takes place in an alternate universe where mankind harbors inside of walled cities, knowing the destructive "titans" could strike at any moment. In true anime style, there's a young hero, Eren Yeager, who is swallowed by a titan and granted the ability to transform into a "Rogue Titan." He uses the powers for good, enlisting in an anti-titan military squad, and the action-heavy series takes off from there.
Death Note
Another series based on a popular manga (and again directed by Tetsurō Araki), this series revolves around a high school student named Light Yagami, who discovers a supernatural notebook called "Death Note" that can kill anyone whose name is written inside. The book also forces a new friend on Light: Ryuk, a shinigami, i.e., Japanese "death spirit," tired of the spirit world and infatuated with ours (he may also be among the craziest designed creatures in anime history). Together, they embark on a kind of grisly Quantum Leap. You'll see why Hollywood's been hustling to launch an American live-action adaptation of the series for more than a decade when you see how the drama plays out.
Gunslinger Girl
The title may sound like a grindhouse movie, but Gunslinger Girl -- the story of cybernetic child assassins operating in an Italian government entity called the "Social Welfare Agency" -- is one of the most mature anime series on Netflix. Gunslinger takes aim at the "moe" subculture, which often eroticizes representations of young women, by unspooling a story of emotionally complicated victims-cum-killers. Child abuse, rape, PTSD, coercion, bullying, and human trafficking all factor into the show, depicted through the lens of 14-year-olds like main character Henrietta, who develops feelings for her adult handler Jose, and carries an FN P90 in a violin case, blowing men away without hesitation. Gunslinger Girls is a steadily paced, meditative look at its characters, with violence punctuating their coping with trauma, rather than overwhelming the narrative.
Sword Art Online & Sword Art Online II
Existence quickly turns grim on the first day's release of this anime's fictitious "Sword Art Online," a virtual reality massive multiplayer online role-playing game (or VRMOORPG -- it's a mouthful, either way). Set against the layered mountain of Aincrad in the year 2022, players find themselves mysteriously unable to log out, whereupon the game's creator ominously appears hovering in a cloak -- he has hacked every player's NerveGear, the helmet technology used to access the immersive VR world, and imprisoned them in a world of sword fighting and magicking against monsters. If you die in the game, you die in real life. If a family member removes the NerveGear in an attempt to save you, you will also die. Though there are heart-wrenching in-game deaths in Sword Art Online (the show), some of the bleakest moments happen outside of the game -- glimpses into the newsreels where years have passed, thousands have died, and the remaining physical forms of the trapped players are emaciated bodies hooked up indefinitely to IVs. But the series also takes our heroes to worlds of mythology, gunslinging, and back into the whole fairy and swords thing. For anyone with questions of how VR technology change our future, SAO is a must.
Sign up here for our daily Thrillist email, and get your fix of the best in food/drink/fun.