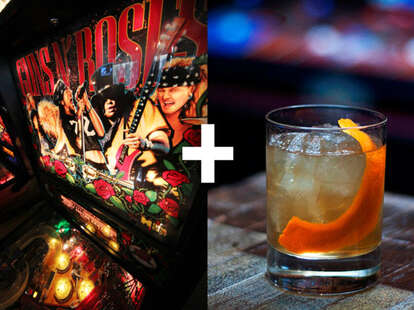 As Duke Nukem long ago dictated, video games and beer go together like video games and not getting laid. Luckily for both of those scenarios, the combination of high ABV and high scores has manifested itself in countrywide arcade bars, where there're totally more chicks than in your buddy's basement (maybe), and where you can actually purchase booze rather than stealing it from Bret's dad's liquor cabinet that only has Frangelico. Here's a collection of places to power up: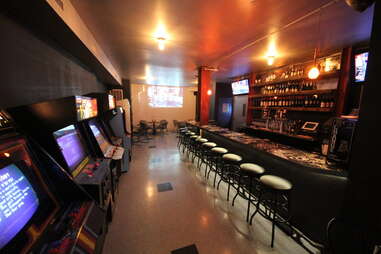 Two Bits Retro Arcade (New York)
So, the owner of this Lower East Side emporium's a wine nerd, so expect lots of fine bottles... like 40s of Colt 45, which sit perfectly in your lap while you play the dubiously new Hydro Thunder, and make Spy Hunter and Afterburner somehow even harder.
Ground Kontrol (Portland)
Decked out with Tron-style glowing tables and trim, this two-tiered gaming haven features a ground level chockablock with games from Virtua Cop to Tubin', a second floor mostly dedicated to pinball, and a bar serving up cocktails and microbrews to a soundtrack provided by DJs who spin hip-hop takes on 8-bit songs... because it's Portland!
Add-a-Ball Amusements (Seattle)
From classics to more obscure fare -- Mr. Do!? Run Run?, Dragon Fist? (not the Game of Thrones kind...) -- this place also lets you waste your quarters on a coin-operated popcorn machine and adjoining coin-operated microwave... which become increasingly hard to operate after a few Olympias.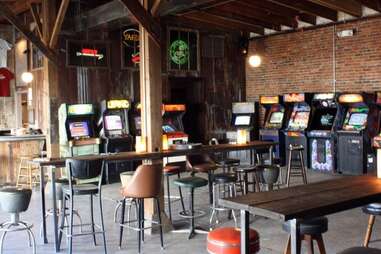 Barcade (New York & Philadelphia)
Legendary beer-slinging game Tapper is appropriately at these '80s-intensive, tap-heavy rec rooms that group their games by genre (racing, fighting, etc.) and also feature a full bar... which you'll totally need after wasting $23 on the first level of Ghosts 'n Goblins.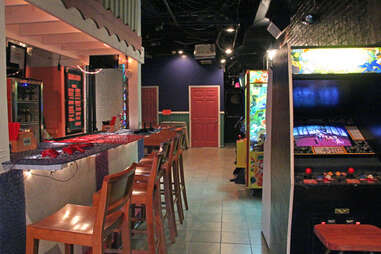 Atlas (Washington, DC)
Offering an alternative to sitting at home playing console games while drinking, this DC joint allows you sit at a bar playing console games and drinking... or actually stand up to dominate Golden Axe and Shinobi... or even get more exercise than you've gotten since before Halo came out via a foosball table.
Headquarters (Chicago)
Rocking a beer for every bit the Genesis offered -- which you can slug among a sea of arcade games and 7000sqft of pinball -- Headquarters ups the arcade bar ante with themed drinks like a Bloody with a White Castle slider (which'll help you win Burger Time) and the whiskey-filled Sodapopinski, which is technically incorrect since original the Punch Out character was filled with vodka. But order three anyway.
Insert Coins (Minneapolis)
A Vegas-originated concept that's half Tron-looking uber club/half arcade, this MSP joint includes nearly 50 classic games, most consoles, booming DJ music, a private room where you can destroy your thumbs, a 3D motion-censor gaming room, a full-on Caribbean-themed food and drink menu... really, it just keeps going. Plan on bringing a sleeping bag, cuz your inner 12yr-old's not gonna want to leave! Your outer 27yr-old will totally get kicked out if you do, though.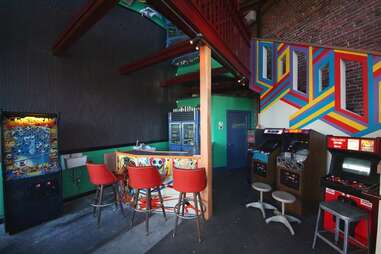 John John's Game Room (Seattle)
This two-level den of geek keeps its focus on classic games like Baby Pac-Man and 1943, plus lets you drink tall boys of Rainier and Mickey's that'll totally make you tilt while you're playing vintage pinball games.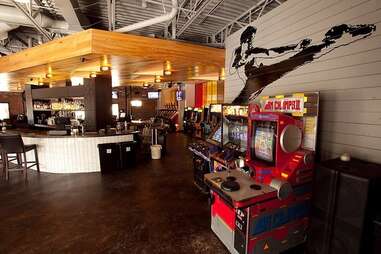 Kung Fu Saloon (Houston, Dallas, Austin)
Make your Ryu vs. Guile bout in Street Fighter II even more authentic by pairing it with sake bombs and Belgian beers at this ever-expanding trio of Texas joints, which specialize mainly in old-school games and also features DJs and movie screenings of the ultra-nerdy variety... but DAMN does the Power Glove still look futuristic.
1up (Denver)
Holding down Denver's LoDo neighborhood just steps from Coors Field, 1up features 25+ '80s arcade classics, a "custom arcade cabinet" that dispenses 10+ local Colorado craft brews, and awesome yearly-ish events like The Kong Off, where they reunite the stars of the famed DK doc The King of Kong to play each other again.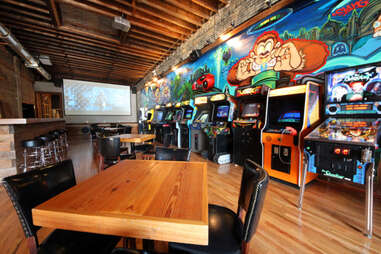 Emporium (Chicago)
Fact: You are better at NFL Blitz if you've consumed a ton of whiskey, which's a good thing here because they've got a whole wall of the brown stuff, in addition to 24 Midwest-centric beers and 40+ games. Get the high score, and your initials aren't just on the game: They also go on a board above the bar, so you can totally brag to chicks about all the time you spent honing your Paperboy skills even though you currently earn less than one.