The Breakout Actors of Sundance You Need to Know
The Sundance Film Festival is a launching pad for movies and talent alike. Before names like Jennifer Lawrence, Peter Dinklage, Michael B. Jordan, and Evan Rachel Wood carried major movies and TV shows, they were Sundance darlings wowing in roles realized outside the Hollywood system. After counting down the best movies of Sundance 2017, here are the actors and actresses who will blow up next:
Jessica Williams in The Incredible Jessica James
Toward the end of this buzzy Sundance romantic comedy, Williams, as the budding playwright and stubborn know-it-all, proclaims, "I'm dope!" She really is. Like her scorching editorials on
The Daily Show
, Williams brings no-bullshit attitude and a rarely seen millennial frailty to a story we've seen a million times before. Whether it's digressions on baby shower gifts, Tinder, ex-boyfriends, or "the system," Williams crackles with poetic profanity and the wisdom of a thousand lifetimes. With women finally getting the attention they deserve by mainstream Hollywood comedies, Williams' turn in
The Incredible Jessica James
, coming
courtesy of Netflix later this year
, should make her the next Melissa McCarthy or Amy Schumer in no time.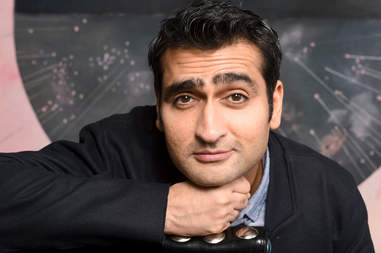 Fred Hayes / Getty Images
Kumail Nanjiani in The Big Sick
Don't confuse Nanjiani for his
Silicon Valley
alter ego, the well-meaning, failure-prone programmer Dinesh. In
The Big Sick
, an autobiographical dramedy about that one time
his girlfriend slipped into a coma
, the comedian puts his real self on the line. Bits of his stand-up pave the way for a full breakdown of neuroses, as Nanjiani's "Kumail" deals with budding romance, commitment insecurity, the cultural pressure of a good ol'-fashioned Pakistani arranged marriage, and the complex feelings of sticking by someone who might wake up from a medically induced hibernation and hate your guts. Like
Louis C.K.
on
Louie
or
Aziz Ansari
on
Master of None
,
The Big Sick
gifts Nanjiani with a character he knows well that still requires comedic timing and dramatic chops. And usually both: A scene where a heckler screams "Go back to ISIS!" to an unprepared Kumail is
The Big Sick
reaching for something more -- and Nanjiani easily delivering.
Oddlot Entertainment
Abby Quinn in Landline
If you swooned over actress Jenny Slate and director Gillian Robespierre's
Obvious Child
,
their follow-up Landline
will surprise you, thanks in no small part to newcomer Abby Quinn. Matured and sprawling, the movie follows a New York family as they bicker, retreat, and ultimately mend relationships. Quinn plays Ali, the rebellious younger sister to Slate's soon-to-be-married Dana. The character's crass and misguided and wise and lived-in. She is the anti-CW teenager, a girl who has awkward sex because everyone else is doing it, who's tempted and defeated by club drugs, who only realizes how much she loves her mother when they find themselves sobbing and smoking cigarettes on the bathroom floor. Reality's tough to manage. Quinn's take is effortless.
Randy Shropshire / Getty Images
Timothée Chalamet in Call Me by Your Name
He speaks Italian and English. He plays classical piano like a millennial Mozart. He holds his own against Armie Hammer and Michael Stuhlbarg. He masturbates into a peach without feeling a hint of embarrassment. My God, in
Call Me by Your Name
,
the sensual romance from A Bigger Splash director Luca Guadagnino
, Timothée Chalamet really does it all. As the sexually awakened Elio, Chalamet sparks to Hammer's Oliver, a grad-school student who parades through Italian town squares with a hunk's awareness. The actor is in total control, even when he's not, carving out a character that's equal parts lust and loss. We'd be put to shame by Chalamet, who's only 21 years old, if his performance weren't so damn romantic.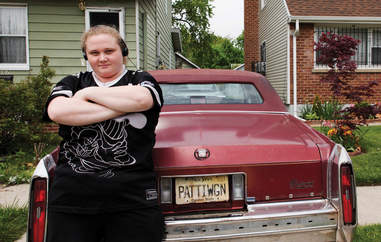 Fox Searchlight
Danielle Macdonald in Patti Cake$
Patti Cake$
is the
La La Land
for Dirty Jerz gangsta rap, and Macdonald, as the aspiring rapper Killa P, is the jawny dreamer who jawns. Ridiculed over her weight by the male-dominated hip-hop scene, eroded by the cynicism of her mother, a failed musician drawn to the bottle, and shackled down by dead-end service jobs, Patricia is a familiar artistic underdog. Macdonald gives her a beat. The actress spits fire in freestyle and break hearts staring out to the New York City skyline.
Patti Cake$
isn't a perfect movie, but its star is the perfect heroine.
Lilly Lawrence / Getty Images
O'Shea Jackson Jr. in Ingrid Goes West
Imagine being Ice Cube's son. Imagine being Ice Cube's son and scoring your first big acting role... playing Ice Cube in the NWA movie. Jackson brought the rhyme and reason as the young version of his dad in
Straight Outta Compton
, but it's his comedic role as a wannabe screenwriter in
the scathing Los Angeles satire Ingrid Goes West
that prunes him from the family tree. As the Batman-obsessed landlord to Aubrey Plaza's unhinged Instagram addict, Jackson taps a comedic vein that would immediately earn him his own
Friday
if it were 1995. If any major Hollywood comedies require someone to scream, "VAL KILMER!" with a fanboy squeal, Jackson is the man to do it. If there aren't any... Judd Apatow, get on that.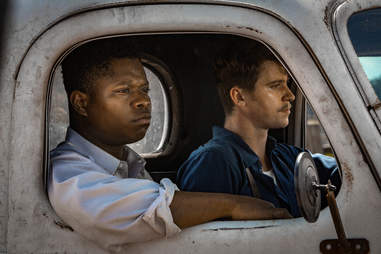 MACRO MEDIA/ZEAL MEDIA/BLACK BEAR PICTURES
Jason Mitchell in Mudbound
O'Shea Jackson Jr. isn't the only
Straight Outta Compton
alum soaring to the top of the Sundance pack. In
director Dee Rees' novelistic look at post-slavery America
, Mitchell stars as Ronsel, the oldest son of a sharecropper family who enlists in World War II, thrives in the cockpit of a tank, and returns to Mississippi to find a world that for blacks is almost as deadly as combat-torn Germany. It's not a role that demands long monologues or tragic breakdowns -- the racism that hangs over Ronsel's family doesn't allow for much speaking at all. But Mitchell is a keen observer and, in the moments where he can speak out, an eloquent orator. Mitchell was pure energy playing Eazy-E in
Compton
. In
Mudbound
, he's laser-focused.
Tiffany Rose / Getty Images
Haley Lu Richardson in Columbus
It takes a dimensional actor to drag from a cigarette and detail the history of Indiana's modernist architecture movement without making the audience want to jump off said architecture. Richardson has the gift. After appearances in
The Edge of Seventeen
and this month's
Split
, the actress earns a hell of a leading role as Casey, a high school graduate with the brains for the Ivy League and the compassion to stick around home as her mother kicks meth addiction. Richardson
spends most of Columbus strolling through public greens with actor John Cho
, but she's driving the picture, right up there with Julie Delpy in the
Before Sunrise
movies as a grade-A conversationalist. Midwestern audiences deserve Richardson's intelligent, compassionate take on pastoral suburbia.
Maarten de Boer / Getty Images
Bene Coopersmith in Person to Person
Coopersmith doesn't look like your typical actor on the rise because... he isn't one. The guy owns a record store in Red Hook, Brooklyn. And in Dustin Guy Defa's Person to Person, an ensemble comedy ripe with New York City-isms, he doesn't stray far from his day job, playing a record collector who hunts down the con artist who sold him a fake Charlie Parker vinyl. But all movies could stand to have a Bene Coopersmith, an authentic oddity who blends seamlessly with 16mm cinematography, questions without irony whether his ugly new button-down is truly ugly, and waxes poetic about jazz without any lamenting about the genre's demise. Michael Cera and Broad City's Abbi Jacobson anchor Person to Person, but Coopersmith's hipster cool makes it sing, man.

Sign up here for our daily Thrillist email, and get your fix of the best in food/drink/fun.

Matt Patches is Thrillist's Entertainment editor. He previously wrote for Grantland, Esquire.com, and Vulture. Find him on Twitter @misterpatches.