The Best British TV Shows on Netflix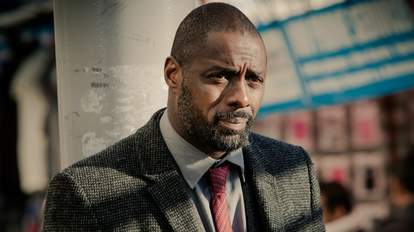 The British are coming, the British are coming! While the frantic cries of Paul Revere served their purpose at the time, the Brits still managed to set up permanent shop on United States territory -- not because of the British empire's superior military might, of course, but because of America's superior technological innovation. We're obviously talking about Netflix. 
While the Redcoats may have tried and failed to crush the irrepressible will of the American people in 1776 and 1812, we are a forgiving nation, at least when it comes to people who share economic and cultural beliefs with us. To be fair, they've produced some outstanding television in the post-World War 2 years, and a lot of the UK's best has made its way to Netflix. Check out the following titles the next time you're feeling sympathetic toward the lobsterbacks.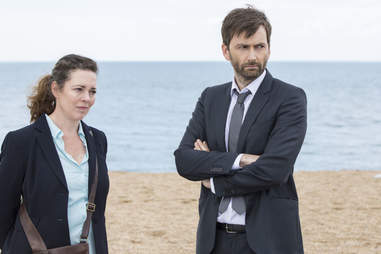 ITV
Broadchurch (2013-2017)
The murder of a young boy stirs up a media frenzy and divides a tight-knit English coastal town, and the proper order of things is further disrupted by the unfiltered hotshot inspector (David Tennant) who arrives just in time to take on the baffling crime and vex a local detective (Olivia Colman) who wanted his job. The episodes of the show's three seasons mix in the main protagonists' complex personal lives with the well-paced investigation, ensuring that Broadchurch unfurls in a way that'll have you texting your friends to say, "I'm too sick to go out tonight" and automatically clicking "next episode."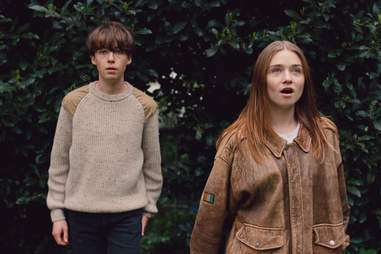 Netflix
The End of the F***ing World (2017- )
Somehow, a show about a teenager who's convinced he's a psychopath and wants to find his first human kill manages to come off as a charming love and coming-of-age story. The tone demands a lot of the audience: Can you empathize with the human struggle of a kid who wants to kill, kill, kill? It's a compelling premise that tackles the question with necessary nuance.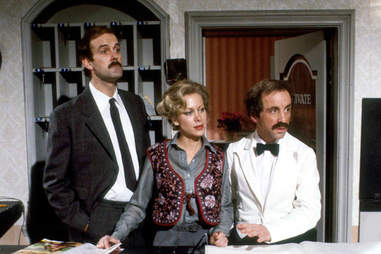 BBC Two
Fawlty Towers (1975; 1979)
Monty Python vet John Cleese teamed with then-wife Connie Booth to create Fawlty Towers, a legendary testament to the charms of British humor. The show centers on the lives of a comically inept and bad-tempered hotel owner and his wife, their employees, and the guests they inevitably alienate. If you like wacky comedy with intellectual sensibility, Fawlty Towers is a must-watch.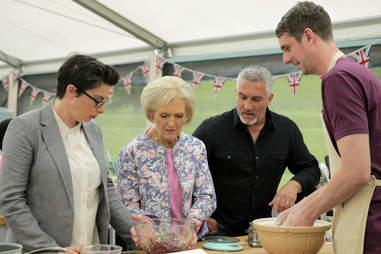 PBS
Great British Baking Show (2010- )
If you still haven't indulged in this confectionary UK delight, clear enough room for a full-season binge. Hosts Mel Giedroyc and Sue Perkins, along with judges Mary Berry and Paul Hollywood, mix charm and no-holds-barred cooking criticism as they navigate a sea of bakers vying to become the next masters of dough-proving, top-glazing, and edge-icing. There's something absolutely pure about Great British Baking Show, making it one of the nicest -- and we mean that as a plus -- reality shows ever to hit television.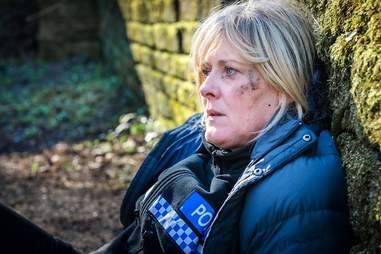 BBC One
Happy Valley (2014-present)
A police sergeant (Sarah Lancashire) is investigating the kidnapping of a local businessman's daughter by conspiring West Yorkshire locals; one of them is connected to the rape of her own daughter, who committed suicide eight years earlier. Tension builds at crime scenes and in familial moments, as Catherine swallows her suffering to parent her daughter's illegitimate son. The series leaves room for flawed characters to make mistakes: Catherine isn't Sherlock Holmes, nor are her culprits Moriarty types. On this show, murders happen by accident -- which is even scarier than premeditation.
Channel 4
The IT Crowd (2006 - 2013)
The traditional, "three-camera" stage sitcom can be done well. Cheers, Seinfeld, and Frasier all mastered it. But by the 2000s, the notion of shooting comedy in front of a live studio audience was all but dead -- at least in America. The IT Crowd, starring Chris O'Dowd (Bridesmaids), Richard Ayoade, and Katherine Parkinson as a lowly tech team residing in the basement of a major British corporation, proved there was still joy to bouncy dialogue and silly sight gags in a modern setting. Tremendously goofy and heartfelt, this show could easily replace hanging out with your actual friends.
Netflix/BBC Two
The Last Kingdom (2015-present)
If you like Game of Thrones, but wish it had zero magic, The Last Kingdom is for you. Set in medieval England, it pits Danish invaders (aka VIKINGS) against the divided kingdoms on the British Isles. At the center of it all is Uhtred, an English noble captured and raised by the Vikings, but who subsequently fights for the English in battles that help "medieval" live up to its reputation as a time when the brutality of humans was perpetually on display in bloody hand-to-hand combat.
BBC One
Luther (2010-2016)
Idris Elba looks really good in a suit. There are plenty of reasons to watch Luther, but The Wire actor's calming sartorial presence has to be what draws most fans into this psychologically rich British detective drama. The Affair's Ruth Wilson also impresses as Alice Morgan, a manipulative murderer who becomes an obsession for Elba's weary cop John Luther. It's a cat-and-mouse game worthy of Hannibal Lecter and Clarice Starling. Plus, the whole Idris Elba-in-suits thing.
BBC Two
The Office (2001-2002)
Fans of Dunder Mifflin have Ricky Gervais to thank for the genesis of Michael Scott. This show's the OG, in other words. Though it only ran for two seasons, Gervais' British Office paved the way for a new wave of awkward comedy, turned banal jobs into fertile ground for producing side-splitting workplace laughs, and inspired Greg Daniels and Michael Schur to be their best. It's worth noting that Gervais' original character lives on in Netflix's Life on the Road -- the kind of catch-up project we'd love to see for a certain Agent Michael Scarn.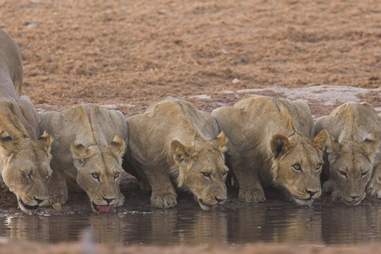 BBC America
Planet Earth and Planet Earth 2 (2006; 2017)
David Attenborough or GTFO. It's difficult to convey the splash Planet Earth made when it arrived on American television screens in 2006, albeit with Sigourney Weaver narrating to appease American ears that some executive assumed couldn't handle a British accent. But, holy shit, that great white shark captured in super-slow motion jumping completely out of the ocean as it snapped its jaws down on a seal? No one had seen anything like it before, and each episode felt like a new experience, bringing more attention to the environmental and conservation movements than anything since Silent Spring -- no small feat. It's worth a rewatch because it holds up even after the arrival of 2017's Planet Earth 2 -- the follow-up features more advanced camera work, but it doesn't quite match the massive scale of the original, because nothing really can.
BBC Four
Spies of Warsaw (2013)
This British miniseries assigns a French military attaché (David Tennant) in Poland to keep tabs on German intentions in the lead-up to WW2. Spoiler alert: Germany eventually invades, but the central tension in the years before 1939 paints a complicated picture of world politics that constantly rearranges itself, with a love triangle thrown in for good measure. You won't see much of James Bond in the quiet exploits of Tennant's Jean-Francois Mercier, but the suspense of a pre-war fuse will help you burn through the whole series in short order. 
Sign up here for our daily Thrillist email and subscribe here for our YouTube channel to get your fix of the best in food/drink/fun.
Follow the Thrillist Entertainment editors on Twitter @ThrillistEnt.