The Best British TV Shows on Netflix
These imports will go great with tea and biscuits.
In recent years, fans of British television have been in luck: Thanks to Netflix's partnerships with BBC and Channel 4, they've been able to license and co-produce more than a handful of series, bringing them stateside. There's a little something for everyone, because not only do they have the rights to quite a few classic procedurals, there's a lot of sitcoms featuring absurd British humor up in the mix as well. Below, find the best series from across the pond currently available to stream -- all of which are worth bingeing paired with a cup of tea and biscuits.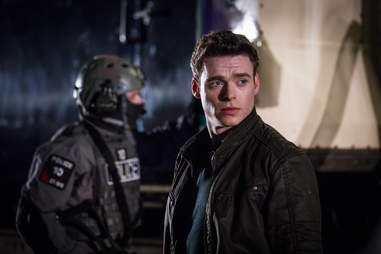 Sophie Mutevelian/World Productions/Netflix
Bodyguard (2018- )
As one might expect, the Royalty and Specialist Protection Branch of London's police service handles a number of dangerous missions. Following officer David Budd, portrayed by Richard Madden of Games of Thrones fame, Bodyguard documents this high-risk job, specifically in the protection of the UK's Home Secretary (Keeley Hawes). In the Netflix original, although Budd must devote himself to the politician's protection, he is still reeling from PTSD after serving in Afghanistan, and feels conflicted working for a major proponent of the war. A political thriller at its finest, Bodyguard illustrates the various costs at play in Budd's role, from his personal views to potential attacks and developing attraction for a woman whose policies he cannot stand -- never failing to leave out the drama over the course of six easily bingeable episodes.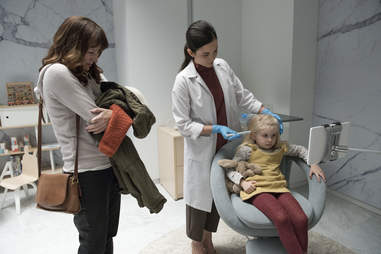 Christos Kalohoridis/Netflix
Black Mirror (2011- )
Each installment of Charlie Brooker's addictive anthology takes a current techno-social phenomenon -- topics that range from hashtags to five-star ratings -- to its extreme and asks whether human nature can coexist with it. Part satire and part (unintentional) prophecy, the series presents an appropriately grim view of the future, one that will definitely make you worry for the next generation and maybe even galvanize you into action. You can take in one episode at a time, or digest an entire three-to-six-episode season without batting an eye.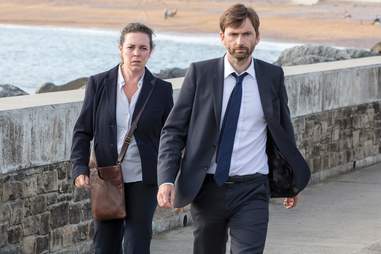 ITV
Broadchurch (2013-2017)
The murder of a young boy stirs up a media frenzy and divides a tight-knit English coastal town, and the proper order of things is further disrupted by the unfiltered hotshot inspector (David Tennant) who arrives just in time to take on the baffling crime and vex a local detective (Olivia Colman) who wanted his job. The episodes of all three seasons mix in the main protagonists' complex personal lives with the well-paced investigation, ensuring that Broadchurch unfurls in a way that'll have you texting your friends to say, "I'm too sick to go out tonight" and automatically clicking "Next Episode."
Liam Daniel/Netflix
Collateral (2018)
At first glance, Collateral may look like another run-of-the-mill British procedural. But peel back the layers and it becomes something else: not a mystery so much as the first incision of Britain's post-Brexit autopsy, anchored by several dynamic female characters, including a stunning performance from Carey Mulligan as the lead detective on the case in the show. The miniseries comes from playwright and screenwriter David Hare for his TV debut, and follows the investigation into the murder of a pizza delivery man who happens to be a Syrian refugee. It turns out to be a case that's much more convoluted than it first appeared, and is dissected, along with British politics, over the course of four episodes. It's a BBC/Netflix co-production that ends up defying tropes, elevating its material into something much bigger.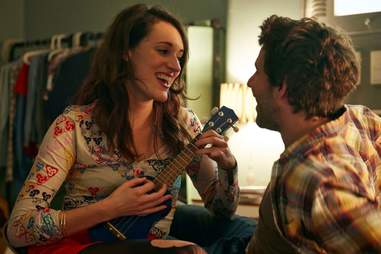 Channel 4
Crashing (2016)
Featuring only six short episodes, this light-hearted ensemble 20-something comedy definitely deserves a binge. Unlike many sitcoms featuring young people who seem to have a remarkable number of resources at their disposal, Crashing centers on the relationships that develop among a makeshift community of young property guardians at an abandoned hospital. You'll see where Emmy-winner Phoebe Waller-Bridge appeared ahead of Fleabag, and feel equally taken by the emotional woes that fill the time between partying. You'll want to crash with them, too. 
Jose Haro/Netflix
Criminal: UK (2019- )
It's no denying that the Brits have mastered the procedural. While they never get sick of churning out more run-of-the-mill yet addicting cat-and-mouse detective stories, that doesn't mean they're not interested in switching up the genre, too. Criminal: UK, for instance, which is a part of Netflix's international Criminal series, is a recent twist on it. The anthology is based around the gimmick that each episode takes place within the confines of an investigation room where investigators attempt to pull the truth out of their suspects. The claustrophobia is real, but it's by no means boring. This series is extremely suspenseful as a psychological game unfolds before you.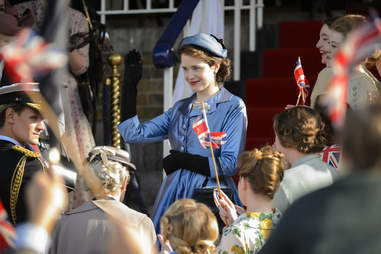 Alex Bailey/Netflix
The Crown (2016- )
The Crown is a well-made (and very expensively made) dramatization of the reign of Queen Elizabeth II, leading the British Empire as a young woman through political upheaval. Starring Claire Foy as the Queen in Seasons 1 and 2 opposite Matt Smith as Prince Philip, Duke of Edinburgh, the series features a stellar cast on point in their portrayals of the historical figures. (Starting in Season 3, Olivia Colman and Tobias Menzies will take over the roles). Examining Elizabeth's personal life, the show is confident in its soapiness, opulent in every respect -- and it's quite possibly Netflix's best choice for escapism (albeit using a subject that should probably be anything but). If you love royalist porn or British period dramas like Downton Abbey, this will be like a long, slow massage.
Netflix
The End of the F***ing World (2018-2019)
This isn't your average teen drama. The show, adapted from the popular Charles Forsman graphic novel of the same name, follows a 17-year-old named James as he tries to become the psychopath he thinks he is. Though it sounds a little bit like Dexter Jr., it's really more of a fucked-up love story sans the cliché six-packs and twee romances -- something somewhere between Juno and Twin Peaks. In this series' twisted world, to murder means to mature. It's dark and creepy, but it also offers enough humor and tenderness to make what turns into a chaotic road trip across the British country side endearing. Or, as showrunner Jonathan Entwistle told us, "It's an angsty teen story, but with an adult execution" -- the word "execution," in this case, carrying particular weight. Binge it.
BBC
Extras (2005-2007)
The arc of Ricky Gervais' career makes it easy to forget that after he hit the jackpot with The Office, he followed up with a genuinely funny show about the perils of seeking, and eventually finding, fame. Extras is similar to The Office in that Gervais plays a small-timer with outsized ambitions, but the conceit -- he and his friends take roles as extras while they're trying to make it big -- allows for some legendary cameos. The most memorable are Ian McKellan explaining that the key to acting is pretending to be somebody else, Patrick Stewart's screenplay in which he has the ability to make people's clothes fall off, and David Bowie's impromptu song mocking Gervais. That, and the perfect fake catchphrase he's forced to utter constantly in Season 2 ("Are you having a laugh?) may be enough to make you forgive him for Derek.
Channel 4
Flowers (2016-2018)
There's no shortage of strange families in gothic stories, and showrunner Will Sharpe's caricature of the fictional Flowers family is perhaps one of the most eccentric, bleakest, yet still funny shows out there. The father, Maurice, is a depressed children's book writer; his wife, played by Oscar winner Olivia Colman, is a music teacher who couldn't be less in love with her husband; and their grown-up twins and Maurice's elderly mother live with them on their eerie estate. It's a bit unsettling, but the comedic tone will leave you seeing your own relatives reflected in this mix. 
Netflix
Great British Baking Show (2010- )
If you still haven't indulged in this confectionary UK delight, clear enough room for a full-season binge. Hosts Mel Giedroyc and Sue Perkins, along with judges Mary Berry and Paul Hollywood, mix charm and no-holds-barred cooking criticism as they navigate a sea of bakers vying to become the next masters of dough-proving, top-glazing, and edge-icing. There's something absolutely pure about Great British Baking Show, making it one of the nicest -- and we mean that as a plus -- reality shows ever to hit television.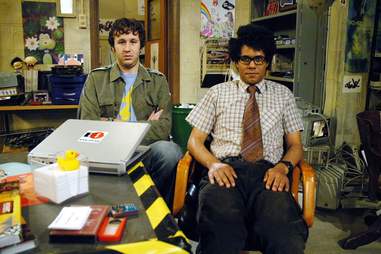 Channel 4
The IT Crowd (2006-2013)
The traditional "three-camera" stage sitcom can be done well. Cheers, Seinfeld, and Frasier all mastered it. But by the 2000s, the notion of shooting comedy in front of a live studio audience was all but dead -- at least in America. The IT Crowd, starring Chris O'Dowd, Richard Ayoade, and Katherine Parkinson as a lowly tech team residing in the basement of a major British corporation, proved there was still joy to bouncy dialogue and silly sight gags in a modern setting. Tremendously goofy and heartfelt, this show could easily replace hanging out with your actual friends.
Adrienn Szabo/Netflix
The Last Kingdom (2015- )
If you like Game of Thrones, but wish it had zero magic, The Last Kingdom is for you. Set in medieval England, it pits Danish invaders (aka VIKINGS) against the divided kingdoms on the British Isles. At the center of it all is Uhtred, an English noble captured and raised by the Vikings, but who subsequently fights for the English in battles that help "medieval" live up to its reputation as a time when the brutality of humans was perpetually on display in bloody hand-to-hand combat.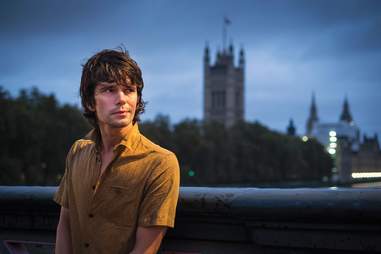 BBC
London Spy (2015)
A gay British crime drama starring the winsome Ben Whishaw? Tom Rob Smith knows how to please. Danny Holt (Whishaw) thinks he's finally found the one, only for his new lover, Alex (Edward Holcroft), to wind up dead a short time later. Danny learns that the man he fell for was an illusion, an identity manufactured to mask his true life as an MI6 spy. Hurt, confused, emboldened, and still in love, Danny dives into the world of espionage in order to get some answers. London Spy adds a needed slow-burn thriller to the queer television arsenal -- one that can be watched from tame start to hair-raising finish in under five hours.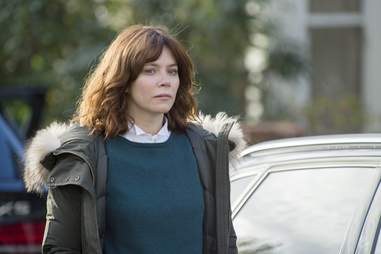 ITV
Marcella (2016- )
Do you like British mystery shows that wrap up over the course of eight tightly wound, 45-minute episodes? This one is for you. Starring Anna Friel (Pushing Daisies) as a London detective bouncing back from a nasty split and a turbulent entry into single motherhood, the hard-nosed series pairs serial killer investigation with familial struggle, which only intensifies when the main mystery connects to Marcella's husband's current employers.
BBC1
Monty Python's Flying Circus (1969-1974)
If you have a hankering for absurdist British humor, Monty Python remains the cream of the crop. Their original sketch comedy show Monty Python's Flying Circus is where it all began, and the skits laced with innuendos, surrealist bits, and shockingly highbrow references are always worth a rewatch -- the "It's" man and Pepperpots will never not be funny. 
Robert Viglasky/Netflix
Peaky Blinders (2013- )
Cillian Murphy stars in this early-20th-century period drama as Thomas Shelby, a World War I vet-turned-patriarchal crime boss who wants to up his family's social and financial status in England. The Shelbys' story plays out as historical fiction, loosely inspired by the exploits of real-life gangs based in Birmingham around the late 1800s and early 1900s. Rivaling bands of thugs clash for underworld influence here in a way that is not unlike on Game of Thrones, just on a less fantastical scale: high-stakes political power plays, shady back-room dealings, and gritty tussles abound, with enough blood to rival the Red Wedding. (The show's name comes from the razor blades stitched in the Shelbys' flat caps, after all.) 
Sam Taylor/Netflix
Sex Education (2019- )
Creator Laurie Nunn's British teen dramedy about Otis (Asa Butterfield), the son of a sex therapist who somewhat unwittingly parlays his secondhand sexual knowledge into a successful business counseling fellow students, took Netflix subscribers by storm when it premiered in January 2019. A cast anchored by Butterfield, Emma Mackey (who plays Maeve), and Gillian Anderson (as Otis' mom, Jean) adds nuance to a story that could gone low and focused merely on the sex, but opted for a more thoughtful route. The incredible chemistry between all of the cast members and an undeniable John Hughes vibe (think Pretty in Pink) elevate this easily binged show above a sea of mediocre teen angst programs.
BBC One
Sherlock (2010- )
Benedict Cumberbatch stars as Sherlock Holmes, albeit in the present day, solving crimes with the refined intelligence characteristic of Arthur Conan Doyle's hero, and accompanied by his sidekick, Dr. Watson. With three hour-and-a-half-long installments in each series, you can solve a single mystery in the course of a single night -- or, if you're more ambitious, you may find yourself glued to the couch for an entire weekend, trying to catch up with the rapid wit and near-impossible intellect of one of fiction's legendary characters.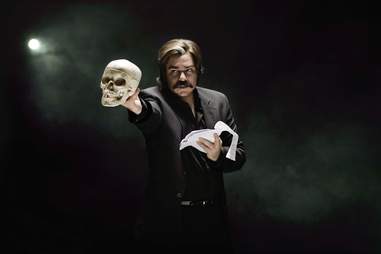 Channel 4
Toast of London (2012- )
Point blank: Matt Berry is hilarious. So, watching him play a washed up theater actor in the ridiculous Toast of London is  pure joy, even if it means (or, rather especially if it means) his character is flailing through life. As the titular Steven Toast, Berry fumbles through attempts to make it big as a star of the stage, taking up odd jobs when his auditions fall through and ignoring the concerns he should really be focusing on in his personal life. It's outrageous and irreverent, but that's showbiz, baby.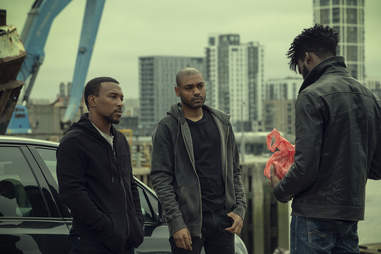 Chris Harris/Netflix
Top Boy (2011- )
Thanks to Drake, this underrated crime drama is seeing a second life on Netflix. It originally aired (and ended too soon) from 2011-2013, but was recently picked up and tabbed for a reboot by the rapper and the series' original showrunners. It's a gritty story about the hustle of two drug dealers in East London (Ashley Walters and Kane Robinson) and the overwhelming trials they face trying to make it on the street. You'll be absolutely gripped, and the cast's portrayal of young men grappling with morality is as vulnerable as they come. (Just know, in order to watch the full series, Seasons 1 and 2 were renamed to Top Boy: Summerhouse and appear as a separate show on Netflix -- but they're both there for your bingeing pleasure.) 
Need help finding something to watch? Sign up here for our weekly Streamail newsletter to get streaming recommendations delivered straight to your inbox.