Every Episode of 'Broad City,' Ranked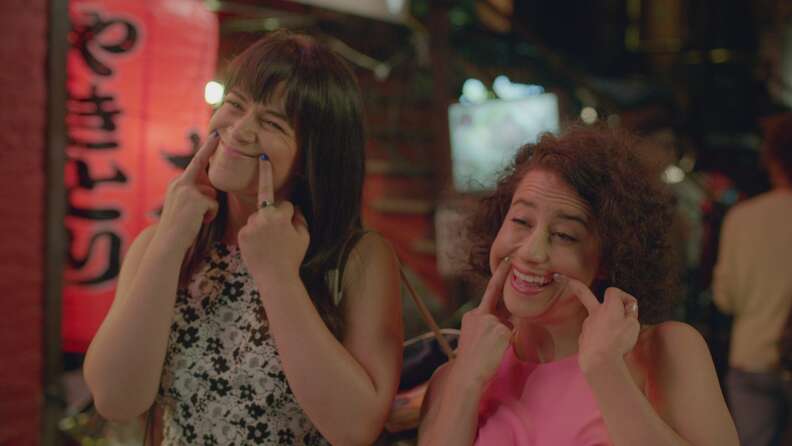 'Broad City'

| Comedy Central
'Broad City'

| Comedy Central
After two years of producing a web series, best friends and comedy duo Ilana Glazer and Abbi Jacobson caught the attention of Amy Poehler, who adapted their show, Broad City, for Comedy Central, thankfully. Over the course of five seasons and five years, the two women documented their unfiltered friendship through exaggerated versions of themselves trying to make it (or, really, just survive) in New York. Known for its harrowingly accurate representation of millennials in NYC and painfully relatable comedy of turning basic events -- like getting locked out of your apartment or traveling to the airport -- into a 30-minute melodrama, the series amassed a devoted cult following and basically became the "kween" of contemporary sitcoms in its run from 2014 till now.
As much as fans would've loved for Abbi and Ilana to live in their version of NYC together forever, up to mischief until the end of time, the show wrapped up before overstaying its welcome, putting a cap on its five seasons in spring 2019. To say goodbye to the series that brought us so much joy, we took the liberty of ranking each episode, from good to greatest. And while no episode of Broad City is short of laughs, pop culture references, and ridiculous plot points (meaning, they're essentially all great), below you'll find all 50 episodes in their proper order -- no "Yas kween" left unturned.
50. "Destination: Wedding"
Season 1, Episode 8
There's little to remember about this early installment of the series, aside from the fact that there's a lot of running. Running to the train, running to catch a car; it's really just about the girls and their former coworkers running to get to their other former coworker's wedding on time. It's fine, and very anxious -- and missable for those reasons. If you're obsessed with continuity, it's hard not to focus on the fact that these "former coworkers" seldom garner another mention throughout the rest of the series.
49. "Mushrooms"
Season 4, Episode 4
The ever-evolving, psychedelic title sequence on Broad City is one of the show's many identifiable characteristics. On "Mushrooms," when Abbi and Ilana spend their days off taking 'shrooms, we're transported into this wonderfully bright world in a mostly animated episode rendering the ladies as crude cartoon versions of themselves. It's definitely a trip and an interesting exercise straying from the show's typical format -- but it would have been just as entertaining watching these two high as kites in their human forms, especially the entirety of the sequence of Abbi getting called into work.
48. "Mochalatta Chills"
Season 2, Episode 2
As progressive as Ilana Wexler is, it's in her character to also be pretty appropriative and problematic (ie. wearing earrings that say "Latina" when she is not, in fact, Latina). "Mochalatta Chills" is all about this "yikes" side of her when she's inspired by a fierce boss (played by Vanessa Williams in an icy cameo) to engage in the entrepreneurial side of capitalism, until she realizes her pursuit to become a corporate overlord is truly exploitative of her coworkers. Broad City thrives when it makes you uncomfortable, but the scene in which Ilana and the Deals, Deals, Deals team breaks out in a '90s-inspired music video about the "joys" of working is a bit too uncomfortable.
47. "Apartment Hunters"
Season 1, Episode 9
Bevers, Abbi's unofficial roommate, is extremely obnoxious. He is her actual roommate's boyfriend who is always lazing around her apartment (and being gross). However, John Gemberling as Bevers is hysterical, playing him with an attention to disgusting details -- which explains why he's so freaking insufferable. That may be the entire bit, but sometimes it goes a little too far under your skin. Like in "Apartment Hunters," when Abbi is at her wits end and wants to move out once she comes into some money. While Amy Sedaris guest stars as an oddball realtor, the fact that Bevers drives the action in this episode, on top of the depiction of apartment hunting in NYC as accurately hellish, is very annoying.
46. "P*$$Y Weed"
Season 1, Episode 2
As the second episode, "P*$$Y Weed" exists in the introductory phase of the series, when we're learning who these "Abbi" and "Ilana" fellows are. The result of that is a representation of the young adult hustle that rules much of the show overall. Here, the gals are determined to act their age and be more independent, which has Ilana doing her own taxes and Abbi buying weed solo. Despite being shown upfront that Abbi and Ilana are certified stoners, it's priceless watching how naïve Abbi is her outing to purchase some bud. "P*$$Y Weed" may be a groundwork-laying episode, but it instills the hustling sentiment that drives the remainder of the series.
45. "Burning Bridges"
Season 3, Episode 8
It makes me sad to see Abbi and Ilana sad -- and in "Burning Bridges," both of them are very, very sad. Throughout the episode, each of them is dealing with relationship problems, and in a show like Broad City that's built on comedy gags, it's always especially crushing to see energetic characters going through something darker and more complex, even though that's exactly what makes them multidimensional and compelling on screen.
44. "House-Sitting"
Season 4, Episode 8
The world of wealthy Manhattanites may as well be foreign territory to Abbi and Ilana, who dwell in the lowly-by-comparison Astoria and Gowanus. Although, Ilana weaves in-and-out of this world when she's babysitting Oliver, so when she gets to house-sit his parents' immaculate brownstone for a weekend, she makes sure to fully immerse herself in the hoity-toity. This premise seems like a good set-up for overindulgences that lead to disaster, but really, it just feels like they do a lot of loads of laundry.
43. "SheWork and S… Bucket"
Season 5, Episode 2
"SheWork and S… Bucket" separates Abbi and Ilana for nearly the entire episode so that each of them can attempt to conquer their shared frenemy: the city itself. Although still funny, the episode is a critique of the very hustle culture they're a part of, with Ilana capitalizing on co-working spaces literally in the street and Abbi trying to rally for flushable plumbing in the neighborhood she herself gentrified. It's always a little less fortunate when a Broad City goes by without many scenes featuring the pair together, but there's also some fun in watching each of them interact with New York, a character itself, on their own terms.
42. "2016"
Season 4, Episode 5
During 2016, more than a handful of TV shows thought it was important to feature an episode about the upcoming presidential election. Broad City was no different, including a story about Ilana getting a brief gig working on the Hillary Clinton campaign. While the series was fortunate enough to include an appearance by Clinton herself, in retrospect it just feels emblematic of the smug overconfidence many people felt then. Aside from the election plot that largely takes over the episode, Abbi's trip to the DMV is probably the most accurate representation of that awful experience in any media that exists.
41. "What a Wonderful World"
Season 1, Episode 1
The first episode of the whole series is many things, but mostly it's an introduction to its instantly lovable leading ladies and the other people in their lives. By spending the day trying to score tickets to a Lil Wayne concert, we get to see how funny they are (busking in the park), and how shameless they are (cleaning a creepy Fred Armisen's apartment in the nude for cash). It may be a different sort of pilot, but if this fly-on-the-wall approach into their friendship doesn't hook you onto the show, I don't know what else could.
40. "Coat Check"
Season 2, Episode 9
It's crazy how much Alia Shawkat and Ilana Glazer look alike. So crazy that they made an entire episode about it and the fling their characters fall into, solely because they're so attracted to their own mirror image. It's a wild bit, but played out it detracts from Abbi's even wilder instance of needing to return Kelly Ripa's coat after working coat check at an event. There's a lot of exciting guest star power in the episode, but what really makes it memorable is the bonkers, alcoholic version of herself that Ripa plays. Abbi and Ilana's magnetism and anything goes attitudes have allowed their series to accumulate a unique stable of guest stars, and even if "Coat Check" falls short in some respects, it's a strong example of that.
39. "Just the Tips"
Season 4, Episode 3
This is another episode where Ilana gets sad because of the dissolution of her relationship with Lincoln, played by fellow New York comedian Hannibal Buress, and watching Ilana be sad -- even as she's in a badass bodysuit and neon orange wig -- is unfortunate. She also gets stuck in said body suit and needs help from Lincoln to get out of it; no one wants to see their ex like that! And no one wants to see Ilana sad! That is all!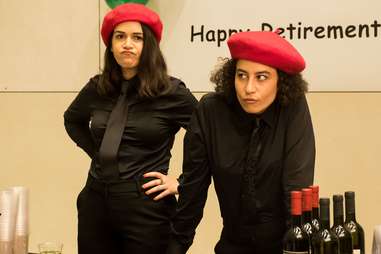 38. "Shenanigans"
Season 5, Episode 7
Yes, much of Broad City is shenanigans, and those moments are some of the series' best. But what sets it apart from other half-hour comedies is its ability to subvert the very buddy genre it falls in, proving it's more multilayered and genuine than its tropes. This is what "Shenanigans" expands on by examining Abbi's breakup with Clea Duvall's character Leslie, the first-ever woman she's dated, who says they're in two different parts of life to be together, which may be true, but particularly stings. Seeing Abbi hurt is no less difficult than seeing Ilana sad, making this a hard episode to watch (especially with Ilana's grotesque pink eye), but it artfully lends to the growing direction Season 5 treads in.
37. "Make the Space"
Season 5, Episode 4
"Make the Space" makes a terrifying reveal: Jaime is a HOARDER! Despite living with him for years, Ilana never noticed her roommate entrenched his room in forgotten knick knacks he should've thrown out ages ago. While it's a funny secret, the episode sets up the opportunity to KonMari nearly every character's life, and plays out like a thrifty therapy session (Jaime started hoarding when his immigration status was unclear; Ilana has to find a way to let go of her longtime roomie). Like often, the episode centers around something humorous, but is constructed in a way that is so smart and delicate, it's about something greater, and pertinent to the future of its characters who can't be stuck in millennial limbo forever.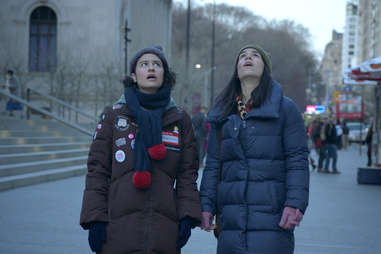 36. "Witches"
Season 4, Episode 6
Much of Season 4, which aired in early 2018, finds Abbi and Ilana navigating the political landscape and making digs at the Trump administration. Of the entire season, "Witches" is the most direct episode, as Ilana goes to a sex therapist because she hasn't experienced an orgasm since the 2016 election. It may be a ridiculous premise, but by focusing her energy on thinking about strong women, she finds a solution to the problem. Along with Abbi spending her day with older, witchy women and coming to terms with her own aging, the episode ends up falling into Broad City's inclusive, empowering brand of feminism, which is always great to see at the forefront.
35. "The Last Supper"
Season 1, Episode 10
To celebrate Abbi's birthday in the Season 1 finale, the girls class it up and go out to dinner at a fancy restaurant. They're served course upon course of shellfish, and because Ilana fails to divulge she's allergic to it, her face "looks like the underbelly of a tugboat." There may be a sweet, frenzied moment featuring Abbi carrying a near-death Ilana out of the restaurant to "Ave Maria," but for a finale, it's not the strongest of episodes, spending too much time focusing on Amy Poehler's guest appearance in the restaurant kitchen. It does end on an uptick, though, with a fan-favorite moment of Abbi and Ilana discussing their "gross sex lists" -- something you've probably sunk a bunch of time thinking about now, too!
34. "Citizen Ship"
Season 2, Episode 7
"Citizen Ship" is a celebratory episode spent on a yacht after Ilana's roomie Jaime passes his citizenship test… but it's also a Bevers-instigated episode. It's fine seeing the whole gang together, but then Bevers ruins the experience for everybody when he manages to lock himself, Abbi, and Ilana in a closet. There's also preppy, adult frat boys everywhere. This is a situation far too stressful for one Broad City episode, and far too much Bevers!
33. "Bitcoin & the Missing Girl"
Season 5, Episode 3
Some of the stand-out moments from Broad City are the over-the-top scenes that seem to exist for no reason other than it makes Abbi and Ilana look really freaking cool or because they felt like having some fun. In "Bitcoin & the Missing Girl," when Ilana wants to trade in some bitcoins that she acquired from an ex-finance bro boyfriend (Mark Consuelos) for cash, she goes full internet goth and gets a Matrix sequence of her own. And good for her! Because she looks badass until she's got to walk through a stuffy Midtown office. Meanwhile, because Abbi's supposed-to-be-productive laundry day turns into a self-absorbed search for a missing sweatshirt, the episode shows the purest sides of each of their personalities. It's both a very "Abbi episode" and very "Ilana episode" in their respective storylines.
32. "Fattest Asses"
Season 1, Episode 5
If it weren't for "Fattest Asses," there would be no blue dress. In this inaugural episode when Abbi purchases the infamous go-to cocktail look, she splurges on the dress when she's ready to go out and blow off some steam. The montage of them partying a little too hard and going home with two sleazy DJs is solid in itself, but "Fattest Asses" sets up one of the greatest sitcom bits of all time: Like any average woman, Abbi actually recycles the wardrobe item she spent a lot of money on literally all the time. Very few other characters have that kind of dedication, and humility!
31. "Twaining Day"
Season 4, Episode 2
One of the longest running bits in Broad City is that Abbi -- before she is actually even a trainer at Soulstice -- is the private fitness trainer of country pop icon Shania Twain. Finally, finally, this dream becomes fully realized in "Twaining Day" when the singer appears in an episode and Abbi and Trey make her break a sweat. The episode is largely the final chapter of their romance, but it ends in the best way possible. (And somehow, they got Shania to say killer one-liners I still haven't recovered from.)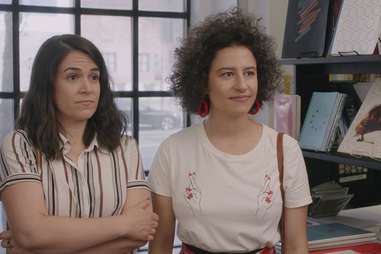 30. "Artsy Fartsy"
Season 5, Episode 5
Abbi's college roommate and the frequently aforementioned "Smelly Pussy Donna" does exist! And fans finally meet her in "Artsy Fartsy." But that callback (which is one of the many fun series references in the final season) is just one delectable part of an episode that finds both gals moving in important new directions in their lives. While Abbi is really trying to get back into the art scene, she hopelessly flails around an artist party at MoMA that she's simultaneously forced to cater; meanwhile, Ilana's struggling to work through her yearly relationship check-in with Lincoln. They're classic Broad City gaffes that still better the gals in the end.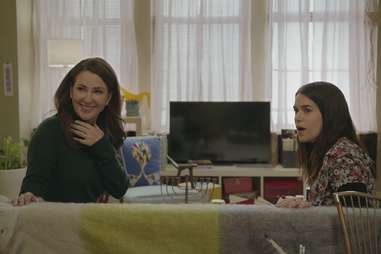 29. "Abbi's Mom"
Season 4, Episode 5
In the Season 3 episode "Philadelphia," we meet Abbi's dad and learn more about her childhood, but we don't meet her mom until mid-Season 4. Rather than the chill dream visit Abbi was hoping for, her mom shows up looking to party hard. This leads to a lot of uncomfortable moments and uncomfortable micro-aggressions from Abbi's Mom, played by Peri Gilpin. Largely, the episode is actually one of the series' sadder installments, tackling mental health in women of all ages: Ilana is suffering from Seasonal Affective Disorder and Abbi's Mom is stuck in a depressive middle-aged rut. The tone of the episode may feel hit-or-miss, but it's important to see these issues represented on screen regardless.
28. "Getting There"
Season 3, Episode 9
Abbi and Ilana are going on vacation! Where is their destination? It feels as if we may never know! The payoff of its follow-up episode, "Jews on a Plane," makes it all worth it, but "Getting There" is comical in its own right. Traveling is a pain and, as they tend to do, Abbi and Ilana take that to the extreme, in little moments like seriously considering who they would eat for survival on a stalled subway car to more daring feats like smuggling weed through TSA.
27. "Bedbugs"
Season 4, Episode 9
Bedbugs are collectively NYC's greatest nightmare of living in this God-forsaken city! This episode is a harrowing account of catching them; truly, I cannot watch it without getting the heebie-jeebies, but, hey -- that's the point! (It's still funny, though, because Abbi gets a job that's not really the job she thought she got at the Heaven-esque women's clothing store Anthropologie.)
26. "Game Over"
Season 3, Episode 3
After toiling in their average jobs for quite some time, Abbi and Ilana both find some success in "Game Over." Abbi's ditched the cleaner shirt for a trainer top at Solstice and Ilana's wit granted her access to Deals, Deals, Deals' social media accounts (even while wearing a sweatshirt made for dogs to work). It's exciting to see their professional lives shaken up! Especially because Abbi gets invited to her fitness team's competitive retreat where she gets the opportunity to clob Jemma over the head with a giant Q-Tip! You know their newfound workplace success probably won't last long, but thank goodness there's some high intensity while it lasted.
25. "Sliding Doors"
Season 4, Episode 1
We know that Abbi and Ilana share a pure, undying love for each other, but don't get insight into how they actually met until Season 4. "Sliding Doors" is definitely an unconventional episode -- a sliding doors story, of sorts, telling one idealistic scenario in which they crossed paths, along with one much more realistic, serendipitous moment after they both experience shitty days. It's by no means a perfect meet-cute but it's their meet-cute, and heartwarming to see it unfold.
24. "Friendiversary"
Season 4, Episode 10
They stumble their way into a lot of situations on Broad City, so it was only a matter of time before the girls found themselves investigating potential criminal activity on their own terms, and on their "friendiversary" of all days. While the episode starts off with Abbi on a very special scavenger hunt (accompanied by oversized cut-outs of hers and Ilana's heads) and Ilana sadly not getting the reciprocated anniversary treat she was hoping for, their days quickly take an unexpected, noir turn when they see a man supposedly push his wife off a balcony. Of course, their sleuthing isn't that of geniuses, but that's what makes it good! Who hasn't envisioned a buddy cop feature with the two of them?
23. "Philadelphia"
Season 3, Episode 6
When Abbi and Ilana take a trip to the Philly suburbs to finally experience where Abbi grew up as a "WASP-y Main Line Jew," it feels like we're shown the trail of breadcrumbs from Abbi's childhood to now that makes a whole lot of sense. The details in this episode are impeccable, from her bedroom decked out in early-aughts relics to the JonBenet Ramsey Beanie Baby they unearthed for Ilana's capitalist Beanie Baby scheme. Coming home after moving away is an uneasy experience that can lead to great personal insight, which is what's in store for Abbi here (as well as a lot of explanations, former dreadlocks and all).
22. "Hurricane Wanda"
Season 1, Episode 7
Like the Season 2 episode "Citizen Ship," "Hurricane Wanda" is driven by how horrible it is to be around the freeloading man-child, Devil incarnate Matt Bevers. But the combination of Bevers' sister, the core gang, and Abbi's eternal crush Jeremy all stuck inside during a storm makes for an enjoyably uncomfortable night. The whodunnit saga that plays out when Abbi's toilet clogs up is the last thing you'd hope to happen when your romantic interest is in the room over, and the incessant pestering from Bevers is even worse, but it's all so well-written you wish this (shit-)storm would never blow over.
21. "Co-Op"
Season 3, Episode 2
"Co-Op" answers the question: What if Abbi had Ilana's personality? Now we know: She's just as loud, but nowhere near as confident in her flamboyant, crop-top bearing skin. She takes on her partner-in-crime's identity when Ilana finds out she's only got one afternoon left to make up her shift at the co-op before she gets booted from its services and enlists Abbi to be her stand-in while she heads off to a conflicting obligation. With her outrageous lingo and no-fucks-given attitude, Ilana may be a sort of caricature of millennial Brooklynites, but her personality is like a playground for her best friend to explore. That is, until the facade ends up being an awkward hurdle for Abbi while she attempts to flirt with a crunchy Phish fan over bulk barrels of nuts and grains. Even as "Ilana," Abbi can't catch a break, but we love both of them just the same.
20. "Working Girls"
Season 1, Episode 3
I've lost sleep thinking about this episode. Now, every time I order a package and am think it won't get delivered for whatever reason, I worry it's going to end up at the crusty edge of the city where Abbi has to go to retrieve something she promised to pick up for Jeremy. This episode is so daunting that I'm convinced this place -- North Brother Island -- is real. There's few things Broad City does better than making minuscule anxieties into hilariously realized fears. Also, the Judith Light dog is in this episode! What could be better than that?
19. "Rat Pack"
Season 3, Episode 4
Lots of things happen here: Ilana's throwing a party, Abbi's trying online dating for the first time, and there's a "rat bastard" terrorizing the apartment. Combined, it's all the ingredients you're looking for in a Broad City episode: embarrassing excuses for men and New York-related anxiety made extreme!
18. "Along Came Molly"
Season 5, Episode 9
Just ahead of the series finale, Broad City paid homage to itself and its silly, old ways with "Along Came Molly." It's as if they've come full circle, finally scoring tickets to see Lil Wayne as they hoped to do years ago in the series debut. What would be a more fitting last hurrah before Abbi makes her departure from NYC -- and Ilana? But in OG Broad City fashion, Abbi got scammed; they still can't see Weezy, and have to make do by tripping out in an alley outside of the show. "Along Came Molly" could easily be an installment from Season 1 or 2, but instead, it's a perfect, warm goodbye in the final season -- the kind of farewell to each other, their rendezvous, and the city that one could have hoped for (before the waterworks set in).
17. "St. Mark's"
Season 2, Episode 10
The East Village epicenter that is St. Marks Place is a weird facet of NYC, and few things make as much sense as Abbi and Ilana spending Ilana's birthday bopping around the seedy, bar-filled street. Their wild night takes many (mostly shady) turns, especially when Ilana's bag gets stolen and the two embark on a low-rent, high-speed chase. Eventually, they end up at the robber's mother's brownstone, and Patricia Clarkson makes a delightfully nasty appearance. Everything you could ever want out of a season finale!
16. "Florida"
Season 4, Episode 7
The handful of episodes that feature the dynamic duo outside of the five boroughs feel a bit like an untraditional misstep, but their trip to "America's limp dick," Florida, is unlike the rest. There's much to be equally fascinated by and terrified about the Sunshine State, setting up Broad City with great material to work with when Abbi joins Ilana and her family (including the stellar Fran Drescher as her aunt) on a somber(?) vacay to rummage through their recently deceased grandmother's retirement home. The new environment ends up being a funny, yet effective way to explore the conservative landscape that exists beyond the sometimes insular city that convinces them to head home ASAP. They may be out of their element driving through pastel, tropical streets in a lowrider, dressed in gaudy fits, but it sure is fun to watch -- the frizzed-out humidified hair, especially.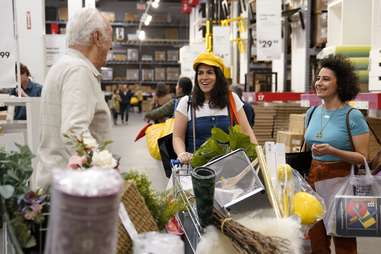 15. "Lost & Found"
Season 5, Episode 6
Abbi and Ilana have always been proponents of letting every part of their identities fuel their series -- their "Jewess" backgrounds, especially. But in "Lost & Found," when Ilana learns she's 100% Ashkanezi Jew and connects with a (very distant) cousin who survived the Holocaust, their Jewish identities are front and center. Not only is it a delight to see them bond with Ilana's elderly relative about history and faith (even if they lose him for a minute while they're busy introducing themselves to Alan Cumming), the episode also explores Abbi's first relationship with a woman. It's a well-devised celebration of all identities. L'chaim!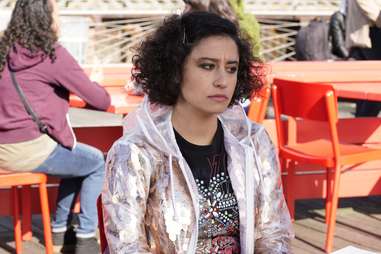 14. "Sleep No More"
Season 5, Episode 8
Up until "Sleep No More," Abbi and Ilana lived in a comfortable bubble of friendship built for two, but when Abs announces she's moving to Colorado, the only familiarity Ilana knows bursts. It's undeniably the most heartbreaking episode, pulling at the threads of what makes Broad City what it is, and through their rarely showcased dramatic acting, shit, you feel how painstakingly difficult this is for them. Accompanied by the backdrop of the unpredictable, interactive theater experience Sleep No More, they couldn't have come up with a sharper way to peel back the layers of this development. Season 5 builds up to this moment, but does so with immense care because they know how much it means to the characters and fans who love them, both of whom realize putting an end to a chapter in a best friendship cuts deeper than the demise of any other relationship.
13. "Broad City"
Season 5, Episode 10
Series finales are typically sad -- they're the end of an era! But Broad City's is a straight-up sob fest and an amalgamation of everything that makes the show spectacular. It's the sweetest send-off to the series: Ilana instigates a final dumb plan, supporting characters return one last time, and all dynamics of their friendship are highlighted, from the frivolous video messages Ilana records for Abbi to watch later, to them struggling through tears to say goodbye. Abbi leaves for Colorado and Ilana enrolls in grad school because they can't live in Broad City forever, but we see that they are the women they've become because of their experiences together. The final shot may show them living their own lives across the country, but we're left with images of other best friend duos in the streets of NYC, inhabiting their own Cities. It's a powerful moment and perfect finale that leaves you not only in a puddle of tears but convinced that friendship is a beautiful, extraordinary thing.
12. "The Matrix"
Season 2, Episode 6
More often than not, there is a little voice in the back of my head yelling, "FIG!" a la Abbi Abrams. "The Matrix" may not be an obvious fan favorite, but the storyline of Abbi losing her mind while stuck in a ditch in Prospect Park because her and Ilana "unplugged" for a day and decided to go rollerskating, even though Abbi cannot do it to save her life, is the kind of story that makes Broad City so odd and endearing. Sure, she's really in there for 20 minutes, give or take, but the episode frames it like she's close to death. She manages to get stoned, decorates her dirt patch, and imagines a sequence of American Idol played out with the snacks she finds in her pocket before Ilana finally fishes her out of the ditch.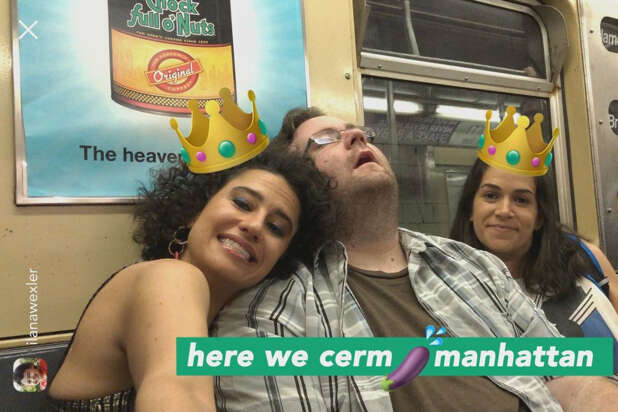 11. "Stories"
Season 5, Episode 1
An episode shot as if it's through the lens of an Instagram story could be too on trend for even Broad City, but the extremely well-done installment is one of their best in experimental storytelling. Down to the emojis, captions, and editing, "Stories" is yet another fun day-in-the-life look at the gals as they walk Manhattan from top to bottom on Abbi's birthday -- except better because it's like you're one of Ilana's everyday followers. Including the adorable scene (and saga of a 'gram video) of Ilana looking after a lost toddler in a mall and an incredible birthday gift (a compilation video of shots of Abbi's butt), this social media savvy episode is #onpoint.
10. "In Heat"
Season 2, Episode 1
Most Broad City episodes are scrappy, but we love a particularly scrappy story -- like, when New York is hotter than hell in the summer and the ladies have to finagle finding a cheap air conditioner. In Abbi and Ilana fashion, they get screwed over, and somehow end back up in Ilana's NYU freshman dorm, getting teenagers stoned out of their minds in order to steal the unit out of their window. Logical? No. But sometimes you've got to go above and beyond to simply survive in NYC, and those are the best moments that keep Abbi and Ilana's friendship thicker than the unnatural humidity that permeates the subway system in August.
9. "Kirk Steele"
Season 2, Episode 8
For a little more than a season, Trey is just Abbi's annoying #fitspo boss at Soulstice. But slowly, he becomes a bit more likeable, and when Ilana discovers he's a porn star, oh, nothing could be more sweet! Based on the treasure that is the found porno footage and its poolside vibes, and early-aughts fashion choices (frost tips included) -- "Kirk Steele" is a true classic.
8. "Stolen Phone"
Season 1, Episode 6
This is one of the city-centric episodes that gracefully illustrates what's so very horrible about living in New York: tourists and Midtown Manhattan. When Abbi's phone gets stolen at a bar, she and Ilana trek across Manhattan tracking its whereabouts at the hands of what can only explained as a tourist dragging it along from Central Park to Magnolia Bakery. Their unromantic portrayal of everything from rich Upper East Siders to purist New Yorkers declaring them "yuppie trash" is what gives the show its lovable, unique identity.
7. "Knockoffs"
Season 2, Episode 4
...Or better known as "the one where Abbi wears a strap-on." After two seasons of pining over her dreamy neighbor Jeremy, the two are about to get it on -- until Abbi learns Jeremy wants her to peg him. Meanwhile, as Ilana and her mother (perfectly played by Susie Essman) are on an insane hunt for knockoff bags in Chinatown, Abbi's encounter is blessed news to Ilana once she finds out. It's an awkward dilemma for Abbi to come to terms with, and something rarely explored in mainstream TV (if ever), making their no-holds-barred approach to kink one to remember.
6. "B&B-NYC"
Season 3, Episode 7
NBA player Blake Griffin is known for playing on the Detroit Pistons and being strikingly tall at 6'10'', so when he plays Ilana's hook-up interest in this episode, it is legitimately wild seeing him in a new context. To make some extra cash, Abbi and Ilana list their apartments on an Airbnb-like site -- meaning, they put themselves in a position where they have to stay out all night. Going clubbing seems like the obvious answer, and in the VIP section is where the 5'3'' Ilana meets Griffin. The scene where they go back to his hotel room is a bit unconventional, strictly because of their obscene height difference. Mad props to Blake Griffin for being so down to clown because this is probably one of the funniest sex scenes in cable history, and one of Broad City's funniest episodes.
5. "The Lockout"
Season 1, Episode 4
"The Lockout" may come early in the series, but it's a pinnacle example of an episode turning a basic inconvenience into a hilarious, developed story. Just as Abbi's apartment is getting fumigated and the two make a major haul at the beloved Bed, Bath, and Beyond, they find themselves locked out of Ilana's apartment. So, they call a locksmith who ends up being the absolute last man you'd want to access your apartment. By remaining locked out, everything possible goes wrong on what's supposed to be a big day for Abbi, but really… these disastrous moments on Broad City are when everything feels the most right. Another reason this episode is so great? It features one of its simplest, yet most hilarious instances in the series when Ilana is holding a shower curtain rod vertically on the subway, causing other passengers to assume it's a pole and hold on until they all fall over.
4. "Hashtag FOMO"
Season 2, Episode 5
While Abbi is arguably the more rational of the pair, the episodes when she's unhinged are some of the best. In "Hashtag FOMO," we meet Val, her drunk personality, for the first time -- and thank God we do! After a night of partying, Abbi unintentionally leads Ilana to an underground club full of people at least three decades their senior who greet her as "Val." Within moments, she's donning a look reminiscent of Judy Garland in Summer Stock, speaking as if she's a character out of a 1940s gangster musical, and singing on table tops. Like Ilana's bewildered reaction shows, it's an Abbi we don't often see, but a dear, dear gift when we do.
3. "Jews on a Plane"
Season 3, Episode 10
After experiencing the anxiety of "Getting There" and wondering where the hell Abbi and Ilana are headed, we're finally brought along for the ride on their Birthright-like flight to Israel. On the constantly escalating flight, first they find out they're not seated next to each other and go to extreme lengths to find someone who'll trade seats. Then, once it seems like they can kick back and relax, Abbi discovers she's got her period and she's without a tampon. Their hijinks to find one comes off as a plan to bomb the plane to the flight attendants (played hilariously in scene-stealing cameos from Tracee Ellis Ross and Tymberlee Hill). The execution of Ilana diving across rows of seats for a tampon while the flight attendants freak out is such good physical comedy that as obnoxious as it would be for any of this to unfold on an actual flight, it's one of the best scenes in the series.
2. "Two Chainz"
Season 3, Episode 1
For as little as Abbi and Ilana actually accomplish in a day of Broad City, nothing seems as fulfilling (and strange and simply magical) as spending a day with them. That's basically all "Two Chainz" is: The two of them going through their day together, from brunch to a gallery opening. There may not be a total through-line, but it's the kind of episode you laugh the hardest at and always return to based on its bits and one-liners. Like, Abbi screaming, "ILANA! I AM IN THE POTTY," while she almost plummets to her death in an airlifted porta-potty, or Ilana getting stuck to a back of a truck, will never not be funny! If you had to pick one episode to signify the specialty of their best friendship, this would be it.
1. "Wisdom Teeth"
Season 2, Episode 3
We've seen Abbi and Ilana high. In fact, we've seen them get high a lot -- but never had we seen Abbi as so far gone as she was in "Wisdom Teeth" after taking one too many pain meds post-surgery. Despite vowing to take care of her fragile, very doped up friend, Ilana ends up losing Abbi when she goes rogue, starts hallucinating, and escapes from her apartment. "Wisdom Teeth" could be considered a classic for this plot alone, but some of the most memorable moments of the series stem from it as well; not only is Abbi tripping, she's following around a giant, talking version of her stuffed animal Bingo Bronson. Ultimately, "Wisdom Teeth" is beautifully indicative of the lengths Ilana will go to protect her goddess that is Abbi because she knows Abbi would do the same for her. It's episodes like these that make you want your own Abbi or Ilana.
Sadie Bell (@MsSadieBell) is the entertainment editorial assistant at Thrillist and she wishes she was best friends with Abbi and Ilana.