It's Tony Awards season, meaning it's the perfect time to see a Broadway show. Specifically, the best Broadway shows currently wowing audiences every night in the heart of New York's theater district.
The summer is a time of transition for the industry, with plays and musicals that were part of the 2017-2018 season either riding high on accolades or getting ready to close their doors. With that said, we've compiled a list of our favorites that debuted within the past three years. Expect updates and changes as more shows come and go.
Recommended Video
Here Are the 4 Craziest 'Game of Thrones' Theories (Spoilers)
12. Dear Evan Hansen
Opened: December 4, 2016
Cast: Taylor Trensch, Laura Dreyfuss, Rachel Bay Jones
Director: Michael Greif (War Paint, If/Then)
Why it's great: Every so often a musical comes along that captures the hearts of the high school drama club crowd. Rent played that role in the 1990s. The aughts brought Spring Awakening. Now, it's Dear Evan Hansen. In turn, you may feel, as I did, that you're not the right demographic for it, perhaps unwilling to overlook the ethical missteps in its tale of self-acceptance. Still, the show from La La Land lyricists Justin Paul and Benj Pasek has plenty of fans. The story of an anxiety-ridden teen who finds his voice after a series of misunderstandings stemming from a bully's suicide won the top prize at last year's Tonys. Even if you're a naysayer like I was, you can still appreciate what Dear Evan Hansen has to offer, specifically some stirring ballads and a performance from Taylor Trensch who has taken over for award-winning Ben Platt.
11. Hamilton
Opened: August 6, 2015
Cast: Michael Luwoye, Daniel Breaker, Mandy Gonzalez, James Monroe Iglehart
Director: Thomas Kail (Lombardi, In the Heights)
Why it's great: It hardly seems necessary to deem Hamilton one of Broadway's best, mainly because if you're reading this article you've probably already heard that. These days, you don't even have to be in New York to see it: There are productions in Chicago and London as well as a national tour currently underway. Still, Lin-Manuel Miranda's unstoppable, rap-infused dramatization of the founding father's life belongs here because it is arguably the 21st century's one true theatrical masterpiece, a work that made audiences reconsider the medium.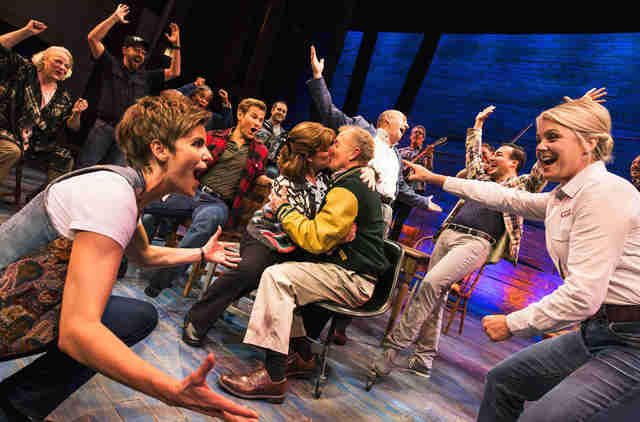 10. Come From Away
Opened: March 12, 2017
Cast: Jenn Colella, Q. Smith, Joel Hatch
Director: Christopher Ashley (Memphis, Xanadu)
Why it's great: A "musical about 9/11" doesn't sound like a particularly joyous way to spend an evening, but Come From Away avoids turgidity by honing in on its characters. The show stages the true story of a group of travelers rerouted on the tragic day and eventually taken in by residents of the small Canadian town of Gander, Newfoundland. The entire production feels charmingly intimate and DIY for Broadway, boasting a hardworking cast constantly on the move, always switching between accents and characters. The songs aren't all that memorable, but they are galvanizing toe-tappers that elicit both smiles and tears.
9. Carousel
Opened: April 12, 2018
Cast: Jessie Mueller, Joshua Henry, Lindsay Mendez
Director: Jack O'Brien (Catch Me If You Can, Dirty Rotten Scoundrels)
Why it's great: While Carousel has one of Richard Rodgers' most beautiful scores, it's also pretty forgiving of its abusive protagonist, Billy Bigelow, the barker that falls for mill worker Julie Jordan (Jessie Mueller), only to fail her in marriage. Indeed, in 2018, it is hard to look past the dated gender politics in the new revival from director Jack O'Brien, but there's still value in this piece, especially with the addition of mesmerizing choreography from Justin Peck, a sensation in the ballet world. Joshua Henry gives a performance as Bigelow that doesn't erase the character's flaws, and leads a top-notch cast, including opera great Renée Fleming.
8. Mean Girls
Opened: April 8, 2018
Cast: Erika Henningsen, Taylor Louderman, Ashley Park, Grey Henson
Director: Casey Nicholaw (The Book of Mormon, Aladdin)
Why it's great: The long-rumored Mean Girls musical finally came to fruition, and it's better than you could have hoped. No, there's no "Fetch" song, but there are clever tunes from composer Jeff Richmond and lyricist Nell Benjamin, which complement the snappy dialogue from none other than Tina Fey. Fey has updated her urtext about the monstrosity of teens for this day and age with references to iPhones and social media, and, if anything, the show delves even deeper into the psychology of girlhood than the movie does. All that is reason enough to check it out, but you're also going to want to see the fabulous cast, who will make you forget all about Lindsay Lohan and Rachel McAdams.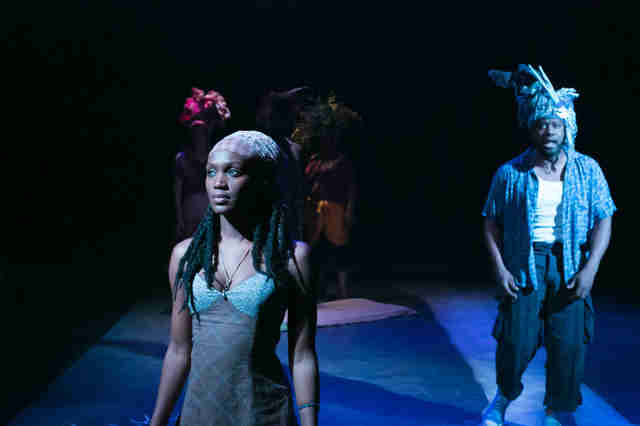 7. Once on This Island
Opened: December 3, 2017
Cast: Hailey Kilgore, Lea Salonga, Alex Newell, Merle Dandridge
Director: Michael Arden (Spring Awakening)
Why it's great: Perhaps you'll feel, as I did, that the messages of this Caribbean-set spin on The Little Mermaid feel a little dated in the age of heroines like Moana. After all, the journey of Hailey Kilgore's heroine Ti Moune entirely revolves around the pursuit of a (crappy) man. Still, with stagecraft this exciting you'll want to hear the story that's being told. The revival of the 1990 musical from Lynn Ahrens and Stephen Flaherty -- the pair behind another Broadway production, Anastasia -- is transporting. Circle in the Square's stage is sandy, a pool sits in one corner, and there's a goat. The live animal gimmick could threaten to overtake the show, but the performances are so uniformly great that it's never an option. Hailey Kilgore is a thrilling newcomer; Glee veteran Alex Newell does towering vocal work as Earth goddess Asaka; and then there's Lea Salonga of Mulan fame, warming your heart.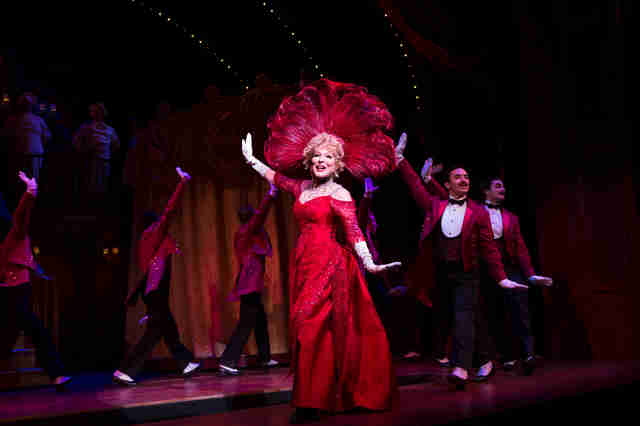 6. Hello, Dolly!
Opened: April 20, 2017 (Closing on August 25, 2018) 
Cast: Bette Midler/Donna Murphy/Bernadette Peters, Gavin Creel, Kate Baldwin
Director: Jerry Zaks (Sister Act, A Bronx Tale The Musical)
Why it's great: Hello, Dolly! is your rare chance to see what I like to call a "whole-ass musical." It's as old-fashionedly lavish as they come with hosts of chorus members, ludicrous set pieces, and over-the-top costumes. (The eventual parade of garments in "Put on Your Sunday Clothes" will make you gasp.) This is Broadway at its most boisterous, and, boy, is it a delight. For now, Bernadette Peters is wearing the red feathers, but, starting July 17, Bette Midler will be back where she belongs in the role, with an assist from Tony-winner Donna Murphy.
5. Harry Potter and the Cursed Child, Parts One and Two
Opened: April 22, 2018
Cast: Sam Clemmett, Anthony Boyle, Noma Dumezweni, Jamie Parker
Director: John Tiffany (Once, The Glass Menagerie)
Why it's great: The lore of Harry Potter seems to just keep spreading. While the cinematic evolution of this world has yielded mixed results -- looking at you, Fantastic Beasts franchise -- the stage sequel to the saga of Harry, Ron, and Hermione manages to impress. Director John Tiffany has translated the spells and magical whatsits of J.K. Rowling's universe into wondrous stagecraft. Meanwhile, Harry's strained relationship with his middle child effectively grounds the story, making sure all the wizardry has some heart behind it. On top of all that, the flying Dementors are successfully spooky as shit.
4. SpongeBob Squarepants: The Broadway Musical
Opened: December 4, 2017 
Cast: Ethan Slater, Lilli Cooper, Danny Skinner
Director: Tina Landau (Superior Donuts)
Why it's great: I honestly never thought I would say this, but if you are looking for a totally fun evening at the theater, go see SpongeBob Squarepants: The Broadway Musical. This adaptation of the Nickelodeon cartoon is so joyously silly without obnoxiously winking at its audience. It's not perfect, but the fact that various artists (T.I., Panic! At The Disco, The Flaming Lips) have written the songs means that many of the tunes don't really feel like they are written specifically for the characters, despite the errant fish joke here and there. But they are all genial enough, and somehow the production is so bubbly (sorry) you don't really seem to care. SpongeBob is lavish, though director Tina Landau still gives it a DIY spirit that makes it downright inspiring. All the money has gone into making this show as a playful as possible. How can you resist something that features a Squidward tap number? 
3. My Fair Lady
Opened: April 19, 2018
Cast: Lauren Ambrose, Harry Hadden-Paton, Norbert Leo Butz, Diana Rigg
Director: Bartlett Sher (The King and I, South Pacific)
Why it's great: Six Feet Under's Lauren Ambrose wasn't an obvious choice to follow in the footsteps of Julie Andrews as Eliza Doolittle, the cockney heroine of My Fair Lady, Alan Jay Lerner and Frederick Loewe's beloved musical adaptation of George Bernard Shaw's Pygmalion. Ambrose has done her fair share of theater, but she's not known for her singing. And while she does sound loverly in this revival at Lincoln Center, it's how she imbues the flower girl-turned-proper lady with a sadness that defines her performance. Director Bartlett Sher's production operates from a deep understanding of Eliza's complicated position in society -- both her desperation when she's destitute and the limits placed on her when she's all dressed up. It's also a vision to behold -- from the rotating set that comprises Professor Henry Higgins' home to the stunning costumes -- all making for a thoughtful interpretation of a classic. Plus, you'll get to see erstwhile Game of Thrones doyenne Diana Rigg unleash her badass attitude on stage.
2. Angels in America: A Gay Fantasia on National Themes
Opened: March 25, 2018 (Closing on July 15, 2018)
Cast: Andrew Garfield, Nathan Lane, Denise Gough, Lee Pace
Director: Marianne Elliott (The Curious Incident of the Dog in the Night-Time, War Horse)
Why it's great: Do you have eight hours to spend watching theater in the next month? Then try to see both parts of Angels in America -- Millennium Approaches and Perestroika -- before they close July 15. There's a reason Tony Kushner's plays are considered all-time masterpieces, and Andrew Garfield, Nathan Lane, and the other actors in this vast ensemble are up to the marathon task of bringing them to life. This "Gay Fantasia on National Themes" is a mind-blowing, transcendent experience that wrestles with the AIDS crisis, Trumpian hypocrisy, and, yes, actual angels.
1. The Band's Visit
Opened: November 9, 2017
Cast: Katrina Lenk, Tony Shalhoub, Adam Kantor
Director: David Cromer (A Raisin in the Sun, The House of Blue Leaves)
The gorgeous, 2007 Israeli film The Band's Visit is now a small musical about big emotions. It's the story of an Egyptian police band scheduled to play a concert at an Arab cultural center in Israel. They take the bus to the wrong town and must spend the night with the residents. There, lonely souls from different cultures share their stories of longing through song's by David Yazbek (The Full Monty). Dina (Katrina Lenk), the cafe owner, has a mournful ballad, "Omar Sharif," about her remembrances of the actor from her youth. Near the end, the chorus comes together to plead, "Answer Me." It's lovely, transfixing, and deeply moving. 
Sign up here for our daily Thrillist email and subscribe here for our YouTube channel to get your fix of the best in food/drink/fun.