The Best Shows You Can See on Broadway Right Now
From favorites like 'The Lion King' to recent hits, these are the Broadway musicals worth seeing in NYC.
'A Strange Loop'

| Photo by Marc J. Franklin
'A Strange Loop'

| Photo by Marc J. Franklin
After a long absence, Broadway is officially back. The home base of American theater quietly began performances again in August 2021 with the play Pass Over, but on September 14, it was in full swing with the re-openings of big tourist attractions like The Lion King, Wicked, Hamilton, and Chicago. We're now in the thick of Tony season and the race is heating up with starry revivals (see: The Music Man and Funny Girl) and thrilling new works (A Strange Loop, for instance). Here's what we think you should go see.
Director: Stephen Brackett (Passing Strange)
Michael R. Jackson's musical, which has already won the Pulitzer Prize for Drama, announces itself as a "big, Black, queer-ass American Broadway show" in its opening number. Well, sort of. The protagonist Usher (Jaquel Spivey, sensational in his first-ever professional part) is trying to write a "big, Black, queer-ass American Broadway show." He's working as, yes, an usher at a Disney production that is definitely The Lion King as he attempts to write his own musical called, yes, A Strange Loop. But lest you think A Strange Loop gets lost in all the meta, instead what emerges is a stunningly introspective work about a man wrestling with his own mind and body. Usher is joined on stage by a chorus of his own "thoughts" that tease and needle him—some occasionally playing the roles of his parents who acknowledge that he is gay but haven't accepted it. Referencing everything from Liz Phair to Tyler Perry, A Strange Loop grabs hold of you for its runtime and does not let go.
Watch A Strange Loop Tiny Desk Concert
Director: Christopher Ashley (Memphis, Xanadu)
Why it's great: A "musical about 9/11" doesn't sound like a particularly joyous way to spend an evening, but Come From Away avoids turgidity by honing in on its characters. The show stages the true story of a group of flying travelers rerouted on the tragic day and eventually taken in by residents of the small Canadian town of Gander, Newfoundland. The entire production feels charmingly intimate and DIY for Broadway, boasting a hardworking cast constantly on the move, always switching between accents and characters. The songs aren't all that memorable, but they are galvanizing toe-tappers that elicit both smiles and tears.
Hear the number "Me and the Sky"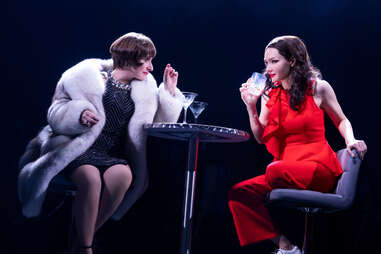 Director: Marianne Elliott (Angels in America)
Why it's great: Marianne Elliott's bold reimagining of Company (one of Stephen Sondheim's most beloved works, which opened shortly after the composer and lyricist died), gender swaps the protagonist going through an existential crisis. Bobby is now Bobbie, played by Katrina Lenk with sexiness and jitteriness. The action takes place around Bobbie's 35th birthday party where all of her "good and crazy" "married friends" are planning a surprise party, but Elliott has conceived it as sort of an Alice in Wonderland funhouse. The stagecraft is magnificent and pays off in spades in numbers like "Not Getting Married Today" now sung by Jamie instead of Amy. But it's Sondheim's show stopping numbers that keep this production as vital as it was in 1970. Plus, nothing beats Patti LuPone singing "The Ladies Who Lunch."
Watch the cast's Tiny Desk concert
Director: Conor McPherson (The Seafarer)
Why it's great: Jukebox musicals are typically seen as crowd-pleasing affairs, but that is not Girl from the North Country. Sure, it uses the music of Bob Dylan, but it's not encouraging any singalongs. Instead, the Irish playwright Conor McPherson, who also directs, uses the folk rock legend's music to punctuate a tale of sorrow at a boarding house in Depression-era Minnesota. The songs are deep cuts for the most part, though Mare Winningham does deliver a stirring rendition of "Like a Rolling Stone." It's a chilly affair with a bleakness that can turn overwhelming.
Listen to "Slow Train/License to Kill"
Director: Rachel Chavkin (Natasha, Pierre & The Great Comet of 1812)
Why it's great: Hadestown tells an ancient story in an old-timey vernacular and is still one of the freshest things you'll see on Broadway. Stemming from a concept album singer-songwriter Anaïs Mitchell put out back in 2010, it uses Americana folk and jazz traditions to reinvent the tale of Orpheus and Eurydice, young lovers who get mixed up with the fickle gods of the underworld, Hades and Persephone. Mitchell weaves nods to current struggles like climate change into the narrative—and Hades' threatening song "Why We Build The Wall" has only grown more eerily relevant since she composed it—but director Rachel Chavkin's stunning focus imbues it with earthy magic that will take your breath away.
Watch the number "Wait For Me"
Director: Thomas Kail (Lombardi, In the Heights)
Why it's great: Given that Lin-Manuel Miranda's unstoppable rap-infused dramatization of the founding father's life is arguably the 21st century's one true theatrical masterpiece, you probably figured we'd include it here. Hamilton is a musical that's made audiences reconsider the medium, and while it's still difficult to get tickets, these days you don't even have to be in New York to see it: There are productions in Chicago and London, as well as a national tour currently underway.
Hear the number "Alexander Hamilton"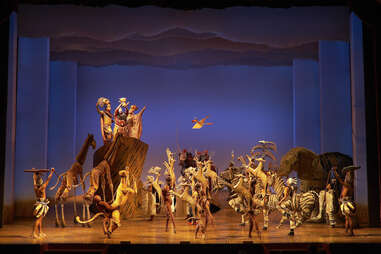 Director: Julie Taymor (Across the Universe)
Why it's great: I was lucky enough to see The Lion King on reopening night, a joyful experience complete with an intro from director Julie Taymor herself. Did I cry all the way through "The Circle of Life"? I sure did. Had I forgotten just how special this production truly is? Yes. If you haven't seen the Broadway version of the Disney hit in a while and you want to be immersed in stagecraft, go again. Taymor's staging is truly innovative, from the colorful interpretation of "I Just Wait to Be King" to the starry transformations in "He Lives in You." Go. You won't regret it.
Listen to "Shadowland"
Director: Anna D. Shapiro (August: Osage County)
When Tracy Letts' new play The Minutes begins, you might think you're in for a riff on Parks and Recreation or a similar sitcom. It helps that the play stars, in addition to Letts himself, Schitt's Creek's Noah Reid. The one-act takes place at a council meeting for the representatives of Big Cherry, and all the quirky archetypes are represented. There's the blustering old man who wants a better parking spot and the kooky lady who has too many snacks and a can of ant spray on her desk. But there's also something lurking under the surface of all these small town gags. Reid's Peel, an eager newbie, missed last week's meeting and now one of his colleagues, Mr. Carp, is gone. Why? And how? As the answers are revealed the play slowly unveils its true purpose: to reckon with the curse and the cult of Americana. It's terrifying and thrilling.
Watch a preview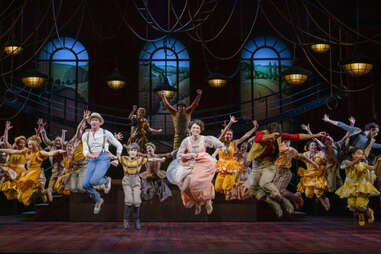 Director: Jerry Zaks (Hello, Dolly!)
Is this Music Man a great production of The Music Man? No. Does it star Hugh Jackman doing his damndest? Yes. Is it worth it? Depending on how much you want to shell out. This highly anticipated revival doesn't do anything earth-shattering with the beloved material about a con artist who convinces a town of stubborn Iowans that he is going to start a boys' band. It's a straightforward interpretation with a lot of star power. And while Jackman is giving it his all, its Sutton Foster who sparkles in the role of Marian, making it entirely her own.
Watch "Shipoopi"
Directors: Lucy Moss and Jamie Armitage
Why it's great: Six is quite possibly the best time you'll have on Broadway this season. There are deaths, divorces, and beheadings, but that's just par (if not Parr, as in Catherine) for the course when you're dealing with the six wives of Henry VIII. But this production imagines the ladies as fierce pop stars, a girl group in the guise of the Spice Girls or Fifth Harmony. The members of Six stage a competition for the audience every night: They'll each get a solo detailing their tragic tale, and whichever one had the worst time being married to the English monarch wins. Catherine of Aragon starts things off with a Beyoncé-esque jam about annulment. Anne of Cleves brings down the house with her killer bop about living large after Henry thinks she doesn't match her Hans Holbein portrait (a.k.a. her profile picture). Jane Seymour sings a plaintive ballad. All the performers do some incredible vocal olympics, belting high notes and doing runs as if their lives depended on it. The show's feel-good feminist messaging is not all that challenging, but who cares when you're caught up in the catchy tunes?
Watch highlights from the show
Director: Joe Mantello (The Humans)
Why it's great: The slow reopening of Broadway has given theater fans a chance to revisit their favorites, and many have flocked to Wicked to relive their 2003 teen girl angst. It's hard not to be taken with Stephen Schwartz's incredibly catchy score as you watch the story of Galinda (a.k.a. Glinda) and Elphaba as they turn from enemies to friends to frenemies. You might even forget how silly some of the lyrics are.
Listen to "The Wizard and I"