With the 2017-18 theater season in full swing, it's the perfect time to see a Broadway show. Specifically, the best Broadway shows currently wowing audiences every night in the heart of New York's theater district.
While some of the previous year's shows are riding high on Tony success, others are taking their final bows and striking their sets. (It's rough out there if you're looking to see a show with no singing or dancing -- even the Tony winner for Best Play, Oslo, has closed.) And yet there's plenty that's relatively new and fascinating to see. With that said, we've compiled a list of our favorites that debuted within the past two years. Expect updates and changes as more shows come and go.
Recommended Video
Netflix's New Sci-Fi Show Is Its Biggest Production to Date
8. Dear Evan Hansen
Opened: December 4, 2016
Cast: Ben Platt, Laura Dreyfuss, Mike Faist, Rachel Bay Jones
Director: Michael Greif (War Paint, If/Then)
Why it's great: Every so often a musical comes along that captures the heart of the high school drama club crowd. Rent played that role in the 1990s. The aughts brought Spring Awakening. Now, it's Dear Evan Hansen. In turn, you may feel, as I did, that you're not the right demographic for it, perhaps unwilling to overlook the ethical missteps in its tale of self-acceptance. Still, the show from La La Land lyricists Justin Paul and Benj Pasek has plenty of fans. The story of an anxiety-ridden teen who finds his voice after a series of misunderstandings stemming from a bully's suicide won the top prize at this year's Tonys. And even if you're a naysayer like I am, you can still appreciate what Dear Evan Hansen has to offer, specifically some stirring ballads and a performance from Noah Galvin who has taken over for award-winning Ben Platt.
7. Cats
Opened: July 31, 2016 (Closing on December 30, 2017)
Cast: Mamie Parris, Tyler Hanes, Daniel Gaymon, Ricky Ubeda
Director: Trevor Nunn (Les Misérables, Rock 'n' Roll)
Why it's great: Hold your gasps. Yes, I am recommending Cats, the punchline of an Andrew Lloyd Webber musical that seemingly ran forever and then was inexplicably revived last year. Why? I firmly believe that every theatergoer should see Cats at least once. The show -- based on T.S. Eliot's 1939 poetry collection Old Possum's Book of Practical Cats -- is an acquired taste and your mileage will vary depending on your tolerance for nonsensical ditties about feline habits. But it's also iconic in just about every way, and "Memory" still can provoke shivers. The new production recreates the old, and in doing so keeps what's ludicrous and special about it (those costumes) intact. See it before it goes to the Heaviside Layer in December.
6. Hamilton
Opened: August 6, 2015
Cast: Javier Muñoz, Brandon Victor Dixon, Mandy Gonzalez, James Monroe Iglehart
Director: Thomas Kail (Lombardi, In the Heights)
Why it's great: It hardly seems necessary to deem Hamilton one of Broadway's best, mainly because if you're reading this article you probably already heard that. And these days you don't even have to be in New York to see it: There are productions in Chicago and London as well as a national tour currently underway. Still, Lin-Manuel Miranda's unstoppable, rap-infused dramatization of the founding father's life belongs here because it is arguably the 21st century's one true theatrical masterpiece, a work that made audiences reconsider the medium.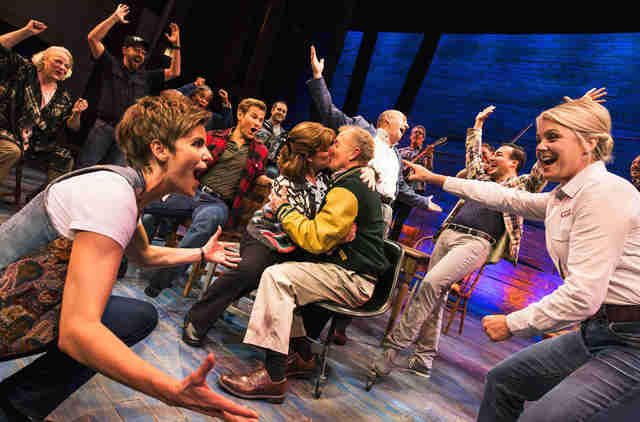 5. Come From Away
Opened: March 12, 2017
Cast: Jenn Colella, Q. Smith, Joel Hatch, Rodney Hicks
Director: Christopher Ashley (Memphis, Xanadu)
Why it's great: A "musical about 9/11" doesn't sound like a particularly joyous way to spend an evening, but Come From Away avoids turgidity by honing in on characters. The show stages the true story of a group of travelers rerouted on the tragic day and eventually taken in by residents of the small Canadian town of Gander, Newfoundland. The entire production feels charmingly intimate and DIY for Broadway, boasting a hardworking cast constantly on the move, always switching between accents and characters. The songs aren't all that memorable, but they are galvanizing toe-tappers that elicit both smiles and tears.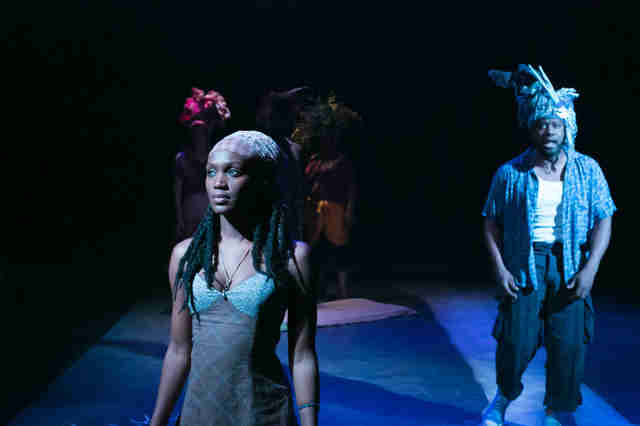 4. Once on This Island
Opened: December 3, 2017
Cast: Hailey Kilgore, Lea Salonga, Alex Newell, Merle Dandridge
Director: Michael Arden (Spring Awakening)
Why it's great: Perhaps you'll feel, as I did, that the messages of this Caribbean set spin on The Little Mermaid feel a little dated in the age of heroines like Moana. After all, the journey of Hailey Kilgore's heroine Ti Moune entirely revolves around the pursuit of a (crappy) man. Still, with stagecraft this exciting you'll want to hear the story that's being told. The revival of the 1990 musical from Lynn Ahrens and Stephen Flaherty -- the pair behind another Broadway production, Anastasia -- is transporting. Circle in the Square's stage is sandy, a pool sits in one corner, and there's a goat. The live animal gimmick could threaten to overtake the show, but the performances are so uniformly great that that's never an option. Hailey Kilgore, playing Ti Moune, is a thrilling newcomer; Glee veteran Alex Newell does towering vocal work as Earth goddess Asaka; and then there's Lea Salonga of Mulan fame, warming your heart.
3. SpongeBob Squarepants: The Broadway Musical
Opened: December 4, 2017
Cast: Ethan Slater, Lilli Cooper Danny Skinner
Director: Tina Landau (Superior Donuts)
I honestly never thought I would say this, but if you are looking for a totally fun evening at the theater, go see SpongeBob Squarepants: The Broadway Musical. This adaptation of the Nickelodeon cartoon is so joyously silly without obnoxiously winking at its audience. It's not perfect, but the fact that various artists (T.I., Panic! At The Disco, The Flaming Lips) have written the songs means that many of the tunes don't really feel like they are written specifically for the characters, despite the errant fish joke here and there. But they are all genial enough, and somehow the production is so bubbly (sorry) you don't really seem to care. SpongeBob is lavish, though director Tina Landau still gives it a DIY spirit that makes it downright inspiring. All the money has gone into making this show as a playful as possible. How can you resist something that features a Squidward tap number?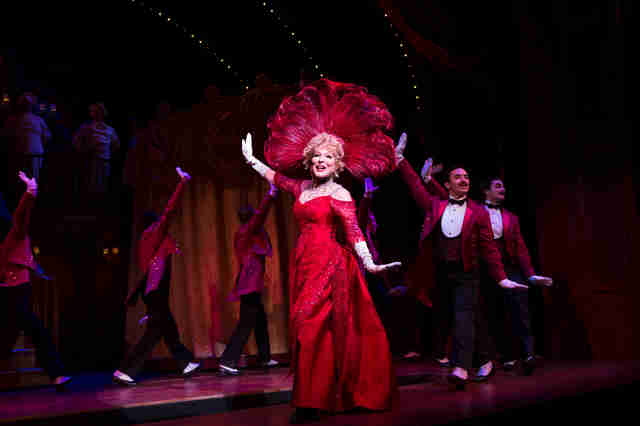 2. Hello, Dolly!
Opened: April 20, 2017
Cast: Bette Midler/Donna Murphy, David Hyde Pierce, Gavin Creel, Kate Baldwin
Director: Jerry Zaks (Sister Act, A Bronx Tale The Musical)
Why it's great: At this point, seeing Bette Midler in Hello, Dolly! is a treat reserved for the very rich. But let me tell you a secret: You don't even need The Divine Miss M in the title role to have a damn good evening at the theater. Go on a Tuesday night -- or any other time Midler has the night off -- and watch Donna Murphy do a splendid job. Murphy, a two-time Tony winner, is a Broadway veteran who is also putting her cheeky, warm-hearted spin on meddling matchmaker Dolly Levi. And whether Midler or Murphy is on stage, Hello, Dolly! is your rare chance to see what I like to call a "whole-ass musical." It's as old-fashionedly lavish as they come with hosts of chorus members, ludicrous set pieces, and over-the-top costumes. (The eventual parade of garments in "Put on Your Sunday Clothes" will make you gasp.) This is Broadway at its most boisterous, and, boy, is it a delight. Just wait until Bernadette Peters takes over in January.
1. The Band's Visit
Opened: November 9, 2017
Cast: Katrina Lenk, Tony Shalhoub, Adam Kantor
Director: David Cromer (A Raisin in the Sun, The House of Blue Leaves)
The gorgeous, 2007 Israeli film The Band's Visit is now a small musical about big emotions. It's the story of an Egyptian police band scheduled to play a concert at an Arab cultural center in Israel. They take the bus to the wrong town and must spend the night with the residents. There, lonely souls from different cultures share their stories of longing through song's by David Yazbek (The Full Monty). Dina (Katrina Lenk), the cafe owner, has a mournful ballad, "Omar Sharif," about her remembrances of the actor from her youth. Near the end, the chorus comes together to plead, "Answer Me." It's lovely, transfixing, and deeply moving.
Sign up here for our daily Thrillist email and subscribe here for our YouTube channel to get your fix of the best in food/drink/fun.