Broadway operates in waves. The first comes in the fall when a host of new shows open just before the influx of Christmastime tourists. The second arrives in the spring, as plays and musicals clamor for Tony Awards consideration. That being said: There's truly never a bad time to see some great theater.
But what to see? Good thing you're here. We've compiled a list of our favorite productions that debuted within the past three years. Expect updates and changes as more shows come and go.
Opened: April 16, 2019
Cast: Adam Driver, Keri Russell, David Furr, Brandon Uranowitz
Director: Michael Mayer (Spring Awakening, American Idiot)
Why it's great: On screen, it's clear Adam Driver is shaping up to be one of the most fascinating and compelling actors of his generation with his roles in the likes of BlacKkKlansman and the Star Wars movies. His performance in this revival of Lanford Wilson's 1987 play only serves to reinforce how thoroughly talented he is. He plays Pale, a role initially inhabited by John Malkovich, the distraught brother of the deceased roommate of Anna (here, Keri Russell). When Pale bursts into Anna's loft, his towering, intoxicating grief results in a messy affair.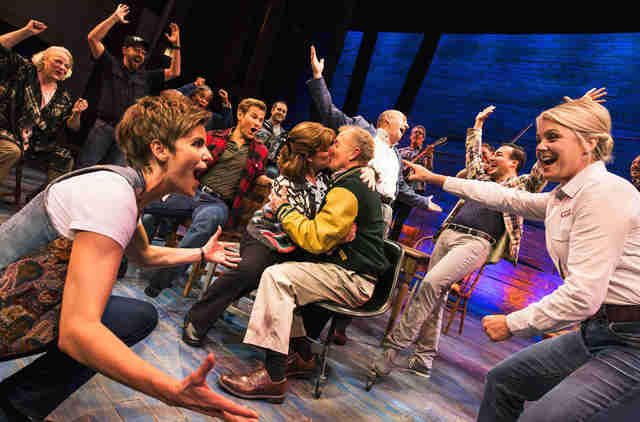 Opened: March 12, 2017
Cast: Jenn Colella, Q. Smith, Joel Hatch
Director: Christopher Ashley (Memphis, Xanadu)
Why it's great: A "musical about 9/11" doesn't sound like a particularly joyous way to spend an evening, but Come From Away avoids turgidity by honing in on its characters. The show stages the true story of a group of travelers rerouted on the tragic day and eventually taken in by residents of the small Canadian town of Gander, Newfoundland. The entire production feels charmingly intimate and DIY for Broadway, boasting a hardworking cast constantly on the move, always switching between accents and characters. The songs aren't all that memorable, but they are galvanizing toe-tappers that elicit both smiles and tears.
Hear the number "Me and the Sky"
Opened: December 4, 2016
Cast: Andrew Barth Feldman, Mallory Bechtel, Lisa Brescia
Director: Michael Greif (War Paint, If/Then)
Why it's great: Every so often a musical comes along that captures the hearts of the high school drama club crowd. Rent played that role in the 1990s. The aughts brought Spring Awakening. Now, it's Dear Evan Hansen. In turn, you may feel, as I did, that you're not the right demographic for it, perhaps unwilling to overlook the ethical missteps in its tale of self-acceptance. Still, the show from La La Land lyricists Justin Paul and Benj Pasek has plenty of fans. The story of an anxiety-ridden teen who finds his voice after a series of misunderstandings stemming from a bully's suicide won the top prize at last year's Tonys. Even if you're a naysayer like I was, you can still appreciate what Dear Evan Hansen has to offer, specifically some stirring ballads.
Hear the number "Waving Through a Window"
Opened: October 21, 2018
Cast: Brian d'Arcy James, Holley Fain, Emily Bergl
Director: Sam Mendes (Cabaret)
Why it's great: Jez Butterworth is a playwright who turns carefully considered human drama into genuine, heart-racing thrills. His Jerusalem, which was on Broadway in 2011, remains one of my most memorable theater-going experiences, now rivaled by his The Ferryman. The three-act saga follows a Northern Irish brood in 1981 as the IRA's hunger strike is unfolding. The Carneys are preparing for their annual harvest, when some terrible news arrives. A member of their clan, long disappeared, has been found dead, murdered by the IRA. What follows is an excavations of deep seated wounds -- both familial and national. But The Ferryman is also an undeniably lively experience, complete with both an actual goat and an actual baby onstage. It's painful, funny, and mesmerizing.
Watch clips of The Ferryman
Opened: August 6, 2015
Cast: Austin Scott, Daniel Breaker, Mandy Gonzalez, James Monroe Iglehart, Denée Benton
Director: Thomas Kail (Lombardi, In the Heights)
Why it's great: Given that Lin-Manuel's unstoppable, rap-infused dramatization of the founding father's life is arguably the 21st century's one true theatrical masterpiece, you probably figured we'd include it here. Hamilton is a musical that's made audiences reconsider the medium, and while it's still difficult to get tickets, these days you don't even have to be in New York to see it: There are productions in Chicago and London as well as a national tour currently underway.
Hear the number "Alexander Hamilton"
Opened: April 22, 2018
Cast: Jenny Jules, Matt Mueller, Nicholas Podany, Bubba Weiler, James Snyder
Director: John Tiffany (Once, The Glass Menagerie)
Why it's great: The lore of Harry Potter seems to just keep spreading. While the cinematic evolution of this world has yielded mixed results -- looking at you, Fantastic Beasts franchise -- the stage sequel to the saga of Harry, Ron, and Hermione, set 19 years after Harry Potter and the Deathly Hallows, manages to impress. Director John Tiffany has translated the spells and magical whatsits of J.K. Rowling's universe into wondrous stagecraft. Meanwhile, Harry's strained relationship with his middle child effectively grounds the story, making sure all the wizardry has some heart behind it. On top of all that, the flying Dementors are successfully spooky as shit.
Listen to Imogen Heap's score for the play
Opened: April 4, 2019
Cast: Glenda Jackson, Jayne Houdyshell, Pedro Pascal, Ruth Wilson
Director: Sam Gold (Fun Home, The Glass Menagerie)
Why it's great: Here's the deal: If you get a chance to see Glenda Jackson on stage, you should take it. Now, if you get a chance to see Glenda Jackson do Lear on stage, consider yourself extremely lucky. The two-time Oscar winner -- who has recently returned to acting after a stint in British parliament -- makes for a magnificent King, fully embodying the folly and madness of one of Shakespeare's most famous anti-heroes. Her delivery is crisp -- those rolled "Rs" are something to behold -- but the angst of age is never far from her tongue. Jackson is just one highlight of this production, which also features The Affair star Ruth Wilson playing both the virtuous Cordelia and the wise (and wisecracking) fool. Game of Thrones' Pedro Pascal connives convincingly as Edmund and Tony-winner Jayne Houdyshell's Gloucester devastates in the second act. Director Sam Gold stages the whole play in one space, where a string quartet scores the action with a Philip Glass score. His choices are bold -- sometimes intentionally ugly -- but the brilliance of the acting is why you're here.
Opened: April 8, 2018
Cast: Erika Henningsen, Taylor Louderman, Grey Henson
Director: Casey Nicholaw (The Book of Mormon, Aladdin)
Why it's great: The long-rumored Mean Girls musical finally came to fruition, and it's better than you could have hoped. No, there's no "Fetch" song, but there are clever tunes from composer Jeff Richmond and lyricist Nell Benjamin, which complement the snappy dialogue from none other than Tina Fey. Fey has updated her urtext about the monstrosity of teens for this day and age with references to iPhones and social media, and, if anything, the show delves even deeper into the psychology of girlhood than the movie does. All that is reason enough to check it out, but you're also going to want to see the fabulous cast, who will make you forget all about Lindsay Lohan and Rachel McAdams.
Hear the number "I'd Rather Be Me"
Opened: April 19, 2018
Cast: Laura Benanti, Harry Hadden-Paton, Danny Burstein, Rosemary Harris
Director: Bartlett Sher (The King and I, South Pacific)
Why it's great: Director Bartlett Sher's production operates from a deep understanding of Eliza Dolittle's complicated position in society, and adeptly depicts her desperation when she's destitute and the limits placed on her when she's all dressed up. It's also a vision to behold, from the rotating set that comprises Professor Henry Higgins' home to the stunning costumes, making this a thoughtful interpretation of a classic. The great soprano -- and Stephen Colbert's Melania Trump -- is currently playing her dream role of Eliza.
Watch clips from My Fair Lady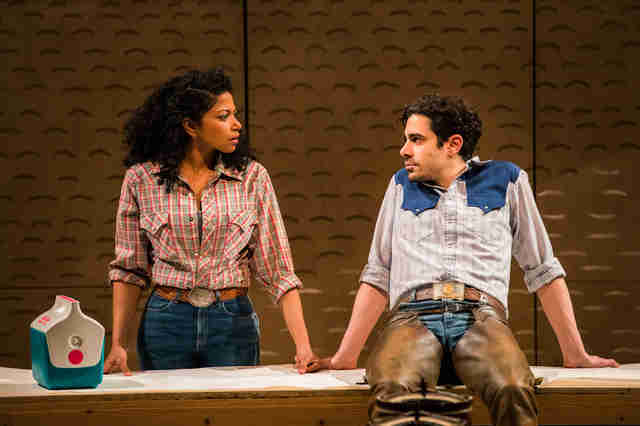 Opened: April 7, 2019
Cast: Damon Daunno, Rebecca Naomi Jones, Ali Stroker, Mary Testa
Director: Daniel Fish
Why it's great: Rodgers and Hammerstein's Oklahoma! -- exclamation point and all -- has a reputation as one of the corniest of the Golden Age musicals, thanks to the years of high school and community theater productions that have rendered it devoid of nuance. Daniel Fish's new version does the opposite, breaking down the show to its elements to reveal the troubling themes at the heart of the story. Performed in a brightly lit, almost sparse, space with a small band in lieu of an orchestra, this Oklahoma! takes the quaint story of the cowboy Curly trying to win the affections of farm girl Laurey and makes it sexy and violent, even as it maintains the songwriters' humor and melodies. Here there's something threatening when the cast sings "we know we belong to the land, and the land we belong to is grand" because we understand that the America of the text is one where women's bodies are up for grabs and even our heroes are vicious opportunists.
Watch Ali Stroker sing "I Cain't Say No" 
Opened: November 15, 2019
Cast: Brooks Ashmanskas, Beth Leavel, Christopher Sieber, Caitlin Kinnunen
Director: Casey Nicholaw (Mean Girls, The Book of Mormon)
Why it's great:  The Prom is a musical for people who love musicals. Sure, that might be the case with many musicals, but this one almost counts on its audience having affection for the genre. Two panned Broadway stars, one aging chorus girl, and a waiter who won't shut up about the fact that he went to Juilliard decide to do some good to get some good press. They find their cause in Emma, a lesbian teen in a tiny Indiana town whose desire to go to prom with her girlfriend has launched a wave of homophobic panic. When the theater folk from New York arrive, there's a hilarious clash of egos manifested in song. But for all of its broad humor, The Prom is a really sweet production about being good to others and to oneself. Sure, it pushes the limits of its premise length-wise, but when there are high-kicks and affirming ballads, what's not to love?
Watch clips from The Prom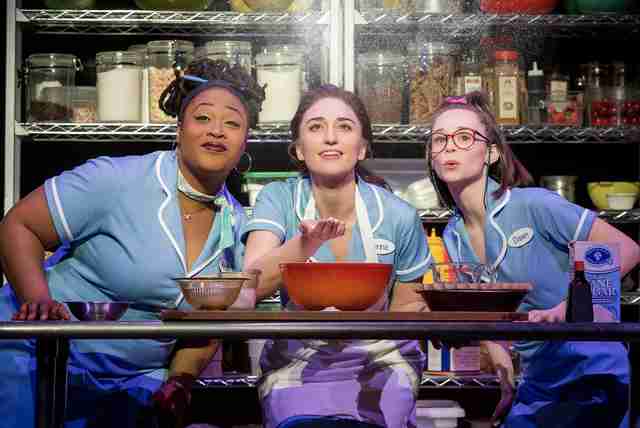 Opened: April 24, 2016
Cast: Shoshana Bean, Eddie Jemison, Lenne Klingaman
Director: Diane Paulus (Pippin, Finding Neverland)
Why it's great: Sara Bareilles' adaptation of the 2007 movie starring Keri Russell has been a quiet powerhouse for a while now, and it's still just as solid as it was when it opened in 2016. It's an undeniably sweet production -- seriously, "sugar, butter, flour" is a refrain and you can buy little pies from the concession stand -- but all that heartfelt sentiment comes from a real place. The world it represents is not sugar-coated, especially for women. No matter which actress you catch in the lead, she'll break your heart when she launches into "She Used to Be Mine."
Listen to "She Used to Be Mine" from Waitress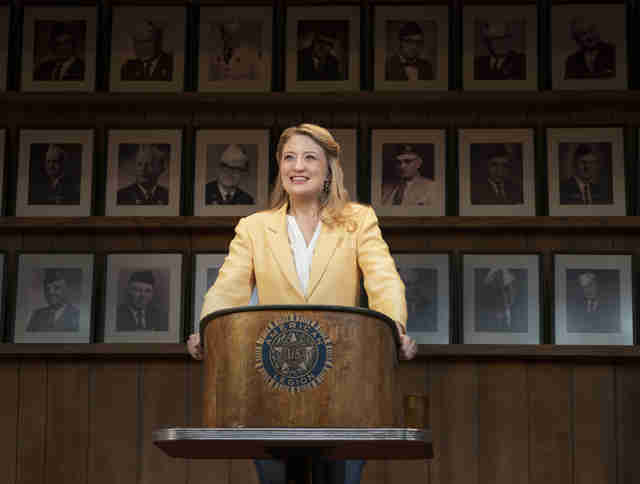 Opened: March 31, 2019
Cast: Heidi Schreck, Mike Iveson, Rosdely Ciprian, Thursday Williams
Director: Oliver Butler
Why it's great: If the title of What the Constitution Means to Me sounds like a grade school report, well, that's because it sort of is. Writer-performer Heidi Schreck excavates her own history of participating in constitutional speech contests at American Legion halls for this three-person piece that's a ruthless and often devastating interrogation of the Founding Fathers' document. Schreck paid for college using the money she won talking about her love of the Constitution, but now her feelings are more, well, mixed. In a welcoming, conversational, and often amusing tone, she picks apart how these words, ostensibly guaranteeing freedom, betray women across America, including those in her own family. It's brutal at times, but one of the most vibrant examinations of what it means to be a citizen you'll ever see.
Sign up here for our daily Thrillist email and subscribe here for our YouTube channel to get your fix of the best in food/drink/fun.