Broadway operates in waves. The first comes in the fall when a host of new shows open just before the influx of Christmastime tourists. The second arrives in the spring, as plays and musicals clamor for Tony Awards consideration. That being said: There's truly never a bad time to see some great theater.
But what to see? Good thing you're here. We've compiled a list of our favorite productions that debuted within the past three years. Expect updates and changes as more shows come and go.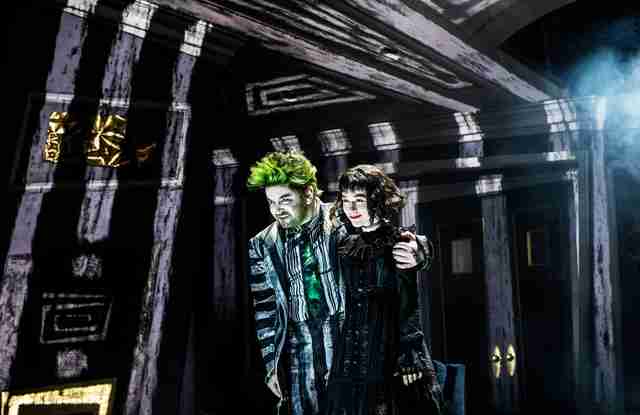 Beetlejuice
Opened: April 25, 2019
Cast: Alex Brightman, Sophia Anne Caruso, Kerry Butler, Leslie Kritzer
Director: Alex Timbers (Bloody Bloody Andrew Jackson, Oh, Hello!)
Why it's great: In the battle of the movie adaptation musicals that hit Broadway in 2019, Beetlejuice has gotten the short end of the critical stick. While the New York Times, for instance, lavished praise on Tootsie, it dinged Beetlejuice -- hard. But the ghost with the most offers a devilishly good, if over-the-top and disorganized, time. The creative team behind this spectacle doesn't try to recreate the Tim Burton film note for note, and that's a blessing. For instance, it knows that no one can match the zaniness of Catherine O'Hara, so turns overbearing step-mom Delia into a well-intentioned self-help guru. It doesn't quite succeed in giving the character of Beetlejuice the emotional core it wants to, but Alex Brightman's interpretation is a hoot.
Hear the number "Say My Name" from Beetlejuice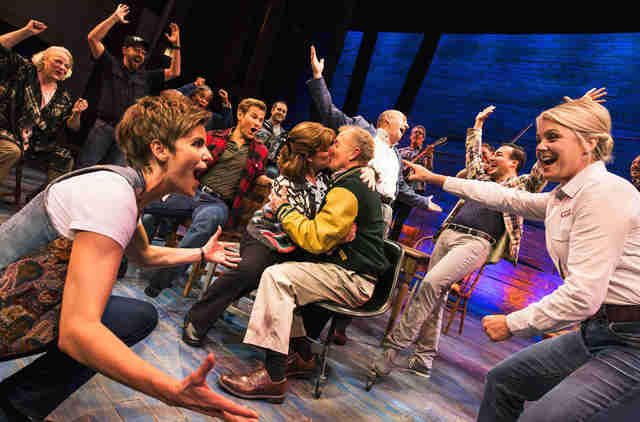 Opened: March 12, 2017
Cast: Becky Gulsvig, Joel Hatch, Kenita R. Miller
Director: Christopher Ashley (Memphis, Xanadu)
Why it's great: A "musical about 9/11" doesn't sound like a particularly joyous way to spend an evening, but Come From Away avoids turgidity by honing in on its characters. The show stages the true story of a group of travelers rerouted on the tragic day and eventually taken in by residents of the small Canadian town of Gander, Newfoundland. The entire production feels charmingly intimate and DIY for Broadway, boasting a hardworking cast constantly on the move, always switching between accents and characters. The songs aren't all that memorable, but they are galvanizing toe-tappers that elicit both smiles and tears.
Hear the number "Me and the Sky"
Opened: December 4, 2016
Cast: Andrew Barth Feldman, Gabrielle Carrubba, Lisa Brescia
Director: Michael Greif (War Paint, If/Then)
Why it's great: Every so often a musical comes along that captures the hearts of the high school drama club crowd. Rent played that role in the 1990s. The aughts brought Spring Awakening. Now, it's Dear Evan Hansen. In turn, you may feel, as I did, that you're not the right demographic for it, perhaps unwilling to overlook the ethical missteps in its tale of self-acceptance. Still, the show from La La Land lyricists Justin Paul and Benj Pasek has plenty of fans. The story of an anxiety-ridden teen who finds his voice after a series of misunderstandings stemming from a bully's suicide won the top prize at last year's Tonys. Even if you're a naysayer like I was, you can still appreciate what Dear Evan Hansen has to offer, specifically some stirring ballads.
Hear the number "Waving Through a Window"
Freestyle Love Supreme
Opened: October 2, 2019
Cast: Anthony Veneziale, Utkarsh Ambudkar, Aneesa Folds, Chris Sullivan
Director: Thomas Kail (Hamilton, In the Heights) 
Why it's great: True Hamilton-heads know that Lin-Manuel Miranda's fusion of theater and hip hop started not with his musical In the Heights, but with his improv group Freestyle Love Supreme. Now that Miranda has become the biggest thing on Broadway, Freestyle has made its way there as well, offering a totally fun, totally improvised show. The cast rotates nightly -- I saw Hamilton's original George Washington, Christopher Jackson, for instance -- while and the group plies the audience for stories and suggestions to turn into songs. For example: The performers transformed two teen sisters' bickering into a mini musical that incorporated My Chemical Romance and Edward Scissorhands. The night I attended Helen Mirren and Ian McKellen were two of the participating guests, attending as part of promo for their upcoming film The Good Liar. The two fawned over one another, while McKellen told a story about his missed connection with David Bowie. It resulted in a tune celebrating their love and McKellen's desire to do a musical about dogs. (He's in Cats.)
Watch a Freestyle Love Supreme appearance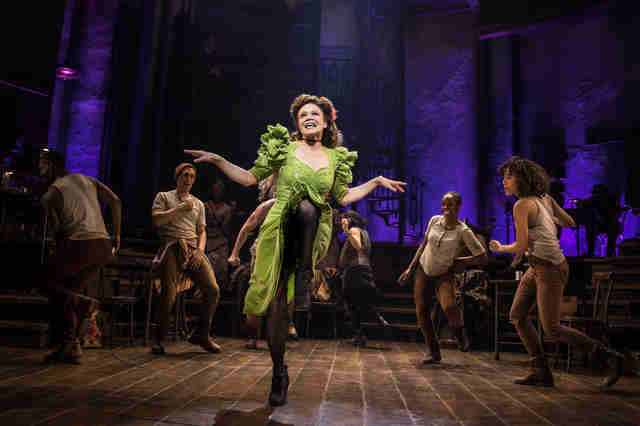 Opened: April 17, 2019
Cast: Reeve Carney, Eva Noblezada, Amber Gray, André de Shields, Patrick Page
Director: Rachel Chavkin (Natasha, Pierre & The Great Comet of 1812)
Hadestown tells an ancient story in an old-timey vernacular and is still one of the freshest things you'll see on Broadway. Stemming from a concept album singer-songwriter Anaïs Mitchell put out back in 2010, it uses Americana folk and jazz traditions to reinvent the tale of Orpheus and Eurydice, young lovers who get mixed up with the fickle gods of the underworld, Hades and Persephone. Mitchell weaves nods to current struggles like climate change into the narrative -- and Hades' threatening song "Why We Build The Wall" has only grown more eerily relevant since she composed it -- but director Rachel Chavkin's stunning imbues it with earthy magic that will take your breath away.
Watch the number "Wait For Me" 
Opened: August 6, 2015
Cast: Ryan Vasquez, Daniel Breaker, Mandy Gonzalez, Krystal Joy Brown
Director: Thomas Kail (Lombardi, In the Heights)
Why it's great: Given that Lin-Manuel's unstoppable, rap-infused dramatization of the founding father's life is arguably the 21st century's one true theatrical masterpiece, you probably figured we'd include it here. Hamilton is a musical that's made audiences reconsider the medium, and while it's still difficult to get tickets, these days you don't even have to be in New York to see it: There are productions in Chicago and London as well as a national tour currently underway.
Hear the number "Alexander Hamilton"
Opened: April 22, 2018
Cast: Jenny Jules, Matt Mueller, Nicholas Podany, Bubba Weiler, James Snyder
Director: John Tiffany (Once, The Glass Menagerie)
Why it's great: The lore of Harry Potter seems to just keep spreading. While the cinematic evolution of this world has yielded mixed results -- looking at you, Fantastic Beasts franchise -- the stage sequel to the saga of Harry, Ron, and Hermione, set 19 years after Harry Potter and the Deathly Hallows, manages to impress. Director John Tiffany has translated the spells and magical whatsits of J.K. Rowling's universe into wondrous stagecraft. Meanwhile, Harry's strained relationship with his middle child effectively grounds the story, making sure all the wizardry has some heart behind it. On top of all that, the flying Dementors are successfully spooky as shit.
Listen to Imogen Heap's score for the play
Jagged Little Pill
Opened: December 5, 2019 
Cast: Elizabeth Stanley, Celia Rose Gooding, Lauren Patten, Derek Klena
Director: Diane Paulus (Waitress, Pippin) 
Why it's great: Jagged Little Pill is A LOT. The Alanis Morissette jukebox musical with a book by Diablo Cody is a suburban set melodrama that tackles everything from rape to opioid addiction. It's also...definitely fun in a messy sort of way. It's like an episode of Euphoria with a '90s, Rent-like edge thanks to Morissette's unimpeachably good songs. If nothing else, go for Lauren Patten quite literally stopping the show every night with her fiery rendition of "You Oughta Know." 
Hear the number "You Oughta Know"
Opened: April 8, 2018
Cast: Erika Henningsen, Renée Rapp, Grey Henson
Director: Casey Nicholaw (The Book of Mormon, Aladdin)
Why it's great: The long-rumored Mean Girls musical finally came to fruition, and it's better than you could have hoped. No, there's no "Fetch" song, but there are clever tunes from composer Jeff Richmond and lyricist Nell Benjamin, which complement the snappy dialogue from none other than Tina Fey. Fey has updated her urtext about the monstrosity of teens for this day and age with references to iPhones and social media, and, if anything, the show delves even deeper into the psychology of girlhood than the movie does. All that is reason enough to check it out, but you're also going to want to see the fabulous cast, who will make you forget all about Lindsay Lohan and Rachel McAdams.
Hear the number "I'd Rather Be Me"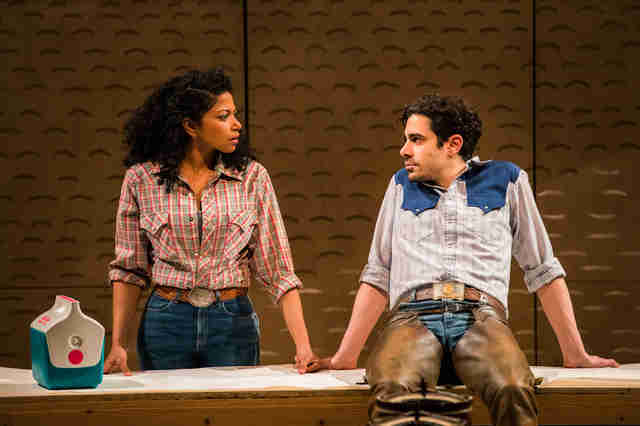 Opened: April 7, 2019
Cast: Damon Daunno, Rebecca Naomi Jones, Ali Stroker, Mary Testa
Director: Daniel Fish
Why it's great: Rodgers and Hammerstein's Oklahoma! -- exclamation point and all -- has a reputation as one of the corniest of the Golden Age musicals, thanks to the years of high school and community theater productions that have rendered it devoid of nuance. Daniel Fish's new version does the opposite, breaking down the show to its elements to reveal the troubling themes at the heart of the story. Performed in a brightly lit, sparse space with a small band in lieu of an orchestra, this Oklahoma! takes the quaint story of the cowboy Curly trying to win the affections of farm girl Laurey and makes it sexy and violent, even as it maintains the songwriters' humor and melodies. Here, there's something threatening when the cast sings "we know we belong to the land, and the land we belong to is grand" because we understand that the America of the text is one where women's bodies are up for grabs and even our heroes are vicious opportunists.
Watch Ali Stroker sing "I Cain't Say No"
Slave Play
Opened: October 6, 2019
Cast: Joaquina Kalukango, Paul Alexander Nolan, Ato Blankson-Wood, Annie McNamara
Director: Robert O'Hara
Why it's great: When Jeremy O. Harris' Slave Play opened Off-Broadway last season it was like the New York theater community was hit with an earthquake. Now it has made its way uptown to rattle audiences with its surprising and upsetting narrative that is shocking in its frank exploration of race and sex. Set against a mirrored backdrop, Slave Play ostensibly seems to open on an Antebellum plantation, but there's a twist midway through that forces viewers to completely reevaluate the scenarios that are unfolding. I'm reticent to say much else about the turns Harris' work takes -- though plenty of critics have spoiled them in an effort to wrestle with the material -- but you'll probably see nothing else like it on Broadway.
Opened: December 13, 2018
Cast: Ed Harris, Nick Robinson, Taylor Trensch, LisaGay Hamilton
Director: Bartlett Sher (My Fair Lady, The King and I)
Why it's great: Aaron Sorkin's adaptation of Harper Lee's seminal novel had a rough journey to Broadway, but it overcame a lawsuit to become one of the biggest hits of the season. Sure, it was snubbed for Best Play at the Tonys, but you should still make time for it -- that is, if you can snag a ticket. What's most fascinating about Sorkin's take on the material is how he chooses to reframe Atticus Finch's famous arguments. This isn't some kind of Go Set a Watchmen revision of the character, but the play takes a skeptical eye to Finch's axioms about walking around in another person's shoes, while still allowing for all the speechifying you'd expect from a Sorkin-Jeff Daniels collaboration. (Daniels originated the role. Now Ed Harris takes over.) Adult actors savvily play the children, Scout, Jem, and Dill, who narrate the action. Their voices are a highlight, as is the expanded role of Calpurnia. 
Sign up here for our daily Thrillist email and subscribe here for our YouTube channel to get your fix of the best in food/drink/fun.