It's summer in New York, and Broadway's in a bit of a lull. The 2017-18 theater season is just getting underway, and while some of the previous year's shows are riding high on Tony success, others are taking their final bows and striking their sets. (It's rough out there if you're looking to see a show with no singing or dancing -- even the Tony winner for Best Play, Oslo, has closed.)
And yet there's plenty that's relatively new and fascinating to see. With that said, we've compiled a list of our favorites that debuted within the past two years. Expect updates and changes as more shows come and go.
8. Dear Evan Hansen
Opened: December 4, 2016
Cast: Ben Platt, Laura Dreyfuss, Mike Faist, Rachel Bay Jones
Director: Michael Greif (War Paint, If/Then)
Why it's great: Every so often a musical comes along that captures the heart of the high school drama club crowd. Rent played that role in the 1990s. The aughts brought Spring Awakening. Now, it's Dear Evan Hansen. In turn, you may feel, as I did, that you're not the right demographic for it, perhaps unwilling to overlook the ethical missteps in its tale of self-acceptance. Still, the show from La La Land lyricists Justin Paul and Benj Pasek has plenty of fans. The story of an anxiety-ridden teen who finds his voice after a series of misunderstandings stemming from a bully's suicide won the top prize at this year's Tonys. And even if you're a naysayer like I am, you can still appreciate what Dear Evan Hansen has to offer, specifically some stirring ballads and an intense performance from Ben Platt that places him at the forefront of Broadway's next generation.
7. Cats
Opened: July 31, 2016 (Closing on December 30, 2017)
Cast: Mamie Parris, Tyler Hanes, Daniel Gaymon, Ricky Ubeda
Director: Trevor Nunn (Les Misérables, Rock 'n' Roll)
Why it's great: Hold your gasps. Yes, I am recommending Cats, the punchline of an Andrew Lloyd Webber musical that seemingly ran forever and then was inexplicably revived last year. Why? I firmly believe that every theatergoer should see Cats at least once. The show -- based on T.S. Eliot's 1939 poetry collection Old Possum's Book of Practical Cats -- is an acquired taste and your mileage will vary depending on your tolerance for nonsensical ditties about feline habits. But it's also iconic in just about every way, and "Memory" still can provoke shivers. The new production recreates the old, and in doing so keeps what's ludicrous and special about it (those costumes) intact. See it before it goes to the Heaviside Layer in December.
6. Hamilton
Opened: August 6, 2015
Cast: Javier Muñoz, Brandon Victor Dixon, Mandy Gonzalez, James Monroe Iglehart
Director: Thomas Kail (Lombardi, In the Heights)
Why it's great: It hardly seems necessary to deem Hamilton one of Broadway's best, mainly because if you're reading this article you probably already heard that. And these days you don't even have to be in New York to see it: There are productions in Chicago and London as well as a national tour currently underway. Still, Lin-Manuel Miranda's unstoppable, rap-infused dramatization of the founding father's life belongs here because it is arguably the 21st century's one true theatrical masterpiece, a work that made audiences reconsider the medium.
5. Groundhog Day
Opened: April 17, 2017
Cast: Andy Karl, Barrett Doss, John Sanders, Andrew Call
Director: Matthew Warchus (Matilda the Musical, God of Carnage)
Why it's great: Part of the pleasure of seeing Groundhog Day is figuring out how the oh-so-familiar story from Harold Ramis' movie is going to work on stage without grating on the low-key, time-traveling plot. Turns out: Director Matthew Warchus has a load of ingenious stagecraft up his sleeve, employing a swirling sea of turntables to capture the repetitive energy of the material as well as some actual magic tricks to keep the action moving. It also helps that Andy Karl is a cynical and sexy wonder as obnoxious weatherman Phil Connors, who is fated to relive the same day in too-cute Punxsutawney, described here as a "little town with a heart as big as any town." Tim Minchin's score redefines the concept of a reprise.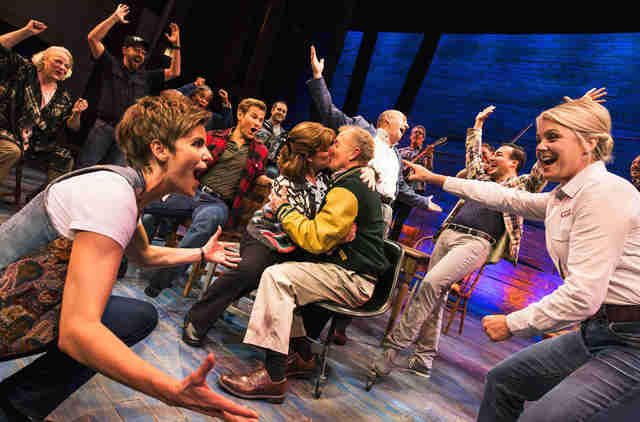 4. Come From Away
Opened: March 12, 2017
Cast: Jenn Colella, Q. Smith, Joel Hatch, Rodney Hicks
Director: Christopher Ashley (Memphis, Xanadu)
Why it's great: A "musical about 9/11" doesn't sound like a particularly joyous way to spend an evening, but Come From Away avoids turgidity by honing in on characters. The show stages the true story of a group of travelers rerouted on the tragic day and eventually taken in by residents of the small Canadian town of Gander, Newfoundland. The entire production feels charmingly intimate and DIY for Broadway, boasting a hardworking cast constantly on the move, always switching between accents and characters. The songs aren't all that memorable, but they are galvanizing toe-tappers that elicit both smiles and tears.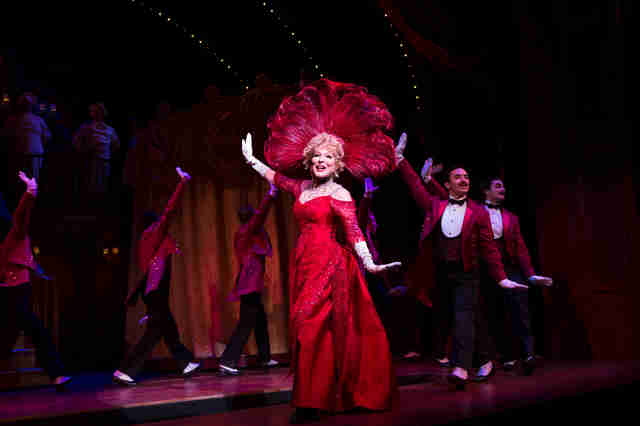 3. Hello, Dolly!
Opened: April 20, 2017
Cast: Bette Midler/Donna Murphy, David Hyde Pierce, Gavin Creel, Kate Baldwin
Director: Jerry Zaks (Sister Act, A Bronx Tale The Musical)
Why it's great: At this point, seeing Bette Midler in Hello, Dolly! is a treat reserved for the very rich. But let me tell you a secret: You don't even need The Divine Miss M in the title role to have a damn good evening at the theater. Go on a Tuesday night -- or any other time Midler has the night off -- and watch Donna Murphy do a splendid job. Murphy, a two-time Tony winner, is a Broadway veteran who is also putting her cheeky, warm-hearted spin on meddling matchmaker Dolly Levi. And whether Midler or Murphy is on stage, Hello, Dolly! is your rare chance to see what I like to call a "whole-ass musical." It's as old-fashionedly lavish as they come with hosts of chorus members, ludicrous set pieces, and over-the-top costumes. (The eventual parade of garments in "Put on Your Sunday Clothes" will make you gasp.) This is Broadway at its most boisterous, and, boy, is it a delight.
2. A Doll's House, Part 2
Opened: April 27, 2017 (Closing on January 7, 2018)
Cast: Julie White, Stephen McKinley Henderson, Erin Wilhelmi, Jayne Houdyshell
Director: Sam Gold (Fun Home, The Realistic Joneses)
Why it's great: Laurie Metcalf's hilarious and ruthless performance as Nora in playwright Lucas Hnath's sequel to Henrik Ibsen's classic A Doll's House has been a huge selling point for this play -- but don't let the fact that she left the production discourage you from getting tickets. The amazingly talented actors Julie White and Stephen McKinley Henderson replace Metcalf and her Torvald, Chris Cooper, respectively. Original cast member Jayne Houdyshell will continue to dish out honest concern, while Erin Wilhelmi steps in for Condola Rashad. And Hnath's writing will in all likelihood remain vital, having crafted a tight follow-up to one of the greatest pieces of literature of all time that both highlights its timeless relevance and questions it with a 2017 gaze.
1. Natasha, Pierre & The Great Comet of 1812
Opened: November 14, 2016
Cast: Okieriete Onaodowan, Denée Benton, Ingrid Michaelson, Lucas Steele
Director: Rachel Chavkin
Why it's great: In the opening number of Natasha, Pierre & The Great Comet of 1812, the rambunctious cast encourages you to take note of your program because the musical cribs from a "complicated Russian novel" -- War and Peace, to be specific -- and "everyone's got nine different names." Don't let those lyrics fool you into thinking this raucous experience, written by Dave Malloy, is at all like doing homework. The Great Comet is alternately a soaring yet sour romance, a keen character study, and a visual spectacle where every inch of the theater is both stage and seating area. Oh, and there's free food, too. If you're in the right spot you might be handed some pierogi as the show begins. Josh Groban has left the cast, but Okieriete Onaodowan of Hamilton fame has stepped into replace him as the miserable, searching Pierre. Meanwhile, for a brief time this summer, singer-songwriter Ingrid Michaelson is taking over the small but pivotal role of Sonya.
Sign up here for our daily Thrillist email and subscribe here for our YouTube channel to get your fix of the best in food/drink/fun.