The Best 25 Episodes of 'Brooklyn Nine-Nine,' Ranked
Brooklyn Nine-Nine is a rare genre comedy in the modern TV landscape. Where most sitcoms fall into wacky, shark-jumping tropes, the intrepid members of the Nine-Nine innovate and thrive as one of the most charming ensembles on the air. Standing on the shoulders of other Michael Schur-produced projects like Parks and Recreation and The Office, Brooklyn Nine-Nine takes a tired sitcom format (a diverse cop comedy) and finds ways to constantly make it feel original, surprisingly action-packed, and hilarious.
Whether it's busting a perp at a fantasy novel convention, infiltrating the FBI, or simply taking a mid-winter beach vacation, the entire crew of the 99th precinct -- Jake Peralta (Andy Samberg), Amy Santiago (Melissa Fumero), Terry Jeffords (Terry Crews), Rosa Diaz (Stephanie Beatriz), Charles Boyle (Joe Lo Truglio), Gina Linetti (Chelsea Peretti), Michael Hitchcock (Dirk Blocker), Norm Scully (Joel McKinnon Miller), and, of course, Captain Raymond Holt (Andre Braugher) -- have proven time and again that fans will follow them anywhere a case takes them.
Ranking 25 episodes of a series as consistently funny Brooklyn Nine-Nine is no easy task. However, as the show prepares to enter its seventh season -- the second at its new home on NBC -- it's worth taking a page out of the detectives' books and buckling down until the work is done and the problem is solved.
25. "Crime & Punishment"
Season 4, Episode 22
A big problem facing many shows is that no matter how likable the characters are, it's boring to see the good guys win again and again and again. "Crime and Punishment" subverts that trope by delivering an episode where our heroes lose. After being framed for a string of bank robberies, Jake and Rosa are almost certain that their upcoming trial is not going to go their way. As a result, we get to see what it looks like when they deal with the loss of their freedom. The B-plot where Terry gets hacked offers comedic relief, and the other with Holt imploring Rosa to face the justice system with her police family rather than going on the run alone is a bit of necessary warm sincerity in an otherwise stressful episode.
24. "The Overmining"
Season 4, Episode 9
For a show about cops who are good at their jobs, this Brooklyn Nine-Nine episode was a fun juxtaposition to see guest star Ken Marino's Captain CJ failing up to become the unlikely head of the squad. He's consistently out of his depth, but the regular gang keeps him around out of respect for the chain of command until Holt and Jake return from witness protection. That's when Jake hatches a plot to "overmine" CJ by making him look like a great crime fighter so that he'll be transferred to a new position. This episode deserves a spot on this list if for no other reason than the gag in which CJ can't stop chattering in Jake and Holt's earpieces during a tense undercover meeting with a dangerous drug dealer. The moment escalates perfectly into the two detectives getting fed up and making a major arrest on the fly while screaming at CJ.
23. "New Captain"
Season 3, Episode 1
This is a special Brooklyn Nine-Nine episode: It features Jake and Amy's first real date and night spent together. Still, it's one of the series' best episodes so far thanks in large part to guest stars Bill Hader and Dean Winters. When Holt's rival, Madeline Wuntch (Kyra Sedgwick), relocates him to the Public Relations Division, the gang gets the efficiency-obsessed Captain Seth Dozerman (Hader) as Holt's replacement. He begins to make the team's life miserable with his micromanaging and "Dozerpads" as well his propensity to have several heart attacks throughout the day.
22. "Return to Skyfire"
Season 5, Episode 8
Putting aside that this episode contains the nightmarish idea that Boyle had to spend days with his head encased in a face-casting mold, it serves as one of the show's more lighthearted entries. This is the second time that (fake) fantasy author D.C. Parlov (Fred Melamed) crosses Jake and Terry's path. However, what makes this reunion better than their first encounter is simply that Jake has now read Parlov's Skyfire Chronicles (a complicated fantasy series similar to Game of Thrones), allowing him to have some fun fanboy moments with his lifelong Parlov fanboy of a partner.
21. "Beach House"
Season 2, Episode 12
This episode begins one of the best running gags in Brooklyn Nine-Nine: exploring the many personalities and levels of drunk Amy, of which we get to see each one in all her glory. As a whole, though, this is one of the best examples of the gang acting as an unlikely family unit. When Boyle gets an off-season weekend at a beach house as part of his divorce settlement, the gang decides to all visit to blow off some steam. However, when Captain Holt reveals to Jake that he was never invited to these kinds of functions when he was a detective due to his sexuality, Jake invites him out of guilt, knowing he'll ruin everyone's ability to let loose. The lines between work and play are often blurred in B99, but in the end, it's clear that what looked like pity for a superior officer on behalf of his detectives was actually respect for a dad-like figure on behalf of his de facto kids.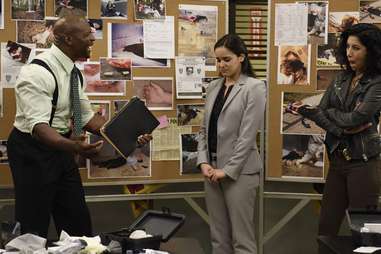 20. "The Chopper"
Season 2, Episode 22
When Wuntch gives Jake and Boyle her full cooperation to investigate a bank robbery, Holt is suspicious and joins them on the case to ensure everything goes by-the-book. When it turns out that they were a step behind and the considerable resources they used to follow leads, which included a helicopter, were a waste, Holt gets upset. But after a pep talk from Jake, he realizes that he's been spending too much time worrying about Wuntch and not enough time doing good, solid detective work. With that, Velvet Thunder was born, and the trio rides off to find the bad guy and close the case. It's episodes like "The Chopper" that remind us how much fun there is to be had in mysteries, solid police work, and fun code names like Velvet Thunder and Sidewinder.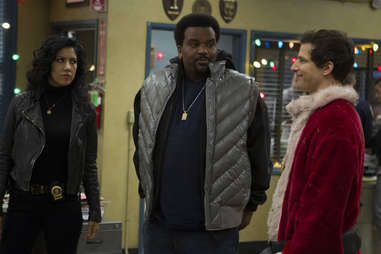 19. "The Pontiac Bandit Returns"
Season 2, Episode 10
There's no shortage of fantastic moments from the show's most-recurring character, Craig Robinson's Doug Judy, his rivalry/friendship with Jake being one of the most enduring and charming relationships on the show. However, it's his second appearance that deserves a spot on the list as it proves that Judy's clever ruse was not just a one-time thing. When Jake and Rosa happen to catch Judy walking down the streets of Brooklyn, he cuts a deal to deliver the ringleader of the Giggle Pig drug operation that Rosa has been tasked with breaking up. In the end, Doug Judy was willing to help the team, but not go to jail for them; he escapes cleverly only to taunt the detectives with a promise he'll see them again. A lot of Judy's subsequent capers were a bit too cartoonish and odd, but it's this installment that solidifies him as Jake's best frenemy.
18. "Johnny and Dora"
Season 2, Episode 23
While a lot of shows get bogged down in the romance between two principal cast members, Jake and Amy's relationship develops throughout Brookyln Nine-Nine with impressive subtlety and heart. What begins as a rivalry between them becomes romantic over time in a way that never distracts from the rest of the cast's stories. In "Johnny and Dora," Jake and Amy have to pose as an engaged couple and find the cover to be an oddly natural fit, trying on what a long-term relationship would feel like, actually showing that they could work pretty well together in a professional setting as a couple. Pairing up characters can be tricky, but allowing fans to dip a toe in that water by way of an undercover ID was a great way to cushion the idea that Jake and Amy wouldn't be single for much longer.
17. "Kicks"
Season 5, Episode 3
Although Jake insists he's fine after being let out of prison, he quickly realizes that his time behind bars has changed his perspective on his work. He starts to doubt himself and questions whether he might accidentally send an innocent person to prison. In the end, Captain Holt explains to him that if every cop in America thought that way, the police force would be on the right track. Brooklyn Nine-Nine rose to popularity during a time when large swaths of Americans are losing their faith in law enforcement. Rather than shy away from such a sensitive topic, the show leaned right into the storm and delivered an episode that really tackles the criminal justice system in a way that delivered comedy without undermining its message. The episode also deserves high marks for Andy Samberg's ability to shift seamlessly between Jake's wacky sense of humor and the sincerity the character feels about his reshaped perspective.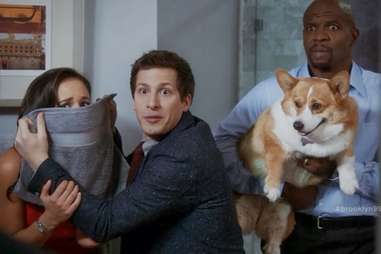 16. "The Party"
Season 1, Episode 16
"Sarge, that's not my fault. You said so many things about shorts, I got confused…" If that line from a shorts-in-winter-clad Scully alone isn't enough to solidify this episode's position on this list, perhaps it's the fact that it's where fans got their first look at after-hours Holt and meet his husband, Kevin Cozner (Marc Evan Jackson). When the married couple host a fancy dinner party, Holt seems reluctant to invite the gang, but it's eventually revealed that Kevin was the one who didn't want police at their social gathering after seeing the way Holt's fellow officers treated him for being gay in the past. "The Party" humanizes the captain in many ways, including a glimpse inside his home life. The audience knew that Holt was a decorated police captain, but it wasn't until this moment that they understood the discrimination and hardship he went through to reach to his position. Throw in the revelation that Jake's spending habits are so bad that his bank freezes his account for trying to subscribe to The New Yorker and you've got an episode for the books.
15. "Pilot"
Season 1, Episode 1
The first episode of Brooklyn Nine-Nine does what all good pilots do: It introduces the characters and makes promises about them and their stories to come that make you invested in their futures. Whether it's learning Terry's status in the squad, Jake and Amy's bet, or the fact that Charles is a foodie, the pilot covers a lot of ground. But, unlike other more uneven shows that end up needing constant retooling of their characters, the members of the squad still feel true to the characters the show presented in the first episode. That's a testament to the strength of the pilot, which successfully kicked off what's become a long-running hit.
14. "Halloween III"
Season 3, Episode 5
Every good network sitcom needs a Halloween tradition. In Brooklyn Nine-Nine, the Halloween heist episodes have become a fun and creative way to mark the holiday without falling into odd magical realism territory. Every year, the squad engage in a friendly heist where the winner is crowned the ultimate "Detective/Genius" by the loser. After two consecutive Halloween episodes where Jake and Holt will stop at nothing to win it, Amy swoops in and proves herself an even more formidable thief and takes the crown. Jake and Holt both go at each other full-tilt, resulting in some pretty impressive (and shockingly dark) jabs at one another -- not to mention the hilarity of Holt shouting "the cleavage cloaks the camera with its curves!" into a distraught Amy's chest.
13. "Greg and Larry"
Season 3, Episode 23
What started out as a show about local cops doing good work got a violent shove into the high-stakes world of federal crime when the gang learned that one of their own, Adrian Pimento (Jason Mantzoukas), was being targeted by a mobster with ties to the FBI. When it's revealed that the informant is Holt's friend, Agent Anderson (Dennis Haysbert), it's up to the squad to save Captain Holt's life and bring Anderson to justice. These are the highest stakes the show has seen yet, and the episode does an effective job of separating the gang from the resources of the NYPD and forcing them to only trust each other. There's a great sense of satisfaction watching these characters thrive in pressurized situations so outside their comfort zones. The squad manage to outsmart the mobster's henchmen as well as the FBI, and ends on a shocking twist that abruptly turns the group's biggest-ever win into a difficult loss.
12. "Tactical Village"
Season 1, Episode 19
The cast of Brooklyn Nine-Nine underwent police weapons training in order to look like trained officers when the script calls for it. That's why, when the group has to actually throw down, they look good doing it. This is never more apparent than in "Tactical Village." When the gang has to go for their routinely scheduled day of running paintball simulations and testing new police equipment, Jake is excited to break his personal paintball record before getting flustered seeing Amy flirt with an old friend from a different precinct. It's a wild, action-packed ride, and a great showcase of the attention to detail taken to make sure that these actors are believable as cops.
11. "Safe House"
Season 5, Episode 12
Another rare peek into the home life of Captain Holt and his husband Kevin comes when Jake must keep Kevin safe after a mobster threatens him. However, Holt's concern to keep Kevin safe ultimately pushes him away to the point that he suggests that he might not stay with him once the danger has passed. In the end, Kevin shows he's capable of taking care of him damn self by throat-punching the mobster while he's got Jake and Holt held captive. The episode is a great example of the family dynamic that works as the heart of the show. Jake puts Kevin at risk because he's so worried about seeing another couple that he looks up to split like his parents did. And while putting a centerpiece couple in jeopardy only for them to reconcile in the end usually feels like a lazy way to structure an episode, Brooklyn Nine-Nine has the good fortune of being able to set a sitcom trope in the middle of a very serious kidnapping.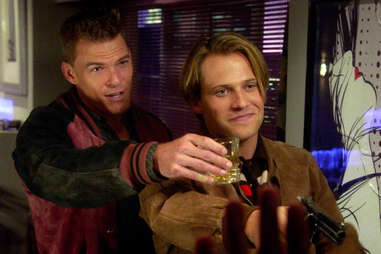 10. "Hitchcock & Scully"
Season 6, Episode 2
Whether it's seeing Terry broken-hearted in Japan or Captain Holt calling someone a "punk" with a full head of hair, everyone loves a good flashback episode. But the show's greatest reveal to date has to be the first glimpse at what superstar detectives Hitchcock and Scully were before a life of wing buckets and apathy turned them into the dynamos of desk duty. It turns out that they've spent years helping the woman who got them addicted to wings in the first place stay in hiding from a group of criminals. When the ringleader they once put away gets out of jail, the duo has to fight to keep her from harm. Thanks to an incredibly large assist from the squad and some wing sauce, they all make it out OK, and it turns out the two lazy boys are more than the world's worst detectives. They actually have every bit of the heart and ethic that make the squad so respectable… even if Scully says things like, "you bet your nips, skidmark" twice in one episode.
9. "Adrian Pimento"
Season 3, Episode 17
Aside a fun cameo role from The Office star Kate Flannery as the precinct's shrewd head of maintenance, this episode deserves high marks for introducing one of the best recurring guest characters in the entirety of the series: the titular Adrian Pimento. Brooklyn Nine-Nine viewers are either Jason Mantzoukas fans or they aren't, but regardless, Adrian's eventual relationship with Rosa and rivalry with the mobster Figgis (Eric Roberts) loomed large over the show for Seasons 3 and 4. His uniquely odd nature made him the perfect character to keep audiences guessing as to where his true loyalties lie. Some of the best moments in Brooklyn Nine-Nine come on the backs of incredibly well-chosen guest stars and "Adrian Pimento" is nothing if not a prime example of that.
8. "99"
Season 5, Episode 9
In the aptly-titled 99th episode of the series, the gang flies out to LA to pay their respects to their departed previous captain when Captain Holt learns that he's on the shortlist to become the new Commissioner of the entire NYPD. Holt then sabotages the gang's rush to get back to NYC, worrying he's only rising in the ranks due to the compromising favor he did for a mobster. Brooklyn Nine-Nine is not shy about pulling out all the stops and motivating its characters to move heaven and earth just to help each other. No episode better exemplifies this than "99" as the gang rallies to travel across the country in record time just to help their captain. In addition, this episode contains the moment in which Rosa comes out as bisexual to Charles for the first time, sparking a powerful storyline that's been a benchmark of Seasons 5 and 6.
7. "Halloween"
Season 1, Episode 6
Traditions all start somewhere. When Holt overhears Jake boasting that he could get away with a crime, they make a bet that Jake won't be able to steal his captain's medal of valor before Halloween is over. The loser will have to do the other's paperwork on the busiest night of the year as well as declare their opponent the "ultimate detective/genius." Jake appears to bumble his way through several failed attempts before ultimately besting the captain by taking his advice to utilize the resources of his team rather than be a perpetual lone wolf. Anyone who is a sucker for holiday episodes has got to count this installment of the series as not only the launching point for one of its greatest long-running gags, but as a brilliantly-executed standalone episode that showed viewers for the first time what this lovable band of misfits is capable of. In short, it's arguably the first truly great episode of Brooklyn Nine-Nine.
6. "Game Night"
Season 5, Episode 10
Knowing that Boyle won't be able to keep the secret of her bisexuality much longer, Rosa decides to come out to the precinct in a moment that not only showcased her bravery but the team's acceptance… not to mention how gross Scully is. But when the time comes to finally tell her parents, Oscar (Danny Trejo) and Julia (Olga Merediz), she finds a significantly colder reception. Brooklyn Nine-Nine often succeeds when it's subverting sitcom tropes, but it also usually finds a way for its good guys to win. But when Oscar meets with Rosa to apologize for the way he's been acting, he reveals that her mother will need some time to accept her and that family game nights will be postponed until she does. While it's a heartbreaking moment, Rosa's chosen family in the squad steps up to fill the game night void left behind. The ensemble cast's family dynamic cannot be oversold as the core of what makes Brooklyn Nine-Nine such a special show.
5. "Jake & Amy"
Season 5, Episode 22
Unaware that the show would be miraculously rescued by NBC for Season 6 at the eleventh hour, everyone went into Jake and Amy's wedding episode with the understanding that it could be the last time they'd see the squad in all their glory. What ensues is a series of plotlines that allow each character to show the lengths they'll go for the team. Not to mention the fact that the soon-to-be-married couple manages to bust a high-risk perp in record time. Everything coalesces perfectly in the end with Jake and Amy getting hitched outside the beautifully decorated precinct in front of their family of police officers with Holt officiating. The episode finishes with Holt not quite telling the gang whether or not he got the Commissioner job. And while we now know that the email didn't go Holt's way, it would have been a wonderful place to leave the series should the worst have happened.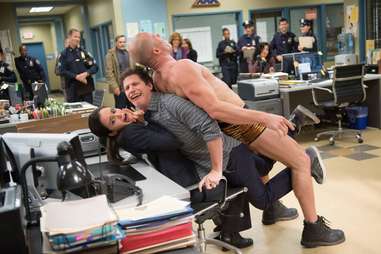 4. "The Bet"
Season 1, Episode 13
While never the sole focus of the show, the will-they-won't-they relationship between Jake and Amy was an important piece of the puzzle early on. The characters were written with chemistry that could have tipped in the direction of good friends, or a romance. That is until "The Bet" came along and hung a lantern on the obvious attraction the two have for each other. When Amy loses her bet with Jake to get the most arrests, he gets to take her out on the worst date he can imagine. With Amy clad in the most hideous dress he could find, Jake parades her around in a series of embarrassing public spectacles. However, the night is derailed when Holt sends them both on a stakeout. While there, they bond over past horrible date experiences and Jake eventually foregoes his further plans in order to remain on the stakeout with Amy. While it would take years for them to finally get together, "The Bet" will always serve as the beginning of their TV relationship.
3. "Moo Moo"
Season 4, Episode 16
While it's easy to look at Terry Jeffords as a cartoonish strongman who's around only for gentle giant humor, Terry Crews absolutely shuts it down in this episode. In one of the more direct socially conscious episodes of the series, Terry gets racially profiled and is forced to question how he views himself, and how he views his role in the NYPD. Not many comedies could successfully cast aside laughs in favor of showing two black men sitting across from each other discussing how to handle a corrupt justice system without sacrificing their own upward mobility. With the aide of Captain Holt, Terry decides how to handle the situation, and the episode also forces Jake and Amy to dip their toes in the waters of parenting by being forced to explain an issue as complicated and upsetting as racial injustice to Terry's young daughters.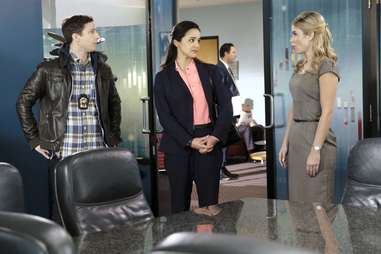 2. "He Said, She Said"
Season 6, Episode 8
When Amy and Jake are thrust into the politics of a corporate office where a woman is claiming that a coworker sexually assaulted her, uncomfortable secrets come out about Amy's old captain and mentor trying to kiss her as a "reward" for her career going so well up to that point. It also hosts the uncomfortable conversation between Amy and Rosa where they disagree on risking the alleged victim's multi-million dollar hush money to try and prove pursue an insanely difficult assault case. In her directorial debut, Stephanie Beatriz provided an impactful and heart-wrenchingly relevant episode for a post-#MeToo world that highlights the difficult role police have to play when their emotions get involved with a case, and the nasty power dynamics that rear their heads at work when men feel threatened. But as Brooklyn Nine-Nine often does, the episode ends on a note of hope that if enough people fight the good fight, more women will feel empowered to speak up and join.
1. "The Box"
Season 5, Episode 14
From episode 1 of Brooklyn Nine-Nine, the mentor/mentee relationship between Captain Holt and Jake Peralta has been a centerpiece. In a rare format-breaking bottle episode, the duo try their best to get a confession out of a psychotically stoic dentist named Phillip Davidson (Sterling K. Brown) who believes he's orchestrated the perfect murder. What gives "The Box" top billing on this list, though, is the fact that it presented Holt and Jake's relationship in a highly effective way. Davidson (who, it turns out, did commit the murder in a less-than-genius fashion) manages to effectively drive a believable wedge between these characters in a matter of minutes, despite all the history they share. Ultimately, Jake is able to trick egotistical Davidson into confessing that he committed the perfect murder by dumbing down the crime and making him sound lucky to wound his pride. When Holt and Jake emerge after a successful interrogation only to realize that they're running late for their shift the next day, Jake exclaims that he loves his job.
After six seasons and more than 100 episodes, it's clear that everyone on Brooklyn Nine-Nine loves their job and the people that they get to do it with. At the end of the day, maybe that's all you need to make an enduring sitcom.