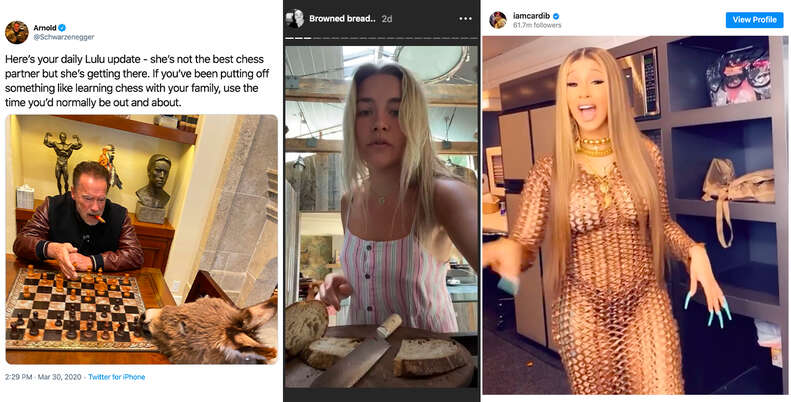 The Best Celebrities to Follow During Quarantine
What do entertainers do when the entertainment industry is essentially shut down? They, well, keep on entertaining for their own and our amusement. Admittedly, celebrity responses to the coronavirus pandemic and the stay-at-home edicts across the world has been a mixed bag. When Gal Gadot got a bunch of her famous pals to sing "Imagine" it was roundly mocked as tone deaf and pointless. A group of indie musicians gathered to parody it by singing Blink-182's "I Miss You" instead of John Lennon's treacly hit. (Eventually Blink 182's Tom DeLonge even got involved.)
But elsewhere, artists have been doing their best to offer some sort of solace and fun be that in the form of jokes or concerts. Some people have been putting their money where their mouths are: Rihanna and Jay Z have made massive donations to relief efforts. Christian Siriano pivoted from constructing gowns to sewing masks. Taylor Swift is keeping a Nashville record store afloat.
Below are some of the celebs who we think are worth following right now. Some have just been making us giggle with goofy antics, others have been soothing us with daily readings. Hopefully they'll all make you feel just a little less stir crazy and alone.
Charli XCX
One of the coolest people to follow is also just one of the coolest musicians right now, British alt-pop star Charli XCX. She's known for being a collaborative recording artist, so instead of getting through this quarantine alone, she's been hanging out with her many musical accomplices virtually by going live on Instagram almost every day. Diplo, Kim Petras, and Tove Lo are among the many names she's passed the time with by playing games or doodling, and to get her party fix, she's also been hosting some great live DJ sessions, too.
Jennifer Ehle
Jennifer Ehle is one of the best actresses working today but isn't necessarily a household name. However, if you do know her, it's probably from her work playing Elizabeth Bennet in the BBC Pride and Prejudice miniseries that gave us Colin Firth emerging soaking wet from a lake. Her connection to the material means it's fitting that Ehle has been spending her quarantine reading Jane Austen's most famous novel, chapter by chapter, on Instagram live. It's half audiobook, half ASMR, and entirely a lovely use of the medium and the time.
Richard E. Grant
British actor Richard E. Grant is a delightful follow, regardless of whether you're stuck inside. Over the years he's been known to tweet about his Barbra Streisand obsession and display an adorable general giddiness. He's been spending quarantine reliving his most iconic role: Withnail from the iconic 1987 indie classic Withnail & I. Every day, he posts another video of himself delivering an acerbic line of dialogue from the movie. You see, the Withnail's misanthropic attitude is perfect for these times, but doesn't match Grant's usual demeanor. So after each line reading -- whether he's in a car or underneath a fort made of blankets -- Grant breaks character and cracks up. Dive into the social videos and then watch Withnail & I if you haven't already seen it. A great film!
Anthony Hopkins
Even before the coronavirus, Anthony Hopkins had an incredibly soothing social media presence, one primarily centered around playing the piano, showing off his paintings, and entertaining his watchful cat, Niblo. (Last year on Halloween, Hopkins wore a creepy old man mask, but that's as close to Hannibal Lecter as he gets.) So, it makes sense that the Academy Award winner and his feline friend have excelled at making gentle, relaxing quarantine content. There's no pivot here -- just a chill guy and his chill cat.
Leslie Jordan
Chances are you recognize Leslie Jordan best as Beverley Leslie, Karen's nemesis on Will and Grace. Now get to know him better through his hilarious Instagram videos. Sit back and relax while Jordan tells stories about accidentally snorting a gram of coke at a nightclub in New York back in the day or finding a stray puppy with Allison Janney while driving to the set of The Help. Comedy and gossip at its finest.
Sam Neill
Sam Neill, whom you may know as the Kiwi actor who brought Jurassic Park's Dr. Alan Grant to life, is already a pro at what I'm going to call Soft Online Farm Content. When he's not working, he's regularly posting video updates about his beautiful pigs and sheep from his home in Australia. While he's been responsibly self-isolating, he's been posting videos of himself reading soothing bedtime stories and poetry, singing with a ukulele, and doing strong Australian bird impressions on his Instagram. So far, we've learned that Australian birds aren't really the "singing" type.
Florence Pugh
Little Women star Florence Pugh was already winning us over with her extensive cooking tutorials via Instagram Stories prior to the quarantine. One night, before we were all stuck in our houses, she made marmalade. Marmalade! Paddington Bear's favorite food! But ever since the shutdown Pugh has been broadcasting more regularly, and, frankly, it's all charming as hell. Some of her recipes are fairly involved, like her "squash soup." Others are a little cheekier: See her suggestion of "browned bread." (It's toast.) And while we haven't tasted the food (obviously), it certainly seems like Pugh is really good at this. Her knife skills are great and she's intuitive in the kitchen. She's also funny, plays great tunes, and understands the value of drinking while prepping. If this whole thing has made you a new and tentative home cook, Pugh is a great follow. She builds confidence and has a great time.
Seth Rogen
Seth Rogen is funny basically all the time, but he's been especially funny now that he's spiraling out of boredom, though. At the start of his social distancing, Rogen watched last year's musical hellfire Cats while high, and was just as disturbed and confused as the rest of us. He had thoughts on everything from the scale to how Judi Dench was somehow wearing a fur coat, and never quite figured out what "Jellicle" means. His tweets ultimately launched a crusade to "release the butthole cut of Cats" when someone replied to his thread that their VFX producer friend's job was to "remove CGI buttholes" from an older version of the film.
His other tweets about how bored he is have been nearly as good. He's really into pottery lately, so over on Instagram his posts are all of vases, pots, ashtrays, and bongs he's designed and fired up in the kiln. They're weirdly calming to look at, and they might inspire you to get into some crafting between your bad movie watching experiences.
Arnold Schwarzenegger
Playing the dual role of aging blockbuster hero and elder statesman, cigar-chomping actor Arnold Schwarzenegger sprung into action early in the quarantine era, posting frequently about the need to stay inside, the threat of the virus, and ways to stay active. A recent video showed the ex-Terminator driving a truck in his yard and lifting weights, while another saw the Last Action Hero hailing the work of doctors, nurses, and grocery store workers during the crisis. But let's be honest: the real stars of Arnold's videos are his two mini-horses, Whiskey and Lulu. These odd, hungry animals love to eat food off Arnold's plate, run around his property, and, occasionally, bite his fingers when he's feeding them carrots. They even have their own t-shirts.
Patrick Stewart
If there's any actor out there who has a voice for Shakespeare, it's Sir Patrick Stewart, who, during his self-isolation period, has been reading one sonnet per day for everyone on Twitter. The sonnets can get pretty dense, but, honestly, it's just kinda nice simply listening to Stewart talk for a little while. Seriously, if I'd had this as a study guide, I would have done way better in my English classes. We have no idea how long this quarantine could last, but Shakespeare wrote 154 sonnets, so we're in no danger of running out anytime soon.
Chrissy Teigen
Chrissy Teigen has been extra Chrissy Teigen-y as of late, meaning she's been cooking a lot, trying to keep her and John Legends' babies occupied, and tweeting funny jokes constnatly. All of the dishes she's been making look great, but the way she documents her home cooking journey is often what's most gratifying. Recently, she was so desperate to get her hands on some romaine lettuce that she did a call out to strangers on Twitter, offering to meet up IRL -- six feet apart, obviously -- to trade them a loaf of banana bread for some greens. That adventure, and other domestic ones from her day-to-day, like the wedding she planned for her daughter's stuffed bunny and lamb, are like nice, little bundles of joy in the form of Hollywood's hottest family.
Need help finding something to watch? Sign up here for our weekly Streamail newsletter to get streaming recommendations delivered straight to your inbox.