A truly great Christmas movie should channel the mood of the holiday season. Since we all have different traditions, that means Christmas films can take many chestnut-roasting, Jack Frost-nipping forms: unrelentingly cheery musicals, vaguely religious dramas, defiantly grim horror films, or gleefully vulgar comedies. We don't want to make any assumptions about what your family or friends are like -- maybe they're all claymation characters. But you probably don't ring in yuletide cheer by fighting off terrorists at Nakatomi Plaza.
So, with apologies to American patriot John McClane and fellow "set your action thriller on Christmas" enthusiast Shane Black, the movies you're about to read about are actually about Christmas -- with all the joys, anxieties, and surprises they bring. Like Santa Claus himself, we're making a list, but we're checking it more than twice because -- seriously -- this is important. Who only checks a list twice?
33. Ernest Saves Christmas (1988)
Turns out the only thing more threatening to Ernest P. Worrell's life than sticking two fingers into an electrical socket is the Kentucky fried nincompoop placing his entire hand into Santa's magic bag. This mandatory Christmas adventure finds Ernest and Mr. Claus on a mission to retrieve the powerful gift-giving knapsack. Part Miracle on 34th Street, part Dumb and Dumber, Ernest's naiveté makes him the perfect manchild for the holiday season. -- Matt Patches
32. White Christmas (1954)
White Christmas is the fruitcake of Christmas movies: a holiday standard that you either love or hate. When it comes to holiday musicality, there are reasons to celebrate this Bing Crosby and Rosemary Clooney VHS staple. The musical sequences -- including the stirring rendition of the Irving Berlin-penned title track and the charming "Sisters" -- are spectacular. What's not to like? Well, the plot, dialogue, and characters are paper-thin, but the film's 120-minute running time is the perfect sedative for anyone too excited to sleep on Christmas Eve. -- Dan Jackson
31. The Preacher's Wife (1996)
Denzel Washington isn't known for his comedies -- the Oscar winner's long career is packed with bullet-ridden action movies and tough-minded dramas -- but he's more than capable of delivering light-hearted laughs when called upon by the Lord. Washington is a delight as a dapper angel named Dudley summoned to New York to rekindle a sparkless marriage between Whitney Houston's choir singer and Courtney B. Vance's pastor. The story, updated from 1947's The Bishop's Wife starring Cary Grant, might feel a little hokey, but the performances (and the showstopping gospel numbers) give this fairytale a holy glow. -- Dan Jackson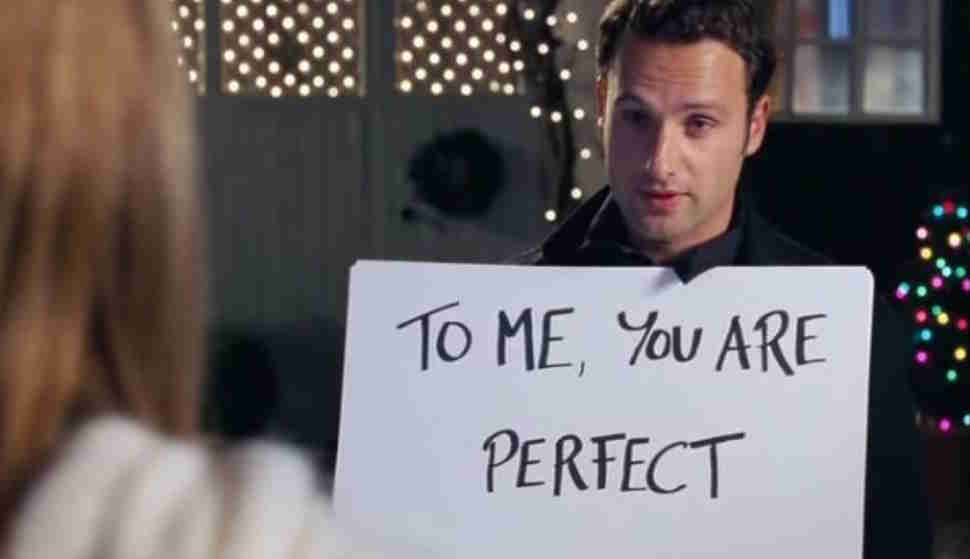 30. Love Actually (2003)
Setting aside its meme-able cue-card scene, Love Actually isn't as sticky-sweet as its heart string-pulling reputation might suggest. Writer-director Richard Curtis (Notting Hill) specializes in tart-tongued retorts, silly verbal gags, and witty banter, which help leaven some of the movie's cheesy sentimentality. So do Liam Neeson, Laura Linney, Emma Thompson, and the late Alan Rickman, all on hand to add touches of class and melancholy as you struggle to resist this divisive rom-com's sugary charms. -- Dan Jackson
29. A Very Harold and Kumar 3D Christmas (2011)
Be warned: This is the only movie on this list that boasts a claymation character exposing its genitals. In the third installment of this underrated comedy series, stoner buddies Harold (John Cho) and Kumar (Kal Penn) go on another Homeric quest, this time looking for a new Christmas tree to please Harold's pissed-off father-in-law (Danny Trejo), which means more sly social commentary slipped in among hefty helpings of gross-out gags, weed jokes, and vulgar Neil Patrick Harris cameos. It just might be the sticky-icky strain you're fiending for this holiday season. (Also, shout-out to WaffleBot, the funniest holiday robot of all time.) -- Dan Jackson
28. Rare Exports: A Christmas Tale (2010)
What if Santa was real and buried in a mass grave somewhere in Finland? That's the bizarre and hilarious question posed by director Jalmari Helander in this whimsical horror romp about a young boy (Onni Tommila) and his reindeer-herding father (Jorma Tommila), who investigate a mysterious mountain-excavation company and wind up in over their heads. Packed with winking John Carpenter references, bursts of gun-churning violence, and a surprising amount of (older) male nudity, the movie occasionally struggles to nail its anarchic, storybook tone down the home stretch, but it's more than worth a post-milk-and-cookies viewing. -- Dan Jackson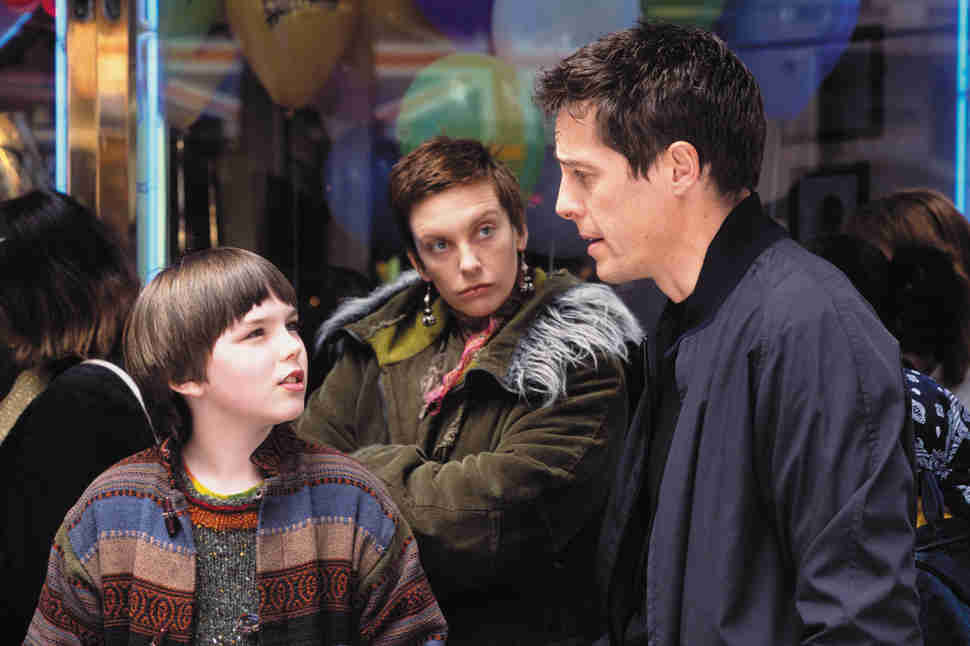 27. About a Boy (2002)
Will Freeman, the protagonist of About a Boy played by Hugh Grant, is a classic Grinch. He doesn't like kids, he lives a life of decadent luxury, he seduces and discards vulnerable women, and rejects Christmas cheer, a scron he's carried ever since his father penned the joyfully tacky novelty hit "Santa's Super Sleigh." That all changes when he meets an awkward boy named Marcus (X-Men's Nicholas Hoult) and strikes up a peculiar friendship. Watching Grant's heart grow a couple sizes has never been this fun, and a moving supporting turn from Toni Collette -- along with a sneaky-great Badly Drawn Boy soundtrack -- make this essential droll holiday viewing. -- Dan Jackson
26. Scrooged (1988)
In a brutal one-star review of Scrooged, critic Roger Ebert called this Dickens update "one of the most disquieting, unsettling films to come along in quite some time." And this is a nasty tale, with a script co-written by original SNL badboy Michael O'Donoghue and genuinely creepy visuals from The Omen director Richard Donner. Is Bill Murray why some families return to this proudly rude holiday movie every year? Probably. But the Ghostbusters star invests his Scrooge-like '80s TV executive with enough irony and blowhard arrogance to earn this comedy -- the Bad Santa of its day, basically -- a loyal cult following of smart-ass uncles over the years. -- Dan Jackson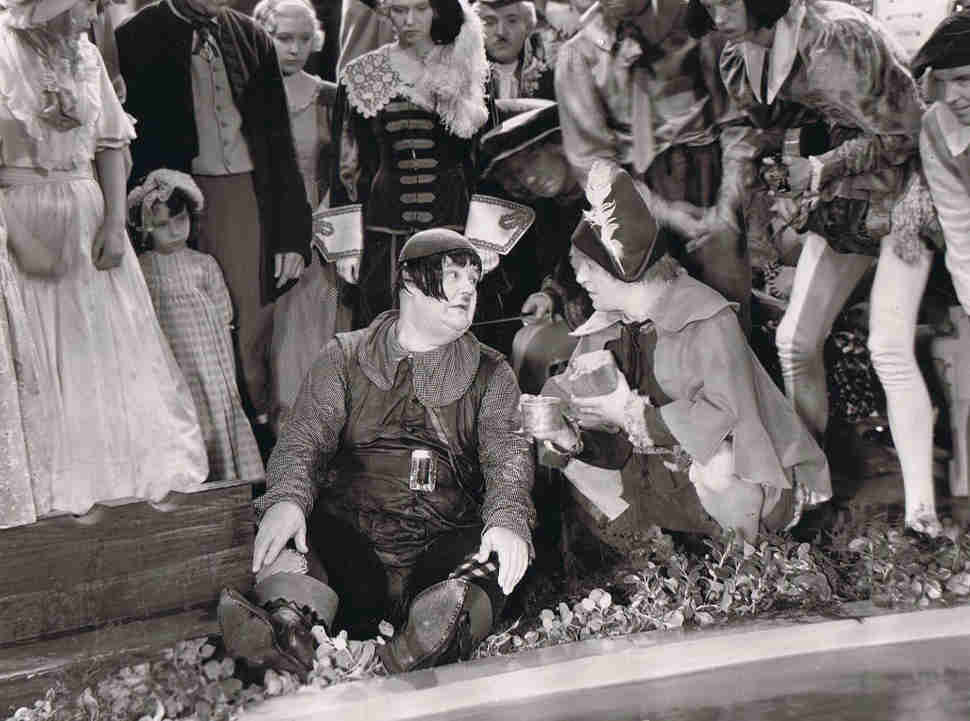 25. Babes in Toyland (1934)
Put your love for the confectionary remake behind you: Laurel and Hardy's black-and-white original is where it's at. With enough holiday DNA -- the duo play fairytale dolts who build toys for Santa, and the overt connections end there -- and toys to fill a forest of Christmas trees, the musical sings, dances, and slapticks through a magnificent fantasy world, made all the more surreal by the blend of live action and animation. Why does a Mickey Mouse seizure on the dance floor while a cat gawks and plays the fiddle in this movie? Just go with it. -- Matt Patches
24. Black Christmas (1974)
In 1984, director Bob Clark made holiday-movie history with A Christmas Story, a hilarious, sweet, and nostalgic slice of Americana with just enough rough edges to keep audiences watching every year on cable. But real Christmas-movie fans know that Clark also helmed this brilliant bit of '70s slasher heaven about a murderer running rampant at a sorority holiday party. A major influence on Halloween, Friday the 13th, and many of the derivative slashers to come in the '80s, Clark's film is mostly notable for its creeping sense of dread, careful pacing, and fantastic outfits. No one gets their eye shot out with a BB gun, but there's plenty of Christmas carnage to be found here. -- Dan Jackson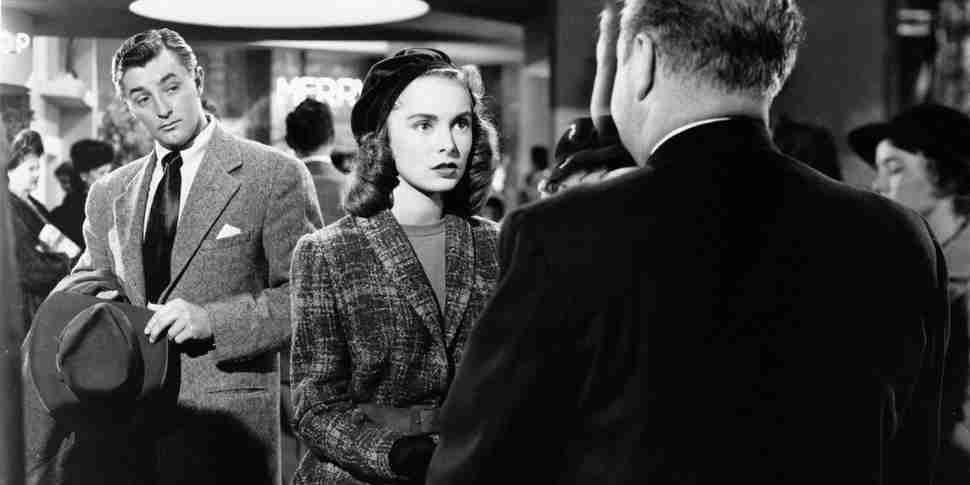 23. Holiday Affair (1949)
Casting tough-guy Robert Mitchum in a light-hearted Christmas movie might sound counterintuitive, but keep in mind this is a light-hearted Christmas movie about economic hardship, war widows, and extramarital affairs. Mitchum plays Steve, a drifter who falls hard for the soon-to-be-married Connie (Janet Leigh). Tricky and tinged with melancholy, Holiday Affair bombed back in the day, reassessed by Christmas audiences who know life isn't all eggnog and mistletoe smooches. True compassion, as Steve displays and Connie realizes, is spending your last dime on a Christmas gift for a kid you barely know. -- Matt Patches
22. Metropolitan (1990)
It's Christmas with the preppies in Whit Stillman's satirical examination of puerile Manhattanites coasting through young adulthood. Like he does in this year's underrated Love and Friendship, the writer and director chronicles the social-climbing, romantic foibles, and petty skirmishes of the wealthy (and the pretending-to-be-wealthy) with mischievous glee. With '90s indie star Chris Eigeman delivering lines like, "It's a tiny bit arrogant of people to go around worrying about those less fortunate" and "I'm not tiresome," the film mocks its tone-deaf heroes while still inspiring you to root for them. It's a yuppie Christmas miracle. -- Dan Jackson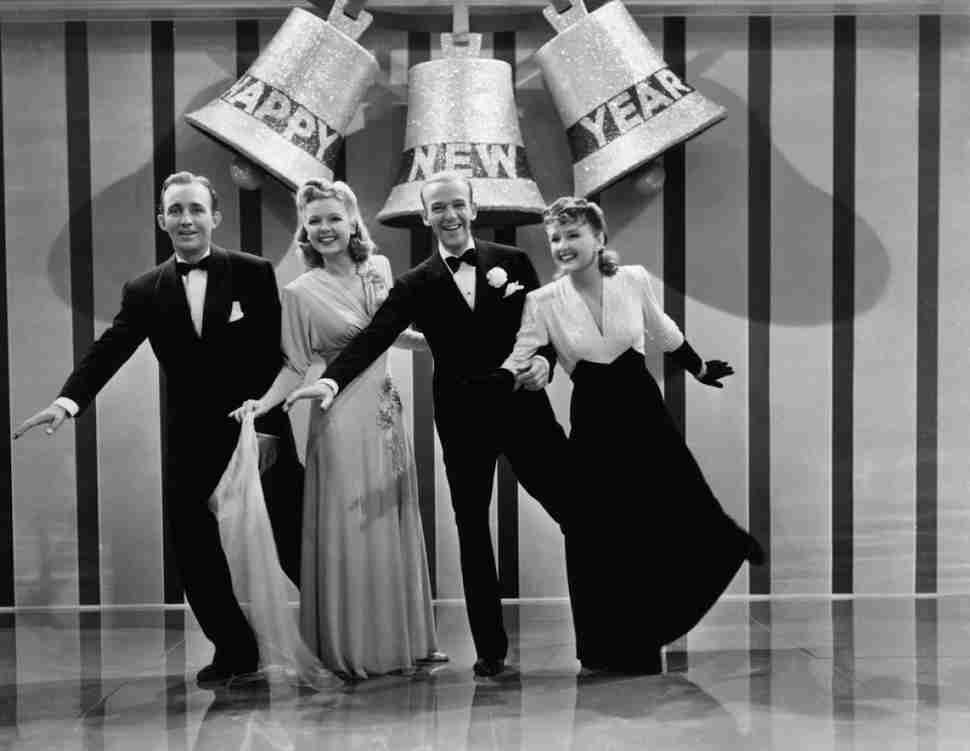 21. Holiday Inn (1942)
This Bing Crosby-Fred Astaire musical debuted Irving Berlin's "White Christmas" before the composer repurposed it for the film of the same name -- so points there. But Holiday Inn is also the rare movie that depicts Christmas as the year's decrescendo. The musical acts at the "Holiday Inn," where Crosby and Astaire's characters put on Valentine's, Easter, and Fourth of July shows, begin and end with Christmas, a respite from shitstorms that's oh so relatable. -- Matt Patches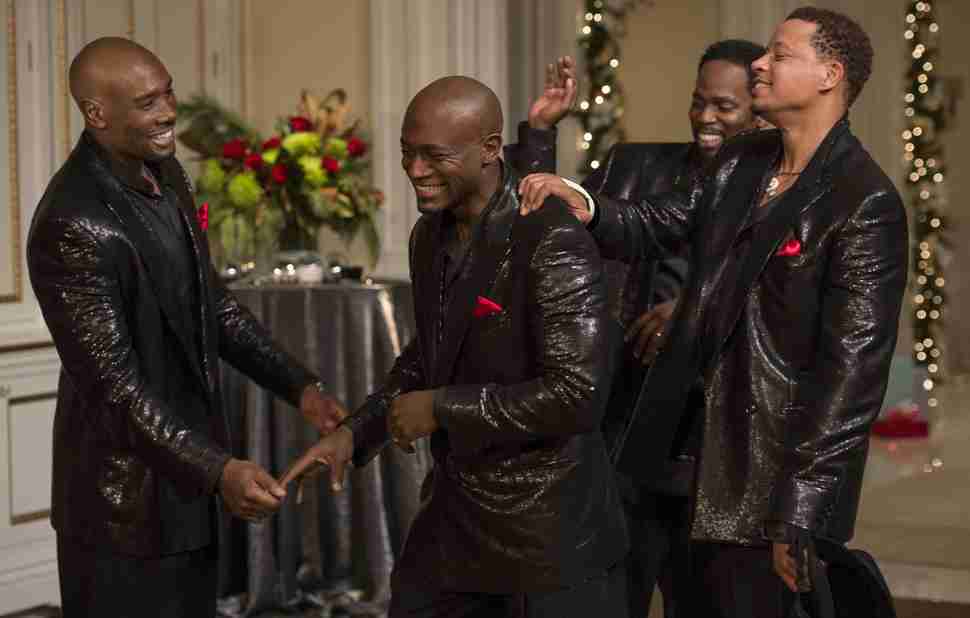 20. The Best Man Holiday (2013)
It's surprising more sequels don't take the same approach as The Best Man Holiday: The characters you liked from the first movie get together over the holidays and just hang out. Like Christmas Vacation, this sequel to 1999's romantic comedy The Best Man reunites the charming ensemble cast of the non-holiday original -- including Taye Diggs, Nia Long, Morris Chestnut, Regina Hall, Melissa De Sousa, and a rowdy Terrence Howard -- for some high-stress Christmas chaos. The plot is a sudsy mix of romance, secrets, and disease, but the movie floats along on the chemistry of the cast and the surprising poignancy of seeing them together again. Really, they should seriously make one every 10 years. -- Dan Jackson
19. Joyeux Noël (2005)
This French-British-German mixed-language film finds warmth in the trenches of World War I, chronicling the life truce that occurred in December 1914. Against the odds, and the wishes of high-ranking officers, troops put down their weapons to turn the German frontlines into one big no man's land. Adept at both war sequences and Christmastime schmaltz (thanks to caliber actors like Daniel Brühl and Diane Kruger) Joyeux Noël is a history buff's new favorite holiday watch. -- Matt Patches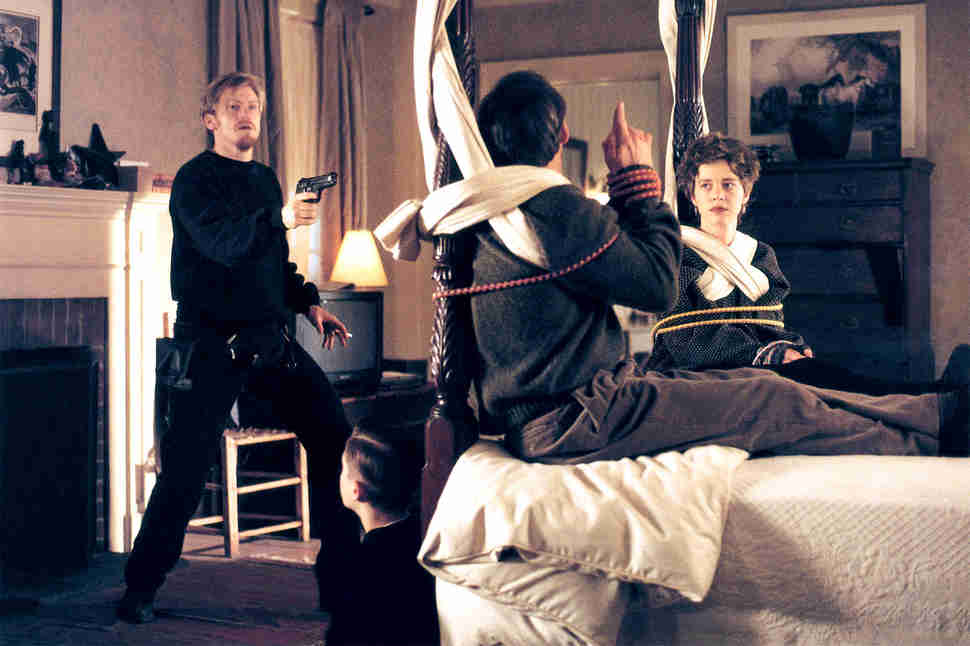 18. The Ref (1994)
The married couple in this pitch-black comedy, played by Kevin Spacey and Judy Davis, could be the most unpleasant romantic pairing in any Christmas movie ever. They'll make you appreciate your own irritating relatives. When the two are taken hostage by a roguish thief (Denis Leary, hot off his 1993 No Cure for Cancer stand-up special), the film gets even more acerbic and nasty, culminating in a farcical dinner scene that will have you coming back for seconds. Just make sure to watch this one after the kids go to bed. -- Dan Jackson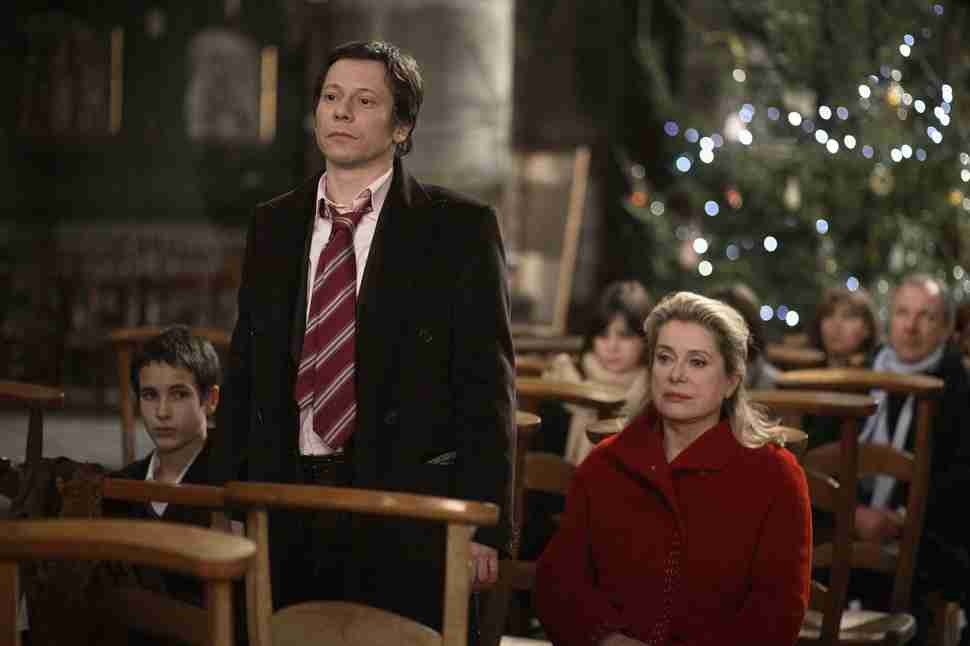 17. A Christmas Tale (2008)
At 150 minutes, director Arnaud Desplechin's A Christmas Tale is longer than even the hardiest holiday meal. But this melancholy French drama earns every second of its lengthy run time by delving deep into the fractured dynamics of the Vuillard family, a messy clan of clashing egos led by Catherine Deneuve's sly matriarch Junon. Few films capture the peculiar intimacy of adult siblings returning to their childhood homes, often with unruly romantic partners and barely concealed chemical dependencies, with such clarity, compassion, and humor. It's a sprawling, brainy delight. -- Dan Jackson
16. Arthur Christmas (2011)
Aardman, the company known for claymation movies like Wallace and Gromit and Chicken Run, tried its hand at Pixar-style computer animation only once. Arthur Christmas didn't click with American audiences, who missed a compassionate, cheeky story of Santa's black-sheep son rising to the occasion of the Claus business. In the movie, Santa's workshop is stuck between technological advancement and Luddite tradition. Arthur is the only one with an ounce of Christmas spirit left -- and the vision to merge his familial factions. With great action, lush visuals, and a British sense of humor, Arthur Christmas is a modern gem that ranks among the best. -- Matt Patches
15. Gremlins (1984)
In a post-Furby world, it's easy to forget how creepy director Joe Dante's much-imitated creature feature can be. Yeah, Gizmo is very cute, but the gremlins themselves are terrifying little monsters that wreak gleeful havoc, attempting to kill Billy's mom before getting the brutal Pop-Tart execution. Thanks to a clever script by future Home Alone director Christopher Columbus, the move has the wit, mayhem, and sense of mischief that distinguished Steven Spielberg's Amblin Entertainment in the '80s, an aesthetic that recent movies like Jurassic World have attempted to revitalize with mixed results. As it turns out, nothing beats the original -- just don't watch this thing after midnight. -- Dan Jackson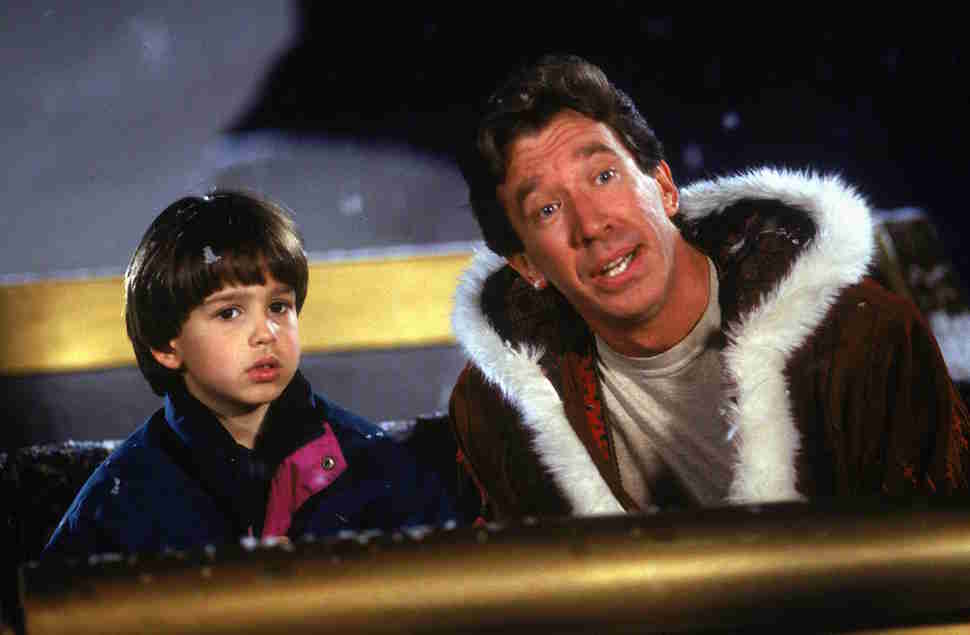 14. The Santa Clause (1994)
With apologies to the Wild Hogs fans out there, Tim Allen has never really found his rhythm as an on-camera movie star. But with The Santa Clause, he stumbled on the perfect sleigh-like vehicle for his gruff comedic stylings. As a divorced ad executive who must take on the role of Santa after the big guy falls from his roof, the Home Improvement star brings enough playful grunts, wry incredulity, and genuine cheer to the role to elevate this above kiddie movie schmaltz. If you don't laugh when supporting star Judge Reinhold finally receives his weenie whistle, ask Santa for a new funny bone next year. -- Dan Jackson
13. The Shop Around the Corner (1940)
The basis for You've Got Mail is this mannered romantic comedy from the legend Ernst Lubitsch. With snickers and sorrow, the story of Alfred (James Stewart), a leather salesman, and Klara (Margaret Sullavan), the co-worker he can't stand and the secret metaphor he's fallen head over heels for, unwraps with a certain wintery stillness that's missing from most Yuletide offerings. A movie that'll make you pick up a pen and paper and send your loved ones snail mail. -- Matt Patches
12. Trading Places (1983)
This John Landis-directed comedy isn't the most "Christmasy" movie on this list, but a madcap tone -- and a Santa costume for the ages -- makes it ideal Yuletide viewing. Updating Mark Twain's The Prince and the Pauper for the Reagan era, this fable flips the fortunes of haughty businessman Louis Winthorpe (Dan Aykroyd) and charming con-man Billy Ray Valentine (Eddie Murphy), and all hell breaks loose. Though Jamie Lee Curtis, Ralph Bellamy, and Jim Belushi all appear, this is the Aykroyd and Murphy show, a schtick-filled, anarchic spectacle with two brilliant comics working at the peak of their powers. -- Dan Jackson
11. Meet Me in St. Louis (1944)
Vincente Minnelli's Technicolor musical would earn a spot on this list even if it were just a two-hour loop of Judy Garland singing "Have Yourself a Merry Little Christmas." But there's so much more here: swooning romance, fake-looking snowmen, ball gown-filled dances, and a hallucinatory Halloween segment that should be taught in every film school in the country. In following a Missouri family gearing up for the 1904 World's Fair, the story casts a nostalgic hue on the dawn of the 20th century in the same way films today gaze back at the '50s and '60s. It's a snow-globe kind of movie, perfect to marvel at when the fire's roaring in the background. -- Dan Jackson
10. Bad Santa (2003)
Is there a more quotable Christmas movie? This film's script, written by Crazy Stupid Love's Glenn Ficarra and John Requa (with uncredited punch-ups from the Coen brothers) is a master class in baroque profanity, brutal put-downs, and wanton cruelty. But what makes it come to life is the sense of mischief and melancholy Billy Bob Thornton brings to his down-on-his-luck Santa character. No other actor could make, "You ain't gonna shit right for a week" into such wonderful holiday poetry. -- Dan Jackson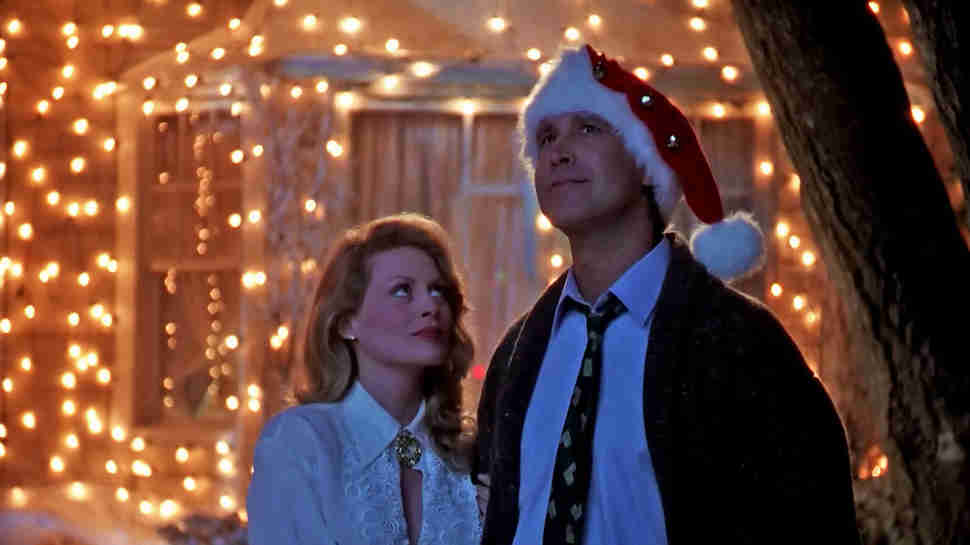 9. National Lampoon's Christmas Vacation (1989)
What the first Vacation did for family road trips, this threequel does for the most wonderful time of the year and all the anxiety, masochism, bewilderment, and warm-fuzzies any extended clan gathering ignites like a match thrown in a shit-filled sewer. Chevy Chase's Clark struggles mightily here -- to make his house the best-lighted one on the planet, to nab his year-end bonus, to fix the newel post, to keep cousin Eddie at bay, and on and on -- but his travails remind viewers that investing too deeply in Christmastime commerce can result in nerve damage. Wrapping smarmy jokes inside sitcommy wrapping paper, the third Vacation movie owns its position on the naughty list. -- Matt Patches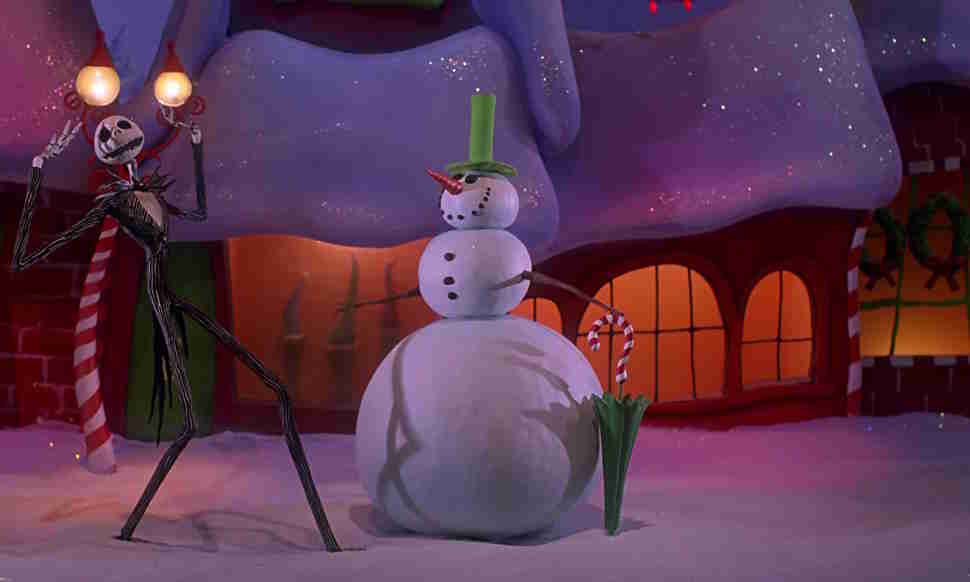 8. The Nightmare Before Christmas (1993)
If you spend your time debating whether Tim Burton and Henry Selick's macabre, stop-motion cartoon is a "Halloween movie" or a "Christmas movie," you'll overlook the celebratory message that proves why it's both. Crossing over from his world, a ghoulish nightmare stuck in perpetual trick-or-treat mode, into the snow-caked Christmas Town, convinces Jack Skellington that there's a "right" way to live. With a little help from his Frankensteined girlfriend Sally, his spectral dog Zero, and Santa Claus himself, Halloween Town's Pumpkin King finds a way to transplant the beating heart of Christmas into the chest cavity of his ghoulish existence. If Danny Elfman's devilish original songs don't sound like holiday-appropriate carols to you, maybe it's time to rewatch The Nightmare Before Christmas. -- Matt Patches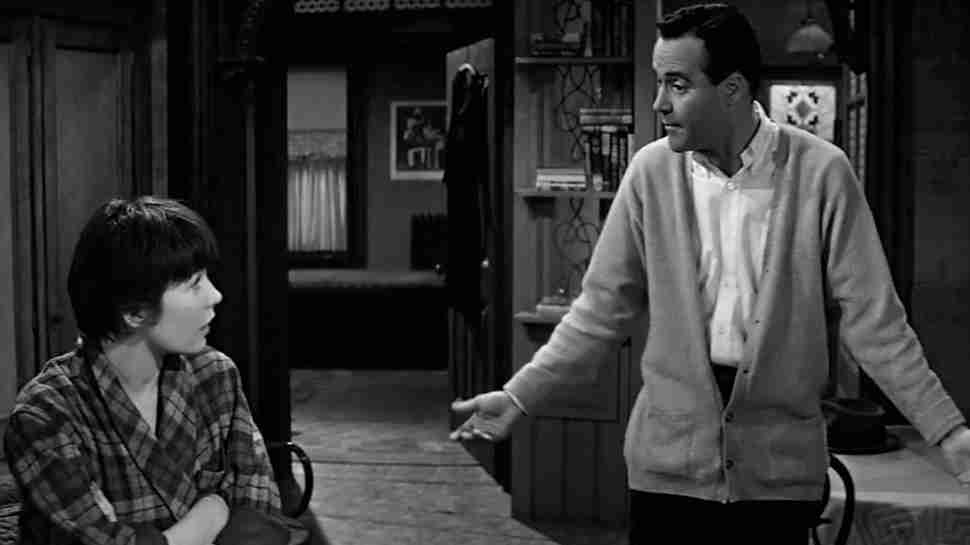 7. The Apartment (1960)
Most Christmas movies are about family, but there's an element of the holiday season that often gets short shrift: the boozy office party. Luckily, we have The Apartment, director Billy Wilder's acerbic comedy about an insurance company drone (Jack Lemmon) falling for a charming elevator operator (Shirley MacLaine) who works in the same Manhattan high-rise. Infidelity, loneliness, and Mad Men levels of heavy drinking ensue. Is it a conventional Christmas movie? No, not exactly. But its portrayal of whip-smart, self-destructive city-folk searching for love is the perfect Santa-less tale for those of us who spend too much time dwelling around the punch bowl. -- Dan Jackson
6. Elf (2003)
It's hard to remember a time when Will Ferrell wasn't one of comedy's biggest stars. While Anchorman made him a dorm room favorite, Elf was the film that turned him into a candy-gobbling, box office-conquering phenomenon. Ferrell's Buddy, an adult man who grew up thinking he's an elf, travels to New York to find his biological father, played with greasy smarm by James Caan. By tapping the child-like sense of mischief present in his best SNL characters, director Jon Favreau weaponizes Ferrell's manic energy for a Christmas movie that's sweeter than a candy cane but doesn't give you a post-sugar-rush headache. It's the perfect stocking stuffer: thoughtful, funny, small, and not a pair of socks. -- Dan Jackson
5. The Muppet Christmas Carol (1992)
With a century's worth of Ebenezer Scrooges grumping around the movie history books, it's Michael Caine's performance, towering over and barking at Jim Henson's innocent, felt ensemble, that feels the most immortal, the most Christmas. Threaded together by The Muppet Movie songwriter Paul Williams' original tunes, and given meta-cleverness by Gonzo (as Charles Dickens) narration, The Muppet Christmas Carol renews the Victorian classic with an ornamental sense of wonder. The bubbly Ghost of Christmas Present deserves a place on the Christmas tree. Kermit, in period threads, comes closest to enlivening E. H. Shepard's Wind in the Willows illustrations. Warm, witty, and wonderful, The Muppet Christmas Carol is a testament to Jim Henson's achievements -- literally, as his son Brian directed the film shortly after Henson's passing, and dedicated it to his late father. -- Matt Patches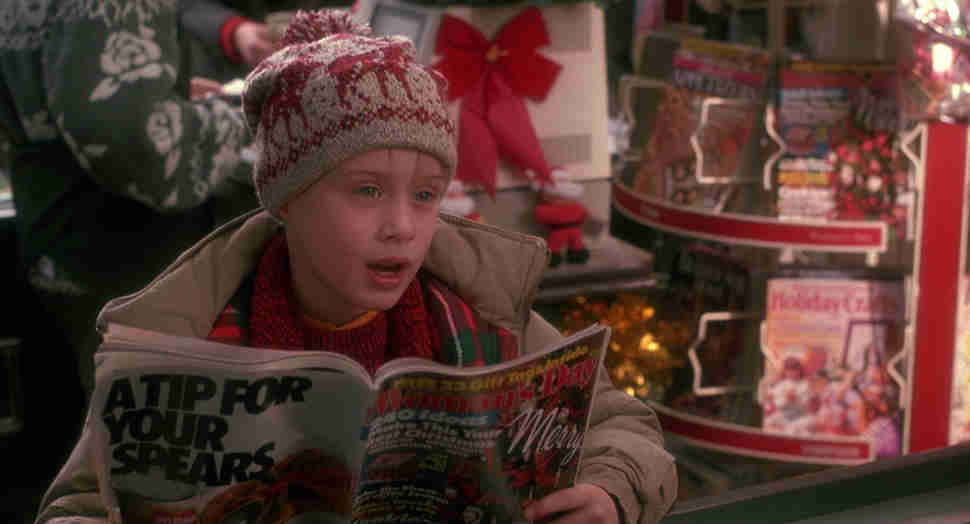 4. Home Alone (1990)
KEVIN! Only John Hughes, a master of suburban wish fulfillment, could have conjured such an eccentric, slapsticky, Dennis the Menace-esque greeting card of a movie. Hughes stuffs Home Alone with lots of eccentric details -- Buzz's tarantula, that greasy pizza dinner, Harry's gold tooth, the rip-roaring fake gangster movie Angels with Filthy Souls, the shovel guy, every trap in the grand finale's tricked-out madhouse -- and rips through them like a giddy kid on Christmas morning. As Kevin McCallister, Macaulay Culkin summons all the charm and glee of Tom Hanks in Big (minus 3ft), and as his mother races home in parallel, his smile wanes at just the right pace. Who knows how Hughes came up with this movie, but my God, Home Alone is immaculate conception. -- Matt Patches
3. Miracle on 34th Street (1947)
The War on Christmas is alive, and averted, in this 1947 classic. Subliminal pro-Macy's marketing be damned, George Seaton's fanciful story of Kris Kringle, and the trial to prove he's the real deal, is an ode to the transformative power of believing in something positive. For all the star power in this movie (including a young Natalie Wood as Susan, the girl who needs to believe), it's Edmund Gwenn as Kris who remains so pure and positive, you really might believe he is Santa by the end. Miracle on 34th Street hovers under To Kill a Mockingbird and 12 Angry Men as one of the great courtroom dramas (even if the legal proceedings don't make a lick of sense), but you'll be too lost in the twinkle of this movie to ever think of it as such. -- Matt Patches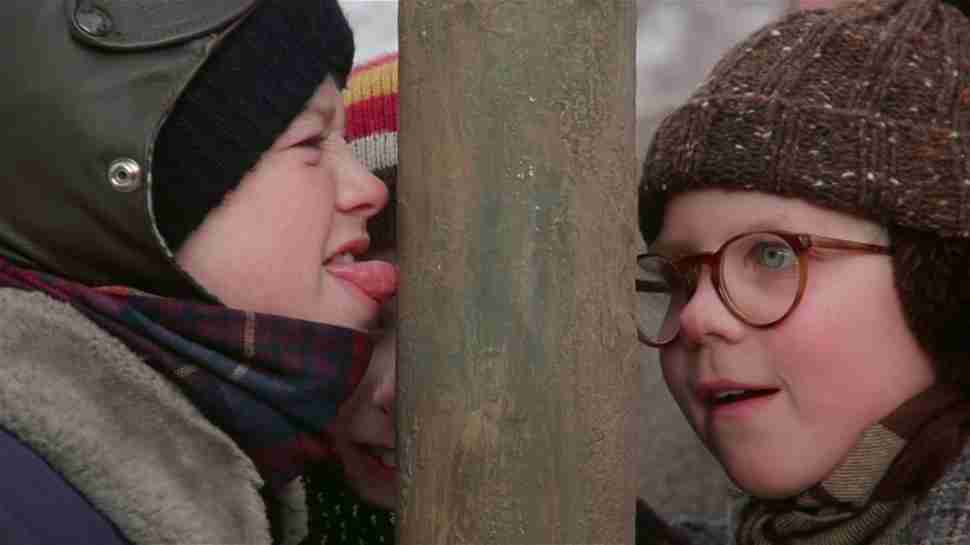 2. A Christmas Story (1983)
Despite a reputation as a cheerful, running-24-hours-a-day yuk-fest, A Christmas Story also works as a horror movie; few kid-centric comedies understand the very real terror of being a kid. Director Bob Clark, who helmed the only slightly more sadistic holiday slasher film Black Christmas, mines writer Jean Shepherd's nostalgic tales of growing up in Indiana for goofy laughs, heartfelt moments, and bleak scares. The leg lamp, the pole-licking, the trip to see Santa at the mall, and the eye-shooting-out finale all have a slightly grotesque, Norman Rockwell-meets-David Cronenberg edge to them. Ralphie isn't just fighting for a Red Ryder BB gun; he's fighting for survival. -- Dan Jackson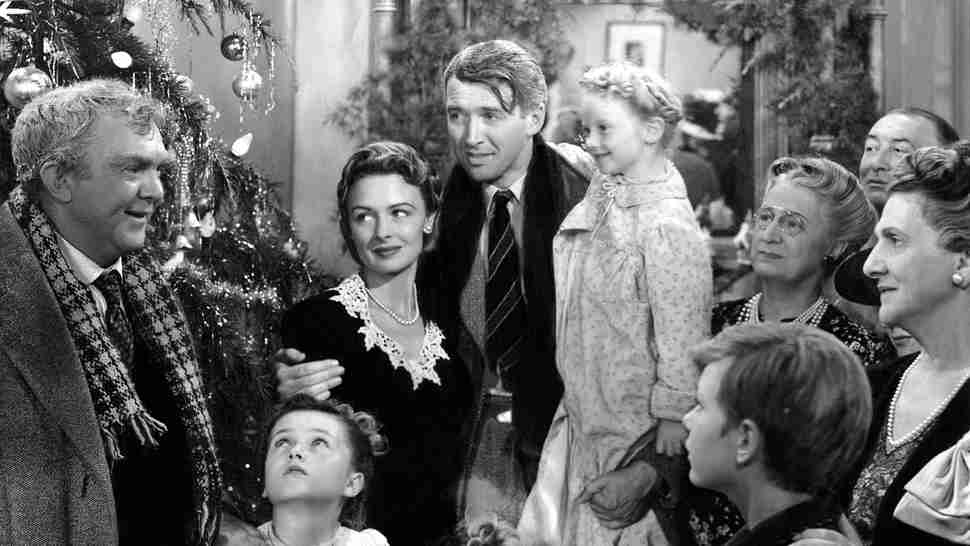 1. It's a Wonderful Life (1946)
With all the family, forced cheer, and spiked eggnog, the holidays are often a time for maudlin self-reflection. So it only makes sense that the most popular and universally beloved Christmas movie is about a suicidal guy named George Bailey (Jimmy Stewart) who gets his ass metaphorically beaten by the forces of capitalism personified by a rich, bald banker who likes naming things after himself. Only a second-class angel, sent down from the heavens after viewing a celestial recap of George's life, can save him. Despite its cheery title, It's a Wonderful Life is an oft-depressing parable that asks unpleasant questions and provides few definitive answers. Ho ho ho, right?
And yet, this is the movie we turn to every holiday season: Why? Well, for one thing, there's the small-town sweetness of Bedford Falls, the even-handed assurance of Frank Capra's direction, and the moon-lassoing charms of Donna Reed as Mary Bailey. But mostly, it comes down to Jimmy Stewart's shadow-strewn face. In a performance that glides from teenage swagger to adult despair with discomforting ease, Stewart personifies everything hopeful and dreary about the holiday season. He's the joy of Christmas morning and the gloominess that inevitably arrives at the end of the day. With snow in his hair, bells ringing in his ears, and a glint in his eye, he's Christmas incarnate. -- Dan Jackson
Sign up here for our daily Thrillist email, and get your fix of the best in food/drink/fun.