The Best Christmas Movies on Amazon
Amazon Prime subscribers will likely spend plenty of hours on the platform this holiday season, picking out material goods that will demonstrate a high regard of loved ones. But if you're one of those subscribers and want a break from the heavy consumerism of the holiday season, you can click over to the Prime video section and watch one of these holiday- and Christmas-themed movies.
Arthur's Perfect Christmas (2000)
Everyone's favorite animated aardvark got his first hourlong primetime special in 2000, and, like the show, it's stood the test of time. It's not exactly a revolutionary plot -- Arthur and friends want to create the best Christmas ever -- but the special takes care to include non-Christian traditions, and gives the characteristic feel-good Arthur touch to the holiday season.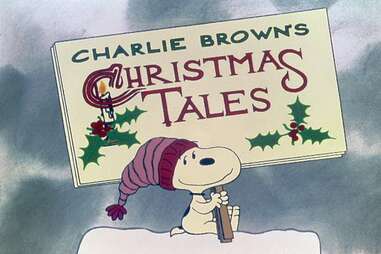 Charlie Brown's Christmas Tales (2002)
A Charlie Brown Christmas isn't available on Prime, unfortunately, but this is the next best thing. Featuring a series of shorts that highlight different Peanuts characters in holiday-related stories, Charlie Brown's Christmas Tales will give you just enough of your favorite Charles Schultz cartoon to tide you over until you can watch the full special on TV.
A Christmas Carol (1969)
There are a few versions of Charles Dickens' famous work on Prime, though none are particularly well known; this Australian edition came out a couple years before an Oscar-winning adaptation became the go-to animated retelling of Ebenezer Scrooge's ghosty nighttime visions. Still, if you want the scared-straight vibes of Scrooge reforming his miserly ways and buying Tiny Tim's family a Christmas goose, this movie should do the trick.
Christmas With the Kranks (2004)
Tim Allen is America's spiritual conservative dad, and Christmas With the Kranks is his model train set: a sentimental project that's relatively harmless. The Kranks (Allen and Jamie Lee Curtis) are a couple that tries to skip Christmas now that their daughter's left home, a big no-no in their holiday-obsessed neighborhood. When said daughter decides to surprise them with a trip home, can the Kranks cancel their Caribbean cruise and throw together holiday cheer on short notice? Watch to find out! Or you could read the John Grisham book (seriously) that provided the source material.
The Holiday (2006)
If you're looking to curl up on the couch in a chunky sweater and a solid rom-com, The Holiday is for you. Starring Kate Winslet and Cameron Diaz as women who swap homes in Los Angeles and England to try to shake up their love lives, which have not gone the way they'd hoped. You won't believe what happens next: They find new romantic interests, but not without their fair share of foibles and obstacles along the way. As the clock counts down to New Year's Eve, the pressure ratchets up on the new couples to decide whether to extend the romance beyond a two-week vacation.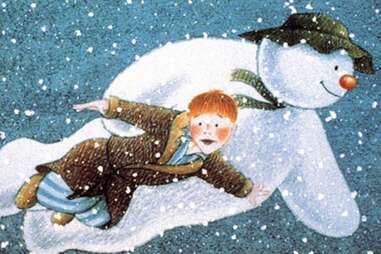 The Snowman (1982)
British public service station Channel 4 turned Raymond Briggs' beloved children's book into a short, mostly wordless special in 1982, and The Snowman has been a classic ever since. A haunting score lends a sad note to the story of a snowman come to life, heightening both the fantasy and the sense of loss that comes with childhood innocence remembered, but lost. You might find your eyes a bit moist at the end, but it's a good kind of nostalgia.
A Christmas Story (1983)
Despite a reputation as a cheerful, running-24-hours-a-day yuk-fest, A Christmas Story also works as a horror movie; few kid-centric comedies understand the very real terror of being a kid. Director Bob Clark, who helmed the only slightly more sadistic holiday slasher film Black Christmas, mines writer Jean Shepherd's nostalgic tales of growing up in Indiana for goofy laughs, heartfelt moments, and bleak scares. The leg lamp, the pole-licking, the trip to see Santa at the mall, and the eye-shooting-out finale all have a slightly grotesque, Norman Rockwell-meets-David Cronenberg edge to them. Ralphie isn't just fighting for a Red Ryder BB gun; he's fighting for survival.
Where to watch it: Rent on iTunes, VUDU, and YouTube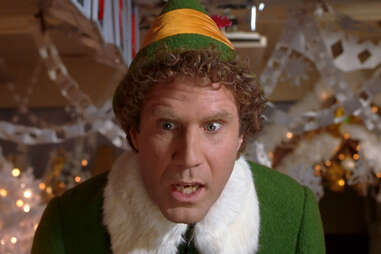 Elf (2003)
It's hard to remember a time when Will Ferrell wasn't one of comedy's biggest stars. While Anchorman made him a dorm room favorite, Elf was the film that turned him into a candy-gobbling, box office-conquering phenomenon. Ferrell's Buddy, an adult man who grew up thinking he's an elf, travels to New York to find his biological father, played with greasy smarm by James Caan. By tapping the child-like sense of mischief present in his best SNL characters, director Jon Favreau weaponizes Ferrell's manic energy for a Christmas movie that's sweeter than a candy cane but doesn't give you a post-sugar-rush headache. It's the perfect stocking stuffer: thoughtful, funny, small, and not a pair of socks.
Where to watch it: Rent on iTunes, Amazon Video, VUDU, and YouTube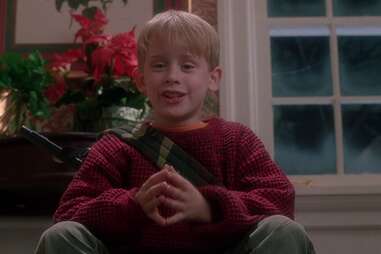 Home Alone (1990)
KEVIN! Only John Hughes, a master of suburban wish fulfillment, could have conjured such an eccentric, slapsticky, Dennis the Menace-esque greeting card of a movie. Hughes stuffs Home Alone with lots of eccentric details -- Buzz's tarantula, that greasy pizza dinner, Harry's gold tooth, the rip-roaring fake gangster movie Angels with Filthy Souls, the shovel guy, every trap in the grand finale's tricked-out madhouse -- and rips through them like a giddy kid on Christmas morning. As Kevin McCallister, Macaulay Culkin summons all the charm and glee of Tom Hanks in Big (minus 3ft), and as his mother races home in parallel, his smile wanes at just the right pace. Who knows how Hughes came up with this movie, but my God, Home Alone is immaculate conception.
Where to watch it: Rent on iTunes, Amazon Video, VUDU, and YouTube
It's a Wonderful Life (1946)
With all the family, forced cheer, and spiked eggnog, the holidays are often a time for maudlin self-reflection. So it only makes sense that the most popular and universally beloved Christmas movie is about a suicidal guy named George Bailey (Jimmy Stewart) who gets his ass metaphorically beaten by the forces of capitalism personified by a rich, bald banker who likes naming things after himself. Only a second-class angel, sent down from the heavens after viewing a celestial recap of George's life, can save him. In a performance that glides from teenage swagger to adult despair with discomforting ease, Stewart personifies everything hopeful and dreary about the holiday season. He's the joy of Christmas morning and the gloominess that inevitably arrives at the end of the day. With snow in his hair, bells ringing in his ears, and a glint in his eye, he's Christmas incarnate.
Where to watch it: Rent on iTunes, VUDU, and YouTube
Miracle on 34th Street (1947)
The War on Christmas is alive, and averted, in this 1947 classic. Subliminal pro-Macy's marketing be damned, George Seaton's fanciful story of Kris Kringle, and the trial to prove he's the real deal, is an ode to the transformative power of believing in something positive. For all the star power in this movie (including a young Natalie Wood as Susan, the girl who needs to believe), it's Edmund Gwenn as Kris who remains so pure and positive, you really might believe he is Santa by the end. Miracle on 34th Street hovers under To Kill a Mockingbird and 12 Angry Men as one of the great courtroom dramas (even if the legal proceedings don't make a lick of sense), but you'll be too lost in the twinkle of this movie to ever think of it as such.
Where to watch it: Rent on iTunes, Amazon Video, and YouTube
Scrooged (1988)
In a brutal one-star review of Scrooged, critic Roger Ebert called this Dickens update "one of the most disquieting, unsettling films to come along in quite some time." And this is a nasty tale, with a script co-written by original SNL badboy Michael O'Donoghue and genuinely creepy visuals from The Omen director Richard Donner. Is Bill Murray why some families return to this proudly rude holiday movie every year? Probably. But the Ghostbusters star invests his Scrooge-like '80s TV executive with enough irony and blowhard arrogance to earn this comedy -- the Bad Santa of its day, basically -- a loyal cult following of smart-ass uncles over the years.
Where to watch it: Rent on iTunes, Amazon, and YouTube
Sign up here for our daily Thrillist email and subscribe here for our YouTube channel to get your fix of the best in food/drink/fun.
Follow the Thrillist Entertainment editors on Twitter: @ThrillistEnt.