The Best Christmas Movies to Stream on Netflix
Get in the holiday spirit.
'White Christmas'

| Paramount Pictures
'White Christmas'

| Paramount Pictures
December: a time for cheer, a time for festivities, a time for awful "Netflix and chill" jokes (because it's cold outside—get it?). OK, it's just a time for Netflix. With the season upon us, we wrapped the best Christmas movies currently streaming on the platform and placed them under your tree.
If these somehow aren't enough to sate your holiday movie appetite, we also compiled a list of EVERY holiday movie and special coming to Netflix this year. Prepare to have a happy holiday.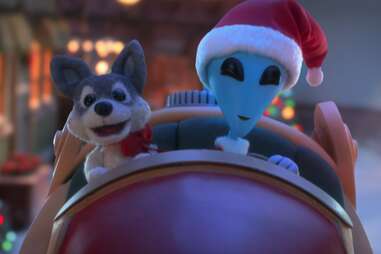 Alien Xmas (2020)
A stop-motion Christmas special, Alien Xmas is like a throwback to beloved claymation holiday movies like Rudolph the Red-Nosed Reindeer and The Nightmare Before Christmas. It is set at the North Pole, but this movie from renowned special effects artists the Chiodo Brothers (who worked on the stop-motion sequence in Elf) has a sci-fi twist when aliens try to steal Earth's gravity until one klepto, little grey guy gets the Cindy Lou Who-Grinch treatment when he meets a spirited elf. The animation is inspired, and you know you've seen the Rankin-Bass specials more times than you can count, so you owe it to yourself to try something new and blast off into this holiday movie that's even more out-of-this-world than you're used to.
Black Mirror's "White Christmas" (Season 2, Episode 14)
Charlie Brooker's 73-minute Christmas special interweaves three tales of techno-paranoia to tackle the future of dating, hiring personal assistants, and blocking people. Though Jon Hamm's megawatt power can be distracting at times, he's the linchpin of this still-potent 2014 Black Mirror gem, which ends with a resounding WUT?! Fans frequently cite this gripping entry as one of their favorites—if not favorite—and rightfully so. Just be sure to leave your optimism at the door.
Kurt Russell is Santa Claus! Repeat: Kurt Russell is Santa Claus! And he proves it's a role he was born to play, making the jolly old guy cool again. In this series, directed by industry veteran Chris Columbus (Home Alone and Harry Potter and the Sorcerer's Stone), you get to watch Kurt do his thing as a gruff Santa daddy whose sleigh crashes thanks to some meddling kids, and then team up with those kiddos and Mrs. Claus (played by his real-life wife Goldie Hawn) save the North Pole altogether. Will Christmas be saved? Only one way to find out!
A Christmas Prince (2017)
A Christmas Prince is the first title in what has become one of Netflix's favorite holiday franchises, and the streamer's original release that signaled their intention to outdo Hallmark's annual packed calendar of originals. Following a journalist sent to profile a prince as he prepares to become king around the holidays, it's the ideal kind of movie to settle into if you're eager to embrace an over-the-top holiday tale. Things get pretty royally ridiculous as sparks start to fly between writer and subject, but their chemistry and the palace setting makes this movie reign over other TV movies of the same vein.
Fireplace for Your Home (2013)
An experimental film about the decaying phases of a roaring fire. OK, no, it's a frickin' yule log. But enjoy its endless crackling!
Jingle Jangle: A Christmas Journey (2020)
Until Jingle Jangle came along, it had been some time since a massive, star-studded Christmas musical dropped. But with original songs written in part by John Legend, along came Jingle Jangle to ring in another glorious entry to the classic holiday genre. About an inventive toy maker (Forest Whitaker) who was betrayed by his apprentice (Keegan-Michael Key) years ago and embarks on an adventure to reclaim his legacy when his granddaughter shows up at his doorstep, this is a children's movie that's as full of yuletide as Santa's belly is with cookies. At times this one is a bit overwhelming, but replicating holiday classics from yesteryear with a mega-scale, elaborate production and catchy songs, soon enough it'll make you cry tears of joy even if you don't quite understand why.
Just Friends (2005)
In the wake of There's Something About Mary and American Pie, the early-to-mid-'00s were filled with comedies that mixed crude humor with treacly sentimentality—but Just Friends was the only one to throw Christmas cheer into the mix. This tale of a smart-ass LA record producer (Ryan Reynolds) returning home to New Jersey over the holidays and romancing his high school BFF (Amy Smart) doesn't go down easy—some of the jokes have aged like your favorite Good Charlotte song—but the leads do their best with tepid gags about retainers, The Notebook, and "friend-zoning." So why give this one a chance? A very funny turn from Anna Faris as a deranged Paris Hilton–style pop singer who makes Reynolds' life a living hell. If her character ever makes a Christmas special, we'll be there.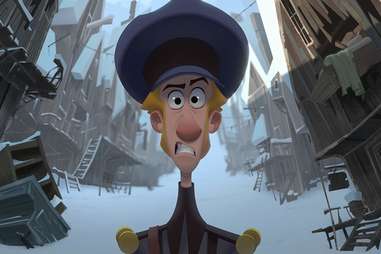 Klaus (2019)
By returning to 2D, hand-drawn animation, writer/director Sergio Pablos (Despicable Me, Smallfoot) creates a contemporary holiday marvel in Klaus. The gorgeous film gives an origin story to Santa and the tradition of children writing him letters by telling the story of a postal service worker named Jesper (Jason Schwartzman) sent to work on a desolate, wintery isle where he eventually meets a reclusive toy maker named Klaus (J.K. Simmons). Rashida Jones and Joan Cusack join an A+ cast that brings their charm, but it's the detailed backdrop of the endearing Nordic-inspired art that gives this movie all the whimsical joy needed to warm your heart around the holidays. We wouldn't be surprised if this goes on to become a new Christmas classic.
A Knight Before Christmas (2019)
For some reason, Christmas movies have an affinity of throwing a prince into the mix, whether he's a time-traveling medieval gent or the regal ruler of a fictional European country. Christmas movies—specifically Netflix Christmas movies—also have an affinity for Vanessa Hudgens, making this movie about a knight (Josh Whitehouse) who inexplicably ends up in a modern day where he meets an American high school science teacher (Hudgens) is the thing of Hallmark-ian, sugar plum dreams. So, yes, it's very silly and set at Christmastime solely for the magical vibes (plus that catchy title), but that just adds to the romance, which has the power to make you want to go horseback riding with a man in armor, too!

Let It Snow (2019)
Based on a novel co-written by beloved YA authors John Green, Maureen Johnson, and Lauren Myracle, Let It Snow is the makings for a holiday teenage dream. It's a rather humble movie, though, following a number of high schoolers—played by an ensemble of charming young actors, including the likes of Shameik Moore, Kiernan Shipka, and Odeya Rush—in a small Illinois town as they sort out their feelings and wishes for the new year as a snowstorm brings them together on Christmas Eve. It's by no means Love Actually, and has a clichéd, over-the-top plot point of a pop star passing through town who takes a detour with a local gal, but it has that lovely Christmas movie quality to make you appreciate the simple things.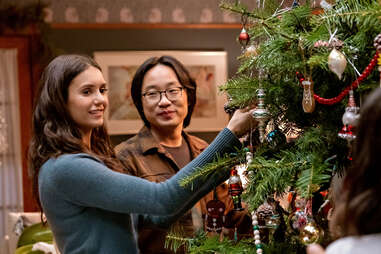 Love Hard (2021)
It's always a big step in a relationship (especially a new relationship) to celebrate the holidays together. This holiday rom-com offers a bit of a pro-tip, though, which is that you should probably meet your date IRL, or at least Google them, before jet-setting across the country to be together for Christmas. Maybe that sounds obvious, but it's not for Nina Dobrev's character Natalie, who decides to surprise a hottie (Darren Barnet) she met on an app for Christmas—only to find out his high school buddy (Jimmy O. Yang) has catfished her. The movie is decked with all of the cliches, but Yang provides a handful of laughs, and it's always worth celebrating a rare holiday movie fronted by a predominantly Asian cast.
Neo Yokio: Pink Christmas (2018)
In this Christmas special for the Ezra Koenig-helmed, Jaden Smith-voiced anime Neo Yokio, Smith's Kaz finds himself overwhelmed with all of the joy and festivities around him, from Secret Santa to family visits. And on top of all of those holiday anxieties, he also ultimately has to partake in the unconventional holiday tradition of facing off with his nemesis, Arcangelo (Jason Schwartzman), who's celebrating the holiday on his own terms. If you want your Christmas with a dash of ironic, self-aware jokes about original content, Pink Christmas is your jam.
The Princess Switch series (2018–2021)
Disney meets Hallmark in The Princess Switch movies, a trilogy of Netflix originals that throws familiarity and all-things merry and bright into a mixing bowl for a formulaic but confectionary family movie. The original begins as a modern telling of The Prince and the Pauper, where we get double the Vanessa Hudgens as she plays the duchess of the fictional Montenaro who gets her chance at experiencing regular life with an American accent when she miraculously meets a baker in Chicago who happens to look exactly like her. It's set during Christmas for extra-magical coincidences, and of course sparks fly for the both of the women while on their respective adventures. And if you thought that two Vanessa Hudgenses were simply not enough, there's a sequel where a third lookalike (and maybe the best one of the franchise!) crashes the party, and a third film where all the gals tag-team once again. Sometimes Christmas movies are the most watchable (even if they're technically bad) when they've got just enough suspension of reality to whisk away your heart.
Single All the Way (2021)
A gay holiday rom-com featuring the likes of Jennifer Coolidge and Kathy Najimy in supporting roles? A merry Christmas indeed! This movie was Netflix's first attempt at putting a gay romance at the center of one of its cheesy yuletide confections. Set in a cozy small town where everyone has a big personality, Peter (Michael Urie) finds himself in a very familiar rom-com dilemma when he begs his roommate Nick (Philemon Chambers) to pose has his boyfriend around the holidays, only to find out his mother (Kathy Najimy) is planning on playing matchmaker. You'll come for the comforting formula with some much-needed queer representation, but you'll stay for the comedy icons as they ham it up.
Unaccompanied Minors (2006)
It's a Christmas conundrum if there ever was! In Unaccompanied Minors, a bunch of kids en route to their families for Christmas all get stuck at a Midwestern airport after their layovers get canceled when a blizzard hits. When the cranky head of passenger relations (Lewis Black) also has his flight to Hawaii grounded, and therefore his yuletide spirit crushed, he squanders any of the kiddos' antics to try to celebrate at the airport. It may pull quite a bit from Home Alone, but who doesn't have more room in their hearts for kids up to holiday hijinks?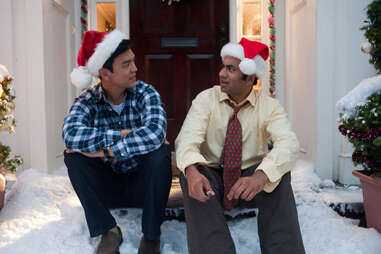 A Very Harold and Kumar Christmas (2011)
Be warned: This is the only movie on this list that boasts a claymation character exposing their genitals. In the third installment of this underrated comedy series, stoner buddies Harold (John Cho) and Kumar (Kal Penn) go on another Homeric quest, this time looking for a new Christmas tree to please Harold's pissed-off father-in-law (Danny Trejo), which means more sly social commentary slipped in among hefty helpings of gross-out gags, weed jokes, and vulgar Neil Patrick Harris cameos. It just might be the sticky-icky strain you're fiending for this holiday season. (Also, shout-out to WaffleBot, the funniest holiday robot of all time.)
A Very Murray Christmas (2015)
"We've got food, we've got booze, we've got attractive people"—this is a real line from this Bill Murray-led holiday romp. Also, a bit of an understatement. George Clooney, Chris Rock, Miley Cyrus, Amy Poehler, Jason Schwartzman, Michael Cera, Maya Rudolph, Rashida Jones, and Paul Shaffer are all on hand to argue, laugh, and make your Christmas Eve feel a little like a star-studded night of karaoke. Clocking in at less than an hour, the Sofia Coppola-helmed special is well worth a watch if any of the names above make you smile.
White Christmas (1954)
Sometimes the most comforting choice is the best choice. Elevated by joyful performances from Bing Crosby, Danny Kaye, Rosemary Clooney, and Vera-Ellen, this warm Snuggie of a movie doesn't push against any conventions of the holiday season, subvert any Yuletide tropes, or even make that much sense. But none of that matters when you've got scenes like the above.
Follow the Thrillist Entertainment editors on Twitter @ThrillistEnt.