December: a time for cheer, a time for festivities, a time for awful "Netflix and chill" jokes (because it's cold outside -- get it?). OK, it's just a time for Netflix. With the season upon us, we wrapped the best Christmas movies currently streaming on the platform and placed them under your tree.
If these somehow aren't enough to sate your holiday movie appetite, we also compiled a list of EVERY holiday movie and special coming to Netflix this year. Prepare to have a happy holiday.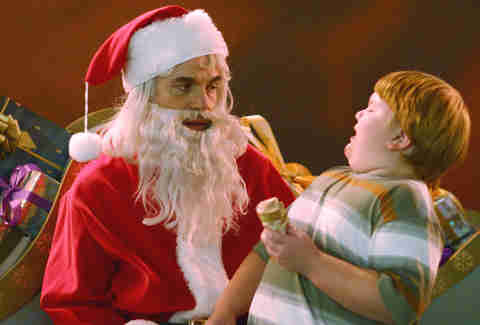 Bad Santa (2003)
Is there a more quotable Christmas movie? This film's script, written by Crazy Stupid Love's Glenn Ficarra and John Requa (with uncredited punch-ups from the Coen brothers), is a masterclass in baroque profanity, brutal put-downs, and wanton cruelty. But what makes it come to life is the sense of mischief and melancholy Billy Bob Thornton brings to his down-on-his-luck Santa character. No other actor could make "You ain't gonna shit right for a week" into such wonderful holiday poetry.
Black Mirror's "White Christmas"
Charlie Brooker's 73-minute Christmas special interweaves three tales of techno-paranoia to tackle the future of dating, hiring personal assistants, and blocking people. Though Jon Hamm's megawatt power can be distracting at times, he's the linchpin of this still-potent 2014 Black Mirror gem, which ends with a resounding WUT?! Fans frequently cite this gripping entry as one of their favorites -- if not favorite -- and rightfully so. Just be sure to leave your optimism at the door.
The Christmas Chronicles (2018)
Kurt Russell is Santa Claus! Repeat: Kurt Russell is Santa Claus! Netflix's push to create an infinite stream of content for all seasons may or may not mean the streaming giant has its very own Christmas Cinematic Universe, but either way, you can watch Kurt do his thing as a gruff Santa daddy whose sleigh crashes thanks to some meddling kids. Will Christmas be saved? Only one way to find out!
Fireplace for Your Home (2013)
An experimental film about the decaying phases of a roaring fire. OK, no, it's a frickin' yule log. But enjoy its endless crackling!
How the Grinch Stole Christmas (2000)
There's no topping Chuck Jones's 1966 TV adaptation of Dr. Seuss' classic kids book, but if anyone could breathe whimsical, wicked life into The Grinch, it's the elastic man himself, Jim Carrey. The lavish production recreates every nook and cranny of Whoville and cakes Carrey in 10 tons of prosthetics; over the course of two zany hours, both the mean, green, Christmas-hating fiend and his targets, the hyper-materialistic Whos, learn a thing or two about being human.
Hector (2015)
From regrets to irritations to the ruffled feathers of family and friends, yuletide cheer is always prone to the winter chill of melancholy. Hector is the reminder that those ups and downs of life can still warm us during the holidays. The film follows the title character, an aging homeless man whose nomadic lifestyle takes him from Glasgow to London each December. This year's trip is more of an odyssey, with Hector meeting strangers and folks from his past, all ready to remind him of the full scope of life. It's the rare tale that's both realistic and brimming with Christmas cheer.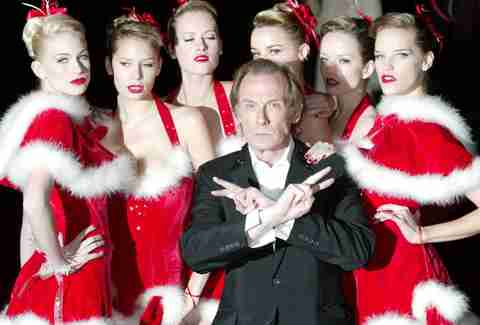 Love Actually (2003)
Richard Curtis' overlapping-stories rom-com has become a polarizing flick in recent years, many arguing that the film is too sickly sweet for its own good. But if you're the type who tends to get sentimental at the airport arrivals gate, watching this group of high-wattage, British thespians -- including Hugh Grant, Alan Rickman (RIP), Colin Firth, Emma Thompson, Bill Nighy, and The Walking Dead's Andrew Lincoln -- navigate love under the mistletoe, the movie is a perfect seasonal reminder that love actually is all around.
Neo Yokio: Pink Christmas (2018)
While fans of the Ezra Koenig-helmed, Jaden Smith-voiced anime Neo Yokio have yet to hear news of a Season 2 release date, the series did get a Christmas special. In the flick, Smith's Kaz finds himself overwhelmed with all of the joy and festivities around him, from Secret Santa to family visits, and ultimately is forced to face off with his nemesis, Arcangelo (Jason Schwartzman), who's celebrating the holiday on his own terms. If you want your Christmas with a dash of ironic, self-aware jokes about original content, Pink Christmas is your jam. 
Tree Man (2016)
From James-Beard-winning author Jon Reiner and documentarian Brad Rothschild, producer of such gentle non-fiction films as "The Killing Jar," about a small-town hostage crisis, and "Kinderblock 66: Return to Buchenwald," a profile of four concentration camp survivors, comes a sweet true story perfect for the holidays. Tree Man follows François, a father of three from Québec who descends upon Manhattan each holiday season to deliver picture perfect trees to the people of New York City. It's a tough business, but someone has to do it. The Reiner and Rothschild's film observes the highs and lows of the tannenbaum biz, jingling with truth in a way that only a documentary could.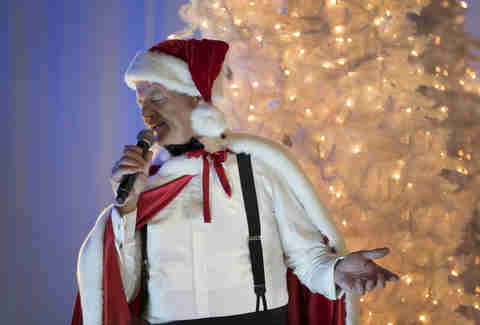 A Very Murray Christmas (2015)
"We've got food, we've got booze, we've got attractive people" -- this is a real line from last year's Bill Murray-led holiday romp. Also, a bit of an understatement. George Clooney, Chris Rock, Miley Cyrus, Amy Poehler, Jason Schwartzman, Michael Cera, Maya Rudolph, Rashida Jones, and Paul Shaffer are all on hand to argue, laugh, and make your Christmas Eve feel a little like a star-studded night of karaoke. Clocking in at less than an hour, the Sofia Coppola-helmed special is well worth a watch if any of the names above make you smile.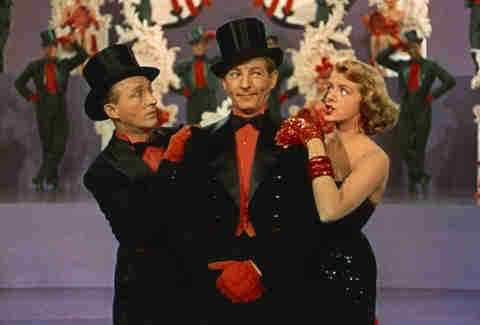 White Christmas (1954)
Sometimes the most comforting choice is the best choice. Elevated by joyful performances from Bing Crosby, Danny Kaye, Rosemary Clooney, and Vera-Ellen, this warm Snuggie of a movie doesn't push against any conventions of the holiday season, subvert any Yuletide tropes, or even make that much sense. But none of that matters when you've got scenes like the above.
Sign up here for our daily Thrillist email, and get your fix of the best in food/drink/fun.