December: a time for cheer, a time for festivities, a time for awful "Netflix and chill" jokes (because it's cold outside -- get it?). OK, it's just a time for Netflix. With the season upon us, we wrapped the best Christmas movies currently streaming on the platform and placed them under your tree. Prepare to have a happy holiday.
White Christmas (1954)
Sometimes the most comforting choice is the best choice. Elevated by joyful performances from Bing Crosby, Danny Kaye, Rosemary Clooney, and Vera-Ellen, this warm Snuggie of a movie doesn't push against any conventions of the holiday season, subvert any Yuletide tropes, or even make that much sense. But none of that matters when you've got scenes like the above.
Gremlins (1984)
Joe Dante's creature feature hits that sweet spot between kid-friendly entertainment and cruel-and-unusual violent delight. For Christmas, Billy (Zach Galligan) receives an adorable "mogwai" as a pet. The one rule: Don't get the damn thing wet. When the inevitable happens, Gizmo the Adorable Furry Gremlin spawns five Mischievous Razor-Toothed Gremlins, who live for destruction, and threaten to rip apart the most wonderful time of the year.
How the Grinch Stole Christmas (2000)
There's no topping Chuck Jones's 1966 TV adaptation of Dr. Seuss' classic kids book, but if anyone could breath whimsical, wicked life into The Grinch, it's the elastic man himself, Jim Carrey. The lavish production recreates every nook and cranny of Whoville and cakes Carrey in 10-tons of prosthetics so to basically stripped away; over the course of two zany hours, both the mean, green, Christmas-hating fiend and his targets, the hyper-materialistic Whos, learn a thing or two about being human.
The Ref (1994)
The married couple in this pitch-black comedy, played by Kevin Spacey and Judy Davis, could be the most unpleasant romantic pairing in any Christmas movie ever. They'll make you appreciate your own irritating relatives. When the two are taken hostage by a roguish thief (Denis Leary, hot off his 1993 No Cure for Cancer stand-up special), the film gets even more acerbic and nasty, culminating in a farcical dinner scene that will have you coming back for seconds. Just make sure to watch this one after the kids go to bed.
Love Actually (2003)
Richard Curtis' overlapping-stories rom-com has become a polarizing flick in recent years, many arguing that the film is too sickly sweet for its own good. But if you're the type who tends to get sentimental at the airport arrivals gate, watching this group of high-wattage, British thespians, including Hugh Grant, Alan Rickman (RIP), Colin Firth, Emma Thompson, Bill Nighy, and The Walking Dead's Andrew Lincoln, navigate love under the mistletoe, the movie is a perfect seasonal reminder that love actually is all around.
Black Mirror's "White Christmas"
Charlie Brooker's 73-minute Christmas special interweaves three tales of techno-paranoia to tackle the future of dating, hiring personal assistants, and blocking people. Though Jon Hamm's megawatt power can be distracting at times, he's the linchpin of this still-potent 2014 Black Mirror gem, which ends with a resounding WUT?! Fans frequently cite this gripping entry as one of their favorites -- if not favorite -- and rightfully so. Just be sure to leave your optimism at the door.
Tree Man (2016)
From James-Beard-winning author Jon Reiner and documentarian Brad Rothschild, producer of such gentle non-fiction films as "The Killing Jar," about a small-town hostage crisis, and "Kinderblock 66: Return to Buchenwald," a profile of four concentration camp survivors, comes a sweet true story perfect for the holidays. Tree Man follows François, a father of three from Québec who descends upon Manhattan each holiday season to deliver picture perfect trees to the people of New York City. It's a tough business, but someone has to do it. The Reiner and Rothschild's film observes the highs and lows of the tannenbaum biz, jingling with truth in a way that only a documentary could.
Ernest Saves Christmas (1988)
When the world cried out for a ridiculous version of Miracle on 34th Street, actor Jim Varney answered its prayers. As far as lowbrow slapstick shticks go, Varney's Ernest P. Worrell ranks among the best. His heart-of-gold keeps this buddy comedy -- Santa Claus being the buddy -- surprisingly watchable family entertainment.
Tangerine (2015)
Sean Baker shot this 2015 award-winning dramedy entirely on an iPhone 5s. Sound like a gimmick? Crazed camerawork proves your do-it-all phone is also the greatest conduit for electric, kaleidoscopic adventure. Set on the streets Los Angeles, the movie follows trans sex worker Sin-Dee Rella, fresh from a 28-day prison stint, as she hunts down her cheating boyfriend on Christmas Eve. While urgent and modern, Tangerine is still a throwback to road movies and old-school farce. Wild, from surface to core -- just like the holidays!
A Very Murray Christmas (2015)
"We've got food, we've got booze, we've got attractive people" -- this is a real line from last year's Bill Murray-led holiday romp. Also, a bit of an understatement. George Clooney, Chris Rock, Miley Cyrus, Amy Poehler, Jason Schwartzman, Michael Cera, Maya Rudolph, Rashida Jones, and Paul Shaffer are all on hand to argue, laugh, and make your Christmas Eve feel a little like a star-studded night of karaoke. Clocking in at less than an hour, the Sofia Coppola-helmed special is well worth a watch if any of the names above make you smile.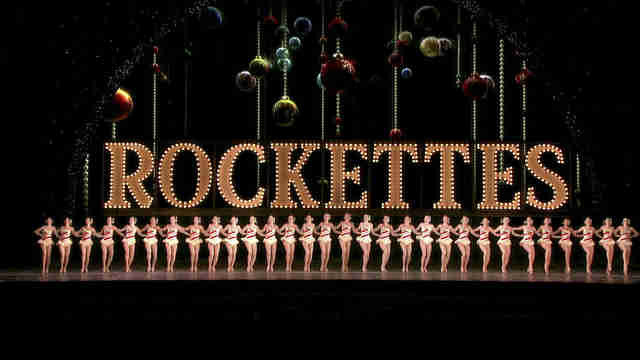 The Radio City Christmas Spectacular (2007)
There's kicking, there's dancing, there's Tchaikovsky, there's a battalion of Santas, there's an epic Biblical interlude, and there are 8 million sequins glistening in the bright lights of an 85-year-old theater. Yes, the Rockettes' annual show can now be streamed right in the comfort of your home. It's the Christmas entertainment your entire family can agree on.
Fireplace for Your Home (2013)
An experimental film about the decaying phases of a roaring fire. OK, no, it's a frickin' yule log. But enjoy its endless crackling!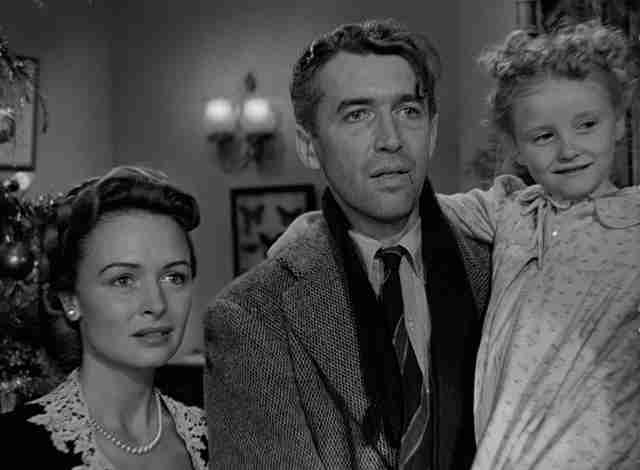 It's a Wonderful Life (1946)
With all the family, forced cheer, and spiked eggnog, the holidays are often a time for maudlin self-reflection. So it only makes sense that the most popular and universally beloved Christmas movie is about a suicidal guy named George Bailey (Jimmy Stewart) who gets his ass metaphorically beaten by the forces of capitalism personified by a rich, bald banker who likes naming things after himself. Only a second-class angel, sent down from the heavens after viewing a celestial recap of George's life, can save him. In a performance that glides from teenage swagger to adult despair with discomforting ease, Stewart personifies everything hopeful and dreary about the holiday season. He's the joy of Christmas morning and the gloominess that inevitably arrives at the end of the day. With snow in his hair, bells ringing in his ears, and a glint in his eye, he's Christmas incarnate.
Where to watch it: Rent on iTunes, VUDU, and YouTube
A Christmas Story (1983)
Despite a reputation as a cheerful, running-24-hours-a-day yuk-fest, A Christmas Story also works as a horror movie; few kid-centric comedies understand the very real terror of being a kid. Director Bob Clark, who helmed the only slightly more sadistic holiday slasher film Black Christmas, mines writer Jean Shepherd's nostalgic tales of growing up in Indiana for goofy laughs, heartfelt moments, and bleak scares. The leg lamp, the pole-licking, the trip to see Santa at the mall, and the eye-shooting-out finale all have a slightly grotesque, Norman Rockwell-meets-David Cronenberg edge to them. Ralphie isn't just fighting for a Red Ryder BB gun; he's fighting for survival. Where to watch it: Rent on iTunes, VUDU, and YouTube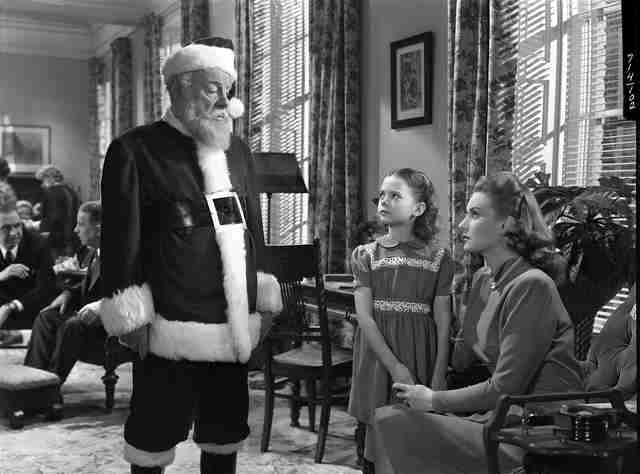 Miracle on 34th Street (1947)
The War on Christmas is alive, and averted, in this 1947 classic. Subliminal pro-Macy's marketing be damned, George Seaton's fanciful story of Kris Kringle, and the trial to prove he's the real deal, is an ode to the transformative power of believing in something positive. For all the star power in this movie (including a young Natalie Wood as Susan, the girl who needs to believe), it's Edmund Gwenn as Kris who remains so pure and positive, you really might believe he is Santa by the end. Miracle on 34th Street hovers under To Kill a Mockingbird and 12 Angry Men as one of the great courtroom dramas (even if the legal proceedings don't make a lick of sense), but you'll be too lost in the twinkle of this movie to ever think of it as such. Where to watch it: Rent on iTunes, Amazon Video, and YouTube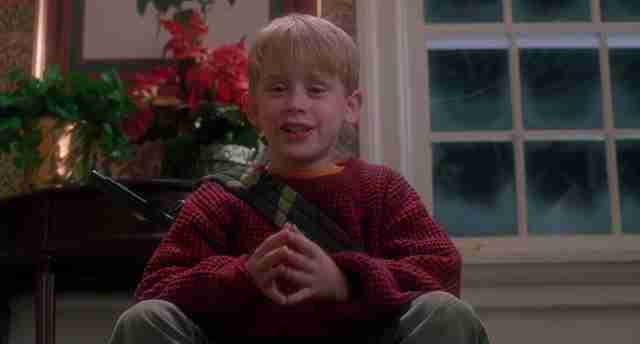 Home Alone (1990)
KEVIN! Only John Hughes, a master of suburban wish fulfillment, could have conjured such an eccentric, slapsticky, Dennis the Menace-esque greeting card of a movie. Hughes stuffs Home Alone with lots of eccentric details -- Buzz's tarantula, that greasy pizza dinner, Harry's gold tooth, the rip-roaring fake gangster movie Angels with Filthy Souls, the shovel guy, every trap in the grand finale's tricked-out madhouse -- and rips through them like a giddy kid on Christmas morning. As Kevin McCallister, Macaulay Culkin summons all the charm and glee of Tom Hanks in Big (minus 3ft), and as his mother races home in parallel, his smile wanes at just the right pace. Who knows how Hughes came up with this movie, but my God, Home Alone is immaculate conception. Where to watch it: Rent on iTunes, Amazon Video, VUDU, and YouTube
The Muppet Christmas Carol(1992)
With a century's worth of Ebenezer Scrooges grumping around the movie history books, it's Michael Caine's performance, towering over and barking at Jim Henson's innocent, felt ensemble, that feels the most immortal, the most Christmas. Threaded together by The Muppet Movie songwriter Paul Williams' original tunes, and given meta-cleverness by Gonzo (as Charles Dickens) narration, The Muppet Christmas Carol renews the Victorian classic with an ornamental sense of wonder. The bubbly Ghost of Christmas Present deserves a place on the Christmas tree. Kermit, in period threads, comes closest to enlivening E. H. Shepard's Wind in the Willows illustrations. Warm, witty, and wonderful, The Muppet Christmas Carol is a testament to Jim Henson's achievements -- literally, as his son Brian directed the film shortly after Henson's passing, and dedicated it to his late father. Where to watch it: Stream on HBO Go; rent on iTunes, Amazon Video, VUDU, and YouTube
Elf (2003)
It's hard to remember a time when Will Ferrell wasn't one of comedy's biggest stars. While Anchorman made him a dorm room favorite, Elf was the film that turned him into a candy-gobbling, box office-conquering phenomenon. Ferrell's Buddy, an adult man who grew up thinking he's an elf, travels to New York to find his biological father, played with greasy smarm by James Caan. By tapping the child-like sense of mischief present in his best SNL characters, director Jon Favreau weaponizes Ferrell's manic energy for a Christmas movie that's sweeter than a candy cane but doesn't give you a post-sugar-rush headache. It's the perfect stocking stuffer: thoughtful, funny, small, and not a pair of socks. Where to watch it: Rent on iTunes, Amazon Video, VUDU, and YouTube
National Lampoon's Christmas Vacation (1989)
What the first Vacation did for family road trips, this threequel does for the most wonderful time of the year and all the anxiety, masochism, bewilderment, and warm-fuzzies any extended clan gathering ignites like a match thrown in a shit-filled sewer. Chevy Chase's Clark struggles mightily here -- to make his house the best-lighted one on the planet, to nab his year-end bonus, to fix the newel post, to keep cousin Eddie at bay, and on and on -- but his travails remind viewers that investing too deeply in Christmastime commerce can result in nerve damage. Wrapping smarmy jokes inside sitcommy wrapping paper, the third Vacation movie owns its position on the naughty list. Where to watch it: Rent on iTunes, Amazon Video, VUDU, and YouTube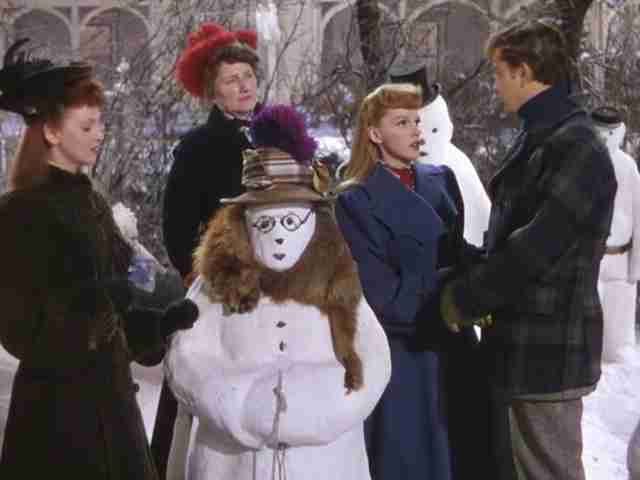 Meet Me in St. Louis (1944)
Vincente Minnelli's Technicolor musical would earn a spot on this list even if it were just a two-hour loop of Judy Garland singing "Have Yourself a Merry Little Christmas." But there's so much more here: swooning romance, fake-looking snowmen, ball gown-filled dances, and a hallucinatory Halloween segment that should be taught in every film school in the country. In following a Missouri family gearing up for the 1904 World's Fair, the story casts a nostalgic hue on the dawn of the 20th century in the same way films today gaze back at the '50s and '60s. It's a snow-globe kind of movie, perfect to marvel at when the fire's roaring in the background.
Where to watch it: Rent on iTunes, Amazon Video, VUDU, and YouTube
Sign up here for our daily Thrillist email, and get your fix of the best in food/drink/fun.