The Only Christmas Music Playlist You Need This Holiday Season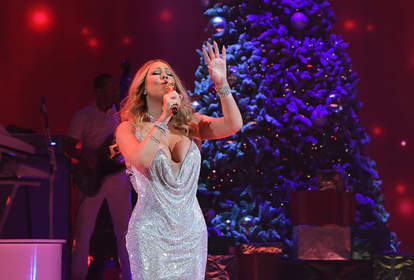 Jeff Kravitz/FilmMagic for Mariah Carey
The process of crafting a holiday music playlist can be perilous. For decades, the act of entertaining a mixed group of adults and children during the holiday season was as simple as dusting off an old LP of A Charlie Brown Christmas, turning on your preferred local holiday radio station, or grabbing a handy mix CD of yuletide favorites. The introduction of streaming music platforms, which promise a super-sized back catalog of choices, puts more pressure on the Santa-hat-sporting DJ to deliver an enjoyable, eclectic list of jams. You don't want to give your friends and family the musical equivalent of an ugly Christmas sweater.
Sure, companies like Spotify want to help you out by offering up all sorts of "official" holiday playlists, ranging across genres and time periods, but selecting one of those pre-packaged ones is like bringing store-bought cookies instead of baking your own. It's a tacky move. People will be able to tell. They'll talk. What's the best way to stop that gossip before it starts? Build your own playlist to show it comes from the heart.
Below, I've constructed a playlist along with some instructions for creating your own. I'm not saying this is a perfect Christmas playlist -- as anyone who was sent a fruitcake this year can attest, there's no accounting for taste -- but it does have "Dipset X-mas Time" on it and it doesn't include Paul McCartney's "Wonderful Christmastime." So, obviously, it's great! Yours will likely be very different. But that's the beauty of the holiday season.
The old-school holiday classics
It's important to begin any holiday playlist with a solid foundation of standards, classics, and recognizable favorites. For the purposes of this list, that means anything made before the entirely arbitrary year of 1980 -- think Bing Crosby, Stevie Wonder, Brenda Lee, or Frank Sinatra. When entertaining a group, you've gotta create a certain degree of comfort and stability. The best way to lose the aux chord is by blowing grandpa's hairpiece off with AC/DC's "Mistress for Christmas."
(Here's one Christmas music "hack" that can make the act of building a playlist a lot less stressful: Just put on A Christmas Gift for You from Phil Spector for the beginning of the party and then switch to A Charlie Brown Christmas as things start to die down and the evening takes on a melancholy edge. As long as it's a relatively low-key gathering, you'll be set. Despite the existence of the article you're reading, playing music at a party isn't really that complicated.)
The new-ish holiday standards
If you started with some slightly older holiday classics, now it's time to shift gears with some equally beloved but slightly more contemporary tracks. No Christmas playlist is complete without the woman who would maybe rather not be referred to as the Queen of Christmas, and "All I Want for Christmas Is You" is probably the best one to go with. It's a staple for a reason. The same thing goes for Run DMC's "Christmas in Hollis," Bruce Springsteen's "Santa Claus is Coming to Town," Wham's "Last Christmas," and Madonna's suggestive "Santa Baby." These songs do the brisk work of powering people through that second hour of small talk.
The songs that speak to your specific taste
After you've established your populist bona-fides, it's time to flex a little bit. That could mean different things for different people: Maybe you have a treasure trove of Christmas rap songs, a secret stash of holiday metal anthems, or an affinity for hyper-twee records put out by indie rock groups from the mid '00s. (Here's looking at you Music From the O.C. Mix 3: Have a Very Merry Chrismukkah!)
Whatever your music genre passion is, pursue it with abandon. Do some research. This is where you pull out some of the deeper cuts that make people turn to you and say, "Hey, what the hell are you playing?" If they like it, maybe they'll include the song on their own playlist next year. You'll have given the greatest present of all: the gift of taste.
The weird holiday curveballs
OK, things are going off the rails. The kids have gone to bed. The presents have been opened. The spiked eggnog is flowing. Now is the time to play those bizarre novelty tracks, ill-advised sonic experiments, and potentially grating comedy songs that a dark, hidden part of your playlist-making soul has been itching to play all night. This is where shit gets weird. Break out the late period Bob Dylan Christmas record. Give the Twisted Sister track a spin. Sure, even play that "Weird Al" song you remember loving in middle school. Now is the time. You've survived another Christmas -- have some fun.
Note: The full playlist of all 40 songs is below.
Sign up here for our daily Thrillist email and subscribe here for our YouTube channel to get your fix of the best in food/drink/fun.