The 18 Best Christmas-Themed TV Episodes You Can Watch Right Now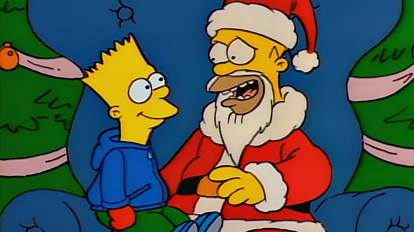 'Tis the season to be jolly... and gluttonous... and watch lots and lots of the best Christmas TV episodes. This is why they invented food comas, after all.
If you need helping getting in the holiday spirit this year, look no farther than this offering of holiday-themed small screen festivities. Whether you're here for the lighthearted sitcom fare, or a more harrowing, nihilistic take, there's something for everyone in this selection. And the best part: You can stream all of these episodes right now.
NBC
"Christmas Party," The Office (US) (Season 2, Episode 10)
The Office loved Christmas episodes, turning one out just about every season. But the first is really the best and most iconic of the bunch: After Michael spends too much money on his Secret Santa present for Ryan (the limit was $20; he bought a $400 video iPod), he fumes over the cheap presents he gets in return, and initiates a Yankee Swap, so that people can steal each other's gifts. Things get predictably out of hand.
Where to watch it: Stream it on Netflix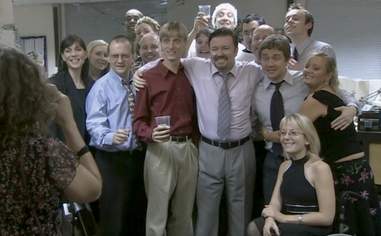 BBC
"Christmas Special: Part 2," The Office (UK) (Season 3, Episode 2)
The original British version of The Office was also fond of Christmas episodes, choosing to end the entire series with a two-part ode to the season. The first picks up three years after the end of the original series, acquainting us with where everyone is now: David's a traveling salesman; Dawn lives in Florida; and Gareth is general manager. But the stand out episode is "Part 2," where David Brent finally stands up to Chris Finch, and, most importantly, where Tim and Dawn finally get together. It's an excellent, heartwarming holiday cap to a series that changed comedic television forever.
Where to watch it: Stream it on Hulu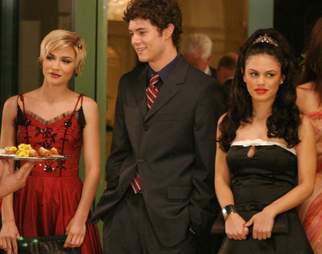 Fox
"The Best Chrismukkah Ever," The O.C. (Season 1, Episode 13)
This classic episode of The O.C. pulls double-duty as a Christmas and Hanukkah celebration. It's a real showcase for Seth Cohen, who comes up with the merged holiday in honor of his WASP mother and Jewish father. Seth spends much of the episode wrestling with the affections of two very different love interests: indie-chic Anna and popular-girl Summer, who's gift to Seth is herself dressed as Wonder Woman. (Anna's homemade comic book doesn't capture his attention in the same way, causing a rift.) Meanwhile, Ryan Atwood adjusts to holidays with the Cohens and his relationship with Marissa Cooper, who is struggling with problematic drinking. Heavy themes, yes, but the infectious spirit of Chrismukkah keeps it from feeling like a slog.
Where to watch it: Stream on Hulu
CBS
"The Night of the Meek," The Twilight Zone (Season 2, Episode 11)
It's easy to assume that, being an episode of The Twilight Zone, "The Night of the Meek" was a dark entry on Christmas episode favorites. But it's really not. As Rod Serling's closing narration reminds us, "There's a wondrous magic to Christmas." That's really the spirit of this episode, about a down-on-his-luck drunk who happens upon a magical bag that gives him the powers of Santa Claus. In the end, there's nothing sinister at hand, just the magic of Christmas that gives this sad, "meek" man the glory he always dreamed of but could never quite grasp.
Where to watch it: Stream it on Netflix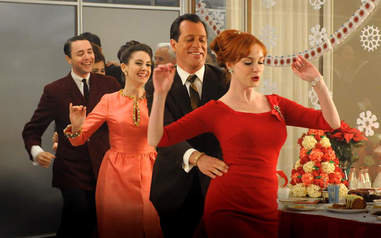 AMC
"Christmas Comes But Once a Year," Mad Men (Season 4, Episode 2)
Holidays with the Sterling Cooper crew are always a sobering (for lack of a better word) affair, and this one is no different. Don is very Don in this episode, sleeping with the wrong women -- in this case, his secretary Allison -- and being a deadbeat dad to Sally, who has her own subplot with weirdo neighbor boy Glen. But the clear highlight is the office Christmas party, thrown together by a very in-her-element Joan. Gotta love that Christmas-themed conga line.
Where to watch it: Stream on Netflix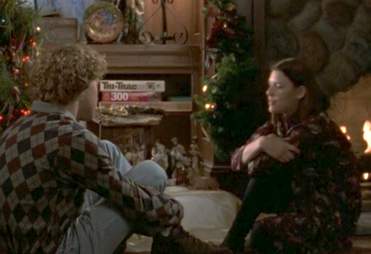 ABC
"So-Called Angels," My So-Called Life (Season 1, Episode 15)
My So-Called Life only lasted one season, but in that short lifespan created a beloved coming of age series that remains influential to this day. This seasonal episode, which focuses on teen homelessness -- and even includes a tacked-on PSA -- is occasionally heavy-handed, though never shies away from the serious matter at hand. It remains a pivotal reminder that teens like Angela Chase (Claire Danes), beloved and from happy families, fare far better during the holidays than teens -- like her friend Ricky, the target of an abusive uncle -- that come from less stable families. Maybe not a happy message, but an important and weighted one.
Where to watch it: Stream it on Hulu
Comedy Central
"Mr. Hankey, The Christmas Poo," South Park (Season 1, Episode 9)
"Mr. Hankey, the Christmas Poo, he loves me, I love you." Who knew a song about sentient feces could be so memorable? That's the magic of South Park, and this episode, about the power of believing in poo, is a modern classic. When Kyle's Jewish parents worry that his school's Christmas program excludes non-Christians, he proposes Mr. Hankey -- a singing, dancing turd in a Santa hat -- as a non-denominational holiday figure. The non-believing townspeople see only a hunk of poo and deem Kyle insane, throwing him in an asylum. Luckily, Chef is able to convince everyone that Mr. Hankey is, indeed, real. In addition to the Hankey theme, this episode also gives us another South Park musical classic: "Kyle's Mom Is a Big Fat Bitch."
Where to watch it: Stream it on Hulu
ABC
"White Trash Christmas," Roseanne (Season 6, Episode 12)
The Conners always do the holidays right, so it's no surprise that this Season 6 Christmas outing is such a romp. When an obnoxious neighborhood committee bans tacky yard decorations, Dan and Roseanne – ever the contrarians – decide to break the rule as boldly as possible, fully embracing their "white trash" tendencies. Who doesn't love the Conners when they're in full-on rule-breaking mode? The episode also has one of the series most touching moments, when DJ, who finds out Darlene is living with her boyfriend David, admits to his sister how much he misses her. DJ and Darlene's relationship was always defined by mutual antagonization; hearing his confession of love is as heart-wrenching as the show gets.
Where to watch it: Stream it on Amazon Prime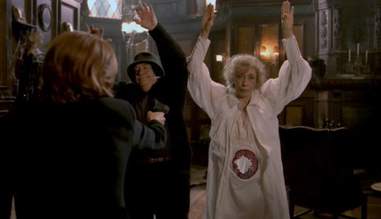 Fox
"How the Ghosts Stole Christmas," The X-Files (Season 6, Episode 6)
Ed Asner and Lily Tomlin guest star as ghosts in X-Files' sixth season  Christmas episode, in which Mulder drags Scully to a haunted house on Christmas Eve and re-enacts the dead couple's grisly fate. Nothing says "Merry Christmas" like a murder-suicide, after all. Things get pretty strange and pretty bloody, but what else would you expect from an X-Files Christmas special? The episode ends on a high note, with Mulder and Scully exchanging gifts while the snow falls outdoors.
Where to watch it: Stream it on Hulu
NBC
"Abed's Uncontrollable Christmas," Community (Season 2, Episode 11)
Community was known for stunt episodes, and used stop-motion to great effect for this holiday episode. The animation is explained away as a delusion of Abed's, who is looking for the true meaning of Christmas. The group travels to the fictional Planet Abed to help him on his journey, where they find -- among other signs -- a DVD set of Lost (which Abed takes a sign of a lack of payoff). In the end, Abed realizes that the meaning of Christmas is "the idea that Christmas has meaning," a poignant view on a holiday that feels less and less important with age.
Where to watch it: Stream it on Hulu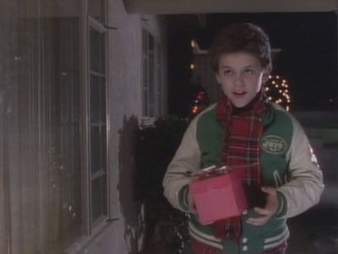 ABC
"Christmas," The Wonder Years (Season 2, Episode 3)
The Wonder Years is the best kind of nostalgia: smart, painful, funny, emotional. As the holidays only exacerbate those heightened feelings, it makes sense that this Season 2 episode is a great little slice of life and the times. The 1968 setting makes the crutch of the episode – Winnie and her family skipping town to avoid Christmas sentimentality so shortly after the death of her older brother in Vietnam – so poignant. It's also fun to see the Arnold children so mopey about not getting a color television and being forced to go Christmas caroling on a snowless evening with their insistent mother. The episode captures that specific feeling of aging past the holiday and putting too much stock in expectations. Nothing works out the way anyone thought, but they all get to laugh about it in the end.
Where to watch it: Find on YouTube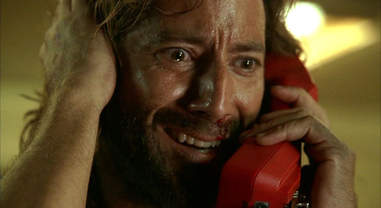 ABC
"The Constant," Lost (Season 4, Episode 5)
Speaking of Lost, it's easy to forget that this beloved hour is a secret Christmas episode. By the time it reaches the tear-jerking conclusion – where, after more than a decade of distance, and a bunch of crazy time travel, Desmond and Penny finally make contact – you can't ignore the giant Christmas tree and twinkling lights in the background. "The Constant" is arguably the best-ever episode of this seminal series, and its theme of never-ending, cross-continental love meshes beautifully with the hopefulness of the holiday season.
Where to watch it: Stream it on Netflix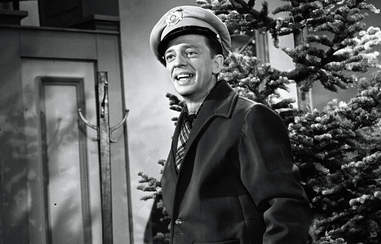 CBS
"Christmas Story," The Andy Griffith Show (Season 1, Episode 11)
Andy Griffith may not have millennial sex appeal, but his show's humble roots and simple family matters make for a joyous, easygoing holiday viewing. This Christmas classic sees the town drunk, Sam Muggins, imprisoned with his family for moonshining. Because Andy and Barney are too kind to let the family go unfed, they plan a Christmas feast in the jailhouse, which tempts Ben Weaver, the local department store owner who had Muggins jailed in the first place. The small town charm is delightful; we'd love to spend Christmas in the Mayberry jail, too.
Where to watch it: Stream it on Netflix
FOX
"Simpsons Roasting on an Open Fire," The Simpsons (Season 1, Episode 1)
It's hard to believe this was the first-ever full-length episode of The Simpsons, but it makes sense: It serves as a great formal introduction to the yellow family, who spend their Christmas at the dog-racing track trying to get money after Homer finds out he's not getting a bonus. There they adopt Santa's Little Helper, and later we meet classic characters like Mr. Burns, Milhouse, Flanders, and more. It may be a premier, but by the end, when the family gathers 'round to sing "Rudolph the Red-Nosed Reindeer," it feels like we've known the Simpsons forever.
Where to watch it: Stream on FXNow or SimpsonsWorld.com with a Preview Pass or cable login
FOX
"Afternoon Delight," Arrested Development (Season 2, Episode 6)
Holidays with the Bluths are always, um, eventful. In this Season 2 episode, the family attempts to have fun at their annual office Christmas party, but things get weird when Michael and Maeby accidentally sing an inappropriate song, Lindsay is frustrated that no one will flirt with her (after G.O.B. instructs his employees to leave her alone), and Lucille is upset over Buster's adjustment to Army. After that failed attempt, they throw another party at the Banana Stand, which, of course, gets equally messy.
Where to watch it: Stream it on Netflix or Hulu
CBS
"Christmas and the Hard-Luck Kid II," The Mary Tyler Moore Show (Season 1, Episode 14)
This beloved episode is really the epitome of what made The Mary Tyler Moore Show so great. It's heartwarming, funny, and shows how deeply the WJM-TV crew care for one another. After Mary finds out that a colleague has worked Christmas for several years in a row, she volunteers to take his shift on Christmas Eve so he can spend time with his family. But the cabin fever from an empty office makes Mary jumpy and paranoid. Luckily, Lou, Murray, and Ted show up to save her from spending the holiday alone, a touching moment cemented in the show's opening credits.
Where to watch it: Stream it on Hulu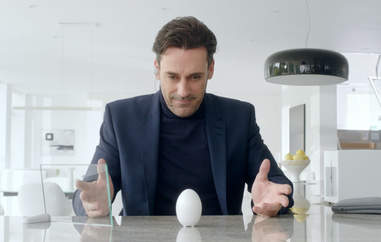 BBV
"White Christmas," Black Mirror (Season 2, Episode 4)
If Christmas cheer isn't your thing, Black Mirror has you covered. The grim sci-fi series is known for its nihilistic futurism, and this bleak Christmas special – featuring three holiday-themed vignettes – is certainly no exception. The third story, about a man's erasure from his pregnant fiancée's life, is the real gut-punch, but each tale is as despicably rendered as the last. Probably a good idea to watch this one alone.
Where to watch it: Stream it on Netflix
NBC
"Ludachristmas," 30 Rock (Season 2, Episode 9)
"Ludachristmas" is the quintessential Christmas episode, from arguably the best season of 30 Rock. We always love a visit from Jack's mother, Colleen, who is a perfect foil for Liz's perfect (and perfectly optimistic) parents. Andy Richter is also note-perfect as Liz's memory challenged brother, Mitch. But all's not as merry in Lemon-land as one might perceive, and the episode serves as a nice little lesson that no family is perfect and that the holidays are the perfect time to expose that universal truth.
Where to watch it: Stream it on Hulu
Sign up here for our daily Thrillist email and subscribe here for our YouTube channel to get your fix of the best in food/drink/fun.
Lindsey Romain is a writer and editor living in Chicago. She covers politics for
Teen Vogue
and has also appeared in
Vulture
, Birth.Movies.Death, and more. Follow her on Twitter @lindseyromain.