All 37 Clint Eastwood Movies, Ranked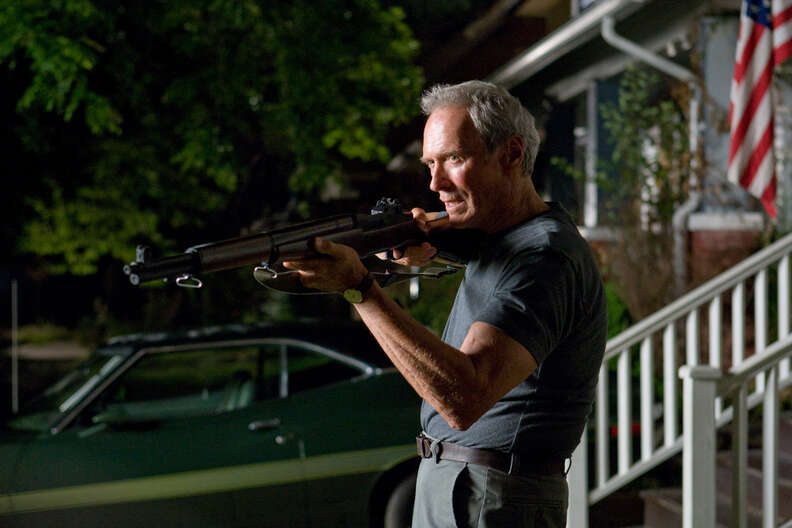 Gran Torino

| Warner Bros.
Gran Torino

| Warner Bros.
Nobody else has had a career like Clint Eastwood's, and nobody else ever will. The 88-year-old, San Francisco-born Oscar winner has one of the longest-running success stories in Hollywood, and he's still going strong. Once a lumberjack and steel mill worker, Eastwood went on to direct 37 films in a 47-year span, not to mention having over 70 acting roles -- including iconic characters in some of the most famous action and Western films of all time. As an actor and director, he has been a singular presence and voice in cinema for more than half a century.
To celebrate the release of his 37th film as a director, The Mule, which stars Eastwood as a 90-year-old drug runner, we've taken a deep dive into Eastwood's filmography, which ranges from morally ambiguous dramas to overblown cop movies to self-reflective Westerns. While he's produced more than a few films that have earned a place in the canon, like all artists Eastwood has also made some films that are forgettable or downright bad. So, we decided to do what internet websites do, and rank them. Keep in mind that we're only looking at movies Eastwood directed, and we'll leave the complete filmography as a task for another day.
37. The 15:17 to Paris (2018)
Where to begin with Clint Eastwood's well-intentioned but incoherent and unfocused drama, and yes, his worst film? Perhaps with his daringly -- and I mean that sincerely -- experimental choice to cast the heroes of the actual attempted terrorist attack on a French train as themselves. Even Eastwood's lesser films typically feature great actors giving the filmmaker their all, but that's not the case with The 15:17 to Paris. The talents of the heroes at the center of the film lie outside of acting, and it shows consistently through the movie, which has a frustrating nonlinear structure that sucks all the drama and horror out of the act of terrorism Eastwood depicts. Eastwood can capture masterclass performances with weak material, but his eye for compelling acting is nowhere to be found in The 15:17 to Paris.
36. Midnight in the Garden of Good and Evil (1997)
Eastwood goes down to Savannah, Georgia with his John Berendt adaptation, but despite the rich and lush location, there's zero atmosphere. It's a stuffy movie, especially once the droll courtroom drama and long-winded mystery ensues. The twist -- answering whether a rich fat cat (Kevin Spacey) murdered his younger lover (Jude Law) -- isn't a shock in the slightest, so the long journey toward the answer is never remotely rewarding. Midnight in the Garden in Evil is John Cusack, whose subtle charisma is the only bright spot, passively walking through the movie and trying to unravel a mystery the audience beats him to solving. Worst of all, Cusack often acts opposite of Kevin Spacey, whose performance as a man lying about his innocence is a constant distraction.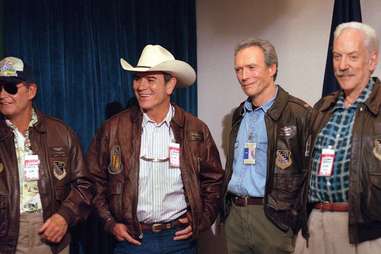 35. Space Cowboys (2000)
As a director, Eastwood deserves credit for stretching himself with his space dramedy about four old astronauts -- Eastwood, Tommy Lee Jones, Donald Sutherland, and James Garner -- getting another chance to travel in space. It's the director's most CG-heavy movie, which is what robs the film of any sense of wonder. The visual effects in Space Cowboys do not hold up at all, but more than that, wonderment isn't Eastwood's bag as a director. The spectacle of the four legends in space, which the story takes its sweet time to get to, has a rigidness to it thanks to its glaring dated effects and a journey that's never as exhilarating or emotionally affecting as it's trying to be.
34. Jersey Boys (2014)
The prime instance of Eastwood being all wrong for a project. This Broadway adaptation should've been energetic, propulsive, and full of life, but that's not exactly Eastwood's style. He doesn't do fun, usually, and even by Eastwood's standards, Jersey Boys is so solemnly lit that it's not a pleasant movie to look at. From beginning to end, the adaptation of the Broadway hit could use more showmanship, and maybe a filmmaker more experienced in making grand and lively spectacle, like Jon Favreau, who was once tapped to direct. Music from Frankie Valli and the Four Seasons captures a time and a place with a sense of grandeur and style, but neither are found in Jersey Boys.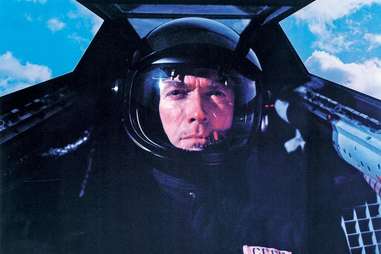 33. Firefox (1982)
Eastwood goes for pure spy movie hokum with Firefox, a Cold War film that drags on far too long and features one of his stiffest performances. Eastwood maybe hasn't shown a great deal of range as an actor, but he's never boring. The iconoclast's massive growling presence keeps your eyes glued to the screen, but in Firefox, his charisma is too muted as a fighter pilot with PTSD who's tasked with stealing an invisible Russian aircraft. It's extra silly, even by the director's standards, but it takes itself too seriously for the silliness to ever take flight and create a good ole goofy time. More of Eastwood putting on phony disguises would've been nice; less of Eastwood in a cockpit and flying around a CG jet would've been even nicer, though.
32. Absolute Power (1997)
The first 15 minutes of the film expertly captures a heist gone completely wrong -- watching Eastwood prepare and execute a caper in near silence -- but it's quickly downhill from there in this David Baldacci adaptation. When the thief witnesses the president brutally murdering a woman, Absolute Power becomes a ridiculous story of a thief vs. a president in which Gene Hackman is wasted as an evil POTUS (a total sin in cinema in my book). Eastwood attempts to raise the stakes with a father-daughter storyline, and even though Laura Linney gives those scenes her all, that relationship falls flat alongside the rest of Absolute Power, which is so thin and light on its feet despite the heaviness of the whole crux of the movie.
31. Breezy (1973)
The May-December romance between an old single businessman (William Holden) and a young teenage hippie (Kay Lenz) is so offbeat, if it wasn't for the sight of a High Plains Drifter poster, nobody could ever guess it's directed by Eastwood. Breezy is so not his type of movie, and it shows. He certainly deserves praise for trying his hand at different material so early in his directorial career, but it plays more as a failed experiment than an intimate love story between complete opposites attracting.
30. True Crime (1999)
No filmmaker understands Eastwood better than Eastwood. He knows his strengths and his weaknesses, hence his extraordinary career, and has rightfully passed on roles not right for himself, including William Holden's role in Breezy. In True Crime, it's the one time he was all wrong for the lead: a womanizing, chain-smoking reporter with a young daughter. A character his age behaving how he does, he's too difficult to empathize with and too off-putting. Eastwood generally has total control over tone -- look at his Westerns for proof of that -- but there's an inherent silliness in True Crime that undercuts its more somber moments. Isaiah Washington delivers a standout performance as a man wrongly put on death row, but that performance is the only bit of truth in True Crime.
29. The Rookie (1990)
This buddy cop movie is a borderline parody of what an audience thinks a Clint Eastwood cop movie would look like. As an actor and filmmaker, Eastwood understands over-the-top fast driving outside of exploding buildings and gleefully blasting away unarmed bad guys. There's some fun in the ridiculousness of it all, especially the cleanly shot action, but what sinks the movie from the start is Eastwood and Charlie Sheen together. There's not even a sliver of real chemistry between them. As over-the-top as The Rookie sometimes is -- it could even use even more outlandishness -- it suffers from boring backstories, cringe-inducing humor, and an overall lack of good fun.
28. Sully (2016)
Sully has problems similar to The 15:17 to Paris, starting with the fact the narrative is as thin as paper and doesn't offer up much more to say than what's already learned from headlines. That's the oddity of Sully: What Chesley Sullenberger pulled off in that cockpit is miraculous and inspiring, but Eastwood doesn't have much more to say about it except it was a job well done. Aren't we all well are of that already? There's usually a confidence to Eastwood's direction, but in Sully, his effort to turn a news headline into a feature-length narrative shows signs of straining. Without much visual flair or substance, Eastwood does far too little to make a famous and extraordinary act of heroism a cinematic experience.
27. J. Edgar (2011)
If there's a figure who doesn't call for Eastwood's slow-as-molasses standard biography film treatment, it's J. Edgar Hoover, a man too complex for such a paint-by-numbers narrative. Again, it's another unfortunate case of Eastwood out of sync with material, especially Hoover's sexuality, which perhaps a more progressive filmmaker would've handled with more thoughtfulness. Eastwood doesn't tell us more about the first director of the F.B.I. than a history special would've. Not helping matters at all, Leonardo DiCaprio and Armie Hammer look and sound ridiculous in old man prosthetics, and as a result they never disappear into this movie. J. Edgar is more than two hours of watching actors play dress-up in an overstuffed biopic that's every bit as cold and distancing as its subject.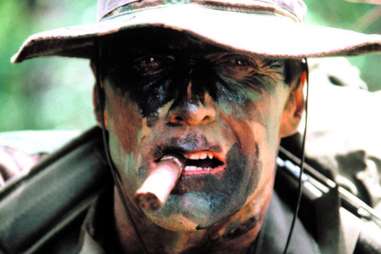 26. Heartbreak Ridge (1986)
Talk about perfect casting. It's as if a divine creator sculpted Clint Eastwood one day so that he could play a drill sergeant in a movie. There's immense entertainment value in witnessing a hard-stomping Eastwood bark orders, dish out insults, and whip a squad of immediately forgettable soldiers into shape. Heartbreak Ridge turns Eastwood's tough guy persona up to an 11, so of course there's something to enjoy on the surface level of this 1986 box-office smash. Eastwood's performance is all Heartbreak Ridge has going for it, though, because he's completely surrounded by caricatures. Again, Heartbreak Ridge is another rare occasion where not all the performances in an Eastwood movie live up to his lofty standard.
25. Hereafter (2010)
Eastwood has delved into the supernatural a few times in his career, notably with High Plains Drifter and Pale Rider, but never to the extent of his ensemble movie about death, Hereafter. Matt Damon plays a psychic, which could be an enticing pitch for a high-stakes studio thriller, but in Eastwood's hands just means he's playing a sad sack whose gift is a curse. For a movie filled with pain and tragedy, including the death of a child, Hereafter is not very impactful, maybe because the characters never get enough room to breathe in a fairly busy story. At the very least, the supernatural does show Eastwood telling a more outside-of-the-box story, as half-baked as it may be. The filmmaker's previously listed failures tend to fall short on ambition or surprising storytelling, but Hereafter certainly doesn't suffer from those problems.
24. Invictus (2009)
The story of Nelson Mandela and... a rugby player. Morgan Freeman as the President of South Africa, one of the most inspiring and important men ever to walk the planet, sounds like a movie that'll move, inspire, and win all the Oscars. Which is why it's so bizarre a movie about him turned out so cold, clinical, and far too tidy. Invictus is finely made, and Freeman delivers some powerful moments as Mandela, but the film is constantly a disappointment, seemingly aware that it's never reaching its full potential. On top of that, the rugby scenes are a chore to watch, and as a character played by Matt Damon with a distracting prosthetic nose, the remarkable story of Francois Pienaar winning the World Cup isn't nearly as captivating as Nelson Mandela's. The more Morgan is absent, the more frustrating Invictus becomes to watch.
23. The Eiger Sanction (1975)
After Eastwood famously turned down the role of James Bond, he adapted a book intended as an American parody of the British spy, but apparently, Eastwood didn't get the memo it was a joke. Boy, oh, boy, is the ridiculousness of The Eiger Sanction really something to behold at times. It's the dumb, macho man take on a spy story, with muscle cars, women less nuanced than the worst of the worst of Bond girls (which says a lot), and a flamboyantly and awfully cringe-inducing villain. In the vein of Bond, though, Eastwood visits some eye-popping settings that look glorious on a big screen. Of all of Eastwood movies, his spy movie has the most pop and color to it. The Eiger Sanction doesn't have much for brains, but it's got enough lavish style from Eastwood and cinematographer Frank Stanley (Magnum Force) to keep the eyes pleased.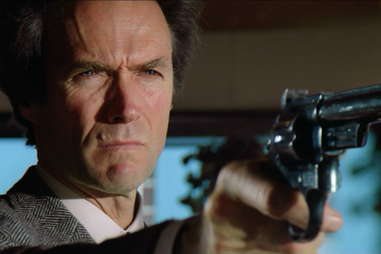 22. Sudden Impact (1983)
A movie that opens with a bang -- literally, giving the world the legendary "Go ahead, make my day" line -- that stirs up intrigue and sucks you right into the fourth Dirty Harry movie, the only Harry Callahan picture Eastwood directed himself. In Sudden Impact, returning to Harry Callahan could have been autopilot for the actor, but he instead plays the role with glee, intensity, and, occasionally, empathy. Eastwood's characters may be miserable, but sometimes, you do get the sense Eastwood is having fun delivering chewy one-liners, not only overpowering but outsmarting the bad guys, and in one scene, giving a criminal a heart attack by barking threats at him. Only Eastwood could pull that scene off, right? Sudden Impact is an assured thriller with a tense final shootout and unforgettable silhouette of Eastwood looking like death coming to collect, but the thriller isn't as entertaining as some of the other Dirty Harry movies because its subject matter, sexual violence, which is not a subject Eastwood has generally depicted with much sensitivity.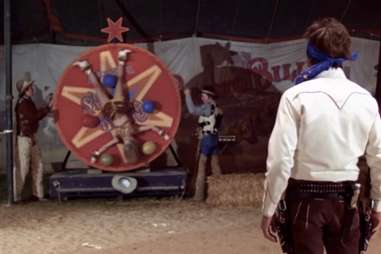 21. Bronco Billy (1980)
Eastwood is very entertaining as a low-rent entertainer, Bronco Billy, a man who always wanted to be a cowboy. As a filmmaker, Eastwood shows a surprising empathy for Billy and his desire to put on the best damn wild west show in the country. Clearly, Eastwood relates to Billy's need to please the crowd, because as goofy and mean as the titular figure gets, the director still celebrates his passion for showmanship. It's a better movie about show business than it is about romance, as Eastwood and Sondra Locke's odd couple never have too much spark between them in Bronco Billy, which is confounding considering they were a couple from 1975-1989 (Locke passed away in early November, unfortunately, though her death was only reported six weeks later).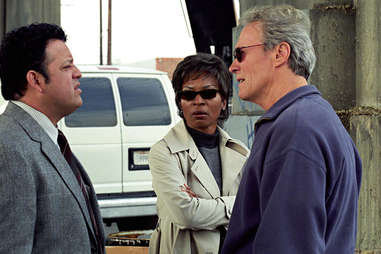 20. Blood Work (2002)
This thriller is the sort of solid B-movie entertainment tailor-made to be watched on TNT on a Sunday afternoon, though on further inspection it's a stranger and more overlooked Eastwood picture than you might expect. The actor has had plenty of romantic interests in otherwise action-packed movies, but never before the sister of a deceased woman whose heart is now pumping in his chest. Yes, you read that right: Eastwood falls in love with the sister of the woman who's kept him alive via a heart transplant. It's strangely unexplored idea in Brian Helgeland's quick and tight script, but it brings a peculiar personality to a routine but fun game of cat and mouse between an ex-cop and a killer. What makes Blood Work truly tick, though, is the pairing of Eastwood and Jeff Daniels. Those two simply talking in a car is enough to deliver some solid commercial fun.
19. Play Misty For Me (1971)
Not one of the all-time great directorial debuts, but it is a chilling, stylish thriller that's somehow both scary and laughable. Eastwood is hardly believable as a radio host, but he completely plays against type, of course being the toughest guy in the room. Eastwood is a total average Joe in Play Misty For Me -- to an extent, considering he's still Clint Eastwood -- and not always highly capable of defending himself from a stalker (Jessica Walter). This is one of few instances in Eastwood's career the audience isn't so confident his leading man will make it to the end. As a debut film, it doesn't show a whole lot of potential of what's to come for Eastwood, but there's no question it's worth watching for Eastwood completists, and for Jessica Walter's intense and memorable performance.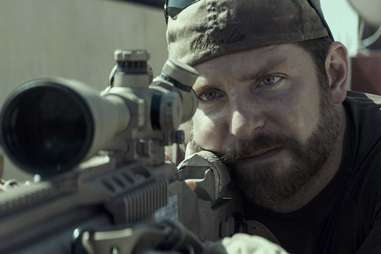 18. American Sniper (2014)
Chris Kyle is a classic Clint Eastwood character. A man people call a legend but is, at the end of the day, human. The deadliest sniper in American history, who was tragically killed in 2013, receives praise for actions he's always unsettled by. There's a grueling sequence Eastwood keeps cutting back to where the Navy Seal shoots a woman and child armed with an explosive, and the horror of it shows exactly how Eastwood and Kyle (the character) feel about war. It's hell. Eastwood doesn't shoot it as graphically as Saving Private Ryan or Platoon, but he conveys the trauma that Kyle experiences. Eastwood doesn't try to make any statements about the Iraq War, but instead puts his focus on portraying Kyle's point-of-view, which he more or less achieves. American Sniper does bite off a bit more Chris Kyle's story than it can chew, and yes, the fake baby is laughable and detracts from a feeling of authenticity, but it's hard to think too much about what doesn't work when Bradley Cooper's convincing transformation is on screen.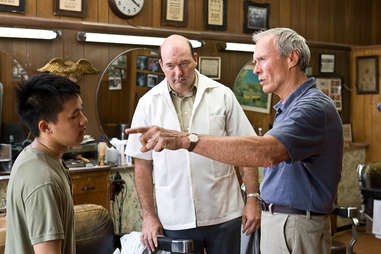 17. Gran Torino (2008)
Eastwood's white savior story -- he comes to the rescue a lot for his neighbors -- isn't a movie all that interested in meaningful conversations about race or the Hmong community. Taking into account it's from the point-of-view of Walt Kowalski, a pissed-off Korean War vet who basically hates everyone and spouts racist jokes and remarks, that's not surprising. Eastwood strives for simplicity in his work, which is maybe wrong for Gran Torino considering the racial nuances present, but he handles the heart of the story -- Kowalski's friendship with his young neighbor, Thao (Bee Vang) -- remarkably well, and at times with genuine care. On balance, this relationship helps Gran Torino succeed as a story about friendship. When Kowalski leaves Thao his cherished 1972 Gran Torino Sport, some awkward supporting performances and uncomfortable humor still in mind, Eastwood still gets the emotional reaction he wants.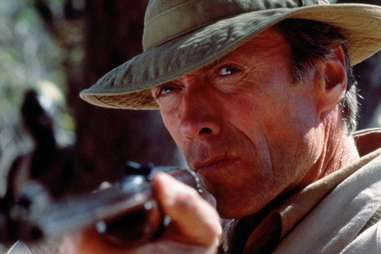 16. White Hunter, Black Heart (1990)
Eastwood has his sensitive movies and his machismo pictures, and White Hunter, Black Heart is one of the special handful that falls somewhere in the middle of those two sensibilities. As John Wilson, Eastwood stars as a truly larger-than-life stand-in for filmmaker John Huston, chronicling his crazed mission to shoot an elephant during the making of The African Queen. With White Hunter, Black Heart, at first Eastwood relishes Wilson's macho personality, but by the end, he reveals the ugliness of Wilson with a horrendous gut punch of violence. It's a story about a man who sees himself as hero of his own story and realizes far too late he's the villain, and somebody else pays the price for his arrogance. It's one of Eastwood's juicier arcs, which challenges and subverts the Hollywood legend's famous "man's man" persona, and ultimately is one of his more deconstructive films as a storyteller.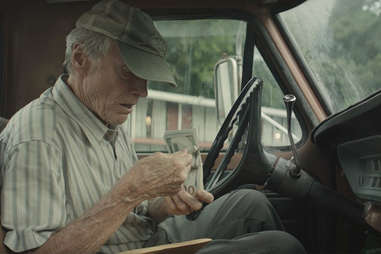 15. The Mule (2018)
Eastwood reunites with the screenwriter of Gran Torino, Nick Schenk, for the true story of a 90-year-old who's better at running drugs than he is at being there for his family. Funnily enough, The Mule is at its best when it's Eastwood out on the road and away from his ex-wife (Dianne Wiest), daughter (Alison Eastwood), and granddaughter (Taissa Farmiga). Many great actors aren't exciting enough to watch drive for long periods of time, but not Eastwood. Nobody has a face as distinctive and storied as his, especially at 88 years old, on the big screen and singing tunes from Dean Martin. He's as watchable as ever. The Mule moves at a surprisingly fast pace for an Eastwood picture, so when a cringe-inducing joke misses the mark or a scene rings false, the film remains lively with genuine suspense and colorful supporting performances from Andy Garcia and Bradley Cooper.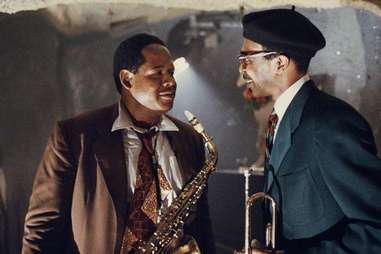 14. Bird (1988)
With good material and an even better actor, Eastwood can work his potent magic behind the camera, which he does again with Forest Whitaker -- who's stunning as famed jazz musician Charlie Parker (AKA "Yardbird," or simply "Bird"). The burning passion Whitaker expresses as the saxophonist, and the excitement Eastwood displays for his long-beloved jazz, makes Bird pop as one of Eastwood's more passionate movies. There's a lot of love for the act of creation, art, and performing. There's tremendous beauty in seeing this troubled artist -- struggling with depression and addiction -- through Eastwood's lens as he gets lost in his music. Just like Eastwood's other biopics, there's almost too much story for one movie in Bird, but Whitaker's magnetic presence means there are not too many lulls.
13. Changeling (2008)
One of Eastwood's most old-school but unconventional films as a director is Changeling. Usually, his protagonists solve their problems with guns, but in this true story, it's a battle of will and words. Changeling is a David vs. Goliath story about a remarkable hero, Christine Collins (Angelina Jolie), who stands up to the LAPD after they botch finding her kidnapped son. Collins -- along with another hero in the film, a preacher played with great empathy by John Malkovich -- fight the powers-that-be with their voices. These aren't the shoot first, ask questions later heroes Eastwood typically follows, so the characters are breaths of fresh air in his filmography and a much-needed change of pace. As bleak as the movie is, Christine Collins' fight for herself and other women still manages to inspire. She picks the biggest fight of her life when she's at her lowest following the loss of a child, and the admiration Eastwood shows for her courage is a reminder he doesn't only think men with guns are heroes.
12. The Gauntlet (1977)
If there is one ultimate Clint Eastwood macho B-movie, it's without question The Gauntlet, a fast-paced and action-packed road movie with a classic poster that does it justice. When hardened officer Ben Shockley (Eastwood) escorts Augustina Mally (Sondra Locke) from Vegas to Phoenix, their trip is packed with colorful characters and set pieces. The darkly comic chase movie gets its dark laughs from Eastwood and Locke, in one of their more memorable pairings, that gels nicely with the muscular action. The Gauntlet is an unabashed crowd-pleaser that doesn't dare to take itself too seriously.
11. Million Dollar Baby (2004)
The Best Picture winner may have the subtlety of a jackhammer, but hey, it's a sports movie, so who cares? What Million Dollar Baby delivers is the relationship between trainer Frankie Dunn (Eastwood) and his new boxer, Maggie Fitzgerald (Hilary Swank), to pull it at the heartstrings. Mission accomplished. Million Dollar Baby features one of the most intimate on-screen relationships Eastwood's ever played, and while he's played a few bad and regretful father figures in his career, those characters never reached the emotional heights of his character in this film. It's moving to watch, in this visually dark world of pain and regret, how much joy Frankie and Maggie bring each other. Million Dollar Baby works because the father-daughterly love between the two underdogs is painfully heartfelt and sincere.
10. Flags of Our Fathers (2006)
The first entry in Eastwood's ambitious pair of Iwo Jima films, which he shot back-to-back and released the same year, is horrific. In depicting the battle on the peak of the Pacific, where 2,000 Americans were killed in one day in March 1945, Eastwood shoots the fray like a nightmare -- the smoke and darkness at night are terrifying -- and conveys the chaos of it without a million handheld cameras and quick cutting. Both on and off the battlefield, Eastwood and longtime DP Tom Stern capture disturbing, atmospheric images. The night before the soldiers land on the island and raise the flag for Joe Rosenthal's famous photograph, the silence, the fog, and the way the camera floats around them: It's all a frightening calm before the storm. As exceptional as the filmmaking is, it's Adam Beach's devastating performance as Ira Hayes -- another classic Eastwood hero haunted by violence -- that elevates Flags of Our Fathers to top 10 Eastwood material.
9. Mystic River (2003)
This Best Picture-nominated Dennis Lehane adaptation is the greatest reminder on this list of the power Eastwood is capable of bringing out of actors. Yes, Sean Penn snarling and screaming, "Is that my daughter in there?" is unsettling, and probably what scored him his Oscar, but Eastwood always has the most to say with silence. What these Bostonian characters (Kevin Bacon and Tim Robbins) affected by the loss of Jimmy's daughter (Emmy Rossum) don't say is what Eastwood communicates with the greatest impact. That's not surprising, given the intense volumes Eastwood's silent heroes tend to speak, but a single shot of one of these all-star actors conveying loss or regret in Mystic River delivers hard blows. It's a devastating thriller from Eastwood.
8. Honkytonk Man (1982)
Eastwood hasn't made too many movies about artists. He's usually playing the exact opposite of sensitive or artistic souls, but he transforms rather beautifully in Honkytonk Man, a movie he himself admits is maybe the closest he's ever come to making a statement as a filmmaker. It's a road story between a singer (Eastwood) and his nephew that poses the question: How much of yourself are you willing to give up for your art? If this movie has Eastwood's answer, it's rather surprising and fascinating -- it's worth dying for. And it's worth dying for because you can live forever through your work, a conclusion that Honkytonk Man leaves its audience to ponder. While Eastwood hasn't directed overly personal movies like other lauded auteurs, Honkytonk Man is the movie that reveals the most about Clint Eastwood's identity as the artiste.
7. Letters from Iwo Jima (2006)
Letters from Iwo Jima and Flags of Our Fathers make each other better and more substantial movies in Eastwood's filmography, and watching them back-to-back is the best way to experience them. They tell an epic, morally complicated story together, not a simple tale of good and evil like many famous World War II films. Eastwood shows his true compassion with his palpable empathy for all of the soldiers on Iwo Jima, not just the American ones. More than 21,000 Japanese soldiers were killed on the island, some by their own hand, as Eastwood depicts in a horrific sequence impossible to shake. Visually, Letters from Iwo Jima is Eastwood's most poetic work, with more graceful nonlinear storytelling than Flags of Our Fathers. There are so many grand images, whether of the island or of a soldier's face, that tell a vivid story. There's a beauty to it, the island, and General Tadamichi Kuribayashi (a remarkable Ken Watanabe), that shows great respect for Japan and a deeper level of humanity in Eastwood
6. Bridges of Madison County (1995)
It's a movie so simple, yet so groundbreaking in Eastwood's filmography. The love story was a mega-hit for good reason: A genuine romance with Meryl Streep and Eastwood making fireworks together like only movie stars of their caliber can do. Eastwood disappears in a role like he never has before in his adaptation of Robert James Waller's book, an adaptation which Steven Spielberg produced and was originally going to direct. The personality of a sensitive artist is not at all what we associate with Eastwood, but he'll move you and break your heart as a National Geographic photographer who shares a brief but intense affair with an Iowa housewife (although some could argue it romanticizes infidelity a little too much). The image of the sternest man in cinema history, standing in the rain hopelessly in love, hits like bricks. Eastwood's rare vulnerability in Bridges of Madison Country is remarkable, and it's a vital performance in his career.
5. The Outlaw Josey Wales (1976)
"Dying ain't much of a living, boy."
Second to High Plains Drifter, The Outlaw Josey Wales is the hardest Eastwood ever went with one of his Westerns by showing more of the true horrors of the wild, wild west. When Eastwood takes his gloves off and isn't trying to please, he's a master at crafting an unsettling sequence that digs right under your skin. While Eastwood has sadly never directed a full-on horror, the brutality of his Westerns come close. When people look at Josey Wales with terror in their eyes, a single glance from Eastwood makes their fear believable. With the hard-hitting action, the pain Wales experiences after the death of his family, his classic one-liners, and a long, long list of memorable characters, The Outlaw Josey Wales is a fully packaged Western with some piercing rough edges.
4. Pale Rider (1985)
Perhaps the Eastwood film that holds up the best given the three-plus decades since its release, Pale Rider isn't the Man With No Name deconstructing the West (though we'll get to that). Instead, it's a very simple tale of the Preacher (Eastwood), a ghost who comes to the rescue of a defenseless mining town on the verge of hitting the big time or being run out by nefarious old miner Coy LaHood. Pale Rider is a movie that embraces its archetypes, familiarity, and classic themes rather than trying to dissect them or deviate from them like Unforgiven and The Outlaw Josey Wales. There's an exhilarating simplicity to Pale Rider: You love the hero, you hate the villains, and good defeats evil at the end of the day. It's an old yarn of heroes and villains Eastwood spins masterfully. When the filmmaker is firing on all cylinders, as he does with Pale Rider, he can deliver some awe-inspiring sequences. Try not to get the chills when the young female lead (Sydney Penny) speaks Revelation 6:8 -- "And I looked, and behold a pale horse: and his name that sat on him was Death, and Hell followed him" -- and Clint cuts to an epic low-angle shot of himself, looking like hell has indeed journeyed with him to deliver justice.
3. A Perfect World (1993)
Eastwood hasn't directed many conventionally entertaining or fast-paced movies in his career. He's crafted crowd-pleasers, yes, but very few with the sense of adventure, humor, and speed of his now 25-year-old overlooked classic, A Perfect World. Not enough people talk about this movie, or Kevin Costner's performance in it. From writer John Lee Hancock, who directed The Blind Side and The Founder, it's a road movie with convict Robert "Butch" Haynes (Costner) and young Phillip "Buzz" Perry (T.J. Lowther), who have an arc similar to the uncle and nephew in Honkytonk Man. Butch and the kidnapped kid's relationship roller coaster ride ranges from joy to fear to terror, making A Perfect World an epic journey, not so much in scope, but because of what Butch and Buzz experience together in Eastwood's dark coming-of-age tale.
2. High Plains Drifter (1973)
High Plains Drifter is the icon's most sadistic film, his epic nightmare vision of a Western, with its spectacularly horrific imagery and a bloody finale. Eastwood's unnamed character is a terrifying presence that leaves the whole town powerless against him, and it's mesmerizing. Many of Eastwood's performances have a sameness about them, but his sinister turn in his second film behind the camera gives him a chance to envelop himself in more mystery than usual. The story of Eastwood as an unforgiving killer gutting a town and its residents in his least audience-friendly movie is without question his most imaginative and wicked film.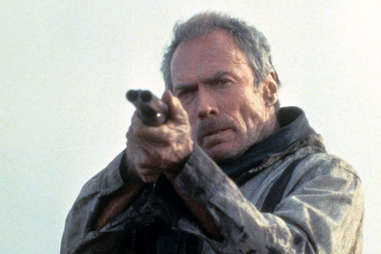 1. Unforgiven (1992)
How do you even begin to summarize what makes Unforgiven Eastwood's masterpiece? How about with the most obvious fact: After all the death and destruction he's caused on the big screen, Eastwood's sins come back to haunt him when he's an old and regretful gunslinger. As an actor and filmmaker, Eastwood does his most powerful and poignant work in Unforgiven, the one film that truly questions the cost and meaning of its violence. After years of audiences eating up Eastwood mowing down villains and henchmen with a twinkle in his eye, Unforgiven is a mighty reminder of how much Eastwood grew as a filmmaker and a human being, and you can see how much empathy he has developed as a director. Unforgiven embodies all of Eastwood's strengths, especially when William Munny (Eastwood) and Little Bill Daggett (Gene Hackman) go toe-to-toe. It's a showdown between two of the strongest forces in cinema, and their fight is essential to making Unforgiven Eastwood's magnum opus.
Sign up here for our daily Thrillist email and subscribe here for our YouTube channel to get your fix of the best in food/drink/fun.
Jack Giroux is a longtime contributor to
Slash Film
and
Film School Rejects,
and is based in Los Angeles
.