The Absolute Funniest Comedies on Netflix
Have a laugh.
If you're looking for a funny movie to give you a few laughs when you're spending a night in, Netflix is an oasis, offering a wide range of comedy classics and new releases. Whether you're a rom-com fan or tend toward frat-house humor, these are the best comedies on Netflix to put a smile on your face.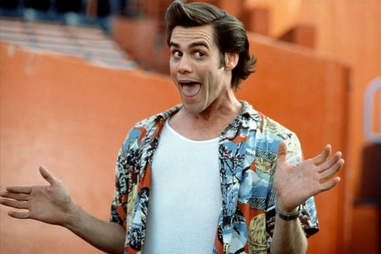 Warner Bros. Pictures
Ace Ventura: Pet Detective (1994)
Pet Detective is "problematic," putting it kindly, given that the plot hinges on an NFL kicker who goes so crazy that he transitions to a woman to exact revenge on Miami Dolphins quarterback Dan Marino for supposedly screwing up a game-winning kick in the Super Bowl. (Marino's return to the Super Bowl might actually be the most timeless joke in the whole movie.) And yet! This is the first feature film to announce from its opening scene that "Jim Carrey is a star," entering catchphrases like "Allllllrighty then" and "Loser... luh-HOO-zuh-HER" into the cultural lexicon, for better or worse. It was the remarkable controlled wackiness Carrey put on display during his In Living Color days that made a childish movie about a pet detective in search of the Miami Dolphins' stolen mascot work at all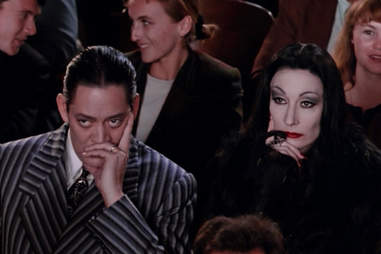 Paramount Pictures/Columbia Pictures
The Addams Family (1991)
"They're mysterious and spooky, they're altogether ooky, the Addams family!" You know the theme—you could do the snaps in your sleep—and you love that eccentric, ghastly family. The '90s franchise is undoubtedly the best cast to bring the Addams to life (or un-death) with Anjelica Huston as Morticia, Raul Julia as Gomez, Christina Ricci as Wednesday, and Christopher Lloyd as Gomez's long-lost brother Fester (or so the Addams think…). You ought to run from most house of horrors, but the good, scary fun of this Halloween favorite begs you to move in and become an honorary Addams family member.
Paramount Pictures
Airplane! (1980)
We're calling it: this is the funniest movie of all time. Devised by the jokesters behind The Naked Gun, this disaster movie spoof stuffs every second of runtime with a physical gag (The nun slapping a hysterical woman!), dimwitted wordplay ("Don't call me, Shirley"), an uncomfortable moment of odd behavior ("Joey, have you ever seen a grown man naked?"), or some other asinine bit. The rare comedy that demands repeat viewings, just to catch every micro-sized joke and memorize every line.
Doane Gregory/Netflix
Always Be My Maybe (2019)
One of the best entries in Netflix's ongoing attempt to dominate the romantic comedy genre, Always Be My Maybe pairs friends Ali Wong and Randall Park as Sasha and Marcus, pals from childhood who drifted apart after an awkward moment in their teens. (It involves the loss of virginity, a terrible car, and repressed emotions.) Sasha went on to be a successful chef, while Marcus was content living with his dad, playing in a band, and being a chill stoner. They're reunited when she moves back to the Bay Area, and their chemistry flares back up. Of course, it's not an easy path to romance, and one detour involves Keanu Reeves playing a keyed-up, obnoxious version of himself. It's worth watching just for the Keanu of it all, but Wong and Randall's ability to bounce off one another is just as charming.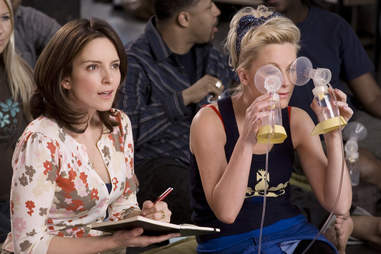 Universal Studios
Baby Mama (2008)
In SNL alum/besties Tina Fey and Amy Poehler's first joint feature film, Baby Mama, the two play total opposites who couldn't hate each other more. But because Tina Fey's career woman Kate's doctor just doesn't like her uterus, she enlists Poehler's party girl Angie as a surrogate to help her become a mother. Their personalities brought together for that life-changing event may seem like a recipe for disaster, but based on the duo's comedic chemistry, an unlikely, touching friendship helms this oddball comedy. It's always a joy seeing these two share the screen, especially when it seems like they're having a whole lot of fun with each other (see: the clubbing and karaoke scenes), which is what the entirety of Baby Mama feels like. 
USA Films
Being John Malkovich (1999)
You can't doubt the audacity of screenwriter Charlie Kaufman (Eternal Sunshine of the Spotless Mind, Anomalisa), whose first produced screenplay hinged on attracting the title actor to a script that has office drones discovering a portal into his mind for 15 minutes and dumped into a ditch on the New Jersey Turnpike when visiting time is up. John Cusack, Catherine Keener, and Cameron Diaz combine to create an atmosphere of desperate, egomaniacal darkness, and by the end you'll feel confused and maybe a little slimy about the times you've participated in celebrity gawking.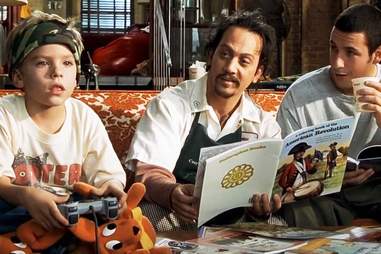 Sony Pictures Releasing
Big Daddy (1999)
While even early Adam Sandler hits had sentimental parts, there was usually a healthy dose of irony to go with the romantic-comedy beats and faux-inspirational moments. But with Big Daddy things got downright mawkish. While the movie has some hilarious lines—"We wasted the good surprise on you" still kills—this oaf-meets-cute-kid tale is mostly notable for a lengthy Sheryl Crowe-scored montage, a big Mrs. Doubtfire-style courtroom finale, and the welps of "Scuba Steve!" This was the first time Adam Sandler figured out he could make bros cry. Sadly, he's mostly used that power for evil ever since. 
Paramount Pictures
Boomerang (1992)
This Eddie Murphy rom-com is like a time capsule of Black Hollywood in 1992: Martin Lawrence! Eartha Kitt! Chris Rock! David Alan Grier! Everyone's there. The large cast of characters gives Boomerang plenty of laugh-out-loud moments—in particular, every second that Grace Jones' Strangé is on screen—but the romance all falls on young Halle Berry and her longing glances. Sure, you have to buy into the idea that Halle Berry is the "plain one" (because she has short hair, and Robin Givens has long hair), but once you take the mental leap, you'll be rooting for her to forgive Murphy's reformed rake at the end.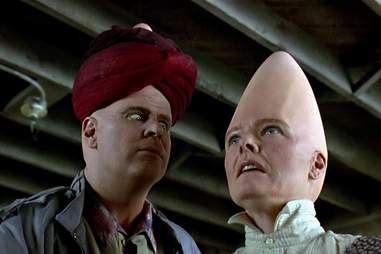 Paramount Pictures
Coneheads (1993)
Fresh off the success of Wayne's World, Lorne Michaels scoured the back catalogues of SNL for another potential hit. Coneheads maintains the legendary sketch's punchline—the Coneheads generally say 40 words when four would suffice, often with alien words inserted for English ones—and even when it grates at feature length, it has an all-star cast of SNL talent from past and present to bring it back down to Earth. This movie is amiable, but mostly just grabs you by the base of your snarglies and refuses to let go.
eOne Media
Death of Stalin (2018)
The verbose, scatological insult comedy of Armando Iannucci, the creator of HBO's long-running political satire Veep, somehow fits the backroom dealing of 1950s Soviet Union like a snug fur hat. When Stalin dies in the middle of the night, his middling underlings—including Nikita Khrushchev (Steve Buscemi), Georgy Malenkov (Jeffrey Tambor), and Vyacheslav Molotov (Michael Palin)—are left with organizing his state funeral and scurrying to consolidate power. The put-downs are as riotously funny as you'd expect—"You smell like rendered horse, you burning asshole!" deserves a ceremonial medal—but the silly physical comedy, particularly in the early scenes where the men discover Stalin's corpse, is even better. Iannucci remains a master of finding humor in the bleakest scenarios imaginable, exposing the petty human foibles behind history's greatest horrors.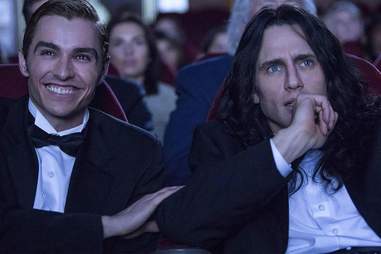 A24
The Disaster Artist (2017)
There are no half-measures with Tommy Wiseau, the failed actor/secret millionaire behind the notoriously awful cult drama The Room, and there are no half-measures in The Disaster Artist, James Franco's dramatic telling of the film's bizarre backstory. Franco goes full Daniel-Day-Lewis to become Wiseau, who latched onto his young, acting classmate Greg Sestero (Dave Franco) and drove them both to the hell of inert, overproduced, melodramatic movie-making. The arc of this movie is jaw-dropping: When Franco's Wiseau rolls up to LA for the first time, he unloads motivational-poster wisdom; when he arrives on The Room set for Day 1, he mutates into a hybrid of masochistic Hitchcock and coked-out Ozzy Osbourne; after his fallout with Greg, Wiseau takes on the mannerisms of a 6 year old. Most of the time we're laughing (maybe too much, to be honest). But true to Franco, who exists on the fringes of mainstream (and has lately come under fire over allegations of sexual misconduct), his take on Wiseau is a stark lampoon that defies every imaginable convention. "YOU ARE TEARING ME APART, LISA!" has never felt so... terrifying.
François Duhamel/Netflix
Dolemite Is My Name (2019)
Eddie Murphy has been waiting years to get this movie about comedian and blaxploitation star Rudy Ray Moore made, and you can feel his joy in finally getting to play this role every second he's on screen. The film, directed by Hustle & Flow's Craig Brewer, charts how Moore rose from record store employee, to successful underground comedian, to making his now-cult classic feature Dolemite by sheer force of passion. It's thrilling (and hilarious) to watch Murphy adopt Moore's Dolemite persona, a swaggering pimp, but it's just as satisfying to see the former SNL star capture his character at his lowest points. He's surrounded by an ensemble that matches his infectious energy.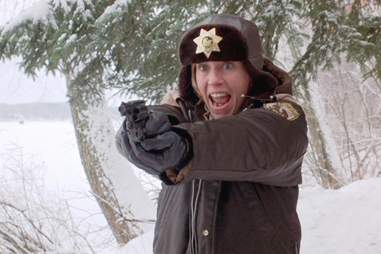 Gramercy Pictures
Fargo (1996)
The Coen brothers' 1996 classic has stood the test of time (and inspired the anthology TV show of the same name) for a reason. Stacked with a star-studded cast and infused with a dark sense of humor, this homespun murder story, about Jerry Lundegaard's (William H. Macy) clumsy crime goof, won't disappoint. It more than deserved the Oscars it received for best screenplay and best actress in a lead role—Frances McDormand, don'tcha know? If you've never seen it, ya gotta.
Universal Pictures
Hail, Caesar! (2016)
The Coen brothers' 1950s Hollywood period piece might sound too good to be true, as it has Tilda Swinton pulling double duty as identical twins and rivaling gossip columnists; George Clooney getting kidnapped in ancient Roman garb; Scarlett Johansson enjoying a Busby Berkeley moment; Jonah Hill flexing his very strong forearms; Channing Tatum singing and dancing; and Alden Ehrenreich stealing the spotlight in goofy fashion. But it really offers a delicious swirl of genres and stories, with a little something for every kind of viewer to enjoy.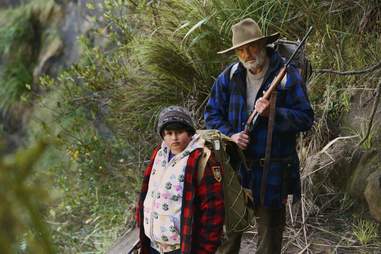 Piki Films/Madmen Entertainment
Hunt for the Wilderpeople (2016)
This New Zealand backwoods adventure roughs up every single coming-of-age cliché. Julian Dennison's Ricky is an absent-minded, hip-hop-obsessed, rebellious orphan. His grizzled foster father Hec (Sam Neill) would like nothing more than to ship the little [expletive] back to government care. When the two find themselves stranded in the woods, mistaken for on-the-lam criminals, they decide to own it. Wilderpeople is a generous genre blend, with Taika Waititi, director of the wacky, vampiric mockumentary What We Do in the Shadows and the best of the Marvel movies in Thor: Ragnarok, finding cheeky jokes in the duo's perilous journey. Backed by a synthy, horror-esque score and lush backdrops in the Kiwi bush, Wilderpeople is a wonderful, transportive comedy with a tenderness for its main characters.
A24
Lady Bird (2017)
The dizzying, frustrating, exhilarating rite of passage that is senior year of high school is the focus of actress Greta Gerwig's first directorial effort, the story of girl named Lady Bird (her given name, in that "it's given to me, by me") who rebels against everyday Sacramento, California life to obtain whatever it is "freedom" turns out to be. Laurie Metcalf is an understated powerhouse as Lady Bird's mother, a constant source of contention who doggedly pushes her daughter to be successful in the face of the family's dwindling economic resources. It's a tragic note in total complement to Gerwig's hysterical love letter to home, high school, and the history of ourselves.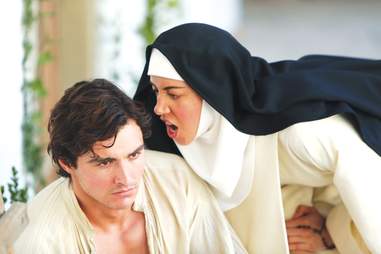 Gunpowder & Sky/Universal Pictures
The Little Hours (2017)
The nuns in The Little Hours are bad at being nuns. That's the basic premise here, and while it should probably only amount to a decent four-minute sketch, its cauldron of talent—Alison Brie, Dave Franco, Aubrey Plaza, John C. Reilly, Kate Micucci, Nick Offerman, and Molly Shannon among them—helps this low-budget, Middle Ages-set comedy find legs. Plaza brings the same unhinged ambition you might have loved in Mike and Dave Need Wedding Dates, and if you aren't already familiar with Micucci's manic brilliance, you're in for a treat. There are plenty of laughs to be had as she and her fellow emotionally unstable novitiates lust after a handsome servant-on-the-run (Franco) and experiment with "partying" and even witchcraft. Amid the borderline-offensive gags and the sacrilegious romance, The Little Hours still finds time to squeeze in jabs at powerful institutions that rely on blind faith. It's one of those times where the word "irreverent" really fits—it's gleeful irreverence. This one, with its ruthless energy, is a particularly good and wacky antidote for any bad week.
EMI Films
Monty Python and the Holy Grail (1975)
The legendary British comedy troupe took the legend of King Arthur and offered a characteristically irreverent take on it in their second feature film. It's rare for comedy to hold up this well, but the timelessness of lines like, "I fart in your general direction!" "It's just a flesh wound," and "Run away!" makes this a movie worth watching again and again.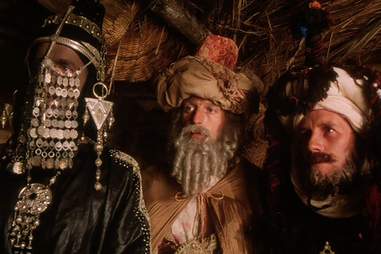 Orion Pictures/Warner Bros. Pictures
Monty Python's Life of Brian (1979)
Your parents may have tried to anoint you into watching good comedy by showing you Monty Python and the Holy Grail as a kid, but the much more adult Life of Brian might be even funnier. The British group made a divine, (un)holy movie with this one, following Brian of Nazareth, some guy who was also born on Christmas night, just next door to Jesus, and has to spend his life being mistaken for the messiah. From these masters of satire, it's equal parts slapstick and intelligent, presenting a silly set up ripe for jokes, as well as criticism of the church.
Sony Pictures Releasing
Mr. Deeds (2002)
If you can get over the chutzpah it took for Adam Sandler to cast himself as a modern-day Gary Cooper, this is actually one of his more digestible comedies. The "small-town yokel moves to the big city" narrative isn't really a good fit for Sandler's abrasive rageaholic schtick, but it was a smart choice to pair him with Winona Ryder as the love interest and stack the rest of the cast with fun performances from Peter Gallagher as the villain, Steve Buscemi as Crazy Eyes, and, in his first Sandler-verse appearance, John Turturro as a very, very sneaky butler.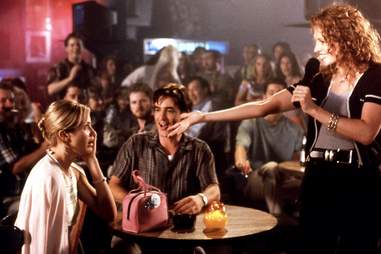 Tristar Pictures
My Best Friend's Wedding (1997)
In this upside-down version of a rom-com, the bitchy best friend trying to ruin the relationship of the happy couple is the star of the movie. One of the most triumphant scenes in all of film history is when Julia Roberts tries to humiliate Cameron Diaz by making her do karaoke (a moment those of us with terrible singing voices fear at our core), and instead, Diaz has the whole bar clapping and singing along. For the rest of the movie, we cheer for Diaz and the sadly boring Dermot Mulroney to live happily ever after, at first just to spite Roberts, and then because of how much their love for one another shines through.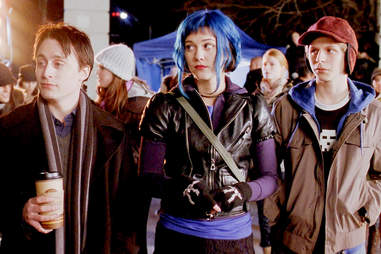 Universal Pictures
Scott Pilgrim vs. the World (2010)
Scott Pilgrim vs. the World isn't your average romantic comedy, with its comics-inspired ass kicking, super villainous ex-boyfriends, and not-so-great original garage band songs. While ridiculous, these oddities in a movie about a bass player (Michael Cera) on a quest to win the heart of a special Ramona Flowers by defeating her seven evil exes give the genre some much needed action. From director Edgar Wright (Baby Driver, Shaun of the Dead), the film is uniquely stylized and has the right amount of teenage flair to make it a cult classic. What's dreamier than a boy fighting evil exes from hell for the sake of love? 
Focus Features
A Serious Man (2009)
This 2009 dramedy from the Coen brothers stars Michael Stuhlbarg as Larry Gopnik, a Midwestern physics professor who just can't catch a break, whether it's with his wife, his boss, or his rabbi. (Seriously, if you're having a bad day, this airy flick gives you ample time to brood and then come to the realization that your life isn't as shitty as you think.)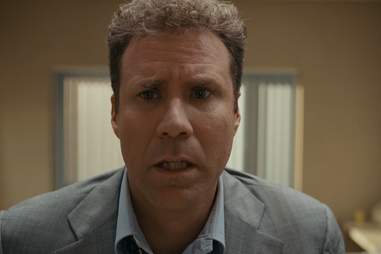 Columbia Pictures
Stranger Than Fiction. (2006)
Will Ferrell is a lot less Ron Burgundy and much more endearing in this comedy, playing your typical, monotonous I.R.S. auditor who… must defend his life to Emma Thompson, who is planning on killing him. Sort of. Centered around a Charlie Kaufman-like suspension of reality concept, Ferrell's character comes to the realization that he's the character in an author's (Thompson) latest work and she controls everything in his life, from his lunch and love life to his death. As he sets out to meet and stop her, this grim story turns out to be a surprisingly charming work about finding your way again once it seems you've lost yourself.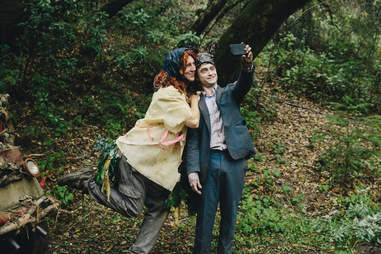 A24
Swiss Army Man (2016)
You might think a movie that opens with a suicidal man riding a farting corpse like a jet ski wears thin after the fourth or fifth flatulence gag. You would be wrong. Brimming with imagination and expression, the directorial debut of Adult Swim auteurs "The Daniels" wields sophomoric humor to speak to friendship. As Radcliffe's dead body springs back to life—through karate-chopping, water-vomiting, and wind-breaking—he becomes the id to Dano's struggling everyman, who is also lost in the woods. If your childhood backyard adventures took the shape of The Revenant, it would look something like Swiss Army Man, and be pure bliss.
Eddy Chen/Netflix
The Unauthorized Bash Brothers Experience (2019)
This really is the unauthorized Bash Brothers experience. Famed home-run hitters Jose Canseco and Mark McGwire, who buddied up on the Oakland Athletics in the '80s, never released a rap album together—and it's totally nonsensical to imagine they might've. So The Lonely Island turned that fantasy into a short film that's everything fans of the group could want and more. Andy Samberg is Canseco, Akiva Schaffer is McGwire, and for 30 minutes they deliver a bitchin', extremely '80s visual album with songs that are actually kind of a grand slam. Just watch it: It's a home run.
Columbia Pictures
Walk Hard: The Dewey Cox Story (2007)
Oscar-baiting musician biopics became so cookie-cutter by the mid-'00s that it was easy for John C. Reilly, Judd Apatow, and writer-director Jake Kasdan (Jumanji: Welcome to the Jungle) to knot them all together for the ultimate spoof. Dewey Cox is part Johnny Cash, part Bob Dylan, part Ray Charles, part John Lennon, part anyone-you-can-think-of, rising with hit singles, rubbing shoulders with greats of many eras, stumbling with eight-too-many drug addictions, then rising once again. When it comes to relentless wisecracking, Walk Hard is like a Greatest Hits compilation—every second is gold.
Need help finding something to watch? Sign up here for our weekly Streamail newsletter to get streaming recommendations delivered straight to your inbox.
Follow the Thrillist Entertainment editors on Twitter: @ThrillistEnt.