If you're looking for a funny movie to give you a few laughs when you're spending a night in, Netflix is an oasis, offering a wide range of comedy classics and new releases. Whether you're a rom-com fan or tend toward frat-house humor, these are the best comedies on Netflix to put a smile on your face.
Recommended Video
Viral Granny Rips Shots With Grandson, Gives Relationship Advice
Annie Hall (1977)
This psychoanalytic story of Brooklyn comedian Alvy Singer (Woody Allen) and his titular temporary love (Diane Keaton) breathed new life into the rom-com genre with its unconventionally less-than-rosy outcome and groundbreaking narrative devices (split frames, mental subtitles, camera-facing soliloquies, layered flashbacks). Fans and critics like to call this Oscar-winner Allen's very best movie, and it's certainly in the top three. It should be noted that Woody Allen has been accused of abusing his adopted daughter, though he was never prosecuted.  
Austin Powers: International Man of Mystery (1997)
Yeah, baby, yeah! There's no franchise that's quite as groovy as Austin Powers, the Mike Myers comedy about a sex-crazed, mod spy cryogenically frozen and reanimated in the '90s. It's an absolutely absurd James Bond sendup, but that's half the fun in watching him take on the villain Dr. Evil (also Mike Myers). If you find the London swinger with those teeth and Victorian lace ensembles as irresistible as apparently every woman on the planet, you can catch both the second and third installment on Netflix, too. Yes, please!
Always Be My Maybe (2019)
One of the best entries in Netflix's ongoing attempt to dominate the romantic comedy genre, Always Be My Maybe pairs friends Ali Wong and Randall Park as Sasha and Marcus, pals from childhood who drifted apart after an awkward moment in their teens. (It involves the loss of virginity, a terrible car, and repressed emotions.) Sasha went on to be a successful chef, while Marcus was content living with his dad, playing in a band, and being a chill stoner. They're reunited when she moves back to the Bay Area, and their chemistry flares back up. Of course, it's not an easy path to romance, and one detour involves Keanu Reeves playing a keyed-up, obnoxious version of himself. It's worth watching just for the Keanu of it all, but Wong and Randall's ability to bounce off one another is just as charming. 
Bachelorette (2012)
This criminally underrated, women-led raunchy comedy features every bride's worst nightmare when a group of bridesmaids (Kirsten Dunst, Lizzy Caplan, Isla Fisher) fuck up just about everything imaginable on the night before their friend's (Rebel Wilson) wedding. Apparently, that's what happens when you give important bridesmaid duties to your coked-out, former high school friends who low-key hate how happy you've become. What follows one very bad wedding-dress-involved mistake is an endless, horrible night of many other mistakes that are extremely cringe-inducing to watch, but with this solid ensemble cast, hilarious just the same.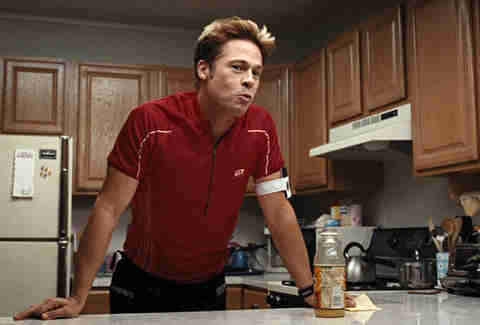 Burn After Reading (2008)
The Coens followed up their No Country for Old Men Best Picture win at the Oscars by turning sharply back to comedy. Burn After Reading is absurd and acerbic, a political hoopla revolving around a prized MacGuffin -- a CD containing government secrets! -- that isn't a MacGuffin at all. A gaggle of "serious" actors, most notably Brad Pitt, Tilda Swinton, John Malkovich, and Coen stalwarts Frances McDormand and George Clooney, shoot for the stratosphere as they weave through the mad, mad, mad, mad world of Washington, DC. And because this is a Coen brothers movie, blood spills freely as everyone from personal trainers to CIA spies sink deeper and deeper into confusion. An ode to empowered idiocy, complete with a dildo chair.
Dumb and Dumber (1994)
As the title suggests, this slapstick '90s favorite is incredibly stupid. BUT, it's also the comedy that officially turned Jim Carrey into a comedy mega-star. The buddy movie about idiotic pals Lloyd (Carrey) and Harry (Jeff Daniels) on a cross-country adventure remains a classic for its childish bits and oft-quoted lines, so it's always worth a re-watch if you need to feel like a dumb teenager again. 
The Edge of Seventeen (2016)
As romanticized as adolescence can be, it's hard being young. Following the high school experience of troubled, overdramatic Nadine (Hailee Steinfeld), The Edge of Seventeen portrays the woes of adolescence with a tender, yet appropriately cheeky tone. As if junior year isn't hellish enough, the universe essentially bursts into flames when Nadine finds out her best friend is dating her brother; their friendship begins to dissolve, and she finds the only return on young love is embarrassment and pain. That may all sound like a miserable premise for a young-adult movie, except it's all painfully accurate, making it endearingly hilarious -- and there's so much to love about Steinfeld's self-aware performance. 
The 40-Year-Old Virgin (2005)
Not every part of Judd Apatow's debut feature has aged well, but the central performance from Steve Carell, who also co-wrote the script with Apatow, remains one of the funniest star-making turns of all time. As Andy Stitzer, an action-figure collecting employee at an electronics store who has never had sex, he exudes befuddlement, awkwardness, and kindness in every interaction. Between all the gross-out gags, it's the film's startling sweetness that makes it a classic.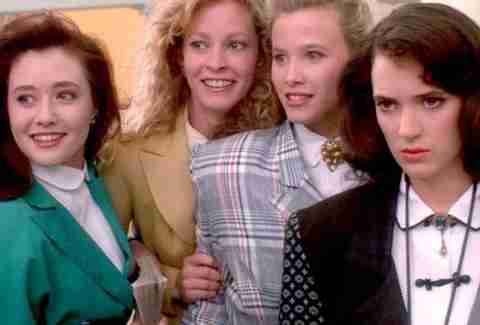 Heathers (1988)
If it weren't for Heathers, the darkest of pitch-black teen comedies, there'd be no Mean Girls. A young Winona Ryder stars as Veronica, the precocious high schooler tasked with taking down a clique comprised of Heathers Duke, McNamara, and Chandler from the inside. Veronica gets help, though -- from a smoldering Christian Slater as ultimate bad boy J.D. What follows is acerbic and absurd, and left an undeniable mark on the teen pop culture that followed.
Hot Fuzz (2007)
Shaun of the Dead spoofers Edgar Wright and Simon Pegg set their sights on bumbling police officers trying to solve a murder in a small English town. The duo watched countless buddy-cop flicks to fully satirize the genre, and it paid off, with laughably bad chase sequences and uproarious slapstick gags. They prove how much fun action movies can be when they lighten up a little (OK, a lot). Remember: it's not murder, it's ketchup.
Masterminds (2016)
This long-delayed heist farce from director Jared Hess (Napoleon Dynamite) finally came out... and critics didn't go for it. But Masterminds is must-see for fans of Kate McKinnon, Kristen Wiig, and Zach Galifianakis, filled with no shortage of surreality and so-dumb-it's-fun humor to offset the unfortunate tale of David Ghantt, idiot bank supervisor. In other words: Come for the robbery antics, stay for the bizarre turns, like these insane engagement pics.
Monty Python and the Holy Grail (1975)
The legendary British comedy troupe took the legend of King Arthur and offered a characteristically irreverent take on it in their second feature film. It's rare for comedy to hold up this well, but the timelessness of lines like, "I fart in your general direction!" "It's just a flesh wound," and "Run away!" makes this a movie worth watching again and again. 
Pineapple Express (2008)
Franco, Rogen, an entire action/comedy flick about a strain of weed called Pineapple Express -- need we say more? This movie from David Gordon Green (Eastbound & Down) is the ultimate stoner movie, seeing longtime buddies Seth Rogen and James Franco as an average dude named Dale (Rogen) and his extremely lazy weed dealer Saul (Franco) on the run after witnessing a crime; and their rare strain of tropical, hypnotic Pineapple Express is the sole piece of evidence leading violent criminals back to them. You will laugh constantly, even if these legitimate action sequences are no joke, making it one of this comedy duo's best. Just don't watch it if you're feeling too paranoid, because this is a jacked up, over-the-top action adventure in the best way possible. 
Snatch (2000)
Guy Ritchie's 2000 crime-comedy employs a stacked ensemble cast: Benicio del Toro, Dennis Farina, Alan Ford, Jason Statham, Lennie James, a dog, and Brad Pitt -- the last of who gets to play a lighter version of his Fight Club persona. Among a swirl of juggled narrative threads that includes bookies, boxers, gangsters, and jewelers, lies a priceless stone, the object of everybody's affection. Just beware: Thick accents abound.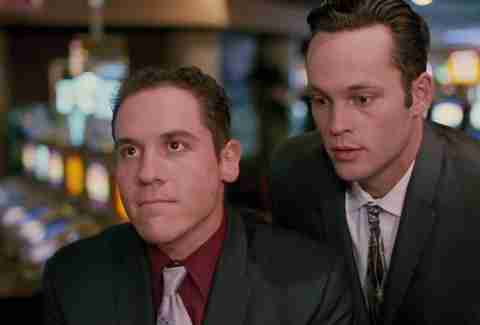 Swingers (1996)
This movie is so money. It's so money it doesn't even know it. Tell us this movie about single actors in Hollywood's eastside isn't money. It's money! So money.
Wedding Crashers (2005)
The idea of turning two horndog wedding crashers, who hook up with women in montage and demonstrate base-level gay panic, into the redeemable heroes of a major studio comedy is a little backwards in the modern age. But man, every line of the extremely R-rated Wedding Crashers is a hoot. "Death, you are my b*tch lover."
Wet Hot American Summer (2001)
With the arrival of last year's hilarious Netflix miniseries, First Day of Camp, it's easy to forget that Wet Hot American Summer wasn't always a beloved comedy classic. The movie initially flopped, making less than $1 million in theaters, and earned some brutally dismissive reviews. You know who saved this movie? Stoned nerds, mostly. How else can you explain the iconic status of a movie that features a scene where the dude from Law & Order: SVU talks to a can of vegetables voiced by H. Jon Benjamin? There's no other explanation.