If you're looking for a funny movie to give you a few laughs when you're spending a night in, Netflix is an oasis, offering a wide range of comedy classics and new releases. Whether you're a rom-com fan or tend toward frat-house humor, these are the best comedies on Netflix to put a smile on your face.
Recommended Video
Why You Should Go See 'Glass' This Weekend
Bachelorette (2012)
This criminally underrated, women-led raunchy comedy features every bride's worst nightmare when a group of bridesmaids (Kirsten Dunst, Lizzy Caplan, Isla Fisher) fuck up just about everything imaginable on the night before their friend's (Rebel Wilson) wedding. Apparently, that's what happens when you give important bridesmaid duties to your coked-out, former high school friends who low-key hate how happy you've become. What follows one very bad wedding-dress-involved mistake is an endless, horrible night of many other mistakes that are extremely cringe-inducing to watch, but with this solid ensemble cast, hilarious just the same.
The Big Lebowski (1998)
The Coen Brothers' cult classic features some of their most memorable symbols, lines, and characters: the rug ("it really tied the room together"). The White Russians. The cardigan. "Nobody fucks with the Jesus." The gutterballs. "Shut the fuck up, Donny!" And, of course, Jeff Bridges' ever-abiding Dude, "or, uh, His Dudeness, or uh, Duder, or El Duderino, if you're not into the whole brevity thing." Since its release, The Big Lebowski has become an ur-text for stoner-slackers everywhere. While the plot -- inspired by the complex noirs of Raymond Chandler -- is deliberately impenetrable, don't let narrative logic bog down the fun.
The Breakfast Club (1985)
One of the greatest coming-of-age films of all time, John Hughes iconic The Breakfast Club brings together a high school bad boy, jock, nerd, prep, and oddball who seemingly have nothing in common except for the fact that they've got to spend their Saturday together in detention. There, each one of them is made to write an essay about who they think they are, and in doing so, come together, learning more about themselves and others they assumed to know everything about. It's a classic Brat Pack flick featuring a legendary young ensemble cast, and its screenplay stands the test of time.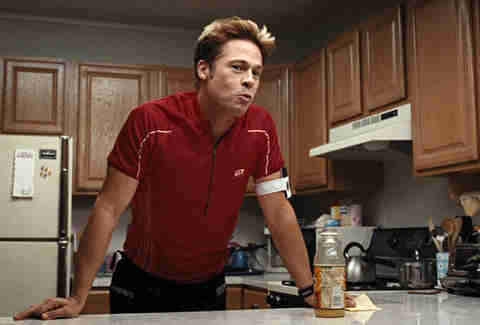 Burn After Reading (2008)
The Coens followed up their No Country for Old Men Best Picture win at the Oscars by turning sharply back to comedy. Burn After Reading is absurd and acerbic, a political hoopla revolving around a prized MacGuffin -- a CD containing government secrets! -- that isn't a MacGuffin at all. A gaggle of "serious" actors, most notably Brad Pitt, Tilda Swinton, John Malkovich, and Coen stalwarts Frances McDormand and George Clooney, shoot for the stratosphere as they weave through the mad, mad, mad, mad world of Washington, DC. And because this is a Coen brothers movie, blood spills freely as everyone from personal trainers to CIA spies sink deeper and deeper into confusion. An ode to empowered idiocy, complete with a dildo chair.
Drinking Buddies (2013)
This understated romantic comedy from mumblecore master Joe Swanberg centers on the intimate relationship between hard-drinking brewery colleagues Jake Johnson and Olivia Wilde, who both also happen to be dating other people (Anna Kendrick and Ron Livingston, respectively). The two relationships get progressively entangled over the course of the film. Although Drinking Buddies starts out looking like a traditional rom-com, Swanberg quickly subverts viewer expectations, resulting in a film that is romantic but surprisingly devoid of sap, funny without falling back on cheap gags. This is a movie that moves along in small moments: a lingering glance, an awkward silence, a stolen kiss. A crisp, refreshing little film.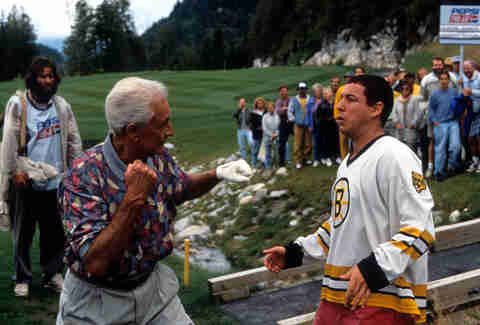 Happy Gilmore (1996)
Adam Sandler has returned to the dude-friendly, cliche-filled sports movie well over the years, but this slobs vs. snobs comedy about a hockey player-turned-golf pro earns its gold jacket. It's got the funniest cameos (God bless Bob Barker), the most lovable sidekick (RIP Chubbs), the best villain (Christopher McDonald's sniveling Shooter McGavin), and even the product placement for Subway is funny ("Talk about a hole in one!"). Two decades of people incessantly quoting the movie out on the links still can't zap this thing of its long-drive-hitting, magical power.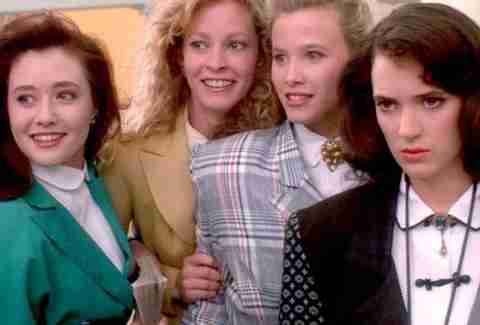 Heathers (1988)
If it weren't for Heathers, the darkest of pitch-black teen comedies, there'd be no Mean Girls. A young Winona Ryder stars as Veronica, the precocious high schooler tasked with taking down a clique comprised of Heathers Duke, McNamara, and Chandler from the inside. Veronica gets help, though -- from a smoldering Christian Slater as ultimate bad boy J.D. What follows is acerbic and absurd, and left an undeniable mark on the teen pop culture that followed.
Hot Fuzz (2007)
Shaun of the Dead spoofers Edgar Wright and Simon Pegg set their sights on bumbling police officers trying to solve a murder in a small English town. The duo watched countless buddy-cop flicks to fully satirize the genre, and it paid off, with laughably bad chase sequences and uproarious slapstick gags. They prove how much fun action movies can be when they lighten up a little (OK, a lot). Remember: it's not murder, it's ketchup.
I Love You, Man (2009)
Paul Rudd's Peter realizes he's in a predicament once he gets engaged: He has no friends, and therefore, no best man. While unfortunate for Peter, the simple premise is a hilarious set-up for this comedy from John Hamburg (Meet the Parents, Along Came Polly). Once Peter sets his eyes on the free spirited Sydney (Jason Segel) as a potential bestie, a beautiful bromance is born -- one of sweet, sweet bass slappin', scooter riding, and day drinking. Rudd is endearing, Segel's ridiculous, Venice Beach bum Sydney is hilarious, and together, they have indisputable chemistry. You'll be dying to be a third wheel in their burgeoning friendship.
Jackass: Number Two (2006)
What Johnny Knoxville, Bam Margera, Chris Pontius, Steve-O, the rest of the Jackass gang do to their bodies is art, dammit. Number Two cemented that fact. From riding a giant rocket to drinking horse semen to a "human bungee" experiment to attaching a bloodsucking leech to a bare eyeball, the crew, under the guidance of director Jeff Tremaine, exhibit the raw idiocy required to answer man's greatest questions.
Masterminds (2016)
This long-delayed heist farce from director Jared Hess (Napoleon Dynamite) finally came out... and critics didn't go for it. But Masterminds is must-see for fans of Kate McKinnon, Kristen Wiig, and Zach Galifianakis, filled with no shortage of surreality and so-dumb-it's-fun humor to offset the unfortunate tale of David Ghantt, idiot bank supervisor. In other words: Come for the robbery antics, stay for the bizarre turns, like these insane engagement pics.
National Lampoon's Animal House (1978)
Food fight! John Belushi's iconic college co-ed "Bluto" Blutarsky is commemorated on posters and T-shirts at universities far and wide, and with good reason: His merry band of misfits flips the made-up Faber College's classic fraternity ideal on its ass. The measures their Delta House takes to save their charter are, to paraphrase Otter (Tim Matheson), futile, stupid, and pee-in-your-pants funny. Watching them topple their clean-cut Omega rivals through toga parties and horse abductions will crack up even the meanest dean.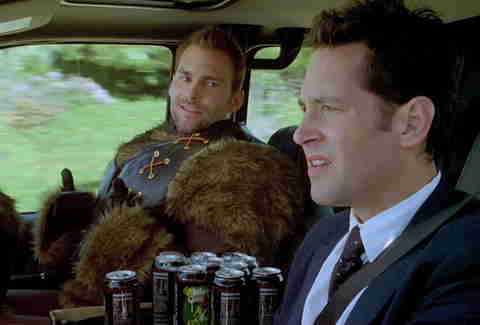 Role Models (2008)
Paul Rudd and Seann William Scott play two energy drink rep bros in this comedy that puts the characters' destructive behavior to the test when they're forced to enroll in a Big Brother program as community service after being arrested following an altercation with their energy drink-mobile. Rather than throwing back more of their jacked up drinks and smoking on the side, the two are forced to mentor a fantasy live-action-role-playing tween and an inappropriate, loud-mouthed little boy. The crude comedy leans on the wild behavior of the lead "role models" to make for a hilarious unlikely mentorship flick, and even between raunchy bits, there's a handful of brotherly heart.
Sixteen Candles (1984)
John Hughes' seminal Molly Ringwald romance set the template for every high school rom-com that followed. The eve of Samantha's 16th birthday -- and her big sister's wedding day -- is jam-packed with every trauma imaginable, but the cringes are grounded in sincere comedy. The film also features a career-making performance from Anthony Michael Hall as the freshman nerd trying to score big; basically, it's '80s teenage comedic gold, and a timeless coming-of-age masterpiece.
Stripes (1981)
This slacker comedy, which features a clever script co-written by star Harold Ramis, might be the best of Bill Murray's early comedies. If you avoid the fact that the plot runs out of steam a little bit down the home stretch, this tale of two best friends who join the Army because they have nothing better to do is a low-key blast. Director Ivan Reitman, who also directed Murray in Meatballs, is smart enough to keep things focused on his charismatic star, who was fresh off his SNL run and basically riffs his way through the whole movie.
Sign up here for our daily Thrillist email, and get your fix of the best in food/drink/fun.