The Absolute Funniest Comedies on Netflix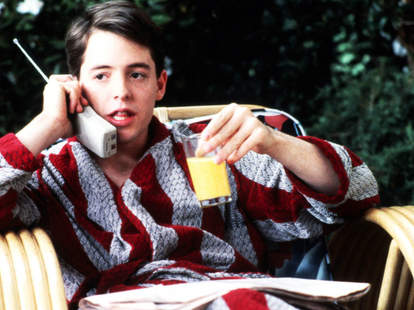 If you're looking for a funny movie to give you a few laughs when you're spending a night in, Netflix is an oasis, offering a wide range of comedy classics and new releases. Whether you're a rom-com fan or tend toward frat-house humor, these are the best comedies on Netflix to put a smile on your face.
Doane Gregory/Netflix
Always Be My Maybe (2019)
One of the best entries in Netflix's ongoing attempt to dominate the romantic comedy genre, Always Be My Maybe pairs friends Ali Wong and Randall Park as Sasha and Marcus, pals from childhood who drifted apart after an awkward moment in their teens. (It involves the loss of virginity, a terrible car, and repressed emotions.) Sasha went on to be a successful chef, while Marcus was content living with his dad, playing in a band, and being a chill stoner. They're reunited when she moves back to the Bay Area, and their chemistry flares back up. Of course, it's not an easy path to romance, and one detour involves Keanu Reeves playing a keyed-up, obnoxious version of himself. It's worth watching just for the Keanu of it all, but Wong and Randall's ability to bounce off one another is just as charming. 
New Line Cinema
Austin Powers: International Man of Mystery (1997)
Yeah, baby, yeah! There's no franchise that's quite as groovy as Austin Powers, the Mike Myers comedy about a sex-crazed, mod spy cryogenically frozen and reanimated in the '90s. It's an absolutely absurd James Bond sendup, but that's half the fun in watching him take on the villain Dr. Evil (also Mike Myers). If you find the London swinger with those teeth and Victorian lace ensembles as irresistible as apparently every woman on the planet, you can catch both the second and third installment on Netflix, too. Yes, please!
Columbia Pictures
Bad Boys (1995)
Michael Bay jumped from music video and commercial directing to the big leagues with Will Smith and Martin Lawrence's buddy-cop movie. The vehicle restrained him, thank God. Through the disruptive Burnett and Lowrey, Bay's knack for extravagance, vulgarity, and fetishized masculine physicality could shine. When we think of badass, we think of Smith and Lawrence guns a-blazin', rolling through an explosion to escape a sunset shootout. There's heat, there's grime, there's Smith rattling off F-bombs like a swear-word Gatling gun. Bay's career is defined by excess, a bespoke look for Bad Boys.
eOne Media
Death of Stalin (2018)
The verbose, scatological insult comedy of Armando Iannucci, the creator of HBO's long-running political satire Veep, somehow fits the backroom dealing of 1950s Soviet Union like a snug fur hat. When Stalin dies in the middle of the night, his middling underlings -- including Nikita Khrushchev (Steve Buscemi), Georgy Malenkov (Jeffrey Tambor), and Vyacheslav Molotov (Michael Palin) -- are left with organizing his state funeral and scurrying to consolidate power. The put-downs are as riotously funny as you'd expect -- "You smell like rendered horse, you burning asshole!" deserves a ceremonial medal -- but the silly physical comedy, particularly in the early scenes where the men discover Stalin's corpse, is even better. Iannucci remains a master of finding humor in the bleakest scenarios imaginable, exposing the petty human foibles behind history's greatest horrors.
François Duhamel/Netflix
Dolemite Is My Name (2019)
Eddie Murphy has been waiting years to get this movie about comedian and blaxploitation star Rudy Ray Moore made, and you can feel his joy in finally getting to play this role every second he's on screen. The film, directed by Hustle & Flow's Craig Brewer, charts how Moore rose from record store employee, to successful underground comedian, to making his now-cult classic feature Dolemite by sheer force of passion. It's thrilling (and hilarious) to watch Murphy adopt Moore's Dolemite persona, a swaggering pimp, but it's just as satisfying to see the former SNL star capture his character at his lowest points. He's surrounded by an ensemble that matches his infectious energy.
STX Entertainment
The Edge of Seventeen (2016)
As romanticized as adolescence can be, it's hard being young. Following the high school experience of troubled, overdramatic Nadine (Hailee Steinfeld), The Edge of Seventeen portrays the woes of adolescence with a tender, yet appropriately cheeky tone. As if junior year isn't hellish enough, the universe essentially bursts into flames when Nadine finds out her best friend is dating her brother; their friendship begins to dissolve, and she finds the only return on young love is embarrassment and pain. That may all sound like a miserable premise for a young-adult movie, except it's all painfully accurate, making it endearingly hilarious -- and there's so much to love about Steinfeld's self-aware performance. 
Paramount Pictures
Ferris Bueller's Day Off (1986)
"Nine times." That's both a quote from this John Hughes classic, and the answer to the question: "What is the minimum number of times everyone should be required to watch this movie?" Even if you're well out of your school years, Ferris' truant exploits will give you the urge to blow of work and follow the film's tagline: Leisure Rules. Just maybe ask before you "borrow" your friend's vintage Ferrari and set out to make your boss' life a living hell when he tries to call you on your unauthorized day off.
IFC Films
Frances Ha (2012)
Before winning hearts and Oscar nominations with her coming-of-age comedy Lady Bird, Greta Gerwig starred in the perfect companion film, about an aimless 27-year-old who hops from New York City to her hometown of Sacramento to Paris to Poughkeepsie and eventually back to New York in hopes of stumbling into the perfect job, the perfect relationship, and the perfect life. Directed by Noah Baumbach (Marriage Story), and co-written by both, Frances Ha is a measured look at adult-ish life captured the kind of intoxicating black and white world we dream of living in.
Columbia Pictures
Groundhog Day (1993)
Try not to fall into a super-cynical slump while watching this Bill Murray comedy classic. Harold Ramis' award-winning flick sends Murray's weatherman to Punxsutawney, PA, where he reports on the town's titular festivities, enters a time loop, straightens out his life priorities, and tries to court Andie MacDowell. It's a hilarious '90s gem that has Murray transitioning from his shit-disturber film phase to his more world-weary one (also: a blessing in the form of under-appreciated actor Stephen Tobolowsky).
EMI Films
Monty Python and the Holy Grail (1975)
The legendary British comedy troupe took the legend of King Arthur and offered a characteristically irreverent take on it in their second feature film. It's rare for comedy to hold up this well, but the timelessness of lines like, "I fart in your general direction!" "It's just a flesh wound," and "Run away!" makes this a movie worth watching again and again. 
Paramount Pictures
The Naked Gun (1988)
The short-lived Dragnet TV spoof Police Squad! found a second life as The Naked Gun action-comedy movie franchise, and the first installment goes all in on Airplane! co-star Leslie Nielsen's brand of straight-laced dementia. Trying to explain The Naked Gun only makes the stupid sound stupider, but keen viewers will find jokes on top of jokes on top of jokes. It's the kind of movie that can crack "nice beaver," then pass a stuffed beaver through the frame and actually get away with it. Nielsen has everything to do with it; his Frank Drebin continues the grand Inspector Clouseau tradition in oh-so-'80s style.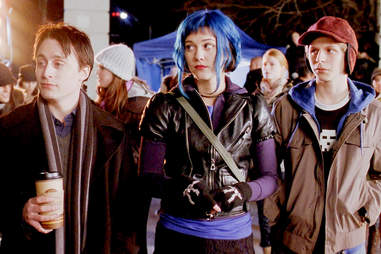 Universal Pictures
Scott Pilgrim vs. the World (2010)
Scott Pilgrim vs. the World isn't your average romantic comedy, with its comics-inspired ass kicking, super villainous ex-boyfriends, and not-so-great original garage band songs. While ridiculous, these oddities in a movie about a bass player (Michael Cera) on a quest to win the heart of a special Ramona Flowers by defeating her seven evil exes give the genre some much needed action. From director Edgar Wright (Baby Driver, Shaun of the Dead), the film is uniquely stylized and has the right amount of teenage flair to make it a cult classic. What's dreamier than a boy fighting evil exes from hell for the sake of love?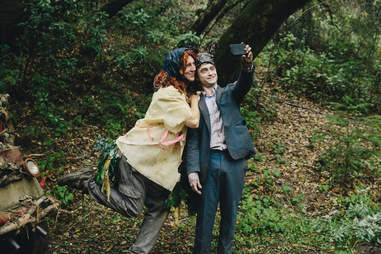 A24
Swiss Army Man (2016)
You might think a movie that opens with a suicidal man riding a farting corpse like a jet ski wears thin after the fourth or fifth flatulence gag. You would be wrong. Brimming with imagination and expression, the directorial debut of Adult Swim auteurs "The Daniels" wields sophomoric humor to speak to friendship. As Radcliffe's dead body springs back to life -- through karate-chopping, water-vomiting, and wind-breaking -- he becomes the id to Dano's struggling everyman, who is also lost in the woods. If your childhood backyard adventures took the shape of The Revenant, it would look something like Swiss Army Man, and be pure bliss.
Columbia Pictures
Tootsie (1982)
Tootsie isn't just that movie with Dustin Hoffman in drag. It's one of the smartest, most sincere comedies ever, and was way ahead of it's time. Hoffman plays down-on-his luck actor Michael Dorsey who comes up with an alter-ego, Dorothy Michaels, in order to land a role on a TV soap. While it quickly brings him the success he was looking for, it introduces a whole slew of problems when he falls for his co-star (Jessica Lange) and men on set are desperate for his attention without knowing his true identity. The movie allows Hoffman to flex his genius, everyone from Jessica Lange to Bill Murray in the supporting cast is a scene stealer, and its commentary on gender remains relevant. The flick's a certified classic. 
Paramount Pictures
Young Adult (2011)
Mavis Gary, the protagonist of Jason Reitman's acerbic dark comedy Young Adult, is a jerk. She's got a drinking problem, a failed marriage, an unfulfilling career as a ghostwriter, and a tendency to greet every person she meets on a trip back to her hometown with barely concealed contempt. And, yet, Charlize Theron's clever performance and Diablo Cody's sharp script make you understand Mavis' plight without sacrificing the bitterness that makes her such a captivating character. It's a high-wire act that the movie nails in its brisk runtime. By the end, you might not want to hang out with Mavis, but you at least know where she's coming from.
Need help finding something to watch? Sign up here for our weekly Streamail newsletter to get streaming recommendations delivered straight to your inbox.
Follow the Thrillist Entertainment editors on Twitter: @ThrillistEnt.