The Absolute Funniest Comedies on Netflix
Unwind with these hilarious films.
If you're looking for a funny movie to give you a few laughs when you're spending a night in, Netflix is an oasis, offering a wide range of comedy classics and new releases. Whether you're a rom-com fan or tend toward frat-house humor, these are the best comedies on Netflix to put a smile on your face.
ALSO READ: The best romantic comedies on Netflix and the funniest TV shows on Netflix
Always Be My Maybe (2019)
One of the best entries in Netflix's ongoing attempt to dominate the romantic comedy genre, Always Be My Maybe pairs friends Ali Wong and Randall Park as Sasha and Marcus, pals from childhood who drifted apart after an awkward moment in their teens. (It involves the loss of virginity, a terrible car, and repressed emotions.) Sasha went on to be a successful chef, while Marcus was content living with his dad, playing in a band, and being a chill stoner. They're reunited when she moves back to the Bay Area, and their chemistry flares back up. Of course, it's not an easy path to romance, and one detour involves Keanu Reeves playing a keyed-up, obnoxious version of himself. It's worth watching just for the Keanu of it all, but Wong and Randall's ability to bounce off one another is just as charming.
Bad Trip (2021)
There are hidden camera pranks meant to embarrass or provoke the prankee to the point that they're practically forced to react out of an animalistic type of anger, and then there are the others that are simply there to capture everyday human behavior in the face of absolute absurdity. Bad Trip, the logical extension of the unpredictable gags featured on The Eric Andre Show, is the latter, even in its most egregiously ridiculous stunts. With the narrative backbone of Chris Carey (Eric Andre) and Bud Malone (Lil Rel Howery) road tripping from Florida to New York to pursue Chris's unrequited love (Michaela Conlin) in Bud's sister Trina's (Tiffany Haddish) hot pink car, the cast ingeniously use the film's interpersonal conflicts to engage the people they encounter along the way, soliciting advice, asking for help, and bonding with generally receptive locals from the Deep South up to New Jersey. The result is a hilarious and lighthearted take on the genre from Jackass producer Jeff Tremaine, The Eric Andre Show's director Kitao Sakurai, some very funny comedians, and the demented meme king of goofing around.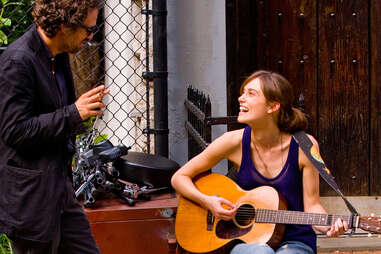 Begin Again (2013)
Keira Knightley stars as Gretta, an expat singer-songwriter trying to make it big in NYC after her douchebag boyfriend and writing partner (Adam Levine) ditches her for stardom. Mark Ruffalo plays Dan, the washed-up record executive who pushes Gretta to record a solo album. Together, they decide to create a make-shift album that's recorded in single takes around the city, capturing whatever sounds and stand-in musicians they can get. Coming from John Carney, the thoughtful filmmaker behind titles like Once and Sing Street, it's a feel-good movie with a soundtrack stacked with standout original songs.
Dolemite Is My Name (2019)
Eddie Murphy waited for years to get this movie about comedian and blaxploitation star Rudy Ray Moore made, and you can feel his joy in finally getting to play this role every second he's on screen. The film, directed by Hustle & Flow's Craig Brewer, charts how Moore rose from record store employee, to successful underground comedian, to making his now-cult classic feature Dolemite by sheer force of passion. It's thrilling (and hilarious) to watch Murphy adopt Moore's Dolemite persona, a swaggering pimp, but it's just as satisfying to see the former SNL star capture his character at his lowest points. He's surrounded by an ensemble that matches his infectious energy.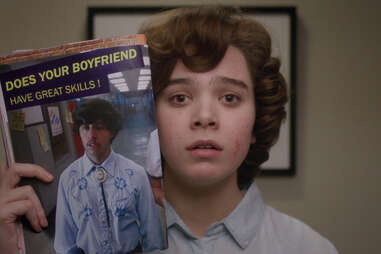 The Edge of Seventeen (2016)
As romanticized as adolescence is in TV and movies, it's hard being young. Following the high school experience of troubled, overdramatic Nadine (Hailee Steinfeld), The Edge of Seventeen portrays the woes of adolescence with a tender, yet appropriately cheeky tone. As if junior year isn't hellish enough, the universe essentially bursts into flames when Nadine finds out her best friend is dating her brother; their friendship begins to dissolve, and she finds the only return on young love is embarrassment and pain. That may all sound like a miserable premise for a young-adult movie, except it's all painfully accurate, making it endearingly hilarious—and there's so much to love about Steinfeld's self-aware performance.
Eurovision Song Contest: The Story of Fire Saga
Even if you aren't already invested in the cult of Eurovision, the singing competition that keeps a huge swath of the world rapt every year, you'll probably be charmed by Eurovision, Will Ferrell's ode to the bizarre annual event. Ferrell stars alongside Rachel McAdams as Lars Erickssong and Sigrit Ericksdottir, an Icelandic duo that make up the band Fire Saga. These goofy musicians land a spot in Eurovision (with the help of some elves) and go on a wild and sweet adventure. Playing like Talladega Nights meets Billy Elliot, it's an absolute joy, and the music is great. (Play Jaja Ding Dong!)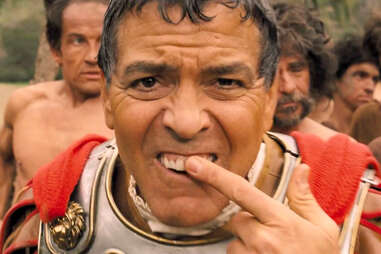 Hail, Caesar! (2016)
The Coen brothers' 1950s Hollywood period piece might sounds too good to be true, as it has Tilda Swinton pulling double duty as identical twins and rivaling gossip columnists; George Clooney getting kidnapped in ancient Roman garb; Scarlett Johansson enjoying a Busby Berkeley moment; Jonah Hill flexing his very strong forearms; Channing Tatum singing and dancing; and Alden Ehrenreich stealing the spotlight in goofy fashion. But it really offers a delicious swirl of genres and stories, with a little something for every kind of viewer to enjoy.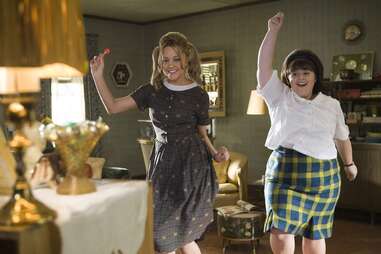 Hairspray (2007)
Welcome to the '60s, baby! Movie musicals aren't always great, but this adaptation of the stage show based on John Waters' cult classic is like a genuinely enjoyable 20th-century variety show shot in technicolor. It's campy and ridiculous seeing "pleasantly plump" Tracy Turnblad experience discrimination first-hand and decide to help lead a fight for racial justice to stick it to the so-called "Nicest Kids in Town" on the all-white Corny Collins Show, and all of the bubblegum pop and Motown-inspired songs will get you grooving. While John Travolta is no Divine, the star-studded cast is delightful (and makes a case for Zac Efron leading more musicals).
Hunt for the Wilderpeople (2016)
This New Zealand backwoods adventure roughs up every single coming-of-age cliché. Julian Dennison's Ricky is an absent-minded, hip-hop-obsessed, rebellious orphan. His grizzled foster father Hec (Sam Neill) would like nothing more than to ship the little [expletive] back to government care. When the two find themselves stranded in the woods, mistaken for on-the-lam criminals, they decide to own it. Wilderpeople is a generous genre blend, with director Taika Waititi (Thor: Ragnarok, What We Do in the Shadows) finding cheeky jokes in the duo's perilous journey. Backed by a synthy, horror-esque score and lush backdrops in the Kiwi bush, Wilderpeople is a wonderful, transportive comedy with a tenderness for its main characters.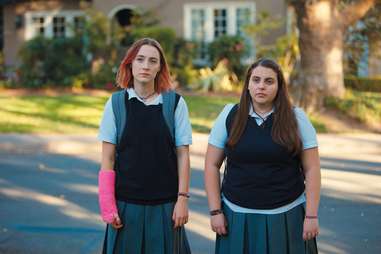 Lady Bird (2017)
The dizzying, frustrating, exhilarating rite of passage that is senior year of high school is the focus of actress Greta Gerwig's first directorial effort, the story of girl named Lady Bird (her given name, in that "it's given to me, by me") who rebels against everyday Sacramento, California life to obtain whatever it is "freedom" turns out to be. Laurie Metcalf is an understated powerhouse as Lady Bird's mother, a constant source of contention who doggedly pushes her daughter to be successful in the face of the family's dwindling economic resources. It's a tragic note in total complement to Gerwig's hysterical love letter to home, high school, and the history of ourselves.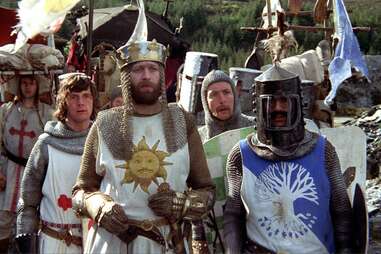 Monty Python and the Holy Grail (1975)
The legendary British comedy troupe took the legend of King Arthur and offered a characteristically irreverent take on it in their second feature film. It's rare for comedy to hold up this well, but the timelessness of lines like, "I fart in your general direction!" "It's just a flesh wound," and "Run away!" makes this a movie worth watching again and again.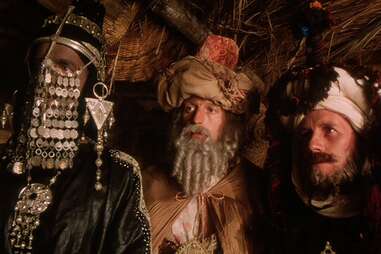 Monty Python's Life of Brian (1979)
Your parents may have tried to anoint you into watching good comedy by showing you Monty Python and the Holy Grail as a kid, but the much more adult Life of Brian might be even funnier. The British group made a divine, (un)holy movie with this one, following Brian of Nazareth, some guy who was also born on Christmas night, just next door to Jesus, and has to spend his life being mistaken for the messiah. From these masters of satire, it's equal parts slapstick and intelligent, presenting a silly set up ripe for jokes, as well as criticism of the church.
My Best Friend's Wedding (1997)
In this upside-down version of a rom-com, the bitchy best friend trying to ruin the relationship of the happy couple is the star of the movie. One of the most triumphant scenes in all of film history is when Julia Roberts tries to humiliate Cameron Diaz by making her do karaoke (a moment those of us with terrible singing voices fear at our core), and instead, Diaz has the whole bar clapping and singing along. For the rest of the movie, we cheer for Diaz and the sadly boring Dermot Mulroney to live happily ever after, at first just to spite Roberts, and then because of how much their love for one another shines through.
Not Another Teen Movie (2000)
When it comes to parody movies, Not Another Teen Movie is not at the Scary Movie levels of excellence, but it's better than most, largely thanks to its great cast, including a pre-Captain America Chris Evans, Jaime Pressly, and Ron Lester essentially reprising his role from Varsity Blues to... make fun of Varsity Blues. Evans really is the all-star here as the smarmy jock, and it's the gender-flipped whipped cream sequence that will keep you rewatching again and again.
Shrek (2001)
This hilarious (both ironically and non-ironically) DreamWorks film has exactly what a children's film needs to be just as palatable to adults: inappropriate humor, pop culture references, and Eddie Murphy voicing a wisecracking donkey. Set in a fantastical enchanted forest, the story features spoofs of all the fairy tale characters everyone knows and loves, along with an ornery ogre named Shrek (Mike Myers) whose lawn they're encroaching on at the order of the evil Lord Farquaad (John Lithgow), a ruler with an inferiority complex and an impeccable bob. To get the Three Little Pigs and others off his dang property, Shrek sets out on a quest to rescue the princess Fiona (Cameron Diaz) from a particularly lustful lady dragon in order to get his solitude back. Instead of delivering the princess to Farquaad as promised, Shrek breaks a curse caging Fiona, and they all live happily ever after.
Snatch (2000)
Guy Ritchie's 2000 crime-comedy employs a stacked ensemble cast: Benicio del Toro, Dennis Farina, Alan Ford, Jason Statham, Lennie James, a dog, and Brad Pitt—the last of who gets to play a lighter version of his Fight Club persona. Among a swirl of juggled narrative threads that includes bookies, boxers, gangsters, and jewelers, lies a priceless stone, the object of everybody's affection. It's a very fun watch. Just beware: Thick accents abound.
Sorry to Bother You (2018)
In the music he made as a member of the Oakland hip-hop group The Coup, filmmaker Boots Riley displayed a gift for tackling big, provocative ideas about politics, labor, inequality, and race with wit and nerve. It's unsurprising that Sorry to Bother You, the bracing comedy he wrote and directed about telemarketer Cassius Green (Lakeith Stanfield) using his "white voice" to climb the corporate ladder, would pack a similar punch. While the surreal sensibility of the film recalls a string of indie hits of the 00s, particularly the work of Michel Gondry and Spike Jonze, those movies were often content to wallow in emotional solipsism. Sorry to Bother You is about reaching out into the world around you and shaking it up.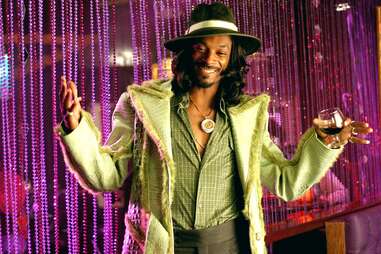 Starsky & Hutch (2004)
This aughties remake of the popular '70s cop show is nothing like the prestige reboots of shows today, or even really a tonally similar prequel meant to tap into the nostalgia of longtime fans. Starring Ben Stiller and Owen Wilson as the plain-clothes cop duo on their first case together to take down a drug dealer, it's more of a slapstick spoof of the groovy era than a faithful recreation. For one, Snoop Dogg takes on the role of informant Huggy Bear, which says as much as you need to know. But when you let yourself lay back in their Ford Gran Torino and put it on cruise control, it's a pretty fun ride. Right on, man!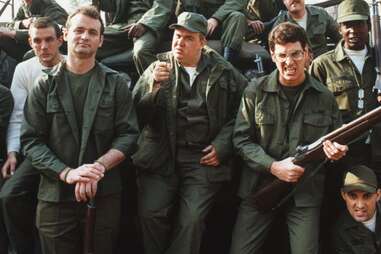 Stripes (1981)
This slacker comedy, which features a clever script co-written by co-star Harold Ramis, might be the best of Bill Murray's early comedies. If you avoid the fact that the plot runs out of steam just before the home stretch, this tale of two best friends who join the Army because they have pretty much nothing better to do is a low-key blast. Director Ivan Reitman, who also directed Murray in Meatballs, is smart enough to keep things focused on his charismatic star, who was fresh off his SNL run and basically riffs his way through the whole movie.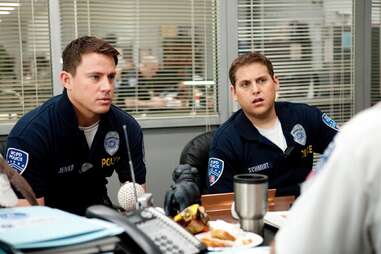 21 Jump Street (2012)
This reboot of the '80s procedural of the same name solely recycles the concept of young cops going undercover to investigate crimes in high school and college. It adds a lot more crude humor, a blockbuster scale, and self-referential jokes that parody teen movie tropes—and it mother-f-ing rules. Channing Tatum and John Hill are a match made in buddy cop movie Heaven, playing Schmidt and Jenko who don't look young at all but are sent back to high school nevertheless to track down a mysterious new drug. It's a big-budget action-comedy that remains very funny and quotable—and it'll remind you to always two-strap it, no matter what you do.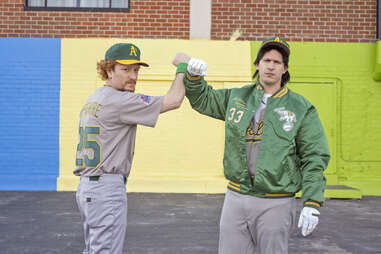 The Unauthorized Bash Brothers Experience (2019)
This really is the unauthorized Bash Brothers experience. Famed home-run hitters Jose Canseco and Mark McGwire, who buddied up on the Oakland Athletics in the '80s, never released a rap album together—and it's totally nonsensical to imagine they might've. So The Lonely Island turned that fantasy into a short film that's everything fans of the group could want and more. Andy Samberg is Canseco, Akiva Schaffer is McGwire, and for 30 minutes they deliver a bitchin', extremely '80s visual album with songs that are actually kind of a grand slam. Just watch it: It's a home run.
Yes, God, Yes (2020)
Yes, God, Yes is a hysterical, humble indie of divine intervention. The film from Karen Maine is a teen raunch comedy that's totally unlike other teen raunch comedies, following a high school girl (Stranger Things' Natalia Dyer) as she wrestles with newfound sexual urges while on a repressive, conservative church retreat. Dyer is utterly charming in the role as a naive but defiant young woman turned off by her peers' holier than thou attitudes, and the film's setting in the early '00s featuring flip phones and scandalous AIM chat rooms makes it all the more laughable. It's a rare sex comedy that has as much to say about the embarrassments of coming-of-age as it does about self-righteousness, and for that it feels like a teen movie sent down from the heavens.
Zoolander (2001)
Let's pretend sequels don't exist for a minute. Also, let's pretend it's 2000. Next year, a beautifully dumb godsend is coming that promises to lampoon fashion and celebrity, turn mundane tasks like getting gas into wacky set pieces, and cement Ben Stiller as a big-screen force. You'll watch. You'll laugh your pants off. You won't be able to stop quoting the movie for weeks on end. Seriously, do you remember how funny Zoolander is and what a sensation it was? The '00s comedy classic is always worth a rewatch.