If you're looking for a funny movie to give you a few laughs when you're spending a night in, Netflix is an oasis, offering a wide range of comedy classics and new releases. Whether you're a rom-com fan or tend toward frat-house humor, these are the best comedies on Netflix to put a smile on your face.
Drinking Buddies (2013)
This understated romantic comedy from mumblecore master Joe Swanberg centers on the intimate relationship between hard-drinking brewery colleagues Jake Johnson and Olivia Wilde, who both also happen to be dating other people (Anna Kendrick and Ron Livingston, respectively). The two relationships get progressively entangled over the course of the film. Although Drinking Buddies starts out looking like a traditional rom-com, Swanberg quickly subverts viewer expectations, resulting in a film that is romantic but surprisingly devoid of sap, funny without falling back on cheap gags. This is a movie that moves along in small moments: a lingering glance, an awkward silence, a stolen kiss. A crisp, refreshing little film.
Hot Fuzz (2007)
Shaun of the Dead spoofers Edgar Wright and Simon Pegg set their sights on bumbling police officers trying to solve a murder in a small English town. The duo watched countless buddy-cop flicks to fully satirize the genre, and it paid off, with laughably bad chase sequences and uproarious slapstick gags. They prove how much fun action movies can be when they lighten up a little (OK, a lot). Remember: it's not murder, it's ketchup.
Kung Fury (2015)
David Sandberg's hilarious Kickstarter-funded short plays like the surreal dream you'd have after a weekend of too many '80s movies and Street Fighter tournaments. It comes with laser raptors, arcade-style fisticuffs, the worst criminal of all time (Kung Führer, as played by The Lonely Island's Jorma Taccone), someone named Hackerman, Thor, a phone commercial, and time travel -- at every turn, whether it's a plot twist or a tongue-in-cheek quip, there's something absurd. The bad news: it runs just a pinch longer than 30 minutes -- all of which you can stream above, in full, or over at Netflix. The good news: there's more on the way.
Me and You and Everyone We Know (2005)
Miranda July's wandering rom-com had the gusto to make "pooping back and forth, forever" a romantic expression (and in emoticon form, no less). Its exploration of love, sex, and togetherness is just as bold. Fearlessly quirky, Me and You and Everyone We Know peers into the lives of middle-aged singles, blossoming teens, and a young boy preparing for it all. Don't worry: July, as both actress and director, cuts the sweetness by picking at raw nerves. Love can't work without shedding a few tears.
Moonrise Kingdom (2012)
This living storybook reworks Wes Anderson's subdued sense of humor for a YA crowd. When two teenagers go on the lam during a record-setting hurricane, the capricious adults spin in circles while romance blossoms. Anderson enhances this cheeky love story with his visual stamp, ensuring that even book covers and music cues inspire laughter.
Superbad (2007)
The uproarious comedy that kicked off Seth Rogen and Evan Goldberg's writing partnership crams more crude sex jokes than anyone ever thought possible into the heartwarming story of inseparable best friends (Michael Cera and Jonah Hill) on the verge of leaving each other to ship off to college. Factor in some killer party scenes, a then-unknown Emma Stone, and high-school horndogs riffing to their heart's content, and we all want to be McLovin.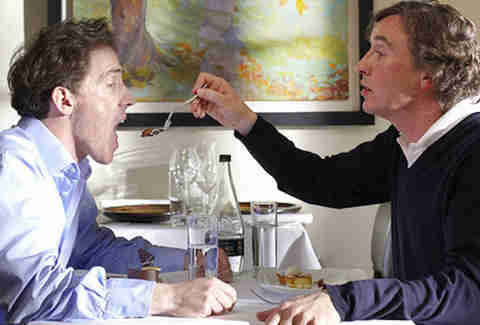 The Trip (2010)
If you enjoy awkward British humor and unrelenting Michael Caine impressions... we'd probably be friends, and you'll also definitely be into Michael Winterbottom's The Trip. Playing himself, Steve Coogan takes on an assignment for The Observer, touring the UK's best restaurants in a futile attempt to impress his food-snob girlfriend. Hilarity and sardonic hijinks ensue, but underneath the quirky comedy lies a meditation on what it means to be happy as an adult, and how friends don't always need to acquiesce in order to be close. Still, the best part is the Michael Caine-off.
Sign up here for our daily Thrillist email, and get your fix of the best in food/drink/fun.