If you're looking for a funny movie to give you a few laughs when you're spending a night in, Netflix is an oasis, offering a wide range of comedy classics and new releases. Whether you're a rom-com fan or tend toward frat-house humor, these are the best comedies on Netflix to put a smile on your face.
Always Be My Maybe (2019)
One of the best entries in Netflix's ongoing attempt to dominate the romantic comedy genre, Always Be My Maybe pairs friends Ali Wong and Randall Park as Sasha and Marcus, pals from childhood who drifted apart after an awkward moment in their teens. (It involves the loss of virginity, a terrible car, and repressed emotions.) Sasha went on to be a successful chef, while Marcus was content living with his dad, playing in a band, and being a chill stoner. They're reunited when she moves back to the Bay Area, and their chemistry flares back up. Of course, it's not an easy path to romance, and one detour involves Keanu Reeves playing a keyed-up, obnoxious version of himself. It's worth watching just for the Keanu of it all, but Wong and Randall's ability to bounce off one another is just as charming.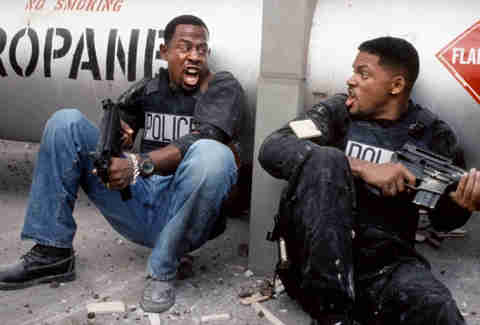 Bad Boys (1995)
Michael Bay jumped from music video and commercial directing to the big leagues with Will Smith and Martin Lawrence's buddy-cop movie. The vehicle restrained him, thank God. Through the disruptive Burnett and Lowrey, Bay's knack for extravagance, vulgarity, and fetishized masculine physicality could shine. When we think of badass, we think of Smith and Lawrence guns a-blazin', rolling through an explosion to escape a sunset shootout. There's heat, there's grime, there's Smith rattling off F-bombs like a swear-word Gatling gun. Bay's career is defined by excess, a bespoke look for Bad Boys.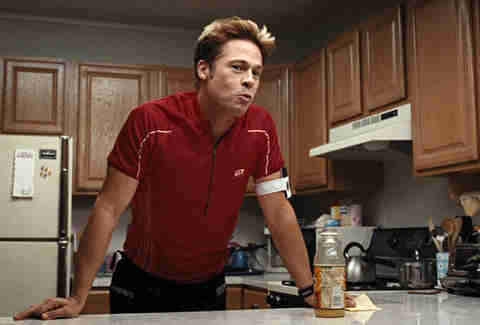 Burn After Reading (2008)
The Coens followed up their No Country for Old Men Best Picture win at the Oscars by turning sharply back to comedy. Burn After Reading is absurd and acerbic, a political hoopla revolving around a prized MacGuffin -- a CD containing government secrets! -- that isn't a MacGuffin at all. A gaggle of "serious" actors, most notably Brad Pitt, Tilda Swinton, John Malkovich, and Coen stalwarts Frances McDormand and George Clooney, shoot for the stratosphere as they weave through the mad, mad, mad, mad world of Washington, DC. And because this is a Coen brothers movie, blood spills freely as everyone from personal trainers to CIA spies sink deeper and deeper into confusion. An ode to empowered idiocy, complete with a dildo chair.
The Edge of Seventeen (2016)
As romanticized as adolescence can be, it's hard being young. Following the high school experience of troubled, overdramatic Nadine (Hailee Steinfeld), The Edge of Seventeen portrays the woes of adolescence with a tender, yet appropriately cheeky tone. As if junior year isn't hellish enough, the universe essentially bursts into flames when Nadine finds out her best friend is dating her brother; their friendship begins to dissolve, and she finds the only return on young love is embarrassment and pain. That may all sound like a miserable premise for a young-adult movie, except it's all painfully accurate, making it endearingly hilarious -- and there's so much to love about Steinfeld's self-aware performance.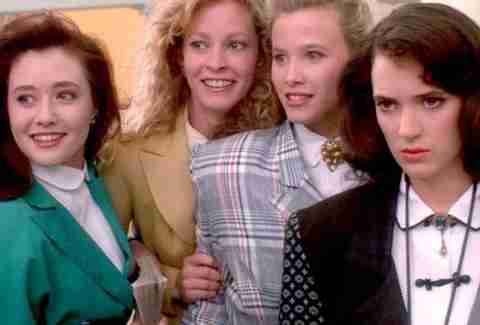 Heathers (1988)
If it weren't for Heathers, the darkest of pitch-black teen comedies, there'd be no Mean Girls. A young Winona Ryder stars as Veronica, the precocious high schooler tasked with taking down a clique comprised of Heathers Duke, McNamara, and Chandler from the inside. Veronica gets help, though -- from a smoldering Christian Slater as ultimate bad boy J.D. What follows is acerbic and absurd, and left an undeniable mark on the teen pop culture that followed.
Masterminds (2016)
This long-delayed heist farce from director Jared Hess (Napoleon Dynamite) finally came out... and critics didn't go for it. But Masterminds is must-see for fans of Kate McKinnon, Kristen Wiig, and Zach Galifianakis, filled with no shortage of surreality and so-dumb-it's-fun humor to offset the unfortunate tale of David Ghantt, idiot bank supervisor. In other words: Come for the robbery antics, stay for the bizarre turns, like these insane engagement pics.
Monty Python and the Holy Grail (1975)
The legendary British comedy troupe took the legend of King Arthur and offered a characteristically irreverent take on it in their second feature film. It's rare for comedy to hold up this well, but the timelessness of lines like, "I fart in your general direction!" "It's just a flesh wound," and "Run away!" makes this a movie worth watching again and again.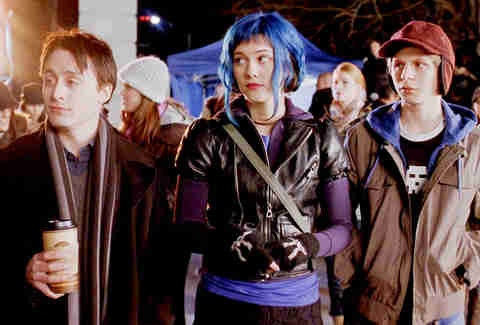 Scott Pilgrim vs. the World (2010)
Scott Pilgrim vs. the World isn't your average romantic comedy, with its comics-inspired ass kicking, super villainous ex-boyfriends, and not-so-great original garage band songs. While ridiculous, these oddities in a movie about a bass player (Michael Cera) on a quest to win the heart of a special Ramona Flowers by defeating her seven evil exes give the genre some much needed action. From director Edgar Wright (Baby Driver, Shaun of the Dead), the film is uniquely stylized and has the right amount of teenage flair to make it a cult classic. What's dreamier than a boy fighting evil exes from hell for the sake of love? 
Step Brothers (2008)
"Did we just become best friends?" This collaboration from the comedic writing pair of Adam McKay and Will Ferrell (Anchorman: The Legend of Ron Burgundy) might just be the most iconic, ceaselessly funny bro comedy of all time. Ferrell and frequent co-star John C. Reilly as two adults who both live at home and become step-brothers when their single parents wed is so idiotic, and it's stuffed with hilarious one-liners still quoted by your funnyman friends more than a decade later.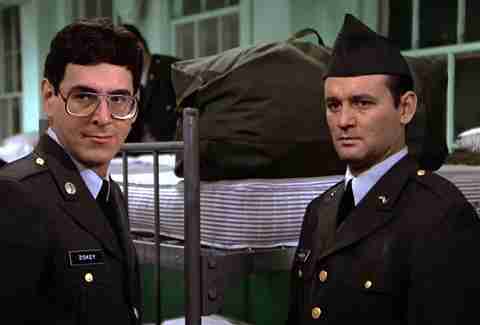 Stripes (1981)
This slacker comedy, which features a clever script co-written by co-star Harold Ramis, might be the best of Bill Murray's early comedies. If you avoid the fact that the plot runs out of steam just before the home stretch, this tale of two best friends who join the Army because they have pretty much nothing better to do is a low-key blast. Director Ivan Reitman, who also directed Murray in Meatballs, is smart enough to keep things focused on his charismatic star, who was fresh off his SNL run and basically riffs his way through the whole movie.
Superbad (2007)
The comedy that kicked off Seth Rogen and Evan Goldberg's writing partnership crams more crude sex jokes than anyone ever thought possible into a heartwarming story of inseparable best friends (Michael Cera and Jonah Hill) on the verge of shipping off to different colleges. Factor in some wild party scenes, a then-unknown Emma Stone, high-school horndogs riffing to their hearts' content, and McLovin, and you've got yourself a classic high school movie that rivals the likes of Dazed and Confused.
Trainspotting (1996)
If you're looking for lessons from Danny Boyle's heroin opus: drugs can be fun, but sometimes they kill you. With that in mind, the film offers a great look into degenerate Scottish party culture and the way opiates can ravage the mind. You'll laugh! You'll cry! But, again: Don't try this at home.
Wet Hot American Summer (2001)
With the arrival of last year's hilarious Netflix miniseries, First Day of Camp, it's easy to forget that Wet Hot American Summer wasn't always a beloved comedy classic. The movie initially flopped, making less than $1 million in theaters, and earned some brutally dismissive reviews. You know who saved this movie? Stoned nerds, mostly. How else can you explain the iconic status of a movie that features a scene where the dude from Law & Order: SVU talks to a can of vegetables voiced by H. Jon Benjamin? There's no other explanation.
You Don't Mess with the Zohan (2008)
Adam Sandler often stays away from "high concepts" -- most of his comedies play like a couple Everybody Loves Raymond episodes with $70 million budgets. In the curious case of his flick You Don't Mess with the Zohan, it's the polar opposite, an action comedy with a hyper-specific character -- an Israeli counter-terrorist becomes an NYC hairstylist and brokers peace between the Israelis and Palestinians on his block! -- and absurd laws of gravity-defying physics. There are fits of physical comedy and hummus jokes galore. The movie was a risk, especially considering its political undertones for a blockbuster comedy, but Sandler seems aware of that: He gives Zohan all he's got.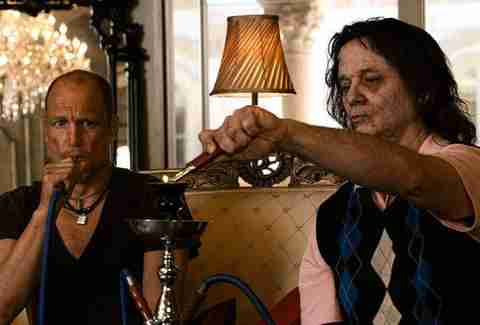 Zombieland (2009)
Like most movies about the walking dead, Zombieland is a survival story. But instead of taking the genre too seriously, it opts for an irreverent comedy approach, imagining a freewheeling America that's struggling to keep things together following a zombie apocalypse. The action-comedy establishes a ragtag group of Jesse Eisenberg, Woody Harrelson (Now You See Me's casting director must have really liked Zombieland), Emma Stone, and Abigail Breslin, linked with solid chemistry, as they set off on a cross-country trip to a potentially zombie-ridden amusement park. It's full of dark humor and features an off-the-wall cameo from Bill Murray -- the gore's only part of the punchline.