If you've found this page, you must be a person who appreciates a good laugh! All styles of laughing -- a deep belly laugh, a light giggle, a hysterical, unstoppable cry-laugh, and more -- are readily available in life, if you know where to look, but why not turn on the television and seek that spontaneous response to humor from one of the many programs designed to elicit it? After all, the real world presents a constant glut of obstacles and depression, but your screens will never let you down. 
The streaming tsunami, however, tries to clutter your feeds and confuse you with myriad shows that are supposed to be funny, which could lead you to a show that is decidedly NOT funny. Who has time for that?? That's why we made this list of the best comedy shows of 2019. You'll never feel sad or lonely again with these new series in your queue. 
Can't stop watching television? Check out the best TV shows of 2019, the best sci-fi and fantasy shows of 2019, and the best shows on Netflix. 
Recommended Video
Tuna Eyeball with Timothy DeLaGhetto and Ben Sinclair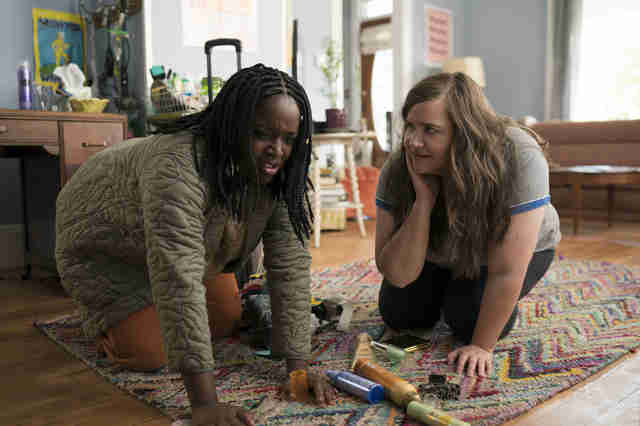 18. Shrill (Hulu)
Season 1. 6 episodes.
Cast: Aidy Bryant, Lolly Adefope, Luka Jones
Why it's great: Based on Lindy West's 2016 memoir of the same name, Hulu's Shrill stars SNL's Aidy Bryant as "Annie Easton" (get it???), a writer who's facing a world full of fat-shaming, sexism, and generally shitty people -- especially exemplary in her sort-of boyfriend, who is truly the pits. While the writing often feels forced, and plot gets shoehorned into what's essentially a six-episode social commentary, Shrill nevertheless finds the humor in all the ways people can be horrible to each other, and gives Bryant the chance to shine in her own right.
19. At Home with Amy Sedaris (truTV)
Season 2. 10 episodes.
Cast: Amy Sedaris, Cole Escola, Ana Fabrega
Why it's great: At Home with Amy Sedaris doesn't have a "plot" as much as it has running gags about different facets of homemaking -- cooking, millinery, crafting, knife sharpening, what have you. Each episode features Amy's "neighbors" popping in to demonstrate their unique skills and one-upmanship. Cole Escola is especially funny as the needling Chassie Tucker, but any of the banter with guest stars and their absurd bits makes At Home a goofy delight.
Season 1. 6 episodes.
Cast: LeVar Burton, Michael Cera, Rosario Dawson, Laverne Cox, Gillian Jacobs, Steven Yeun
Why it's great: This loosely connected anthology series about a near, Black Mirror-inspired future is indeed weird! It's not every series that you'll find all genders impregnated with emoji babies, a smart house with confidence issues, and/or people named Thefanie or Chonathan or Jandrea, but this Jordan Peele-produced YouTube show has all of that, and lots more bizarre, satirical sci-fi set-ups that don't feel completely unlikely.
Season 6. 8 episodes. 
Cast: Derek Waters, guests
Why it's great: It's a concept so simple, it's worked for six seasons: Get a bunch of people drunk and ask them to explain an important historical event. Reenact it exactly as it's drunkenly told. Comedy will follow. Host and creator Derek Waters has built the former web series into such a powerhouse that its season 6 premiere counted Evan Rachel Wood, Will Ferrell, Elijah Wood, and Seth Rogen among the actors recreating the story of Mary Shelley's Frankenstein as told by a wasted Rick Fulcher. If you're a fan of the show, you know what to expect: Slurred retellings of famous historical narratives like the Black Sox scandal, JFK's relationship with his personal physician, and the founding of the National Park Service. The creative liberties make it more fun, but the history is (mostly) accurate. 
Season 1. 9 episodes. 
Cast: Danny McBride, John Goodman, Edi Patterson, Adam DeVine
Why it's great: Far from the cut-and-dry comedy stylings of Danny McBride's past HBO projects, Eastbound and Down and Vice Principals, The Righteous Gemstones is an emotional menagerie that the show creator described to Thrillist like an iPod full of music that conjures any mood you could possibly want at any given point. Though the show, about a successful televangelist family who's recently lost its matriarch, is full of moments spanning pitch-black to sweetly tender, the series' forte is undoubtedly its jokes, especially when the three Gemstone siblings -- played by McBride, Edi Patterson, and Adam DeVine -- are together, egging on each other's absolute worst tendencies. 
Season 1. 8 episodes.
Cast: Asa Butterfield, Gillian Anderson, Emma Mackey, Ncuti Gatwa
Why it's great: Being a teen is an awkward, horny experience that Sex Education creator Laurie Nunn has distilled into a painfully realistic portrayal of the emotional and sexual pressures of high school. Less realistic is the fascinating relationship between Butterfield's Otis Milburn and his mom (Anderson), a sex therapist operating out of their gorgeous, erotic paraphernalia-filled house in the British countryside. Despite Otis's repressions, his classmate Maeve (Mackey) figures out that he's actually deft at handing out sex and relationship advice, and starts an underground business monetizing his skills. Funny and sweet, Sex Education is an early contender for the best teen show of the year.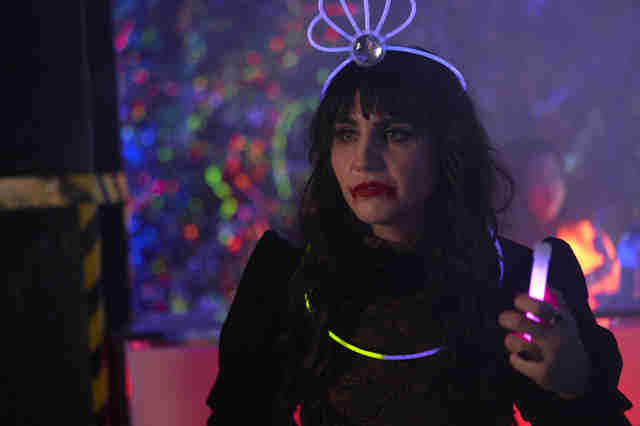 Season 1. 10 episodes.
Cast: Matt Berry, Kayvan Novak, Natasia Demetriou, Harvey Guillén, Mark Proksch, Beanie Feldstein
Why it's great: Spun off from 2014's vampire mockumentary of the same name directed and written by Taika Waititi and Jemaine Clement, What We Do in the Shadows Americanizes modern life for the bloodthirsty immortals in Staten Island, where they've been settled and primed to take over the west since the 1800s. The bumbling group gets involved in local government, gets in trouble with their dark lord for not conquering quickly enough, goes to a few parties and raves, and lures some unsuspecting teens into their vampiric den, but at the core of it is the deadpan humor of the original movie translated to an American TV screen.
Season 1. 10 episodes.
Cast: Ali Wong, Tiffany Haddish, Steven Yeun
Why it's great: Tuca & Bertie is weirder, more artistically imaginative, and arguably better than its sister show, BoJack Horseman. Created by BoJack animator Lisa Hanawalt, Netflix's animated series for adults is also set in a world dominated by anthropomorphized animals, but gets even more surreal than its predecessor by making all fauna human-like, adding in stoner plants and lakes of jelly, and experimenting with art styles. Haddish and Wong's camaraderie as best bird friends Tuca and Bertie is the backbone here as they cope with all-too-real problems, from their own mental health, their friendship, to gross harasser bosses. Though it's a one-and-done series -- Netflix neglected to renew it for a second season -- Tuca & Bertie has several seasons worth of whimsy stuffed into 10 episodes.
12. Documentary Now! (IFC)
Season 3. 7 episodes.
Cast: Fred Armisen, John Mulaney
Why it's great: Even serious documentaries can come off as self-parodies (see: History of the Eagles, the source material for Documentary Now!'s Season 1 closer, "Gentle and Soft: The Story of The Blue Jean Committee"), so making an actual parody series about some of the most well-known documentaries was bound to be a hit. Coming from SNL vets Hader, Armisen, Mulaney, and Seth Meyers, Documentary Now!'s third season hits its stride right away with a riff on Netflix's hit docuseries Wild, Wild Country -- complete with a bearded Owen Wilson as a cult leader and the excessive drone footage that seems requisite for any contemporary doc. It's these little touches and details that make you appreciate how well-crafted this show really is, which is probably why it's able to attract big-name guest stars like Cate Blanchett and Michael Keaton. 
Season 1. 6 episodes. 
Cast: Ana Fabrega, Julio Torres, Cassandra Ciangherotti, Bernardo Velasco, Fred Armisen
Why it's great: One of HBO's most unlikely recent successes is the surrealist macabre Los Espookys, a show seemingly made for nine people -- seven of whom work on the show, and the remaining two work at Thrillist dot com. But the bilingual Spanish-English series about a group of friends who get serious about starting a business, called Los Espookys, that makes horror dreams come true was a low-key hit, and for good reason. Its goofiness and magical realism, and the droll, absurdist performances from standouts Julio Torres -- who, as Andrés, lives with a demon inside of him and is pressured by his parents to marry the handsome heir to a cookie fortune to save their chocolate empire -- and Ana Fabrega -- who, as Tati, gets suckered into an "Herbalite" pyramid scheme -- make it unlike any other comedy on TV. It's not often in live-action series that cursed mirrors take people to other dimensions, but Los Espookys does.
Season 1. 8 episodes.
Cast: Natasha Lyonne, Charlie Barnett, Elizabeth Ashley, Greta Lee, Chloe Sevigny
Why it's great: If you love dark comedies that lean hard into both the "dark" and "comedy" aspects of the genre, then Russian Doll, co-created by Natasha Lyonne, Amy Poehler, and Leslye Headland, is the show for you! On her 36th birthday, the cynical and wise cracking Nadia (Lyonne) gets hit by a car and dies, setting in motion a loop of the same day that always starts in the same vaginal bathroom of her friend's apartment while Harry Nilsson's "Gotta Get Up" repeats. In cracking the key to her purgatorial state, Nadia stumbles across Alan (Barnett), who's dying repeatedly the same as her, and together, they work to get the bottom of how and why they're connected to end the cycle of mutual doom. Jokes run the gamut from Lyonne saying "cockroach" (cock-a-roach) and wryly delivering one-liners ("Ah, Thursday... what a concept!") to physical gags, like Nadia brutally choking on a chicken bone. It's a rare Netflix original that's truly great, crossing into metaphysical territory, and doesn't overstay its welcome -- at a lean 8 episodes, each clocking in at 30 minutes or less, it's easy to binge over and over, much like Nadia's deaths.
9. Aggretsuko (Netflix)
Season 2. 10 episodes.
Cast: Kaolip, Komegumi Koiwasaki, Maki Tsuruta, Shingo Kato
Why it's great: Hell yeah, Aggretsuko is anime. Season 2 of the Sanrio-driven series about Retsuko, a mild-mannered office worker who vents her pent-up daily frustrations by karaoking black metal, builds on an already stellar Season 1, leaning into its musical asides and exploring new genres with its other characters. Here, Retsuko deals with the intensely relatable and cringeworthy problems of an overbearing coworker and her mother who keeps setting her up on matchmaking dates, and finds resolution in a new, unexpected love interest -- a relationship that brings its own set of unique problems. The season ends on a bittersweet note, but Aggretsuko fits a lot of emotional swings, including plenty of laugh-out-loud moments, into its bingeable 15-minute episodes.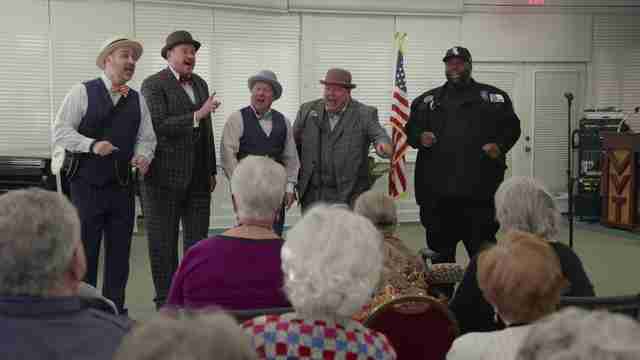 8. Trigger Warning With Killer Mike (Netflix)
Season 1. 6 episodes.
Cast: Michael Render
Why it's great: Trigger Warning lives a lonely existence as the sole scripted nonfiction series on this list, but goddamn if it isn't a stroke of genius. At first, it's hard to tell just how much Killer Mike, half of the rap duo Run the Jewels, is goofing around -- after all, his socially conscious activism is absolutely grounded in the very real injustices taking place in America. But the show quickly hits its stride in its audacious ideas reminiscent of the best episodes of Nathan For You, like improving the efficacy of job training through pornographic skills videos, bridging a divide between the Crips and Bloods through good ol' fashioned capitalism, and founding a new church that undermines Christianity's bullshit white Jesus idolatry. The social experiments culminate in the season finale where Mike starts a new nation and recruits some of the series' weirdest (real) characters to join him. The point here is: renew Trigger Warning for Season 2, @netflix.
7. Schitt's Creek (Pop)
Season 5. 14 episodes.
Cast: Catherine O'Hara, Eugene Levy, Daniel Levy, Annie Murphy, Chris Elliot
Why it's great: Any time you have the chance to watch a comedic genius flexing the full range of her abilities, you should take it, and Catherine O'Hara flexes hard as Moira Rose in Schitt's Creek. The story of the formerly wealthy Rose family's struggle to adjust to life running a motel in a small Canadian town they bought for their son back in the early '90s continues to find outlets for O'Hara's talent in its fifth and penultimate season. Johnny Rose (Eugene Levy) dutifully plays reliable straight man to O'Hara's Rose, who's only become more eccentric and less self-aware after filming a low-budget horror movie in Bosnia. Meanwhile, grown children David (Daniel Levy, the show's co-creator and Eugene's son) and Alexis (Murphy) live in suspended privileged adolescence while still sharing a room in the motel. It's the perfect vehicle for the cast's whip-smart comedic instincts, while doubling as a roast of the extremely wealthy. Canada knows how to pump out comedy gold!
6. PEN15 (Hulu)
Season 1. 10 episodes.
Cast: Maya Erskine, Anna Konkle
Why it's great: The central visual gag in PEN15 falls a bit flat for the same reason the show finds so much humor in the middle school years: It's such an awkward time that some kids really do look WAY older than everyone else! Playing versions of themselves among a sea of actual 13-year-olds, Erskine and Konkle dive headfirst back into seventh grade circa 2000, when drama felt so much more dramatic and every social faux pas could forever brand you as uncool. The show, which counts The Lonely Island among its executive producers, hits on many of the topics you'd expect of a coming-of-age comedy: masturbation, young love, AIM, and cigarettes, to name a few. But it's the awkward delivery, the attention paid to the feelings and hormones coursing through the veins of the characters, that inspire some of the funniest moments (like when Maya and Anna come into possession of a thong and don't want to give it back). It's uncomfortable and funny and painful and wistful, probably like your memories of middle school. 
Season 2. 10 episodes.
Cast: Brian Cox, Jeremy Strong, Sarah Snook, Kieran Culkin, Nicholas Braun
Why it's great: The second season of HBO's breakout series about the Murdoch-esque Roy family, corporate overlords of the Waystar Royco conglomerate, takes a darker turn in keeping with the tone of the Season 1 finale. That's not to say the show has done away with its acerbic humor; the oblivious one percenters, the penetrating personal jabs, and a discussion between fan faves Tom and Greg over whether Nazis are bad still produce laughs despite the disturbing mirror image of the real world the show creates. As Succession crescendoed to its big finale, setting the Roy family up for its own implosion in its confirmed Season 3, things only got more brutally hilarious, gifting us with the revised aphorism, "you can't make a Tomlette without breaking some Greggs."
Season 1. 10 episodes. 
Cast: Drew Tarver, Heléne Yorke, Molly Shannon, Ken Marino
Why it's great: Who hasn't wondered what life would be like if they had a younger sibling who became a Bieber-esque global superstar? Comedy Central's new sitcom takes this question and runs with it, focusing on the lives of Cary (Tarver) and Brooke Dubek (Yorke), two struggling older siblings of Chase Dreams, a kid who becomes a sensation after his song "Marry U at Recess" goes viral. Both a brutal satire of online fame and a thoughtful exploration of family and loss, The Other Two is a sharply written show equally at home making fun of skeevy agent Streeter (Marino) and dealing with the fallout of revealing a long-kept family secret. Don't sleep on The Other Two, which has already been renewed for a second season that will probably not be called The Other Two: 2.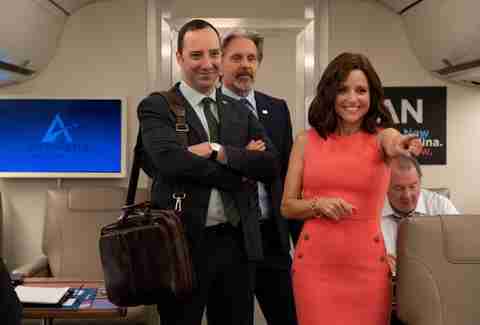 3. Veep (HBO)
Season 7. 7 episodes.
Cast: Julia Louis-Dreyfus, Tony Hale, Anna Chlumsky, Timothy C. Simons, Matt Walsh, Kevin Dunn, Gary Cole
Why it's great: This May, HBO says goodbye to a hit show beloved by fans and critics alike, a show that changed the definition of prestige TV: Veep. It may not have the gargantuan ratings of its dragon-filled premium cable sibling, but Veep consistently featured some of the smartest and funniest writing on television as it continues to satirize a practically un-satirizable American political landscape in its seventh and final season. Creator Armando Iannucci's razor-sharp dialogue has only become more cutting under the direction of showrunner David Mandel, and the no-holds-barred take on politics results in jokes that would get the average person reported on Twitter. As Selina Meyer and the empty shells of human beings that surround her in politics take one last shot at the White House, the rest of us can sit back and actually laugh at politics in all its slimy, self-serving, treacherous glory.
2. Barry (HBO)
Season 2. 8 episodes.
Cast: Bill Hader, Henry Winkler, Sarah Goldberg, Anthony Carrigan, Stephen Root
Why it's great: It's a bit weird to categorize Barry, a show about a war veteran-turned-hitman for hire who just wants to act, as "hilarious TV" with all of its brutal deaths and deep psychological inquiries into the characters' past traumas, but it'd also be disingenuous to call it anything else because Barry is super funny. Season 2 of HBO's dark comedy series that had the unfortunate gig of airing after Game of Thrones was a consummate sleeper hit, with a handful of episodes registering as legitimate masterpieces of television (ie. "What?!," "ronny/lily"). Ending the season on yet another major cliffhanger, Barry only stands to get better and better with more seasons under its belt.
Season 1. 6 episodes. 
Cast: Tim Robinson, guest stars
Why it's great: I Think You Should Leave is easily the most bingeable series on this list, with just six sketch-based episodes clocking in at fewer than 20 minutes each. It's also really fucking funny. The brilliance of ITYSL comes from its ability to turn mundane, everyday situations -- like a birthday party or sitting on an airplane -- into absurdist masterpieces peppered with poop and fart jokes. It's a show you can watch in less time than it takes to watch a movie, but the sketches are so layered that you'll want to go back and watch again and again.