You've had a long day, and you just want to sit back on the couch and laugh a little bit. Netflix, as is so frequently the case, has you covered. The next time you feel like you're in need of a little comedy, binge one -- or two, or seven -- of these shows.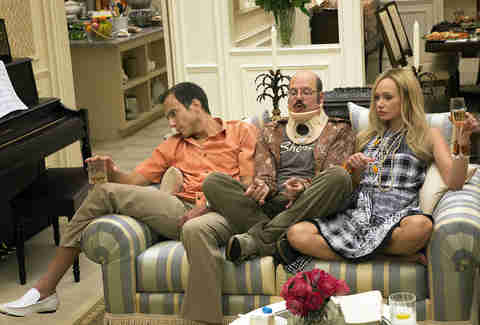 Arrested Development (2003- )
There's always money in the banana stand, and there are always laughs to be found in Arrested Development, Mitchell Hurwitz's sly, self-aware family sitcom. While the most recent Netflix-produced season occasionally devolved into discursive, indulgent meta-humor, the show's original three seasons established a freewheeling comic sensibility that many of your favorite sitcoms -- Parks and Recreation, 30 Rock, Community, Archer, Kroll Show -- were influenced by. Don't hold the show's obnoxious fans against it. After watching a few episodes, you'll be quoting Tobias Fünke, too.
Big Mouth (2017- )
Big Mouth is a relatively new animated comedy series from the platform, and it's bound to make you slightly uncomfortable. But, as it goes with many other adult-themed cartoons, that's kind of the point. The show sees creator Nick Kroll and his friends essentially hopping into an animated time machine to play much younger versions of themselves, adolescent tweens beginning to date and watch porn, coming to grips with their emotions and sexuality. With a no-holds-barred approach and the freeing format of animation, the show tends to really go there (see: horny Hormone Monsters, singing Michael Stipe tampons, scary Garrison Keillor sex fantasies), placing it in the same taboo-busting league as Netflix's other hit mature toons.
Billy on the Street (2011-present)
It's a game show for people who think game shows are stupid! The frenetic Billy Eichner mixes celebrity guests, unsuspecting strangers, and wild one-off games to create a delightfully addictive and fast-paced show that doubles as a broad takedown of celebrity culture writ large. Come on, who wouldn't want to watch Rachel Dratch try to escape from Margot Robbie's Hollywood moment?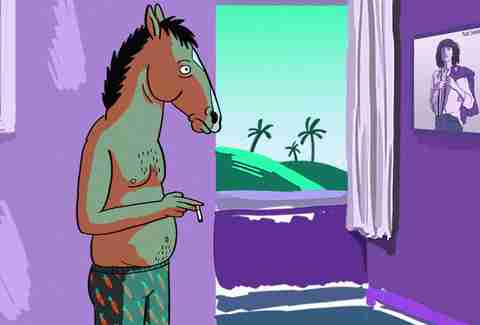 BoJack Horseman (2014- )
Netflix's animated series continues to emphasize the depression, failure, and slovenly behavior we enjoyed in its first season, with plenty of sight gags to lighten the mood. BoJack climbs higher than ever, as he lands his dream acting gig and a dream girlfriend, but life's cruel hand caps him at the knees over and over again. In between the morose moments, BoJack Horseman asks us to laugh -- and we do, because we can't imagine this beleaguered equine's life getting any worse, which, invariably, it does.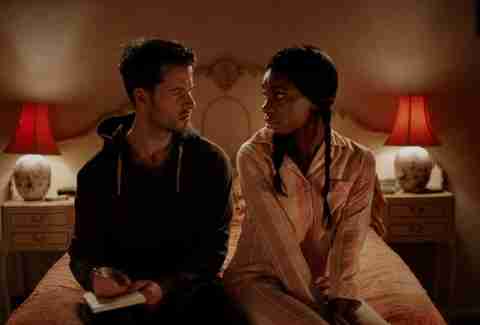 Chewing Gum (2015-2017)
There just aren't enough television shows like Chewing Gum. The vibrant and wildly hilarious comedy penned by Michaela Coel follows a horny but naive 24-year-old virgin named Tracey (played by Coel herself) who really just wants to get laid, much to the dismay of her hyper-religious family and boyfriend. Throughout both seasons of the short-lived series that first aired on Britain's E4, Tracey bumbles around her small town in London inserting herself into the most ridiculous situations -- almost all of which end with some painfully awkward sexual encounters. It's worth the watch for any bright-eyed millennials who aren't afraid to laugh at sex at its clumsiest moments.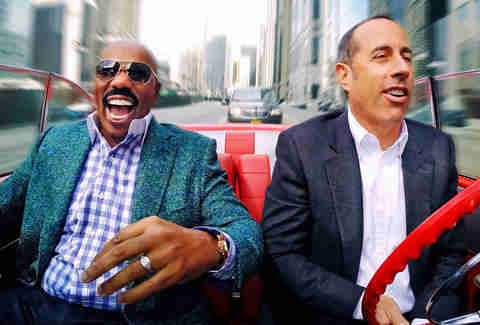 Comedians in Cars Getting Coffee (2012- )
Crackle, we hardly knew ye. The comedian behind his eponymous sitcom took his talents to Netflix, where he's continued to consume coffee with famous guests like Dave Chappelle and Kate McKinnon. The antiquated crassness of flaunting wealth by purchasing insanely expensive cars only slightly detracts from the fact that the show is just damn funny, and manages to talk about comedy without falling into any self-serious traps.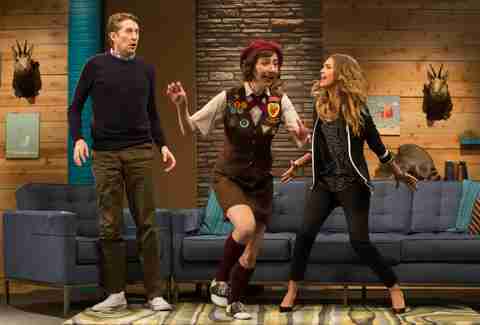 Comedy Bang! Bang! (2012-2016)
A few years after his podcast started airing, Scott Aukerman's popular talk show got the TV treatment. TV treatment here doesn't really mean adaptation, though; it means a platform to be fucking insane and hilariously surreal. Your favorite comedians (think Andy Daly, Sarah Silverman) hit Aukerman's couch with special guests (who range from Tony Hawk to Kevin Bacon to publicist extraordinaire Rodney Waber) to improv some magic, participate in off-the-wall bits, and make you ask, What the hell am I watching? -- in the best way.
Crazy Ex-Girlfriend (2015-2019)
Many armchair critics tried to dismiss former YouTube sensation Rachel Bloom's CW series for what they presumed to be a sexist title -- a notion she bites back at from the opening credits on. In fact, the series is quietly revolutionary, offering sharp yet subtle commentary about the way women treat each other and themselves, and casually featuring one of the most diverse casts on TV. CXG draws its rom-com antics from heroine Rebecca's compulsive behavior and past traumas, all while satirizing the conventions of musicals with song-and-dance numbers worthy of Sondheim. It's a downward spiral, for sure, but psychosis has never been this entertaining.
Documentary Now! (2015- )
IFC's Documentary Now! pokes fun at the precious self-seriousness of documentary filmmaking, thanks to SNL vets Bill Hader and Fred Armisen (and a regal Helen Mirren introduction). Docs in the show's crosshairs include everything from Nanook Revisited ("Kunuk Uncovered") to History of the Eagles ("Gentle & Soft: The Story of the Blue Jean Committee"), the latter a parody of an Eagles documentary that's pretty funny in its own right. Which is why the true brilliance of Documentary Now! comes less from imitation and more from the same sauce that makes any doc memorable: Human existence is fascinatingly absurd.
Friends (1994-2004)
Six 20-something friends who live in New York City trying to navigate their relationships with each other and life, and spend way too much time drinking coffee together at Central Perk... yeah, you know the one. By now, you've probably seen each episode of this long-running, classic sitcom dozens of times, but it never gets old: The cast's chemistry and timing are great, and even with the humor that comes off as eye-rolling, Friends is a show that's about comfort and familiarity more than it's about making you laugh. When you're feeling down, there's no denying that Ross, Rachel, Chandler, Monica, Joey, and Phoebe will be there for you, 'cuz you're there for them toooooooooo.
The Good Place (2016-2019)
In this sneaky afterlife comedy from Mike Schur (Parks and Recreation), Kristen Bell's deceased cretin Eleanor is erroneously given a berth in a Heaven-esque afterworld. Once the high-concept show gets past establishing its characters and premise, you'll enjoy watching her do whatever she can to avoid being found out and sent to the Bad Place, where she belongs, by her friendly neighborhood architect, Michael (Ted Danson), including forcing her "soulmate," Chidi (William Jackson Harper), to teach her everything there is about being a nice and good person. Pretty soon, it becomes evident that the so-called Good Place is a lot more complex than we're first led to believe, but throughout it's made clear that watching the series will feel like you've been sent to TV Heaven.
GLOW (2017- )
It's odd that it took so long for someone to make a fun comedy about professional wrestling. Where Darren Aronofsky's The Wrestler turned the plight of a washed-up grappler into a Sisyphean struggle in spandex, GLOW, which was inspired by a real life wrestling women's wrestling promotion from the '80s, takes a sunnier but still no-holds-barred approach. Community's Alison Brie excels as an actress who gets cast by a washed-up filmmaker (Marc Maron) to play the villain in the rag-tag operation, but, like producer Jenji Kohan's Orange is the New Black, it's the side characters, like Britney Young's second-generation brawler Machu Picchu, who really help this show get over. It's one of the few pieces of pop culture that actually captures this "fake" sport's very real appeal.
Grace and Frankie (2015- )
Netflix users of a certain age have likely overlooked this dramedy from Marta Kauffman (Friends) and Howard J. Morris (The Starter Wife), about two septuagenarian friends (Jane Fonda and Lily Tomlin) who shack up together after their husbands (Martin Sheen and Sam Waterston) announce they're in love and intend to marry. With notes of The Odd Couple and The Brady Bunch -- both couples have grown kids as equally knocked out by the news -- Grace and Frankie is down-to-earth viewing that's rich with observational wit on the progressive notion of being true to one's identity, and the time-worn cliche that everyone gets older with age. If you've indulged in the low-key, picture-perfect comedies of Nancy Meyers (It's Complicated, Something's Gotta Give), give this one a try.
I Think You Should Leave with Tim Robinson (2019- )
Without question, I Think You Should Leave from SNL alum Tim Robinson is Netflix's most successful sketch comedy series to date, and it gives both up-and-coming talent (Patti Harrison, Conner O'Malley, Kate Berlant, Brandon Wardell, Sam Richardson, etc.) and recognizable faces (Vanessa Bayer, Cecily Strong, Fred Willard, Andy Samberg, Steven Yeun, Tim Heidecker, etc.) a platform to flex their most deranged comedic muscles. The show features a series of short, hilarious sketches about just how offbeat ordinary interactions can be, and each episode, whether it be about a "best baby" contest or how much magicians suck, will leave you both uncomfortable and in tears.
Lady Dynamite (2016-2017)
Maria Bamford's semi-autobiographical, surreal spin on mental illness in Hollywood was a sleeper hit for Netflix. The comedian's self-aware hijinks share obvious DNA with Arrested Development: Mitch Hurwitz and Pam Brady are executive producers; there are sight gags, wordplay, and mockery of Los Angeles idiocy galore; and it features countless comedy-world cameos, extended fantasy sequences, and genuine self-introspection. It'll take you a few episodes to get invested, or even to wrap your head around WTF you're watching. But once you're hooked, you're hooked.
Mystery Science Theater 3000: The Return (2017) and The Gauntlet (2018)
Could a new crew of comedians revive the effortless magic of public access-born Mystery Science Theater 3000. Absolutely. With the nerdy Jonah Ray (The Meltdown With Jonah and Kumail) locked in the new spaceship, once again backed by Crow and Tom Servo (but with new voices, Hampton Yount and Baron Vaughn), spearheaded by former Daily Show head writer Elliot Kalan, and produced by original host Joel Hodgson, the new incarnation pelts jokes at late-night schlock and half-assed blockbusters with relentless force. There's a musicality to the jokes in MST3K: The Return, punctuating every bit of dead air in the godforsaken movie choices, and everyone is at the top of their game. Cry Wilderness, about a little kid who pals around with Bigfoot, stands up to any of the classic episodes.
New Girl (2011-2018)
Zooey Deschanel goes full-on indie movie quirky as hell Zooey Deschanel in this 20-something buddy comedy, playing the new roommate in an apartment full of bros. With freshly dumped elementary school teacher Jess Day moving into the home of several men who would rather do the bare minimum than make their apartment/lives function, New Girl is the quintessential setup for clashing personalities, burgeoning relationships, and ridiculous "mess-arounds." The cast is hysterical, and the individual bonds between characters keeps you coming back to apartment 4D -- as the show goes on, the classic will-they-won't-they that unfolds between Jess and her curmudgeonly bartender roommate Nick (Jake Johnson) will have you desperate to find space in Winston's galactic-sex-portrait-painted closet to move on in, too. 
The Office (2005-2013)
After you watch the British series that inspired it all, you can take a deep dive into bingeing the nine-season-long American adaptation. While little actually happens at paper company Dunder Mifflin, its hilarious, hum-drum employees know exactly how to spend a day in the office by using their time more for inappropriate behavior and pulling pranks on one another than anything else. There's something to laugh about with each of the characters, and was a pinnacle career launch for Steve Carell as the lovable idiot boss, Michael Scott, but when everybody's clashing personality comes together on the day-to-day, it's workplace comedy gold. 
Michael Shur and Greg Daniels takes this ensemble workplace comedy to an unsuspecting place: A small-town Indiana Parks and Recreation department, and thank goodness they did. This series, led by Amy Poehler as the devoted public servant Leslie Knope, features an incredible cast of characters that one would only be so lucky to find in a government office. There's the hands-off, libertarian boss Ron Swanson (Nick Offerman), man-child shoeshiner Andy Dwyer (Chris Pratt), cynical intern April Ludgate (Aubrey Plaza), the glamorous Donna Meagle (Retta), fuckin' Jerry (Jim O'Heir), and so many others. Together, they put up with a lot of ridiculous bureaucratic bullshit, but ultimately they do it because of how much they love their strange town ("First in friendship, fourth in obesity!") and each other -- meaning, this comedy's got a lot of heart.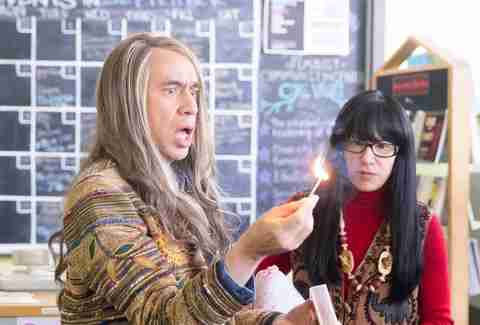 Portlandia (2011-2018)
IFC's hit show wrapped up its impressive run in 2018, so now's a good time to reminisce about what made it great: the bookstore, the goths, the Mayor, the spot-on sendup of hipster culture, and, of course, the inimitable Carrie Brownstein and Fred Armisen. Get a bird tattoo and shed a single tear.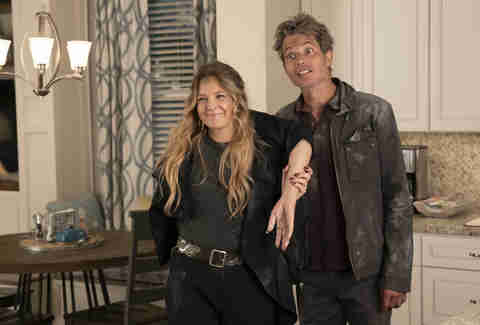 Santa Clarita Diet (2017-2019)
The series from Better Off Ted creator Victor Fresco gives the typical suburban family an undead twist. Unlike most shows about the struggle of surviving with zombies, Santa Clarita Diet is set up like a typical sitcom, with Drew Barrymore as the flesh-hungering monster and her husband (Timothy Olyphant) as a tireless zombie-pleaser trying to placate her in Little Shop of Horrors-like fashion. A 30-minute format establishes a laid-back pace with quirky jokes and an excessive amount of gore. Not for the weak-stomached. 
Schitt's Creek (2015- )
Any time you have the chance to watch a comedic genius flexing the full range of her abilities, you should take it, and Catherine O'Hara flexes hard as Moira Rose in Schitt's Creek. The story of the formerly wealthy Rose family's struggle to adjust to life running a motel in a small Canadian town they bought for their son back in the early '90s gives her and co-star/series co-creator Eugene Levy ample material to work with. Also living with their grown children David (Daniel Levy, the show's co-creator and Eugene's real-life son) and Alexis (Annie Murphy), who still share a room in the motel -- it's the perfect vehicle for the cast's whip-smart comedic instincts, while doubling as a roast of the extremely wealthy.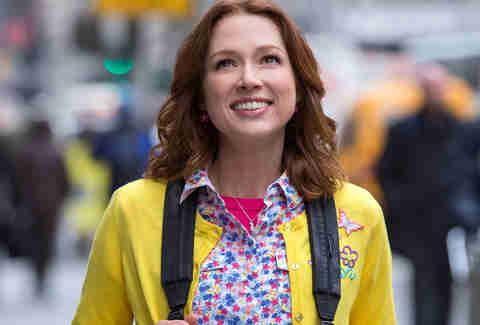 Unbreakable Kimmy Schmidt (2015-2019)
Tina Fey and 30 Rock producer Robert Carlock's comedy tracks the adventures of an Indiana naïf after she is freed from being held captive by a doomsday cult leader for 15 years -- what a premise! Ellie Kemper plays the freed kidnapping victim, who heads to the Big Apple without a clue on how to exist in the modern world. Luckily, Titus, a penny-pinching, Broadway-belting man in desperate need of a roommate, takes her in and trains her in the art of living. Kimmy Schmidt clings to 30 Rock's goofy sense of humor and drops the cynicism. Beware: It'll take three binges just to catch all the jokes.
Wet Hot American Summer: First Day of Camp/10 Years Later (2015 & 2017)
Reboots and spinoffs often fall flat; not so with Netflix's prequel and sequel to the 2001 cult comedy classic Wet Hot American Summer. The strength of this series is its willingness to poke fun at the very nature of the repetitive, sequel-driven boom TV and movies are experiencing, with the same actors playing the characters they originally portrayed as though no time has passed in the decade-and-a-half since the movie appeared. A-listers Amy Poehler, Paul Rudd, and Elizabeth Banks give game performances that are bolstered by new faces like John Slattery and Jordan Peele. The show never makes you feel as though you're participating in a cynical nostalgia play (though, let's face it, you kind of are), and while 10 Years Later took a dip in quality, succumbing to the dopiness of its own premise, the steady laughs have us recommending both seasons.