You've had a long day, and you just want to sit back on the couch and laugh a little bit. Netflix, as is so frequently the case, has you covered. The next time you feel like you're in need of a little comedy, binge one -- or two, or seven -- of these shows.
30 Rock (2006-2013)
Tina Fey's workplace sitcom was so good for so long that it's easy to take it for granted. Since it went off the air in 2013, comedies have gotten stranger, more dramatic, and more formally ambitious. But have they gotten any funnier? We'd argue no. Between Jack Donaghy's Bush-era conservative zingers, Tracy Jordan's endlessly absurd one-liners, Kenneth's disturbing hillbilly antics, and Jenna Maroney's deranged celebrity narcissism, the show delivered perfect jokes at an exhilarating pace. What's more innovative than that?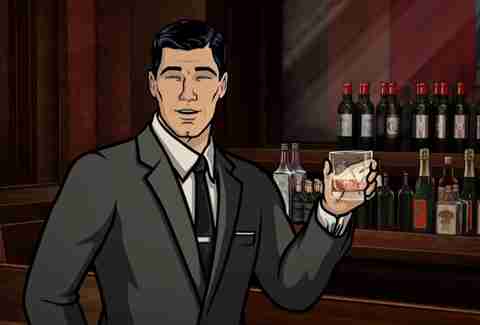 Archer (2009-present)
Sterling Malory Archer is a terrible spy. But he loves booze, sex, and turtleneck sweaters -- which makes his global adventures pure bliss. FX's debauched James Bond parody has a license to cross the line and, in its later seasons, reinvent the format in ways only animation could. A must-watch for anyone who wishes Daniel Craig would smile once in a while.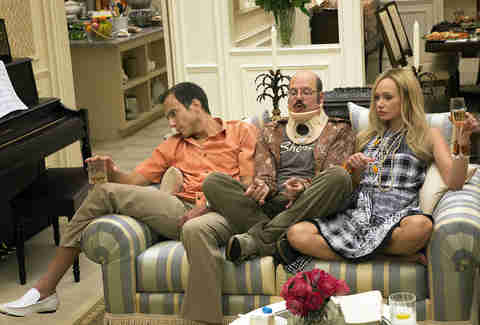 Arrested Development (2003-present)
There's always money in the banana stand, and there are always laughs to be found in Arrested Development, Mitchell Hurwitz's sly, self-aware family sitcom. While the most recent Netflix-produced season occasionally devolved into discursive, indulgent meta-humor, the show's original three seasons established a freewheeling comic sensibility that many of your favorite sitcoms -- Parks and Recreation, 30 Rock, Community, Archer, Kroll Show -- were influenced by. Don't hold the show's obnoxious fans against it. After watching a few episodes, you'll be quoting Tobias Fünke, too.
The Bernie Mac Show (2001-2006)
Bernie Mac's FOX sitcom was founded on the concept that parenting is war. It's an idea that the late Chicago-born comedian explored in his hilarious stand-up performances -- particularly his movie-stealing routines in Spike Lee's hit concert film The Kings of Comedy -- and one that the show, which was created by future Nightly Show host Larry Wilmore, found new ways to twist over five seasons. Before series like Arrested Development and Louie became critical darlings, The Bernie Mac Show was a sneaky experimental joy, ditching the laugh track for fourth wall-breaking scenes, gags with on-screen graphics, and emotionally real humor. It was the rare family sitcom that didn't pull any punches.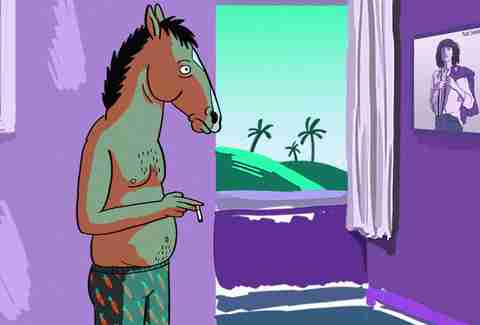 BoJack Horseman (2014-present)
The second season of Netflix's animated series doubles down on the depression, failure, and slovenly behavior we enjoyed in its first, with plenty of sight gags to lighten the mood. BoJack climbs higher than ever, as he lands his dream acting gig and a dream girlfriend, but life's cruel hand caps him at the knees over and over again. In between the morose moments, BoJack Horseman asks us to laugh -- and we do, because we can't imagine this beleaguered equine's life getting any worse, which, invariably, it does.
The Carmichael Show (2015-present)
For this NBC show's first two seasons, comedian Jerrod Carmichael has used the traditional multi-cam sitcom format to tackle topics that go unexplored on most shows: the Black Lives Matter movement, transgender issues, and more. The NBC comedy leans on its deeply funny characters to take aim at even more societal ills, but instead of feeling like an unwanted Facebook post from your crazy uncle, it's like a real conversation.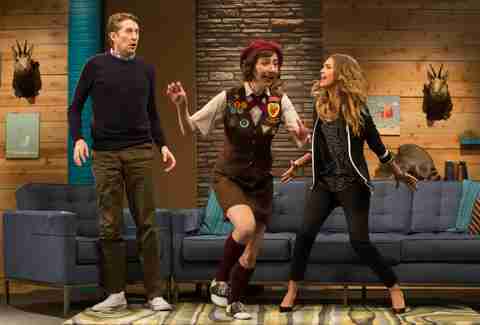 Comedy Bang! Bang! (2012-2016)
A few years after his podcast started airing, Scott Aukerman's popular talk show got the TV treatment. TV treatment here doesn't really mean adaptation, though; it means a platform to be fucking insane and hilariously surreal. Your favorite comedians (think Andy Daly, Sarah Silverman) hit Aukerman's couch with special guests (who range from Tony Hawk to Kevin Bacon to publicist extraordinaire Rodney Waber) to improv some magic, participate in off-the-wall bits, and make you ask, What the hell am I watching? -- in the best way.
Documentary Now! (2015-present)
IFC's Documentary Now! pokes fun at the precious self-seriousness of documentary filmmaking, thanks to SNL vets Bill Hader and Fred Armisen (and a regal Helen Mirren introduction). Docs in the show's crosshairs include everything from Nanook Revisited ("Kunuk Uncovered") to History of the Eagles ("Gentle & Soft: The Story of the Blue Jean Committee"), the latter a parody of an Eagles documentary that's pretty funny in its own right. Which is why the true brilliance of Documentary Now! comes less from imitation and more from the same sauce that makes any doc memorable: Human existence is fascinatingly absurd.
Fawlty Towers (1975; 1979)
Monty Python vet John Cleese teamed with then-wife Connie Booth to create Fawlty Towers, a legendary testament to the charms of British humor. The show centers on the lives of a comically inept and bad-tempered hotel owner and his wife, their employees, and the guests they inevitably alienate. If you like wacky comedy with intellectual sensibility, Fawlty Towers is a must-watch.
Futurama (1999-2003; 2008-2013)
Understandably, Futurama looks and feels like a little sibling to Matt Groening's Simpsons. The sci-fi toon imitates its big bro with a similar penchant for wordplay, pop-culture parody, political satire, and visual gags. But after a seven-season run, the story of Fry, a New York City pizza guy who becomes an interplanetary delivery worker after he's transported from 1999 to 2999, has come to boast an immersive, outrageously fun universe all its own.
It's Always Sunny in Philadelphia (2005-present)
Few shows make us consistently laugh-cry like It's Always Sunny in Philadelphia, a dark cringe-comedy about a group of depraved jerks (comedy heavyweights Charlie Day, Glenn Howerton, Rob McElhenney, Kaitlin Olson, and Danny DeVito) doing horrible things to each other and the people around them. There are 10 seasons available on Netflix, but don't worry about binge-watching -- It's Always Sunny is the perfect show to drop in and out of. Even decade-old episodes keep the lovable dirtbags of Paddy's Pub up to recognizable, juvenile antics. It's a show about physical harm, drinking until puking, and wantonly setting things on fire.
Lady Dynamite (2016-present)
Maria Bamford's semi-autobiographical, surreal spin on mental illness in Hollywood was a summer sleeper hit for Netflix. The comedian's self-aware hijinks share obvious DNA with Arrested Development: Mitch Hurwitz and Pam Brady are executive producers; there are sight gags, wordplay, and mockery of Los Angeles idiocy galore; and it features countless comedy-world cameos, extended fantasy sequences, and genuine self-introspection. It'll take you a few episodes to get invested, or even to wrap your head around WTF you're watching. But once you're hooked, you're hooked.
The Office (2001-2002)
Fans of Dunder Mifflin have Ricky Gervais to thank for the genesis of Michael Scott. This show's the OG, in other words. Though it only ran for two seasons, Gervais' British Office paved the way for a new wave of awkward comedy, turned banal jobs into fertile ground for producing side-splitting workplace laughs, and inspired Greg Daniels and Michael Schur to be their best. It's worth noting that Gervais' original character lives on in Netflix's Life on the Road -- the kind of catch-up project we'd love to see for a certain Agent Michael Scarn.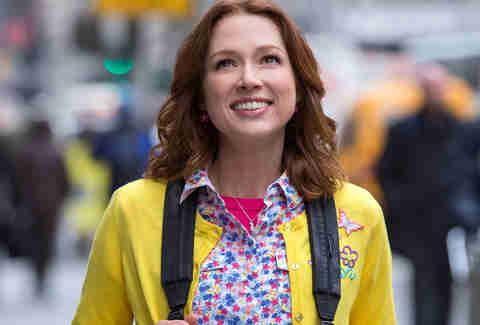 Unbreakable Kimmy Schmidt (2015-present)
Tina Fey and 30 Rock producer Robert Carlock's comedy tracks the adventures of an Indiana naïf after she is freed from being held captive by a doomsday cult leader for 15 years -- what a premise! Ellie Kemper plays the freed kidnapping victim, who heads to the Big Apple without a clue on how to exist in the modern world. Luckily, Titus, a penny-pinching, Broadway-belting man in desperate need of a roommate, takes her in and trains her in the art of living. Kimmy Schmidt clings to 30 Rock's goofy sense of humor and drops the cynicism. Beware: It'll take three binges just to catch all the jokes.
Sign up here for our daily Thrillist email, and get your fix of the best in food/drink/fun.