The Most Comforting TV Shows to Watch on Netflix
For when you're in a need of warm and fuzzy feelings.
What is comfort? In English, the word takes on various connotations, traveling back and forth from active to passive: You comfort a loved one, or you're comforted by a bit of good news. How, then, does a television show become "comfort television?"
We're after something closer to the zeitgeisty Danish word, hygge, which describes an overall feeling of well-being, coziness, and comfort, all rolled into one. The shows below may not share a genre, subject matter, or much of anything besides a place on Netflix's streaming platform, but they all help create a sense of hygge; you can curl up on the couch under a warm blanket, steep some tea, and drop into any of the following comfort TV shows on Netflix.
Netflix
Arrested Development (2003-2019)
There's always money in the banana stand, and there are always laughs to be found in Arrested Development, Mitchell Hurwitz's sly, self-aware family sitcom. While the most recent Netflix-produced season occasionally devolved into discursive, indulgent meta-humor, the show's original three seasons established a freewheeling comic sensibility that many of your favorite sitcoms -- Parks and Recreation, 30 Rock, Community, Archer, Kroll Show -- were influenced by. Don't hold the show's obnoxious fans against it. After watching a few episodes, you'll feel right at home in the dysfunctional Bluth family, and you might find yourself quoting Tobias Fünke, too.
Funny or Die/Lyft Entertainment
Billy on the Street (2011- )
It's a game show for people who think game shows are stupid! The frenetic Billy Eichner mixes celebrity guests, unsuspecting strangers, and wild one-off games to create a delightfully addictive and fast-paced show that doubles as a broad takedown of celebrity culture writ large. Come on, who wouldn't want to watch Rachel Dratch try to escape from Margot Robbie's Hollywood moment?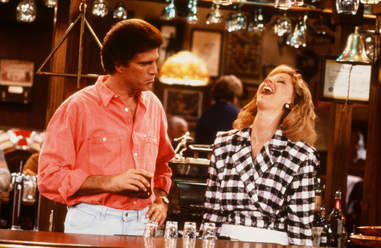 NBC
Cheers (1982-1993)
For the days when you want to hang out where everyone knows your name without changing out of pajamas. Cheers had a marathon run (273 episodes!) over the course of a decade, quickly and handily becoming one of the most beloved sitcoms of all time. Led by Ted Danson's sleazeball with a heart of gold Sam Malone, an ex-Red Soxxer and reformed alcoholic slinging drinks, Cheers is all about its rotating cast of barflies, including barback Coach (Nicholas Colasanto) and his replacement Woody (Woody Harrelson), mailman Cliff Clavin (John Ratzenberger), Norm! (George Wendt), Boston psychiatrist to Seattle radio personality Frasier Crane (Kelsey Grammer), and bloviating intellectual Diane Chambers (Shelley Long) and her on-and-off again romance with Sam. Pull up a barstool and crack open a cold one -- you'll be a regular in no time.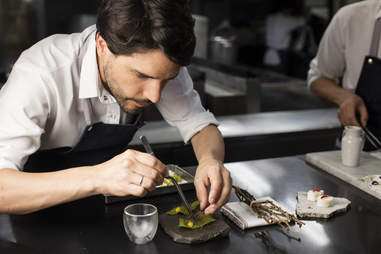 Netflix
Chef's Table (2015- )
With an explosion of food television comes elevated standards; Netflix's Chef's Table forages for those standards, brings them to the restaurant for dinner service, treats them with respect, turns them into a whimsical play on a dish remembered from childhood, and earns a couple Michelin stars and the admiration of its peers in the process. The point is that Chef's Table, from creator David Gelb (Jiro Dreams of Sushi), is an exceptional food show that manages to make humans the centerpiece.
Sony Pictures Television
Community (2009-2015)
There's a reason Dan Harmon's community college ensemble comedy amassed a devoted cult following for its six-season run, despite it nearly always being on the brink of cancelation. The series focuses on a lovable study group of misfits played by both comedy veterans and those then just on the brink of breaking out -- including consummate cool guy Jeff Winger (Joel McHale), lovable ditz Britta Perry (Gillian Jacobs), TV-obsessed Abed Nadir (Danny Pudi), anxious genius Annie Edison (Alison Brie), tough-but-firm mother Shirley Bennett (Yvette Nicole Brown), high school jock Troy Barnes (Donald Glover), and the baffling, bored, former CEO Pierce Hawthorne (Chevy Chase) -- as they navigate their way through Greendale Community College. It's a sitcom that's goofy and delirious, but forever a lesson in how to become a better person.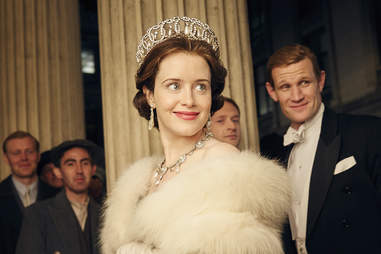 Netflix
The Crown (2016- )
The Crown is quintessential comfort viewing, designed to cloister you off from the horrors of the real world and instead reside in the petty dramas of British royalty. The costumes and sets are designed with careful attention to detail, recreating the lush extravagance of monarchical life and its freedom from all worldly troubles. As a critical work, that can be to its detriment; it's remarkably disengaged with the macro geopolitical shifts that characterize Elizabeth II's long reign as Queen of England. Ultimately, though, The Crown is confident in its soapiness, opulent in every respect, and quite possibly Netflix's best escapism (using a subject that should probably be anything but). If you love royalist porn, this will be like a long, slow massage.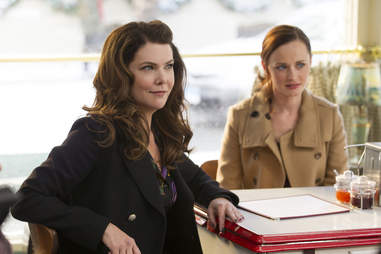 Netflix
Gilmore Girls (2000-2007; 2016)
In case you haven't heard, Netflix revived Gilmore Girls -- so you can catch up with this wisecracking mother-daughter duo before watching the four-episode follow-up. The show takes place in the quirky small town of Stars Hollow and features a dynamic supporting cast so fully fleshed, you'll feel like a local after your first hour. When Lorelai and Rory slip into their rapid-fire banter, it's like slipping on your favorite robe, familiar and exciting all at once. For extra credit, the Gilmore Guys podcast dissects the series episode by episode, providing a more contemporary watercooler for your thoughts on a 17-year-old show.
NBC
The Good Place (2016-2020)
In this sneaky afterlife comedy from Mike Schur (Parks and Recreation), Kristen Bell's deceased cretin Eleanor is erroneously given a berth in a Heaven-esque afterworld. Once the high-concept show gets past establishing its characters and premise, you'll enjoy watching her do whatever she can to avoid being found out and sent to the Bad Place, where she belongs, by her friendly neighborhood architect, Michael (Ted Danson), including forcing her "soulmate," Chidi (William Jackson Harper), to teach her everything there is about being a nice and good person. Pretty soon, it becomes evident that the so-called Good Place is a lot more complex than we're first led to believe, but throughout it's made clear that watching the series will feel like you've been sent to TV Heaven.
Netflix
Grace and Frankie (2015- )
The lives of Grace and Frankie are both turned upside down when the longtime frenemies learn that their husbands are leaving them... for each other. Soon after learning of their husbands' infidelities, the two women form an unexpected bond with each other that's an absolute joy to watch on screen.
Netflix
The Great British Baking Show (2010- )
Of the culinary competition shows out there, GBBS (known as The Great British Bake Off across the pond) is the least cutthroat, most low-key you will ever have the pleasure of watching. Between the banter of hosts Mel and Sue (literally the name of their comedy duo) and interplay of the delightful Mary Berry and the notoriously hard-to-impress Paul Hollywood, contestants are put through the ringer of three bakes that, aside from the secret technical challenge, they have plenty of time to prepare for. The bakers develop such camaraderie over the season that when one of their pals leaves, everyone else cries for that person. Imagine that!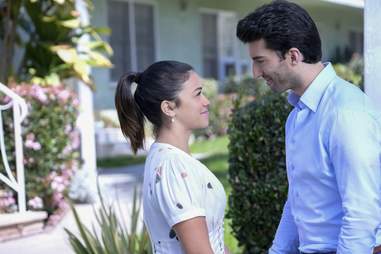 The CW
Jane the Virgin (2014-2019)
Yes, the title, the premise, the plotlines on this CW series are all ridiculous. But it's a telenovela -- it's supposed to be over the top. What's truly unbelievable about Jane is how many serious, controversial issues it makes palatable without moralizing (#ImmigrationReform). Somehow, a melodrama about an accidentally artificially inseminated virgin raising a baby while flitting back and forth between the vertices of a love triangle, which takes place in a world populated by drug lords, secret twins, evil professors, and a police department conspiracy -- manages to strike the simplest emotional and comic beats week after week. Jane deserves praise for its bilingual storytelling, strong female relationships, and uncommon mastery of a narrator's chryons... but ultimately, we watch it because it's just plain fun.
Netflix
Nailed It! (2018- )
If you've ever attempted to bake a Disney princess cake that ended up looking more like a blob than anything else, then this one's for you, as it's quite possibly the only television show that actually celebrates your subpar baking skills. Hosted by Girl Code's Nicole Byer, Nailed It is about as light-hearted as The Great British Baking Show, and it sees amateur bakers facing off against each other to recreate elaborate Pinterest desserts despite the fact that they can't even properly ice a cake. It's a wild and hilarious ride, and you can probably marathon through the first six episodes in one couch session.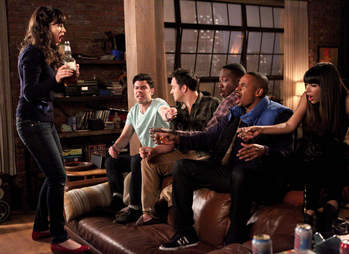 FOX
New Girl (2011-2018)
Zooey Deschanel goes full-on manic pixie dream girl in this 20-something buddy comedy, playing the new roommate in an apartment full of bros. With freshly dumped elementary school teacher Jess Day moving into the home of several men who would rather do the bare minimum than make their apartment/lives function, New Girl is the quintessential setup for clashing personalities, burgeoning relationships, and ridiculous "mess-arounds." The cast is hysterical, and the individual bonds between characters keeps you coming back to apartment 4D -- as the show goes on, the classic will they, won't they that unfolds between Jess and her curmudgeonly bartender roommate Nick (Jake Johnson) will have you desperate to find space in Winston's galactic-sex-portrait-painted closet to move on in, too. 
NBC
Parks and Recreation (2009-2015)
In the vein of workplace "reality" comedies like The Office, creator Michael Schur's take on a local parks and rec department finds humor in the mundane -- like bosses who take themselves way too seriously. Watching this show now is like being treated to a buffet of comedic royalty; there's Amy Poehler! Adam Scott! Chris Pratt! Aubrey Plaza! Aziz Ansari! And more! Their performances cemented Parks and Rec's place in network comedy lore. 
NBC
The Office (2005-2013)
Go ahead and try to prevent your brain from firing off loads of oxytocin as soon as those opening piano notes hit your eardrums. As scenes from Scranton and the Dunder Mifflin office play across the screen, you'll find it difficult to resist falling into a wormhole of nostalgia, knowing all along that (SPOILER) Jim and Pam get together in the end. If you're watching for the first time, you'll understand why so many people fell for Michael Scott and the soft-bellied, straight-faced humor that reinvented network television.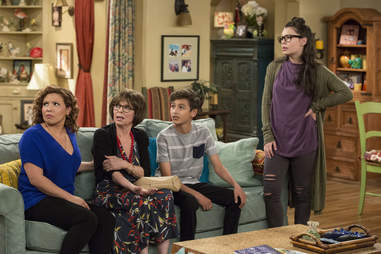 Netflix
One Day at a Time (2017- )
Like The Ranch, its red state cousin, One Day at a Time is a throwback family sitcom in a world that can be unkind to audience laughter, big comedic performances, and that stage-bound multi-camera look. But single-camera purists should get over their hang-ups. This clever remake of Norman Lear's '70s hit about a single mother raising two teenage daughters is more charming and funny than many of its seemingly "edgier" peers. Anchored by a lived-in performance from Justina Machado (Six Feet Under), the show finds familiar laughs in the way generations clash and families wage war, but it's also culturally specific, socially engaged, and leisurely paced in a way that makes it stand out from your average CBS family show -- or Netflix's own dire Fuller House.
IFC
Portlandia (2011-2018)
Fred Armisen and Carrie Brownstein's vehicle for skewering hipster preciousness came to an end in 2018, but in the eight season run it had on IFC, Portlandia mainstreamed its brand of soft alt comedy and tapping a lot of friends and famous faces -- Aimee Mann, Kyle MacLachlan, Kumail Nanjiani, Chloe Sevigny, etc, etc, etc. -- to help out by taking on absurdist caricatures of crunchy Portlanders. Catch up on the series that turned Portland, Oregon into a fantasy playground of twee hipsterdom, endless brunch lines, and militant feminist book stores. Crochet a bird-adorned scarf and snuggle in for a night of self-aware laughs. 
Ryan M. Collerd/Netflix
Queer Eye (2018- )
Netflix's most successful reality television series just keeps on going. A reboot of the early 2000s series Queer Eye for the Straight Guy, Queer Eye features experts Jonathan Van Ness, Tan France, Antoni Porowski, Bobby Berk, and Karamo Brown traveling around and helping people get their lives together. No longer limited to just fixing up clueless straight men, the Fab Five provide help with personal grooming, home renovation, style, food, and life in general while also navigating issues of politics and identity. It's not always smooth sailing, but at its core Queer Eye is well-intentioned, heartwarming, and a joy to watch. Be warned, though: Even if you're not necessarily one to cry at TV, this one is undoubtably a tearjerker. You'll love it through the tears.
Netflix
Samurai Gourmet (2017)
Samurai Gourmet is a show about eating, but in no way that you might expect. Hazy around the edges, the fictional series follows the culinary adventures of the newly retired businessman Takashi Kasumi, who often falls into daydreams motivated by the premise: What Would A Great Samurai Do? Often, that boils down to drinking a beer in the middle of the day or saying yes to another serving of rice. There's tranquil food porn aplenty in this mostly solitary journey inside the head of our guy Takashi.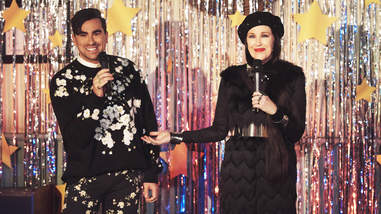 Pop
Schitt's Creek (2015-2020)
Any time you have the chance to watch a comedic genius flexing the full range of her abilities, you should take it, and Catherine O'Hara flexes hard as Moira Rose in Schitt's Creek. The story of the formerly wealthy Rose family's struggle to adjust to life running a motel in a small Canadian town they bought for their son back in the early '90s gives her and co-star/series co-creator Eugene Levy ample material to work with. Also living with their grown children David (Daniel Levy, the show's co-creator and Eugene's real-life son) and Alexis (Annie Murphy), who still share a room in the motel -- it's the perfect vehicle for the cast's sharp comedic instincts, while doubling as a roast of the extremely wealthy.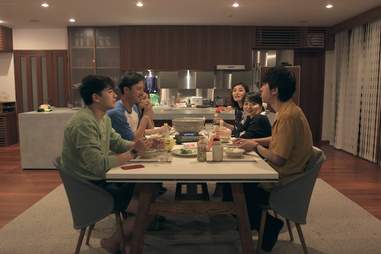 'Terrace House: Opening New Doors'

| Netflix
Terrace House (2012-2020)
This Japanese reality show is, at its essence, a more polite version of MTV's Real World; six strangers -- three men and three women -- live together, while going about their normal lives. No new jobs or challenges; just livin' life. The twist is that a panel of another six people watches the same cuts of their days as we do and provides commentary, predicting villains and rooting for budding couples. It's kind of like Netflix Xanax, but that's not to say there's no drama. It's just that it's usually more muted, philosophical, and existential than the senseless screaming you see elsewhere. In fact, many episodes, thanks to the panel, offer a sort of moral or sense of inspiration.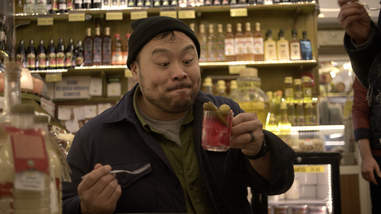 Netflix
Ugly Delicious (2018- )
In the absence of Lucky Peach, the spirit and vision of the shuttered food magazine lives on in the Netflix-produced Ugly Delicious, where David Chang and Peter Meehan, the magazine's editor in chief, offer their take on a food-travel show. Each single-topic episode -- pizza, home cooking, fried rice -- divvies up exploratory duties between Chang and Meehan, whether that means running around locales from Tokyo to Coney Island with famous pals or making a fool of themselves trying their hand at a cooking skill that takes a lifetime to master, to find the heart and soul of a dish, "authenticity" be damned. Ugly Delicious is imperfect, but in a space where there are enough Bourdain knock-offs to go around, it's a fresh perspective lifted straight from the pages of a dead magazine that's come back to life.
Netflix
Unbreakable Kimmy Schmidt (2015-2019)
Tina Fey and 30 Rock producer Robert Carlock's comedy tracks the adventures of an Indiana naïf after she is freed from being held captive by a doomsday cult leader for 15 years -- what a premise! Ellie Kemper plays the freed kidnapping victim, who heads to the Big Apple without a clue on how to exist in the modern world. Luckily, Titus, a penny-pinching, Broadway-belting man in desperate need of a roommate, takes her in and trains her in the art of living. Kimmy Schmidt clings to 30 Rock's goofy sense of humor and drops the cynicism. Beware: It'll take three binges just to catch all the jokes.
NBC
The West Wing (1999-2006)
Don't hold The Newsroom against him: Aaron Sorkin's political fable is smarter, funnier, and less bombastic than some of the Oscar-winning screenwriter's later television work. In telling the story of President Jed Bartlet (Martin Sheen) and his workaholic senior staff, Sorkin found the perfect subject matter for his farcical, monologue-heavy, walk-and-talk style. Though the show lost some of its charm when Sorkin left after the fourth season, the later episodes -- complete with an Obama-like presidential candidate played by Jimmy Smits -- work as a liberal wish-fulfillment fantasy in these very, uh, un-Bartlet-ey times.
Need help finding something to watch? Sign up here for our weekly Streamail newsletter to get streaming recommendations delivered straight to your inbox.