The Best Comic-Book Movies You Can Watch Right Now
Walt Disney Studios
Walt Disney Studios
It's a good time to be a comic book fan who's always dreamed of watching her or his heroes come to life on the big screen -- the box office numbers for the Marvel Cinematic Universe alone are enough to suggest there are plenty of folks out there who fit that description.
But perhaps you prefer to consume the superheroes of your youth in a more private setting. Lucky for you, there's plenty of comic-inspired movies available to stream right now on various services -- and unlike some of the stinkers (*cough* Batman v Superman), a lot of them are super good. So what are you waiting for? Tie on your finest cape and get to streaming. The fate of the free world hangs in the balance.
Captain America: Civil War (2016)
If you're a fan of the Marvel Cinematic Universe, you'll probably enjoy Chris Evans' Captain America and Robert Downey Jr.'s Iron Man duking it out for two-and-a-half hours. While you can read Captain America: Civil War as a political allegory, it's the splashy, big-budget action sequences that have made Marvel a cash cow and will keep you glued to your couch.
Where to watch it: Stream on Netflix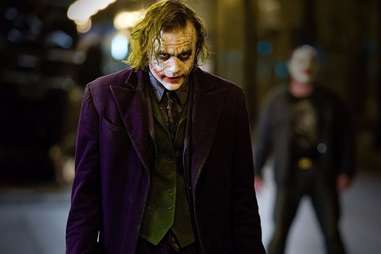 The Dark Knight (2008)
Not all superhero films are action movies, but The Dark Knight, with its Heat-inspired opening robbery, truck-flipping car chase, and Batman-as-NSA-watchdog high-rise fight, certainly qualifies. Critics have rightly dinged Christopher Nolan's incoherent editing and glaring plot holes, but the Inception director is a master of narrative stacking, layering stories to create a sense of frenzied tension. The Dark Knight is a brilliant Jenga tower of suspense. With Heath Ledger's iconic Joker performance at its center, the movie grabs you by the throat and doesn't let go.
Where to watch it: Stream on HBOGO and HBONOW
Doctor Strange (2016)
If Marvel can craft a special-effects-driven mega-blockbuster out of Doctor Strange, a Greenwich Village-dwelling sorcerer dreamed up by Steve Ditko in 1963, they can make a movie out of anything. Director Scott Derrickson (Sinister) doesn't exactly double down on the comic's trippy imagery or capture the character's beatnik appeal -- mainstream audiences and Disney investors aren't exactly looking for a Jodorowsky film with capes -- but he does stage some appropriately mind-bending, kid-friendly bursts of psychedelic trickery. The Inception-style cityscapes folding in on themselves are striking, and the film's finale, where Strange bends time to create an infinite loop in the Dark Dimension, is the rare third act in a Marvel film that's more fun than what preceded it. Strange's arc from jerk to gent, deftly played by a rakish Benedict Cumberbatch, is cut from the Iron Man cloth, but the stitching is more intricate than it probably needs to be at this point. That's commendable.
Where to watch it: Stream on Netflix
Hellboy (2004)
Even when he's not adapting a comic book, director Guillermo del Toro makes comic-book movies. Any random image from Crimson Peak, Pacific Rim, or Pan's Labyrinth looks like it was plucked from a graphic novel, so it only makes sense that Hellboy, the Mexican filmmaker's spin on writer Mike Mignola's idiosyncratic cult favorite, is a fire-roasted visual feast. As the titular wiseass demon with a right hand of stone, tough-guy Ron Perlman (Sons of Anarchy) grounds the action with his cigar-chomping charisma and keeps it from devolving into pure spooky spectacle. It's the rare haunted house you'd want to live in.
Where to watch it: Stream on Hulu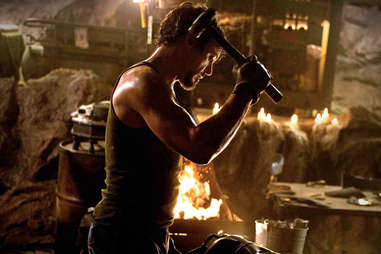 Iron Man (2008)
It's easy to forget that casting Robert Downey Jr. was no one's idea of a sure thing. The actor's machine-gun speaking style, archly ironic tone, and bad-boy reputation made him an awkward choice to kick-start a massive family-friendly movie franchise. But it turned out to be a savvy move, immediately giving the Marvel films much needed cultural cred -- Downey was fresh off acclaimed comeback roles in Kiss Kiss Bang Bang, A Scanner Darkly, and Zodiac -- and establishing a manic comic approach that's present in each subsequent movie. The DNA of what's to come is all here. Director Jon Favreau piles on special effects, fancy cars, and even a world-expanding post-credits stinger with Samuel L. Jackson's Nick Fury, but this is The Downey Show. You can't look away. Even with Captain America emerging as the beating heart of the Marvel Universe, Tony Stark remains its chattering id.
Where to watch it: Stream on Amazon Prime and Hulu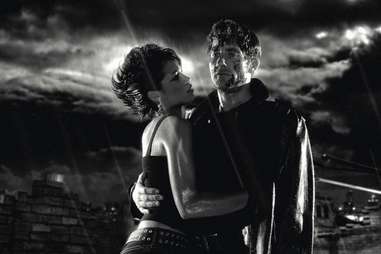 Sin City (2005)
Frank Miller enlisted Robert Rodriguez as co-director to translate the former's wildly popular series of the same name to the big screen, and with some added directorial work from Quentin Tarantino, the result became a watershed moment in the visual history of film. The signature black-and-white palette with splashes of color provided a grim backdrop to the sensational violence of the miniaturized plotlines -- this is perhaps the movie that feels more like a comic than any other on this list.
Where to watch it: Stream on HBOGO and HBONOW
Sin City: A Dame to Kill For (2014)
What's black and white and red all over? Frank Miller and Robert Rodriguez's second Sin City movie, which combines a couple straight-to-screen tales with more faithful source-material vignettes, and basks in the same visually striking style that made their first effort so alluring. The duo loses Quentin Tarantino this time around, but they gain Joseph Gordon-Levitt, Dennis Haysbert, and Josh Brolin. Come for the star-studded rogues gallery, stay for the gripping neo-noir brutality.
Stream it on: Netflix
X-Men: Apocalypse (2016)
If you miss the old X-Men cartoon, feel like living in a 1980s bubble, enjoy Quicksilver slo-mo action, and want to see tons of blood, Apocalypse could be the movie you didn't know you needed in your life right now. Not sold? Check out our full review for further convincing.
Where to watch it: Stream on HBOGO and HBONOW
Sign up here for our daily Thrillist email and subscribe here for our YouTube channel to get your fix of the best in food/drink/fun.
Follow the Thrillist Entertainment editors on Twitter @ThrillistEnt.