It's been a pretty remarkable year for comics. Where 2017 was a platform for both writers and illustrators to upend traditional norms, 2018 has given them the freedom to run with ideas that challenge our values, emotions, and ability to not put a book down and yell "HOLY SHIT" at anyone within earshot. In just a few months, Marvel made Venom and Thor great again; Image went Negan on us with new works such as Stellar, Flavor, and The Weatherman; and for every unexpected end (R.I.P. Gwenpool) there's been a serialized indie that's found a way to turn our hearts into a heaping pile of red goo. All of the above titles continue to show that comics are still one of the best forms of pure escapism, and below are 10 books from 2018 that do it to the nth degree.
Recommended Video
It's a Rice Krispies Treat. It's a Cheeseburger. It's a Giant Rice Krispies Treat Cheeseburger.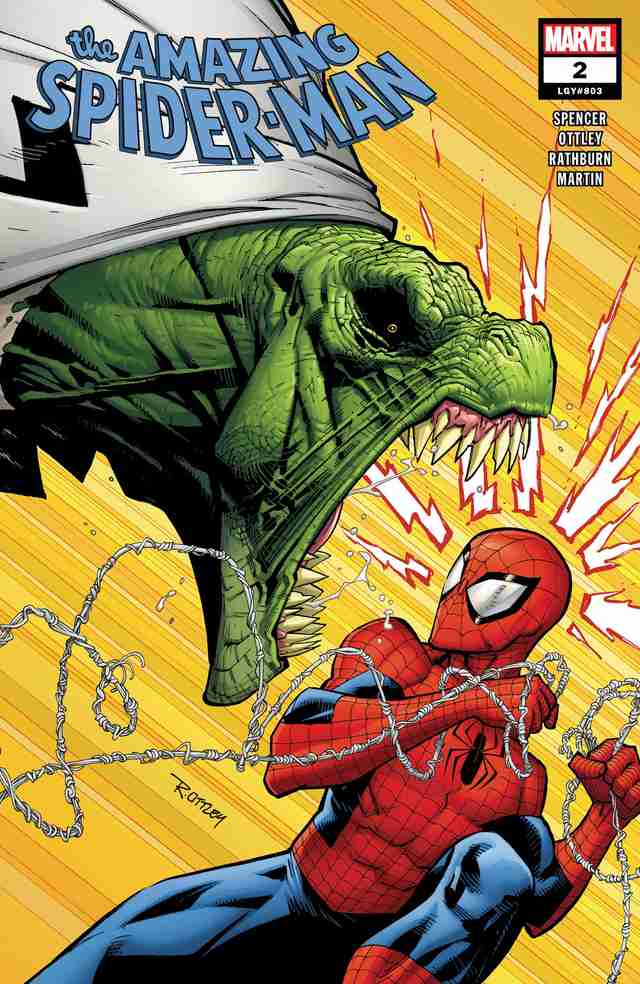 Amazing Spider-Man
Release date: July 11 (ongoing)
While Marvel's latest reboot of the Amazing Spider-Man could be tied into an endless DeviantArt soliloquy about power and responsibility, it's proven itself to be more of a 2.0 remix than an oversimplified fresh start. Nick Spencer (Secret Empire) and Ryan Ottley (Invincible) have followed up Dan Slott's decade-long stretch with an intimate look at Spider-Man being Spider-Man. In just two issues, Peter Parker's dealing with "aim bro" roommates; Kingpin is fussing about the need for better speechwriters; and if Mysterio isn't agonizing about being in a creative rut, then there's a good old-fashioned brawl going down at an overpriced book fair. It's all wrapped up in Ottley's love for detail and composing frames and character designs that superglue your eyes wide open, and with Laura Martin (colorist) and Cliff Rathburn (inker) in tow, it's hard not to see them taking the series places and making it one of the biggest must-pulls of the next five years.
Buy Issue #1 here.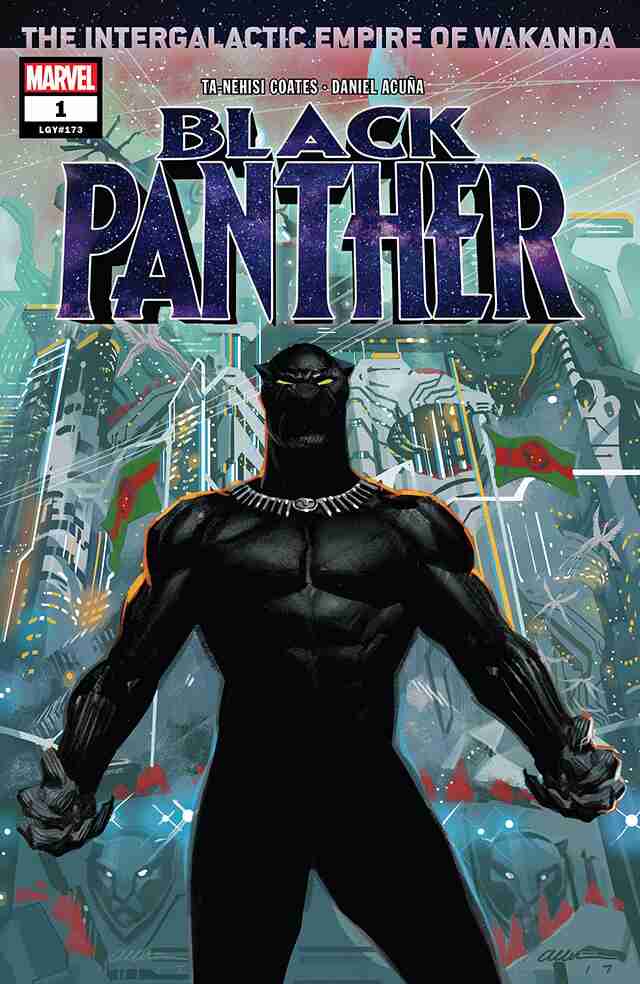 Black Panther
Release date: May 23 (ongoing)
Ta-Nehisi Coates is not here for the bullshit. His unparalleled take on Black Panther could have been a charming, Ragnarok-like pivot from his work on A Nation Under Our Feet and Avengers Of The New World, but instead it's a cinematic push into the idea that Wakanda has become an intergalactic empire in its own right. It's intimate, provoking, action-packed, wildly disorientating, and an unchained, hyper-stylized dip into science fiction. If Coates isn't catching you off guard with his distinctive wordplay and hidden themes, then you're probably still obsessing over Daniel Acuna's visuals and the way he uses color to set moods and style spacescapes that feel out of this world. There are levels to the duo's chemistry and with it being an incomparable force, their narrative is the perfect jumping on point for anyone who needs a little more Panther in their life.
Buy Issue #1 here.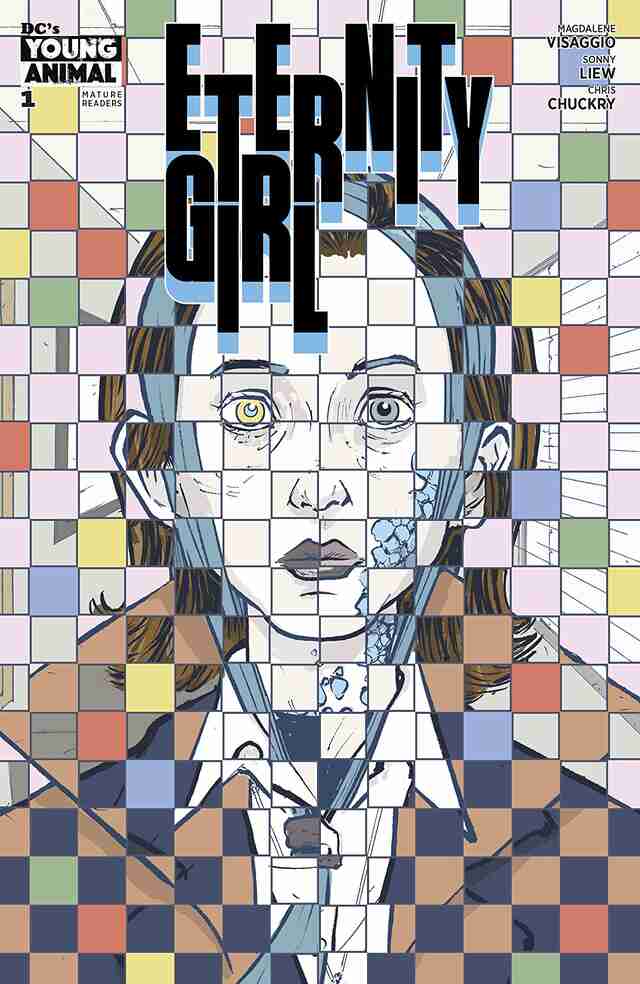 Eternity Girl
Release date: March 14 - August 8
In a year where it's easy to lapse into malaise, Eternity Girl is a gleaming beacon of hope. It's a bit of an oxymoron considering how dark its debut issue gets with its opening sequence on momentum, Jackass, and how "the possibility of failure is never an excuse to try. But it isn't macabre for macabre's sake; instead, it's several shades of cathartic. Caroline "Chrysalis" Sharp is a unconventional superhero who finds herself stuck in a life weighed down by depression and an inability to change. She's jaded, in full sarcasm mode, and already on the brink of fading out, and Magdalene Vissagio and Sonny Liew do a stand-up job at leaving her thoughts out in the open to eradicate the stigmas attached to mental health. Eternity Girl's Marc Maron-esque humor and dreamlike structure isn't for everyone, but like all of DC's Young Animal tales, it's a beautifully dense narrative that riots against the mainstream with its emotional awareness.
Buy Issue #1 here.
Heavy Vinyl
Release date: April 24
Previously known as Hi-Fi Fight Club, Carly Usdin and Nina Vakueva's Heavy Vinyl is a wildly inventive series that shows what you can accomplish when you run with your inner circle. Its first volume follows Chris, a teenager who has just started working at a local record store in her New Jersey town. She deals with pretty much everything -- including grunge posers, misogynistic metalheads, and even a crush on one of her co-workers -- but when the shop's favorite singer suddenly vanishes the night before her band's show, Chris comes to realize her dream job is also a front for a teen girl vigilante fight club. The premise is heavy on the cheese, but it works. Usdin and Vakueva waste no time in pacing out their mystery with relatable anxieties, a dynamic team, and panels that aren't afraid to have fun or subtly reinforce the importance of iconic records like The Miseducation Of Lauryn Hill. It's a stunning remix of '90s nostalgia and all things Clerks and Mallrats, making it the perfect palette cleanser for when Batman is being a total drama queen.
Buy it here.
Monstress
Release date: January 24 (ongoing)
Monstress isn't just epic fantasy; it's a masterclass in character design and world-building, and how much destruction they can cause when they're paired together. Marjorie Liu's continuation of Maika Halfwolf's story is still a harrowing analysis of her internal and external conflict, but the intricacies have been ramped up. Deities and witch-nuns are now joined by tiger pirates, ancient illusionists, automatons, and border wardens that just DGAF about your liberties, each with their own distinctive take on dialogue and cadence. Sana Takeda's Art Deco-inspired style is still undefined and beautifully morbid, and even more so in the latest arc. Every page is lined with a rich sense of history, and before you know it, they're peeling your eyelids back with action sequences that provide a whole new meaning to the idea of violent delights having violent ends.
Buy the series here.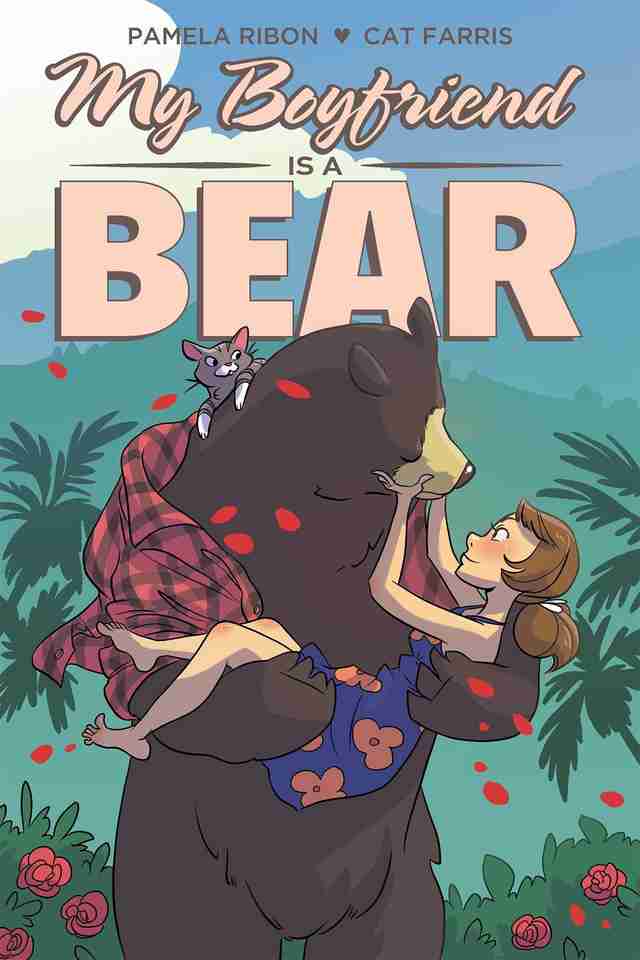 My Boyfriend Is A Bear
Release date: April 17
Dating is hard. It just sort of happens in college, and as you traverse your 20s, you evolve into a deflated husk barely coping with the trappings of adulthood. It's a tiresome montage and Pamela Ribon's debut novel dissects how those routines tend to push us to find love in unlikely places. As much as MBIAB is about 28-year-old Nora dating a literal 500-pound American black bear, it goes to lengths to discuss the ups and downs of relationships and the honesty and intimacy that accompanies each side. With Cat Farris' expressive art style, it taps into various tinier moments -- involving Farmer's Markets, mating season, and how "it's so much fun" that bears are open to watching anything on TV -- and it never weirds itself out. Instead, it uses each unpredictable frame to help connect you to one of the greatest love stories ever told.
Buy it here.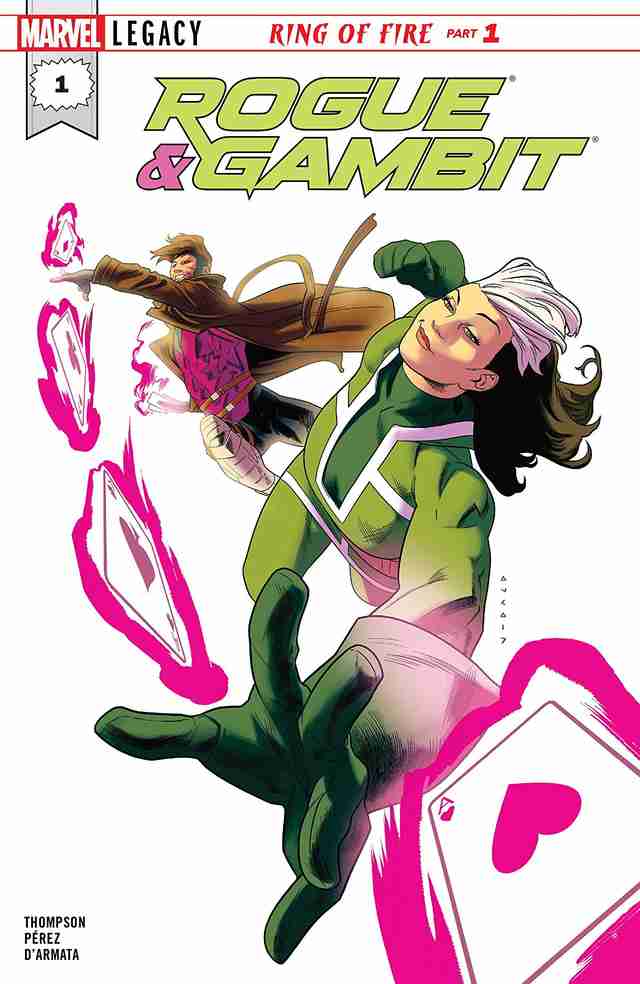 Rogue & Gambit
Release date: July 17
Even though the X-Men are perpetually stuck in a weird multiverse that has Inception-ed itself for the love of Marvel and Bryan Singer, Kelly Thompson's Rogue & Gambit is a lush step forward. Its story follows the former flings who are sent to infiltrate a resort for mutants by pretending to be a couple in need of marriage counselling. Rogue is ultra-sassy; Gambit is thirstier than ever; and in between their "sugars" and "cheries" is a whole lot of sexual tension that actually feels real on an emotional level. One minute they're debating the logistics of "kissed" versus "made out with" (spoiler: Deadpool's involved) and in the next, they're dissecting memories and every shard of happiness and pain that starts to sink in. It's a "will they or won't they" story that's both romantic and tragic, and it's undeniable proof that a five-issue miniseries can fillet your heart to pieces.
Buy Issue #1 here.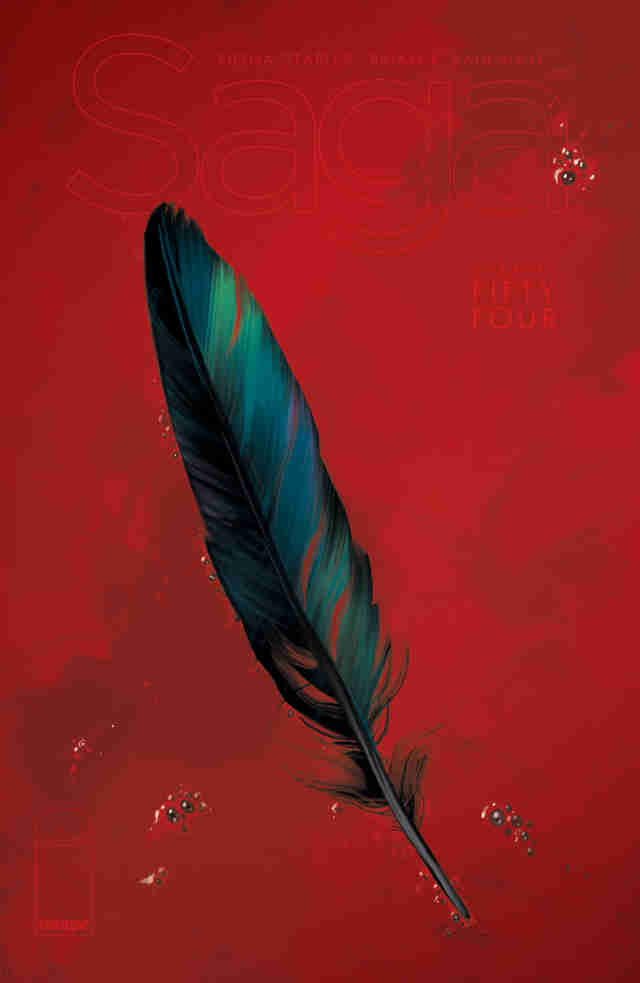 Saga
Release date: February 28 (ongoing)
We don't deserve Saga. Its first few acts hit us with star-crossed lovers, political warfare, infidelity, drug addiction, and heart-splitting tragedy, and 50-plus issues in, Brian K. Vaughan and Fiona Staples still have the sci-fi genre in some weird Krav Maga hold that's more complex than Bruce Lee's "Hall Of Mirrors" scene. It is embarrassingly hard to replicate or dissect in this day and age, and that's not about to change as Saga is beelining towards an irrevocable shift. The series' latest arc has experimented with pacing, full-page illustrations, and the way a comic can tie its odds and ends together; it's been remarkably terrifying to witness. Very few writers and artists can lull you into a false sense of security and then Thanos you within seconds, but Vaughan and Staples are bent on doing that again (and again) and for another 1,500 pages.
Buy Issue #49 here.
Skyward
Release date: April 18 (ongoing)
Joe Henderson's take on the post-apocalyptic genre and the concept of living in a world that has lost most of its gravity is what makes Skyward such a breathtaking piece of work. It focuses on a young woman's journey to find her place in a "low-G reality" and it never feels content to stick to the ground -- dotting each issue with strong characterizations and a personal take on a father and daughter relationship. It can be quirky, but Lee Garbett (art) and Antonio Fabela (colors) don't pull any punches when it comes to setting a mood or a sense of immersion. They excel at bringing every little detail to life, which helps Skyward balance its emotional hooks with an unimaginable dose of adventure (and realism).
Buy Issue #1 here.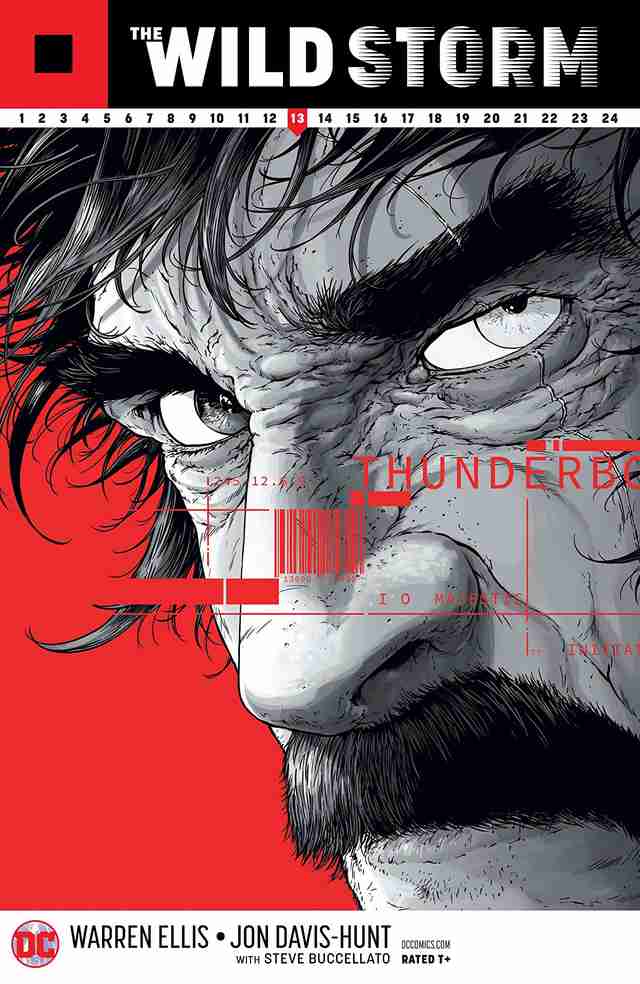 The Wild Storm
Release date: January 24 (ongoing)
Warren Ellis (Red, Transmetropolitan) isn't a stranger when it comes to blowing your mind wide  open. Hell, he wrote 2008's Dead Space and redefined the meaning of "survival horror" in an entirely different industry and it's why his new reset of The Wild Storm universe remains one of the most underrated books on DC's shelf. Its first few issues threw together a few badass leads and an eyebrow-raising plotline about transhumanism, and since, it's leaned on Jon Davis-Hunt's (Judge Dredd, Clean Room) art style to hash out politics, secret agendas, ulterior motives, and futuristic powers. It's bloody, fast-paced, and sci-fi as all hell -- in a good way. Ellis and Davis-Hunt's gift for setting up and pacing out a single scene and conversation over the course of multiple pages -- while making you forget you're reading a comic book and not watching HBO -- is what makes The Wild Storm a postmodern thrill ride.
Buy Issue #11 here.
Sign up here for our daily Thrillist email and subscribe here for our YouTube channel to get your fix of the best in food/drink/fun.