The Best Crime Movies to Stream on Netflix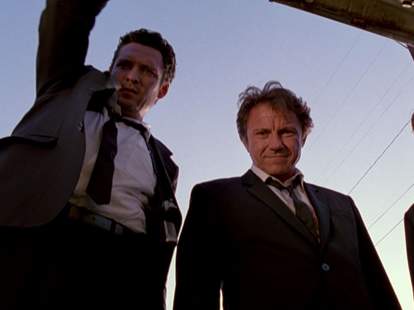 Admit it: sometimes you wonder what it's like to be a big bad villain -- or to take one down. Thanks to Netflix, you can watch the perfect crime play out from the comfort of your couch -- without even breaking any piracy laws!
Since wasting time is the truest crime of all, we've gone ahead and narrowed down Netflix's best capers for you. Some of these movies feature great action-movie clichés, others track organized syndicates and various no-goodniks. All are criminally entertaining, and you'd be proud to get caught watching them.
The Fast and the Furious (2001)
Before pimping its ride with vehicular action, this series was a Corona-sipping, family-loving, down-and-dirty crime saga that pit undercover cop Brian (Paul Walker) against electronics-pilfering street racer Dominic Toretto (Vin Diesel). Hot rods and "Race Wars" competitions give this scaled-down heist movie a serious nitrous boost; if you only know Fast & Furious from the current movies, ride (or die) with the entertaining installment totally deserving of an "OG" label.
Rounders (1998)
The movie your online poker-obsessed college roommate watched on repeat is actually a super-entertaining neo-noir. A law student (Matt Damon) has dreams of playing in the World Series of Poker, but finds himself under the gun when he loses all his money to a Russian mobster (a hilarious John Malkovich), and things only get crazier when his smart-ass hustler friend (Edward Norton) gets out of jail. Directed with stylish cool by John Dahl, Rounders is the type of movie channel-surfing (or lazy Sunday afternoon streaming) was made for: any stray moment or line of dialogue ("Pay that man his money!") can suck you in.
Lethal Weapon (1987)
All four installments of Mel Gibson and Danny Glover's cop saga now live on Netflix. Revisit Shane Black's first produced script and the iconic quotes and moments that resulted. As we put it on our best action movies of all time list, "Action movies aren't just about explosions, fistfights, and gun battles. They're about a specific attitude -- and Lethal Weapon is the foul-mouthed, nihilistic personification of that indefinable swagger."
The Italian Job (2003)
This might be the only film in which A-listers are overshadowed by an itty-bitty car: once you arrive at The Italian Job's stunning MINI Cooper car chase, you'll forget all about Mark Wahlberg and Charlize Theron. Though not a faithful remake, F. Gary Gray's fast-paced update of the 1969 Michael Caine-starring heist flick is stylish as hell, with Donald Sutherland leading the ragtag robber crew this time around. Seth Green, Yasiin Bey (the artist formerly known as Mos Def), Jason Statham, and Edward Norton round out the all-star team -- though one of those partners in crime turns out to be a dirty double-crosser. Sure, The Italian Job is a predictable one, but what it lacks in depth, it makes up for with plenty of flash.
The Sting (1973)
Crime films don't have to be gritty. Sometimes, like in the case of Robert Redford and Paul Newman's stylish Oscar winner The Sting, they can be nothing but pleasure, like a perfectly prepared dessert. Reuniting only a few years after their star-making turns in Butch Cassidy and the Sundance Kid, Newman and Redford were the original Clooney and Pitt, coasting on pure movie-star charisma and charm in a twist-filled con-artist movie that proves you don't always have to roll up your jacket sleeves and get knee-deep in the dirt to make a classic. Sometimes hard work looks like a bespoke suit.
To Catch a Thief (1955)
Can a master cat burglar uncover the identity of... a master cat burglar? The mystery pushes Cary Grant and Grace Kelly down the rabbit hole, across beautiful French Riviera landscapes, and into one another's arms in Alfred Hitchcock's suspenseful romance. "Lush" and "elegant" don't normally pair with "crime movie," but Hitchcock's hand ensures To Catch a Thief can fill a date night with appropriate intrigue.
Beverly Hills Cop (1984)
Has any genre aged less gracefully than the '80s action-comedy? While modern films like Pineapple Express, Hot Fuzz, and 21 Jump Street have great fun satirizing and celebrating its conventions, it's hard to think of a recent movie with the odd, leisurely charms of Beverly Hills Cop. The jokes are funny, but not so absurd that they break the tension, and the action scenes are competently filmed, surrounding Eddie Murphy's smart-ass Detroit cop with some real danger and mystery. Why don't they make them like this anymore? While recent attempts to revive the franchise have mostly fallen into some Brett Ratner-controlled subsection of development hell, Axel Foley will always be waiting for you on Netflix. And he's still got the Lions jacket. 
Inside Man (2006)
Denzel Washington is at his wily, sharp, and sharply dressed best as he teams up once again with Spike Lee for this wildly entertaining heist thriller. He's an NYPD hostage negotiator who discovers a whole bunch of drama when a crew of robbers (led by Clive Owen's dashing ass) takes a bank hostage during a 24-hour period. A leggy Jodie Foster is also around doing some mysterious stuff.
Reservoir Dogs (1992)
Quentin Tarantino's directorial debut is all talk, and mostly bullshit, spewing from the mouths of knuckleheads who just screwed up the diamond heist of a lifetime. Unencumbered by Hollywood's rules, Tarantino deconstructs masculinity through monologue, standoffs, and the literal removal of body parts (the now-legendary ear scene deserves that status). Speaking of ears, Tarantino has one; the "tipping" scene alone is an apogee of crude, poetic vernacular. Reservoir Dogs will always feel primordial, an introduction to the writer-director's -isms and a kickoff for endless imitators. 
Dope (2015)
Dope, about a trio of high school geeks who find themselves swept up in a drug caper, arrived at a cultural moment when early hip-hop nostalgia was at an all-time high. Boasting a soundtrack that balances classic tracks from A Tribe Called Quest, Public Enemy, and Nas with modern performers A$AP Rocky, Tyga, and others, the Sundance breakout film overcomes a story that drags a bit down the stretch via engaging performances, notably from Shameik Moore, who plays old-soul teen lead Malcolm, and impeccable music direction (thanks, Pharrell). Like in high school, good taste counts a lot in teen movies -- and Dope has wild style to spare.
Pulp Fiction (1994)
Pulp Fiction is a film where objects evoke whole oceans of meaning: the briefcase, the watch, the sword, the "bad mother fucker" wallet, the $5 milkshake. No other modern movie so effortlessly created its own language and mythology of cool. Many have tried, but only Tarantino could cut and paste his passions -- European art-house movies, paperback crime novels, Saturday afternoon sitcom reruns -- into a collage. Both wickedly funny and surprisingly thoughtful, Pulp Fiction is even better than you remember it being in the 1990s. Travolta still sizzles. The dialogue still pops. The soundtrack still sings. Forget the loftier films he'd make later in his career -- this is his masterpiece. 
No Country for Old Men (2007)
Like a blast from Anton Chigurh's cattle gun, No Country for Old Men came out of nowhere. For this neo-Western starring Josh Brolin, an adaptation of Cormac McCarthy's brutal, uncompromising thriller, the Coen brothers crafted their most purely suspenseful and terrifying film to date. The coin flip, the car crash, and Javier Bardem's haircut have all become pop-cultural fixtures at this point -- strip-mined for memes and parodies. But the sense of dread the film evokes, amplified by Roger Deakins' shadowy photography, is impossible to shake. It's real. It's scary. And it's coming for you. 
In Bruges (2008)
With this year's dark indie comedy The Lobster, many moviegoers learned what fans of In Bruges already knew: Colin Farrell is a seriously funny actor. In playwright Martin McDonagh's sly directorial debut, Farrell plays Ray, an Irish hitman wracked with guilt over the accidental killing of a young boy. Instead of using his rugged good looks to play yet another "badass" assassin character, Farrell goes full neurotic, twitching his eyes and fidgeting like a child struggling to stay still in class. It's a hilarious, manic performance that makes the film's comic moments pop, and allows its somber, reflective moments to sneak up on you like a dark stranger approaching in an alley. You won't know what hit you.
Sign up here for our daily Thrillist email, and get your fix of the best in food/drink/fun.
Follow the Thrillist Entertainment editors on Twitter @ThrillistEnt.