The Walt Disney Company's own standalone streaming platform, Disney+, has been a threat to Netflix since it was first announced in August 2017 -- and now that the service launched in November 2019, the House of Mouse titles are already starting to dwindle off Netflix. Since any property under the Disney banner -- from Pixar movies to Lucasfilm's Star Wars one-offs to the Marvel superhero sagas -- are moving to Disney+ (if they haven't already with its large slate of animated and live-action available titles), few are left stream on good ole Netflix. While it's unclear when everything Disney-related will be obsolete on the OG streamer, several movies still remain. Here's the best Disney movies on Netflix to watch right now before you have to fork out money for yet another subscription. 
Bedtime Stories (2008)
The Sandman more or less takes on the role of the actual Sandman in this wacky, dreamy fantasy. When Adam Sandler's Skeeter starts to help out his family by watching his niece and nephew at night and putting them to bed, the hotel handy man discovers that all of the bedtime stories he tells become reality. Gum balls start falling from the sky, the girl he thought he could never get starts paying attention to him, and so on. None of this is without a healthy dosage of typical Sandler antics, so if you can embrace the silliness, you've got yourself a contemporary, mystical story that follows the magical hero arc of any Disney classic.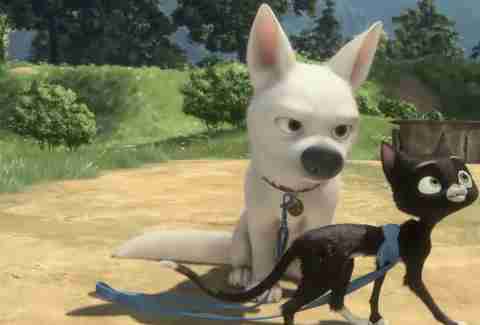 Bolt (2008)
After a handful of efforts from Disney in the '00s didn't quite hit, they released Bolt which was like a surprising super-sonic boom. Bolt is a dog (voiced by John Travolta) with superpowers, or at least he thinks so, having spent his life working on a TV show about a dog with super K9 abilities -- something he doesn't realize until he's accidentally shipped cross-country and has to find his way home, sans powers. A Homeward Bound-like story ensues as he meets some special furry friends along the way, and who doesn't love that? And not only is Bolt a pure joy, the animation has its own one-two-punch, playing up the Hollywood magic of Bolt's world. 
Chicken Little (2005)
Everyone knows the story of Chicken Little: a chick feels an acorn fall on his head and proceeds to blab to his animal friends that "the sky was falling." In the midst of Disney's strange '00s entries, they turned the tale into a full feature film -- flipping a bit so that the sky actually is falling because aliens are invading earth. Really, what's happening is that the aliens lost one of their own, which only Chicken Little knows and takes upon himself to see that the baby from outer space is returned to safety. It's definitely a bonkers albeit apt action-adventure spin, but Zach Braff, Joan Cusack, and Amy Sedaris are among the lead voice cast and the animal characters are quirky enough to make the movie cute so its utter weirdness works.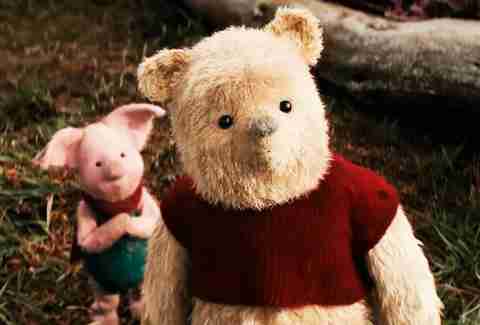 Christopher Robin (2018)
Aphorism-filled teddy bear Winnie the Pooh is one of the most adorable, wisest characters in both literature and Disney history. So, seeing the chubby, red T-shirt wearing bear come to life in the House of Mouse's recent live action overhaul is obviously pure joy... or a little weird, depending on your perspective. As the title suggests, the film is a new, original story that focuses on a grown-up, overworked Christopher Robin, played by a delightful Ewan McGregor, who's lost sight of what life is really about. Christopher runs into Pooh, who encourages him to revisit his furry friends in the Hundred Acre Wood. Christopher Robin's experience convinces him of the value in holding onto childhood -- and this familiar, silly old bear will convince you, too. 
Incredibles 2 (2018)
After over a decade in hiding, Brad Bird's Incredibles, a superpowered family of neurotic do-gooders, return for a sequel that takes a little while to get going but still delivers the visual goods from characters you know and love. As Elastigirl goes on a mission and Mr. Incredible must stay at home to fulfill domestic responsibilities, the characters' skills are put to the test in a variety of fun action sequences. It may have taken 10 years, but the follow-up was worth the wait. 
Mary Poppins Returns (2018)
Taking on the iconic role of Mary Poppins, who's pretty much synonymous with Julie Andrews, sounds like a heavy task. Emily Blunt fills the whimsical nanny's shoes with ease, though, and gives the Broadway-musical-sized sequel to the Disney classic the right balance of nostalgia and excitement to tell a new chapter in the Banks family's story. Here, Michael and Emily Banks are all grown up, and Mary finds it necessary to descend via umbrella from the sky down to earth to look after Michael's children during a crisis. Magic -- in the form of charmed bathtubs and wondrous circuses -- abounds, of course, when the spoon full of sugar goes down. 
Miracle (2004)
Like everything else, sports were elevated to another level of competition during the Cold War, and the Olympics were like the final showdown between the US and the Soviet Union in the percolating nuclear fallout. The 1980 Olympic hockey tournament between the favored-to-win, four-time gold medalists Soviets and America's hodgepodge team was no different. The real-life underdog story is documented in 2004's Miracle, chronicling the Americans' preparation for the games, lead by the unorthodox, inspired coaching of college hockey coach Herb Brooks (Kurt Russell), culminating in the "Miracle on Ice" during the semi-final match. Miracle is a remarkable, triumphant look at one team's determination in a particularly contested period in history.
National Treasure (2004)
It's no Mandy, but Natty Treasure is Nic Cage at his ironic peak as a historical cryptographer (and, let's be real, conspiracy theorist) in this clue-filled jaunt to save the Declaration of Independence from his treasure-hunting rival (played by a very blonde Sean Bean) by preemptively stealing it. It's not necessarily a good movie, per se, with its convenient coincidences, absurd dialogue, and sheer implausibility, but 15 years on, it's an even more perfect satire of goofy pro-America word salad, even if director John Tuteltaub didn't intend it. If you're unconvinced National Treasure is worth your precious time, Nic Cage saying, "I'm gonna steal the Declaration of Independence" should do it.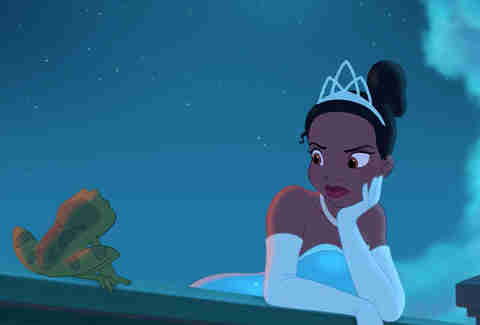 The Princess and the Frog (2009)
The Princess and the Frog is a return to form for the Disney: It's one of the House of Mouse's last hand-drawn films, it reimagines an existing fairytale, and helped move Disney forward by (finally) being the first animated feature with a black princess. The film transports a familiar story down to the New Orleans bayou, where a witch doctor turns a prince into a frog, and inadvertently gets an ambitious young waitress named Tiana (and Disney's first-ever black princess) caught up in the voodoo mysticism. The spirited animation and music will call back Disney's Golden Age, but based on its Jazz Age and Creole references, this has its own flare, too.  
Ralph Breaks the Internet (2018)
The sequel to Wreck-It Ralph manages to outdo the original by offering some savvy commentary on the way we live now by taking its video game heroes into the World Wide Web. But don't worry it's still wonderful to watch the mismatched pair Ralph (John C. Reilly) and Vanellope (Sarah Silverman) traipse through this digital landscape with not-embarrassing personifications of internet tools like viruses and search functions. Plus, there's a truly great song, and oddball creations like academic search engine and a little blob named Gord.
Saving Mr. Banks (2013)
Saving Mr. Banks peers behind Disney's doors to tell a sort of true account of one of Walt Disney's most tireless efforts: securing the rights to adapt Mary Poppins from the children's book author herself, P.L. Travers. Classic good guy Tom Hanks takes on Walt, imbuing an affable energy in his pursuit of convincing Travers, and Emma Thompson shines as she depicts the writer's internal conflict. While not a grand Disney blockbuster, Saving Mr. Banks offers a somewhat authentic look at the studio's old age inner-workings and the unique stories that make the ones on screen come life. 
Tarzan (1999)
One of the few Tarzan adaptations that will have you wishing you were raised by apes, Disney's '99 version featured plenty of warm-and-fuzzy talking animals and an Oscar-winning soundtrack courtesy of Phil Collins. The visuals are some of the Mouse House's 2D finest, and Tony Goldwyn and Minnie Driver's voicing of Tarzan and Jane lends the 'toons some much-needed chemistry.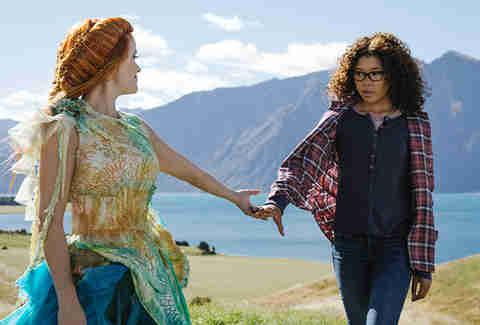 A Wrinkle in Time (2018)
Those who have read the book might not recognize the world created in the surrealist 2018 film, but the star-studded feature stands on its own as an artistic achievement. Madeleine L'Engle's 1962 novel was adapted into a decadent, 21st century sci-fi odyssey, with director Ava DuVernay maintaining the adventurous spirit of the source material while giving it a futuristic aesthetic in fauvist colors. Though A Wrinkle in Time is Disney's proper entry into big-budget, live-action science-fiction, it is still a Disney film -- so even as your heart is thumping, you'll also be holding back tears as Meg Murry goes on a journey through space and time to try to find her dead father. 
Need help finding something to watch? Sign up here for our weekly Streamail newsletter to get streaming recommendations delivered straight to your inbox.