In August 2017, The Walt Disney Company announced that it intends to launch its own standalone streaming platform for animated and live-action films and will end its partnership with Netflix sometime in 2019. Anything falling under the Disney banner -- from Pixar movies to Lucasfilm's Star Wars one-offs to the Marvel superhero sagas -- will eventually vanish from the platform. The potential power of a Disney-owned streaming service was boosted when the Mouse acquired 21st Century Fox in December 2017, itself a huge player in film and television.
Disney has still been fairly quiet about a timeline: Would the company's movies remain on Netflix until one day they're just all gone, or would they slowly fall away from the platform on a month-to-month basis? That's unclear, so Netflix users should get their fill of Disney movies while they still can.
Recommended Video
Big Boi From OutKast Introduces Cliff to Atlanta's Food Scene
Bedtime Stories (2008)
The Sandman more or less takes on the role of the actual Sandman in this wacky, dreamy fantasy. When Adam Sandler's Skeeter starts to help out his family by watching his niece and nephew at night and putting them to bed, the hotel handy man discovers that all of the bedtime stories he tells become reality. Gum balls start falling from the sky, the girl he thought he could never get starts paying attention to him, and so on. None of this is without a healthy dosage of typical Sandler antics, so if you can embrace the silliness, you've got yourself a contemporary, mystical story that follows the magical hero arc of any Disney classic.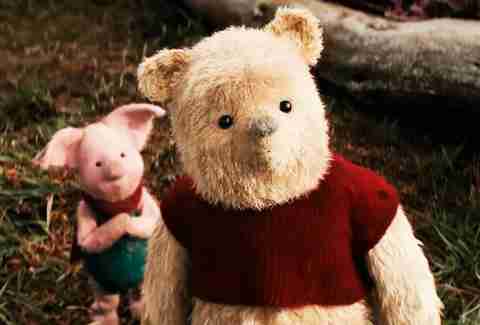 Christopher Robin (2018)
Aphorism-filled teddy bear Winnie the Pooh is one of the most adorable, wisest characters in both literature and Disney history. So, seeing the chubby, red T-shirt wearing bear come to life in the House of Mouse's recent live action overhaul is obviously pure joy... or a little weird, depending on your perspective. As the title suggests, the film is a new, original story that focuses on a grown-up, overworked Christopher Robin, played by a delightful Ewan McGregor, who's lost sight of what life is really about. Christopher runs into Pooh, who encourages him to revisit his furry friends in the Hundred Acre Wood. Christopher Robin's experience convinces him of the value in holding onto childhood -- and this familiar, silly old bear will convince you, too. 
Cars 3 (2017)
Cars 3 delivers exactly what you'd expect from yet another Cars movie: more cars! Facing new competition from a souped-up sports vehicle voiced by Armie Hammer, and struggling to connect with an excitable new trainer (stand-up comedian Cristela Alonzo), intrepid series hero Lightning McQueen (Owen Wilson) must recover from an accident, go through a bunch of Rocky-style training scenes, and make peace with being washed up. If you're a fan of the Pixar franchise that raced from Route 66 to Nascar, you'll likely be along for this ride, too, with all its brightly colored driving sequences and sweet nostalgia.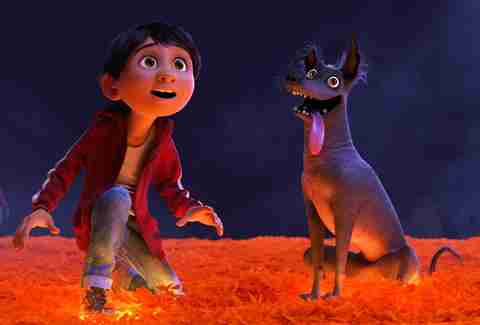 Coco (2017)
Following the disappointing The Good Dinosaur and two sequels to old properties, Coco was a much-needed jolt of originality. There are certainly elements of previous Pixar movies in this story centered around a young boy's journey on the Day of the Dead -- the vision of the afterlife is a bit like Monsters Inc.'s nightmare world, the generational divide will likely remind you of Up, and the emotionally brutal finale is as mournful and psychologically fraught as Toy Story 3's climax -- but director Lee Unkrich and his collaborators approach every aspect of the tale, from the world-building to the slapstick dog gags, with gusto. Taking a page out of the traditional Disney playbook, this is the first Pixar film to heavily rely on original songs, and they're stunners. The sequence built around "Remember Me," the Oscar-winning song performed by multiple characters, belongs in Pixar's tearjerker Hall of Fame.
Emperor's New Groove (2000)
In this Disney film, David Spade provides the voice of an egotistical Incan ruler who gets tricked into losing his throne when he's magically transformed into a llama. Just when the narcissistic Emperor Kuzco believes he'll never be able to caress his perfect skin or sit on his throne again, he meets Pacha, a local villager he places his trust in to get him back to his rightful spot in the kingdom. The pairing of Spade with Pacha's John Goodman makes this kids' movie a very fun buddy comedy.
Hercules (1997)
Disney has a habit of taking pretty grim folklore and transforming it into heartwarming romances for children. See any of its Grimm's fairy-tale adaptations, or this Greek mythology remake in which underworld demons have the competency of a Will Ferrell character and Zeus isn't screwing every living thing in sight. But Hercules, despite its relatively low rank on the Disney totem pole, is massively entertaining -- and it has a secret weapon in the Muses. This singing quintent gives Hercules a killer soundtrack that any motown fan will love. And really, if you're a human with ears, that includes you.
Incredibles 2 (2018)
After over a decade in hiding, Brad Bird's Incredibles, a superpowered family of neurotic do-gooders, return for a sequel that takes a little while to get going but still delivers the visual goods from characters you know and love. As Elastigirl goes on a mission and Mr. Incredible must stay at home to fulfill domestic responsibilities, the characters' skills are put to the test in a variety of fun action sequences. It may have taken 10 years, but the follow-up was worth the wait. 
Lilo & Stitch (2002)
In the early-'00s, Disney was in a weird place: After a decade of animated blockbusters, the House of Mouse took some creative detours. Like similarly quirky The Emperor's New Groove and Atlantis: The Lost Empire, Lilo & Stitch isn't cut from the same sumptuous musical cloth as the company's '90s hits like Beauty and the Beast, Aladdin, or The Lion King. Instead, this tale of a mischievous Hawaiian girl (Lilo, Disney's OG Polynesian princess pre-Moana) and a genetically modified alien-like creature (Stitch) is a laid-back comedy packed with Elvis songs, Roswell references, and beautiful surfing sequences. It's a low-key oddity in the Disney canon, a testament to what talented artists can do when they deviate from the formula.
Meet the Robinsons (2007)
One of Disney's mid-2000s entries is its oddest, but Meet the Robinsons also happens to be the most genuine look at family of their recent animated releases. The fun, sci-fi feature is about the time traveling adventure of a young orphaned boy named Lewis who builds a time machine with the intention of seeing his birth mother for the first time. But when his science experiment doesn't go as planned, he meets a boy from the future who tells him that an evil man is after him and his invention, which leads him on a journey to 2037 to escape, eventually meeting the boy's family while hiding in the future. Among the sincere revelations about Lewis' past, present, and future, the whole cast of characters is very imaginative, making you eager to meet the Robinsons yourself, and give your own family a call. It's impossible this film won't warm your heart.
Miracle (2004)
Like everything else, sports were elevated to another level of competition during the Cold War, and the Olympics were like the final showdown between the US and the Soviet Union in the percolating nuclear fallout. The 1980 Olympic hockey tournament between the favored-to-win, four-time gold medalists Soviets and America's hodgepodge team was no different. The real-life underdog story is documented in 2004's Miracle, chronicling the Americans' preparation for the games, lead by the unorthodox, inspired coaching of college hockey coach Herb Brooks (Kurt Russell), culminating in the "Miracle on Ice" during the semi-final match. Miracle is a remarkable, triumphant look at one team's determination in a particularly contested period in history.
Mulan (1998)
Disney's late-'90s adaptation of legendary Chinese figure Hua Mulan may not deliver the powerful feminist message to which it pretends to aspire, but it's still a strong entry in the Disney renaissance of the 1990s. Driven by one of Disney's more memorable original scores, the computer-assisted animation honed in films like Beauty and the Beast, Aladdin, and The Lion King makes the film a dazzling visual display that touches on themes of identity, family, and honor. Plus it gave birth to the now-legendary McDonald's Szechuan sauce.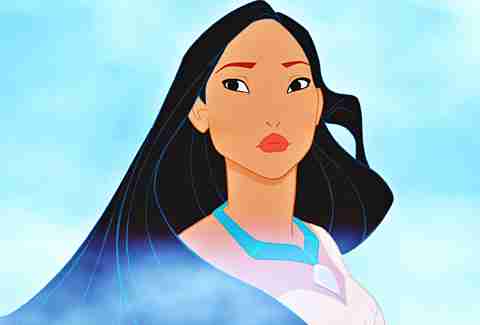 Pocahontas (1995)
Sure, this love story set against the backdrop of European colonial conquest doesn't quite live up to the lofty standards Disney set in the '90s, but there's still a lot to love about Pocahontas, which features an all-time classic song in "Colors of the Wind." It's the American Romeo and Juliet, only with the total decimation of a native population as the backdrop, which is where the movie ultimately struggles the most: It's difficult to remain a kids' movie when you're running up against a very real, very painful history. Still, those songs! 
Tarzan (1999)
One of the few Tarzan adaptations that will have you wishing you were raised by apes, Disney's '99 version featured plenty of warm-and-fuzzy talking animals and an Oscar-winning soundtrack courtesy of Phil Collins. The visuals are some of the Mouse House's 2D finest, and Tony Goldwyn and Minnie Driver's voicing of Tarzan and Jane lends the 'toons some much-needed chemistry.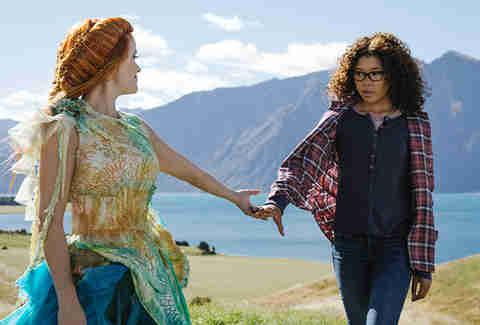 A Wrinkle in Time (2018)
Those who have read the book might not recognize the world created in the surrealist 2018 film, but the star-studded feature stands on its own as an artistic achievement. Madeleine L'Engle's 1962 novel was adapted into a decadent, 21st century sci-fi odyssey, with director Ava DuVernay maintaining the adventurous spirit of the source material while giving it a futuristic aesthetic in fauvist colors. Though A Wrinkle in Time is Disney's proper entry into big-budget, live-action science-fiction, it is still a Disney film -- so even as your heart is thumping, you'll also be holding back tears as Meg Murry goes on a journey through space and time to try to find her dead father.