Recommended Video
Here's Everything You Missed in the 'Deadpool 2' Trailer
Action movies and thrillers are cool and all, but sometimes we're a-hankerin' for some good, clean fun. Thankfully, Netflix has you covered on the family-friendly front, with a generous trove of Disney movies old and new. Choose from our favorite Mouse House classics on Netflix -- new favorites and remakes -- all safe for work, airplanes, and anywhere else your streaming device can reach.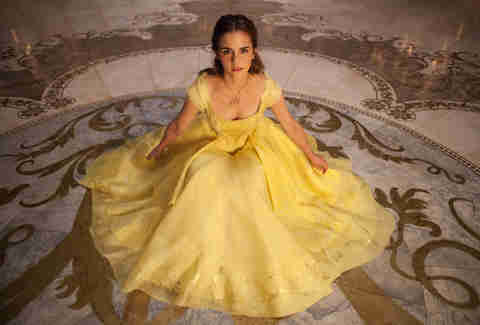 Beauty and the Beast (2017)
If you missed this live-action remake of the 1991 animated musical classic, standing tall as the highest-grossing movie of 2017, Netflix has you covered. The enchanted objects are a little creepier this time, but other than that, it's basically the same movie you know and love, plus ingenue Emma Watson and a billion more hyper-realistic pixels.
Camp Rock (2008)
This Demi Lovato-Jonas Brothers collaboration is pretty corny, but Disney's rock 'n' roll update to the hackneyed sleepaway camp experience still bangs. The JoBros basically play themselves as a teen boy band gracing the rarefied Camp Rock, and Lovato is the poor commoner pretending she's not there on scholarship. The resulting infectious talent-show jams -- about being true to yourself and your music -- will be stuck in your head till next summer. Also available: Camp Rock 2: The Final Jam.
Cool Runnings (1993)
Disney's comedic take Jamaica's first, and unlikely, run at the bobsled gold medal at the 1988 Winter Olympic Games in Calgary, Alberta is anchored by John Candy but incomplete without the main quartet, Leon, Doug E. Doug, Rawle D. Lewis, Malik Yoba. With a reggae soundtrack as chill as the winter setting, Cool Runnings is one of those family-friendly lobs from the '90s that totally works today.
Finding Dory (2016)
Sometimes the best supporting characters are second bananas for a reason: They exist to prop up the hero on his or her journey. Luckily, the forgetful bluefish Dory is the rare sidekick who can swim on her own. While it hits many of the same emotional and story beats of the original -- this time Dory is the one looking for her parents, leaving Marlin (Albert Brooks) to track her down to a fish rehabilitation center in California -- this clever sequel delivers enough memory-loss gags, light parental trauma, and show-stopping, Fast and Furious-style set pieces to keep adults entertained and kids enthralled. Sure, it lacks the poignant, manipulative power of the Toy Story sequels, but there's still a surprising amount of depth to this DeGeneres vehicle.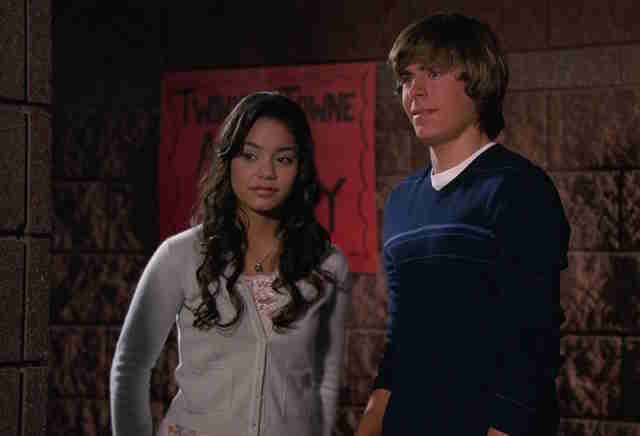 High School Musical (2006)
The movie that put Zac Efron and Vanessa Hudgens on the map 10 years ago is a total trip today. If you can stand a teen dramedy with a teeny-bopping soundtrack, Troy and Gabriella's budding romance and bucking of the high school hierarchy will warm your frigid heart. Honestly, it's worth watching for a look back at Efron's shaggy man-bangs alone. (Bonus: If you can't get enough saccharine song-and-dance numbers, HSM 2 is streaming on Netflix, too.)
The Jungle Book (2016)
This live-action remake of the cartoon classic is a total triumph, a cast of talking critters who give expressive performances and blend in naturally with constructed landscapes. Technology allows director Jon Favreau to treat a jaguar and a human boy like two walking-and-talking Aaron Sorkin characters, and the action like a ruthless Game of Thrones brawl (yes, it's still a kids' movie).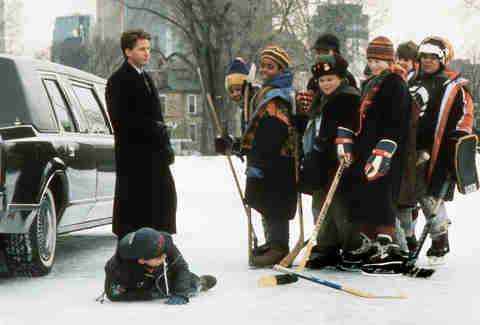 The Mighty Ducks (1992)
It's Gordon Bombay! Joshua Jackson! The Mighty Ducks! It's a classic for a reason. Remember: Ducks. Fly. Together.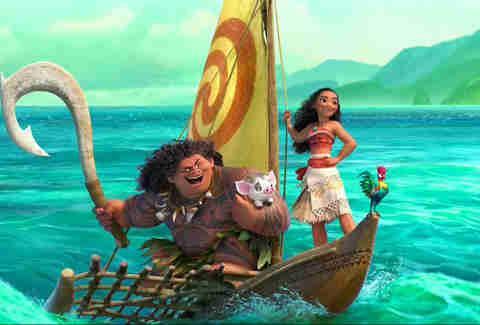 Moana (2017)
Disney Animation's second feature film of 2016 applies the Princess Movie blueprints to an ancient Polynesian tribe. Moana is the rightful heir to her island's throne, but the call of the wild -- not to mention an incoming attack by a neighboring lava demon -- send her sailing across the Pacific to discover her true destiny. With a muscle man demigod (voiced by The Rock) as her sidekick, and empowered by songs from Hamilton writer-star Lin-Manuel Miranda, Moana is a breezy, elemental musical that should warm even the chilliest cynic's heart.
Mulan (1998)
Disney's late-'90s adaptation of legendary Chinese figure Hua Mulan may not deliver the powerful feminist message to which it pretends to aspire, but it's still a strong entry in the Disney renaissance of the 1990s. Driven by one of Disney's more memorable original scores, the computer-assisted animation honed in films like Beauty and the Beast, Aladdin, and The Lion King makes the film a dazzling visual display that touches on themes of identity, family, and honor. Plus it gave birth to the now-legendary McDonald's Szechuan sauce.
The Nightmare Before Christmas (1993)
If you spend your time debating whether Tim Burton and Henry Selick's macabre, stop-motion cartoon is a "Halloween movie" or a "Christmas movie," you'll overlook the celebratory message that proves why it's both. Crossing over from his world, a ghoulish nightmare stuck in perpetual trick-or-treat mode, into the snow-caked Christmas Town, convinces Jack Skellington that there's a "right" way to live. With a little help from his Frankensteined girlfriend Sally, his spectral dog Zero, and Santa Claus himself, Halloween Town's Pumpkin King finds a way to transplant the beating heart of Christmas into the chest cavity of his ghoulish existence. If Danny Elfman's devilish original songs don't sound like holiday-appropriate carols to you, maybe it's time to rewatch The Nightmare Before Christmas.
The Parent Trap (1961)
Through state-of-the-art technology, Walt Disney and his crack team of animators allowed young Hayley Mills to become one of the first actresses to command the screen opposite... herself. Like Lindsey Lohan would 30 years later in the just-as-solid remake, Mills fills both starring roles in this wacky comedy about two twins who accidentally meet at summer camp and turn their bitter rivalry into an unstoppable life-meddling force. When they realize their parents were split lovers on the verge of remarrying, they scheme to get them back together, which is only not screwed up in the wonderful world of Disney.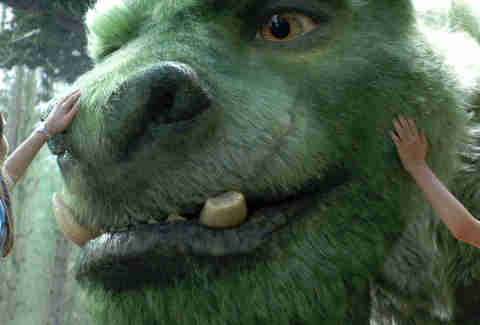 Pete's Dragon (2016)
Reverence for the 1977 original (or a clue that an original exists) is not required to fall hard for this adventure movie. Like King Kong, The Day the Earth Stood Still, and E.T., Lowery imagines a human-animal connection as a monstrous manhunt punctured by friendship. When we meet the 10-year-old main character, he's feral and afraid. So are those wandering the "sophisticated" world, as we learn when outsiders get a look at Pete's dragon, Elliott. Channeling Steven Spielberg's down-to-earth intrepidity, then soaring even higher, Pete's Dragon is the type of movie we're nostalgic for that doesn't indulge our nostalgia for a single second.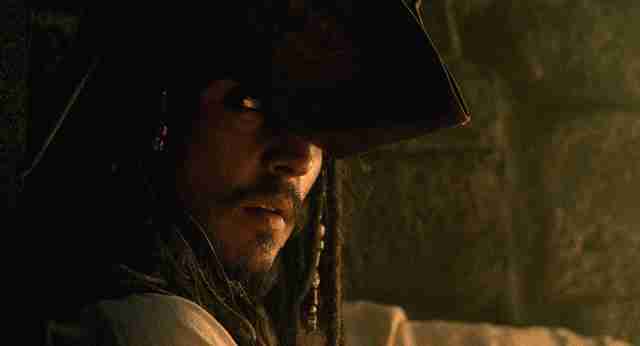 Pirates of the Caribbean: The Curse of the Black Pearl (2003)
Disney's ride-to-film adaptation is a little over a decade old, but we're ready to call it: Pirates ranks among the greatest adventure movies, right up there with Raiders of the Lost Ark and Star Wars. Johnny Depp's star-making turn as Jack Sparrow, combined with playful swordplay and some of the most dazzling zombie effects to date, make it endlessly watchable. Or, exactly what you want when you hit the couch for a staycation. High-seas sailing, without the actual travel.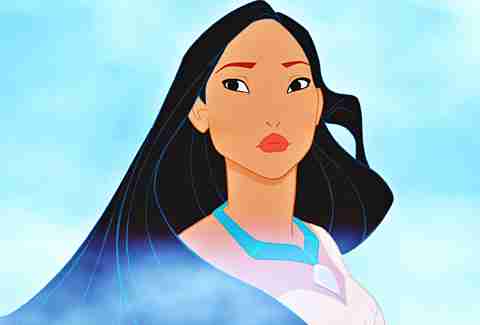 Pocahontas (1995)
Sure, this love story set against the backdrop of European colonial conquest doesn't quite live up to the lofty standards Disney set in the '90s, but there's still a lot to love about Pocahontas, which features an all-time classic song in "Colors of the Wind." It's the American Romeo and Juliet, only with the total decimation of a native population as the backdrop, which is where the movie ultimately struggles the most: It's difficult to remain a kids' movie when you're running up against a very real, very painful history. Still, those songs!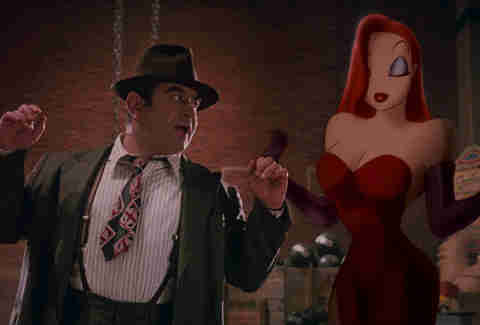 Who Framed Roger Rabbit? (1988)
This cartoon mystery is still zany, and a little darker than you remember. Beware: you will wake up at 2am soaked in cold sweat after your dreaming brain dredges up the scene of Christopher Lloyd dipping the anthropomorphized shoe into The Dip. And his eyes aren't even popping out of his skull at that point. Terrifying. Though decades distilled Roger Rabbit into a nostalgia emblem and the perfect sexy Halloween costume idea (see: Heidi Klum as Jessica Rabbit), Back to the Future director Robert Zemeckis' film is the real deal. Bob Hoskins gives a physical performance that would make Buster Keaton dizzy, the animation seamlessly gels into the live-action picture, and the Hollywood noir satire is precision cut. And thanks to stingy studios, its cavalcade of characters -- think Donald and Daffy's dueling pianos -- could never happen in the modern age. Roger Rabbit gets away with a crime.
Zootopia (2016)
What looks like another anthropomorphized animal adventure, adorable and Happy Meal-ready, is a vivid reimagining of Philip Marlowe-style noir, made sharper with a message on race and class in America. In one of the best movies of 2016, Judy Hopps is a bunny cop at a time when bunnies aren't supposed to be cops. Nick Wilde is her confidante, a fox facing prejudice against his "predator" biology. Together they solve a mystery that parallels every current societal conversation. It's heavy, but it still gets away with tender friendships, pop-music interludes, and sloth jokes.
Sign up here for our daily Thrillist email and subscribe here for our YouTube channel to get your fix of the best in food/drink/fun.