In August 2017, The Walt Disney Company announced that it intends to launch its own standalone streaming platform for animated and live-action films and will end its partnership with Netflix by 2019. Anything falling under the Disney banner -- from Pixar movies to Lucasfilm's Star Wars one-offs to the Marvel superhero sagas -- will eventually vanish from the platform. The potential power of a Disney-owned streaming service was boosted when the Mouse acquired 21st Century Fox in December 2017, itself a huge player in film and television.
Disney has still been fairly quiet about a timeline: Would the company's movies remain on Netflix until one day they're just all gone, or would they slowly fall away from the platform on a month-to-month basis? That's unclear, so Netflix users should get their fill of Disney movies while they still can.
Recommended Video
Why You Should Go See 'Glass' This Weekend
101 Dalmatians (1996)
Before Disney launched its full-fledged plan to remake animated classics into live-action films, there was the '90s remake of the puppy-filled flick 101 Dalmatians. The story centers on a couple (Jeff Daniels, Joely Richardson) whose black and white spotted dogs spawn an insanely large litter that is sought after by a conniving fashion designer determined to turn their fur into merchandise. Glenn Close plays the nasty, albeit avant garde, villain Cruella DeVil, who finds her plan doesn't run so smoothly when the pups hatch a plan of their own. Unlikely contemporary live-action remakes, 101 Dalmatians utilizes real puppies upon real puppies, so it's a dog lover's Disney dream come true. 
Atlantis: The Lost Empire (2001)
One of Disney's odder animated entries from the 2000s is an adventure tale about a young scholar named Milo (Michael J. Fox) who sets out on a journey with other explorers in search of Atlantis, the lost undersea kingdom. As an original story, Atlantis is a creative hero's journey that combines Disney's fantastical elements with sci-fi, which they had rarely touched before, and, in turn, made something new. The film may not have made major waves for the studio, but it's stuck around as a cartoon cult classic, largely because comic book creator Mike Mignola had creative influence on its aquatic, otherworldly aesthetic.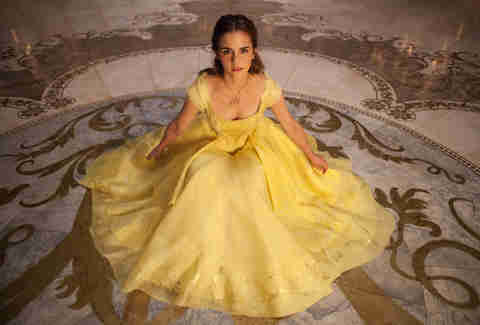 Beauty and the Beast (2017)
If you missed this live-action remake of the 1991 animated musical classic, standing tall as the highest-grossing movie of 2017, Netflix has you covered. The enchanted objects are a little creepier this time, but other than that, it's basically the same movie you know and love, plus ingenue Emma Watson and a billion more hyper-realistic pixels.
Cars (2006)
This Disney/Pixar classic reimagines what the open road would be like if the world solely existed of cars -- race cars, hot rods, dump trucks, every vehicle on the lot. It's a fun premise and a sweet story following one red racer in particular, Lightning McQueen (Owen Wilson), as he takes a detour through the town of Radiator Springs, where he meets a whole cast of characters away from the limelight. The additional presence of Paul Newman's gravelly voice as Doc (in his final non-documentary role) lends the film a layer of poignancy, and the animation team's rendering of desolate American roads makes the predictable plotting glide by like a good road trip should.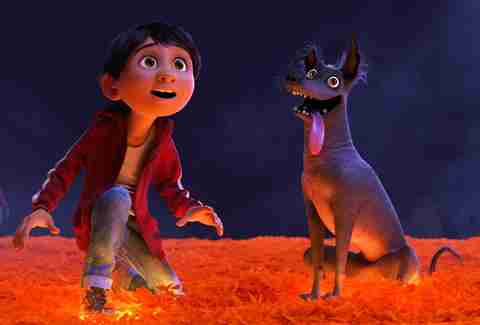 Coco (2017)
Following the disappointing The Good Dinosaur and two sequels to old properties, Coco was a much-needed jolt of originality. There are certainly elements of previous Pixar movies in this story centered around a young boy's journey on the Day of the Dead -- the vision of the afterlife is a bit like Monsters Inc.'s nightmare world, the generational divide will likely remind you of Up, and the emotionally brutal finale is as mournful and psychologically fraught as Toy Story 3's climax -- but director Lee Unkrich and his collaborators approach every aspect of the tale, from the world-building to the slapstick dog gags, with gusto. Taking a page out of the traditional Disney playbook, this is the first Pixar film to heavily rely on original songs, and they're stunners. The sequence built around "Remember Me," the Oscar-winning song performed by multiple characters, belongs in Pixar's tearjerker Hall of Fame.
Emperor's New Groove (2000)
In this Disney film, David Spade provides the voice of an egotistical Incan ruler who gets tricked into losing his throne when he's magically transformed into a llama. Just when the narcissistic Emperor Kuzco believes he'll never be able to caress his perfect skin or sit on his throne again, he meets Pacha, a local villager he places his trust in to get him back to his rightful spot in the kingdom. The pairing of Spade with Pacha's John Goodman makes this kids' movie a very fun buddy comedy.
Hercules (1997)
Disney has a habit of taking pretty grim folklore and transforming it into heartwarming romances for children. See any of its Grimm's fairy-tale adaptations, or this Greek mythology remake in which underworld demons have the competency of a Will Ferrell character and Zeus isn't screwing every living thing in sight. But Hercules, despite its relatively low rank on the Disney totem pole, is massively entertaining -- and it has a secret weapon in the Muses. This singing quintent gives Hercules a killer soundtrack that any motown fan will love. And really, if you're a human with ears, that includes you.
Lilo & Stitch (2002)
In the early-'00s, Disney was in a weird place: After a decade of animated blockbusters, the House of Mouse took some creative detours. Like similarly quirky The Emperor's New Groove and Atlantis: The Lost Empire, Lilo & Stitch isn't cut from the same sumptuous musical cloth as the company's '90s hits like Beauty and the Beast, Aladdin, or The Lion King. Instead, this tale of a mischievous Hawaiian girl (Lilo, Disney's OG Polynesian princess pre-Moana) and a genetically modified alien-like creature (Stitch) is a laid-back comedy packed with Elvis songs, Roswell references, and beautiful surfing sequences. It's a low-key oddity in the Disney canon, a testament to what talented artists can do when they deviate from the formula.
Meet the Robinsons (2007)
One of Disney's mid-2000s entries is its oddest, but Meet the Robinsons also happens to be the most genuine look at family of their recent animated releases. The fun, sci-fi feature is about the time traveling adventure of a young orphaned boy named Lewis who builds a time machine with the intention of seeing his birth mother for the first time. But when his science experiment doesn't go as planned, he meets a boy from the future who tells him that an evil man is after him and his invention, which leads him on a journey to 2037 to escape, eventually meeting the boy's family while hiding in the future. Among the sincere revelations about Lewis' past, present, and future, the whole cast of characters is very imaginative, making you eager to meet the Robinsons yourself, and give your own family a call. It's impossible this film won't warm your heart.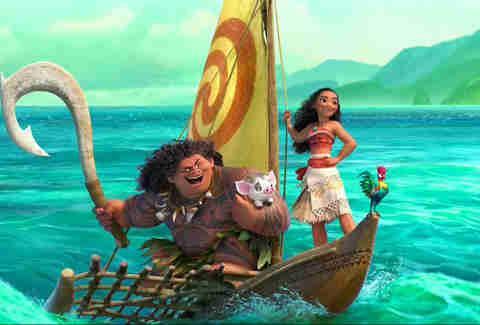 Moana (2017)
Disney Animation's second feature film of 2016 applies the Princess Movie blueprints to an ancient Polynesian tribe. Moana is the rightful heir to her island's throne, but the call of the wild -- not to mention an incoming attack by a neighboring lava demon -- send her sailing across the Pacific to discover her true destiny. With a muscle man demigod (voiced by The Rock) as her sidekick, and empowered by songs from Hamilton writer-star Lin-Manuel Miranda, Moana is a breezy, elemental musical that should warm even the chilliest cynic's heart.
Mulan (1998)
Disney's late-'90s adaptation of legendary Chinese figure Hua Mulan may not deliver the powerful feminist message to which it pretends to aspire, but it's still a strong entry in the Disney renaissance of the 1990s. Driven by one of Disney's more memorable original scores, the computer-assisted animation honed in films like Beauty and the Beast, Aladdin, and The Lion King makes the film a dazzling visual display that touches on themes of identity, family, and honor. Plus it gave birth to the now-legendary McDonald's Szechuan sauce. 
Pirates of the Caribbean: The Curse of the Black Pearl (2003)
Disney's ride-to-film adaptation is a little over a decade old, but we're ready to call it: Pirates ranks among the greatest, most magical adventure movies, right up there with Raiders of the Lost Ark and Star Wars. Johnny Depp's star-making turn as Jack Sparrow, combined with playful swordplay and some of the most dazzling zombie effects to date, make it endlessly watchable. Or, exactly what you want when you hit the couch for a staycation. High-seas sailing, without the actual travel.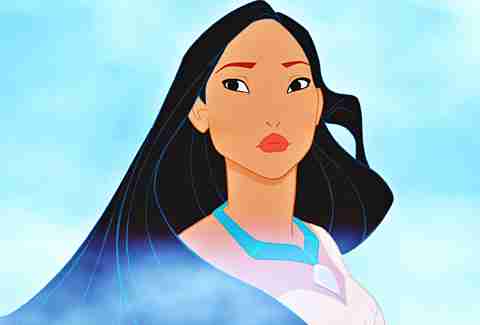 Pocahontas (1995)
Sure, this love story set against the backdrop of European colonial conquest doesn't quite live up to the lofty standards Disney set in the '90s, but there's still a lot to love about Pocahontas, which features an all-time classic song in "Colors of the Wind." It's the American Romeo and Juliet, only with the total decimation of a native population as the backdrop, which is where the movie ultimately struggles the most: It's difficult to remain a kids' movie when you're running up against a very real, very painful history. Still, those songs! 
The Princess Diaries (2001)
Before the people of the internet found themselves obsessed with Meghan Markle's rise to royalty, the story of an average young woman suddenly becoming a European princess (a duchess in this case, but you get the picture) was one that many of us had only grown accustomed to witnessing via television and film. Anne Hathaway's Mia Thermopolous walked so that Markle could run, and almost two decades after its initial rollout, The Princess Diaries is more beloved and culturally relevant today than it was when it hit theaters back in 2001.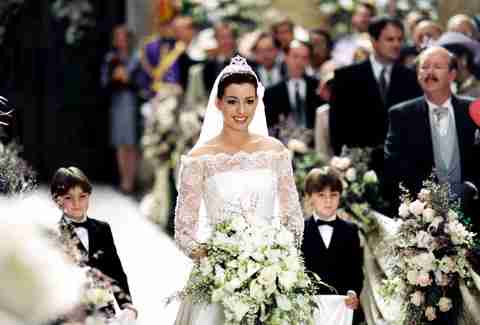 The Princes Diaries 2: Royal Engagement (2004)
If The Princess Diaries was a tween fantasy come true, its sequel would be that and more… and kind of a nightmare, too, once Anne Hathaway's Mia, Princess of Genovia, learns she's only got 30 days to find a suitor and get married in order to officially inherit the throne. The sequel is just as charming as the original as Mia and her grandmother (Julie Andrews) weed through potential princes, while simultaneiously, Mia fights her lust over a young, sultry Chris Pine who is not throne-appropriate. To make the flick even sweeter, it features the absolute best slumber party scene of all time, so altogether, it's written like a diary entry about everything royally wonderful that you wish would come true. Inevitably, Princess Mia has a happy ending. 
Tarzan (1999)
One of the few Tarzan adaptations that will have you wishing you were raised by apes, Disney's '99 version featured plenty of warm-and-fuzzy talking animals and an Oscar-winning soundtrack courtesy of Phil Collins. The visuals are some of the Mouse House's 2D finest, and Tony Goldwyn and Minnie Driver's voicing of Tarzan and Jane lends the 'toons some much-needed chemistry.
Sign up here for our daily Thrillist email and subscribe here for our YouTube channel to get your fix of the best in food/drink/fun.