Paid Content For
The Best Documentaries of 2016, Ranked
Paid Content For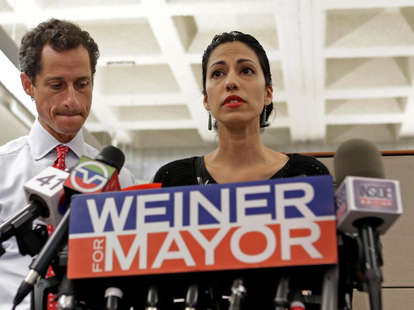 Weiner

| Sundance Selects
Weiner

| Sundance Selects
With so many documentaries being produced these days, and many of them going directly to TV and streaming sites, it's hard for a lot of movie fans to navigate what's essential viewing. Fortunately for you, we've compiled a list -- not just of the best nonfiction features of 2016, but a ranking of the must-see documentaries released in every format that arrived this year.
Running parallel to our rolling Best Movies of the Year list, these are only documentaries that we 100% recommend -- nothing that's halfway decent or merely "interesting." Throughout the year, we'll be adding to the list for an exhaustive showcase of the best of the best. For now, here's what you absolutely need to track down.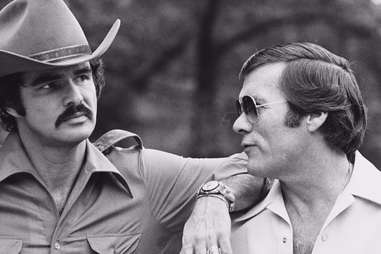 31. The Bandit
Released: August 6th
Director: Jesse Moss (The Overnighters)
Why it's great: While a documentary about the making of Smokey and the Bandit sounds like a glorified DVD extra, The Bandit is actually a very satisfyingly self-contained film about the marvelous friendship between Smokey director Hal Needham and star Burt Reynolds, serving as a joint profile on both their lives and careers. Plus, it's a history of Hollywood stuntmen and Needham's contributions to that unsung field, a celebration of 1970s trucker movies as an offshoot of the Western, and, perhaps most importantly, a recognition of entertainment that plays more to Middle American viewers than to people on the coasts. And this film, which was made for Country Music Television, is that same sort of thing. It's a good ol' documentary for the good ol' boys (and girls).
Where to watch it: Stream on CMT.com
30. The Eagle Huntress
Released: November 2nd
Director: Otto Bell
Why it's great: Bell's directorial debut is the sort of feel-good film you have to actively try to dislike. Not even the unnecessary narration from Star Wars actress Daisy Ridley, who is also an executive producer alongside Morgan Spurlock, can take away from the documentary's enormous charm. The subject is a 13-year-old Kazakh girl who makes her mark in the male-dominated tradition of eagle hunting during a major sporting competition. Staged to a degree to help with the cinematic storytelling, The Eagle Huntress is filled with grand aerial landscape shots of the Altai Mountains setting, as well as more intimate moments that have us rooting for the inspiring teenager on screen and young women breaking gender stereotypes everywhere.
Where to watch it: In theaters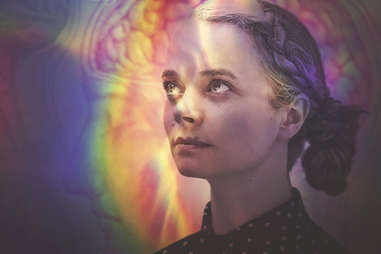 29. My Beautiful Broken Brain
Released: March 18th
Director: Sophie Robinson with Lotje Sodderland
Why it's great: In 2011, Lotje Sodderland suffered a hemorrhagic stroke in her sleep and woke up not knowing who she was or how to communicate. Within days, though, she began to document her situation and her recovery, recording selfie videos that are now a devastatingly personal part of My Beautiful Broken Brain. The film, which also involves David Lynch on screen and off (he gets a producer credit), puts us in Sodderland's mind to the best of nonfiction cinema's capabilities. In addition to candidly sharing the struggles and insights of its subject, Brain also represents her newly enhanced sensory perception through augmented POV shots, using visual effects that could have been cheesy in a lesser work.
Where to watch it: Stream on Netflix
28. The Witness
Released: June 3rd
Director: James D. Solomon
Why it's great: It's been more than 50 years since the murder of Kitty Genovese, a true crime icon famous for her death, witnessed by 38 neighbors who reportedly did nothing to help. In these days of "fake news" and sensational journalism, the incident's relevance keeps growing, as evidenced in The Witness. The film begins as a seemingly small take on the story as Kitty's brother Bill starts off talking to family members about the murder, and it expands to a full-on, obsessive investigation for him into the witness statements, media reports and more, including an unforgettable interview with the killer's son. "One question leads to another question leads to five questions…," Bill says about his inquiry to uncover and understand the truth, and we're pulled in deeply alongside him.
Where to watch it: Stream on Netflix
27. City of Gold
Released: March 11th
Director: Laura Gabbert (No Impact Man)
Why it's great: On the surface, City of Gold seems to be just another foodie documentary about a popular food writer. But it's so much more: a profile of Pulitzer Prize-winning critic Jonathan Gold that caters to general doc fans as much as culinary connoisseurs, and a great cinematic love letter to Los Angeles. Through Gabbert's lens, Gold, who started his writing career covering opera and the '90s hip-hop scene, inspires writers of all kinds, with his insight translating to a broader appreciation of criticism as an art form. Of course, there's also a lot of great discussion of food, too.
Where to watch it: Stream on Amazon Prime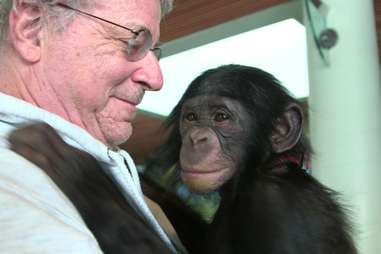 26. Unlocking the Cage
Released: May 25th
Director: Chris Hegedus with D.A. Pennebaker (The War Room)
Why it's great: A problem for Hegedus and Pennebaker, documentary legends with many classics on their résumés, is that their less exceptional but still very good work gets far less notice. Many take their talent for granted with a standard like Unlocking the Cage, but it shouldn't be overlooked: the doc follows lawyer Steven Wise as he seeks to free chimpanzees from captivity, and the filmmakers do a terrific job digesting the complex legal case. Few directors could accomplish such a flawless character portrait that looks so much simpler and more ordinary than it is, not the issue film that it appears to be.
Where to watch it: In theaters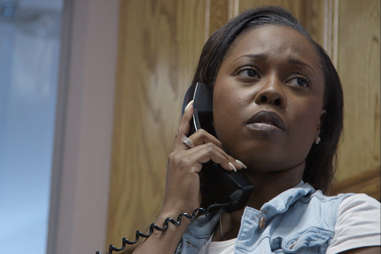 25. Trapped
Released: March 4th
Director: Dawn Porter (Gideon's Army)
Why it's great: The only truly great "issue film" of the year is Dawn Porter's Trapped, which intimately follows the employees of two abortion clinics, one in Texas and the other in Alabama. The main focus of the documentary is local "TRAP laws," which get around Roe v. Wade and make it difficult for these and many other clinics to stay open despite the legality of a woman's right to terminate her pregnancy. This being a Porter film, there's also a great focus on human beings, as she captures carefully chosen subjects in a way that makes you just want to watch them, whatever they're doing and whatever the context.
Where to watch it: Rent on iTunes, Amazon, and VOD
24. Into the Inferno
Released: October 28th
Director: Werner Herzog (Grizzly Man)
Why it's great: Herzog returns to volcanoes, a subject he's shown tremendous interest in before. A semi-sequel to both his 1977 documentary short La Soufriere and his Oscar-nominated 2007 feature Encounters at the End of the World, Into the Inferno primarily follows and is co-directed by Clive Oppenheimer, a volcanologist we previously met in the latter film. With Herzog always offscreen and narrating, the two friends travel to locations of study in Indonesia, Iceland, Ethiopia, and North Korea, their pursuits of knowledge both scientific and spiritual. There's an equivalent of the lost penguin in Encounters in a couple who pays the price of a literally fiery passion. And as a whole, Herzog delivers yet another essential doc on par with his best.
Where to watch it: Stream on Netflix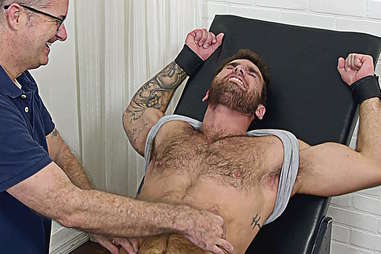 23. Tickled
Released: June 17th
Directors: David Farrier and Dylan Reeve
Why it's great: One of the wildest, most astonishing documentaries of the year, Tickled is the sort of strange nonfiction story that has to be seen to be believed, even if the film itself may have technical and ethical shortcomings. Farrier was a reporter for an entertainment TV newsmagazine in New Zealand who began researching a potential piece on an activity he heard about on the internet, "competitive endurance tickling." Once he started digging, however, Farrier uncovered something much deeper and darker -- and for the filmmakers, maybe more dangerous -- than a curious international network of fetish videos. It's best not to divulge any more details about the mysterious and controversial film, because it's full of surprises.
Where to watch it: Rent on Amazon Video, iTunes, YouTube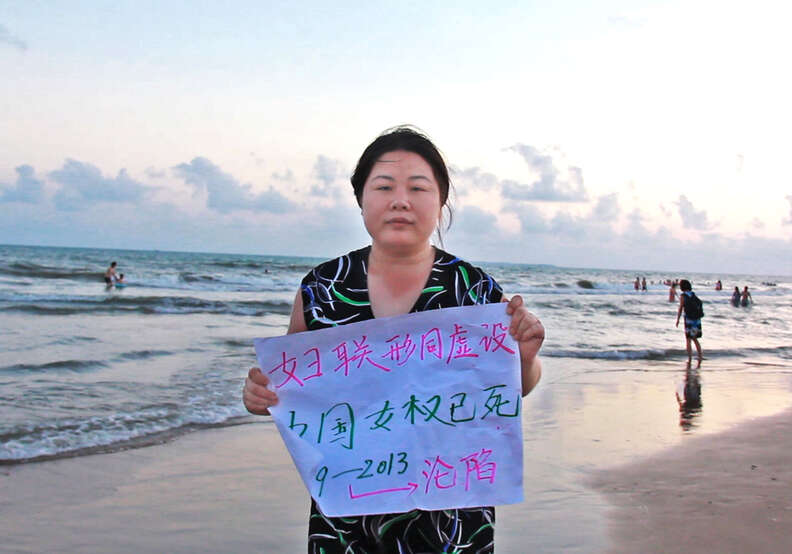 22. Hooligan Sparrow
Released: July 22nd
Director: Nanfu Wang
Why it's great: Alison Klayman, director of the fantastic Ai Weiwei: Never Sorry, executive produced this documentary about another inspiring Chinese activist, Ye Haiyan, a.k.a. Hooligan Sparrow. She's not as amusing as the internationally famous Ai Weiwei, but she's also not an artist, and anyway it's more powerful to see a more serious subject in similar scenarios of dissention and subsequent detention. Nanfu Wang herself shows courage in her effort to document Ye's story, particularly during a campaign to raise outrage against an elementary school principal accused of raping his students. The filmmaker and her subjects are followed and harassed, some are arrested, cameras are stolen, and it's incredible that we get to see the film at all.
Where to watch it: Stream on Netflix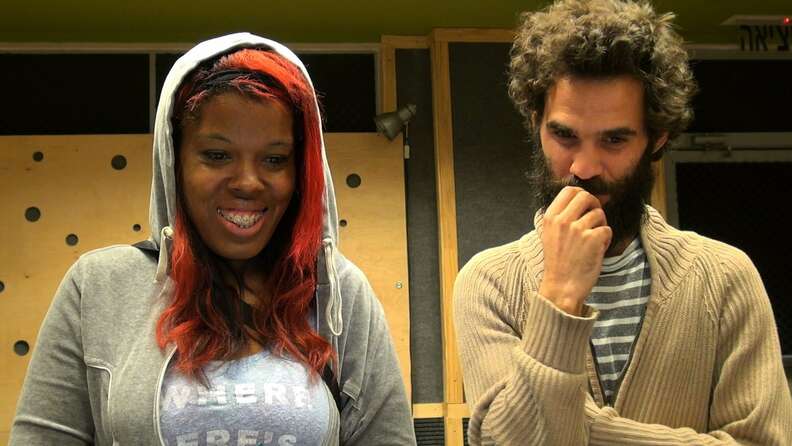 21. Presenting Princess Shaw
Released: May 27th
Director: Ido Haar (9 Star Hotel)
Why it's great: The best music documentary of the year is a small story of an unknown artist, Samantha Montgomery, aka Princess Shaw. What distinguishes this film, and Montgomery's situation, is that she's not somebody who goes from nothing to the big time, even after she gets a moment in the limelight. Haar doesn't seem to care about selling us on her talent, songwriting, or vocal performances uploaded to YouTube. Presenting Princess Shaw works with a unique structure in which the title singer is followed day to day, oblivious to the fact that across the world in Israel, the viral-video musician Ophir Kutiel, known as Kutiman, is featuring her in his latest mash-up project. She is a remarkable discovery, too, but it's mainly the doc that shines.
Where to watch it: Stream on Netflix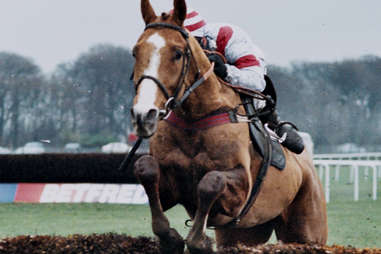 20. Dark Horse
Released: May 6th
Director: Louise Osmond (Deep Water)
Why it's great: The British do movies involving older folks and small-town stories very well, and now we know they're not just limited to fictional offerings like Saving Grace and (the Ireland-set) Waking Ned Devine. In this Sundance Audience Award winner, we witness the incredible underdog narrative of a Welsh village community that banded together to own a thoroughbred racehorse, which they called Dream Alliance. It's a light, feel-good film that quietly entertains whether you care about horses or normally appreciate "dark horse" tales or not -- though it certainly does illuminate the equestrian sport and addresses the classism at its core.
Where to watch it: Rent on iTunes, Amazon, and VOD
19. The Illinois Parables
Released: November 16th
Director: Deborah Stratman (O'er The Land)
Why it's great: Stratman, who most notably worked as a cinematographer on Thom Andersen's classic essay film Los Angeles Plays Itself, tackles another location-centric subject for her own latest work of experimental nonfiction. Featuring a collage of visual and audio artifacts plus retro-looking 16mm landscape shots and reenactments, The Illinois Parables is a unique chronicle of the Prairie State presented through chapters on its native inhabitants, its settlers, its most phenomenal paranormal case, its most devastating natural disasters and more. Appropriate to one of those "parables," this hourlong essay film is a cinematic tornado that lays waste to all generic historical documentaries. It's not so much an informative backstory for the titular state but an affecting meditation on statehood and national identity.
Where to watch it: Coming soon to VOD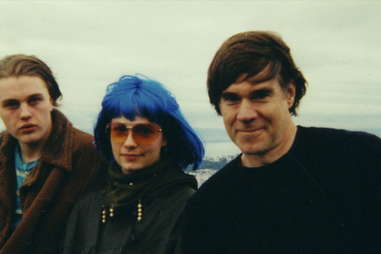 18. Author: The JT LeRoy Story
Released: September 9th
Director: Jeff Feuerzeig (The Devil and Daniel Johnston)
Why it's great: The story of JT LeRoy, the pen name and made-up public identity (one of them, at least) of Laura Albert, is so Fascinating with a capital "F" that it's been fodder for multiple documentaries and will soon be turned into a dramatic feature. This particular film is also Fantastic in its execution, featuring a central interview with Albert, who may not be the most reliable narrator but is a captivating and engrossing character nonetheless. Currently facing scrutiny over legalities over some of its content, Author: The JT Leroy Story is a highly compelling collage of stylish archival footage and recorded phone conversations that flesh out the notorious Catfish-like caper of the literary world.
Where to watch it: Stream on Amazon Video
17. Fire at Sea
Released: October 21st
Director: Gianfranco Rosi (Sacro GRA)
Why it's great: A powerful look at the migration crisis in Europe, focusing on the small Sicilian island of Lampedusa, Fire at Sea is not an "issue film," despite tackling one of the world's most pressing problems with great depth and humanity. Crashing up against firsthand footage of arriving African refugees, alive and dead, is a contrasting perspective of mundanity and innocence, that of a 12-year-old local with a metaphorical vision handicap and a family continuing a long tradition in the fishing trade. The two sides of the film never directly come in contact, except through the connection of a doctor who separately treats both the boy and the tragic cases of dehydrated, burned, and often hopeless newcomers. That detachment is a brutal representation of the global picture.
Where to watch it: In theaters
16. My Love, Don't Cross That River
Released: June 17th
Director: Jin Mo-young
Why it's great: A huge hit back home in South Korea, My Love, Don't Cross That River is the irresistible love story of an elderly couple in their 76th year of marriage. Inspired by their popular appearance on a TV show celebrating their long life together, Jin's documentary takes us to the remote mountain home of 98-year-old Jo Byeong-man and 89-year-old Kang Kye-yeol, and shows them still playfully romantic -- even bickering hilariously -- but also quite aware of their looming deaths (or at least his). It's a beautiful and contemplative film with two unforgettable subjects whose heart and soul are felt in every frame.
Where to watch it: Rent on iTunes, Amazon, and VOD
15. The Event
Released: August 15th
Director: Sergei Loznitsa (Maidan)
Why it's great: In recent years, we've seen a number of remarkably courageous documentaries by filmmakers embedded in violent conditions of unrest. Loznitsa made one himself with 2014's Maidan; as a follow-up, he made a similar feature compiling previously untapped footage shot by eight cameramen during the Soviet Union's 1991 August coup. All film, no video, it's the most exquisite black-and-white archival material seen in a doc in a long time, appearing so fresh and new as to erase the 25 years since its images were captured. From this attractive footage comes a powerful work of historical vérité.
Where to watch it: Stream it on DAFilms.com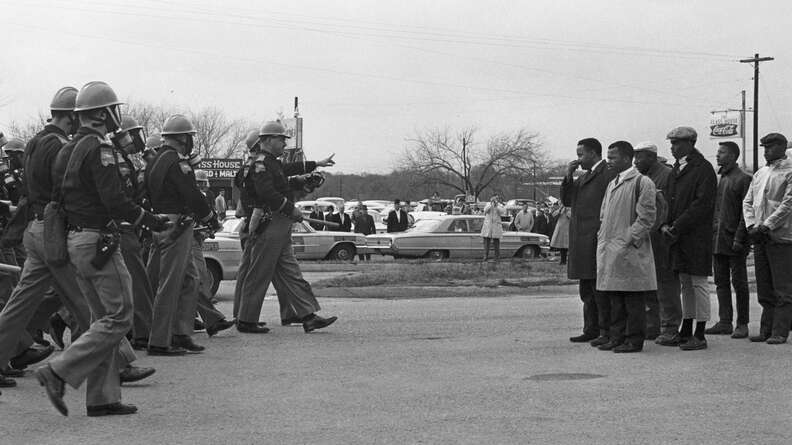 14. I Am Not Your Negro
Released: December 9th
Director: Raoul Peck (Lumumba)
Why it's great: Samuel L. Jackson narrates this film based on an unfinished James Baldwin manuscript, voicing the late author's words about his fallen friends Martin Luther King Jr., Malcolm X, and Medgar Evers and their part in the civil rights movement. Like the exceptional films of Goran Olsson (The Black Power Mixtape 1967-1975; Concerning Violence), I Am Not Your Negro finds vital and momentous relevance in old writings and archival footage, with Peck's doc delivering one of two timely indictments of race relations in America that have long continued unsatisfactorily since Baldwin wrote on its history decades ago. Of the pair (see the other below), this one is quietly more academic yet still quite effective.
Where to watch it: Returns to theaters on February 3rd, 2017
13. The Other Side
Released: May 20th
Director: Roberto Minervini (Stop the Pounding Heart)
Why it's great: An amazing and disturbing feature that may not be for everyone (though it should be compulsory viewing for all), The Other Side showcases two distinct and often shocking portraits of life in rural Louisiana. One part follows a meth addict who recently got out of a 10-year prison stint on his daily routine of smoking and selling drugs. The other immerses us in the training and debaucherous partying of an armed militia. There's an unbelievable amount of nudity, explicit sexual acts, and illegal activity on screen, but this film is neither provocation nor poverty porn. It is, however, a kind of reality performance piece, and a mesmerizing one at that.
Where to watch it: Stream on Fandor; rent on Amazon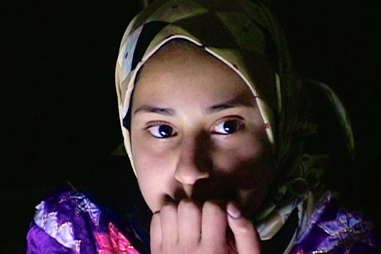 12. Homeland: Iraq Year Zero
Released: October 6th
Director: Abbas Fahdel (Back to Babylon)
Why it's great: At 334 minutes, Homeland: Iraq Year Zero is still not the longest feature on this list. Divided into two parts, it is the staggering work of French-based Abbas Fahdel as he follows his family in Baghdad in the days leading up to the 2003 U.S. invasion and then in the early months of occupation. Much of each section focuses on the director's nieces and nephews and their friends, offering in the first part an innocent outlook on what's to come while also depicting the nation's general anticipation of war. The second half is, of course, more devastating as we see locations encountered earlier destroyed by war, and learn of the deaths of multiple characters, including close relatives.
Where to watch it: Stream on Netflix
11. No Home Movie
Released: April 1st
Director: Chantal Akerman (From the Other Side)
Why it's great: Even without the context of Akerman's suicide last fall, No Home Movie is a significant and deeply sad effort from the feminist film legend. The personal, pensive documentary consists primarily of long, static shots inside the apartment of Akerman's mother, Natalia, focused on conversations between the two women before the elder's demise in 2014. As Akerman seeks some late understanding of her parents' story, one of the main points of discussion is Natalia's experience as a Holocaust survivor. The title has a double meaning, but it primarily addresses how Akerman still considered her mother's home to be her own -- until Natalia's death, after which Chantal had no real home at all.
Where to watch it: Stream on Fandor; rent on iTunes, Amazon, and on VOD
10. Rats
Released: October 22nd
Director: Morgan Spurlock (Super Size Me)
Why it's great: Spurlock's first great doc since 2011's Comic-Con Episode IV: A Fan's Hope proves that the documentarian's best when off camera and showcasing passionate human beings. The main focus of Rats is the rodents in question, and the film takes as much of an attempt at offering a horror film as nonfiction cinema is capable. The more substantial unifying idea here is that rats are very important to the lives of a lot of people around the world. We meet an unforgettable New York City exterminator, a group of New Orleans scientists nearly giddy in their research of parasites, and even some rat-loving Hindus, who share meals with the small creatures they believe are reincarnated ancestors. It's gross and eerie and fascinating and perfectly orchestrated in its genre gimmickry.
Where to watch it: Stream on Netflix
9. Gleason
Released: July 29th
Director: Clay Tweel (Finders Keepers)
Why it's great: When former NFL safety Steve Gleason finds out he has ALS at the same time his wife Michel learns she's pregnant, he begins simultaneously chronicling his declining health and his son's growth. What sounds like a completely devastating tearjerker is filled with humor thanks to its subjects' candor. Much of the film's footage is shot by Gleason for his personal project, which helps us to follow him and his family over many years in a manner of style Tweel calls "experiential vérité." Even if you don't know Gleason from his football career going in, the documentary is instantly engaging and will have you caring about him long after it's over.
Where to watch it: In theaters; stream on Amazon Prime December 29th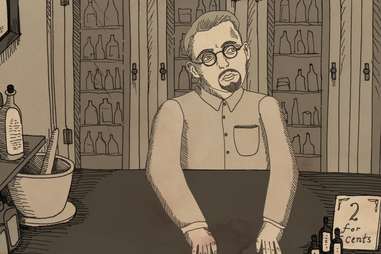 8. Nuts!
Released: June 22nd
Director: Penny Lane (Our Nixon)
Why it's great:Nuts! is an incredible animated folk story about people getting screwed in more ways than one. Main subject John R. Brinkley was a medical charlatan who promised to cure impotence by way of a goat testicle transplant during the Great Depression. The biography, which plays like a Citizen Kane of quackery with a good deal of legal-trial reenactment, is difficult to keep straight as a totally true account, as it veers into tall-tale territory and has tricks up its own sleeve. Plenty of documentaries show us strange stories, but few have this much fun doing so. Lane has concocted something fresh with old-timey charms -- a pure delight.
Where to watch it: Stream on Amazon Prime; rent on iTunes and Amazon
7. 13th
Released: October 7th
Director: Ava DuVernay (Selma)
Why it's great: As DuVernay suggests, the film is a primer, but not merely that. The title refers to the 13th Amendment to the Constitution, which abolished slavery in the US "except as a punishment for crime," and the documentary explores how the enslavement of African-Americans has continued by way of the constant criminalization of their race. There is much more to the stories of the drug war and mass incarceration and other issues addressed than is found here, but as a starter it's an alarm rung loud. And this is an important film in craft as much as content, with its positive propagandic flashes of text and its powerful use of montage.
Where to see it right now: Stream on Netflix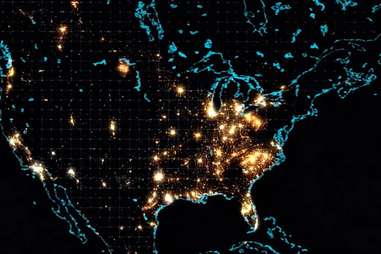 6. Zero Days
Released: July 8th
Director: Alex Gibney (Going Clear: Scientology and the Prison of Belief)
Why it's great: Gibney makes so many films that a lot of them can feel unpolished, and quite a few go unnoticed. But Zero Days is one of his most meticulous works, and as a result is his most fulfilling in years. Not only is it a chilling revelation of how cyber warfare is unseating nukes as a much scarier threat, its specific focus on the Stuxnet virus shows how such weapons are already being deployed. The documentary, which plays as intensely as any Hollywood spy thriller, also proves Gibney is the master of finding innovative and clever ways to make talking-head interviews visually interesting, even when a majority of the quoted sources on a project wish or need to remain anonymous.
Where to watch it: Stream on Showtime or Hulu; rent on iTunes, Amazon, and VOD
5. Under the Sun
Released: July 6th
Director: Vitaly Mansky (Pipeline)
Why it's great: Mansky is a serious documentary filmmaker of the non-interfering observational tradition who was permitted to shoot a feature in North Korea about a young girl and her family as she prepares to join the Young Pioneer Corps of the Korean Children's Union. However, the state insisted on approving everything he did, and wound up casting and staging the whole thing, with multiple takes for every shot. Mansky managed to record each set-up and scene on two memory cards, so one would be turned over and censored while the other was smuggled out and employed for his feature. The result is a close observation of the propagandic process, as well as a spotlight on the Communist country's indoctrination practices.
Where to watch it: Stream on Netflix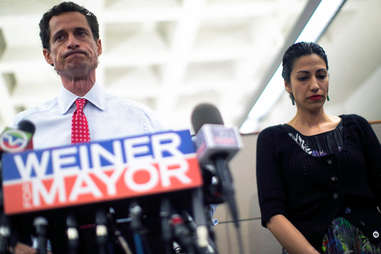 4. Weiner
Released: May 20th
Directors: Josh Kriegman and Elyse Steinberg
Why it's great: Anthony Weiner is among the all-time greatest documentary subjects. The disgraced politician is a tragic character who opened his life up to cameras in order to document his comeback from a past sexting scandal -- only for them to capture his downfall, another sexting scandal that cost him the New York City mayoral election. Weiner is also one of the most self-aware and documentary-savvy subjects, making him fascinating to watch for his contradictory intelligence and behaviors. Weiner, which manages such penetrating access because Kriegman was a trusted ex-employee of the former congressman, is a political masterpiece and such a perfect film for what's turned out to be a crazy election year -- as well as a year that's seen the subject continue to spiral downward.
Where to watch it: Stream on Showtime and Hulu, Rent on iTunes, Amazon, and VOD
3. Kate Plays Christine
Released: August 29th
Director: Robert Greene (Actress)
Why it's great: Of this year's two films about Christine Chubbuck, the Sarasota newscaster who killed herself on air in 1974, Kate Plays Christine is the documentary version, though it's as unconventional a doc as you'll find. Greene collaborated with actress Kate Lyn Sheil (House of Cards), whom he follows through the process of researching the role of Chubbuck to also portray her in this very film. There is still a lot of room for traditional nonfiction elements, such as talking-head interviews conducted by way of Sheil's own investigation into Chubbuck's life and death. Atop typical documentary tropes is one of the most innovative, complex, and psychological nonfiction films ever made.
Where to watch it: In theaters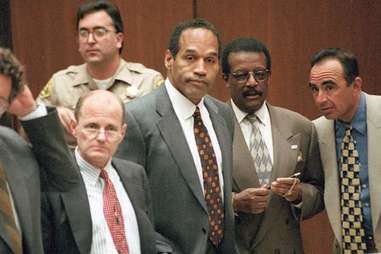 2. O.J.: Made in America
Released: June 11th
Director: Ezra Edelman (Requiem for the Big East)
Why it's great: Another documentary with an almost equally great dramatic counterpart, O.J. Simpson: Made in America -- viewed as either a nearly eight-hour feature or a five-part miniseries -- is not just about the O.J. Simpson murder trial. That is the centerpiece of the documentary, though, as it first explores Simpson's early life and a history of race relations in the US, particularly in Los Angeles, which culminated in that legal circus. Then it continues the story of both the man and the country, in what would seem to be the longest epilogue ever but is one of the most astute third acts ever produced for a nonfiction film.
Where to watch it: Stream Episode 1 on Hulu; stream the entire series on ESPN.com
1. Cameraperson
Released: September 9th
Director: Kirsten Johnson (Deadline)
Why it's great:Cameraperson is everything. It's a unique cinematic memoir, which Johnson compiled from material she shot as a cinematographer for numerous documentaries (including this year's Trapped), plus some more personal footage she recorded of her Alzheimer's-afflicted mother. It's also a broad look at the 21st century through the various films Johnson references (others include Citizenfour and Darfur Now), representing an international portrait of war and genocide and other human rights horrors, but also some sublime human-interest stories too. And it's a peek under the curtain of documentary filmmaking, exposing even more than what's usually seen in the typically reflexive arena of nonfiction cinema. There's never been a film like this, and there will never be another of its kind, either.
Where to watch it: In theaters
Sign up here for our daily Thrillist email, and get your fix of the best in food/drink/fun.