The 10 Best Movies Starring Dwayne 'The Rock' Johnson
Frannie Jiranek/Thrillist
Dwayne "The Rock" Johnson is bigger than the movies he stars in. This is true on a visual level -- he often towers over his co-stars, filling every inch of the frame with his broad shoulders, giant arms, and bullet-shaped head -- but it's also true on a broader metaphoric level: his celebrity status exists outside of conventional movie star narratives. After earning a loyal following with his over-the-top persona and surprisingly nimble physicality as a wrestler in the WWE, the former college football player made the jump to Hollywood with 2001's The Mummy Returns, where he played an Egyptian king who returns to life as an enormous, goofy-looking humanoid scorpion that fights Brendan Fraser. It was a weird beginning!
Since then, he's released at least one movie per year, leaping from family comedies to action blockbusters to the rare oddball experiment. The workaholic maintains this steady clip while also starring in HBO's sports-world dramedy Ballers, returning to the wrestling ring for the occasional grudge match, producing reality competition shows, eating seven meals a day, and posting about all these activities on his ever-active Instagram account. Johnson is a uniquely modern screen icon, one who is arguably more beloved for his "brand" than for his actual movies, which are often a little bland and forgettable.

But we're not here to dwell on the disasters and near-misses. (Skyscraper had so much potential!) No, we're here to celebrate the Johnson movies that actually delivered on what they promise or surprised us in some way. With the release of the car-crazed Fast and Furious spin-off Hobbs & Shaw, there's never been a better time to break down some of his best movies (presented below in chronological order by year) and see what makes the engines purr.
Universal Pictures
The Rundown (2003)
After his more-or-less-a-cameo appearance in The Mummy Returns and his Conan-The-Barbarian-like turn in 2002's The Scorpion King, The Rock got his first chance to play a character that was closer to his wisecracking, body-slamming persona in this Peter Berg directed action adventure yarn. The Rock brings all his charisma and his developing acting chops to the role of Beck, a jaded but honorable bounty hunter, and he's an ideal foil for Sean William Scott's slacker motormouth. Throw in a wacky Christopher Walken performance as a bad guy, a sweaty jungle setting, and a couple wink-wink wrestling moves, you've got a pleasantly breezy, refreshingly clever cable movie. At one point Arnold Schwarzenegger pops up for a symbolic passing of the torch cameo, but oddly enough this is one of the few straight-forward action movies The Rock has ever made that actually evokes the '80s and '90s classics of stars like Arnold and Stallone, the two actors Johnson was often compared to early on in his career. -- Dan Jackson
Samuel Goldwyn Films
Southland Tales (2006)
Richard Kelly's Southland Tales was so far ahead of its time that we're still catching up with its sun-soaked dystopia of government surveillance and infotainment hellholes. It's also The Rock's most understated role, arguably: he plays an amnesiac actor who finds out he holds the key to the future in his hands in the form of a precognitive movie script. There are tons of threads woven into this one, from twins who turn out to be the same person because of time travel to a psychic former adult film actress trying to create her own reality TV show to a Killers interlude featuring Justin Timberlake mouthing the words to "All These Things That I've Done," and The Rock fits right in, his hapless bewilderment and beefy stature making him one of the funniest heroes high-concept sci-fi has ever seen. -- Emma Stefansky
Universal Pictures
Fast Five (2011)
Fast Five wasn't just another Fast & Furious movie. It was the Fast & Furious movie where Vin Diesel was going to go toe-to-toe with The Rock himself, the two of them blasting each other to smithereens like two slabs of granite colliding in a garage full of muscle cars. And, boy, did Fast Five deliver, the scene where the two hunks of gristle finally whale on each other nothing short of pure poetic violence. They become something more than human, delts and abs flexing and fists pounding and nostrils flaring into a realm beyond that which we know. The Rock's Luke Hobbs made a great villain -- so great that he turned into a good guy and shaved off his villain goatee just so the series could keep bringing him back for more rounds. -- ES
Summit Entertainment
Snitch (2013)
Before he fully rebranded himself as the franchise-rejuvenator who pops up in series like G.I. Joe and The Fast and The Furious, The Rock had a period where he made a couple of grittier, stripped-down action thrillers. (2010's confusingly named Faster is the other one.) Snitch, which casts The Rock as a small business owner who becomes a rogue drug informant for an ambitious prosecutor (Susan Sarandon) after his son gets busted for ecstasy, is the best of those movies. There are some tedious parts, particularly as it sets up the Breaking Bad-esque premise, and fans who have grown used to the CG-excess of his blockbusters might leave unimpressed by the comparably low-stakes action beats here. But Johnson gives a strong, believable performance as a normal guy in over his head, and the movie has a B-movie sturdiness that makes it worth seeking out. -- DJ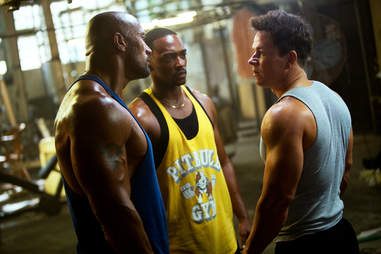 Paramount Pictures
Pain & Gain (2013)
Directed by Transformers filmmaker Michael Bay, Pain & Gain is an often nasty, occasionally wonderful Florida neo-noir about power-lifting gym rats turned scheming criminals. Bay ditches the CG mayhem of his later work but keeps the crude humor that's popped up in all his films, giving this true crime story a lurid, mean punch. Sometimes, it's a little too much. Luckily, the carefully calibrated performances from The Rock, playing a buff coke-addict turned Jesus-freak, and a game Mark Wahlberg, as lunkheaded mastermind Daniel Lugo, keep the movie from descending into empty, limb-chopping satire. It's the type of movie you wish The Rock would make more often: slick, self-aware, and unafraid to alienate some of his fans. -- DJ
Universal Pictures
Furious 7 (2015)
After Fast Five, which found Johnson's tough guy lawman Luke Hobbs in the antagonist role, the series has occasionally struggled to figure out the plot reasons for why exactly he would remain a part of Vin Diesel's motley crew of gear-heads and thieves. Does he just like hanging out with Ludacris? While Fast and Furious 6 has some great moments for Johnson, like the over-the-top plane fight sequence with Diesel, Furious 7 edges it out by being a better, albeit cheesier, movie, and by featuring a scene where the Rock flexes a cast off his arm and declares, "Daddy's gotta go to work." Even if he'll always be a supporting player in the main Fast and Furious world, The Rock has never phoned it in when he puts on those tight Under Armour shirts and grabs that giant gun off the shelf. He always goes to work -- DJ
Warner Brothers Pictures
San Andreas (2015)
The Rock has tried his hand at more comedic stuff, but he really finds a groove when it comes to pure action-driven storytelling. San Andreas, with its simple, catastrophic plot about California's fault line sending the skyscrapers of San Francisco Bay into the deep, lets Dwayne Johnson be what we all know him to be: a heroic tough guy who will fly a helicopter at a tsunami if it means he can keep Carla Gugino from falling off a building. As disaster movies go, it's one of the more exciting ones in recent memory, its ballsy "single-take" sequences with characters running around and falling through giant buildings making you believe that, if a disaster hits, no matter how insane, The Rock will be there, swinging down from the crumbling rooftops to save you. -- ES
Walt Disney Pictures
Moana (2016)
The Rock has many talents. He's an engaging action star, with mysterious eyebrow capabilities, but who knew, at least before Moana came out in 2016, that he could sing? Not us! But Johnson's animated performance turned out to be nonetheless one of his most impressive. Maui, the demigod that our heroine must enlist to bring prosperity back to her island, is definitely squarely in Johnson's wheelhouse: Super-buff, super-arrogant, but lovable at the same time. Still, Disney pushed him out of his comfort zone by giving Maui his very own song, a jaunty tune with a rap break from Lin-Manuel Miranda. And, you know, what? He hit it out of the park. Sure, his vocal chords aren't as strong as his muscles, but "You're Welcome" is nonetheless a highlight of the soundtrack. Still, it's not just the musical moment that makes Johnson's performance in Moana so impressive: In cartoon form, he allows himself to play a vulnerability that you rarely see when he's actually on screen. It all meshes seamlessly into a new Disney classic that broadens the scope of the princess story. -- Esther Zuckerman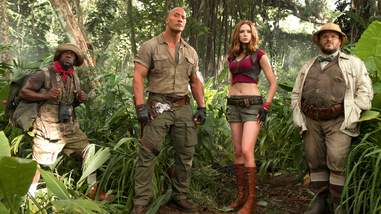 Columbia Pictures
Jumanji: Welcome to the Jungle (2017)
Okay, we're just going to come out and say it, Dwayne Johnson's comedic offerings are...not great. While Johnson himself knows how to land a joke, often the movies in which he gets to show off his funnier side are stinkers. (Sorry,
The Tooth Fairy.
) The
Jumanji
reboot isn't a masterpiece by any means, but he rounds out a talented ensemble operating with a clever premise. The teens who engage with the ominous video game are forced into mismatched avatars, so Alex Wolff's shy and nerdy Spencer gets the body of The Rock. Johnson doesn't do the most with this acting exercise -- he pretty quickly ends up back in action star mode -- but he grounds all the wackiness around him, especially the huge turns from Kevin Hart and Jack Black. It's all fun enough that the idea of a sequel in which Johnson channels Danny DeVito is equally appealing. Hope he
eats an egg
.
-- EZ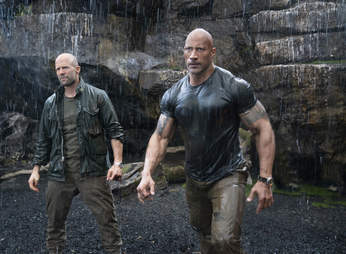 Universal Pictures
Hobbs & Shaw (2019)
After stealing scenes in the last four Fast and the Furious movies, Johnson gets to step further into the spotlight here, joining Statham's more debonair Deckard Shaw for an action-comedy buddy movie. Beyond the nonsensical spy plot, the conceit here is that Hobbs and Shaw don't get along -- in fact, they spend a good deal of the film's runtime bickering and trading schoolyard taunts -- but the best part of the movie arrives in the final third when the pair put aside their petty differences and travel to Hobbs's childhood home in Samoa, where The Rock gets to dig into some family melodrama while still battling a helicopter with trucks. There's even some vague, intriguing Oedipal drama with Hobbs's unseen crime boss father, who he sent to jail for putting his brothers in danger. Hobbs & Shaw isn't a great action movie -- it's not even a particularly strong Fast and Furious movie -- but, in doubling-down on The Rock's personal story, it discovers a new road for this long-running series to travel down. -- DJ