Maitane Romagosa/Thrillist
Maitane Romagosa/Thrillist
The 25 Best Episodes of Sex and the City, Ranked
Revisiting the seminal HBO series.
Rewatching an old TV series is the ultimate creature comfort, and Sex and the City should easily land at the top of anyone's re-binge list. Like a fine wine, the seminal series, which debuted back in 1998, only gets better with age—and multiple viewings. SATC has it all: sex, dating, breakups, make-ups, and closetfuls of shoes that cost more than my rent. Following the lives of Carrie (Sarah Jessica Parker), Miranda (Cynthia Nixon), Samantha (Kim Cattrall), and Charlotte (Kristin Davis), viewers get to live vicariously through the four New York women, and it never gets boring.
Women speaking openly about sex might be something common on TV now, but in the late '90s and early '00s, it was nothing short of revolutionary. With its sexual freedom and runway-ready outfits, Sex and the City cultivated countless cultural milestones and unforgettable moments over its six seasons, and led to two feature films and, soon, a (Samantha-less) HBO Max revival series. All of this is to say: There's never a bad time to look back at the 25 best episodes of Sex and the City.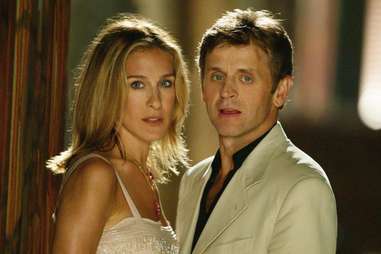 25. "One"
Season 6, Episode 12
This was the first episode Alexander Petrovsky appeared in—to ask Carrie, "You are… comic?" no less—but I won't hold that against it. More importantly, Miranda and Steve get back together at Brady's 1st birthday, which they attend with their respective partners, Robert and Debbie. Miranda and Steve's dating status (like Carrie and Big's) had held viewers on tender hooks since Season 1, and while their reunion isn't particularly dramatic—it's in the laundry and comes about over an impressive birthday candle—it feels right. At the same time, Samantha reveals to Carrie in the bathroom that she found a grey pubic hair and had a dying mishap trying to cover it up. Samantha seethes that, "no man wants to fuck grandma's pussy!" to which Carrie cries out in horror: "This is a child's birthday party!" It's still absolute gold.
24. "Where There's Smoke …"
Season 3, Episode 1
The ladies venture to Staten Island when Carrie is asked to judge the New York Fire Department's annual male calendar finalist selection. Carrie meets a politician, Charlotte ends up white girl wasted and Samantha gets to fulfill a fireman fantasy—sleeping with the hottest fireman in the calendar. The night out spurs the women to all personally grapple with the idea that women innately want to be rescued. Miranda is repulsed by the concept, which leads to her pushing Steve away, despite needing his aid after laser eye surgery. While Charlotte hopes she's met her knight in shining armor in investment banker Arthur, he turns out to have anger problems and a tendency to sporadically punch strangers.
23. "La Douleur Exquise"
Season 2, Episode 12
The series takes on fetishes in this badly dated episode, but it still has a lot of good in it. Miranda dates a guy with a sex in public places fetish, as Charlotte starts getting free designer shoes from a shoe merchant with a foot fetish. In my favorite Stanford-heavy episode, he begins having cyber-sex under the alias Rick9plus, messaging a guy with the username BigTool4U. Meanwhile, Carrie realizes she's in a masochistic relationship with Big, after she finds out he's moving to Paris for work but didn't think to tell her or consider her feelings. They break up, and Big moves to Paris just in time to meet Natasha.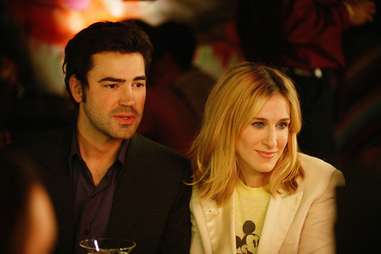 22. "Pick-a-Little, Talk-a-Little"
Season 6, Episode 4
This is only one of two Berger-related episodes to make the list, and this episode only squeezed in because it contains one of the series' most famous lines: "He's just not that into you." This piece of advice comes as a response to Miranda telling the gang about a recent date, who didn't want to come upstairs. Berger replies that if the guy was into her, he would continue the date and lock in their next rendezvous, which leaves the women shocked, realizing they've wasted hours of their lives analyzing men's mixed messages. Berger and Carrie later have their first big fight after he gives her his book to read and she criticized the fact one of his characters, a sophisticated New Yorker, is wearing a scrunchie. Berger reacts defensively and aggressively, a red flag for what was to come in their brief and volatile relationship.
21. "Belles of the Balls"
Season 4, Episode 10
The first meeting of Big and Aidan, after the infamous affair, is an episode that was a long time coming and it didn't disappoint. In an effort to process the fact Carrie still regularly talked to Big, Aidan positioned himself as the Green Hornet to Big's Batman, and tensions reached breaking point when Big invited himself over to see Carrie at Aidan's Suffern cabin. It all ended in a brawl between the two men, with Carrie screaming in the background, "Stop! You're middle-aged!" The mud-soaked feud somehow cleared the air between all three of them. This episode also includes Samantha meeting Richard Wright, who doesn't want to hire her PR firm at first because she's a woman. Are we surprised this guy was nothing but trouble?
20. "Sex and Another City"
Season 3, Episode 14
The foursome head to the West Coast in an episode that delivers on every Los Angeles stereotype imaginable, and the New York/LA rivalry has never been more evident. Feeling brave and bold from her accidental Brazilian wax, Carrie meets celebrity agent Keith (Vince Vaughn) who turns out to be a housesitter, which is revealed when his boss Carrie Fisher crashes their hot tub date. Miranda reunites with New York friend Lou, now living in LA and fully embracing the lifestyle, but it turns out he's developed an eating disorder in the process. Samantha meets her hero Hugh Hefner, and in the episode's climax, the women attend a party at the Playboy Mansion, but Samantha gets escorted from the premises for accusing a Playboy Bunny of stealing her counterfeit handbag.
19. "Luck Be an Old Lady"
Season 5, Episode 3
Another vacation episode, but this one has more heart. Carrie gets stood up on a blind date, which inspires her to quit men and decide to focus on her friends instead, planning a vacation to Atlantic City for Charlotte's 36th birthday—which Charlotte refuses to acknowledge out of fear of becoming an "old maid." Miranda leaves Brady for the first time since giving birth; Charlotte gives herself an "Atlantic slutty" makeover with clothes from a casino shop; and Samantha finally cuts ties with Richard, after paranoia over him cheating on her sees her running up several flights of stairs in a pearl thong. The bus ride home provides a rare candid moment, as the typically over-styled four squeeze together to get a snap on Carrie's Polaroid camera. This is a classic episode that's all about championing female friendships and will make you want to call your best friend.
18. "The Baby Shower"
Season 1, Episode 10
Season 1 has a very different vibe than the rest of the series; the show was clearly still finding its footing and regularly stumbling. This is the only episode from the first season that made the top 25 because it gave a platform to a common experience: Baby showers can be awful for single, childless women. This episode is extra fun as it includes flashbacks to the four ladies in college (Miranda's fashion has always been truly baffling), as the gang attends the baby shower of their old school pal Laney, a party-girl-turned-expectant-mother now living in Connecticut. Laney is rude, putting down her old friends' single lives in the city, but worst of all: She stole Charlotte's baby name. The women leave the party deflated but Samantha refuses to be made to feel like her life is inadequate, so she throws a 'I Don't Have A Baby' shower, and Laney shows up uninvited with cringeworthy results. The episode's message was something significant, even by today's standards: Not all women over the age of 30 are destined for motherhood.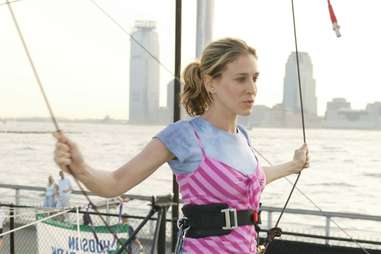 17. "The Catch"
Season 6, Episode 8
This episode stands apart for the way it subverts expectations. Charlotte's envisioned dream wedding is a disaster. First, Harry sees her in her wedding dress; on the big day, Charlotte falls walking down the aisle; the best man gives a rambling address at the reception; and Miranda sets her speech on fire. It's the opposite to Charlotte and Trey's picture-perfect wedding, and it needed to be. Carrie's attempt to have a casual fling with a groomsman turns out to be far from carefree; instead, she has to endure "jackrabbit sex" and is left with an injured neck. Rather than meeting Steve's girlfriend Debbie—and accepting her ex has finally moved on—Miranda hides under Brady's dusty crib.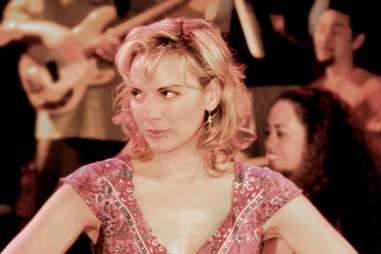 16. "They Shoot Single People, Don't They?"
Season 2, Episode 4
Carrie over-parties then oversleeps and shows up to a New York magazine cover shoot late and the photographer uses her hungover image on the cover, savagely captioned: "Single & Fabulous?" The judgemental headline makes the women doubt themselves and question whether they're happily single. This leads to Charlotte dating her handyman (he can "fix things around the house!") and Miranda sleeping with an ophthalmologist she used to fake orgasms with, finding herself back in a vicious cycle. "What's the big mystery, it's my clitoris not the sphinx," she muses. Carrie goes on a binge and meets drunk dude Jake (Bradley Cooper!), but after he laughs at her magazine cover, she decides not to go home with him because she doesn't want to feel like she has to disprove a question mark. It's an essential episode for anyone alone, who won't fake a relationship just to be considered as having a fulfilled life by others.
15. "Attack of the Five-Foot-Ten Woman"
Season 3, Episode 3
This episode focuses on the women who exist to make others feel bad about themselves. Carrie sees Big and Natasha's wedding announcement in the New York Times, which inspires her to become obsessed with making a better impression on Natasha at a luncheon. Natasha doesn't show up but a thank you note, where she makes a spelling error, gives Carrie the temporary validation she needs. It's extremely petty, but all too relatable. While Miranda hires a new housekeeper (and soon-to-be beloved side character) Magda, who tries to change her, buying her a rolling pin to "make pies," and replacing her vibrator with a statue of Mary. Samantha oversteps what is appropriate when she gropes her masseuse, after she finds out that he goes down on his clients, in a problematic storyline that would hopefully never fly in the #MeToo era.
14. "The Real Me"
Season 4, Episode 2
Carrie is enlisted to do a runway show as one of the 'real people' and ends up dating a photographer she meets at a fitting. A personal highlight is Alan Cumming as a Dolce and Gabbana stylist instructing Carrie to "Trot, trot!" which is still perfect. In an iconic moment, Carrie ends up being fashion roadkill, taking a tumble down the runway, and Heidi Klum literally steps over her frozen body. At the show, Anthony and Stanford are set up on a date and it's predictably a disaster. Anthony callously rejects Stanford, setting the scene for a series-long rivalry. Miranda starts sleeping with a guy she met at her gym, but scares him off with overconfidence, and Samantha gets nude photos taken so she can remember how fit she was in her prime. Meanwhile, Charlotte's vagina is depressed. It's a wonderful episode across the board.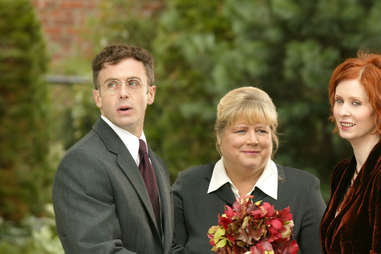 13. "The Ick Factor"
Season 6, Episode 14
Another SATC wedding, but with an entirely different tone. Always the non-traditionalist, Miranda proposes to Steve over a couple of beers, and at the wedding, Samantha reveals to the women that she has breast cancer. Despite Samantha wanting to address the topic at a better time, when they aren't surrounded by wedding guests, Miranda asserts, "You are my people and we'll talk about it now." It's a touching moment, which snaps into focus what's important.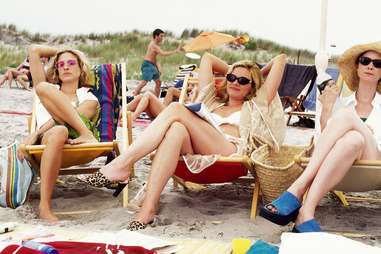 12. "Twenty-Something Girls vs. Thirty-Something Women"
Season 2, Episode 17
The ladies head off on a Hamptons getaway, and confront their younger counterparts: women in their 20s and whether they should fear or pity them. Carrie meets young writer and superfan Laurel, who aside from loving her sex column, is also a virgin. Charlotte attempts to relive her youth, pretending to be 27 and sleeping with a young guy who gives her crabs. Samantha discovers her young ex-assistant Nina now has her own successful PR firm—and scored a coveted A-list party, which Sam eventually needs to help rescue when Nina gets in over her head. At the party, Carrie runs into Big, just back from Paris, and reveals he has a new girlfriend, Natasha. He also tells her he's moving back to New York, and the episode concludes with Carrie vomiting on the beach while Miranda holds her hair back. The moment Carrie sees Big, and he turns around with the stunning Natasha at his side, is still an emotional gut-punch and one of the most devastating scenes in the series.
11. "Easy Come, Easy Go"
Season 3, Episode 9
Carrie and Big's affair begins after she runs into he and Natasha at Aidan's furniture show, and it's immediately clear the newly married couple are longer in wedded bliss. Big drunkenly spills to Carrie that their seven-month marriage is over, asking her "if you know anyone who's interested?" The final scene sees Big cornering Carrie in a hotel elevator. She initially says "fuck you," denying his advances, then eventually concedes, telling him "fuck me," and they sleep together. While morally remiss, the whole scene is still incredibly hot to this day. On the flipside, the rest of the women are all at their best. Samantha finds sex with a new guy unappetizing because of his 'funky tasting spunk,' while Charlotte learns the subtle art of manipulation from Trey's mother, first convincing him to change his salad order, then to get married, to which he replies, "alrighty." How did she not dump him there and then?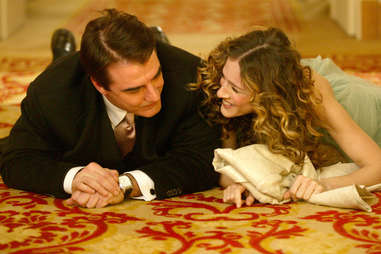 10. "An American Girl in Paris, Part Deux"
Season 6, Episode 20
This might be the final episode, but it's also extremely grim for the most part. Carrie is miserable and lonely in Paris, as Alexander continues to flake on their plans or disregard hers, and his ex-wife warns her that his relationships come secondary to his art. Then there's Alexander's infamous slap—was such a jarring moment really necessary to demonstrate to Carrie that he wasn't right for her? I'm not convinced, but it did lead to Carrie fleeing and then running into Big, and he finally admitted his feelings for her, telling Carrie she's the one. Big's declaration is not a particularly grandiose moment; it doesn't need to be. Carrie and Big were always destined to end up together. The real moment is saved for Carrie returning to New York and reuniting with the women at brunch, their screams upon seeing their friend heard far and wide all across Manhattan. The best friends are back together, gossiping about their love lives; it's the perfect series send-off.
9. "Ex and the City"
Season 2, Episode 18
Can you be friends with an ex? This is the precarious question this classic episode poses, as the women try to find a clear answer through murky waters. After Miranda spots Steve in the street and erratically flees, they try being friends, but end up having sex. Carrie's intention to befriend Big is scrapped when he tells her he's engaged to Natasha—something she was told would never happen between herself and Big. Carrie eventually comes to terms with the news by invoking the gospel according to the 1973 film The Way We Were, seeing herself in the movie's protagonist Katie: She's too complicated for Big, he needs a simple girl like Natasha. She visits Big at his engagement brunch, and tells him, "Your girl is lovely, Hubbell," which confuses Big but gives Carrie closure. The episode gets such a high score simply for including all the girls singing a rousing chorus of "Memories" in a crowded bar. Also, Carrie referring to Natasha as "Najinsky" to Big is still funny to no end.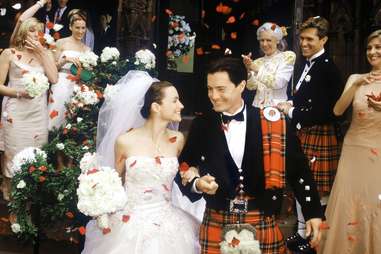 8. "Don't Ask, Don't Tell"
Season 3, Episode 12
This is an action-packed episode in an action-packed season that shines a light on the lies often told in relationships. Charlotte's waspy wedding to Trey is overshadowed by the night before the nuptials, when Trey couldn't get it up—a storyline that will carry on for a whole other season. Carrie is guilt-ridden from her affair with Big, and finally tells Aidan. He stops by Charlotte's wedding to promptly dump her. Thankfully, there are some lighter moments, courtesy of Samantha and Miranda. Samantha pursues Trey's Scottish groomsman Caleb, despite not understanding half of what he says. Miranda has to keep up the pretense that she's a stewardess with a guy she met at a speed-dating night. She has fun embracing her second life, even draping a silk scarf around her neck and putting on a ditzy voice.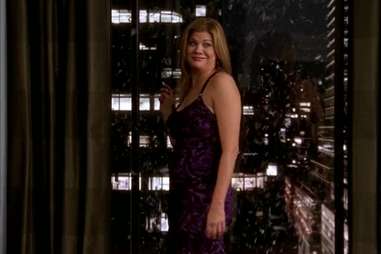 7. "Splat!"
Season 6, Episode 18
This is an unforgettable episode that's still shocking to watch to this day. Manhattan socialite Lexi Featherston (played far too convincingly by Kristen Johnston) complains at a party that she's so bored that she could die, before falling out an open window and plunging to her death. The episode title comes from the New York Post headline the next day, "Splat!", an accurate albeit grotesque summary of Lexi's untimely passing. This event is important because it's the catalyst for Carrie deciding to move to Paris with Alexander, upon seeing sad and pathetic Lexi clinging to her past New York identity, and hearing her Vogue boss, Enid (Candice Bergen), complain about how there's no viable men left once you get to a certain age. Carrie choosing to move to Paris causes one of her and Miranda's biggest fights to date and it physically hurts to watch them trade unkind words.
6. "Anchors Away"
Season 5, Episode 1
Season 5 kicks off with a vengeance in this hilarious episode set during Fleet Week, which sees the women at their best: having hilarious dalliances with men and flaunting their city. Carrie decides to date New York instead of new guys, until she meets sailor Louis from Louisiana. However, he doesn't like the city, so it's over before it even began. Richard grovels to get Samantha back after his infidelity, so she distracts herself with sailors at the annual Navy party, where Charlotte flashes a sleazy suitor her boob in an effort to move on from Trey.
5. "A Woman's Right to Shoes"
Season 6, Episode 9
This episode is canon and the series' second baby shower but with a more nuanced message: Single women get shafted when it comes to gifts and having their personal successes celebrated. This issue comes to a head when Carrie and Stanford attend their friend Kyra's baby shower, where Carrie is asked to take off her Manolo Blahniks upon entering the house, and when she returns, her expensive heels are missing. Kyra initially offers to pay for the shoes, but she bristles when she hears how much they cost Carrie, telling her she shouldn't have to pay for her "extravagant lifestyle," and leaving Carrie feeling "shoe-shamed." Carrie eventually snaps when she realizes she's spent thousands of dollars celebrating her married friend's successes—from engagements, weddings, and births—and leaves a voicemail for Kyra, announcing she's getting married to herself, and her gifts are registered at Manolo Blahnik. "One giant step for me. One small step for single womankind," Carrie declares. This groundbreaking episode is also extremely important for Miranda, who meets handsome basketball doctor Robert (by far the most attractive man she ever dates), and they watch Jules and Mimi together then have sex—another giant leap for single womankind.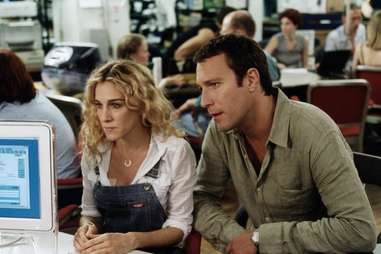 4. "My Motherboard, Myself"
Season 4, Episode 8
Charlotte struggles adapting to life as a housewife, Samantha tries out every sexual position physically possible, and Carrie's laptop crashes, but all of this is dragged into perspective when Miranda's mother dies. This is the only episode that touches on the loss of a parent, and the scene that carries the most emotional weight is Miranda breaking down in front of an overzealous sales assistant trying to find the correct size bra for her, realizing she would never have a fight with her mom again. In the final scene at the funeral, a partnerless Miranda is forced to walk alone down the aisle at the end of the ceremony, but Carrie rushes to her side in the series' most heartfelt moment. Steve and Aidan making a surprise appearance in the crowd comes as a close second.
3. "An American Girl in Paris, Part Une"
Season 6, Episode 19
The finale might be the series' last goodbye, but it's the second-last episode that sets everything up for the big finish. Big shows up at Carrie's apartment on her final night in New York, before she uproots her life for Paris with Alexander. Carrie has finally had enough and tells him that she never wants to hear from him again. It might be harsh, but it's something he deserves after jerking her around for six seasons. Carrie's first days in Paris are not what she expected, she spends her days wandering the streets alone, her nights being ignored by Alexander's friends who only speak French. She even slips and falls flat on her face in Dior, but worst of all, she loses her 'Carrie' necklace, a sentimental loss that Alexander doesn't understand. In the final scene, Big meets with Miranda, Samantha, and Charlotte who hear his case. He tells the women, "You three know her better than anyone, you're the loves of her life. And a guy's just lucky to come in fourth," which basically encapsulates the essence of the entire show. Miranda tells him to "go get our girl," and thankfully, Big does.
2. "The Post-It Always Sticks Twice"
Season 6, Episode 7
There's a lot of serious stuff in the final season of SATC—break-ups, miscarriages, cancer—so this episode is a welcome departure, and hilarious from start to finish. This is as light an episode as we'll ever get: Charlotte is happily engaged, Samantha's using her PR skills to raise Jerrod's profile, and Miranda fits into her skinny jeans. But what trumps it all is Carrie being dumped by Berger via Post-It note inscribed with the words: "I'm sorry. I can't. Don't hate me." After five seasons of tense, often heart-wrenching breakups between the women and their many boyfriends, this breakup was silly, infantile, and necessary. The episode highlight has to be Carrie getting arrested for lighting up a joint on the street, leading to her proudly declaring that the day no longer signified getting dumped via a Post-It, but getting arrested "for smoking a doobie!" she tells the girls, before hoeing into a banana split, still high as a kite. It's perfect breakup TV.
1. "I Heart NY"
Season 4, Episode 18
Airing five months after 9/11, "I Heart NY" is a sweeping testament to the strength and tenacity of the people of New York. On a late-night visit to Big's place, Carrie is horrified to discover that he's moving to Napa, so she plans a final night for him, herself, and her beloved city, as they dance to Big's parents' favorite tune "Moon River" on the floor of his empty apartment. Their final night is interrupted when Miranda goes into labour, Carrie leaves her date with Big and arrives at the hospital just in time for Miranda's water to break on her new Christian Louboutin heels. Holding Miranda's hand, Carrie stops Steve and the nurses from getting on Miranda's nerves during childbirth—an apt summary of their friendship dynamic, which carries the series across six seasons. It's an episode that not only lifts the series' strongest bond (Carrie and Miranda) above all else, but showcases NYC in all its glory. If SATC is a long love letter to New York, then "I Heart NY" is its most perfect prose.
Need help finding something to watch? Sign up here for our weekly Streamail newsletter to get streaming recommendations delivered straight to your inbox.
Tara Watson is a pop culture writer and is still mad at Carrie for moving to Paris.