The 21 Best Science Fiction and Fantasy Book Series Ever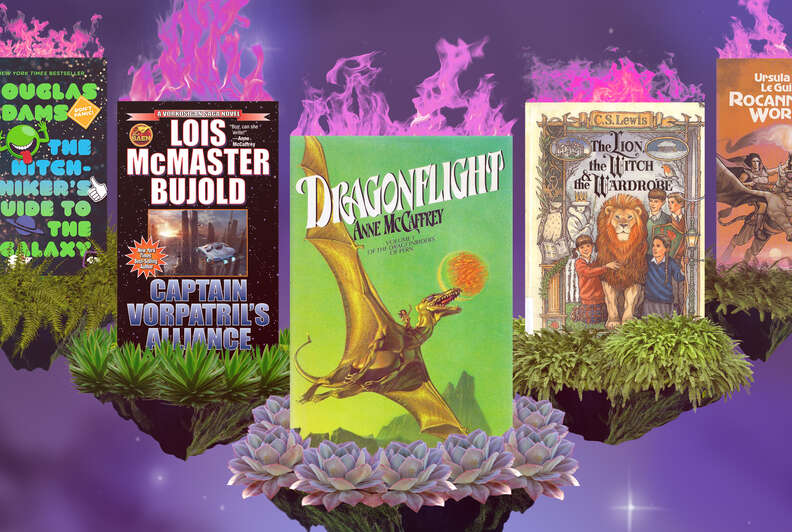 Danna Windsor
Danna Windsor
The sheer number of new science-fiction and fantasy books published in any given year can be overwhelming, and it doesn't help matters that both genres are so series-heavy. We've done the hard work for you and rounded up the 21 best science fiction fantasy series of all time, in no particular order.
For the sake of tidiness (and our own sanity), we've limited this list to series that include at least three books, and that are either completely finished or have no further books currently planned (so, no A Song of Fire and Ice), or have at least one finished multi-book story arc within the larger series (for instance, the Farseer Trilogy is a completed series within the Realm of the Elderlings series).
More: The best books published in 2019 so far
Including:The Fifth Season, The Obelisk Gate, The Stone Sky
Accolades like "masterpiece" and "instant classic" get thrown around a lot these days, but the acclaim for Jemisin's series is more than just marketing. Each of the books in this masterful science fantasy trilogy won the Hugo Award for Best Novel, making Jemisin the first author ever to win the award three years in a row, and the series is currently in development for TV at TNT. These books are a pleasure to read, heartbreaking, joyous, inventive, and challenging in equal measure, tackling systemic oppression, climate change, and the complications of parenthood and grief. There's simply no question that Jemisin is in a league of her own.
Including: Consider Phlebas, The Player of Games, Use of Weapons, The State of the Art
If we have to say more than "utopian socialism on sentient spaceships" to sell you on this series, it may not be for you, but give it a shot anyway, won't you? Banks started the Culture series at a time when space opera was considered facile and passé, and took full advantage of that attitude to reinvent and revitalize the genre, offering a smart, playful, and often stylistically flashy subversion of space opera tropes wrapped around a core of radical politics.
Including: Shards of Honor, The Warrior's Apprentice, Ethan of Athos
Spanning 30 years and sixteen novels, this sci-fi epic is full of political intrigue, corrupt corporations, weird family dynamics to rival your own, travel via wormhole, and a universe of colorful cultures and societies. Bujold's universe is both witty and weighty, inclusive before inclusivity became a watchword of genre fiction, and a total joy to read.
Including: The Eye of the World, The Great Hunt, The Dragon Reborn
Jordan pretty much defined the conventions of modern epic fantasy in this sprawling, intricate series (which was completed by Brandon Sanderson after Jordan's untimely death). In the same way that Tolkien's races and grand quests defined the epic fantasy that followed The Lord of the Rings for a generation, The Wheel of Time's political machinations had an incalculable influence on the epic fantasy of the past thirty years (most notably in A Song of Ice and Fire). And with a TV adaptation from Amazon starting production this fall (and the publication of Jordan's never-before-published first novel, Warrior of the Altaii, on sale now), expect to see a resurgence of interest in Jordan's world in the coming months.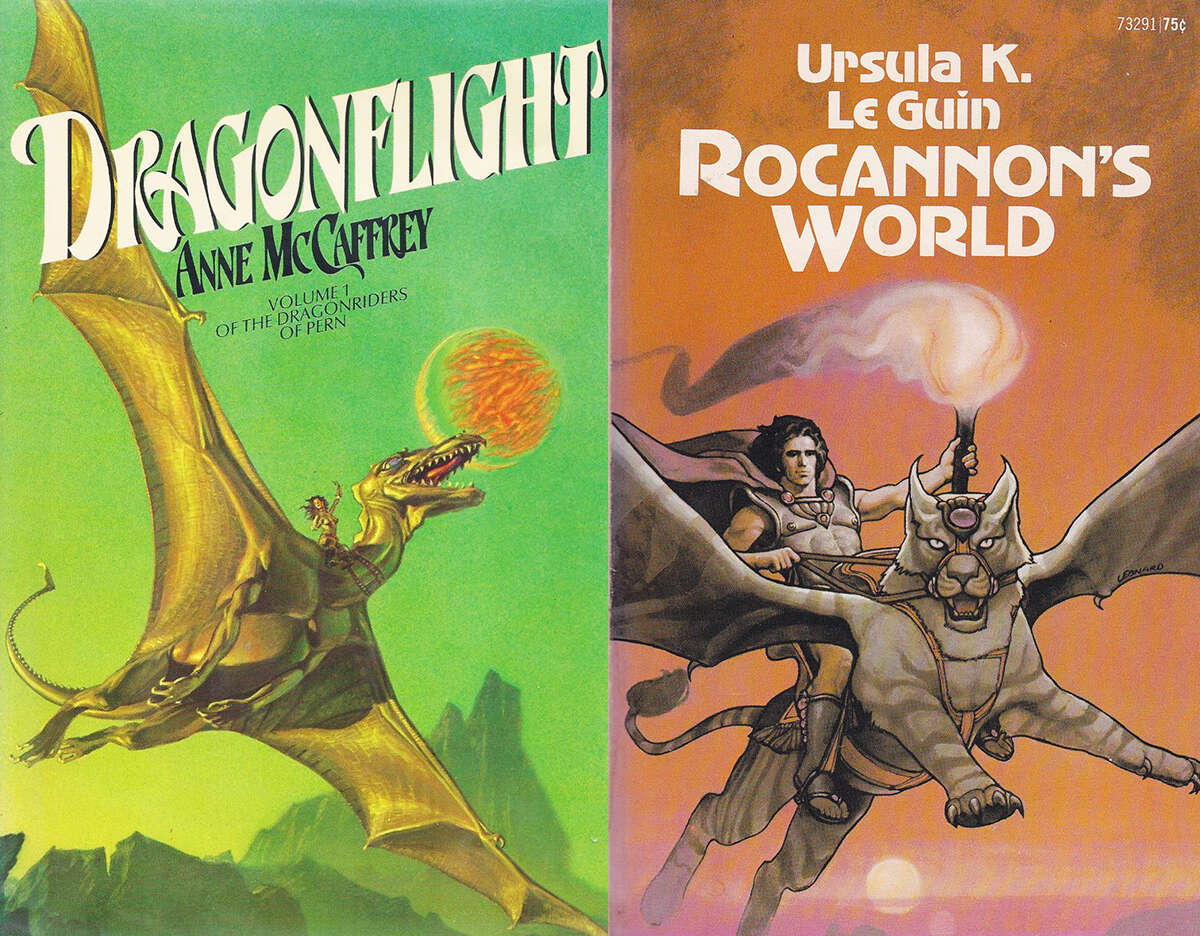 Including:Dragonflight, Dragonquest, The White Dragon
If "telepathic dragons fight deadly space spores" doesn't sound like something you want to read then we're not sure why you're reading this list in the first place. The world of Pern is unique and fascinating, yet never buckles under the weight of its own world building. The dragons and dragon riders provide an intensely compelling narrative hook (Lessa and Ramoth in Dragonflight are direly overdue for a film adaptation). And McCaffrey, was, notably, the first woman to win a Hugo or a Nebula award. Don't sleep on Pern.
Including: Rocannon's World, The Dispossessed, The Left Hand of Darkness
Le Guin was a legendary talent, a force of nature who helped solidify the place of women in the SFF world and helped legitimize SFF as a genre to be taken seriously. The Hainish Cycle, which is a loosely connected series of novels set in the same universe of mostly peaceful civilizations, just so happens to contain two of the single best science fiction novels ever written: The Dispossessed and The Left Hand of Darkness. That alone should qualify the Hainish Cycle for its place on this list, but the joy of it is that there are so many more books to read in this world beyond those two legends of the genre. Le Guin's stories blur the boundaries of the "literary" and the speculative, but what really shines through is her focus on how we work through our prejudices and differences and come to understand one another.
Including: The Fellowship of the Ring, The Two Towers, The Return of the King
On the one hand, Tolkien didn't invent epic fantasy, but on the other hand, didn't he, though? The lasting impact of The Lord of the Rings can't be overstated. Authors, filmmakers, and cultural critics have responded to it, imitated it, subverted it, and rejected it entirely, but you'd be hard-pressed to find a part of the fantasy conversation without Tolkien's fingerprints on it somewhere. Because of that patina of cultural influence, it's easy to forget that they're just really great books: creatively rich, fully realized, populated with compelling characters, and beautifully told.
Including:Neuromancer, Count Zero, Mona Lisa Overdrive
Gibson didn't invent cyberpunk, but his first three novels defined the genre as we understand it today. These novels exemplify cyberpunk's cynical reaction to the utopian science fiction of the mid-20th century -- think of it as the sci-fi equivalent of Grimdark fantasy -- as well as to the rapid acceleration of technological development in the real world. And forty years later, in an era where technology is at the forefront of culture, politics, and economy, the Sprawl trilogy is just as relevant (and eerily prescient) as ever.
Including: Northern Lights, The Subtle Knife, The Amber Spyglass
There's certainly no shortage of great fantasy fiction for younger readers that tackles heady thematic material, but Philip Pullman's trilogy is notable for being a fantastic adventure story with gravitas to spare, equally appealing to readers of all ages. Shot through with a vein of barely-contained righteous anger about the often-thoughtless way adults manipulate children, Pullman's writing draws Lyra Belacqua's world as a haunting, bloody, often deadly labyrinth full of moments of transcendent beauty and pathos. And who could read these books without desperately wanting a daemon of their own?
Including: Dawn, Adulthood Rites, Imago
Butler was one of those writers who pushed genre fiction to spectacular new heights, and nowhere is that on better display than in Lilith's Brood. After nuclear war renders Earth uninhabitable, the few remaining survivors are rescued by the Oankali, a race of aliens who engage in genetic trade, borrowing beneficial biological characteristics from other species and offering them in return. Lilith Iyapo's bond with Nikanj, an Oankali, leads to the first human-Oankali hybrid population, and the trilogy focuses on all that their union entails. Butler thoroughly and elegantly interrogates matters of gender, race, identity, slavery, and colonization, and her power as a storyteller remains unparalleled.
Including: The Three-Body Problem, The Dark Forest, Death's End
Some of the most revolutionary contemporary science fiction right now is coming out of China, and Cixin Liu is leading the charge. This is as hard as hard sci-fi gets -- the first book in the trilogy, The Three-Body Problem, takes its name from a concept in orbital mechanics -- but the scientific here is weighed equally with the political, the cultural, and the personal. And, if you mostly read SFF written in English, Liu's work is a great introduction to the world of sci-fi in translation.
Including: Binti, Binti: Home, Binti: The Night Masquerade
Short-form sci-fi and fantasy have been making a comeback in recent years, and Okorafor's novella trilogy is an unparalleled example of how to tell an expansive and moving story in an economical page count. Binti is a young woman who leaves her home on Earth to pursue her studies at an off-world university. But when her ship is invaded by a group of aliens, she finds that looking to her past and to her culture's traditions offer a solution to move forward. It's a beautiful meditation on cultural exchange and a thrilling yarn.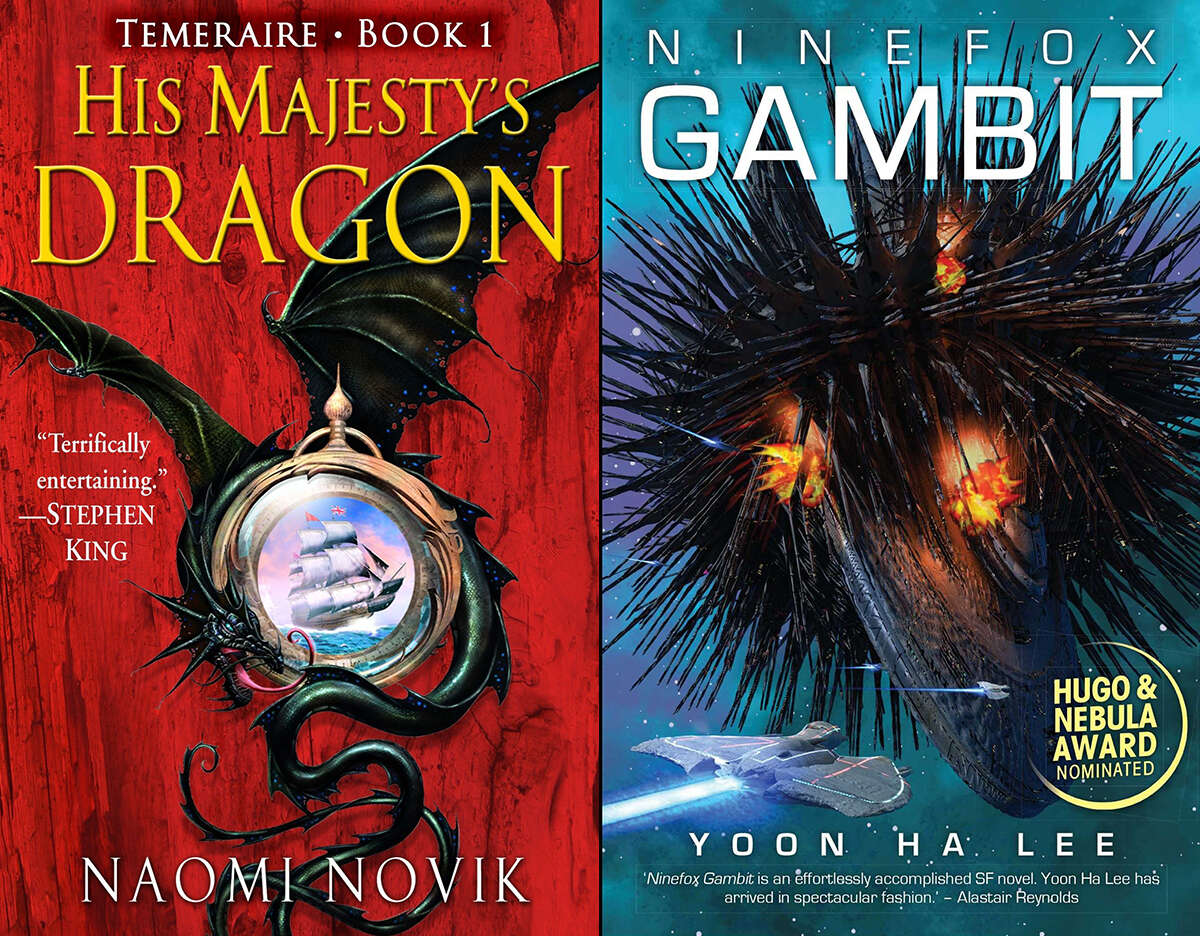 Including:His Majesty's Dragon, Throne of Jade, Black Powder War
The Temeraire books take a great alternate history hook -- what if the Napoleonic Wars, but with dragons -- and uses it as the (extremely compelling) backdrop for the relationship between the titular Temeraire and Laurence, his human partner, which is rich with mutual care and plenty of humor. Complete with steampunk details and utterly beautiful prose, Novik presents a cosmopolitan worldview where colonialism took a different path -- indigenous societies all over the globe are alive and thriving, and species identity and autonomy are treated differently by society.
Including: Ninefox Gambit, Raven Stratagem, Revenant Gun
Lee's trilogy is more recent and less well-known than many of the others on this list, but it's a massively deserving series that should have much more widespread recognition. This is military sci-fi in a universe built on number systems, where the physical laws we know (and upon which much of sci-fi is based) don't necessarily apply. Lee doesn't hold your hand -- he expects you to trust him and keep up, and if you do, you'll be rewarded with an absolutely mind-bending reading experience. This is the kind of story that will haunt the way you think for months after you finish it.
Including: The Lion, the Witch and the Wardrobe, Prince Caspian, The Voyage of the Dawn Treader
The defining portal fantasy series. Much like epic fantasy after The Lord of the Rings, it's pretty much impossible to talk about any book involving a magic door to another world without bringing Lewis into the conversation. The trick, though, is that the sense of wonder you felt the first time you read The Lion, The Witch, and the Wardrobe is still there. Aslan-as-Jesus-figure is a well-worn genre joke at this point, but Lewis's writing has such a transportive quality that the all-knowing lion is still effective and affecting. And that's really the key to any lasting portal fantasy -- the book was the magic door all along.
Including: The Hitchhiker's Guide to the Galaxy, The Restaurant at the End of the Universe, Life, the Universe and Everything
Adams is easily one of the funniest writers who's ever lived -- The Hitchhiker's Guide to the Galaxy has helped shape the sense of humor of several generations at this point, and shows no signs of ceasing to do so anytime soon. Notably, Hitchhiker's Guide was a multimedia sensation in an era before that was a common marketing strategy, originating as a successful radio drama before being turned into an indelible series of novels, a television show, a stage production, a video game, and, decades later, a decidedly mediocre film. (There is, of course, another TV adaptation in the works.) It's remarkable that these books were an adaptation of another medium, because they feel so thoroughly, zanily lived-in -- an eternal testament to Adams' talent.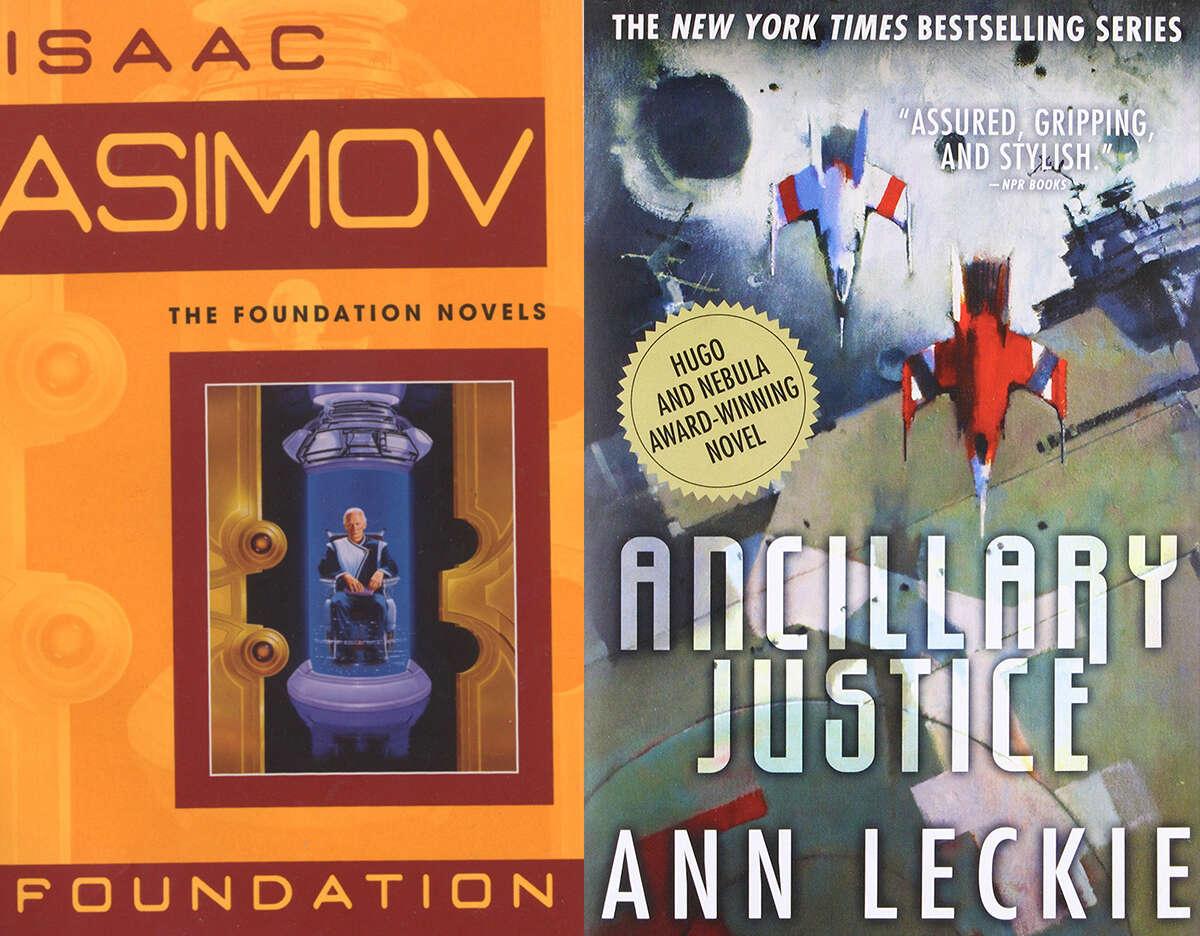 Including:Foundation, Foundation and Empire, Second Foundation
As contemporary science fiction's (excuse us) foundational text and winner of the 1966 one-off Hugo Award for "Best All-Time Series," this is big, serious sci-fi at its finest. Asimov's focus was, at its most basic, on human behavior, and accordingly you'll find threads of sociology, economics, group psychology, statistics, and individualism weighed against collective behavior. It's fascinating, thought-provoking, and perennially relevant.
Including:Ancillary Justice, Ancillary Sword, Ancillary Mercy
Leckie is, in many ways, an heir to Ursula K. Le Guin, but nothing about the Imperial Radch trilogy is derivative. She does what the very best authors do: presents an ambitious concept (here, human bodies known as ancillaries are inhabited and operated by AIs on a large scale, and the series explores what happens when they're cut off from their network) rendered in clear, powerful, engaging prose. It's a triumphant story about the importance of self-determination.
Including: The Color of Magic, The Light Fantastic, Equal Rites
In terms of longevity and popularity, Sir Terry has always been the guy to beat -- there are 41 published Discworld novels, and the series has sold 80 million copies worldwide. But numbers don't tell the whole story. Pratchett had a near-supernatural ability to balance satire and storytelling -- the Discworld novels skewer the conventions of epic fantasy and are still laugh-out-loud funny a quarter century later, to be sure, but they never lose sight of what makes a compelling and empathetic narrative. It's a massive, sprawling fictional universe populated by characters who are uniquely, beautiful human.
Including: Assassin's Apprentice, Royal Assassin, Assassin's Quest
Hobb writes epic fantasy with a philosopher's sense of nuance and intricacy. This is a universe populated with exquisitely-drawn characters who experience some of the most honestly rendered emotional arcs in all of SFF. Hobb's characters grow and change and react to fantastical circumstances ike real people, who feel as solid as your own friends and family.
Including: The Final Empire,The Well of Ascension, The Hero of Ages
Sanderson is known for writing clever and original systems of magic, and that he does (in Mistborn, magical power is derived from the eating or wearing of different metals), and when it comes to intensely immersive world building you'd be hard-pressed to find anyone doing it better. The Mistborn original trilogy wraps a heist, a rebellion, a prophecy, and a world-changing quest into one spectacular package, promising that you'll never be bored in this world.