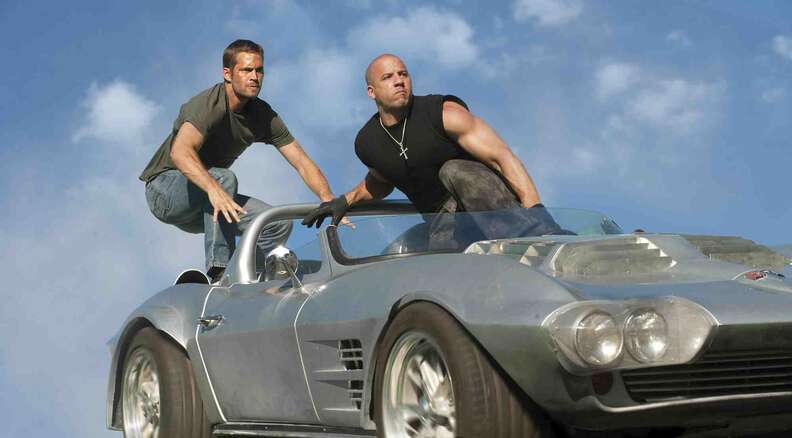 Paul Walker and Vin Diesel in 'Furious 7'

| Universal Pictures
Paul Walker and Vin Diesel in 'Furious 7'

| Universal Pictures
All 10 'Fast and the Furious' Movies, Ranked
Grab a Corona and toast to the Fast Fam.
There's a stupefying beauty to the arc of The Fast and the Furious movie franchise. With 2001's The Fast and The Furious, a Point Break for gearheads starring two relatively unknown young actors and made for $38 million, we learned about a tight-knit crew of thieves in Los Angeles who like to drag-race, throw backyard cookouts, and steal DVD players from trucks while driving at insane speeds. Twenty years and $6 billion in worldwide gross revenue later, the franchise is a box-office behemoth.
Like the saga's bulbous figurehead Dominic Toretto, played by Vin Diesel, this series lives its life "a quarter-mile at a time." When you're strapped into your seat at the multiplex, nothing else matters: not the convoluted chronology, not the rivalry between the stars, not the tragic death of Paul Walker that has added a melancholy quality to the later films. For those two or more hours of rubber-burning mayhem, you're free.
But when you get home—or peel out of the theater parking lot in your NOS-powered vehicle—it's time to discuss one of the most pressing questions in contemporary cinema: What's the best Fast and Furious movie? More specifically, how would you rank all 10 movies in terms of fastness and furiousness? To help you make sense of this globe-trotting series, we've ordered them in the way that can only be described as perfect and correct. Read along, and grab any brew you want, as long as it's a Corona.
10. Fast & Furious (2009)
Not all Fast and Furious movies are created equal. While this curiously titled, numberless fourth film is responsible for bringing Dom, Brian (Paul Walker), Letty (Michelle Rodriguez), and Mia (Jordana Brewster) back into the family fold—along with introducing fan-favorites Tego (Tego Calderón), Rico (Don Omar), and Gisele (future Wonder Woman Gal Gadot)—it's also the one chapter, even counting the Hobbs & Shaw spinoff, that's for Fast completists only.
Beyond the opening sequence, a gripping re-creation of the Road Warrior-style truck heist from the original, this entry lacks both the grease-monkey thrills of the early films and the absurd grandeur of the later entries. Instead, we get a needlessly complex heroin-trafficking plotline, a dimly lit underground chase sequence, and too many scenes where FBI Agent Paul Walker wears a suit. (What is this, The Skulls?) Fast & Furious is the ultimate transitional movie: a soft reboot that tries to switch gears but lacks the narrative gas to make it to the finish line. —Dan Jackson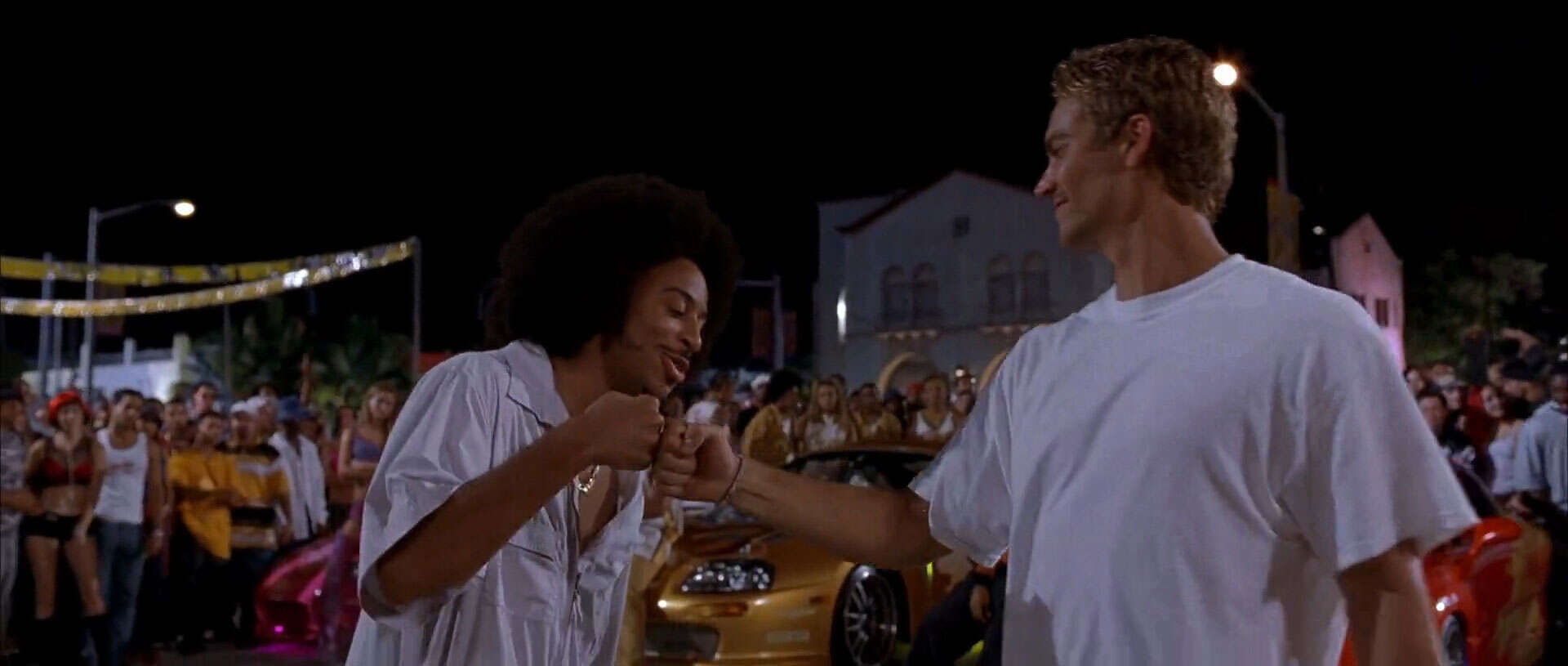 9. 2 Fast 2 Furious (2003)
This is the only Fast film without Vin Diesel, and that sucks. After conquering the box office, the bald-headed thespian hopped on a snowboard to pursue more XXX-treme pastures with the The Fast and The Furious auteur Rob Cohen, leaving his bro Paul Walker to fend for himself. But with this Miami-set entry, Boyz n the Hood director John Singleton became the first (and only) filmmaker to ever be nominated for an Oscar and later direct a Fast and Furious movie, which is seriously cool as hell. The late director brought a workmanlike, neon-drenched touch to the bikini beach party, casting series staples Ludacris (who replaced Ja Rule) and Tyrese in key roles and giving this crime thriller a TRL vibe. (The Luda-filled soundtrack also helps.) Critics like to dismiss 2 Fast, and you'll often find it at the bottom of rankings like this, which makes sense because, again, it's clearly missing Diesel power, but it has a sun-kissed slacker-noir tone that's unique to the series. Plus, at the end of the movie, they crash a car into a boat. In 2003, that shit was wild. —Dan Jackson
The first official Fast & Furious "spinoff" (the full title is Fast & Furious Presents: Hobbs & Shaw), the Luke Hobbs and Deckard Shaw team-up is a passable entry into the franchise, even though it feels more like a rejected Mission: Impossible script than a Fast movie. The two heroes—who were first introduced as villains in Fast Five and Furious 7, respectively—spend more time commenting on the size of each other's, uh, gearshifts, and not enough time actually doing stuff in cars, which is a shame, since Jason Statham and The Rock are scene-stealers in their own right when they're secondary characters in the Fast movies. It does have a scene where a bunch of trucks are chained to a helicopter that swings itself over the side of a cliff, so there's that. —Emma Stefansky
7. The Fate of the Furious (2017)
The eighth chapter of the Fast saga hit 120mph on two flat tires: Dom, whom dreadlocked hacker Cipher (new-to-the-franchise Charlize Theron) lures to the dark side, leaving his family without an order-grunting patriarch; and Brian, written out of the picture after Paul Walker's death but spiritually replaced by Generic Government Agent #2, portrayed by the animatronic Scott Eastwood. Fact: This franchise needs at least one of them acting like a badass.
The reverse-Terminator concept is brilliant on paper—what could turn our devoted, romantic hero into a MacGuffin-stealing villain?—but with every tap-tap-tap of Cipher's jet-based supercomputer (so much tapping), director F. Gary Gray (Straight Outta Compton) drifts away from his hero's conflict. To replace the Vin Diesel-sized hole in the car stunts, Gray tricks his Fast movie out like a disaster movie, complete with a self-driving SUV tidal wave and race to outrun an ice-breaking nuclear submarine (that comes with a heat-seeking missile bonus round). Jason Statham's bad guy-turned-good (dizzy yet?) Deckard Shaw steals the show in what should be Diesel's vehicle. His low-bass leadership is sorely missed as he broods through dirty work, and in the end, winds up back where he started. Don't even get me started on the lack of Corona. —Matt Patches
6. Fast & Furious 6 (2013)
With its rapid delivery of junk-food action, series director Justin Lin's final ride with the Fast crew—before returning eight years later for F9—owes more to Domino's "30 Minutes or Less" campaign than the grand history of grunge cinema. In this case, Lin serves up a piping-hot Supreme with everything on it: There are classic car races; spy movie accoutrements; an ecclesiastical devotion to the ever-growing family; the '70s fantasy of Luke Evans' Owen Shaw and his grungy, car-flipping Formula 1 racer; Letty's soap-opera return from the grave; her vicious smackdown with Gina Carano; that giant set-piece between Vin Diesel and a tank; and the other giant set-piece between Vin Diesel and a jumbo jet—Furious 6 doesn't stop.
It doesn't aspire to be logical, and until a sloppy post-credits scene teasing Furious 7, it resists conforming to traditional blockbuster standards. At one point, Tyrese Gibson's Roman, hired by Dwayne Johnson's Hobbs (his former enemy) to take out Shaw and now facing near-certain death, screams, "This is not what we do!" Furious 6 rides this exclamation into the sunset. —Matt Patches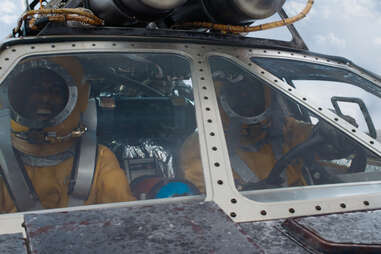 While it doesn't reach the emotional highs of other movies in the series (see below), F9: The Fast Saga is notable for two things: resurrecting Han Lue, a.k.a. Han Seoul-Oh (Sung Kang), the fan-favorite drifter whose death launched the fan-led #JusticeforHan movement; and bringing nearly every other character who has ever had a line in a Fast & Furious movie back for another go-round, theming this movie around Dom Toretto's most precious thing: familia.
Dom and Letty have just settled down in a nice farmhouse, determined to bring Dom's son Brian up as normally as possible, away from the bustle of their former lives. It's not long until Mr. Nobody (Kurt Russell) comes calling once again, informing Dom and his crew of a device known as Project Ares with the power to bring civilization as we know it to its knees. Their mission, if they choose to accept it, is to find the separate parts of the device before the bad guys do and hand it over to the right people. Simple enough, except for the fact that Dom's long-lost brother Jakob (living Easter Island head John Cena) is working for the baddies, and he knows exactly how to outsmart the Fast Fam at every turn. Car chases, armored tank flips, and makeshift rocket launches into space (they finally did it) ensue. —Emma Stefansky
4. The Fast and The Furious: Tokyo Drift (2006)
Though it was considered a step down for the series at the time—it's the only Fast film to rack up less than $200 million at the box office—and the wooden performance of lead actor Lucas Black gives the endeavor a direct-to-DVD vibe, the stylish Tokyo Drift has since emerged as the closest thing this franchise has to a cult favorite. What's the secret appeal? It's the first entry from Justin Lin, director of the Asian-American crime drama Better Luck Tomorrow, and he brings a breathless, youthful energy to the coming-of-age-in-Japan story.
In addition to his turbo-charged editing style, Lin also brought along his Better Luck cast member Sung Kang, who steals all his scenes as the Steve McQueen-like Han. Plus, the emphasis on drifting, a dangerous-looking maneuver that involves flinging your car like a Frisbee, means this is the last chapter to emphasize racing over gunplay. For the purists, that whiff of verisimilitude makes Tokyo Drift an underrated gem. —Dan Jackson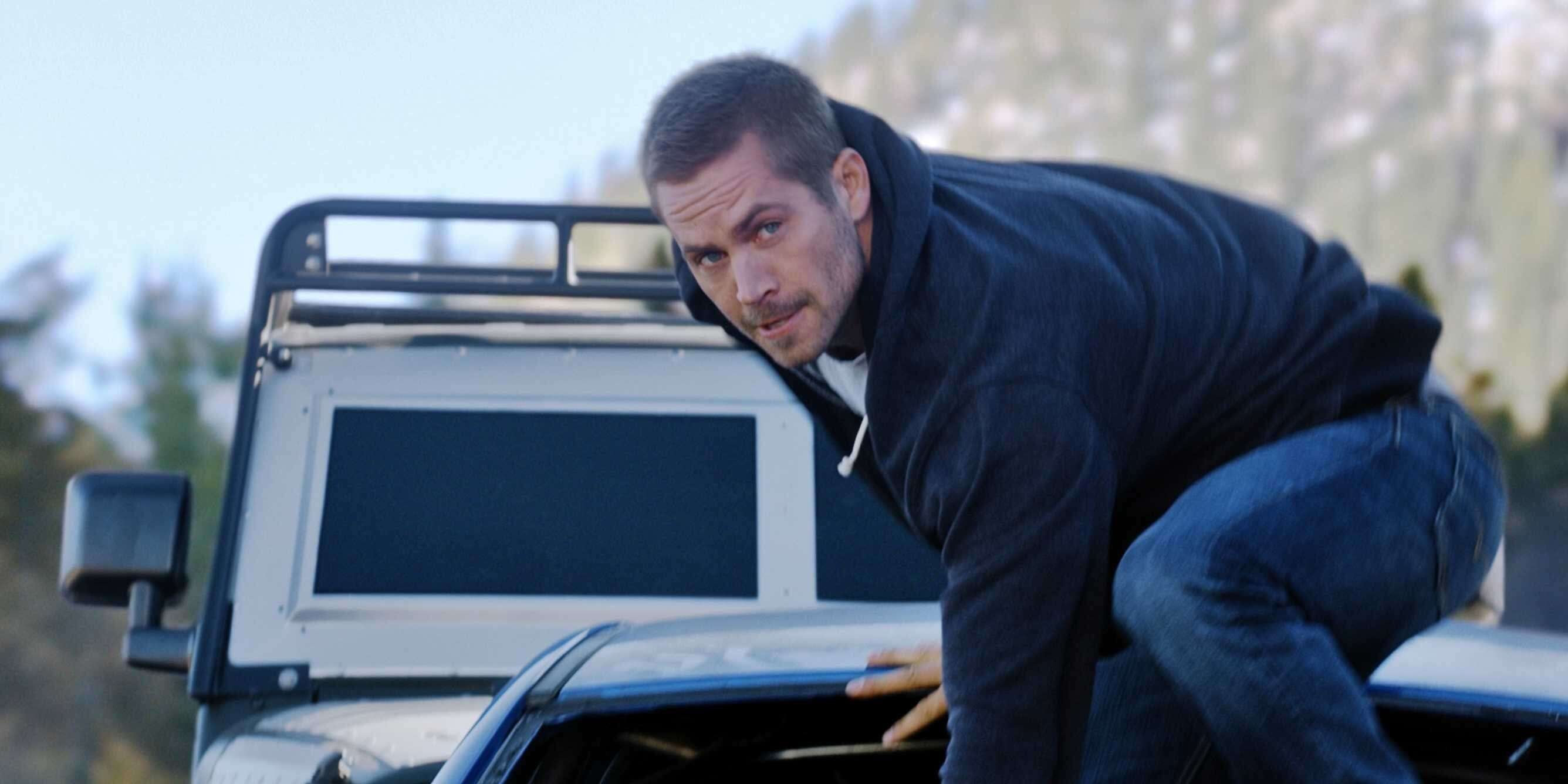 3. Furious 7 (2015)
Skeptics wondered what James Wan, the seasoned horror director behind Saw and The Conjuring, could bring to a big-budget spectacle like Fast and Furious. The answer was timing—a precision jump-scare screech and a machine gun's staccato assault through the steel doors of an armored sports car during a mountainside raid are built from the same DNA. Wan treats Furious 7 like a restoration project, beefing up with humor and playful agility the action language Justin Lin established over four movies. Old meets new when Dom and Letty swing by Race Wars, and the team suits up for a swanky, model-filled Abu Dhabi party where they ogle the opulence along with the audience.
Furious 7 ups the ante to ridiculous heights—Owen Shaw's brother Deckard (Jason Statham) is out for revenge as Dom & Co. hunt for "God's Eye," a Big Brother-esque technology wielded by a terrorist cell—but Wan never loses sight of the fam. It's the Top Gun of the series, bouncing from driver's seat to driver's seat to bind friends together. And it totally earns the end: a tearful goodbye to the late Paul Walker. —Matt Patches
2. The Fast and the Furious (2001)
The next time someone tells you the Fast franchise is dumb as bricks, remind that chump that it all started with a 1998 investigative feature on the world of underground New York City racing. Yes, The Fast and the Furious, from Dragon: The Bruce Lee Story director Rob Cohen, shaves away some of the nuance of magazine prose to be a nü-metal answer to Point Break, but the world is there—diverse, rowdy, and slick. In these early days, Dom dominates the street-racing circuit and steals VCR/TV combos on the side. Brian, then an undercover cop, is hot on his tail... while falling hard for his target's sister. Fetishizing the growling engines, the florescent paint jobs, and the killer scowls behind the wheel (as important as nitro boosters), Cohen's movie is just a few scratchy print lines away from being a fake Grindhouse trailer. This is glossy exploitation with even more gusto than the billion-dollar juggernauts that would follow. —Matt Patches
1. Fast Five (2011)
The appeal is simple: What if The Fast and Furious were more like Ocean's Eleven? What if the ending involved the theft of a bank vault getting pulled by Dom and Brian's cars with cables and tossed around the streets of Brazil like a vengeful Rubik's Cube? And, uh, what if The Rock wore a tiny Under Armour shirt, carried a huge gun, and said "son of a bitch" a bunch? If you're a certain type of idiot, the answer to all these questions is: "Inject that shit in my veins right now." Fast Five is like a drug. A very loud, stupid, and joyful drug. Every Fast movie since has been an attempt to chase the high; none has succeeded. But we keep coming back. Speed kills.
By pivoting into heist-caper territory, opening up the series to bigger stars, and plucking the most charming cast members from the previous films, director Justin Lin and series writer Chris Morgan (who's penned every entry since Tokyo Drift) made their magnum opus here, an exploding Hot Wheels playset of juvenile comedy, lunkheaded melodrama, and eyebrow-singing action. The jokes mostly work. The scenes of characters talking are bearable, even poignant at times. Metal collides with metal in surreal ways that would make J.G. Ballard chortle in ecstasy. As a piece of market-savvy car porn, it's a cynical rebranding for a global audience. As a Fast and Furious movie, a macho fantasy, and a utopian vision of a world where The Rock is airlifted into every action franchise to provide a kick in the teeth, it's the ultimate family vacation. —Dan Jackson
Follow the Thrillist Entertainment editors on Twitter @ThrillistEnt.