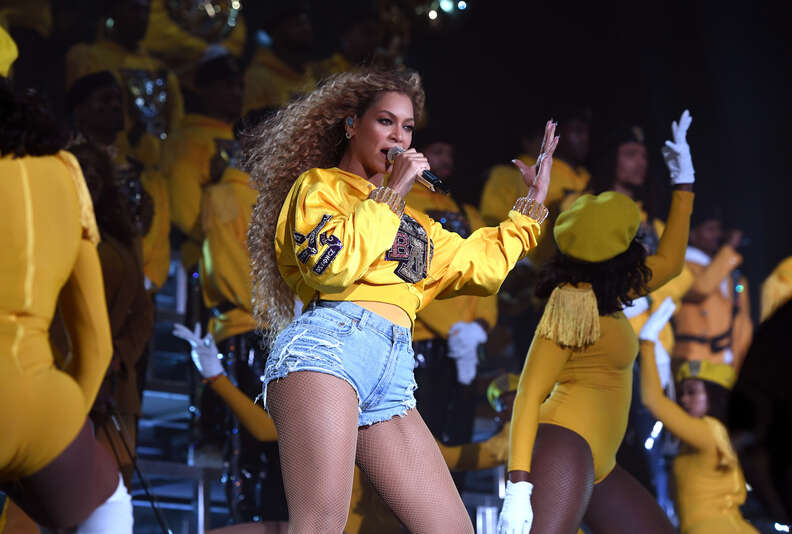 Beyoncé at Coachella in 2018

| Larry Busacca / Getty Images Entertainment
Beyoncé at Coachella in 2018

| Larry Busacca / Getty Images Entertainment
The 15 Essential Music Festival Performances You Can Watch on YouTube
Now that our show-going lives are temporarily on hold, musicians are getting creative about how to perform for fans via livestreams. But if these intimate homely performances are starting to make you pine for grander times, when it was still fine to stand shoulder-to-shoulder with sweaty people as you dance and sing along to an incredible performance outdoors, we have a temporary solution to relive some of those exhilarating moments. YouTube, reliable as ever, has a slew of recordings from past music festivals -- as far back the '60s -- and we've compiled the most essential, iconic, and historic performances to watch from the comfort of your couch. As major festivals are pushing their dates into fall, you can still get to the gig right now -- throw on your flower crown and vibe as if you're experiencing one of these great festival performances live.
Amy Winehouse at Glastonbury (2007)
Some pop stars can't imagine stripping their sets back from all of the theatrics, but all modern jazz singer Amy Winehouse needed was that soulful voice. Crooning all of the numbers you know and love, plus less famous deep-cuts, her sound remains flawless and it's amazing watching as she plays songs more fit for a jazz club than a crowd of thousands like an icon from another era. As if you needed another reason to miss the singer who was gone too soon.
Arcade Fire at Reading (2007)
Aside from those coveted headlining slots, for a long while (and in some cases today) festivals felt largely like lanes that the "little" indie guys are meant to shine in. The multi-piece Arcade Fire with their inspirational folk-rock, for example, was meant to play a stage such as this pivotal set at Reading, which came off the release of their acclaimed sophomore album Neon Bible. These songs will bring you comfort, and it represents a moment when festivals still seemed relegated to opportunities for acts breaking out into the mainstream.
Beyoncé at Coachella (2018)
Beyoncé basically put every festival set in recent history to shame when she headlined Coachella in 2018. Arranging an elaborate homage to historically black colleges and universities in her career-spanning set, the icon put together what was essentially the grandest performance the festival had ever seen -- so big that it's now been dubbed as "Beychella." Plus, if you can't get enough of Queen Bey after streaming her 'chella spectacular, it was so influential it spawned a Netflix documentary, Homecoming, and live album so you can basically curate your own weekend of all Bey all day.
Björk at Glastonbury (1994)
Even early on in her career, well before she embraced theatrics, there was something mystifying about Icelandic singer Björk. Still a newcomer when she appeared at Glastonbury between the releases of her debut and Post, it's entrancing how the then up-and-comer was so free in her performance, letting her angelic voice lead the charge.
Bob Dylan at Newport Folk Fest (1965)
This set from the songwriting legend has gone down in history as "the night he went electric." It might be hard to believe now, but the performance was quite controversial at the time, considering Dylan was a leader of the folk movement and known for playing solo and acoustic. It only makes the set that much more badass, though, infusing his thoughtful poetic lyrics with more energy that makes him simply electrifying.
Daft Punk at Coachella (2006)
All of the EDM acts that blew up in the 2010s and subsequently dominated festival lineups in recent years wish they could do it like Daft Punk does. Nearly all gimmicks and production elements of the genre can be traced back to the French electronic duo and this show in particular, which was the first to feature their giant, custom-made pyramid DJ booth. They do spectacle right, and those dance tracks are so entrancing you'll feel like you're right down there in the 'chella pit.
Gorillaz at Glastonbury (2010)
No, Gorillaz actually aren't cartoon characters. You probably knew that, but did you know the experimental typically "virtual" band, spearheaded by Blur's Damon Albarn, absolutely brings it when they appear IRL for a rare live performance? Their headlining set at Glastonbury is everything and more you could imagine from the hip-hop-fused group, with the key members joined by horns and string sections, plus appearances by De La Soul, Lou Reed, Snoop Dogg and others. It's like their edgy comic book world brought to life.
Janis Joplin at Monterey Pop (1967)
Hailing from California with an insane lineup of seminal '60s stars including everyone from The Mamas and the Papas to The Who, the inaugural Monterey Pop festival was the unofficial start of the "Summer of Love." While the crowd wasn't necessarily aware of what they were apart of, they definitely didn't know what they were witnessing seeing a young Janis Joplin on stage in her first-ever large scale performance, still appearing with Big Brother and the Holding Company. Her signature rasp is as commanding as ever. Rock on, man!
Jimi Hendrix at Woodstock (1969)
The original Woodstock has gone down as the most historic festival of all time, and it's a moment that a lot of us wish we could've been around to attend. All of the big rock acts of the day, like Joe Cocker, Joni Mitchell, Jimi Hendrix and others, took to the stage for three days of peace and love. Watching Hendrix play his psychedelic sounds could almost get you hallucinating, and it was there at the height of the Vietnam War that he played his guitar-only rendition of the "Star Spangled-Banner," making what has remained one of the most iconic political statements in music. He'll definitely get you experienced.
Kanye West at Coachella (2011)
This right here is "the old Kanye," the "No one man should have all that power," My Beautiful Dark Twisted Fantasy Kanye. While the rapper's politics, music, and fanbase have taken a strange detour since then, this headlining set, that in retrospect seems like a humble set-up for him, is an example of when he's at his greatest as an artist. Focusing more on his rhymes and less on the production, it's Yeezus at the height of his genius.
Nirvana at Reading (1991)
Unfortunately, not many people got to see Nirvana live, given their short-lived time as a band. The grunge act unexpectedly shot to fame in 1991, though, and their performance at the UK's Reading festival is proof of the '90s movement they were on the verge of pioneering. It's interesting to see how the crowd here hasn't necessarily caught onto the contagiousness of soon-to-be anthems like "Smells Like Teen Spirit," but you get the sense the group knows just how hard they're going.
Outkast at Hangout (2014)
When classic Atlanta rap duo Outkast returned from a seven-year hiatus in 2014, their reunion was even more exciting than anticipated. They officially got back together at Coachella of that year, but reproduced their set at a handful of festivals, like Alabama's Hangout Fest that summer. Honoring the 20th anniversary of their debut Southernplayalisticadillacmuzik, the show is like one huge celebratory party you can "shake it like a Polaroid picture" to.
Prince at Coachella (2008)
Coachella may have gotten away from booking legacy acts in recent years, but Prince's headlining set in 2008 highlights why that might be a mistake. Of course, he played all of the hits and wowed the crowds, playing guitar like no one else can, and he even threw some eclectic covers like of Radiohead's "Creep" into the mix. It's unpredictable and funky and proof that no one did it like the Purple One.
Radiohead at Bonnaroo (2006)
Based on the two-and-a-half hour setlist that includes some of their best songs from the height of their career, this Radiohead performance is one of the all-time favorites among fanatics. They're the kind of contemporary rock group whose set you wish wouldn't end because of how exciting it is to watch them bring their dynamite arrangements to life; Thom Yorke's on-stage spasms also help. It's what you want from a headlining set from legendary rockers.
White Stripes at Coachella (2003)
By 2003, everybody knew that Jack and Meg White were actually married, after weirdly fooling fans for years that they were siblings. But it's crazy to think that even by then, when they were certified rock hitmakers, they still weren't a big enough act for the Coachella main stage. Watching how much the two of them shred, playing tracks from that year's now-classic record Elephant, you can see with songs like "Seven Nation Army" that they were meant to headline.
Need help finding something to watch? Sign up here for our weekly Streamail newsletter to get streaming recommendations delivered straight to your inbox.