Sponsored By
The 10 Football Movies Every Football Fan Needs to See
From 'Rudy' to 'Remember the Titans,' these are the most essential football movies ever. Game on.
Sponsored By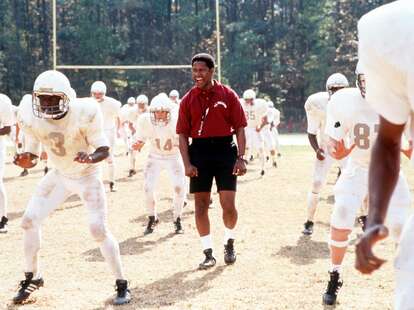 Football lends itself well to the big screen: the dramatic games in madhouse stadiums, the inspiring locker room speeches, and the endless supply of off-the-field obstacles to overcome. Indeed, there are many films about the sport, from its hedonistic players (North Dallas Forty) to its deceased players (Heaven Can Wait) to its water distribution engineers who become players (The Waterboy). The list below isn't meant to be comprehensive; rather, think of it as a starting point—the ten films that every football fan must see.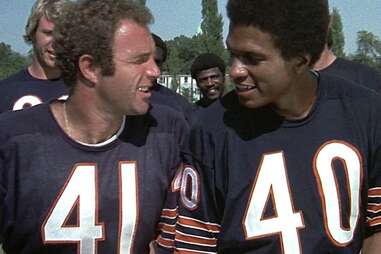 Brian's Song (1971)
The quintessential football tear-jerker, Brian's Song tells the true story of the friendship between Gale Sayers and Brian Piccolo of the 1960s Chicago Bears. After being assigned as each other's roommates—the first Black and white Bears players to room together—the two formed a bond as they experienced the ups and downs of life in the NFL. But it's when Piccolo is diagnosed with cancer that the true depth of that bond is revealed. The last sequence of scenes, from Sayers's "I love Brian Piccolo" speech to his final hospital-room visit, are devastatingly beautiful.
The Longest Yard (1974)
Burt Reynolds plays a point-shaving, car-stealing, cop-assaulting former pro football player who agrees to quarterback a team of inmates in a game against the prison guards who want a tune-up game before their season begins. If you can overlook why the guards would agree to such a thing, let alone insist on it, you're left with a movie with some good laughs, one murder, and a seriously compelling Big Game, staring an actor in his cool-guy prime.
Rudy (1993)
Here's the plot of Rudy: A kid wills himself onto the Notre freaking Dame football team, despite not being a particularly good football player or, for that matter, a very good student. It would make for a rather preposterous film, except of course that it's based on a true story. Rudy is told by a teacher early in the film that dreamers are not doers, but Rudy is both the ultimate dreamer and the ultimate doer. The viewer is a fan of Rudy's from the start, but once his teammates get behind him, it's one perfect, inspirational moment after another: the slow clap at practice, the jersey scene, the run down the tunnel into the stadium, "Rudy Rudy Rudy," and the hero's exit from the field following Rudy's first and only game action.
Jerry Maguire (1996)
The events of the uber-quotable Jerry Maguire are set into motion by Tom Cruise's sports agent character realizing that he hates his place in a sports industry awash in billions of dollars and little humanity. When he's left with just one client and one employee, the film turns virtually its entire focus to the off-the-field relationships that undergird the glossy world of pro football but are a mere subplot in most movies: player and agent, player and family, agent and love interest, and agent and love-interest's adorable fact-spewing kid.
Any Given Sunday (1999)
There's a lot going on in Oliver Stone's 1999 film about the fictitious Miami Sharks: subplots about franchise relocation, race, ego, medical ethics, the evolution of football offenses, and underdogs trying to win the Big Game That for Legal Reasons Isn't Called the Super Bowl. But more than anything, it's a delivery device for extended scenes of smash-mouth football and fiery Al Pacino speeches as the Sharks look to turn their season around with an ensemble roster featuring Jamie Foxx, Dennis Quaid, Lawrence Taylor, and LL Cool J.
Remember the Titans (2000)
Remember the Titans Disney-fies the story of the football team at Virginia's T.C. Williams High School, with Denzel Washington starring as the coach installed to lead the team in its first season after being integrated in 1971. Washington is a force as coach Herman Boone: He unites his players during a demanding training camp, he wins over the town over the course of an undefeated regular season, and by the end of the state title game, you'll want to run through a brick wall for him, too.
Stella Artois is bringing in some serious reinforcements for three very lucky bar and restaurant workers this year, as a thank you for keeping the beers flowing and fries coming. MVP Eli Manning, Hall of Famer Dan Marino, and legendary Pittsburgh safety Ryan Clark are all swapping their jerseys for aprons and subbing in at establishments in Las Vegas, Miami, and Los Angeles (respectively) on the day of the big game. Whether you're cheering at the bar or celebrating the game at home, Stella is the perfect premium beer to savor the special day with loved ones.
Friday Night Lights (2004)
There's a scene in Friday Night Lights where one player on the Permian Panthers asks a teammate if he feels 17. The response: No. That's because in Texas, where football is a religion, the high schoolers who play for the state's biggest programs are celebrities with all the pressure and pain of pro athletes, layered on top of the usual challenges of teenagerdom. Coaches at these programs earn more than principals, players are asked to pose for photos with fans, and the locals pack college-caliber stadiums to watch games every Friday night. Billy Bob Thornton plays coach Gary Gaines as intense but not maniacal, and the football scenes crackle, right up through the climactic state title game.
Big Fan (2009)
Two things distinguish Big Fan from the other movies on this list. For one thing, it focuses entirely on fandom—not the "season tickets and a bitchin' fan cave" type of fan that has been celebrated and parodied to death, but a sadder kind, whose obsession is at the center of his world. And for another, it's dark. The descent of Patton Oswalt's Paul Aufiero—a sports-talk-calling Staten Island man whose bedroom in his mom's house is covered in posters and newspaper clippings—shows how joyful fandom can morph into dangerous fanaticism.
The Blind Side (2009)
Michael Oher is a protector: of the family that takes him in when he starts at a new high school, and, as the offensive left tackle of his school's team, of his teammates. It's the former instinct that endears him to his new family when he has nowhere else to go; it's the latter that sends him on a path to college ball and, eventually, the NFL. Sandra Bullock won an Oscar for her role as Leigh Anne Tuohy, a woman with a big house, a bigger heart, and an affinity for Ole Miss football.
Undefeated (2011)
Bill Courtney's stated goal in this Oscar-winning documentary is to win just a single playoff game. The head coach of the Manassas High School Tigers in North Memphis had turned around the school's football program, which had suffered through numerous losing seasons and hadn't won a postseason game in its history. But Undefeated soars less on the narrative arc of the Tigers' season than on the stories about the team's players, many of whom come from difficult backgrounds, and on the connections Courtney makes with them. The result is a film as inspirational as any on this list, even if Courtney and his team don't get their Hollywood ending.
Need help finding something to watch? Sign up here for our weekly Streamail newsletter to get streaming recommendations delivered straight to your inbox.