The Best Foreign Movies to Stream on Netflix
Embrace the subtitles.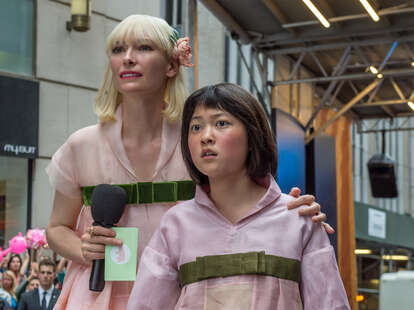 Heed the words of multi-Oscar winner Bong Joon Ho from his 2020 Golden Globes acceptance speech: "Once you overcome the one-inch tall barrier of subtitles, you will be introduced to so many more amazing films." Subtitles don't need to be intimidating when they're offering a healthy culture fix from the comfort of your couch, thanks to Netflix. Whether you're trying to brush up on your foreign-language listening-comprehension skills or looking for a fresh new perspective, with titles ranging from comedy to drama to documentary, you won't need a plane ticket to travel abroad. While some of these movies are in English, or made by American filmmakers, each one offers a glimpse at a different perspective from our own. So sit back, relax, and plan the cheapest weekend getaway ever.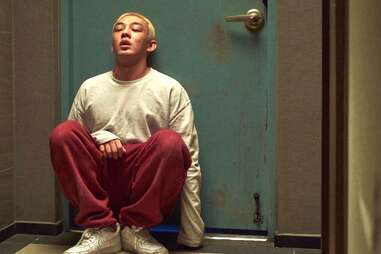 #Alive (2020)
Though #Alive was shot in 2019, director and co-writer Il Cho stumbled on a premise that couldn't have resonated more in 2020. About Jun-u (Ah-In Yoo), a young man stuck inside his apartment and seeing the crumbling world through his phone while just outside of his door people are mutating into flesh-eating monsters, the Korean thriller strikes a chord with just about anyone experiencing anxiety over isolation during the pandemic. But beyond its timeliness, even with all of the carnage, this zombie movie is hopeful in the relatable, slacker of a protagonist's fumbling in his fight for survival. True to Jun-u hiding behind his phone, #Alive never stops asking you to smash that like button.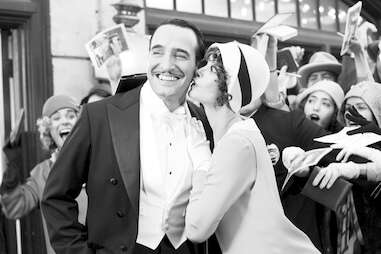 The Artist (2011)
Ever since Hollywood got its hands on technicolor, black and white has merely been a rare stylistic choice for filmmakers, and directors have moved even further away from silent films ever since "the talkies" made their debut in the late 1920s. That doesn't mean film aficionados have fallen out of love with silent films or lost respect for them—and no better movie in recent history has immortalized their staying power as The Artist. The French film is both an Old Hollywood style movie and an homage to the craft, telling the love story between a rising young starlet (Bérénice Bejo) looking forward to the modernization of movies and a silent film veteran (Jean Dujardin). The Best Picture winner is playful in its choices, meaning any lover of cinema should fall head over heels for it.
Atlantics (2019)
In Atlantics, the entrancing debut feature from Senegalese-French filmmaker Mati Diop, a debt must be paid. To construct a large glass tower in the coastal city of Dakar, an unscrupulous construction manager leans on his employees and refuses to provide the backpay they are owed. One of the workers, a young man named Souleiman (Ibrahima Traoré), is in love with Ada (Mama Bineta Sané), a young woman engaged to a rich family's obnoxious, preening son. After establishing the tricky dynamics of this relationship, Diop's story takes a number of startling turns, introducing supernatural elements and a noir-like detective subplot. As the events unfold, often in engrossingly shot and exquisitely paced night sequences, the movie retains an ethereal quality that unsettles the imagination. Rather than providing conventional dramatic catharsis, Atlantics mimics the rhythms of the ocean, drawing in the viewer with each new wave of tension.
Brahman Naman (2016)
Truly, nothing can spice up a school quiz tournament like the quest to lose your virginity. This Netflix original set in India in the 1980s sends a Bangalore trio of teenage horndogs to Calcutta to win on both counts. What results is a charming, colorful, surprisingly raunchy portrait of the universal teenage experience.
The Call (2020)
Taking a slice of the "people communicating across different timelines" premise from movies like Frequency and The Lake House, The Call twists the format by making one of the temporal communicators a psychotic serial killer who is using the situation for very nefarious deeds. This unpredictable Korean export from Chung-Hyun Lee juggles more than a few tones and subtexts, and does it quite craftily.
Divines (2016)
Thrillers don't come much more propulsive or elegant than Houda Benyamina's Divines, a heartwarming French drama about female friendship that spirals into a pulse-pounding crime saga. Rambunctious teenager Dounia (Oulaya Amamra) and her best friend Maimouna (Déborah Lukumuena) begin the film as low-level shoplifters and thieves, but once they fall into the orbit of a slightly older, seasoned drug dealer named Rebecca (Jisca Kalvanda), they're on a Goodfellas-like trajectory. Benyamina offsets the violent, gritty genre elements with lyrical passages where Dounia watches her ballet-dancer crush rehearse his routines from afar, and kinetic scenes of the young girls goofing off on social media. It's a cautionary tale told with joy, empathy, and an eye for beauty.
First They Killed My Father (2017)
Few Hollywood movies have detailed the horrors of Pol Pot and the Khmer Rouge's rise to power in Cambodia in 1975—the genocidal revolutionary movement isn't exactly the backdrop for the next Titanic. But Angelina Jolie, who developed a close connection to the country when she first visited during the shoot for Tomb Raider, brings the gloss of big-budget movies to this horrifying-but-tender adaptation of Loung Ung's memoir of the same name. Like Spielberg's Empire of the Sun, First They Killed My Father tracks the Cambodian diaspora from city living to makeshift, military-run farm communes, all from the perspective of 7-year-old Loung. Jolie rarely wavers from the POV, witnessing violence from down low and leaving reality behind in moments of escapism. Jolie pours her heart into telling the story, and it shows.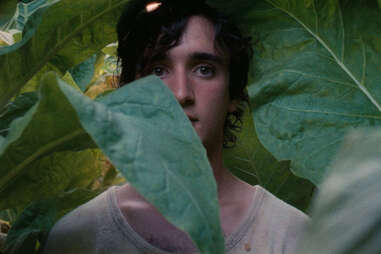 Happy as Lazzarro (2018)
Happy as Lazzaro is a winsome and beautiful fable concerning the residents of a hilly town in the Italian countryside that uses the tools of magical realism to poke and prod at provocative (and contemporary) conversations about exploitation, labor, and class. Like an enchanting mix of Being There and The Village, the movie tells the story of Lazzaro, a happy-go-lucky fool with a great work ethic and a tendency to go blank and stare off into the distance. He's being taken advantage, particularly by the obnoxious son of the village's secretive owner, but he doesn't seem to mind. His face remains placid, a surface for the locals (and the audience) to project their feelings onto. Even when the movie's big twist arrives and the circumstances become bleaker, Lazzaro's jolly demeanor never breaks. In the same way, director Alice Rohrwacher's control of the movie's tricky tone doesn't falter.
Hunt for the Wilderpeople (2016)
This New Zealand backwoods adventure roughs up every single coming-of-age cliché. Julian Dennison's Ricky is an absent-minded, hip-hop-obsessed, rebellious orphan. His grizzled foster father Hec (Sam Neill) would like nothing more than to ship the little [expletive] back to government care. When the two find themselves stranded in the woods, mistaken for on-the-lam criminals, they decide to own it. Wilderpeople is a generous genre blend, with Taika Waititi, director of the wacky, vampiric mockumentary What We Do in the Shadows and the best of the Marvel movies in Thor: Ragnarok, finding cheeky jokes in the duo's perilous journey. Backed by a synthy, horror-esque score and lush backdrops in the Kiwi bush, Wilderpeople is a wonderful, transportive comedy with a sincere tenderness for its main characters.
I Lost My Body (2019)
A loose adaptation of Academy Award nominee Guillaume Laurant's (Amelie) 2006 novel, Happy Hand, I Lost My Body is one of the most unodorothox and surreal animated feature in recent history. In short, this French film is about a severed hand attempting to reunite with the rest of its body, but it's more a meditation on humanity and wholeness than it is a gross-out horror film. Netflix acquired the movie after it premiered at the prestigious Cannes Film Festival to critical acclaim, and it's another sign that the streaming giant's creative ambition will push it into exciting new territory.
The Invisible Guest (2016)
Spain tends to churn out captivating thrillers, but this mystery in particular was a huge success overseas, spawning a handful of other international remakes. Why? The twists are that good. The confined thriller from Oriol Paulo is about a successful businessman named Adrián Doria, accused of killing his lover after waking up next to her dead body, and must lay out his story for defense attorney Virginia Goodman in a matter of hours before standing in front of a judge. Pay attention from the second you press play because there are twists and turns aplenty, leaving you guessing what's really the truth until the very end.
The Ip Man movies
There aren't many biopics that also pass for decent action movies. Somehow, Hong Kong action star Donnie Yen and director Wilson Yip have made three separate movies based on the life of Chinese martial arts master Yip Kai-man, who famously trained Bruce Lee. What's their trick to keeping this series fresh? Play fast and loose with the facts, up the melodrama with each film, and when in doubt, cast Mike Tyson as an evil property developer. The third movie in the series isn't necessarily the best—that's probably still the first film—but the fights are incredible, and Yen's portrayal of the aging master still has the power to draw a few tears from even the most grizzled tough guy.
Les Affamés (2017)
Whether you're zombie-addicted or not, Les Affamés (The Ravenous) is worth checking out. Robin Aubert's arty French-Canadian thriller picks up after the outbreak of a mysterious plague, which has ravaged rural Quebec and decimated its population. The scenario might sound familiar, but the scenes often unfold with fresh rhythms and punctuation marks. The survivors you meet along the way—likely unknowns to most stateside viewers, but talented as hell—are not ordinary heroes, and truthfully they're concerned less with rebuilding their community or finding answers and more with simply surviving. Also, the zombies are not just zombies. That said, Les Affamés might have more in common with the underrated romp Wyrmwood than something like The Walking Dead. It's slightly more grounded than the former, to be sure, but it's likewise a unique, and at times surreal, spin on the genre we were pleased to find.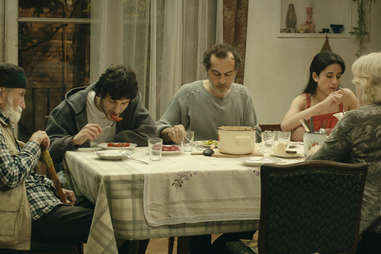 My Happy Family (2017)
At 52, Manana (Ia Shughliashvili) packs a bag and walks out on her husband, son, daughter, daughter's live-in boyfriend, and elderly mother and father, all of whom live together in a single apartment in Georgia. The family is cantankerous and blustery, asking everything of Manana, who spends her days teaching better-behaved teenagers about literature. But as Nana Ekvtimishvili and Simon Groß's striking character study unfolds, the motivation behind Manana's departure is a deeper strain of frustration, despite what her brother, aunts, uncles, and anyone else who can cram themselves into the situation would like us to think. Anchored by Ia Shughliashvili's stunningly internal performance, and punctured by a dark sense of humor akin to Darren Aronofsky's mother! (which would have been the perfect alternate title), My Happy Family is both delicate and brutal in its portrayal of independence, and should get under the skin of anyone with their own family drama.
Ne Zha (2019)
American audiences may not be totally familiar with this movie or the mythology it's based on, but this Chinese film broke all kinds of box offices records overseas. It's even been hailed as one of the best Chinese animated movies in recent history, bringing to life the country's classic fable about a boy warrior sent from the heavens to save the world, but is accidentally reincarnated as a demon. Set in the world of almighty gods and villainous demons, this foreign feature is full of spectacle and action sequences—the kind that can get just about anyone revved up and feel empowered.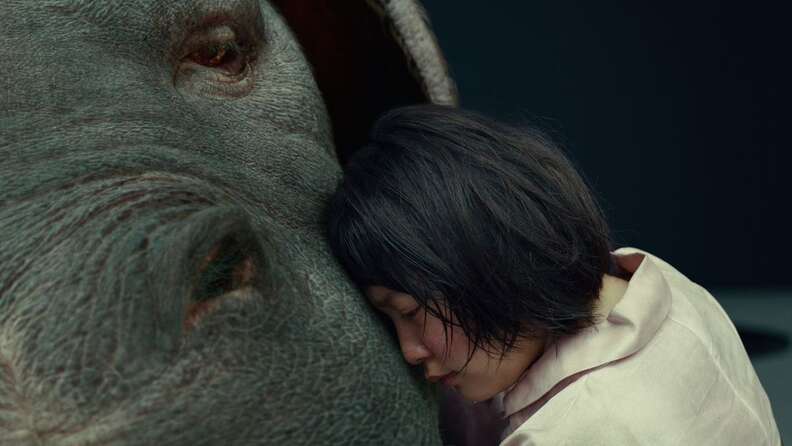 Okja (2017)
Bong Joon Bong's Netflix movie is a wild ride: part action heist, part Miyazaki-like travelogue, and part scathing satire. It's fueled by fairy-tale whimsy—but the Grimm kind, where there are smiles and spilled blood. Ahn Seo-hyun plays Mija, a young South Korean girl living in the mountains who has raised an adorable "super-pig," a breed, unbeknownst to Mija, developed by a food manufacturer to be the next step in human-consumption evolution. When the corporate overlords come for her roly-poly pal, Mija hightails it from the farm to the big city to break him out, crossing environmental terrorists (including ones played by Paul Dano and Steven Yeun), a zany Steve Irwin-esque type (Jake Gyllenhaal), and the icy psychos at the top of the food chain (including Swinton's childlike CEO) along the way. Okja doesn't pluck your heartstrings like, say, E.T., but there's grandeur in its frenzy, and the film's cross-species friendship will strike up every other emotion with its empathetic, eco-friendly, and eccentric observations.
On Body and Soul (2017)
This Hungarian film earned an Academy Award nomination for Best Foreign Film, and it's easy to see why. The sparse love story begins when two slaughterhouse employees discover they have the same dream at night, in which they're both deer searching the winter forest for food. Endre, a longtime executive at the slaughterhouse, has a physically damaged arm, whereas Maria is a temporary replacement who seems to be on the autism spectrum. If the setup sounds a bit on-the-nose, the moving performances and the unflinching direction save On Body and Soul from turning into a Thomas Aquinas 101 class, resulting in the kind of bleak beauty you can find in a dead winter forest.
Pan's Labyrinth (2006)
Guillermo Del Toro's dark odyssey Pan's Labyrinth takes a fantasy setting to mirror the horrible political realities of the human realm. Set in 1940s Falangist Spain, the film documents the hero's journey of a young girl and stepdaughter of a ruthless Spanish army officer as she seeks an escape from her war-occupied world. When a fairy informs her that her true destiny may be as the princess of the underworld, she seizes her chance. Like Alice in Wonderland if Alice had gone to Hell instead of down the rabbit hole, the Academy Award-winning film is a wondrous, frightening fairy tale where that depicts how perilous the human-created monster of war can be.
It's difficult to watch The Platform, a cannibalistic prison freak-out from Spain, and not imagine a producer sitting in a conference room or a coffee shop and musing, "What if Snowpiercer but vertical?" The debut feature from Spanish filmmaker Galder Gaztelu-Urrutia boasts an appealing high-concept premise, an oddly affable leading man in actor Iván Massagué, and a series of brutal twists that should intrigue anyone currently watching the news and thinking about the possible end game of rampant inequality. Instead of a train, The Platform takes place in a prison-like structure called the "Vertical Self-Management Center" where inmates live two to a floor. Those on the top get first dibs on a giant platform of food that descends from the ceiling everyday; those on the bottom get the scraps—or nothing at all. Dismantling the system of this socioeconomic experiment unravels through David Desola and Pedro Rivero's knotty, exposition-packed script.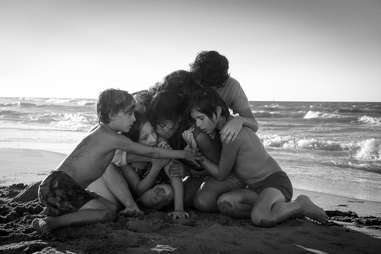 Roma (2018)
Alfonso Cuarón's latest film dives back into the Oscar-winning director's own childhood as a kind of study of and tribute to the inner life of his family housekeeper. Set in Mexico City in the 1970s during a period of civil unrest, Roma is a mesmerizing, tender veneration of the kinds of people who are so easily taken for granted. Distributed by Netflix itself, the piece, which is shot beautifully in black and white, features extremely intimate sound work and sincere shots as if torn from a family photo album. Roma is a masterpiece in the purest form and a game changer for the streaming platform.
Snowpiercer (2013)
Did people go overboard in praising Snowpiercer when it came out? Maybe. But it's important to remember that the movie arrived in the sweaty dog days of summer, hitting critics and sci-fi lovers like a welcome blast of icy water from a hose. The film's simple, almost video game-like plot—get to the front of the train, or die trying—allowed visionary South Korean director Bong Joon Ho to fill the screen with excitement, absurdity, and radical politics. Chris Evans never looked more alive, Tilda Swinton never stole more scenes, and mainstream blockbuster filmmaking never felt so tepid in comparison. Come on, ride the train!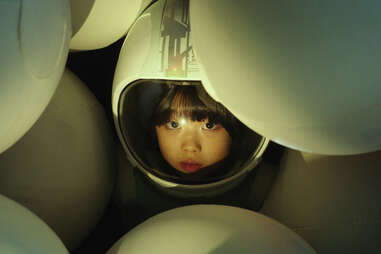 Space Sweepers (2021)
Right from its first, electrifying sequence involving a bunch of bounty hunting spaceships chasing after a careering piece of garbage, Space Sweepers spins a far-future of multicultural, multilingual human life in space that's as exhilarating as it is crushingly dystopian. Tae-ho is a pilot aboard the freighter Victory, along with Captain Jang, engineer Tiger Park, and loudmouthed robot Bubs, all of them part of an outer-space trash-collecting bounty-hunter guild known as the Space Sweepers, who capture space junk and sell it for parts. After a particularly harrowing chase, the crew finds a little girl hiding in a derelict spaceship, who just happens to be a nanobot-filled android that a group of space terrorists have fitted with a hydrogen bomb. At first the Victory crew plans to sell the "little girl" back to the terrorist group who lost her, before they realize that she's much more special than she seems.
Time to Hunt (2020)
Unrelenting in its pursuit of scenarios where guys point big guns at each other in sparsely lit empty hallways, Time to Hunt is a South Korean thriller that knows exactly what stylistic register it's playing in. A group of four friends, including Parasite and Train to Busan break-out Choi Woo-shik, knock over a gambling house, stealing a hefty bag of money and a set of even more valuable hard-drives, and then find themselves targeted by a ruthless contract killer (Park Hae-soo) who moves like the T-1000 and shoots like a henchmen in a Michael Mann movie. There are dystopian elements to the world—protests play out in the streets, the police wage a tech-savvy war on citizens, automatic rifles are readily available to all potential buyers—but they all serve the simmering tension and elevate the pounding set-pieces instead of feeling like unnecessary allegorical padding. Time to Hunt uses its elongated runtime to build sequences in a meticulous, considerate way that should appeal to viewers who have seen Heat, Collateral, and Miami Vice too many times to count.
Verónica (2017)
Verónica, a Spanish ghost thriller in the vein of The Conjuring, is inspired by a terrifying true story about a girl dabbling with the powers of a Ouija board. A young girl named, what else, Verónica (Sandra Escacena) uses the board to conjure bad spirits with her friends during a solar eclipse while lodging an attempt to contact her dead father; they end up waking up some truly sinister forces. Whether or not it's actually scary is up for you to decide.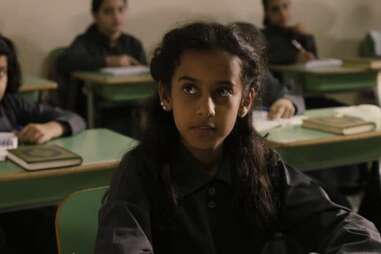 Wadjda (2012)
Haifaa al-Mansour's first full-length film is groundbreaking on multiple levels. When it debuted at Cannes in 2012, it marked the first time ever a woman from Saudi Arabia had directed a feature, and the first time a feature had ever been filmed inside the restrictive country. But aside from the superlatives, it's also a charming story about a young girl and her dreams to ride a green bicycle in a world where girls aren't allowed opportunities as simple as that.