The advent of streaming video has drastically changed the in-home viewing experience from what it was just a few years ago; bingeing your favorite movies and TV shows on whatever device you want isn't just possible -- it's the norm. One of the ways the new television era has changed is by making available foreign-language TV shows that previously wouldn't have crossed borders, let alone language barriers. Netflix, on a mission to appeal to global audiences, boasts a huge collection of foreign shows that you may be overlooking. You'll want to try one of these titles the next time you wonder, "What should I watch?"
Recommended Video
Art of the Meal: Chloe Rose Makes Super Mario Bros Art With Hot Sauces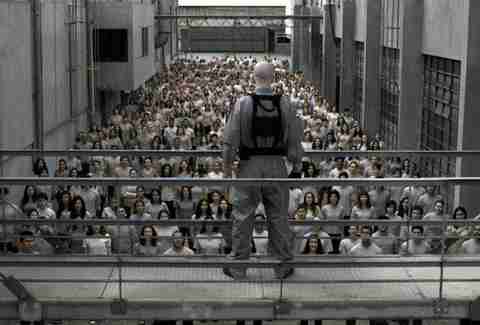 3% (Brazil)
If you relish the dystopian drama of The 100, The Hunger Games, or other narratives about attractive people living under unattractive regimes, then this Brazilian Netflix original is for you. The hook of 3% is simple: The world is divided between a world of wealth called the Offshore and a world of poverty called the Inland. (Sounds familiar, right?) The Elysium-like premise is explored with real emotional depth, and director César Charlone, the cinematographer responsible for City of God's stunning visuals, shoots everything with a gritty glow.
Atelier (Japan)
The Japanese drama, Atelier, can best be compared to The Devil Wears Prada -- complete with the Anna Wintour business matriarch type and her ambitious mentee -- stripped of the meanness and petty cruelty stereotypically depicted in the fashion world and replaced with an earnest drive to work really hard and succeed within reason. Revolving around in the day-to-day of a lingerie store called Emotion, the series is marked by corny soap-operatic moments -- and that quality is exactly what makes Atelier so delightfully goofy.
The Break (Belgium)
This French-language Belgian drama will feel familiar to anyone who's spent time watching slow-build, prestige procedural series like The Killing, True Detective, or Top of the Lake. In telling the story of a schlubby detective (Yoann Blanc) returning to his hometown and stumbling into the murder of a young African futbol player, The Break is formulaic to a fault. All the essential elements are here: mist-filled visuals, a potential political conspiracy, and a mentally unstable protagonist. But the killer performances, clever writing, and cultural specifics make it worth the binge. It may not break new ground, but it carefully burrows into a familiar but creepy tunnel.
Call My Agent! (France)
Think of this as a French version of Entourage, but instead of a faction of bros' Hollywood misadventures, this spastic and funny series has a Parisian cadre of agents attempting to save their flailing business while confronting realities like sexism, ageism, and the gender pay gap in movies and TV. Call My Agent! (aka Dix Pour Cent) finds a way to balance tabloid-esque fluff with sweetly emotional windows to the main characters and splicing in real French actors with roles as caricatures of themselves.
Dark (Germany)
Dark, Netflix's first German original series, fell into marketing that branded it as "the new Stranger Things," but that undersells its legitimacy as a haunting and deeply watchable series. Skewing more toward Twin Peaks than anything, the dramatically foggy and dimly lit scenery sets the ominous tone for Dark's supernaturalism, tied to the degradation and bleakness of the intertwined characters. Don't expect laughs out of these very literally dark 10 episodes.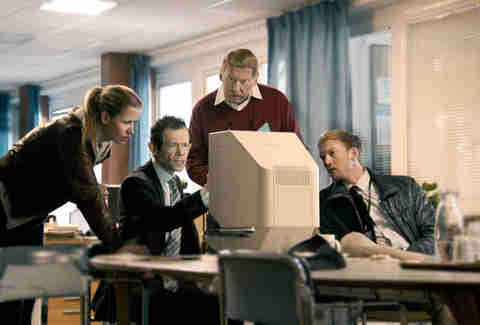 Fallet (Sweden)
Fallet, which translates to "The Case," isn't a dark murder mystery; it's a spoof of police procedurals with spunk, verve, and a lot of heart. The Swedish series follows a Stockholm homicide detective and British chief inspector, both uninvested and incompetent, who are paired up to investigate the murder of an Englishman at a last-ditch effort to save their jobs. With its humor and sharp social commentary, it's an effective spin on the "Nordic noir" trend that's coiled through most of Western entertainment, a la The Girl With The Dragon Tattoo.
Fauda (Israel)
Fauda, an action thriller about an elite team of undercover Israeli commandos working in Palestine, is perhaps the best of Netflix's recent foreign-language shows, a frantically paced and politically charged melodrama filled with sequences of white-knuckle suspense straight out of Homeland or 24. But unlike those spy dramas, Fauda spends nearly as much time on the private lives of Palestinians as it does on its gun-toting heroes. It's got a moral complexity that its more simplistic American counterparts often lack.
Hibana: Spark (Japan)
Watching this is kind of like watching Pete Holmes' Crashing character hang out with an Artie Lange type in Tokyo. One veteran comedian recklessly coaches a young comedian in manzai (Abbott and Costello-type duets) and life, pushing the absurd and challenging traditional thinking "to transcend beyond reality to a world of staggering beauty." The comedians' journey proves addicting, thanks to strong acting and a spiritual connection to comedy that rivals Jiro's relationship with sushi. The show's more dramedy than pure laughs the same way a show like Master of None is. The synopsis might make Hibana sound like something you've seen before, but it's hard not to watch a couple episodes and leave feeling inspired.
Hotel Beau Séjour (Belgium)
Waking up to find a bloody corpse lying next to you is the definition of awful. Waking up to find a bloody corpse lying next to you, only to realize that you are the bloody corpse, is a straight-up nightmare. In this supernatural mystery, a Belgian teenager finds herself in this disembodied position, roaming her hometown for clues and anyone who can see her. Turns out, five people can -- including her alcoholic burnout dad, who she'll have to work with to solve her own grisly death.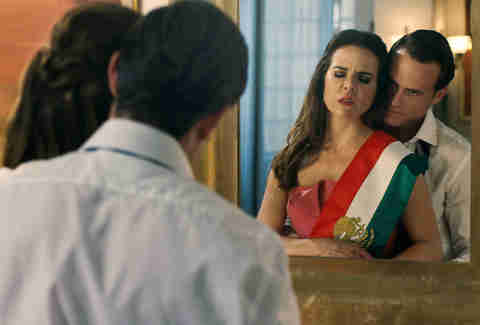 Ingobernable (Mexico)
Mexico's First Lady, Emilia Urquiza (Kate del Castillo) harbors hopes for peace in her country, but a scandal starts to unravel the best-laid plans of her and her husband. Intrigue abounds! Ingobernable is the epitome of a binge-worthy show, with twists and mystery pushing the plot forward at close to soap-opera pace. Add in the very real intrigue surrounding the show's lead, who helped broker the meeting between Sean Penn and the Mexican drug lord El Chapo, and it's tough to look away. 
Kingdom (South Korea)
A zombie period drama set in Joseon Korea, Kingdom intertwines biological terror with political intrigue. Adapted from the webcomic series The Kingdom of the Gods by Kim Eun-hee and Yang Kyung-il, Kingdom follows Crown Prince Yi Chang (Ju Ji-hoon), who must investigate the undead plague affecting both his father, the current emperor, and the southern provinces. While attempting to curtail its spread and prevent it from reaching the capital, he must also prevent a coup led by those intending to take advantage of the crisis. Netflix's first original Korean series, Kingdom is a refreshing period genre take on the well-tread zombie thriller. 
El Marginal (Argentina)
This Argentinian prison drama is more Prison Break than Orange is the New Black, with an emphasis placed on action over character development, but fans of either series should give this crime series a chance. The pilot opens with the main character, an ex-police officer named Miguel (Juan Minujín), waking up covered in blood with two dead bodies surrounding him. Then, he gets a phone call telling him he's being sent to jail to find the kidnapped daughter of a judge. The tension only rises from there, as our hero enters a penal system run by warring gangs, a vicious crime lord, and, of course, an opportunistic warden. The gritty genre trappings may be familiar, but the execution is smart, propulsive, and different enough from similar American shows to justify the time behind bars.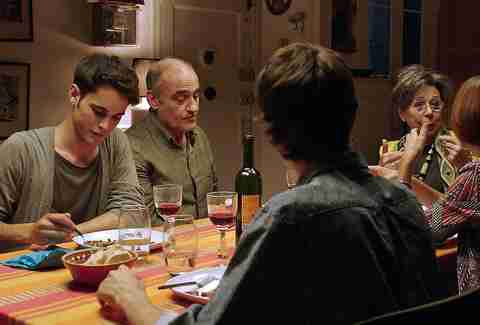 Merlí (Spain/Catalonia)
This Catalan-language series will fill the Dr. House-sized hole in your heart. Veteran actor Francesc Orella stars as Merlí Bergeron, a free-thinking firebrand who lands a gig teaching high school philosophy just as bankruptcy forces him to move back in with his mother. Complicating matters is his son, whom Merlí's ex drops off just as he's evicted, and who turns out to be a student in his class. If Robin Williams' Dead Poets Society teacher had a crass lexicon, a license for devil's advocacy, and undomesticated libido, he'd be Merlí, whose classroom (and life) lessons pack a punch episode to episode.
Nobel (Norway)
Amid the Homelands and Zero Dark Thirtys of the world, it's easy to forget that the United States decades-long global war on terror is just that: global. The coalition of nations that fought with America in Afghanistan included Norway, and it's in a foreign camp that the show begins, complete with a tense military operation to take out a suspected suicide bomber. Make no mistake, though: This is not a war series, but a political one, focusing on the treacherous ripples terrorism sets off through national politics. In this case, the political implications are told through the lives Erling Riiser (Aksel Hennie), who served in Afghanistan, and his wife, Johanne (Tuva Novotny), a government worker who must navigate the business interests related to Norway's involvement in the region. 
One More Time (South Korea)
If Groundhog Day had a baby with Once, and then raised that baby in Seoul, you'd probably get One More Time. The show follows Tan, an indie singer who signs with a major agency, abandons his band, and dumps his girlfriend. Then, caught in a Bill Murray-esque glitch that has him living the same day over and over again, he learns his idolatry was misplaced and tries to unstick time. If this sounds like a fairytale, that's because it is. It's also a love story. And a comedy. Some might find its diversity of styles to be a confusing flaw, but a few episodes in, you'll find that this show is undeniably soapy (and dare I say magical?) fun -- maybe because its message is a little on the nose, but still great: "If every day is the same, live differently."
The Rain (Denmark)
The eco-pocalypse will come via rain, spreading its zombie infection within seconds of being hit by droplets. That's the future Netflix's The Rain posits, anyway. Unlike other post-apocalyptic fictions, the survivors we're following are teenagers navigating the push-and-pull of their emotional stress, fast and forced maturation, cliquiness even in the end days, and teen horniness to stay alive.
Samurai Gourmet (Japan)
Most food TV emphasizes anxiety over pleasure: the pressure to innovate, the terror of the ticking clock, and the sound of Gordon Ramsay's braying voice all make viewers sweat instead of salivate. Samurai Gourmet, a fictional Japanese show about retired businessman Takeshi Kasumi (Naoto Takenaka) exploring the culinary world around him, is as relaxing as Top Chef is stressful. (Plus, at less than 25 minutes, the episodes are mercifully shorter.) It's an invigorating riposte to the intensity of the cable cooking trends, presenting a vision of eating that's rooted in the joy of drinking a midday beer, the adventure of testing a new ramen place, and the teenage memories conjured by eating dried mackerel. It's like a refreshing nap you can stream.
A Very Secret Service (France)
Dr. Strangelove director Stanley Kubrick would be proud of the stiff, satirical specificity that A Very Secret Service tailors to fit its '60s spy comedy physique. Like The Pink Panther adapted as an episode of Mad Men, or a John le Carré novel adapted by the Veep crew, the posh series lampoons Cold War-era politics and bureaucratic absurdity with dry wit. The French secret service inducts the main character, André, without warning or training, and we follow him as world paranoia boils and the fight for Algerian independence turns France on its head. In other words: This is not the next Archer. A Very Secret Service's mannered "hmm mm mm" comedy style mirrors the bespoke suits and mod locations on display, making it one of the more sophisticated comedies on Netflix.