The Best Foreign TV Shows on Netflix
Get over the subtitles and tune into these international gems.
The advent of streaming video has drastically changed the in-home viewing experience from what it was just a few years ago; bingeing your favorite movies and TV shows on whatever device you want isn't just possible—it's the norm. One of the ways the new television era has changed is by making available foreign-language TV shows that previously wouldn't have crossed borders, let alone language barriers. Netflix, on a mission to appeal to global audiences, boasts a huge collection of foreign shows that you may be overlooking. (If you're specifically looking for good anime on Netflix, that's a whole different list.) You'll want to try one of these titles the next time you wonder, "What should I watch?"
Netflix
Atelier (Japan)
The Japanese drama, Atelier, can best be compared to The Devil Wears Prada—complete with the Anna Wintour business matriarch type and her ambitious mentee—stripped of the meanness and petty cruelty stereotypically depicted in the fashion world and replaced with an earnest drive to work really hard and succeed within reason. Revolving around in the day-to-day of a lingerie store called Emotion, the series is marked by corny soap-operatic moments—and that quality is exactly what makes Atelier so delightfully goofy.
DR1
Borgen

(Denmark)
In Denmark, parliament is known as "The Castle," or Borgen. It's where this political drama takes place—and it's just as watchable as West Wing (without the lighthearted leaning and Aaron Sorkin banter) and thrilling as House of Cards (following the behind-the-scenes deals made in the government) but more realistic. The series begins on a shocking election night, with the first-ever woman Prime Minister, Birgitte Nyborg Christensen (Sidse Babett Knudsen), coming into power, and later documents her reign wrestling with various political issues, idealism, and her waning personal life. The political intrigue from issues pressuring parliament will grip you, but the real brilliancy here is in the complex characters (including a spin doctor played by Game of Thrones' Pilou Asbæk). It's never been a more perfect time to watch the series, too, as an all-new season co-produced by Netflix is coming sometime in 2022.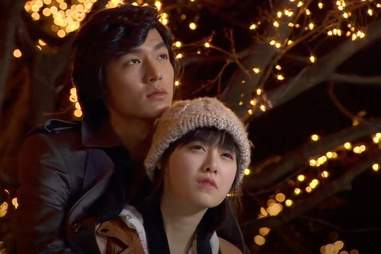 KBS
Boys Over Flowers (South Korea)
Live-action adaptations of manga series or anime can be a long shot—and this K-drama is far from the first series adapted from Yoko Kamio's wildly popular shōjo manga of the same name—but it'll steal your heart. Set in an elite private school, a clique of boys who call themselves F4 reign over the hallways, until an unassuming, low-income student on a scholarship tries to stop their bullying… and eventually becomes entangled in a love triangle with them. Above all, it's an indulgent, over-the-top fairy tale set in contemporary South Korea, but that's what makes Boys Over Flowers so great. Sure, you've seen many love triangles play out on screen before, but you won't really know how much emotional turmoil they can put you through until you experience the throws that is Jan-Di and her F4 boys.
Netflix
The Break (Belgium)
This French-language Belgian drama will feel familiar to anyone who's spent time watching slow-build, prestige procedural series like The Killing, True Detective, or Top of the Lake. In telling the story of a schlubby detective (Yoann Blanc) returning to his hometown and stumbling into the murder of a young African futbol player, The Break is formulaic to a fault. All the essential elements are here: mist-filled visuals, a potential political conspiracy, and a mentally unstable protagonist. But the killer performances, clever writing, and cultural specifics make it worth the binge. It may not break new ground, but it carefully burrows into a familiar but creepy tunnel.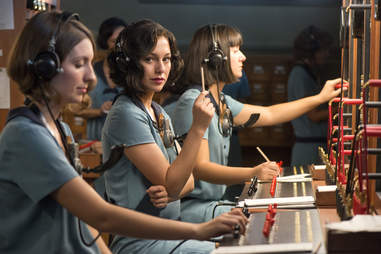 Manuel Fernandez-Valdes/Netflix
Cable Girls (Spain)
Save for the contemporary Euro-pop soundtrack, this Spanish period piece transports you back to the 1920s and puts you on the receiving end of the line of a charming group of phone operators, as the series follows the lives of four women who work for the only telephone company on the Iberian peninsula. The series takes cues from prestige workplace series like Mad Men with an attention to historical detail, and allows for addicting, soapy drama of steamy affairs and mysterious pasts to bubble up. It's a telenovela at its core—one of the protagonists (Blanca Suárez) arrives at the phone exchange because she's wrongly accused of murder and makes a deal with an officer to pull off a heist there, getting a job and assuming a new identity–but it's a heartfelt look at the struggles women face in even progressive environments, and have faced for decades.
Netflix
Call My Agent! (France)
Think of this as a French version of Entourage, but instead of a faction of bros' Hollywood misadventures, this spastic and funny series has a Parisian cadre of agents attempting to save their flailing business while confronting realities like sexism, ageism, and the gender pay gap in movies and TV. Call My Agent! (aka Dix Pour Cent) finds a way to balance tabloid-esque fluff with sweetly emotional windows to the main characters and splicing in real French actors with roles as caricatures of themselves.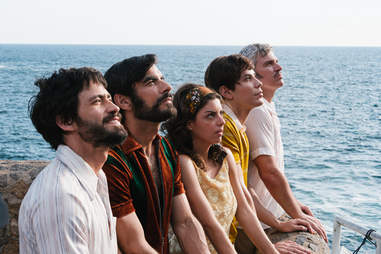 Netflix
La Casa de las Flores (Mexico)
Does drama follow the de la Moras, or do the de la Moras breed drama? Either way, their lives are dramatic. The upper-class family owns a flower shop and a cabaret, both named La Casa de las Flores (The House of Flowers), and when they're not busy fighting over how to run the businesses, they're busy covering up scandals to keep the de la Mora name untarnished. La Casa de las Flores helped popularize the millennial telenovela genre by incorporating LGBTQ+ characters and progressive values into the typical soap opera style. The dark dramedy challenges traditional Mexican morality and shuts down queerphobic viewpoints in a satirical and digestible way, and soapy as it may be, it's hard to stop watching.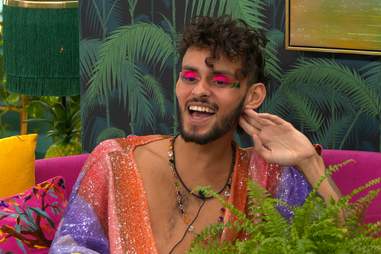 Netflix
The Circle Brazil; The Circle France
Netflix found an outlet to harness the modern anxieties around and obsessive pulls of social media via its reality TV competition show
The Circle
, based on a British predecessor of the same name. Then, just a few months later, the streamer dropped its Brazilian version of the show, and shortly after that came the French one. While the American one is addicting based on the concept alone, following isolated strangers who communicate and complete challenges exclusively through an app in order to compete for ratings to win a cash prize, you can go ahead and skip it altogether and settle in for one of its flirty international siblings instead. Maybe you'll have to turn on the subtitles to watch the social experiment of a reality show play out, but both are way more fun than its stateside predecessor, and many of the group challenges are regionalized, so you can finally learn some decent Brazilian dance moves. These contestants are all in it to win it, meaning chaos, catfishing tactics, and questions of authenticity abound, and
Brazil
's diverse cast makes for a great case of more representation in reality shows across the board.
Julia Terjung / Netflix
Dark (Germany)
When Dark first premiere, the Netflix original quickly fell into marketing that branded it as "the German Stranger Things," but that undersells its legitimacy as a haunting and deeply watchable series. Skewing more toward Twin Peaks than anything, the dramatically foggy and dimly lit scenery sets the ominous tone for Dark's supernaturalism, tied to the degradation and bleakness of the intertwined characters. Don't expect laughs out of these very literally dark episodes.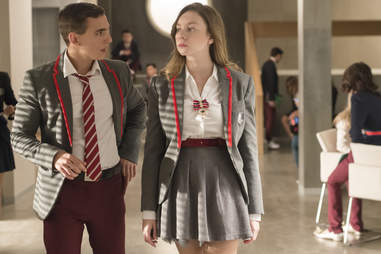 Manuel Fernandes-Valdes/Netflix
Élite (Spain)
This teen drama centered on a wealthy private high school from Spain became a surprise hit for Netflix, and it's easy to see why: a juicy murder mystery that runs through the entire season, obscene displays of wealth, and lots and lots of sex. On top of being a soapy whodunnit,
Élite
's issues-based side plots, dealing with topics like class inequality, xenophobia, and the stigma of HIV, are the running undercurrents that truly keep this show afloat. Even with subtitles, you'll have binged through this quick series before you know it.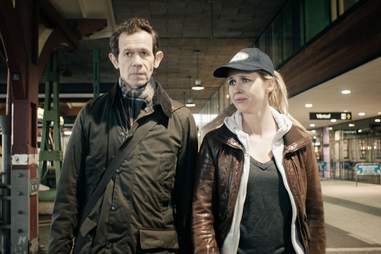 SVT
Fallet (Sweden)
Fallet, which translates to "The Case," isn't a dark murder mystery; it's a spoof of police procedurals with spunk, verve, and a lot of heart. The Swedish series follows a Stockholm homicide detective and British chief inspector, both uninvested and incompetent, who are paired up to investigate the murder of an Englishman at a last-ditch effort to save their jobs. With its humor and sharp social commentary, it's an effective spin on the "Nordic noir" trend that's coiled through most of Western entertainment, a la The Girl With The Dragon Tattoo.
Netflix
Fauda (Israel)
Fauda, an action thriller about an elite team of undercover Israeli commandos working in Palestine, is seriously one of Netflix's most must-watch foreign offerings. It's frantically paced and there's no shortage of politically charged melodrama filled with sequences of white-knuckle suspense straight out of Homeland or 24. But unlike those spy dramas, Fauda spends nearly as much time on the private lives of Palestinians as it does on its gun-toting heroes. It's got a moral complexity that its more simplistic American counterparts often lack.
Netflix
Hibana: Spark (Japan)
Watching this is kind of like watching Pete Holmes' Crashing character hang out with an Artie Lange type in Tokyo. One veteran comedian recklessly coaches a young comedian in manzai (Abbott and Costello-type duets) and life, pushing the absurd and challenging traditional thinking "to transcend beyond reality to a world of staggering beauty." The comedians' journey proves addicting, thanks to strong acting and a spiritual connection to comedy that rivals Jiro's relationship with sushi. The show's more dramedy than pure laughs the same way a show like Master of None is. The synopsis might make Hibana sound like something you've seen before, but it's hard not to watch a couple episodes and leave feeling inspired.
Bernd Spauke
How to Sell Drugs Online (Fast) (Germany)
Contrary to its title, this show isn't actually a how-to guide—that would be pretty illegal if Netflix started dropping guides to the black market. It is a surprisingly hilarious German teen series based on a shocking true story about an unsuspecting high schooler who gets in way over his head selling ecstasy online in an attempt to impress an ex. The pacing and cynical, quick-witted humor makes it extremely binge-able, and with its trendy cinematography and Gen-Z references, it constantly feels like a never-ending trip you'd be fine never coming down from.
Netflix
Ingobernable (Mexico)
Mexico's First Lady, Emilia Urquiza (Kate del Castillo) harbors hopes for peace in her country, but a scandal starts to unravel the best-laid plans of her and her husband. Intrigue abounds!
Ingobernable
is the epitome of a binge-worthy show, with twists and mystery pushing the plot forward at close to soap-opera pace. Add in the very real intrigue surrounding the show's lead, who
helped broker the meeting
between Sean Penn and the Mexican drug lord El Chapo, and it's tough to look away.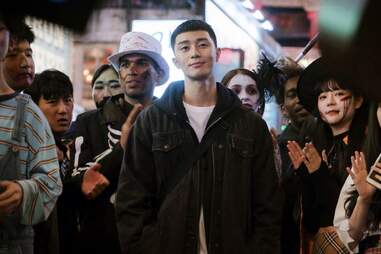 Netflix
Itaewon Class (South Korea)
For an introduction to the intimidatingly extensive world of Korean dramas available on Netflix, Itaewon Class, based on a webtoon, makes for a good starter series. Like a well-made soap opera, the series follows Park Sae-ro-yi (Park Seo-joon), a young man with a troubled past who owns a struggling pocha (a Korean gastropub) in the wealthy neighborhood of Itaewon in Seoul, and those around him, including his rowdy gang of employees, a perfectly loathsome bratty rich kid, and a sociopathic Instagram influencer. Like the majority of K-dramas, buckle in for hour-long episodes full of tense exchanges, scenes in the rain, and redemption arcs.
Juhan Noh/Netflix
Kingdom (South Korea)
A zombie period drama set in Joseon Korea, Kingdom intertwines biological terror with political intrigue. Adapted from the webcomic series The Kingdom of the Gods by Kim Eun-hee and Yang Kyung-il, Kingdom follows Crown Prince Yi Chang (Ju Ji-hoon), who must investigate the undead plague affecting both his father, the current emperor, and the southern provinces. While attempting to curtail its spread and prevent it from reaching the capital, he must also prevent a coup led by those intending to take advantage of the crisis. Netflix's first original Korean series, Kingdom is a refreshing period genre take on the well-tread zombie thriller.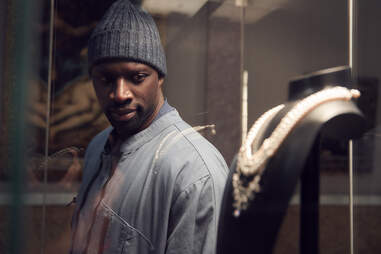 Emmanuel Guimier/Netflix
Lupin (France)
Each episode of Netflix's
Lupin
, a nimble caper series starring Omar Sy (
The Intouchables
) as gentleman thief Assane Diop, builds to the type of rug-pulling flashback that you might find at the end of an
Ocean's
movie. Disguises are ripped off; diamonds get pocketed; the dashing hero slips away, again. It's a classic
heist-movie
device that could get repetitive or predictable, but, through the mercifully fast-paced episodes,
Lupin
and its endlessly charming leading man execute each reveal with a high degree of finesse. With a show like this, getting fooled is half the fun.
Netflix
El Marginal (Argentina)
This Argentinian prison drama is more Prison Break than Orange is the New Black, with an emphasis placed on action over character development, but fans of either series should give this crime series a chance. The pilot opens with the main character, an ex-police officer named Miguel (Juan Minujín), waking up covered in blood with two dead bodies surrounding him. Then, he gets a phone call telling him he's being sent to jail to find the kidnapped daughter of a judge. The tension only rises from there, as our hero enters a penal system run by warring gangs, a vicious crime lord, and, of course, an opportunistic warden. The gritty genre trappings may be familiar, but the execution is smart, propulsive, and different enough from similar American shows to justify the time behind bars.
Emmanuel Guimier/Netflix
Marianne (France)
Fans of Netflix's The Haunting of Hill House might be intrigued by the French horror series Marianne. Both involved unresolved childhood traumas that call adults to return to the creepy childhood homes that haunt them, and both are extremely creepy. There's only one spirit at the center of this ghost story, though—the titular Marianne—and she alone is the thing of nightmares. It's when a novelist returns to her hometown that she starts to believe the supernatural being that haunts her stories may haunt her reality, too, and the result is utterly terrifying. Marianne takes cues from Stephen King, but this French series also invents its own dark and gory brand of horror that'll get into your psyche. You won't be able to stop seeing those eyes, even when you close your eyes, for weeks.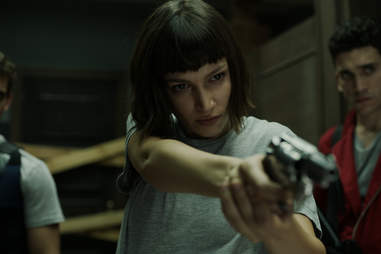 Netflix
Money Heist (Spain)
This Spanish import isn't just one of the most popular non-English series on Netflix, it's become a worldwide phenomenon. About a group of robbers who plan an elaborate heist, the show has inspired fans to dress in the cast's signature ensemble to carry out various pranks, and even try to emulate their plans in real life. Few shows have that kind of pull. Money Heist is one of the best heist thrillers running today, though, documenting in real-time a plan to take hostages in the Royal Mint of Spain in order to print and steal money. Every moment is exhilarating as the heist unfolds, and the characters behind their masks, each with their own emotional turmoil, make the series as intelligent as it is heart-pounding. Let the Money Heist obsession inspire you to maybe not rob a bank, but take over.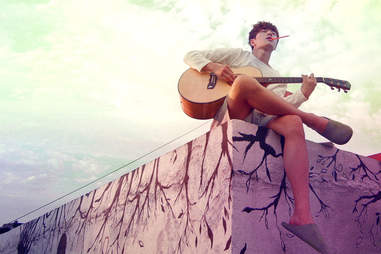 Netflix
One More Time (South Korea)
If Groundhog Day had a baby with Once, and then raised that baby in Seoul, you'd probably get One More Time. The show follows Tan, an indie singer who signs with a major agency, abandons his band, and dumps his girlfriend. Then, caught in a Bill Murray-esque glitch that has him living the same day over and over again, he learns his idolatry was misplaced and tries to unstick time. If this sounds like a fairytale, that's because it is. It's also a love story. And a comedy. Some might find its diversity of styles to be a confusing flaw, but a few episodes in, you'll find that this show is undeniably soapy (and dare I say magical?) fun—maybe because its message is a little on the nose, but still great: "If every day is the same, live differently."
Jessica Forde/Netflix
Osmosis (France)
Osmosis is a twisty, high-concept sci-fi series that's like if a Black Mirror episode was expanded into an entire season of television. Paul and Esther Vanhove run a tech company that claims to have invented a technology that can find everyone's definitive one soulmate. The problem is, of course, that that might be true. In the midst of beta testing the "implant," things start to go wrong, relationships dissolve, and an artificially intelligent computer becomes dangerously sentient.
Netflix
Ragnarok (Norway)
Ragnarok, a Norweigian series about a dyslexic teenager discovering his divine superpowered destiny (and has nothing to do with the Marvel movies), opens with the beats of M83's "Midnight City," the 2011 song whose music video featured superpowered adolescents breaking out of the facility they are confined in. Nobly driven by climate alarmism and inspired by Norse mythology, Ragnarok is a pastiche of several pop culture staples from the past two decades; there are shades of American Gods and Percy Jackson, Skam, Twilight, and The Arrowverse (all on a television budget, of course). This seeming lack of imagination might deter those who like their television to be audacious. But in Ragnarok, those appropriated elements, if not electric, feel like a pleasing, welcome throwback to those who are nostalgic for the kind of episodic dramas that premiered on The WB in the early 2000s. (Remember Smallville or Roswell?) There's a lot to unpack with all these layers of its fascinating mythology, but that's half the fun of this genre wonderland.
Per Arnesen
The Rain (Denmark)
The eco-pocalypse will come via rain, spreading its zombie infection within seconds of being hit by droplets. That's the future Netflix's The Rain posits, anyway. Unlike other post-apocalyptic fictions, the survivors we're following are teenagers navigating the push-and-pull of their emotional stress, fast and forced maturation, cliquiness even in the end days, and teen horniness to stay alive.
Ishika Mohan Motwane/Netflix
Sacred Games (India)
This Indian Netflix original is an insanely watchable, not-to-miss cat-and-mouse cop thriller. Based on the 2006 novel by Vikram Chandra, this eight-part series works off of a familiar premise–determined cop hunts down a high-profile drug kingpin and uncovers ungainly connections and hushed corruption–set in Mumbai, showing Western audiences that there's way more to Indian entertainment than Bollywood movies.
Netflix
Samurai Gourmet (Japan)
Most food TV emphasizes anxiety over pleasure: the pressure to innovate, the terror of the ticking clock, and the sound of Gordon Ramsay's braying voice all make viewers sweat instead of salivate.
Samurai Gourmet
, a fictional Japanese show about retired businessman Takeshi Kasumi (Naoto Takenaka) exploring the culinary world around him, is as relaxing as
Top Chef
is stressful. (Plus, at less than 25 minutes, the episodes are mercifully shorter.) It's an invigorating riposte to the intensity of the cable cooking trends, presenting a vision of eating that's rooted in the joy of drinking a midday beer, the adventure of testing a new ramen place, and the teenage memories conjured by eating dried mackerel. It's like a refreshing nap you can stream.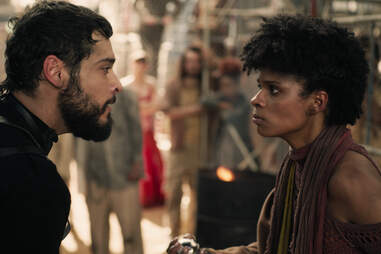 Netflix
3% (Brazil)
If you relish the dystopian drama of The 100, The Hunger Games, or other narratives about attractive people living under unattractive regimes, then this Brazilian Netflix original is for you. The hook of 3% is simple: The world is divided between a world of wealth called the Offshore and a world of poverty called the Inland. (Sounds familiar, right?) The Elysium-like premise is explored with real emotional depth, and director César Charlone, the cinematographer responsible for City of God's stunning visuals, shoots everything with a gritty glow.
Gordon Timpen/Netflix
Tribes of Europa (Germany)
Tribes of Europa
is a German post-apocalyptic series from the producers of
Dark
, taking place after a devastating event known as Black December, when the world's electrical power systems failed, plunging the globe into an energy catastrophe and forcing the remaining population to form tribes in the wilderness to fight for their survival. The series follows three siblings in the Origines tribe who discover a crashed flying machine with a mysterious cube inside that appears to have the power to change the fractured states of Europa forever—which is trippy, yes, but also makes for a very exciting watch. Those familiar with dystopian binges might find it's a mix of
The Walking Dead
(minus the zombies) and
The 100
(minus the spaceships), and, with only a few short episodes, the kind of thing you can watch in a day or two if you're really into it (and you probably will be).
Anika Molnar/Netflix
Unorthodox (Germany)
Loosely on Deborah Feldman's memoir
Unorthodox: The Scandalous Rejection of My Hasidic Roots
, this four-part miniseries follows a young woman named Esty's journey abandoning her ultra-Orthodox Jewish community in Brooklyn for a life on her own in Berlin. Never feeling a part of her strict community, considering her mother also ran away from it, she flees for Germany, escaping an arranged marriage, until her husband comes looking for her. The short series will fly by, and it's well worth your time.
Unorthodox
is not only a riveting introduction to a culture you may not be familiar with, it's a universal story of
rebellion and self-discovery
.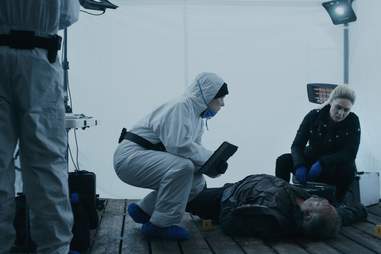 Netflix
The Valhalla Murders (Iceland)
In the past couple years, Iceland has been set on becoming a hub for film and TV production, luring in companies with their desolate (and less expensive) locales and fantasy-like landscapes. They're increasingly getting into their own releases, too, like this procedural, which is Netflix's first original series to hail from the frigid isle. Loosely based on a real incident that took place in the 1940s, The Valhalla Murders follows a detective who comes home to Iceland after working for years in Norway to help investigate the country's first-ever serial killer case and its possible connection to an incident that took place at a state-run institution for boys years ago. It's a cold and harrowing homicide series, set against the perfect, icy backdrop of Reykjavik that'll grip you until the very end.
Netflix
A Very Secret Service (France)
Dr. Strangelove director Stanley Kubrick would be proud of the stiff, satirical specificity that A Very Secret Service tailors to fit its '60s spy comedy physique. Like The Pink Panther adapted as an episode of Mad Men, or a John le Carré novel adapted by the Veep crew, the posh series lampoons Cold War-era politics and bureaucratic absurdity with dry wit. The French secret service inducts the main character, André, without warning or training, and we follow him as world paranoia boils and the fight for Algerian independence turns France on its head. In other words: This is not the next Archer. A Very Secret Service's mannered "hmm mm mm" comedy style mirrors the bespoke suits and mod locations on display, making it one of the more sophisticated comedies on Netflix.