I'm not the first person to point out that humor is like porn: what works for me may not work for you. I often find myself laughing at stuff others don't find funny. I guffaw at extremely sad and poignant moments in movies. I snort at cringe-worthy TV dramas. For instance, I laugh every time I read Sylvia Plath's The Bell Jar. Hear me out. If you didn't know anything about Plath, and you read a book about a woman toying with the idea of suicide after spending a month in a hellish internship program in New York City, and ultimately deciding suicide is not the answer… isn't that what dark comedy is supposed to do? To walk right up to the worst subjects in life and thumb your nose at them? Regardless of plot, the acerbic narrator's observations sound more like Larry David than Virginia Woolf. 
It's more rare to find myself laughing from books I've read. Though I've spent much of my "career" as a comedian attempting to make people laugh with words, a book often feels stale, dry, and at best, more winsome than funny. That said, occasionally, a book will get to me, and I find it much easier to laugh when I hear it out loud rather than reading it off a cold, dead page. 
These are the most laugh-out-loud audiobooks of all time.
Recommended Video
Thrillist's Best (and the Rest): What's the Perfect Fast Food Meal?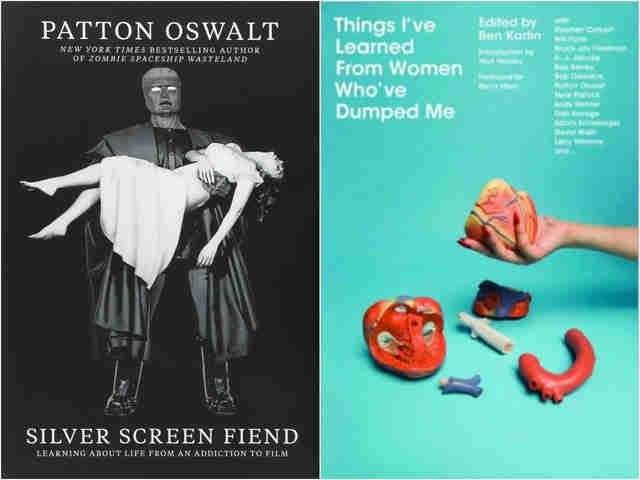 Silver Screen Fiend by Patton Oswalt
Patton Oswalt has taken on many labels in his life: comedian, actor, writer, hard sci-fi nerd, pop culture junky, and outspoken left-leaning whiskey drinker who spends too much time on Twitter. Where does he find the time to write? Silver Screen Fiend presents the author the way he saw himself for nearly the first decade of his comedy career: as a film buff. No, more than a film buff. A sincere cinema addict. Sprinkled throughout his memories of breakups outside theaters and famous actors talking during his favorite old films, Patton uses his record of movie-watching (complete with a calendar for posterity) to open a window through which we see his early days as a stand-up. I defy you not to laugh at the chapter about hosting a live reading of Jerry Lewis's infamously bad screenplay of The Day the Clown Cried. 
Get it now on Amazon
 
Things I've Learned From Women Who've Dumped Me by Ben Karlin (editor), various authors
A star-studded audiobook featuring only the underdogs of breakups, Things I've Learned is about the men who get dumped and don't become red-pilled morons. Some are sweet, some are melancholy, and some are purely insane. Stephen Colbert's "redacted" section alone is worth the price of admission. Bob Odenkirk has the saddest, funniest meltdown ever recorded about getting dumped by a woman he'd spent seven years with. If you've ever had your heart ripped out and feel like you can't laugh about it yet, this is the book for you.
Get it now on Amazon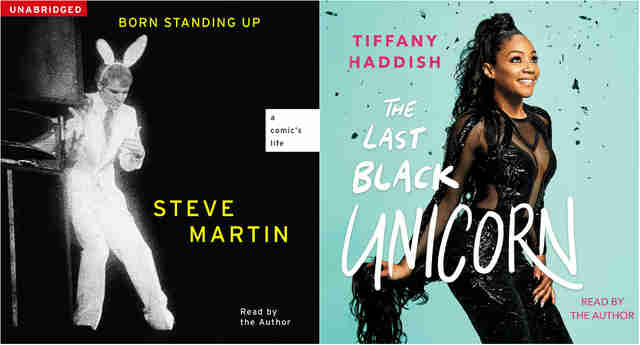 Born Standing Up by Steve Martin
Somber yet thrilling, Steve Martin reflection on the long road to becoming one of the most successful stand-up comics of all time is riveting. Not every chapter is hysterical, since Martin himself contains poetic multitudes. By the time he penned this memoir 25 years after he'd quit stand-up, Martin had been a touring Folk and Bluegrass musician, playwright, novelist, and fine art collector. Lines like "Ferlinghetti's ramshackle City Lights Books was jam-packed with thin small-press publications offering way-out poetry and reissues of long-ago-banned erotic novels" make the book seem closer to Bob Dylan's Chronicles than Martin's overtly comedic works Cruel Shoes and Pure Drivel.  But his memories of meeting Elvis or of leading whole audiences out into the street mid-show will remind you that comedy is a limitless and feel-good art form. 
Get it now on Amazon
The Last Black Unicorn by Tiffany Haddish
"Misery plus time = comedy" is the old standby equation for making awful things humorous. When you live it, however, it's a little different. Haddish's life is filled with literal trials as a foster child and tribulations but she overcomes those obstacles through comedy in spite of them rather than because of them. Many people who read this book in print are sort of on the fence, but everyone who's listened to it, adored it. If that's not enough of a recommendation, it's got the best story of revenge on a cheating ex I've ever heard (she did something very gross to his Jordans). You'll be enamored with Haddish and also a little scared of her. 
Get it now on Amazon
Based on a True Story by Norm Macdonald
Who says a comedian's memoir has to be true? Not me. That's why I'm happy to listen to Norm Macdonald's enigmatic book (as in completely fictitious stories that open with lines like "I've been on the road a pickler's fortnight…" enigmatic). Did he really order the murder of Sarah Silverman's boyfriend? Did he offer Lorne Michaels morphine during his audition for SNL? Who's to say? What really sold me on this book was a single sentence chapter titled "Eight Years Old to Thirteen Years Old." All that's included in the chapter are the words: "I forget." 
Get it now on Amazon
Where'd You Go, Bernadette? by Maria Semple
One of the funniest novels I've read, told mostly through emails from a Seattle mom teetering on the edge of a nervous breakdown to her virtual assistant in India. Lampooning private school, homeowners, married life, and TED Talks, Semple's novel shows the endless anxiety and disappointment of upper class America. Semple was a writer on Arrested Development, and her comedic chops shine through in every chapter of this book. Picture a punchier, less melodramatic version of Big Little Lies and you get the idea. 
Get it now on Amazon
Let's Pretend This Never Happened: A Mostly True Memoir by Jenny Lawson
Jenny Lawson has lived a very different life than I have. She's pretty sure everyone who hears this memoir lived a different life from hers too. Lawson can provide a point of reference for us city-dwelling nerds, though. Picture the Little House on the Prairie books if they were mostly true and took place in Wall, Texas ("a tiny town with...um...dirt?"). By the second chapter Lawson lists the specific events she's certain most readers have not experienced themselves, like standing inside a dead animal carcass or living in a house with poison tap water. Complete with sound effects, swear words, and scary situations, Jenny shares embarrassing and hilarious stories (many involving livestock and taxidermy) from childhood to motherhood. An absolute romp!
Get it now on Amazon
Me Talk Pretty One Day by David Sedaris
I know, it's already on your list. You have a copy on the shelf. But if we're making a list of the funniest storytellers of all time, David Sedaris is on the top. Heartfelt, witty, and able to dip into a seemingly bottomless well of bonkers family dynamics and childhood memories, listening to David Sedaris read his stories is like swaddling yourself in a warm blanket. You will be happy you listened.
Get it now on Amazon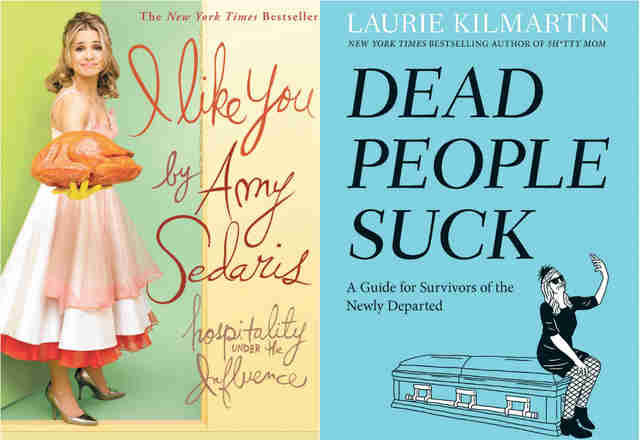 I Like You: Hospitality Under The Influence by Amy Sedaris
Amy is the sillier member of the Sedaris family. This book reads like an Emily Post parody of extremely wrong advice ("If you're boring, pick exciting music… If you're a lousy cook, order out…Accentuate the positives, medicate the negatives."). Amy Sedaris wants you to have a good time and stress less when it comes to entertaining in your home. Unfortunately, she did so by writing an entire book that helps you laugh off the whole enterprise rather than actually help you. Maybe invite a bunch of people over and listen to it together? Could be fun.
Get it now on Amazon
Dead People Suck: A Guide for Survivors of the Newly Departed by Laurie Kilmartin
Many memoirs by musicians include little stingers of their music between audiobook chapters, so why not let comedians include a few bits of live performance in their audiobooks? Laurie is as hilarious in print as she is on stage, finding humor in the darkest of subjects: hospice care, cancer, and death. Sprinkled throughout the essays are pieces of her stand-up on the subject of being parentless at 48. I hope more comedians are inspired both by her material and her choices for the way she recorded it.
Get it now on Amazon
My Life As A Goddess: A Memoir through (Un)Popular Culture by Guy Branum
Buster Keaton reflected in his memoir that if comedy "were mental, the most brilliant people would have the keenest sense of humor. And this is not true." The exception to Keaton's analysis is Guy Branum, the smartest comedian to ever write a book. Branum is gay, opinionated, and bookish. His essays cover Greek myth, farming, typecasting, and all the times his thoughtful commentary has landed him in trouble, including a visit from the Secret Service after they read his work in a college newspaper. Despite his intelligence, every essay is funny and touching. Add that to the fact that he has a voice like George Sanders (Shere Khan from The Jungle Book), and you've got yourself a terrific listening experience.
Get it now on Amazon
I Can't Make This Up: Life Lessons by Kevin Hart
It's rare to find someone who can be funny in a stadium and funny alone in a studio. Kevin Hart is by far the best reader on this list. His stories are well-written, sure. But he sounds like he's not even looking at the paper in front of him as he reads. He sounds like he's right in front of you,  imploring you to listen to a story about how he escaped beatings as a child. Though heartbreaking, Kevin brings the bright side to most of the subjects he writes about, including his drug-addicted father (who gets his own chapter in first person). Hearing Kevin's painful family life laid bare makes his outlook on life that much more enviable. 
Get it now on Amazon
Napalm and Silly Putty by George Carlin
Before Twitter existed, George Carlin had written and published a ton of bite-sized ideas that he knew were funny but had no idea where to put them. Thoughts about cats, dogs, hats… and also: the darkness of wanting bad things to happen as close to home as possible. He was a master of exploring big the small ideas and explaining them with the shortest words possible. This book is like listening to your grandfather rant about anything and everything that pops into his head (if your grandfather were a master of stand-up).
Get it now on Amazon
I Am America and So Can You! by Stephen Colbert
Stephen Colbert, in character, squeezes a joke into nearly every sentence of this book. His reading is as energetic and determined as his former persona always was on The Colbert Report on Comedy Central. With tongue-in-cheek political arguments, Colbert roasts nearly every American who chooses to listen to his book. It's simply stunning how he was able to keep one character going for so long and this book only adds to my awe.
Get it now on Amazon
Our Dumb World by The Onion
The funniest publication on the planet brings you an entire book full of jokes about the planet! Think of it as Stephen Colbert's writers' room taking all the jokes that didn't fit into his above-mentioned book and piling them into a tome about nearly everything. There's a laugh every ten seconds, and each joke has a different angle than the last. Sometimes it's a sharply edited bit about history, sometimes it's a disturbingly offensive sledgehammer of a gag about killing nearly every buffalo in America. It's a joke book that knocks you back on your haunches as you listen.
Get it now on Amazon
Screw Everyone: Sleeping My Way To Monogamy by Ophira Eisenberg
Before Eisenberg became the host of NPR's Ask Me Another, she was a frequent host and featured storyteller for The Moth, the nationally-touring live storytelling show and podcast. Eisenberg's comedy chops, however, are on full display in this memoir about her romantic partners including the man who finally got her to settle down against all her expectations. Awkward prolonged breakups, big romantic gestures, and an extremely frightening and funny end to a first date (like…serious serial killer vibes first date) make this remarkable book a must-listen!
Get it now on Amazon
We Learn Nothing: Essays by Tim Kreider
Kreider is a regular columnist at The New York Times who splits his time between cartooning and drinking copious amounts of booze. Most of his essays boil down to one central question: how do you, if ever, actually know another person? Is it the story they tell you? How they react in certain situations? Or is it who they are when the door is closed behind them and no one is looking? Observant, self-aware, and willing to say yes to encounters/friendships/travel the rest of us might be too lazy or scared to venture on, Tim Kreider offers keen insights into what it's like to be a person in the here and now.
Get it now on Amazon
Post Office by Charles Bukowski
Angry, dark, spiteful, simple, Bukowski's autobiographic novel is a huge fuck you to the United States Postal Service and, in general, the American Dream. The book follows a hollow alcoholic man who is more interested in placing bets at a horse track than actually working on his mail route. A deeply cynical but funny book about awful jobs and awful bosses, Post Office is a precursor to Harvey Pekar's American Splendor with just as many weirdos.
Get it now on Amazon
Dave Hill Doesn't Live Here Anymore by Dave Hill
Dave Hill's firstbook of droll essays, Tasteful Nudes (which he assures us in this book is a timeless classic that can be enjoyed at any point in history), opened with one of my favorite lines: "When I was first approached by the editors of Saint Martin's Press about writing this book, I told them to go fuck themselves." Dave's smirking bravado always disappears by the third or fourth paragraph and in his second essay collection he takes us through a self-deprecating, melancholy, and hilarious look at connecting with his father late in life after his mother's death. Oh! And he visits a Mexican prison!
Get it now on Amazon
Bedwetter: Stories of Courage, Redemption, and Pee by Sarah Silverman
One of the most honest and over-the-top dirty comedians in the biz pulls no punches as she writes about sex, drugs, depression, and wetting the bed well into her teens. I think of Sarah Silverman as a great rule breaker, and like Norm Macdonald's memoir, this book thumbs its nose at how an author should present their memoir (the foreword, against the apparent wishes of her editors, she wrote herself, and the afterword, is written by God in 2063). Take a puff from your vape pen, sit on the floor, and let Silverman share the sweet, the bitter, and the dirty with you.
Get it now on Amazon
Born a Crime: Stories from a South African Childhood by Trevor Noah
Often, a book is funny because we fully recognize what the person is going through, and laugh at the way they handle a situation we know all too well. Comedians often take on the universal, and give us a new outlook on what we have all experienced. Sometimes, however, a comedian comes along who's lived through something we can't fathom. Enter Trevor Noah, whose entire book centers around the fact that he was a mixed-race child during Apartheid. Though occasionally frightening, Trevor's essays on what his life was like in South Africa are eye-opening and jaw-droppingly funny. At one point, he surreptitiously takes a shit in a newspaper to avoid using an outhouse, and his blind grandmother is convinced a demon has entered their home. They burn his poop in front of the house and the entire community gathers to ward off the evil spirit. I'm guessing you grew up a little differently!
Get it now on Amazon
The Areas of My Expertise: An Almanac of Complete World Knowledge Compiled with Instructive Annotation and Arranged in Useful Order by John Hodgman
The bizarre and  nerdy John Hodgman takes us on a tour of… everything. In the first of three comedic almanacs, John Hodgman attempts to give you, the reader, a complete understanding of the world through his eyes. Is there any useful information in the book? I don't know. It depends how frightened of Ragnarök (the "End of Days" in Norse mythology) you are. Hodgman seems to believe the End Times are imminent and you better prepare by knowing everything. Also, if you haven't heard his list of 700 hobo names (which takes nearly an hour to read) then you have not yet truly laughed at an audiobook.
Get it now on Amazon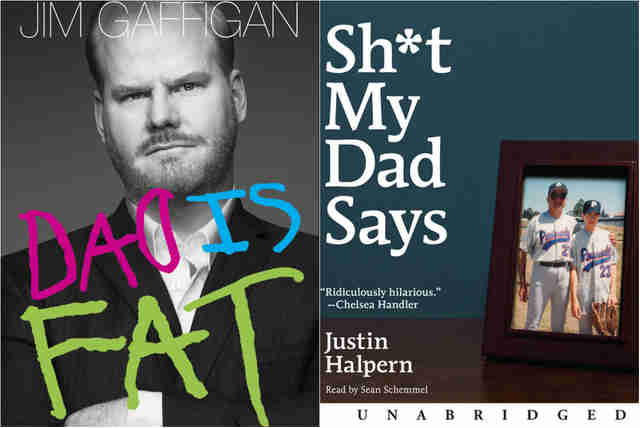 Dad Is Fat by Jim Gaffigan
Fatherhood, food, dad bods. Jim Gaffigan has thoughts on it all, and wants you to know that his kids have thoughts too. Gaffigan is by far one of the best working observational comedians in the world, and turning his gaze from Hot Pockets to raising children will have you in stitches. His voice sounds like a man who has been utterly worn out by his five kids, which only adds to the cry for help that is this book. Don't feel sad for him, though. He did this to himself!
Get it now on Amazon
Sh-t My Dad Says by Justin Halpern
Though this book was eventually adapted into a major TV flop, the book remains one of the funniest multi-generational comedies ever. It's like Tuesdays with Morrie but with more yelling at CNN and observations about how a dog shits. Halpern dealt with the chaos of moving back in with his father at the age of 28 so that we could reap the benefits of hearing everything his 73-year-old roommate had to tell the world. It's heartwarming and irreverent. Picture a Norman Rockwell painting but everyone at the dinner table is giving you the middle finger. A delightful listen.
Get it now on Amazon