Recommended Video
Tijuana's Lucha Libre Is Like Watching a Live-Action Comic Book
Each Sunday, Game of Thrones dominates the water cooler conversation and every digital equivalent (warning: don't go on Facebook until you've seen the latest episode). And there's never been a better time to be caught up: just in Season 7 alone we've seen waves of White Walkers, mysterious weaponry fall into the right hands, Euron Greyjoy's emo outfit, lineage reveals, Brienne and Arya spar, spoiler-worthy character returns, and megaton dragon attacks. Fans of both the show and writer George R. R. Martin's rich book series are in an interesting spot, with only a few more episodes (and two books) left to wrap up the massive, sweeping fantasy saga.
But fans who want even more to chew on while they watch and wait can fill the gap with one of the hundreds of Game of Thrones podcasts available. But which ones? Whether you're show-only or slavish to the books, there's a pod for fans of every stripe. Here are our picks for eight of the best and most diverse Thrones pods out there, how each is different from the last, and why you should be listening to them. Download all of these on your podcast app of choice.
Game of Owns
The pitch: Multiple hosts chat about everything Game of Thrones related -- from show discussions and speculation, to deep-dives into book chapters, to interviews with special guests, like producer Bryan Cogman, composer Ramin Djawadi, and more.
Why you should listen: This long-running talk show is fan favorite for good reason -- the energy is high, the discussions are excellent, the hosts are funny, and it's by far the most eclectic Thrones podcast out there in terms of content and format. A recent call-in  book discussion focused on Sansa and Arya was a highlight, and the cast and crew interviews are always fun and informative. They do discuss spoilers from time to time, but always give a fair warning.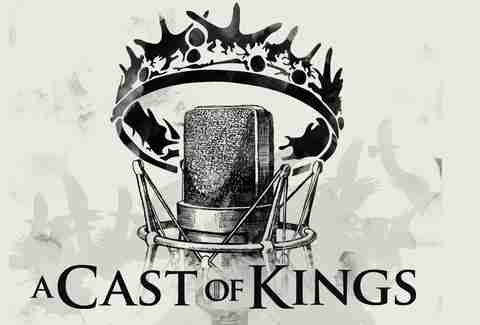 A Cast of Kings
The pitch: Joanna Robinson of Vanity Fair, a dedicated book reader, and David Chen of /Film, a dedicated non-book reader (though he recently, for the sake of the pod, read book one), deliberate each episode of Game of Thrones soon after it airs. They discuss adaptation choices, key moments, and don't shy away from healthy critiques.
Why you should listen: The dynamic is an interesting one, as Joanna is well-versed in Martin's world and David is relatively foreign to it. It's a great podcast for show-only watchers looking for a spoiler-free delve into the series, with some additional enriching from a more-informed viewer. And now that the show has caught up with the books, the hosts more or less on equal ground, which gives way for some enjoyable banter between the two.
A Storm of Spoilers
The pitch: Robinson also hosts this podcast, along with Neil Miller of Film School Rejects and Thrillist Thrones recapper Dave Gonzales. Joanna and Neil have read the books, Dave hasn't, but all three talk openly about every possible spoiler for the show -- including leaked photos, set reports, trailers, rumors, and more. Their goal is not to ruin, but to enrich, as they'll tell you in the intro.
Why you should listen: This is a great podcast for viewers and readers who don't mind being spoiled, and the hosts have an excellent rapport. It's sort of like a subReddit come to life -- no theorizing is off limits, and no stone left unturned, as they use context clues to piece together what to expect. During the season it's all Thrones all the time, but when the series goes on hiatus, the hosts do an "off-season tour," where they discuss other fandoms, from Star Wars to Harry Potter to Rick and Morty.
Sistah Speak: Game of Thrones
The pitch: Two hosts from the Sistah Podcasting Network -- Sistah J and Sistah K -- discuss the latest episodes with their trademark humor.  
Why you should listen: If you're looking for a totally fresh perspective that's outside the realm of clear critical analysis, the ladies of Sistah Speak are a total riot. The episodes run long (their "Winds of Winter" episode analysis clocks in at 6 hours and 13 minutes), but are great to have on in the background. Synch it up, start the dishes, and imagine you're grabbing a drink with your best girlfriends while you chat about your favorite show. That's what it feels like.
History of Westeros
The pitch: Hosts Aziz and Ashaya discuss the show, the books, and the history of Westeros with episodes dedicated to lore and hidden secrets in Martin's world.
Why you should listen: The hosts have an encyclopedic knowledge of not just the books, but everything Martin has ever said about them, too. In addition to episode breakdowns during the show season, they like to focus on deep-pocket stuff, like the Blackfyre Rebellion, the mysterious city of Asshai, the Doom of Valyria, and more. They describe the pod on their website as "part lecture, part fiery sermon," and it's exactly that -- perfect for book readers who like the extra analysis and show watchers who might be interested in the lore but don't know where to start.
Game of Thrones The Podcast by Bald Move
The pitch: Hosts Jim Jones and A.Ron Hubbard break down the latest episode of Game of Thrones in three installments: an instant take, a full episode analysis, and a spoiler episode where they discuss the books and popular theories.
Why you should listen: This one is frequently listed as the top Game of Thrones podcast on iTunes, mostly due to the popularity of the hosts, who are both full-time podcasters with a network of shows about television and film. They're also lifelong friends, which makes the discussions informal in the best way. It's just two guys sitting down to chat about a show they love, without much fuss. The three-episode structure also makes it easy to tune in and out depending on which discussion you're most interested in.
The Citadel
The pitch: Two journalists -- Spencer Ackerman from The Daily Beast and pop culture writer Laura Hudson -- discuss the show through the lens of current affairs, history, sociology, and other real-world analogies.
Why you should listen: The hosts are both extremely intelligent, and they bring their professionalism to the table in a way that allows for a totally unique analysis. Past episodes have discussed the historical accuracy of the show's many battles, its handling of sexual assault, the many powerful female characters, and whether or not last season was a parable for the US presidential election. If you're looking for something more intellectual and political -- and less re-cappy -- it's a great addition to your podcast library.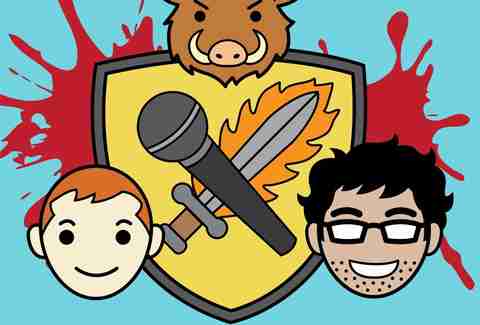 Boars, Gore, and Swords
The pitch: Stand-up comedians Ivan Hernandez and Red Scott recap the episodes, read the books, and have just about the best intro song of all time.
Why you should listen: Did I mention the intro song? Honestly, this show is just a blast through and through -- a really great take on the show from two guys who refuse to take it seriously. They're hilarious, their occasional special guests are hilarious, and the whole show is a mood-lifter after the mood-downer that Game of Thrones tends to be. And like Storm of Spoilers, they make use of the off-season to discuss other genre shows, like Westworld, which they recapped for its first season.
Oysters, Clams & Cockles
The pitch: This one's for people who "party like Tyrion and slay like Daenerys." Two new episodes drop every week during the Thrones season, including a recap episode Monday with a revolving special guest and a "hotline" episode Thursday where the hosts answer listener phone calls.
Why you should listen: The self-proclaimed "party" podcast, Oysters, Clams & Cockles -- so named for Arya's infamous season 5 line, and remixed to great effect in the podcast's opener -- is a great listen for fans who don't care so much about the deep nerd stuff and just want to have fun watching and speculating about the show. Hosts Veronica Ruckh, Barrett Dudley, and Ross Bolen are irreverent and playful, and the hotline episodes prove that their listeners are equally biting. As Bolen describes, it's a podcast for the Game of Thrones watcher who doesn't want their episode recaps "coming from super nerds that write for comic book websites."
Binge Mode: Game of Thrones
The pitch: Mallory Rubin and Jason Concepcion of The Ringer binge watch the first six seasons of Game of Thrones, digging deep into every episode with theories, history, and themes. Originally delivered in bundles of 10 episodes, playing catch-up through Season 7 in true binge fashion, Rubin and Concepcion now react to new episodes on a weekly schedule.
Why you should listen: A lot of Game of Thrones podcasts started well into the show, so it's harder to come by in-depth, meaningful commentary of the earlier seasons. Binge Mode is great for any completionist, and extra great if you're just getting into the show and missed the first six seasons of water cooler talk. (As Rubin describes it, it's perfect for your "next surgical procedure.") The hosts are articulate and well-researched, and it's easy to binge-listen – I guarantee you won't just listen to one episode.
EW's Game of Thrones Weekly
The pitch: Backed by Entertainment Weekly's access, writers James Hibberd and Darren Franich offer an exclusive, behind-the-scene look at the latest Game of Thrones episode.
Why you should listen: As the hosts explain in their intro episode, Entertainment Weekly has spent "more time on the set of Thrones than any other media outlet." Both hosts have interviewed the cast and creators of the show, so their insights are loaded with insider anecdotes -- Hibberd was even on set for stretches of Season 7. But neither come off as conceited in-the-knowers, and instead sound like big fans who also happen to cover the show. It's perfect one for viewers who love behind-the-scenes trivia and teases of what's to come.
Nerdette Recaps Game of Thrones with Peter Sagal
The pitch: Greta Johnsen and Tricia Bobeda of WBEZ's Nerdette podcast are joined by Peter Sagal of Wait, Wait… Don't Tell Me to discuss the latest episode every Monday.
Why you should listen: If you're into public radio, the hosts' voices are soothing in that essential NPR way. There's some dissent now and then – Johnsen isn't a huge fan of the show – but that adds to the richness of the conversation. All three really get into the meatiness of the characters and the mechanics of the plot, and theorize about where it's all going in trademark talk radio style. It's a good one for a long car ride.
Close the Door and Come Here
The pitch: A weekly podcast about the series with a heavy focus on Jaime Lannister and Brienne of Tarth.
Why you should listen: The hosts are big into Tumblr, which offers a more immersive experience for listeners, who can follow their page to ask questions, share artwork, and even play a specialized game of bingo specific to the podcast (with squares for every time the hosts complain about things like bad wigs and Emilia Clarke's acting). The "shippy" focus sets it apart from the more comprehensive Thrones pods, and the online fandom bent gives way for a special form of inclusiveness not really present in the more formal, branded shows. The hosts dissect recent episodes but also dig into other aspects of the show and books between seasons, like their recent series about Catelyn Stark.
Sign up here for our daily Thrillist email and subscribe here for our YouTube channel to get your fix of the best in food/drink/fun.