Whether it involves Midnight Mass and a ritual meal or waking up at the same time every year to see what's under the tree, everyone's Christmas is pretty much the same. Hallmark Channel Christmas movies are pretty much the same, too -- they're not entirely identical, but there is always someone finding both love and the spirit of Christmas in the span of two hours. They're so popular that the channel only runs holiday fare between Halloween and New Year's Eve, and still rolls out dozens of original movies ever year.
Hallmark told us their 25 movies with the highest-rated premieres, and we ranked them for you. While you can't go wrong with some snow and seasonal spirit, there are some that are like a good eggnog, and others are like tearing into a stale fruitcake. While they're playing on a constant loop, here are some to look out for and others to avoid.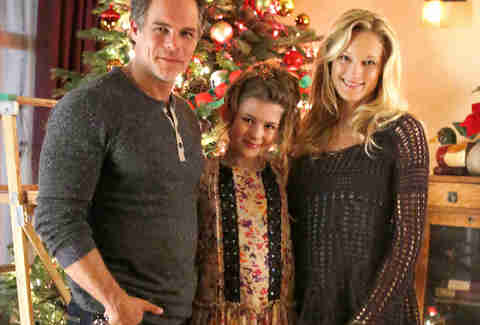 25. The Christmas Shepherd (2014)
A woman whose deceased veteran husband adopted a dog when serving overseas and a guy who lost his wife hook up, thanks to the German Shepherd that brings them together. There is such a thing as too much schmaltz, and it's right here.
24. A Very Merry Mix-Up (2013)
I never really liked the premise of this movie, about a woman who goes to meet her fiancé's family for Christmas without him and ends up falling in love with her future brother-in-law. Does no one else think this is creepy? Plenty of Hallmark heroines ditch their wet-blanket boyfriends and fall for the hunky blue-collar guy who runs a family business, but falling for the brother? Does no one have a problem with this?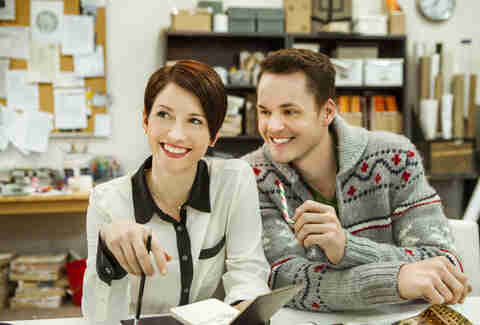 23. Window Wonderland (2013)
The uptight professional (Chyler Leigh) and the arrogant upstart (Paul Campbell) square off in a holiday-decoration competition at a department store. Yup, the stakes are low, but the competition is high.
22. The Christmas Card (2006)
It seems like this one is always on, and every time it makes me a little angry. Cody (John Newton) is an Afghanistan vet who travels to California to find the woman (Alice Evans) who sent him a Christmas card when he was overseas. As they start to connect, her boyfriend proposes to try to keep them apart. Many people watch these movies to be emotionally manipulated, but no one wants it to be this obvious.
21. Crown for Christmas (2015)
I'm willing to suspend quite a bit of disbelief when bingeing on Christmas movies, but when a former New York City maid becomes a governess to a princess and then lands her father, who is a king, there is so much disbelief that even Santa's giant belt can't suspend it all.
20. Most Wonderful Time of the Year (2008)
No one is as cool as the Fonz, even when Henry Winkler plays crazy Uncle Ralph, who brings a stranger to his niece's (Brooke Burns) house so she can fall in love with him and he can make her love Christmas again. Yeah, this one is a little creepy.
19. Catch a Christmas Star (2013)
No one would possibly believe that Shannon Elizabeth is a pop star named Nikki Crandon. No one would believe that she would fall back in love with her high-school sweetheart (Steve Byers). But thanks to his daughter and some Christmas magic, that is exactly what happens.
18. Moonlight & Mistletoe (2008)
Holly (Candace Cameron Bure) is a big city girl who is lured back to her hometown to help her sick father. However, her hometown is Santaville, and her father runs a Christmas-themed amusement park. Her father is also played by Tom Arnold. Yeah, Tom Arnold. In a Christmas movie. Bah humbug.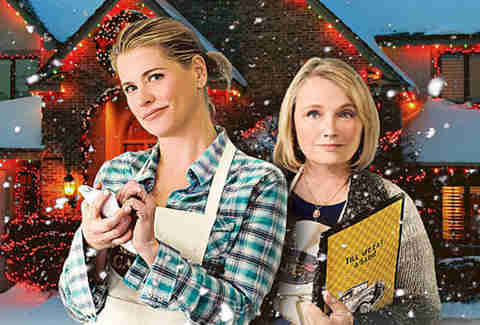 17. A Christmas Wish (2011)
Guys, this one is dark. Martha (Kristy Swanson, the original Buffy the Vampire Slayer) ends up homeless with three kids when her no-good husband leaves her and takes all of her cash. She ends up in a lovely town working as a waitress just in time to save Christmas. The ending is happy, of course, but the rough patch at the beginning is hard to get over.
16. Fir Crazy (2013)
Who hasn't been miserable at Christmas? Since this is Hallmark, Elise is not only single, broke, and jobless, she's also forced to run the family Christmas-tree lot, which is about to be shut down. Luckily, there is a customer to fall in love with and some romantic ice-skating in the mix.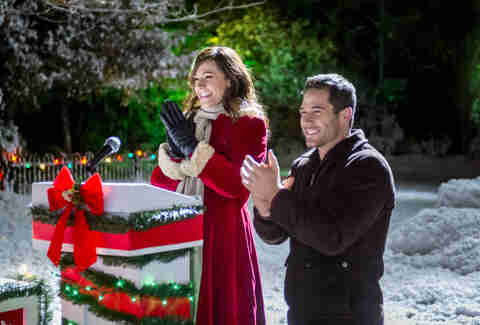 15. Christmas Land (2015)
Jules has to leave her swanky New York life behind when her late grandmother Glinda (Maureen McCormack) leaves her Christmas Land, a magical holiday theme park. Of course it is being threatened by a local industrial man (Richard Karn), and of course she falls for the lawyer handling her estate. There is nothing sexier than handling estates, especially when there is snow on the ground.
14. Every Christmas Has a Story (2016)
Lori Loughlin is like the Tom Cruise of the Hallmark Channel, so when she stars in a movie, they pull out all the stops. She plays a journalist who has to go to Hollyvale, the most Christmasy town in America, to rehab her image, and has to bring her ex-boyfriend along for the ride. This sticks really close to the formula, but also proves why the formula is so darn good.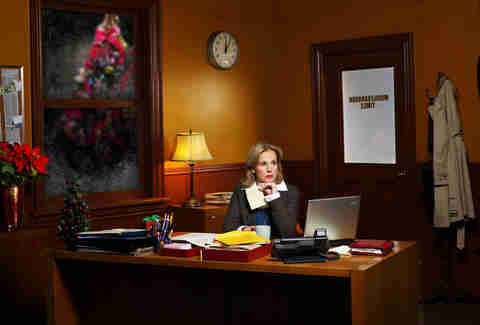 13. The Note (2007)
Much more somber than most of these, The Note is about a newspaper columnist trying to find the intended recipient of a note she finds washed up on the beach after a plane crash. Of course this special Christmas delivery tugs on all the right heartstrings.
12. Christmas Under Wraps (2014)
The highest-rated premiere in Hallmark history, this movie is basically like Northern Exposure where Paige (Candace Cameron Bure, of course) moves to Alaska to be a doctor when she doesn't get into the program she wants in Boston. But after she falls in love with a guy named (groan) Andy Holliday, she has to decide between love, Christmas, and ambition. It's easy to see why this is so popular, but it is pretty indistinct from the rest.
11. Christmas Cookies (2016)
Yes, this is a movie about a town called Cookie Jar, home to famous Aunt Sally's Bakery, which only sells cookies during the Advent season. Jill Wagner is Hannah, the exec who wants to move the factory to Buffalo, and Wes Brown is Jake, the guy who wants to keep the town as it is. Who do you think wins?
10. The Mistletoe Promise (2016)
Based on a best-selling book by Richard Paul Evans, this has everything you could want in a Hallmark movie: two people with laughably ornate hatred of Christmas, revenge on an ex, posing as a couple for the company Christmas party, and, of course, falling in love. Jaime King and Luke MacFarlane make an adorable pair, and the openly gay MacFarlane is as close as you're going to get to a queer romance on Hallmark.
9. Finding Christmas (2013)
This is as close as Hallmark will ever get to swinging. Two bachelors trade apartments for the holidays, and country boy Owen finds love in the big city while Sean gets flirty with Owen's sister (Battlestar Galactica's Tricia Helfer). This is not only a twist on the city mouse-country mouse trope, but something a little bit different from the standard formula.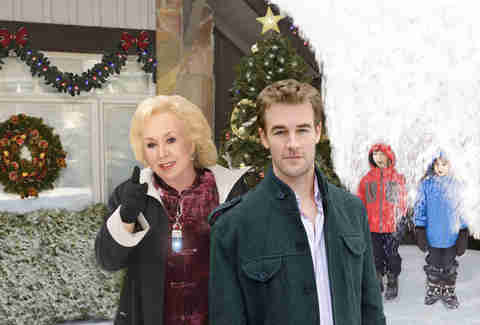 8. Debbie Macomber's Mrs. Miracle (2009)
The late, great Doris Roberts stars as the titular miracle worker, who convinces a widower (Dawson himself, James van der Beek) and his kids' teacher that it's all right to fall in love. Of course there is a Christmas pageant to plan for, too, which gets him playing the piano again. Dawson is so talented!
7. A Christmas Detour (2015)
When a snowstorm keeps a bride (Candace Cameron Bure again) away from her New York wedding, she convinces the bartender sitting next to her on the plane to give her a ride. Christmas road trip! The movie's destination is the same as all the others, but it's the infectious energy that makes this a journey worth taking.
6. The Christmas Ornament (2013)
Christmas movies love a dead spouse, but this one delicately handles one widow torn between the memory of her late husband and the sparks she feels with a hunky Christmas-tree salesman. It's the usual story, but with just a touch more pathos.
5. Christmas at Cartwright's (2014)
Shakespeare was full of gender-swapping, so why shouldn't there be a Christmas movie with it too? The only job Nicky (Alicia Witt) can get during the holidays is playing Santa at Cartwright's department store, but no one can find out that she's more of a Mrs. Claus. A surprisingly agile take on gender hides beneath Nicky's prodigious belly.
4. Let It Snow (2013)
Stephanie (Candace Cameron Bure) has never seen snow, hates Christmas, and wants to shut down the Snow Valley Lodge to impress her stuffy father and boss (Alan Thicke). A Christmas-tree lighting, some fun on the slopes, a little cuddling on a toboggan with Brady, and one telling-off of her father later, and she has a whole different view of the world. This one is fun and sweet, with just enough bitterness that you won't choke on your gingerbread.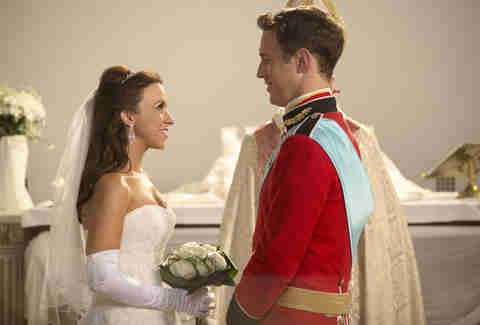 3. A Royal Christmas (2014)
Combine one part Princess Diaries, one part Christmas, and you have this infectious holiday blend where Emily (Lacey Chabert), a seamstress, finds out that her boyfriend is a prince. She goes home for Christmas and has a hard time convincing the Queen (Jane Seymour, always meant to be a queen) that she's right for her son. Yeah, it's a total ripoff, but do you really care?
2. Meet the Santas (2005)
Even Santa has to get married, right? That's the idea when Nick Clause (Steve Guttenberg) gets ready to tie the knot with Beth (Crystal Bernard). But first he has to impress the in-laws and keep them from finding out what he really does. Silly, delightful, and just the right amount of corny, this is one of the channel's best.
1. Northpole (2014)
OK, this one sounds really dumb, but that's part of what makes it so amazing. The North Pole is running out of magic energy, so contagiously optimistic elf Clementine (Bailee Madison) returns to a small town to convince the people they need to un-cancel their annual Christmas-tree-lighting ceremony to help boost the power. She gets the help of a young boy whose mother (Tiffani Thiessen) is busy trying to make it as a reporter and falling in love with his teacher (Josh Hopkins). Really, this is so much goofy fun, there's no way you'll make it to the end without a smile.
Sign up here for our daily Thrillist email, and get your fix of the best in food/drink/fun.