The 11 Best Halloween-Themed Episodes You Can Watch Right Now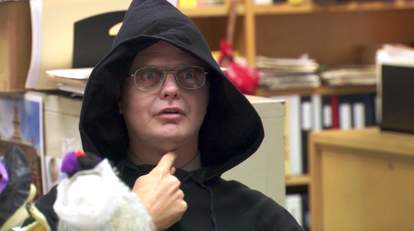 Another October, another excuse to indulge in simple seasonal pleasures like spooky-themed breakfast cereals, spicy candles, and other tidings of manufactured, pumpkin-flavored joy. If you're looking to go full orange-tinted sensory overload, we suggest starting with small-screen mood setters. Halloween TV was the OG pumpkin spice, after all, better than anything Starbucks could serve up.
While horror movies provide the thrill-seeking edge, Halloween television is a safer entry point to the season, usually focusing on the dressings of the holiday -- the candy, the costumes, the rigmarole of trick or treating -- instead of the menace. If it's pumpkin carving background noise you seek, look no further than these 11 distinct and diverse Halloween-themed episodes to put you in the mood.
ABC
"BOO!" Roseanne (Season 2, Episode 7)
Roseanne is the queen of Halloween. Or, the Halloween "master," as she deems herself in this Season 2 episode, which finds her fighting for the title with husband Dan (John Goodman). The two one-up each other with a series of diabolical gags, including a fake electrocution, a feigned (and bloody) hand injury, and, eventually, a massive prank Roseanne pulls on Dan with the help of his prospective business associate.
Roseanne was famous for its Halloween episodes, and did eight in its nine-season run, but "Boo!" is hands-down the best. It's the least flashy, rooting itself in the Conner household, which, despite blue-collar financial limitations, blossoms with drug-store decorations. Their Halloween spirit is infectious and familiar, a soothing distraction from the bills on the table. That's Roseanne in a nutshell, and what makes the show's Halloween entries so special.
Where to watch it: Stream it on Amazon Prime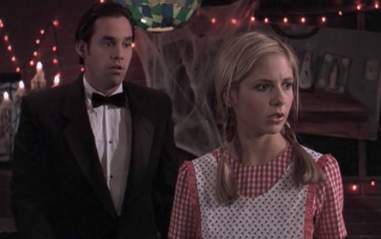 Warner Bros. TV
"Fear, Itself," Buffy the Vampire Slayer (Season 4, Episode 4)
There are two notable Halloween episodes in Buffy's run, and while the first -- Season 2's "Halloween" -- is fantastic, "Fear, Itself" cuts deeper. As Buffy recovers from a one-night stand she never meant to have, she and her friends attend a Halloween party at a frat house. What should be a distracting night with pals turns into a horror show: The house is under the influence of a demon who preys on individual fears. It winds up being a great character study, with the demon gag contextualizing the psychology of Buffy, Willow, Xander, and the gang. It's not just a great Halloween episode... it's one of Buffy the Vampire Slayer's finest hours, period.
Where to watch it: Stream it on Hulu
Fox
"Treehouse of Horror V," The Simpsons (Season 6, Episode 6)
Every
Simpsons
"Treehouse of Horror" episode is special in its own right, but the fifth is the quintessential entry, featuring some of the show's most memorable moments, including a perfectly rendered parody of
The Shining
(re-named "The Shinning," because "ssh, do you want to get sued?"), a
Back to the Future
-esque time travel vignette, and a short about school-lunch cannibalism. "The Shinning" pulls much of the weight, and is not only an excellent Halloween bit, but,
according to Entertainment Weekly
, "ranks with the greatest of pop-culture spoofs."
Where to watch it:
Stream on FXNow or SimpsonsWorld.com with a Preview Pass or cable login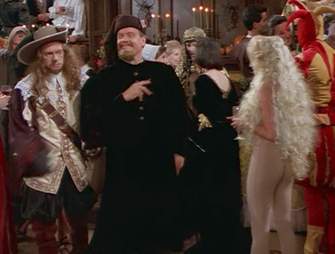 NBV
"Halloween," Frasier (Season 5, Episode 3)
Frasier's heartwarming elitism is on full display in this memorable Season 5 episode, which finds the cast dressing up as their favorite literary characters at a Halloween party to benefit the Library Association (naturally, Bulldog comes as Waldo). Like all great situational comedy, the episode is predicated on miscommunication: Frasier (as Cyrano de Bergerac) learns that Roz might be pregnant, a very drunk Niles learns that Frasier and Daphne recently slept in the same room, then later confuses the situations, assuming Roz is pregnant with Frasier's baby... which ends in a proposal and, later, a duel. Frasier, ladies and gentlemen.
Where to watch it: Stream on Netflix or Hulu
NBC
"Greg Pikitis," Parks and Recreation (Season 2, Episode 7)
Leslie Knope seeks revenge on a prankster teenager who, every Halloween, vandalizes the statue of a former Pawnee mayor. In her quest to undo her titular archnemesis, she misses best friend Ann's costume party. It's a simple premise, but a delightful one. Leslie and Andy are two of the show's most lovable goofballs, and pairing them up is always a stroke of genius. Their joint takedown of Pikitis is full of memorable lines ("I'm not crying -- I'm just allergic to jerks!"), and adding Louis C.K.'s dry-humored Officer Dave to the mix makes it pretty much a perfect episode that just happens to take place on Halloween.
Where to watch it: Stream on Netflix or Hulu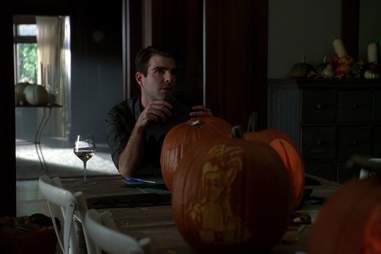 FX
"Halloween (Part 1 & 2)," American Horror Story (Season 1, Episodes 4 & 5)
Murder House's
Halloween two-parter is the rare
American Horror Story
episode that strikes a balance between the utterly absurd and truly moving. There's a vengeful pregnant ghost, a sparring gay couple murdered by a man in a latex suit, and a half-burned, high-camp Denis O'Hare, but there's also a touching subplot wherein the ghosts -- all imprisoned in the house where they died -- are able to walk free for a single night: Halloween. This gives us maid Moira's touching scene with her dying mother, and Tate's fateful encounter with the students he murdered, Columbine-style -- an incident he no longer remembers.
"Halloween" also gives a great arc to Addie, whose Down syndrome has convinced her she isn't a "pretty girl." She's struck by a car and killed in the first half, which brings a sudden and startling humanity to her grieving mother, Constance, played by a never-better Jessica Lange. It's the high note of not only the season, but perhaps the series, an example of how balls-out, mad brilliant the show can be when it puts character before spectacle.
Where to watch it: Stream on Netflix or Hulu
NBC
"Tricks and Treats," Freaks and Geeks (Season 1, Episode 3)
This episode -- about mothers and daughters, sisters and brothers, and the brutal realization that we all grow out of trick or treating -- is both joyful and gut-wrenching in that quintessential Freaks and Geeks way, with moments as pure as Bill's Bionic Woman costume and as painful as Lindsay ditching her heartbroken mom to hang with her new friends. It's an episode that perfectly demonstrates the in-betweens of Halloween: when you're too old to play make believe, but young enough to still want to.
Where to watch: Stream on Netflix
Nickelodeon
"Halloweenie," The Adventures of Pete & Pete (Season 2, Episode 6)
"Halloweenie" is the perfect companion piece to Freaks and Geeks' "Tricks and Treats," as it also examines the dichotomy between an older and younger sibling's relationship with the holiday. Like Lindsay Weir, Big Pete wavers between spending time with family or joining a troupe of pumpkin-smashing neighborhood vandals. Meanwhile, Little Pete hopes to break the record for most houses visited in a single Halloween night. They meet somewhere in the middle in an episode that serves as a rich entry-point for anyone wondering if they should re-visit this seminal kids' series. Also special: Iggy Pop guest stars, and Little Pete gets the best-ever Halloween line: "Trick or treat, gut bucket!"
Where to watch: Rent on Amazon Video
FX
"Who Got Dee Pregnant?" It's Always Sunny in Philadelphia (Season 6, Episode 7)
"Who Got Dee Pregnant?" is similar to Frasier's "Halloween" in that it focuses on the miscommunication surrounding a main character's pregnancy, set during an alcohol-fueled costume party. In this case, the Paddy's Pub gang make fun of Dee's sudden pregnancy, until she tells them one of them is the father and that they knocked her up on Halloween. The episode is told in flashback, as the boys try to piece together the night's events, each fretting over their possible baby daddy status. True to It's Always Sunny's nature, things get super uncomfortable. The McPoyles complicate things, incest is teased, and there are plenty of "Dee is a bird" jabs. In the end, she gets the last laugh.
Where to watch: Stream on Netflix or Hulu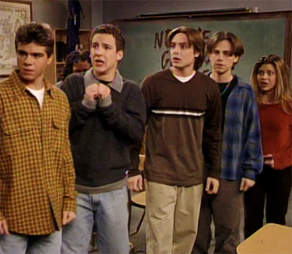 ABC
"And Then There Was Shawn," Boy Meets World (Season 5, Episode 17)
"And Then There Was Shawn" doesn't take place on Halloween, and it aired in February, not October. But unlike other entries on this list, it's horror-themed, and actually scary, meaning fans have come to associate it with the holiday anyway. The episode is pure Breakfast Club meets Scream, with Cory, Topanga, Shawn, and a few others trapped in a detention from hell. It spoofs everything from I Know What You Did Last Summer to Agatha Christie to South Park, and was the first episode of the family-friendly show to get a TV-PG warning -- and for good reason, as it features a surprising amount of violence for an ABC/Disney property. It's memorable for its apt deconstruction of the slasher genre, which saw a reemergence in early 1998, right around the time of this episode's airing.
Where to watch: Stream on Hulu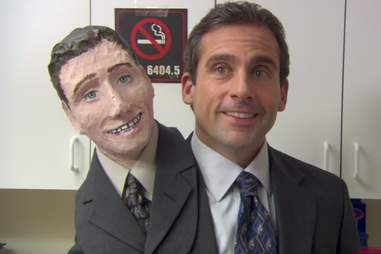 NBC
"Halloween," The Office (Season 2, Episode 5)
The Office loved Halloween episodes, but none were as simple and heart-wrenching as its first, a delight directed by Paul Feig (Bridesmaids) that reminds us how special the show used to feel. Michael is forced to lay off a team member on Halloween, after neglecting to do so weeks earlier, and Jim is hurt after Pam suggests he should transfer to a new branch. Nothing convoluted or arch, just simple human drama, made funnier and more uncomfortable due to everyone being in costume -- from Three-Hole Punch Jim to Pam as a black cat to Dwight as a Sith Lord. Those costumes would get zanier, and the plot more ridiculous, as The Office matured into the madcap series it would become, but this early entry is so warm and inviting that you want to leap into frame. Perfect for getting in the Halloween spirit.
Where to watch: Stream on Netflix

Sign up here for our daily Thrillist email and subscribe here for our YouTube channel to get your fix of the best in food/drink/fun.

Lindsey Romain is a writer and editor living in Chicago. She covers politics for

Teen Vogue

and has also appeared in

Vulture

, Birth.Movies.Death, and more. Follow her on Twitter @lindseyromain.