The Best Halloween Movies on Netflix
'Tis the season for freaky films.
Halloweentime means crisp air, gorging on candy, topical costumes, and the desire to freak yourself out. We can help with the latter (in the form of movie recommendations). Netflix has some big handfuls of tricks and treats with a solid slate of movies worth streaming to get in the spirit. Although the streaming service has a limited number of strictly Halloween-themed movies, it does offer more than a few supernatural horror movies and slasher films, and even titles on the lighter, spookier side. Find out what to celebrate the season with below.
ALSO READ: The best horror movies on Netflix and our guide to everything coming to Netflix this Halloween
The Babysitter (2017) & The Babysitter: Killer Queen (2020)
One preteen boy's (Judah Lewis) fantasy about his babysitter (Samara Weaving) turns into a nightmare when it's revealed she and her hot friends dabble in human sacrifices. Director McG's self-aware spin on the babysitter slasher is more comedy than horror, delivering a bloody fun time in a stylish manner. Archetypes get turned on their heads, laugh lines punctuate almost every scene, and reality mostly ceases to exist while our hero tries to learn some sort of lesson. It's goofy mayhem in all the right ways. When you're finished, jump to its sequel, which has Lewis's Cole running from another night of cult-y mayhem. If you hit play, please don't ruin a good thing by taking it too seriously.
The Conjuring (2013) & The Conjuring 2 (2016)
James Wan's horror trilogy (the third is over on HBO Max) inspired by the lives of real haunting experts Ed and Lorraine Warren (Patrick Wilson and Vera Farmiga) spawned a whole franchise full of nuns, Annabelles, and weeping ghosts, but it's the first two Conjuring movies that continue to make us shriek long after the spinoffs have worn out their welcome. The first movie focuses on the ghost of a witch that haunts a farmhouse, and the second takes the Warrens to England where they meet the famous Enfield poltergeist. Let's just say you'll never ever want to play hide-and-clap with your friend after watching these.
Crimson Peak (2015)
Guillermo Del Toro's lush Gothic ghost story goes for atmosphere over big scares, but is thrilling none the less. Mia Wasikowska plays a young writer in the Victorian era who falls for Tom Hiddleston's alluring baronet, but his invitation to his familial mansion comes with a hitch. He's overly attached to his sister—Jessica Chastain at her creepiest—and there are some spirits roaming the halls.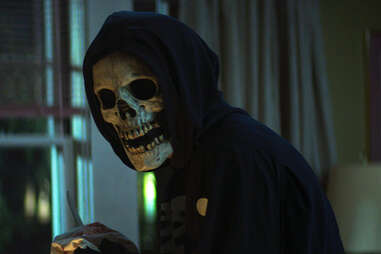 Fear Street trilogy (2021)
Netflix's ambitious series of three interconnected movies based on the classic R.L. Stine books are a gory good time. All are directed by Leigh Janiak and Part One: 1994, introduces audiences to the cursed town of Shadyside and the teens who have been afflicted. The second jumps back in time to 1978 where a killer is stalking a camp, and the third, set in 1666, explains how this all started. Drawing from horror classics like Scream, the Fear Street movies mix gruesome kills with tongue-in-cheek laughs, and feature a refreshingly queer point of view.
His House (2020)
Bol and Rial Majur, a married refugee couple newly fled from war-ravaged South Sudan, begin a probationary period of asylum in a London suburb, where they are given a shabby townhouse and a weekly stipend. Bol attempts to assimilate by going out into town, hanging out in pubs, using silverware to eat meals, and buying new clothes, but Rial still clings to their Dinka culture and the memory of the child they lost during their crossing. They see specters all over the house and begin to believe that a witch is haunting them. The power of His House comes not from the intermittent scares or constant building dread, but from the devastating, final-act reveal that forces its characters to reckon with the trauma they've suffered and the guilt that has consumed their lives. There is a particular flavor of horror that exists in experiencing shocking violence and then escaping into a world that makes it seem like nothing more than a dream.
Hubie Halloween (2020)
After starring in the relentless crime thriller Uncut Gems, which earned him some of the best reviews of his career, Adam Sandler returned to his old tricks with this Netflix holiday lark. Hubie Halloween, which follows sweet man-child Hubie Dubois as he watches over the town of Salem on Halloween night, is a funny-voiced Sandler movie in the tradition of The Waterboy, Little Nicky, or the Canteen Boy sketches from SNL. (Keep your eyes peeled for an old photo of Hubie wearing a scout uniform.) It's got some of the family-friendly touches as the Grown Ups franchise along with the spooky trappings of the Hotel Transylvania animated series. It's also got enough cameos to make this the Sandler equivalent of the "Monster Mash," which unsurprisingly pops up on the movie's soundtrack. It's a fun title to say out loud, too.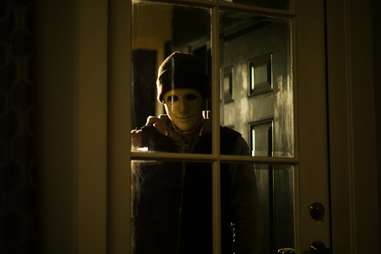 Hush (2016)
While films like the classic Wait Until Dark and Don't Breathe have wrung scares from blind heroes and villains, deaf characters haven't been placed at the center of many mainstream horror movies. Enter (very quietly) Hush, a low-budget home-invasion thriller about a deaf and mute woman (Kate Siegel) being terrorized by a masked home invader (The Newsroom's John Gallagher Jr.). This is the type of movie that can exhaust its premise in 20 minutes if the script doesn't deliver—how long can two characters face off in a swanky cabin for, really?—but luckily director Mike Flanagan and Siegel, who co-wrote the film together, have some well-timed twists (and many, many cross-bow arrows) up their sleeves.
Monster House (2006)
Anyone who's grown up in the suburbs knows there's often that one house at the end of the lane that's a bit creepier than the rest of the neighborhood, the one rumored to be haunted. The spooky, yet hilarious, Monster House makes that fear really something to worry about, telling the story of a haunted house and a group of friends who get trapped in it. But as the title suggests, it's not about who lurks inside the decrepit home—the building itself is trying to gobble up whoever crosses it. What could be a full-blown horror movie is instead a humorous children's flick with scares to accompany the devilishly fun animation.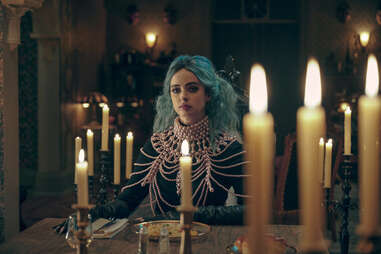 Nightbooks (2021)
If you've watched Hocus Pocus more times than you can count and need another wholesome spooky movie, Nightbooks might just cast a spell on you. The family movie conjures up an enchanted apartment that belongs to an evil witch (Krysten Ritter) and roams from building to building, capturing little kids who she either gobbles up or puts to work. When she kidnaps one little boy (Winslow Fegley) with a knack for telling scary stories and forces him to tell her one each night, he and a fellow captive (Lidya Jewett) craft a plan to find a way out of her grasp. Full of visual tricks, the movie will actually give you an unexpected bit of scariness, and acts as a great entry into horror for younger audiences.
1922 (2017)
With all the recent adaptations of Stephen King's celebrated novels, it's easy to forget that the wildly prolific horror writer also has a stockpile of untapped short stories for IP-hungry producers to choose from. (Though you can never really have too much King around Halloween.) 1922, a folksy riff on Edgar Allen Poe's "The Tell-Tale Heart" starring Thomas Jane as a farmer who kills his wife, draws its plot from a novella in the 2010 collection Full Dark, No Stars, but it's just as rich and complex as the more famous films based on longer King tales. Plus, there are so many rats in this movie. Seriously, watch out, Willard.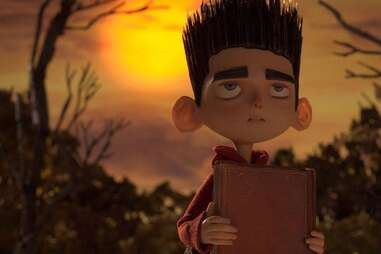 ParaNorman (2012)
Coming off the release of Coraline, fans of the innovative animation studio Laika (Kubo and the Two Strings) were nervous their next creepy kids movie would be too similar to their last release to stand on its own. They managed to conjure up another hit, though, and ParaNorman is a ghastly good animated movie about a boy who can talk to ghosts. It's not just that he can to talk to the dead, though—it's like if the kid from The Sixth Sense was actually destined to use his powers to serve the greater good, as it's up to him to protect his Massachusetts town from a centuries-old curse cast by a witch that makes those who wronged her rise from the dead as zombies. The gothic stop-motion imagery is enchanting as it is haunting. When many movies make us want to run from the supernatural, this is a paranormal journey you want to take.
The Ritual (2018)
Four old friends travel into a foreboding forest and... yeah, yeah, yeah. You've heard this one before. So has everyone. Only this time, it's interesting. Suffice to say that these guys stumble across a freaky shack, unwisely opt to sleep in said shack, and then find themselves hopelessly lost. Also there may or may not be a mythologically inspired monster from Norse lore on their trail. The Ritual doesn't try and reinvent any wheels, plot-wise, but it's a very well-shot, -acted, and -conceived piece of horror filmmaking from David Bruckner (V/H/S).
Unfriended (2014)
The Blair Witch Project popularized the found-footage genre, and Unfriended was the first to tap into the even more niche subset of the horror style—social media/computer screen found-footage. The first of its kind, the movie from Blumhouse isn't always a master of its craft and can feel more like being forced into peering at a screen from over someone's shoulder like you're waiting for your sibling's allotted screen time to wrap up, and is sometimes flat-out silly, but since we're addicted to being online, it is hard to look away. It follows a group of teenagers whose chatroom appears to be haunted by their friend who was recently bullied and died by suicide. Even when the scares are cheap, it's an interesting experiment that's worth logging into.
Veronica (2017)
Gotta love a horror film that'll do everything it can to remind you of why playing around with an Ouija board is probably not the best idea. The movie from Paco Plaza (REC) sees a young girl named Veronica (Sandra Escacena) who conducts a seance with her friends in the middle of a solar eclipse. Her goal is to contact her dead father, but as it normally goes in films of the paranormal variety, that doesn't happen. Veronica instead ends up waking up some truly sinister forces and, well, you probably already know how this will end. Or not. And if that's the case, then you're in the same boat as all the other Netflix users who couldn't finish the movie because it's that scary.
Follow the Thrillist Entertainment editors on Twitter: @ThrillistEnt.