The Best Halloween Movies on Netflix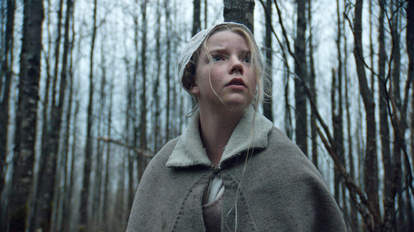 Halloweentime means crisp air, gorging on candy, topical costumes, and the desire to get seriously spooked. We can help with the latter.
While there are a limited number of strictly Halloween-themed movies on Netflix, you can still get your scare on by watching any of the titles below.
A24
The Blackcoat's Daughter (2017)
Two young women are left behind at school during break... and all sorts of hell breaks loose. This cool, stylish thriller goes off in some strange directions (and even offers a seemingly unrelated subplot about a mysterious hitchhiker) but it all pays off in the end, thanks in large part to the three leads -- Emma Roberts, Lucy Boynton, and Kiernan Shipka -- and director Oz Perkins' artful approach to what could have been just another occult-based gore-fest.
United Artists
Carrie (1976)
Adolescence is horrifying. Having taught high school English and endured his own punishing awkward teen years, Stephen King channeled a lifetime of social anxiety, discomfort, and anger into his brisk, righteous first novel, which Brian De Palma then turned into a stylish bloodbath. Anchored by a vulnerable, complex performance from Sissy Spacek and a showy turn from Piper Laurie as Carrie's God-fearing mother, it's the rare horror film that works both as psychological portraiture and special-effects blowout. Skip the muddled 2013 remake and get your thrills straight from the source.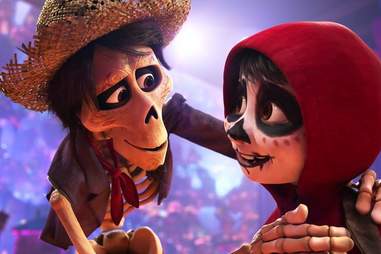 Pixar/Walt Disney Studios
Coco (2017)
One of Pixar's best movies in years and the 2018 Oscar winner for best animated featured, Coco is a celebration of Mexican culture and heritage. Specifically, the adorable film surrounds El Día de los Muertos -- as our young Mexican protagonist, Migel, finds himself trapped in the land of the dead after defying his family's longstanding rule against becoming a musician. It's beautiful both in its story and on-screen imagery, and is a must-watch Pixar movie (though most of them are). And after one too many horror features, this wholesome film about Mexico's tradition of honoring the dead is the perfect light entry into your All Hallows' Eve viewing. 
Warner Bros. Pictures
The Conjuring (2013)
James Wan scared the shit out of moviegoers and restored faith in horror films when he dramatized Ed and Lorraine Warren's haunted farmhouse visit for the big screen. As the two paranormal investigators (played by Patrick Wilson and Vera Farmiga) go head-to-head with a wicked presence, you'll find yourself audibly yelping and wanting nothing to do with the dark. The impeccably choreographed jump scares are damn good, but the Warrens' nail-biting heroics and the family's intoxicating paranoia woven throughout are even better -- proof that big-budget horror flicks don't have to suck.
Focus Features
Coraline (2009)
Imagine your mom and dad had buttons for eyes -- it would be pretty terrifying, right? That's the driving conceit of Coraline, stop-motion master Henry Selick's adaptation of Neil Gaiman's dark children's novella, and the movie delivers plenty of unnerving images that make sewing kits feel like deadly weapons. When lonely, young Coraline moves across the country with her parents, she discovers a secret door that introduces her to an "Other Mother" and "Other Father," who are more accommodating than her real family but also much scarier. As a twisted fairy tale the story can be a bit cerebral, but for surreal nightmare fodder, Selick, who made the equally GIF-able Nightmare Before Christmas, can't be beat.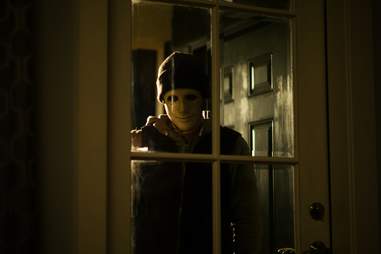 Netflix
Hush (2016)
While films like the classic Wait Until Dark and the recent Don't Breathe have wrung scares from blind heroes and villains, deaf characters haven't been placed at the center of many mainstream horror movies. Enter (very quietly) Hush, a low-budget home-invasion thriller about a deaf and mute woman (Kate Siegel) being terrorized by a masked home invader (The Newsroom's John Gallagher Jr.). This is the type of movie that can exhaust its premise in 20 minutes if the script doesn't deliver -- how long can two characters face off in a swanky cabin for, really? -- but luckily director Mike Flanagan and Siegel, who co-wrote the film together, have some well-timed twists (and many, many cross-bow arrows) up their sleeves. 
FilmDistrict
Insidious (2010)
Haunted house tales are nothing new in horror movies. Same goes for creepy kids. But when horror director extraordinaire James Wan (Saw, The Conjuring) and Blumhouse got their hands on these classic motifs, they reinvented them and launched an entirely new spooky franchise that stretches across four films and has earned more than half a billion dollars at the box office. The original installment follows a couple (Patrick Wilson, Rose Byrne) whose son falls into a coma after a strange encounter in their new home, and then, as you might expect, strange things start happening.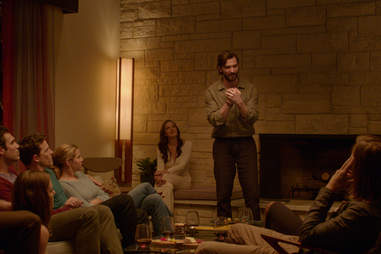 Drafthouse Films
The Invitation (2016)
This slow-burn horror-thriller preys on your social anxiety. The film's first half-hour, which finds Quarry's Logan Marshall-Green arriving at his ex-wife's house to meet her new husband, plays like a Sundance dramedy about 30-something yuppies and their relationship woes. As the minutes go by, director Karyn Kusama (Jennifer's Body) burrows deeper into the awkward dinner party, finding tension in unwelcome glances, miscommunication, and the possibility that Marshall-Green's character might be misreading a bizarre situation as a dangerous one. We won't spoil what happens, but let's just say this is a party you'll be telling your friends about.
Netflix
The Ritual (2018)
Four old friends travel into a foreboding forest and... yeah, yeah, yeah. You've heard this one before. So has everyone. Only this time, it's interesting. Suffice to say that these guys stumble across a freaky shack, unwisely opt to sleep in said shack, and then find themselves hopelessly lost. Also there may or may not be a mythologically inspired monster from Norse lore on their trail. The Ritual doesn't try and reinvent any wheels, plot-wise, but it's a very well-shot, -acted, and -conceived piece of horror filmmaking from David Bruckner (V/H/S).
Dimension Films
Scream (1996)
Horror master Wes Craven subverts and parodies his own slasher filmography in this meta-whodunnit from The Vampire Diaries creator Kevin Williamson. While the opening scene -- Ghostface dialing up Drew Barrymore to ask, "Do you like scary movies?" -- became instantly iconic, the rest of the thriller, led by Neve Campbell and a who's who of mid-'90s stars, is a spine-tingling murderfest punctuated by jokes at the genre's expense.
Buena Vista Pictures
The Sixth Sense (1999)
"I see dead people," is one of the most iconic lines in film, hailing from the eerie M. Night Shyamalan supernatural masterpiece The Sixth Sense with a twist at the end that shook the '90s. In it, a boy (Haley Joel Osment) is gifted/plagued with the ability to see and talk to the dead. To work through his terror, he's sent to work with a child psychologist (Bruce Willis) dealing with his own torment. While there may not be many jump scares here, the acting is superb and you'll feel a chill up your spine as if you can sense a presence from another realm, too.
A24
The Witch (2015)
The Witch delivers everything we don't see in horror today. The backdrop, a farm in 17th-century New England, is pure misty, macabre mood. The circumstance, a Puritanical family making it on the fringe of society because they're too religious, bubbles with terror. And the question, whether devil-worshipping is hocus pocus or true black magic, keeps each character on their toes, and begging God for answers. The Witch tests its audience with its (nearly impenetrable) colonial English dialogue and the (anxiety-inducing) trials of early American life, but the payoff will keep your mind racing, and your face hiding under the covers, for days.
Netflix
1922 (2017)
With all the recent adaptations of Stephen King's celebrated novels, it's easy to forget that the wildly prolific horror writer also has a stockpile of untapped short stories for IP-hungry producers to choose from. (Though you can never really have too much King around Halloween.) 1922, a folksy riff on Edgar Allen Poe's "The Tell-Tale Heart" starring Thomas Jane as a farmer who kills his wife, draws its plot from a novella in the 2010 collection Full Dark, No Stars, but it's just as rich and complex as the more famous films based on longer King tales. Plus, there are so many rats in this movie. Seriously, watch out, Willard.
Follow the Thrillist Entertainment editors on Twitter: @ThrillistEnt.