Home Box Office, better known as HBO, has been around since 1972, and racked up plenty of cred during its first 20 years through iconic stand-up specials like Eddie Murphy: Delirious, miniseries like Robert Altman's Tanner '88, sketch-comedy series like Kids in the Hall, and genre anthology fare such as Tales From the Crypt. It wasn't until the 1990s that HBO evolved into the prestige-series juggernaut and Emmy factory we know today.
Over the years, we've spent more hours watching the premium channel's addictive, comforting and occasionally enraging fare than we'd care to total up, because we're good at watching, not math. But all that research has helped us fulfill our destiny: arguing out, with particular emphasis on creativity, influence, and sheer entertainment value, the following indisputable, completely definitive ranking of the best HBO original series ever.
Recommended Video
Ever Heard of Pon De Ring Donuts?
30. True Blood (2008-2014)
In this Southern-gothic romance series, recently invented imitation blood allows vampires to come out of the coffin, and it only gets weirder from there. Built around a steamy love triangle between telepathic rural Louisiana waitress Sookie Stackhouse and not one but two alluring vampires, the show, adapted from Charlaine Harris' novels by Six Feet Under creator Alan Ball, was a ratings smash and HBO's first prestige-era genre success, lighting the path for Game of Thrones a few years later. The series frequently veered into schlock and silliness, and went off the rails after Ball bailed following Season 5, but True Blood's strong ensemble cast consistently sold all the jibber-jabber about shapeshifters, werewolves, and faeries, and introduced America to bohunks Alexander Skarsgård and Joe Manganiello, to boot.
29. Vice Principals (2016-17)
For their follow-up to Eastbound and Down, the creative braintrust of Danny McBride, Jody Hill, and David Gordon Green went back to school. (Again!) From his low-budget star-making vehicle The Foot Fist Way, McBride has displayed a gift for interacting with kids, particularly when he's in a position of authority he probably doesn't deserve, and Vice Principals milks his gruff rapport with our nation's youth for big laughs. But the best part of the show is McBride's toxic relationship with Walton Goggins' Lee Russell, a bowtie-wearing maniac with a cruel streak that would make Kenny Powers take a step back and reassess some shit. By letting Goggins be the crazy one and forcing McBride to actually grow up a little, Vice Principals manages to be more than an Eastbound retread. Over two seasons, it became its own wild, uncaged animal.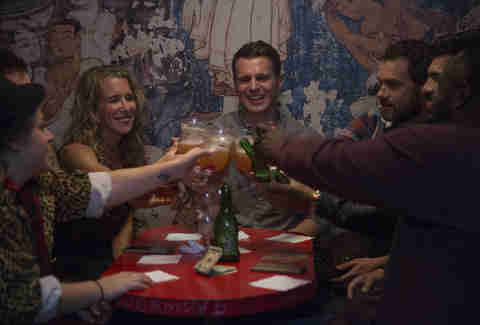 28. Looking (2014-16)
Looking is one of those shows that had too much pressure on it from the outset. Billed as the gay men's answer to Girls or Sex and the City -- given that it was simply about a group of friends in a major metropolitan area -- some viewers felt it needed to answer for an entire community. Look beyond those early headlines, though, and you'll find one of the most compelling and downright romantic love triangles anywhere on television. The show really hit its stride when it began to tease out the conflicted heart of Jonathan Groff's Patrick -- torn between his sexy boss, played by Russell Tovey, and Raúl Castillo's handsome barber Richie. Looking always had a dreamy quality, thanks to executive producer Andrew Haigh's direction, but the characters never felt like caricatures, even when they were frustrating.
27. Flight of the Conchords (2007-09)
Flight of the Conchords heralded the coming of a brand of comedy that's exploded more recently. Now, New Zealand humor has found its way into major blockbusters like Thor: Ragnarok, but when Conchords premiered in 2007 we hadn't seen much like Bret and Jemaine. While the premise was highly reminiscent of Tenacious D (see #24), the Conchords tweaked the idea of depicting struggling troubadours with precisely one overzealous fan (Lee vs. Mel) and their attempt to navigate an uncaring music scene by focusing on the fish-out-of-water struggles of two Kiwis in America saddled with a manager (played by scene-stealer Rhys Darby) who's every bit as inept as the agent played by Stephen Merchant in Extras. And as with Tenacious D, the reason to watch and rewatch Conchords all these years later is its catchy, hilarious songs, brilliantly deployed via low-budget numbers that tie in with each episode's plot. They're still going on tours, and we're happy to hear them play the hits.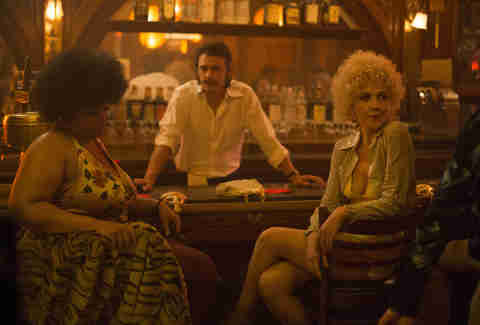 26. The Deuce (2017-19)
HBO has long given David Simon the space to explore urban decay and revitalization. The former reporter and Homicide: Life on the Street writer has walked down every sketchy alley and ordered drinks at every dive bar in Baltimore (The Wire), New Orleans (Treme), and Yonkers (Show Me a Hero). The Deuce is Simon's take on New York City -- specifically, 1970s Times Square, arguably the seediest time and place in the city's seedy history. The show also uncharacteristically features what could be considered two gimmicks, but which in Simon's hands never appear gimmicky: James Franco plays twins who are embroiled in the Mafia-connected nightlife and gambling scene, and gratuitous sex scenes as the result of a sex industry backdrop. While both offer a measure of comic relief -- whether in the form of Franco's Fonzie-esque portrayal of Frankie Martino, or uses for potato soup you never thought possible -- The Deuce succeeds by taking interest in the humanity of pimps, sex workers, bartenders, and mafiosos in equal measure. It also boasts the not-so-secret weapon of Maggie Gyllenhaal's Candy, a sex worker without a pimp who's making the transition into porn films, and who is the show's most fully realized character in an era bubbling with second-wave feminism, yet still dominated by men. With the show's third season confirmed as its last, The Deuce leaves you with a feeling every New York City resident experiences regularly: Damn, I missed all the good stuff.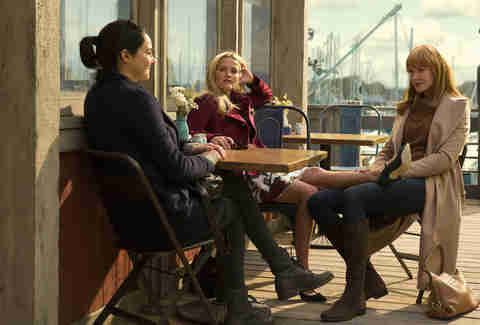 25. Big Little Lies (2017-present)
Big Little Lies could serve as the prototypical peak TV product. The adaptation of Liane Moriarty's novel was shepherded by Nicole Kidman and Reese Witherspoon, who produce and star in this tale of the nasty secrets hiding among the moms of Monterey society. In Season 1, they brought along their other big screen pals: Director Jean-Marc Vallée and actors Laura Dern, Zoe Kravitz, and Shailene Woodley. The ante was upped when Meryl Streep signed on for Season 2. Better than just high-wattage star power? Big Little Lies actually turned out some of the tastiest TV in years. Season 2 took a step back, despite American Honey auteur Andrea Arnold's best efforts, but it still managed to be both pulpy -- Dern and Streep's performances are made for memes -- and devastating. The show cuts through its gossipy exterior to weave a sensitive portrait of domestic abuse, and Kidman in particular does career best work.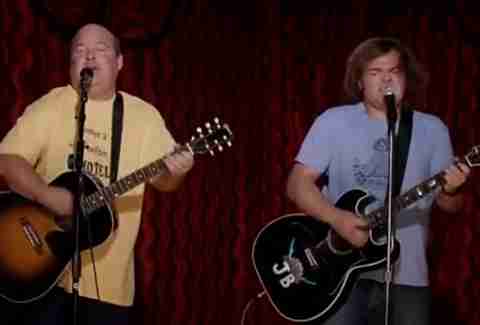 24. Tenacious D (1997-2000)
In just six episodes, a pre-megafame Jack Black and his songwriting partner Kyle Gass give us the crystal-clear worldview of Kyle and Jack, aka KG and Jables, a Burrito Supreme-loving, Sega Genesis-playing folk-rock duo with self-aggrandized song-writing skills and bombastic on-stage theatrics. While the vignettes that power the episode plots and take us on their quests to write the perfect song, find Sasquatch, and ditch their only fan hold up two decades on -- and that's not too surprising, given that Bob Odenkirk and David Cross produced the series. But it's the songs, along with star-making gonzo performance by Jack Black, that will hold up for eternity, much like their beloved "A Stairway to Heaven."
23. Girls (2012-2017)
Oh, Girls. Girls -- if discussions in Thrillist's office are an indication -- is probably the most controversial HBO show on this list. And sure enough, Lena Dunham's creation was a lightning rod for hot takes throughout its six-season run. Some of the complaints were justified: Girls presented a far too white look at hipster Brooklyn, and never truly improved when it came to diversity. Some were not: Dunham's mere existence seemed to enrage people, especially considering she had absolutely no qualms doing nude scenes. The show was often hit or miss, but when it was good it was wonderfully awkward, as Dunham and co-showrunner Jenni Konner created indelibly cringeworthy moments (Marnie singing Kanye, anyone?), and genuinely laugh-out-loud scenarios like basically anything involving Andrew Rannells as Elijah. Girls will never be for everyone, but it was often brutally honest when it came to the prickly and inconsistent nature of young friends.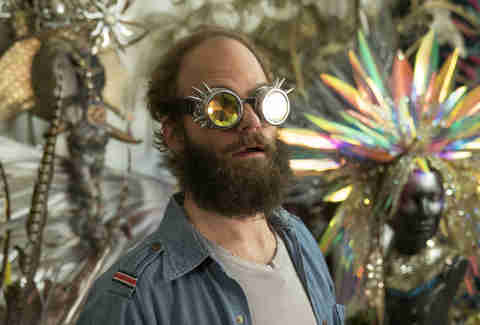 22. High Maintenance (2016-Present)
What started in 2012 as a web series about a weed delivery guy became a slightly glossier TV series about a weed delivery guy. (Quite literally: The central character's "name" is The Guy, played by co-creator Ben Sinclair.) In its transition to HBO in 2016, High Maintenance retained its low-budget, hyperrealist allure, relying on the large talent pool of New York City residents to star in its vignettes of people who order weed from The Guy. Some stories focus on peculiar interactions with clients in their apartments, others on longer arcs of people in various levels of existential conflict that lead them to cross paths with The Guy. Some have more to say than others, but, since each portrait never really surpasses 12 minutes, none quite overstay their welcome. High Maintenance doesn't have the propulsive high stakes or cliffhangers of other shows on this list, but creators Sinclair and Katja Blichfeld plucked an odd thing that only really happens in NYC and made it a broadly relatable abstraction of the zeitgeist.
21. Bored to Death (2009-2011)
In 2018, the jig is up for shows about sad, quirky white boy artists in New York, and so Bored to Death certainly looks its age. Women are either needy nuisances or conquerable objects, the homophobic jokes don't exactly hold up, and the mopey beta-mensch schtick of Jason Schwartzman's Jonathan Ames (actual author, show creator) can get pedantic. Jonathan, a struggling novelist and sometimes journalist, decides to list an ad for his unlicensed private investigator services on Craigslist after getting drunk and reading a Raymond Carver novel, and turns it into an non-lucrative side gig full of hijinks, to the dismay of his best friend, cartoonist Ray Hueston (Zach Galifianakis, six months out from The Hangover-level fame). They otherwise spend their time fighting off early 30s malaise with booze and weed, and some of the series' funniest and shockingly progressive conversations come from dissecting the relationship between addiction and mental health. It's a frustrating satire for modern times, to be sure, but like a theme party from 2009, we can say that it was fun back then, and remember it fondly for its high points: Ted Danson as a neurotic magazine editor, early career cameos for likes of Jenny Slate, Kristen Wiig, and Zoe Kazan, bad detective stories, and tons of white wine.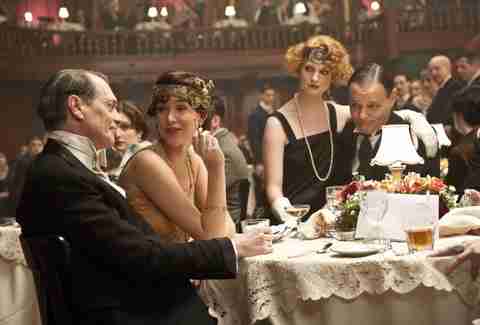 20. Boardwalk Empire (2010-2014)
When Boardwalk Empire premiered, it was seen as an attempt at a Sopranos-type hit, but with a vintage flair. Created by Terence Winter -- who wrote for Tony and the gang -- Boardwalk looked at the lives of gangsters in Prohibition Era Atlantic City. The Martin Scorsese-directed pilot set the tone for the show, which centered on Steve Buscemi's Nucky Thompson. That initial season might have been too gratuitous, too bloody, too slow, and too male for some, but Boardwalk rewarded those who stuck with it. Sure, it stayed violent and sex-filled, but it also dove deeper into characters like Michael K. Williams' Chalky White, Jack Huston's Richard Harrow, and Gretchen Mol's Gillian Darmody. It was a prurient history lesson with a healthy amount of pathos, and a top-notch cast of character actors. Everyone from Michael Stuhlbarg to Michael Shannon was sublime.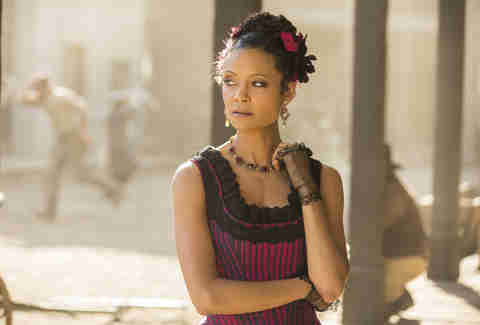 19. Westworld (2016-Present)
This sci-fi series, set in a theme park that attracts people who get off on Wild West cosplay and doing appalling things to extremely lifelike robots, explores artificial intelligence, human empathy, and the ethical ramifications of merging technology with consciousness. Produced by J.J. Abrams and created by Jonathan Nolan and Lisa Joy, it is also a mind-bending puzzle show that has launched a billion Reddit posts that attempt to sleuth all the timeline fuckery. It's inherently not for everyone, but to paraphrase the show for the haters, this game isn't meant for you. For the rest: welcome to Westworld, where you will revel in this violent brain-teaser of a program, which is based on the 1973 movie written and directed by Michael Crichton. Witness its impressive cast, led by Evan Rachel Wood, Jeffrey Wright, Thandie Newton, Ed Harris, Tessa Thompson, and Sir Anthony Hopkins, all gathered to perform for your considerable amusement. Delight in its theme song and soundtrack of cover songs. Season 3 should be here before we know it.
18. Extras (2005-2007)
The arc of Ricky Gervais' career makes it easy to forget that after he hit the jackpot with The Office, he followed up with a genuinely funny show about the perils of seeking, and eventually finding, fame. Extras is similar to The Office in that Gervais plays a small-timer with outsized ambitions, but the conceit -- he and his friends take roles as extras while they're trying to make it big -- allows for some legendary cameos. The most memorable are Ian McKellan explaining that the key to acting is pretending to be somebody else, Patrick Stewart's screenplay in which he has the ability to make people's clothes fall off, and David Bowie's impromptu song mocking Gervais. It may be enough to make you forgive him for Derek.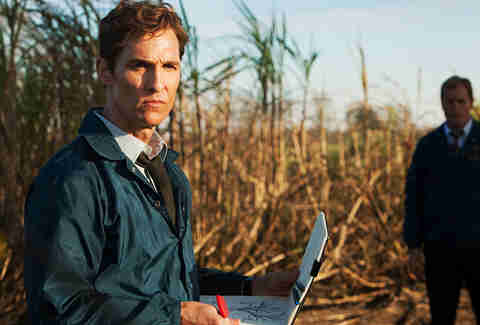 17. True Detective (2014-2019)
The conventional wisdom says that Season 1 of Nic Pizzolatto's cop anthology is Very Good, and Season 2 is Very Bad. But! (Hot take alert!) Season 2 is also good, though it certainly lacks the charming rapport between Woody Harrelson and Matthew McConaughey, not to mention the moody, supernatural bayou aesthetic cultivated by director Cary Fukunaga in the show's first season. The sneaky truth of True Detective is that, for all the cop show tropes it riffs on, it's much more about developing mood, tone, and a sense of human inscrutability and isolation. Do you remember the specific crimes Rust Cohle and Mary Hart investigated in Season 1? Or do you remember McConaughey uttering dorm-room zen koans like, "Time is a flat circle," and flatly telling a child-killer, "You should kill yourself." You almost certainly recall the crazy raid scene, but do you remember why they raided that house? Season 2's labyrinthine murder mystery, which is actually about a complex infrastructure corruption plot (can't understand why people were turned off!), is not the point. You're here for the suburban malaise of Los Angeles sprawl, the least entertaining bar singer ever, Colin Farrell calling Friends a show that's like 20 years old, Rachel McAdams vaping, and Vince Vaughn struggling through monologues that ask way too much of him. Season 3 represented a return to the themes that made the first installment such a hit: memory, unfinished business, trauma, and regrets. With Mahershala Ali and Stephen Dorff forming the kind of grudgingly likable duo that McConaughey and Harrelson pulled off so effortlessly in Season 1, True Detective Season 3 proved to the Season 2 haters that the show hadn't lost its touch.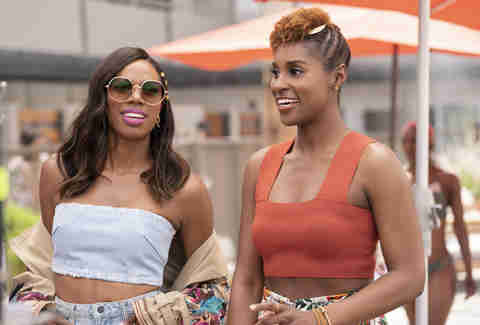 16. Insecure (2016-Present)
One of the questions that will go down as one of the most divisive of the late 2010s: Lawrence or Daniel? Though Insecure is so much more than its on-and-off-again relationships, Issa Rae's hunky love interests, played respectively by Jay Ellis and Y'lan Noel, yank out existential questions of our own malleability: What kind of person do we want our partners to help us be? Insecure's thoughtfulness about How to Act in Your Late 20s is part of what makes the show so brilliant, a theme that's carried on from its days as a web series called "The Misadventures of Awkward Black Girl" and has only became more cogent over its three seasons. Its frank discussions about race are also integral; Issa and her best friend Molly (Yvonne Orji) are the lone black women in predominantly white offices and have to deal with some real bullshit in their very different careers. Beyond office politics, there are run-ins with the historically racist LAPD and conversations about interracial dating -- a mere few examples in a series about the black experience in America. Insecure is also damn funny: Issa's raps and pep talks to herself (primarily) in the mirror serve as reliable and relatable laughs, the awkward sex scenes are all too real, and Issa and Molly's friendship -- really, the show's backbone -- delivers endless gold.
15. Enlightened (2011-2013)
Buried under higher-profile and much-lauded work like Big Little Lies, for which Laura Dern won an Emmy, is perhaps Dern's best HBO performance: Enlightened, about a corporate executive who gets demoted to basement-dwelling work after self-destructing in spectacular fashion, and which earned microscopic ratings during its two-season run before getting the axe. The series, created and written by Mike White (School of Rock), gives Dern total freedom to teeter on the edge of a breakdown while manically insisting she's learned how to control her demons, and the result is a humorously melancholy sendup of both wellness subculture and corporate doublespeak. Dern's Amy Jellicoe so desperately needs to feel in control of her life -- which has blown up thanks to booze, an affair with her boss, and a miscarriage, among other things -- that she constantly threatens to make her situation worse, despite the new-age-y techniques she learned in rehab. Jellicoe's troubled relationship with her mother (played by Diane Ladd, Dern's real-life mom) is especially layered with the emotional depth that runs through the entire series. As we look back for the cultural artifacts that best represent the Obama years, there may be no better candidate than Enlightened: Full of hope, constantly brought down by a brutal, unfeeling reality.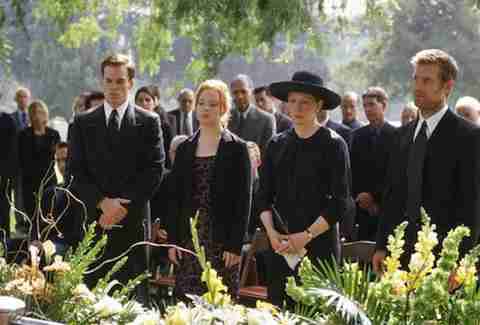 14. Six Feet Under (2001-2005)
Most of the praise Six Feet Under receives focuses on its finale, and rightfully so: It's the rare end to a series that stays true to the characters, offers a sense of resolution, and avoids saccharine sentimentality. But that kind of finale was only possible thanks to the sensitivity with which creator Alan Ball treated the people involved with Fisher & Sons Funeral Home, a place where death and grief were the norm, not the exception. They're daring topics for American television in particular, entertainment in a nation that doesn't exactly relish confronting death and grief. An outstanding cast that includes Michael C. Hall, Peter Krause, Frances Conroy, and Richard Jenkins as the dead family patriarch buoys the nuance with which raw human emotions dictate the action. These are people whose lives center on death, but that doesn't give them any philosophical advantage over the rest of us when it comes to dealing with the minor tragedies that afflict the living.
13. Silicon Valley (2014-Present)
Mike Judge's biting satire about tech-world douchebaggery is a bit long in the tooth now -- and it's a testament to how well-defined the characters are that that sounds like a set-up for a Gilfoyle joke. Focusing on five dudes working at a start-up for a data-compression app its thin-skinned genius developer, Richard Hendricks, decided to call, to much derision, Pied Piper, Silicon Valley successfully created a universe of would-be power-players and confirmed back-stabbers, and excels when things never go right for the gang and their complete failure is masked by someone else fucking up even more.
12. Eastbound & Down (2009-2013)
The deranged saga of the washed-up, narcissistic relief pitcher Kenny Powers from Danny McBride, Jody Hill, and David Gordon Green (among others) resulted in one of the funniest and most profane TV shows of the past decade, hands down. Kenny (McBride) is a singular anti-hero, his self-destructive tendencies capable of ruining any upward momentum he's caught, whether he's coping with fame or bottoming out with drugs and alcohol, spending money he comes into on things like jet skis and pet wolves, or treating those closest to him with total contempt. His utter dickishness leads to some dark places, but it's just how far Kenny Powers can fall after we think he's done the worst possible thing he could do that compelled us to watch him teach grade school gym, move to Mexico, fake his own death, open a baked potato restaurant with sidekick Stevie Janowski (Steve Little), host a sports show, etc. The supporting cast -- April (Katy Mixon), brother Dustin (John Hawkes), and his wife Cassie (Jennifer Irwin) -- tries to save Kenny from himself, with little success; he's a maelstrom of self-loathing and obnoxiousness in a curly mullet and athletic sunglasses. Eastbound & Down was hardly a comfortable watch, but there isn't a single episode that won't elicit some physical reaction, whether it's a laugh or a groan.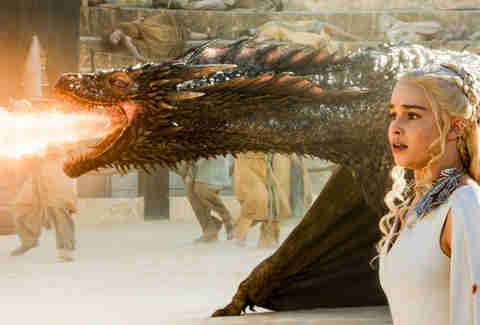 11. Game of Thrones (2011-2019)
Were this ranking based on how inspired you are to write fake lyrics about your cat to the sing during the theme song, then Game of Thrones would be number one with a bullet. By far the most popular and successful program in HBO's long history, the epic series based on the novels of George R. R. Martin, track the rise and fall and stumble and rise again of the Stark family, as they do battle with ancestral rivals, murderous skin-flayers, back-stabbers and front-stabbers, and mystical creatures known as White Walkers. If only it could continue forever! Alas, Game of Thrones is over, and it most certainly did not stick the landing. Will this ranking hold up? Ask us again in 10 years.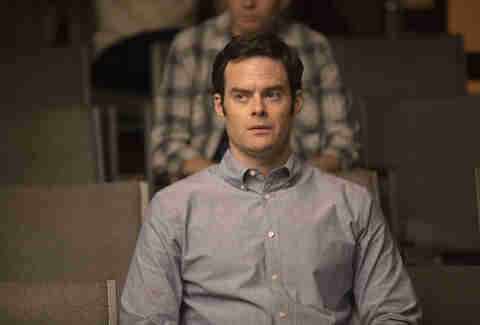 10. Barry (2018-Present)
Like more than a few shows on this list, Barry is early in its run and could jump to a higher spot if it manages to deliver more seasons of the same caliber as its excellent first two seasons, or lower if subsequent seasons suck. SNL standout Bill Hader plays the titular Barry, an ex-Marine-turned-hitman who arrives in Los Angeles to kill a mark for the Chechen mob and ends up sticking around in his new city to study acting. The premise of the show is a little tired -- Grosse Pointe Blank and countless crime novels have robbed the hitman of real cultural potency -- but the tonal tightrope Hader (who directs multiple episodes) and his co-creator Alec Berg (Silicon Valley) walk is thrilling. Most of all, it's surprising! Of all the half-hour shows on TV currently blending drama and comedy, Barry is the only one that explores Breaking Bad-like moral conundrums while delivering actual laughs. (As good as Emmy-winner Henry Winkler is as acting teacher Gene Cousineau, Anthony Carrigan's kind-hearted gangster NoHo Hank might be the funniest supporting character on TV.) If the show can keep hitting its targets with the same level of efficiency, it could be a classic.
9. The Leftovers (2014-2017)
More than any other HBO show, The Leftovers leaves you feeling gutted. Based on a Tom Perrotta novel, the series follows the aftermath of the "Sudden Departure," a cataclysmic event where 2% of the population vanishes into thin air with no explanation. A small-town sheriff (Justin Theroux), a reverend (Christopher Eccleston), and a grieving mother (Carrie Coon) are left to sort out the emotional and psychological wreckage. Most recommendations of the show arrive with a caveat about how the first season doesn't deliver on its potential, but we think the whole series works, even when showrunner Damon Lindelof (Lost) was adjusting the levels and figuring out the story he wanted to tell early on. (Season 2, which shifts the action to Texas, is the series' high-water mark.) It can be draining, but this isn't a highbrow version of This is Us: The Leftovers doesn't withhold information to deliver tear-jerking catharsis. It's chasing more cosmic truths.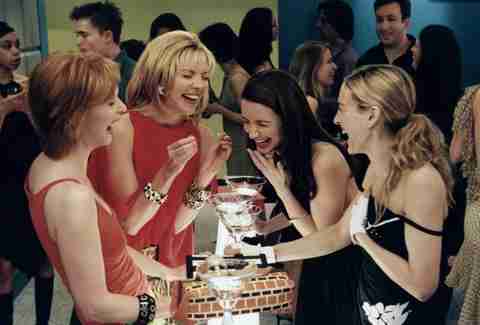 8. Sex and the City (1998-2004)
Of all the series that premiered during HBO's heyday in the 1990s, Sex and the City may not be the most serious, but it arguably had the greatest impact on the cultural lexicon. Twenty years later, people are still categorizing themselves as Carries, Mirandas, Samanthas, and Charlottes. Breaking up with someone via Post-It is still heresy. "I couldn't help but wonder" is still one of the most evocative preambles in the English language. And Miranda even ran for governor of New York. Not all of Sex and the City has aged well. (See, for instance, any time our foursome deals with people who are not white and cis.) But what has sometimes been written off as guilty pleasure fluff is being appreciated for how ahead of its time it really was. Amid all the bon mots and crappy boyfriends, Sex and the City saw the value in telling stories about women who weren't ashamed of getting laid and living life on their terms.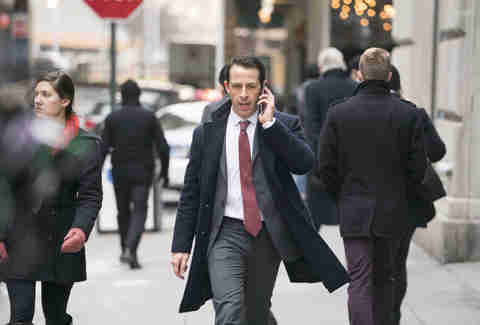 7. Succession (2018-Present)
Roystar Wayco is a Fox-analogous titan of the entertainment industry in Succession, and the moneyed family behind the media conglomerate is a fucking mess. Unlike the main players in Showtime's Billions, a roster stacked with Machiavellian geniuses, the Roys are mostly so, so bad at being in charge. After the aging patriarch Logan (Brian Cox) suffers from an incapacitating stroke, the siblings -- Kendall (Jeremy Strong), Shiv (Sarah Snook), Roman (Kieran Culkin), and Connor (Alan Ruck) -- conspire against each other, waging buffoonish internal allyship campaigns for control over the company. Among the constant infighting and callous mega-wealthy antics in the show is an innate comedic timing that makes, say, covering up grave corporate negligence one big goof. Other things that happened in Succession's first and only season thus far: Shiv went to work for a leftist opposition presidential candidate, a relapsed Kendall did a Chappaquiddick, Roman basically OK'd the launch of a malfunctioning rocket ship into space, Shiv's fiancé Tom (a very funny Matthew Macfadyen) did a sex act at his bachelor party that may or may not exist in real life. When our luminary of integrity is Greg (Nicholas Braun), the perpetually stoned cousin who pukes through a mascot's eyehole, it's safe to assume the moral compass is definitely off-kilter here. (Love you tho, Greg.) Did the world really need another TV show about shitty rich white people? Probably not, but Succession creator Adam McKay (The Big Short) and showrunner Jesse Armstrong (Peep Show) made the case that there's room for one more.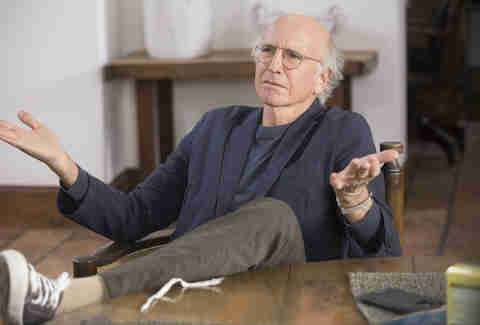 6. Curb Your Enthusiasm (2000-Present)
Two years after Seinfeld went off the air, its bumbling, socially ignorant, very wealthy co-creator turned up on HBO as the star of a show about nothing. Who cares that it doesn't reinvent the wheel? Curb is so laugh-till-you-cry funny that it can continue building storylines out of thin air, taking Chekhov's gun writing to absurd extremes as Larry David commits one social assassination after another for nine seasons. It mines all of Larry's idiosyncrasies, which bounce off an equally hilarious cast anchored by Cheryl Hines, Jeff Garlin, Susie Essman, JB Smoove, Ted Danson, and countless guest appearances to hammer home a central thesis: Larry David can ruin your day in myriad ways. In so many awkward situations, Larry David says and does what good manners prevent the rest of us from saying and doing, and he remains undeterred no matter how often he finds himself at the mercy of a scenario that went south in a hurry -- a feeling captured in a classic meme.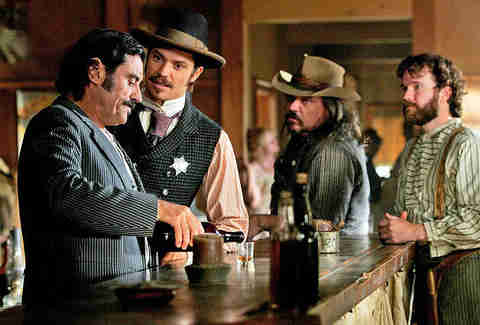 5. Deadwood (2004-2006)
Compared to the two other major early HBO dramas created by guys named "David," Deadwood can be a harder sell to the casual prestige television viewer looking to brush up on the 21st century canon. Like David Chase's mafia drama The Sopranos and David Simon's cop saga The Wire, Deadwood is a twist on a familiar Hollywood genre -- it's a Western filled with boots, spurs, and cowboy hats -- but creator David Milch's profanity-packed, quasi-Shakespearean dialogue takes some getting used to, and the show's lack of a "clean" ending may scare away closed-minded binge-watchers hoping for a definitive conclusion. (The series was canceled after Season 3 and, despite a steady hum of rumors, the spin-off movies have not yet materialized.) Still, Deadwood isn't some dusty homework assignment on the premium cable syllabus: There's vulgar wit, white-knuckle tension, and truly impeccably maintained facial hair in each carefully plotted episode. Sporting a black mustache and a villainous sneer, Ian McShane's bar owner Al Swearengen remains one HBO's most fully realized, vividly drawn characters. He's a violent man attempting to maintain order in a land with competing moral codes and dueling financial interests, and the brutality he unleashes isn't a stylistic flourish or a troll-y poke in the eye; it's part of a larger thematic examination of who thrives and who perishes as a society gets built.  
4. The Larry Sanders Show (1992-1998)
More than 25 years after the debut of this iconic series set at a talk show, certain elements do seem a bit dated. All the clothing, for one thing. But also some of the celebrities: anyone watching now would be hard-pressed to know the then-zeitgesty details about the guests who turn up to tape their appearances. But that's half the fun of rewatching: why did this person appear on the show again? The writing is next level -- to be expected from a writers room that, over the years, boasted Judd Apatow, Bob Odenkirk (who, in Saul Goodman mode, also plays Larry's agent) and more. The characters -- from Hank "Hey Now" Kingsley to Janeane Garofalo's frequently exasperated talent booker -- are as well-defined as any in sitcom history. No flipping.
3. Veep (2012-2019)
"That's like trying to use a croissant as a fucking dildo." "Epileptic Picasso painting." "Jonad." Long before Trump took office, Armando Iannucci created a series that managed to capture Washington, DC at its dirtiest and most profane. Not only has Veep been one of TV's most consistently funny comedies for the entirety of its seven-season run, it's the one that somehow gets closest to the core of our current nightmare. Selina Meyer's exact politics have never really mattered; it's her unending quest for power that drives the show and its worldview. Over the years -- and even as she's advanced beyond the titular position -- Selina has lied, debased herself, and lost her mind not for the good of the country but for her personal gain. Meanwhile, she's dragged her lackeys along with her: The ambitious Dan, the earlobe of a press secretary Mike, the tightly wound Amy, and jolly green jizz face Jonah. While the final season abandoned some of the nuance that made earlier installments so cuttingly smart, the series finale turned out to be a nearly perfect way to end the show and deliver the verdict on Selina Meyer's legacy. It's the truest series about America there ever was.
2. The Sopranos (1999-2007)
From the quacking ducks to the the wandering Russian gangster in the woods, The Sopranos is often discussed as a show of highly ambiguous symbols. And, yes, the dream sequences and therapy sessions between the show's protagonist Tony (James Gandolfini) and his psychiatrist Dr. Melfi (Lorraine Bracco) make it a rich psychological text, but David Chase's mafia drama, which ran for 86 episodes from 1999 to the end of the Bush administration, is also filled with surface-level pleasures: the sound of Little Carmine coining a new malapropism, the sight of Paulie Gualtieri debuting a new tracksuit, or the joy of young A.J. Soprano waking up after a night of drinking and realizing his eyebrows have been shaved off. These are people you may not know, but you recognize their humanity and their humor. While the series orbits around the gravitational force generated by Gandolfini's brilliant lead performance, the side characters, encompassing the deeply tragic Adriana La Cerva and the truly vile Ralph Cifaretto, make this violent corner of New Jersey an oddly comforting place to revisit. Even when you know the darkness ahead, you want to climb behind the wheel with Tony and make that long drive home again.
1. The Wire (2002-2008)
You've heard this one before: The Wire is the best show HBO's ever made. During its five-season run, David Simon and George Pelecanos' Baltimore-based drama earned heaps of critical praise, but suffered from poor ratings and a lack of mainstream awards (it won zero Primetime Emmys), all of which combined to make Wire fandom a cultural signifier. It went so far as to become parody; oh, you like The Wire? You must be so cool and smart! Stepping back from the show's reputation, however, you can find what made it such an innovative, intricate, and exciting show in the first place. After the first season introduced viewers to the Avon Barksdale crew, a twist on the anthology format took us inside the corrupt dealings of dockworkers, revealing the depths Simon's writing would plumb and the controversial ideas the show would tackle (Season 3's drug legalization plotline is one of many examples). Everything in The Wire is connected, and everyone is a little bit tainted, with politics, police, drugs, race, and crime intersecting through the troubled personal lives of iconic characters like Avon, Stringer Bell, McNulty, Greggs, Bunny, Bunk, and, of course, Omar. The show's fourth season, set largely in Baltimore's education system, masterfully demonstrates the futility of human intervention in the face of systemic failures, which makes the comically hacky fifth season all the more baffling. Every show has its ups and downs, but The Wire always managed to challenge the viewer in a medium that rewards superficial entertainment. In the end, we have to say it (sorry): The king stay the king.