Who doesn't love a good heist? The transgression of stealing something massively valuable -- diamonds, the contents of a casino vault, gold -- is accessible to the vast majority of the world only through film. When done well, a heist movie can blend a multitude of genres, from action to comedy and everything in between and around. 
So, the next time you're up for a caper, go to your preferred streaming platform, where you'll be able to find one of these heist films.
Recommended Video
This Restaurant Offers 50+ Garlic-Infused Dishes
Dead Presidents (1995)
The Vietnam War left an entire generation of veterans and families permanently scarred, which often led to new wounds. This mid-90s gem tracks the life of one Vietnam vet who returns to his Bronx home and decides that his best option is to join up with some friends to rob an armored car. Spoiler: Things do not go as planned! While the crux of the movie centers on the armored-car heist, the heart of this movie lies in the tragedy of potential wiped out, and what it means to serve America if it doesn't serve you. 
Where to watch it: Stream on HBO Go and HBO Now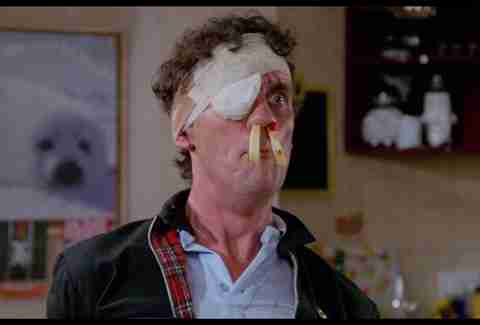 A Fish Called Wanda (1988)
Penned by Monty Python alum John Cleese, A Fish Called Wanda is the kind of wacky, high-concept comedy that just doesn't get made anymore. Centered around a diamond heist and the insane number of double-crosses it spawns, this Jamie Lee Curtis-starring film is British-American crossover humor at its very best. If you have a problem with (fake) animal death, be warned: There's a lot of it. 
Where to watch it: Stream on Amazon Prime and Hulu
Gone in 60 Seconds (2000)
AHHHHHH, NIC CAGE HAS TO STEAL 50 INSANELY VALUABLE CARS IN 72 HOURS!!! Can he do it? Plot isn't really the point in this mostly cookie-cutter action film, but a killer cast -- Angelina Jolie, Giovanni Ribisi, Robert Duvall, VINNIE JONES -- and, of course, the absurd stunt work, elevate clichés to classic status. Seriously, this movie is about a virtuoso former car thief gone straight who's pulled out of retirement for one last job to save his little brother. Naturally, he assembles the best damn crew possible to make it happen. Just turn your brain off and enjoy. 
Where to watch it: Stream on HBO Go and HBO Now
Inside Man (2006)
Denzel Washington is at his wily, sharp, and sharply dressed best as he teams up once again with Spike Lee for this wildly entertaining heist thriller. He's an NYPD hostage negotiator who discovers a whole bunch of drama when a crew of robbers (led by Clive Owen) takes a bank hostage during a 24-hour period. The mystery gets even weirder when it appears as though there was no heist at all, and Jodie Foster shows up as an interested party with uncertain motivations. You'll have to figure out what's going on several times over before the truth outs. 
Where to watch it: Stream on Netflix
Jackie Brown (1997)
For all their blood, guts, and mayhem, the best Quentin Tarantino movies are love stories. Functioning as both a savvy blaxploitation riff and a tender tribute to QT's literary hero Elmore Leonard, Jackie Brown follows Pam Grier's flight attendant title character and a weary bondsman, played with a knowing twinkle in his eye by Robert Forster, as they plot a convoluted scheme to run off with half a million. The two slowly fall for each other while outsmarting an endless barrage of con men, wise guys, and dumbasses, and while it may lack the flash and formal audacity of some of his bigger hits, Jackie Brown is undoubtedly Tarantino's most human movie, an empathetic character portrait from an artist who often gets unfairly pegged as a sadist. And, damn, is there a movie with a better final shot?
Where to watch it: Stream on Netflix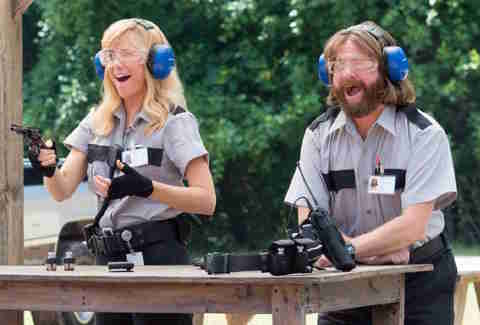 Masterminds (2016)
This long-delayed heist farce from director Jared Hess (Napoleon Dynamite) finally came out... and critics didn't go for it. But Masterminds is must-see for fans of Kate McKinnon, Kristen Wiig, and Zach Galifianakis, filled with no shortage of surreality and so-dumb-it's-fun humor to offset the unfortunate tale of David Ghantt, idiot bank supervisor. In other words: Come for the robbery antics, stay for the bizarre turns, like these insane engagement pics.
Where to watch it: Stream on Netflix
Ocean's Eleven (2001)
Steven Soderbergh (Logan Lucky, Traffic) polished every square-inch of this 1960 Rat Pack remake. George Clooney, Brad Pitt, Matt Damon, Julia Roberts, and the rest of the star-studded cast blow past the charisma singularity as they execute the greatest caper in film history, which weaves together acrobatics, EMPs, and Danny Ocean's punchable face before walking away with millions in cash. Sequels took bizarre turns (Ocean's Twelve) and derivative stumbles, but this cool-as-ice trilogy-starter remains the heist movie to beat -- as a bonus, however, you can still catch the two sequels on Netflix.
Where to watch it: Stream on Netflix
Reservoir Dogs (1992)
Quentin Tarantino's debut is all talk, and mostly bullshit, spewing from the mouths of knuckleheads who just screwed up the diamond heist of a lifetime. Unencumbered by Hollywood's rules, Tarantino deconstructs masculinity through monologue, standoffs, and the literal removal of body parts (the now-legendary ear scene deserves that status). Speaking of ears, Tarantino has one; the "tipping" scene alone is an apogee of crude, poetic vernacular. Reservoir Dogs will always feel primordial, an introduction to the writer-director's isms and a kickoff for endless imitators.
Where to watch it: Stream on Amazon Prime and Hulu
Three Kings (1999)
Before he led his buddies into a casino to rob it blind, George Clooney led his buddies into Iraq to steal a shitload of gold following the Gulf War. David O. Russell's madcap direction captures the lawless deserts of post-war Iraq, where Clooney's Major Archie Gates enlists the assistance of three other soldiers (played by Mark Wahlberg, Ice Cube, and Spike Jonze) to track down gold supposedly stolen from Kuwait. As in most heist movies, the plan does not go quite as well as anyone hopes, a problem exacerbated by crisscrossing Iraqi soldiers and rebels with competing interests. Think of it as the action-packed companion piece to Jarhead -- boredom leads to strange behavior when soldiers are dropped into a foreign desert. 
Where to watch it: Stream on HBO Go and HBO Now
Sign up here for our daily Thrillist email and subscribe here for our YouTube channel to get your fix of the best in food/drink/fun.