7 Action-Movie Clichés We'll Never Get Sick Of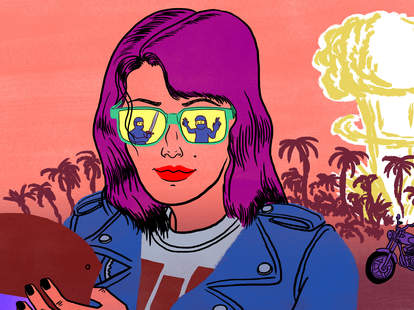 As an action-movie fan, I go to the theater to be wowed by the new and the impossible, and to have my eyebrows singed off by increasingly elaborate explosions. But when they rely too much on tried-and-true formulas, and the likes of Jason Statham, Channing Tatum, or Steven Seagal's sentient ponytail sleepwalk through emotional beats, set pieces, and groan-worthy exposition airlifted in from other blockbusters, action movies can disappoint.
But that doesn't mean that all clichés suck. The best action movies find inventive ways to tweak, subvert, and playfully upend conventions. Like, we've all seen a shootout before, but have you seen the one where the hero dispatches baddies while having sex the whole time? Probably not. Or how about the shootout at the Guggenheim? I didn't think so. And these are just from Clive Owen movies! But even the straightforward clichés can work well when done right. To celebrate the endurance of our favorites, let's take a close look at a few classics and examine why they remain, like an army of liquid-metal Terminators, so unkillable.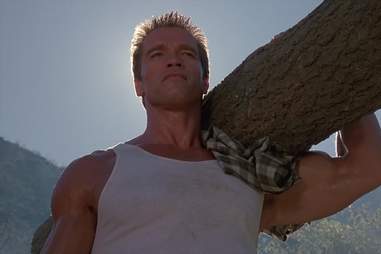 Commando

| 20th Century Fox
1. Getting "the call"
I love any scene where someone gets "the call." It's such a great cliché: one minute you're a strapping, grizzled retired cop/marine/mountain climber doing something very chill, like grieving your dead wife/partner or perhaps feeding a docile animal with you daughter, and the next minute you're "getting the call" from a high-ranking official and that gruff authority figure needs you to come back and help restore order to this fucked-up world. You're fired up! You're checking your ammo stash! You're handing out Predator-esque handshakes right and left! The call can come from a retired Army buddy, a forgotten childhood friend, a shadowy government employee, or even a member of your family -- it doesn't matter. What matters is that you spring into action, typically after your peaceful cabin blows up or your daughter gets kidnapped.
In movies like Shooter, Commando, and Cliffhanger, a reluctant hero gets the call. Watching the hero get the call gets me charged up every time it happens; it's like someone distilled the "take chains off/take rings off" part of "Ante Up" into an espresso you can shoot into your eyelids. These moments are a distant cousin of another excellent trope, the "One last job…" story, where a thief gets recruited by his old gang for, well, you get it... one last job. But the crucial difference here is that the action hero isn't motivated by money. No, the action hero is out for sweet, sweet revenge -- or to rescue his or her family. 
(Side note: if the action hero's nice cabin doesn't get blown up as part of the bad guy's plot, who takes care of it? It seems like maintaining a permanent residence would be a difficult task for a non-drifter, Jack Reacher-style hero. Someone has to cut the grass when you're out fighting Russian terrorists. They can't let the mail pile up. Manicured lawns are important. When a hero is off saving the world, do they Airbnb their tricked-out cabin to yuppies on vacation? Is there a special service they use? I need answers.)
2. Flicking a cigarette into gasoline to cause a massive explosion
There's a strain of know-it-all criticism that festers in YouTube videos, movie forums, and blogs that loves to call out how utterly unbelievable action movies are. To these amateur medical professionals, armchair civil engineers, and dorm-room scientists, I offer my rebuttal: no shit. The point of the movie is not to assess its mathematical probability. Yes, this particular cliché where someone uses a cigarette butt to start a giant BBQ is very unlikely to occur in the real world. It's a lie that movies have sold you. But, as Werner Herzog would say, the cigarette flip has something more valuable: ecstatic truth. What's that truth? It looks very cool.
Unfortunately, the old "cigarette flick" feels like it's waning in popularity. The most notable example I could think of is Con Air's ridiculous execution by cigarette. That's one way Cyrus the Virus will take you out. Skeptical viewers might watch this scene and say, "Wow, this movie is trash. How did they convince John Malkovich to make that awful pun? I hope he got guaped up and used the money to fund a production at the Steppenwolf Theatre." Those people are wrong.
If this trope was good enough for Hitchcock, it's good enough for Malkovich. Don't question the masters -- or Cyrus the Virus. (Also, let's pause for a second and appreciate the use of slow-mo in that Con Air clip. I know everyone loves sped-up, accelerated action scenes now, but there's a time and place for good slow-mo, like when a dude is getting engulfed in flames.) And, never forget: if you're going to engage in this cliche, at least grab an orange mocha Frappuccino.
Indiana Jones and the Temple of Doom

| Paramount Pictures
3. Crossing a rope bridge
Like the cigarette explosion, this one has fallen out of favor in recent years -- maybe because most modern urban landscapes are for some reason devoid of badass bridges made of rope -- but it's a classic. Don't let the demands of modern architecture fool you: there's nothing more exciting than confronting an enemy on a precariously designed structure that hangs over open water. It makes American Ninja Warrior look like Bozo Buckets. Rope-bridge fights are fucking metal; all fights on other surfaces are like Kenny Loggins. 
Ask Indiana Jones. Ask Euron Greyjoy from Game of Thrones. You don't even have to fight on a rope bridge -- you can just drive a truck over it and the scene will feel a thousand times more suspenseful than any given CGI slugfest currently playing theaters. Rope bridges are dangerous, but that's what makes them cool. Next time you attend a city council meeting, demand that your mayor brings back rope bridges. Rope bridges will make America great again.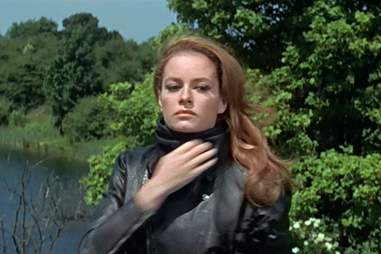 Thunderball

| United Artists
4. Taking off a motorcycle helmet to reveal you're a woman
This one is so good that Taylor Swift recently tried to emulate it in her "Bad Blood" video, a hyperactive collection of action-movie clichés mostly restaged by models. But this is a trope that existed pre-#squad: in the 1965 James Bond movie Thunderball, we see a leather-clad biker blow up a car with some non-road-regulation missiles, only to reveal… that she's a lady! And not just any lady: she's SPECTRE agent Fiona Volpe! It's a dumb but effective moment.
This particular trope used to be so popular that it merited a special shout-out in Roger Ebert's Bigger Little Movie Glossary as the "Helmet Hair" rule: "No woman in the movie puts up her hair before donning a motorcycle helmet, and yet when she removes the helmet, her inevitably long hair is not sweaty or tangled, but always perfectly styled."
It's a great cliché -- but why limit it to women? This is 2016. In a perfect world, every character in every movie would be introduced by taking off a helmet and whipping his or her hair around. Clint Eastwood's Dirty Harry is cool, but you know what would make him cooler? A sick helmet. I love 12 Angry Men, but think of how much better it would be if each of the jurors wore a Daft Punk helmet when they entered the jury room. Picture this iconic image from The Seventh Seal, but instead of that black cloak-thing, Death is wearing a helmet with a flame decal on it? Perfection.
5. Cauterizing your own wound with gunpowder
The god Sylvester Stallone first put this maneuver to the test in Rambo III, inspiring many people who sustain minor injuries while camping to say they're going to "pull a Rambo III." Usually, that person just ends up using a Band-Aid and drinking 18 beers. But, you know who actually pulled a Rambo III and won a damn Oscar for his troubles? Your boy Leonardo DiCaprio in that snow-core epic The Revenant. He did it all while wearing pelts and little icicles on his beard. Give this man another Oscar, but this one should have a little wound in its gold neck to stuff gunpowder in.
Performing surgery on yourself is an essential action-movie rite of passage -- recently, Blake Lively sewed up her own wound with a gold necklace in The Shallows -- but nothing beats the ridiculous grandeur of pouring a pinch of deadly powder into your body and hoping for the best. It says "I'm smart enough to know this is a real emergency medical procedure but I'm dumb enough to try it on myself!"
Die Hard

| 20th Century Fox
6. Leaping, walking, and punching through glass
Of all the mass-produced solids, glass is probably the most important to the evolution of the action movie. There's something visceral and poetic about watching another mass of human flesh, preferably Bruce Willis', crash through a pane of glass.
And it can be destroyed in so many ways. Mission: Impossible's Ethan Hunt blew it up with a piece of gum and set a bunch of fish free in a restaurant. Jason Bourne flew through a window of it to take out a bad guy. It's such a well-worn cliché that Shane Black parodied it in Last Action Hero by having Arnold Schwarzenegger's jumped-from-the-movie-screen-into-reality Jack Slater punch through a car window and say, "My hand. It really hurts." In action movies, glass was meant to be broken; in real life, your bones will break.
If there's one rule in action-movie land, it's this: when in doubt, SHOOT THE GLASS!
7. Quippy one-liners
When you watch an older action movie with your less enlightened friends, you might hear them say things like, "This is so cheesy," or "No one would ever say that," or "Please, don't make us watch Road House again!" After years of stoic, borderline-monosyllabic heroes like Jason Bourne, The Transporter's Frank Martin, and Christian Bale's Batman, we've been conditioned to think that action heroes should be stern and removed like a disapproving stepfather. And while there's something to be said for a highly physical, quip-free throwdown like the fights in Haywire, the tightly choreographed battles in the Ip Man series, and the highly efficient shootouts of John Wick, I think we've over-corrected on one-liners. They still work. They can be beautiful, like little bits of moronic magnet poetry. 
From They Live's "I have come here to chew bubblegum and kick ass" to Cobra's "You're a disease… and I'm the cure," a hilarious one-liner adds an extra verbal kick in the ass to any action scene. Lines like "I'm too old for this shit" from Lethal Weapon and "Vaya con dios" from Point Break take on a life of their own. Sometimes, as with "Always bet on black" in Passenger 57 or "Get off my plane!" in Air Force One, the one-liner is the coolest, most memorable thing about the whole movie. These lines don't detract from the movie; they make the movie.
As the patron saint of action cinema himself might say, the perfect one-liner can help "let off some steam." Get it? The bad guy has a pipe in his chest and there's steam coming out of it! Genius. Pure genius. May steam keep blowing from that dead body forever.
Sign up here for our daily Thrillist email, and get your fix of the best in food/drink/fun.
Dan Jackson is a staff writer at Thrillist Entertainment, and he will fight you on a rope bridge. He's on Twitter: @danielvjackson.