I like most horror movies. Hell, I like most movies that are only tangentially horror movies. (I'm looking at you, Resident Evil and Underworld sequels.) But there's a big difference between a goofy 92-minute distraction and a legitimately impressive horror film. I don't think I'll ever revisit Underworld 5 again -- or even discuss it all that much -- but when it comes to the finest genre films, it's never too early to start shining a light on the really good stuff.
With that in mind, here's my idea of the best horror films of 2017... so far. We'll be updating the piece on a regular basis (just like our bigger Best of 2017 list) and highlighting the best of the best. Good news for horror fans: The year is already off to a pretty damn good start.
8. A Cure for Wellness
Released: February 17
Cast: Dane DeHaan, Jason Isaacs, Mia Goth, Celia Imrie
Director: Gore Verbinski (The Ring)
Why it's great: Detractors of A Cure for Wellness, a pulpy horror-mystery about a water-based therapy center with diabolical intentions, may point to the overly familiar plot (which feels a whole lot like Shutter Island) or the almost mercilessly overlong middle. But there's little denying that there's a lot of grim, juicy, creepy goodness to be found in this tale of an isolated sanitarium, a snotty go-getter, and a disgusting old secret. The remarkable look, offbeat style, eerie tone, and gorgeous cinematography are still powerfully impressive.
Where to watch it: Out of theaters, but available to rent in June
7. Life
Released: March 24
Cast: Jake Gyllenhaal, Ryan Reynolds, Rebecca Ferguson, Hiroyuki Sanada
Director: Daniel Espinosa (Safe House)
Why it's great: It's always fun to watch people get shot deep into outer space only to come up against a horrific and unstoppable force. Always! This "monster in outer space" movie doesn't win points for originality, but we get a space station filled with six surprisingly interesting characters, one remarkably tenacious new life form, and a whole bunch of bone-crunching biological nastiness. Combine that with a nice pace, a cool score, and a nifty gut-punch of an ending, and you're looking at a flick that is bound to become a cult favorite like its distant cousin, Event Horizon.
Where to watch it: In theaters
6. The Girl with All the Gifts
Released: February 24
Cast: Sennia Nanua, Gemma Arterton, Glenn Close, Paddy Considine
Director: Colm McCarthy (Outcast)
Why it's great: If you're fed up with "young adult dystopia," and equally over the zombie movie, The Girl with All the Gifts is good news. The movie combines both genres into one tasty combo plate that's unexpected at every turn. It's about a group of survivors who accompany a young zombie/human hybrid into the wilderness after their facility is invaded. A weird one, but it's also really quite good.
Where to watch it: Rent on Amazon, iTunes, and YouTube
5. Split
Released: January 20
Cast: James McAvoy, Anya Taylor-Joy, Haley Lu Richardson, Betty Buckley
Director: M. Night Shyamalan (The Sixth Sense)
Why it's great: It takes some real skill to turn a tired "girls trapped in a basement" premise into something novel, or even slightly compelling. Leave it to the suddenly resurgent M. Night Shyamalan to find some new angles on a story that's been told about 50 (awful) times since Hostel and Saw hit the scene. Much of the credit goes to Shyamalan's contorted screenplay and leading lady Anya Taylor-Joy, but James McAvoy's consistently unpredictable take on the "split personality" persona is a keystone performance. Throw in some well-earned scares and a handful of weird twists you won't see coming, and you're looking at Shyamalan's best movie in years.
Where to watch it: Rent on iTunes, Amazon, YouTube, and VOD
4. The Devil's Candy
Released: March 17
Cast: Ethan Embry, Shiri Appleby, Pruitt Taylor Vince, Kiara Glasco
Director: Sean Byrne (The Loved Ones)
Why it's great: In The Devil's Candy, a pleasant family moves into a Texas farmhouse only to butt heads (repeatedly) with the home's former owner. It doesn't take long for the lean, mean stalker movie to erupt with terror. Is The Devil's Candy a haunted-house story, a psycho-dad story, or an occult horror story? Sort of all three, and the eerie ambiguity makes it so interesting. With tension that percolates for 60 straight minutes, this movie boasts a great Ethan Embry performance, a few well-crafted scares, and some ass-kickin' heavy-metal tunes.
Where to watch it: Rent on iTunes, Amazon, YouTube, and VOD
3. Prevenge
Released: March 24
Cast: Alice Lowe, Kate Dickie, Gemma Whelan
Director: Alice Lowe
Why it's great: Not every slasher flick stars a 7ft dude in a mask. Alice Lowe, star of the sadistic comedy Sightseers, makes her directorial debut with this dark and amusing movie. Prevenge follows a very pregnant and (very) unhinged woman who appears to be on a murder spree. It doesn't take long for the viewer to realize that there's a maternal method to her madness. Prevenge adds a unique shade to the horror-comedy spectrum.
Where to watch it: Stream on Shudder (or via Amazon Prime Video)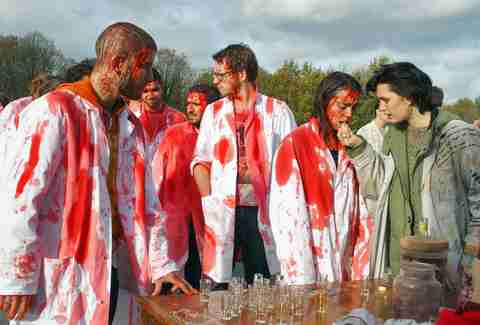 2. Raw
Released: March 10
Cast: Garance Marillier, Ella Rumpf, Rabah Nait Oufella
Director: Julia Ducournau
Why it's great: A virginal vegetarian ventures to veterinary school, gets caught up in some truly strange hazing rituals, and quickly comes to reject her meat-shunning ways. Eventually, ground beef and chicken cutlets don't cut it, and there's some… cannibalism to speak of. Call Raw a brazen coming-of-age story, a twisted horror movie, a clever indictment of conformity, or one of the darkest college comedies ever made, but this freaky French import is nothing short of fascinating.
Where to watch it: In theaters
1. Get Out
Released: February 24
Cast: Daniel Kaluuya, Allison Williams, Catherine Keener, Bradley Whitford
Director: Jordan Peele
Why it's great: Get Out tackles all sorts of uncomfortable social issues, and does so in a playfully freaky, and frequently insightful, fashion. The movie's all about a young black guy who heads off with his white girlfriend to meet her oh-so-progressive family, and realizes that something is very wrong with the racial divide in this sleepy little town. Mr. Peele employs suspense and tension throughout most of the movie -- with some comedy on the side, of course -- and then lowers the hammer with a finale that's demented fun. Like the best horror flicks, Get Out borrows a little from movie history while forging ahead with a unique perspective. This movie will entertain and make you think.
Where to watch it: In theaters
Sign up here for our daily Thrillist email, and get your fix of the best in food/drink/fun.
Other Stuff You'll Like In Movie Machine