The Best Horror Movies of 2020 (So Far), Ranked
A little nightmare fuel for you.
Another year, another big batch of (hopefully) excellent horror films! If you need a reminder of how this feature works, check out our previous installments from 2017, 2018, and 2019. Those should keep you busy for a while. In the meantime, we'll be scouring the theaters, VOD services, and film festivals for 2020's best horror movies.
15. Becoming
Release date: March 6
Cast: Toby Kebbell, Penelope Mitchell, Jason Patric
Director: Omar Naim (The Final Cut)
Why it's good: A married couple on a road trip are struck by the realization that one of them is not who they used to be. In other words: the husband has been possessed by some sort of body-claiming demon that forces him to do terrible things. The three leads and a clever script elevate this one from some potentially familiar trappings.
Where to watch it: iTunes & VOD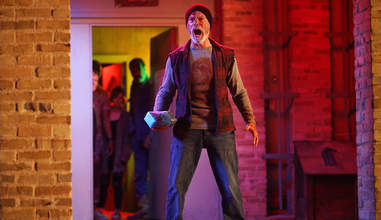 RLJE Films
14. VFW
Release date: February 14
Cast: Stephen Lang, Fred Williamson, William Sadler
Director: Joe Begos (Bliss)
Why it's good: Nothing hits the spot like a good ol' maniacal siege movie, and this low-budget, high-energy action thriller delivers the goods while pitting some colorful old veterans up against a ravenous gang of rabid, freaky drug addicts. If you've ever wondered what Assault on Precinct 13 combined with Cocoon would look like, here's a pretty close rendition.
Where to watch it: Amazon & VOD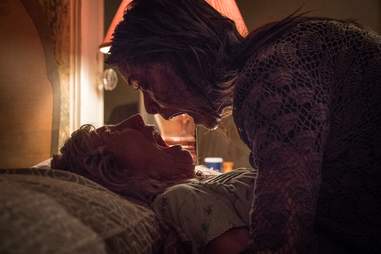 Sony Pictures Releasing
13. The Grudge
Release date: January 3
Cast: Andrea Riseborough, Tara Westwood, Betty Gilpin
Director: Nicolas Pesce (The Eyes of My Mother)
Why it's good: This odd remake (of a remake) may not have thrilled fans of the original Japanese series (or those of the American reboot) but I know at least a few horror fans who found something to appreciate here. It starts out fairly slowly as a procedural involving a horrific murder, but settles into a fairly unsettling ghost story by Act III. This one's a bit more downbeat than its predecessors, but there's still some dark fun to be had.
Where to watch it: iTunes & VOD
12. Sea Fever
Release date: April 10
Cast: Connie Nielsen, Dougray Scott, Hermione Corfield
Director: Neasa Hardiman
Why it's good: An Irish fishing trawler becomes lost at sea, and to make matters worse, it seems that there's a freakish parasite hiding on board the ship. A strong cast, a smart screenplay, and a gloomy tone help sell this one as a solid weekend matinee. It's not exactly The Thing, but horror fans will appreciate it.
Where to watch it: VOD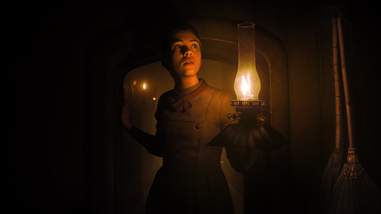 Orion Pictures
11. Gretel & Hansel
Release date: January 31
Cast: Alice Krige, Sophia Lillis, Samuel Leakey
Director: Oz Perkins (The Blackcoat's Daughter)
Why it's good: It's well-known that our most popular fairy tales started out a whole lot darker before Mother Goose and Walt Disney got a hold of them, and here's an odd, low-key, and visually fascinating film that tries to recapture some of that eerie old atmosphere. More of a dark fable, of course, than a traditional horror film, but it's also a quietly compelling and surprisingly unique piece of genre cinema. Plus it's really beautiful to look at.
Where to watch it: iTunes & VOD
10. The Hunt
Release date: March 13
Cast: Betty Gilpin, Hilary Swank, Amy Madigan
Director: Craig Zobel (Compliance)
Why it's good: The socio-political commentary of this movie may all over the place (be it intentional or otherwise) but as a fast-paced and frequently shocking piece of action/horror mayhem, there's a good deal of dark fun to be found here. This is little more than a (very) contemporary take on the classic Most Dangerous Game "man hunting man" premise, but here it's presented with a good deal of energy, color, and intensity.
Where to watch it: iTunes & VOD
20th Century Fox
9. Underwater
Release date: January 10
Cast: Kristen Stewart, Jessica Henwick, John Gallagher Jr.
Director: William Eubank (The Signal)
Why it's good: A slick, efficient, and impressively intense piece of sci-fi/horror/action/B-movie matinee goodness that delivers the goods and doesn't waste any time with boring subplots or pointless characters. Kristen Stewart and a few co-workers find themselves trapped in a facility deep (you guessed it) underwater, and must work together to escape before the whole place blows up. Also there are sea monsters.
Where to watch it: iTunes & VOD
Cranked Up Films
8. After Midnight  
Release date: February 20
Cast: Jeremy Gardner, Brea Grant, Justin Benson
Director: Jeremy Gardner and Christian Stella (The Battery)
Why it's good: We've all seen some cool indie monster movies, but not many that could also be described as a romantic drama as well -- and this low-key winner works on both fronts. It's about a guy whose beloved girlfriend suddenly vanishes, and he soon becomes convinced that there's a monster involved. So he waits, and he sets some traps. But of course the "monster" could actually be his own fears and insecurities... or something even worse. 
Where to watch it: VOD
Dark Sky Films
7. Bliss
Release date: January 30
Cast: Dora Madison, Tru Collins, Rhys Wakefield
Director: Joe Begos (Almost Human)
Why it's good: A frustrated but talented young artist discovers a freaky new street drug and quickly realizes that it's helping her "artistic method" in strange and horrifically violent ways. In other words: she becomes a bloodthirsty maniac yet her creations become a lot more... expressive. Works as both a straightforward jolt provider and a compelling metaphor for the ways in which struggling artists keep themselves afloat, psychologically speaking.
Where to watch it: Shudder
Saban Films
6. Come to Daddy
Release date: February 7
Cast: Elijah Wood, Stephen McHattie, Garfield Wilson
Director: Ant Timpson (The Greasy Strangler)
Why it's good: We'll have to keep this one vague to protect the surprises, but suffice to say that (the always cool) Elijah Wood plays a strange man who goes to visit his estranged (and truly miserable) father, an event that kick-starts a series of revelations and violent altercations that you'll never see coming. Darkly funny and enjoyably unpredictable, it also features a wonderfully nasty turn by the great Stephen McHattie.
Where to watch it: VOD
NEON
Release date: February 7
Cast: Riley Keough, Alicia Silverstone, Richard Armitage
Director: Severin Fiala & Veronika Franz (Goodnight Mommy)
Why it's good: Two unhappy kids are forced to spend some time at an isolated lodge with their new -- and highly unwelcome -- stepmother, only to discover all sorts of horrible secrets. Beautifully shot and consistently creepy, this new spin on old fairy tales tropes is loaded with great performances, fun jolts, and unexpected surprises of the nastiest kind.
Where to watch it: iTunes & VOD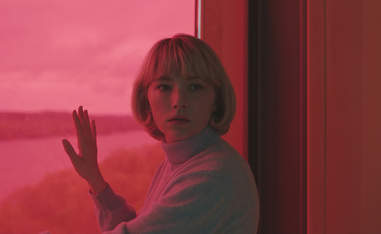 IFC Films
4. Swallow
Release date: March 6
Cast: Haley Bennett, Austin Stowell, David Rasche
Director: Carlo Mirabella-Davis
Why it's good: A darkly funny and quietly creepy story of an ostensibly happy housewife who suddenly decides on a new hobby: she's going to start swallowing small household objects. This offbeat, unpredictable, and visually impressive fable is anchored by a powerhouse lead performance by Haley Bennett.
Where to watch it: iTunes & VOD
Release date: March 20
Cast: Ivan Massagué, Antonia San Juan, Zorion Eguileor
Director: Galder Gaztelu-Urrutia
Why it's good: A man awakens in a cell with a stranger, and their only sustenance arrives by way of a massive "platform" that arrives daily. But there's not enough food for everyone in this facility. This is a Twilight Zone-level mind-bender mixed with a dark psychological horror film full of pointed social commentary. Also it's just sort of fun, in a weird way.
Where to watch it: Netflix
RLJE Films
2. Color Out of Space  
Release date: January 20
Cast: Nicolas Cage, Joely Richardson, Tommy Chong
Director: Richard Stanley (Hardware)
Why it's good: It's been a long time since we've had a damn good Lovecraft adaptation, and here's one that'd probably make director Stuart Gordon (Re-Animator, From Beyond) proud; it's about a seemingly normal American family that finds itself infected by a freaky meteorite. Director Richard Stanley and his collaborators manage to tap into the best aspects of Lovecraft's dark fiction while adding some excellent new touches of their own.  
Where to watch it: iTunes & VOD
Universal Pictures
1. The Invisible Man
Release date: February 28
Cast: Elisabeth Moss, Aldis Hodge, Storm Reid
Director: Leigh Whannell (Upgrade)
Why it's good: The classic H.G. Wells story gets a modern remake that somehow avoids all the problems that have plagued similar films. (Our apologies to the fans of Tom Cruise's ill-fated 2017 movie, The Mummy.)  Elisabeth Moss delivers a fantastic performance as a woman intent on escaping her abusive boyfriend, only to realize that he's still stalking her. Invisibly. Remarkably intense, consistently clever, and full of characters worth caring about, this is one of the best "studio" horror films in recent years.
Where to watch it: iTunes & VOD
Need help finding something to watch? Sign up here for our weekly Streamail newsletter to get streaming recommendations delivered straight to your inbox.