The Best Horror Movies on Amazon Prime Video
For when you need a good scare.
Bloodthirsty (2021)
A talented young singer gets the chance to work with a renowned but creepy producer in this small Canadian creature feature. Of course, the producer's studio is located somewhere isolated, and of course she goes there anyway. But this woman is carrying a secret of her own, and it might be even worse than her new patron's. Like lots of very clever horror movies, Bloodthirsty starts out in one somewhat conventional direction before heading off in some more creative ones.
Children of the Corn (1984)
This adaptation of Stephen King's horror short story is campy and light on production value, but hell, those kids. From the opening massacre at a local diner to the several deaths at the hands of "He Who Walks Behind the Rows," this rural shlock pairs perfectly with a bucket of your own (popped) corn.
Eight longtime friends gather for a dinner party in a neighborhood in Northern California on the night a comet is predicted to pass visibly overhead. When the power on the street goes out, they find themselves in the middle of a coherence of parallel universes, with strange and unsettling things happening all around them. If you're a fan of The Invitation or Primer, you won't want to miss this.
Hellraiser (1987)
Best remembered for the creepy cenobites—and all the absurd sequels they inspired—the original film in Clive Barker's long-running series is more psycho-sexual nail-biter than creature feature. Expertly directed by Barker himself, the movie has more than scares on its mind. It may have birthed Doug Bradley's iconic Pinhead character, but it's best moments plumb the depths of a broken marriage with all the verve of a great erotic thriller.
House on Haunted Hill (1959)
​​​​​​When an eccentric millionaire played by Vincent Price invites a group of people to stay in his towering mansion, he offers $10,000 to whichever of the participants has the nerve to stay inside the house all night. As the night progresses, things get more terrifying by the hour as the attendees of this event mysteriously start disappearing.
Jeepers Creepers (2001)
Remember this creepy-ass song? Victor Salva's equally creepy-ass brainchild, about a man-eating beast hell-bent on finishing its feeding ritual, is back to remind you of Halloweens past. It's a fun, early-2000s monster movie, starring Justin Long and Gina Philips, with what is now a pretty absurd antagonist—imagine Crichton's version of the dilophosaurus had a baby with the Frankenstein creature. Weird, yes, but still great.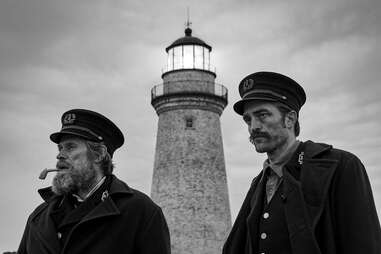 The Lighthouse (2019)
In The Witch director Robert Eggers' The Lighthouse, two colorfully rotten men played by Willem Dafoe and Robert Pattinson are tasked with keeping an isolated lighthouse running, but they quickly succumb to boredom, animosity, and frequently amusing madness. Visually striking and oddly compelling, this bizarre combination of dark comedy and offbeat thriller may go to some unexpected places (including one wild sex scene with a mermaid), but it's certainly never boring.
Midsommar (2019)
Have you ever found yourself on a vacation trip you immediately regretted? Weird people, freaky food, uncomfortable lodgings, and your boyfriend is acting like a real piece of shit, and all you can do is try your best to grin and bear it until you can finally return home? We've all been there, and the supremely creepy "folk horror" story from horror auteur Ari Aster (Hereditary) captures that discomfort perfectly. In a nutshell, four college friends, plus one of the group's grieving girlfriends (Florence Pugh), visit an obscure Swedish summer solstice festival deep in the Scandinavian forest—and things go from odd to uncomfortable to downright horrific. To say much more would ruin the dreadful fun.
My Friend Dahmer (2017)
Most true-crime fans can rattle off the DSM's characteristics of a psychopathic killer: antisocial, a history of mental illness, and a fascination with killing or dissecting animals, on top of a handful of other eerie benchmarks. My Friend Dahmer puts that textbook definition onto screen to illustrate who exactly infamous, 17-time-murderer Jeffrey Dahmer (Ross Lynch) was before his horrific killing spree began. Adapted from real-life former classmate John Backderf's graphic novel and memoir, the thriller is as close a look as ever at Dahmer's psychology. While not entirely hesitant to prescribe empathy to the serial killer who did grow up as an isolated, lonely young man, the film never strays from being utterly chilling as it cautiously evaluates the subject's psyche.
The Neon Demon (2016)
Nicholas Winding Refn is wild for this one—a psychological horror movie set in the literally cutthroat fashion world of LA, focusing on a young up-and-coming model whose intense beauty and youth makes everyone around her seethe with jealousy. Its violent delights and opaque storyline ultimately polarized audiences, but if you're down to watch something truly wild that looks absolutely amazing, you can't get much weirder than this.
Oculus (2013)
After watching Oculus, you will absolutely never want to go antiquing again. Before Hill House and Bly Manor, Mike Flanagan made this genuinely horrifying ghost story about a possessed mirror that terrorizes a family. The time-hopping narrative about two adult children (Karen Gillan and Brenton Thwaites) reckoning with their parents' (Katee Sackhoff and Rory Cochrane) descent into madness and ultimate deaths at the hands of this beautiful, evil item is as tragic as it is spooky, and the ending is so upsetting it will have you gasping.
Paranormal Activity (2007)
If you haven't seen this "found footage" horror by now and are finally willing to give it a shot, get ready to have your pants scared off. When a couple moves into their new home, things seem idyllic, but strange occurrences prompt them to set up security cameras to record what happens. Little to they know, the creature haunting them is not happy about being caught on camera, and turns their lives into a living hell.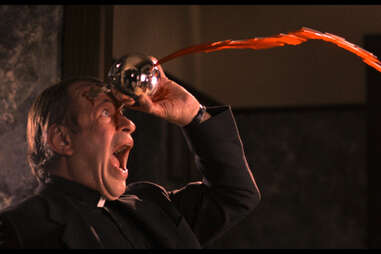 Phantasm (1979)
A mortician known as the Tall Man works in a cemetery and secretly murders people, transforming their corpses into horrifying dwarf creatures he sends to work as slaves on his home planet. Don Coscarelli's independent horror-fantasy film wasn't a big hit in theaters, but has since become a cult classic, the Tall Man's stature and his floating spherical weapons now considered nothing short of iconic in the realm of horror cinema.
A Quiet Place Part II (2021)
If you liked the first Quiet Place movie, in which a family is fighting to survive against an army of alien beasts that hunt using sound, you'll probably find plenty to enjoy in its sequel, which sends Emily Blunt's character and her children and newborn baby off into the wilderness seeking more survivors of the alien plague.
Haunted by a horrific incident in her past, Maud (Morfydd Clark), a young woman who works as a palliative care nurse for the elderly and infirm, has converted to Roman Catholicism and believes that she hears the voice of God coursing through her whenever she's done something she feels He's pleased with. Her new patient, Amanda (Jennifer Ehle), a former dancer suffering from stage four lymphoma, is more concerned with dolling herself up for fancy evenings with friends than with saving her soul while she still has time—at least in Maud's eyes. Her "visions" of God, often in the form of a cockroach, lead her to believe that saving her new charge's lost soul is her life's mission—at any cost.
The Sixth Sense (1999)
M. Night Shyamalan's classic still holds up after all these years, even if you already know its now-iconic twist. Bruce Willis stars as a child psychologist whose young charge, played by Haley Joel Osment, claims to be able to see and communicate with ghosts. The two get caught up in a murder mystery that leads to a final revelation so shocking and bold it became Shyamalan's trademark.
Sleepy Hollow (1999)
Johnny Depp plays Ichabod Crane as an aloof, proto-CSI investigator, turning the tale of the Headless Horseman into a bleak procedural. As is often the case with director Tim Burton's works, the sets and costumes provide electric jolts of creativity when the onscreen drama gets stale. Every frame of this fog-drenched fairytale, shot by Oscar-winning cinematographer Emmanuel Lubezki, could be clipped, framed, and hung in a spooky library.
Slither (2006)
Before he became the blockbuster superhero director of films like Guardians of the Galaxy and The Suicide Squad, spiky-haired filmmaker James Gunn worked for Troma, the low-budget splatter horror production company co-founded by Lloyd Kaufman. Slither, Gunn's gross-out take on the horror monster comedy starring Firefly's Nathan Fillion as the put-upon police chief of a town besieged by alien slugs, is not a Troma film, but it's got a goofy, freewheeling sensibility that's clearly informed by Gunn's past life as the co-writer of Tromeo and Juliet. At the same time, it delivers some real scares, too.
Species (1995)
A motley assortment of outer-space scientists and government agents try to track down an alien-human hybrid in the form of a beautiful woman before she successfully mates and procreates with a human man. The movie stars young versions of all your faves, including Alfred Molina, Ben Kingsley, Forest Whitaker, and Michael Madsen, and, for the Alien heads out there, the creature effects were designed by none other than H.R. Giger.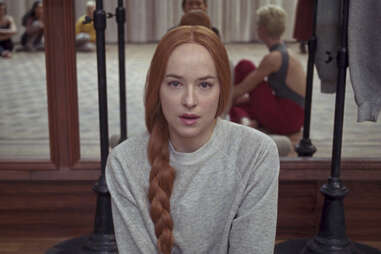 Suspiria (2019)
It takes a lot of bravery to remake what is arguably the finest horror film of Dario Argento's career—and fans of the original film should be deeply grateful that a new rendition was handed to director Luca Guadagnino (Call Me By Your Name) who clearly knows and loves the original. What we have here is an epic horror film that follows the quiet but very ominous activities of an elite Berlin dance school faculty, and the unfortunate young women who begin to suspect the truth about the school. Even given the original movie's place in the horror hall of fame, there's something truly, wildly, indelibly ambitious about this beautifully scary film. And that score by Thom Yorke!
​​Train to Busan (2016)
When a young father boards a high-speed bullet train from Seoul to Busan, he's wholly unprepared to deal with an outbreak of a fast-acting zombie disease that quickly takes hold of the train's passengers. Fast-paced and utterly terrifying, Train to Busan is a Korean horror classic and a gory good time, revitalizing the zombie movie genre and cementing its place in the annals of great midnight horror movies.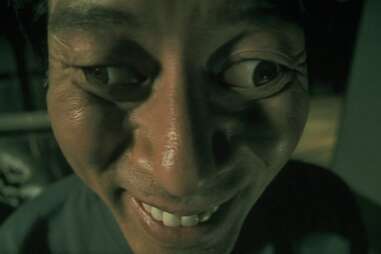 Uzumaki (2000)
Horror master Junji Ito's manga comes to gruesome, horrific life in this live-action adaptation of Uzumaki, which tells the story of a small remote town plagued by a "spiral sickness" that causes the residents to become obsessed with the whirling shapes—some so badly that they end up transforming their bodies into spirals themselves in a series of gory deaths.
Vivarium (2020)
A young couple finds themselves drawn into and trapped inside a 21st century suburban nightmare: a neighborhood populated by an endless sprawl of homes of the exact same size and shape, isolated from the world and crushed by the brutal sameness of their surroundings. Unlike your typical 21st century suburban nightmare, the couple also finds themselves enslaved to a race of interdimensional humanoids, forced to nurture one of their kind as it grows, with unnatural swiftness, from infant to adult.
The Wailing (2016)
This fascinating South Korean film demands a firm attention span, and at 156 minutes in length, a certain amount of patience. But those willing to dive into something outside our conventional American occult thrillers will be rewarded with an intelligent horror film about shamans, curses, possessions, and evil spirits. Like many of the finest South Korean chillers, the "horror story" is presented as part of a procedural; we follow a police detective as he travels to distant locales in an effort to solve the mystery of a deadly disease... one that may not be biological in nature.
We Need to Talk About Kevin (2011)
Horror at its most primal. Director Lynne Ramsay teams up with the incredible Tilda Swinton for a stylized, psychologically rich portrait of a mother sent into crisis after her son commits an unforgivable crime. Featuring winning turns from John C. Reilly and Ezra Miller, the movie explores visceral, ugly truths without blinking. It's the type of movie that will get you talking—unless you're left in stunned silence.