The 35 Best Horror Movies of 2021 (So Far), Ranked
Turn off the lights and get watching.
Welcome back! It's the fifth consecutive ongoing "best of horror" annual here at Thrillist—check out my 2017, 2018, 2019, and 2020 entries here—and I'm excited you've returned for another run. Horror cinema is tracking to have a banner year in 2021, partly because so many promising 2020 genre films got pushed back for pandemic reasons, and also because, let's face it: When we're living in scary times, filmmakers are inspired to make scary movies. And sometimes they're really good. So let's dig in already.
As always, please remember that the "rankings" are mainly for fun. The top movies on this list may have something extra special about them and are truly must-sees if you have limited time, but I firmly recommend every movie on this list.
ALSO READ: The Best Sci-Fi and Fantasy Movies of 2021 (So Far)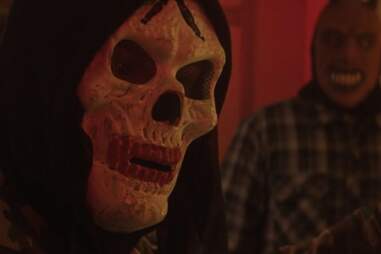 Epic Pictures
35. For the Sake of Vicious
Release date: April 20
Cast: Lora Burke, Nick Smyth, Colin Paradine
Writer: Reese Eveneshen, Gabriel Carrer
Director: Reese Eveneshen, Gabriel Carrer
Why it's good: It's a micro-budget action-horror grindhouse throwback that takes a few minutes to get itself ready but then explodes into a non-stop cacophony of maniacally insane violence, revenge, rage, and carnage. Plot-wise, it's a standard-issue home-invasion potboiler, but the film earns a spot on the list solely because of how much work clearly went into this over-the-top blood-fest, and to say the performers are committed to the insanity would be a wild understatement.
Where to watch it: VOD
Dark Star Pictures
34. Honeydew
Release date: March 12
Cast: Sawyer Spielberg, Malin Barr, Barbara Kingsley
Writer: Devereux Milburn, Dan Kennedy
Director: Devereux Milburn
Why it's good: It's a touch overlong and more than a little familiar, but there's still something viscerally intense and memorably creepy about this one. Honeydew is basically an artsy take on the stuff we've seen (repeatedly) in the Texas Chainsaw Massacre and Wrong Turn franchises—clueless city folk arrogantly stumble across a small, disturbing community deep in the woods—but there's still something undeniably effective about its creepiest moments, one of which, improbably, involves a truly bonkers cameo by Lena Dunham.
Where to watch it: VOD
Brooke Palmer/Lionsgate
33. Spiral: From the Book of Saw
Release date:
May 14
Cast:
Chris Rock, Samuel L. Jackson, Max Minghella
Writer:
Josh Stolberg, Peter Goldfinger
Director:
Darren Lynn Bousman (
Saw 2
)
Why it's good:
Turns out that Chris Rock is a big fan of
the Saw franchise
, and he's the one who kickstarted this semi-sequel. You'll guess most of the twists in advance (if not all of the traps), but it's a legitimate improvement over the last two
Saw
movies.
Where to watch it:
In theaters and on VOD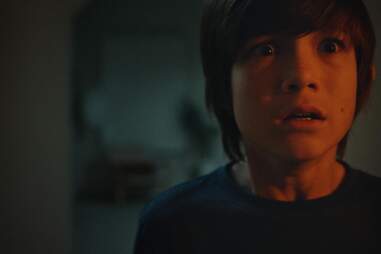 IFC Midnight
32. The Djinn
Release date: May 14
Cast: Ezra Dewey, Rob Brownstein, Tevy Poe
Writer: David Charbonier, Justin Powell
Director: David Charbonier, Justin Powell (The Boy Behind the Door)
Why it's good: A young boy (Ezra Dewey) unwisely decides to invite an ancient djinn, or a powerful spirit, into his home, and then spends one long night regretting it. This one's a linear slow burn, but it's also consistently suspenseful and Dewey delivers a great performance. A few of its jolts will even sneak up on you.
Where to watch it: In theaters and on VOD
31. The Forever Purge
Release date: July 2
Cast: Ana de la Reguera, Josh Lucas, Cassidy Freeman
Writer: James DeMonaco
Director: Everardo Gout
Why it's good: By this point the Purge movies are half "been there, done that, and even watched the TV series" and half "new hook that's actually pretty effective," and that's certainly the case with the franchise's fifth entry. This time around we're asked what would happen if some of the annual "purgers" simply refused to honor the rules of engagement, which is pretty ironic in and of itself—and of course there's some highly topical material that digs into our current socio-political headaches.
Where to watch it: In theaters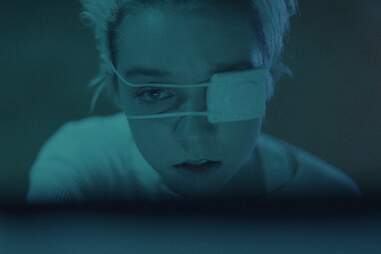 IFC Midnight
30. Come True
Release date: March 12
Cast: Julia Sarah Stone, Landon Liboiron, Carlee Ryski
Writer: Anthony Scott Burns, Daniel Weissenberger
Director: Anthony Scott Burns (Our House)
Why it's good: A desperate young woman signs up for a mysterious sleep study, only to discover that an entirely new realm of terror is waiting for her. This dense and intelligent piece of well-wrought sci-fi horror takes a few big swings, and generates an impressive collection of creepy moments. And, without spoiling anything, it's got a wild payoff waiting at the end.
Where to watch it: VOD
Warner Bros. Pictures
29. Godzilla vs. Kong
Release date: March 31
Cast: Alexander Skarsgård, Millie Bobby Brown, Rebecca Hall
Writer: Eric Pearson, Max Borenstein
Director: Adam Wingard (You're Next)
Why it's good: Sure, the non-kaiju moments aren't quite as riveting as the full-scale monster mania, but there's just enough humanity on display here to keep things from feeling too much like a Transformers sequel. This enjoyably broad follow-up to Godzilla, Skull Island, and King of the Monsters has all the peaks and valleys of its predecessors—but it also has some of the craziest large-scale kaiju madness possibly ever. (Also, Godzilla... laughs??)
Where to watch it: In theaters and on VOD
NEON
28. In the Earth
Release date: April 16
Cast: Joel Fry, Ellora Torchia, Reece Shearsmith
Writer: Ben Wheatley
Director: Ben Wheatley (Kill List)
Why it's good: A researcher and a wilderness guide trek deep into a foreboding forest—during a mysterious pandemic, no less—and come across not only an unhinged madman, but also a theory that our planet is simply trying to kill us. Backed by a great Clint Mansell score, this artsy horror film isn't interested in conventional scares, but it does leave a creepy impression all the same.
Where to watch it: VOD
27. Agnes
Release date:
TBD (debuted at
Tribeca Festival 2021
)
Cast:
Molly C. Quinn, Sean Gunn, Hayley McFarland
Writer:
Mickey Reece, John Selvidge
Director:
Mickey Reece (
Climate of the Hunter
)
Why it's good:
There's no shortage of horror films that focus on nuns; be they noble defenders of the innocent, or possessed minions of the demonic realm -- and this movie sort of has both! The film starts out as a somewhat traditional "possessed nun" story, but about halfway through it makes a sharp left turn and becomes a compelling character study about how an innocent young woman must contend with a trauma she can't explain.
Where to watch it:
TBD
The Horror Collective
26. Slaxx
Release date: March 18
Cast: Romane Denis, Brett Donahue, Sehar Bhojani
Writers: Elza Kephart, Patricia Gomez
Director: Elza Kephart (Graveyard Alive)
Why it's good: There's always room for another good absurdist horror comedy, and this unholy mixture of So Fine (1981) and Exte: Hair Extensions (2007) is frequently a fast-paced, funny little hoot of a movie. The plot is just a framework on which to hang the movie's willfully silly premise—yes, it's about denim jeans that slaughter lots of people—but the cast is game, the writing is fun, and the carnage is wild and plentiful.
Where to watch it: Shudder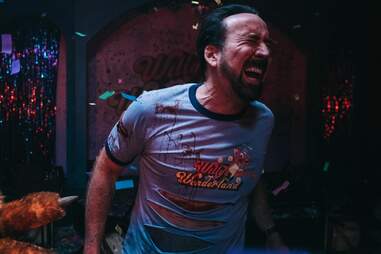 Screen Media Films
25. Willy's Wonderland
Release date: February 12
Cast: Nicolas Cage, Beth Grant, Emily Tosta
Director: Kevin Lewis
Why it's good: Nicolas Cage locked inside an abandoned arcade with a menagerie of massive murderous monsters? Sign me up. There's a rudimentary slasher structure tossed in to keep things moving, but Willy's Wonderland is at its best when it's just Cage beating the holy hell out of Chuck E. Cheese-style animatronic aggressors and/or a vintage pinball machine. Obviously not much of this is meant to be taken all that seriously, but it still works in a tongue-in-cheek midnight movie sort of way.
Where to watch it: VOD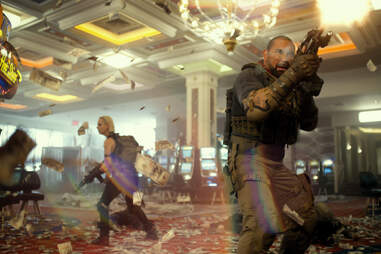 Netflix
24. Army of the Dead
Release date:
May 14
Cast:
Dave Bautista, Omari Hardwick, Ella Purnell
Writer:
Zack Snyder, Joby Harrold, Shay Hatten
Director:
Zack Snyder (
Dawn of the Dead
'04)
Why it's good:
The Dirty Dozen
,
Escape from New York
, and
Dawn of the Dead
walk into a blender, and the result is a big, fat, colorful, epic piece of genre filmmaking. All you need to know is that all of Las Vegas is surrounded by walls and swollen with zombies—and a team of mercenaries, led by Dave Bautista, have to invade the city in order to retrieve a huge pile of money stashed inside a secure vault. The eclectic ensemble helps a whole lot, and the film offers a barrage of set pieces that are tough to resist.
Where to watch it:
Netflix
23. The Conjuring: The Devil Made Me Do It
Release date: June 4
Cast: Vera Farmiga, Patrick Wilson,
Writer: David Leslie Johnson-McGoldrick
Director: Michael Chaves (The Curse of La Llorona)
Why it's good: It takes some skill to keep a franchise feeling fresh when you're working within a franchise that includes evil nuns, killer dolls, and numerous demonic possessions, but Conjuring 3 handles the assignment well enough. This time around our ghost-chasers are working on a case in which an unlikely murderer blames you know who for his crimes. (It's the devil.)
Where to watch it: In theaters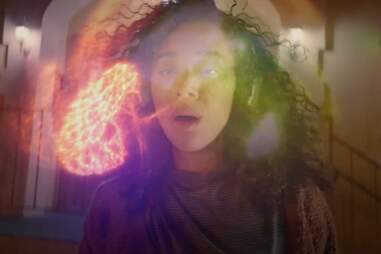 Gravitas Ventures
22. Sound of Violence
Release date: May 21
Cast: Jasmin Savoy Brown, Lili Simmons, James Jagger
Writer: Alex Noyer
Director: Alex Noyer
Why it's good: A young woman who once struggled with hearing problems discovers that her malady can be alleviated through some exceedingly non-conventional means: specifically, she becomes obsessed with the sounds of death. Led by a fantastic performance by Jasmin Savoy Brown, this novel, gritty little slasher throwback has a lot more on its mind than just mindless carnage.
Where to watch it: VOD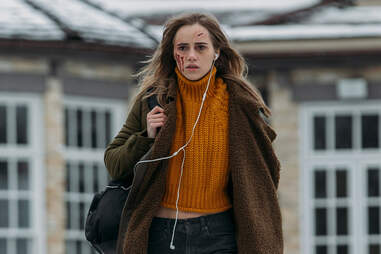 HanWay Films
21. Seance
Release date: May 21
Cast: Suki Waterhouse, Madisen Beaty, Inanna Sarkis
Writer: Simon Barrett
Director: Simon Barrett
Why it's good: A spirited new student at a very cliquey girls school gets a quick lesson on who's in charge (the mean girls are) before learning about some recent tragic history; a student has died under mysterious circumstances, so of course it's time to try to make contact with her through supernatural methods. An excellent lead performance, some nice production design, and quick pacing keep this wry, understated chiller from feeling overly familiar.
Where to watch it: In theaters and on VOD
Shudder
20. Lucky
Release date: March 4
Cast: Brea Grant, Dhruv Uday Singh, Leith Burke
Writer: Brea Grant
Director: Natasha Kermani (Imitation Girl)
Why it's good: "A young woman finds herself being stalked by an unknown assailant" is how a lot of horror movies open, but this one has a lot more to it than just another series of gory dispatches. It's actually a very clever and progressively more compelling time loop story that focuses on the cyclical nature of violence and how difficult it is to escape from terrifying memories. (It's also fun, too.)
Where to watch it: Shudder
19. Son
Release date: July 8
Cast: Andi Matichak, Emile Hirsch, Luke David Blumm
Writer: Ivan Kavanagh
Director: Ivan Kavanagh (The Canal)
Why it's good: A devoted young mother is terrified to learn that her son has come down with a mysterious disease, but the source of the kid's ailment may be more insidious than just a simple virus. With the help of a concerned detective, she begins to uncover the truth. This low-key creeper boasts a few worthwhile moments of shocks and jolts, plus the mystery of the poor child's sickness is actually pretty compelling.
Where to watch it: Shudder
Bleecker Street Media
18. Gaia
Release date: June 18
Cast: Monique Rockman, Carel Nel, Alex van Dyk
Writer: Tertius Kapp
Director: Jaco Bouwer
Why it's good: This creepy South African export would make for an interesting double feature with Ben Wheatley's Into the Earth (mentioned above) because it's about a park ranger who travels deep into a foreboding forest, only to discover a "crazy" man and his young son—but also something much, much scarier, like in a biological sense. Beautifully shot and quietly fascinating.
Where to watch it: In theaters and on VOD
Shudder
17. The Power
Release date: April 8
Cast: Rose Williams, Diveen Henry, Amy Beth Hayes
Writer: Corinna Faith
Director: Corinna Faith
Why it's good: It's all about the atmosphere in this low-key but entirely engaging British chiller about a nurse forced to work in a dingy old hospital that keeps losing its electricity. It's a simple enough premise, but the location and the production design are top-notch, and the general vibe of the piece is just endlessly eerie. Lead actor Rose Williams delivers some great work too, given that the entire movie rests on her shoulders.
Where to watch it: Shudder
16. The Boy Behind the Door
Release date: July 29
Cast: Lonnie Chavis, Ezra Dewey, Kristin Bauer van Straten
Writers: David Charbonier and Justin Powell
Directors: David Charbonier and Justin Powell (The Djinn)
Why it's good: Two young boys are abducted by a mysterious couple. One escapes and does all he can to rescue his still-captured pal. Of course there's a little more to it than that, but the beauty of this intense indie is in its palpable, sustained sense of suspense, and a great lead performance by Lonnie Chavis.
Where to watch it: Shudder
NL Film & TV
15. The Columnist
Release date:
May 7
Cast:
Katja Herbers, Genio de Groot, Rein Hofman
Writer:
Daan Windhorst
Director:
Ivo van Aart
Why it's good:
A frustrated newspaper columnist decides to lash out at her online oppressors in all sorts of brutally violent ways. This pitch-black horror comedy is equal parts timely social commentary and sly slasher flick, and it showcases a fantastic lead performance by Herbers, who stars in the former CBS and now Paramount+ horror series
Evil
(and should be familiar if you've watched
Westworld
or the very underrated atomic-bomb drama
Manhattan
). Don't be surprised if this one gets an "Americanized" remake eventually.
Where to watch it:
VOD
14. Fear Street Part 1: 1994
Release date:
July 2
Cast:
Maya Hawke, Charlene Amoia, David W. Thompson
Writer:
Leigh Janiak & Phil Graziadei
Director:
Leigh Janiak
(
Honeymoon
)
Why it's good:
Clearly inspired by the nostalgic horror trend that brought us
Stranger Things
and a two-part
It
adaptation, this colorful throwback (which is based on the series of R. L. Stine books) focuses on a group of (actual!) teenagers who are forced to contend with a bunch of horrible monsters that have been resurrected by a witch. Best of all, if you like this one it kicks off a nearly instant trilogy of movies, each of which is hitting Netflix in July.
Where to watch it:
Netflix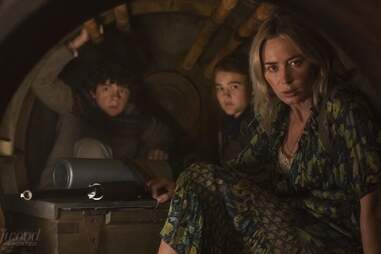 Paramount Pictures
13. A Quiet Place Part II
Release date: May 28
Cast: Emily Blunt, Cillian Murphy, Millicent Simmonds
Writer: John Krasinski
Director: John Krasinski (A Quiet Place)
Why it's good: A good sequel will build upon the foundation of the previous film, and it will expand the premise in new and interesting ways while still retaining the key morsels that the fans want. And that's precisely what the Quiet Place II crew pulls off: We get a taste of what we loved in A Quiet Place, and we also get a compelling new hook to hang the franchise on. This time instead of holing up in their homestead, the Abbott clan realize they have to hit the road in a quest for safer shelter. But the sound-sensitive alien monsters are roaming the countryside looking (er, listening) for new victims.
Where to watch it: In theaters
Volga
12. Superdeep
Release date: June 17
Cast: Milena Radulovic, Sergey Ivanyuk, Nikolay Kovbas
Writer: Arseny Syuhin
Director: Arseny Syuhin
Why it's good: I'm a huge sucker for subterranean horror stories, and while this Russian export isn't quite as novel as last year's Sputnik, there's certainly a lot here to appreciate. Loosely based on an actual event (more like an actual location), it's about a group of scientists who travel (super) deep underground, only to discover something biologically horrible.
Where to watch it: Shudder
11. Till Death
Release date: July 2
Cast: Megan Fox, Eoin Macken, Callan Mulvey
Writer: Jason Carvey
Director: S.K. Dale
Why it's good: On paper, it sounds just like any other home invasion or cat-and-mouse thriller—an unhappy wife is targeted by her husband's enemies. But thanks to a tight script, several solid moments of suspense, and a very strong lead performance from Megan Fox, this tense movie turns out to be an unexpected winner.
Where to watch it: VOD
10. Censor
Release date: June 11
Cast: Niamh Algar, Michael Smiley, Nicholas Burns
Writer: Prano Bailey-Bond, Anthony Fletcher
Director: Prano Bailey-Bond
Why it's good: A clever and quietly unsettling thriller about a British film censor in the 1980s who thinks she sees her long-missing sister in a sleazy homemade horror flick. What begins as a novel sort of mystery story gradually evolves into a freaky piece of psychological horror. Would probably make for a cool double feature with 2012's Berberian Sound Studio.
Where to watch it: in theaters and VOD
RLJE Films/Shudder
9. Jakob's Wife
Release date: April 16
Cast: Barbara Crampton, Larry Fessenden, Bonnie Aarons
Writer: Travis Stevens, Kathy Charles, Mark Steensland
Director: Travis Stevens (Girl on the Third Floor)
Why it's good: Comedy and horror can be a risky balance sometimes, but when you've got a pair of lead actors who know how to handle the two, the result can be pretty great. Such is the case here as two genre veterans play a religious couple who run into a serious vampire problem, and must also contend with some unexpected marital friction at the same time.
Where to watch it: VOD
Arrow Films
8. The Stylist
Release date: March 1
Cast: Brea Grant, Najarra Townsend, Laura Kirk
Writers: Jill Gevargizian, Eric Stolze, Eric Havens
Director: Jill Gevargizian
Why it's good: There is no shortage of compelling horror films that are essentially dark character studies of their main villain, and this nicely shot, dryly amusing slasher is the latest addition to the canon. Imagine Maniac (1980 or 2012), only this time around the killer is a highly disturbed hair stylist who likes to collect various souvenirs from her victims. The Stylist benefits from a disconcertingly classy visual motif, as well as a fantastic lead performance from Najarra Townsend (Contracted).
Where to watch it: VOD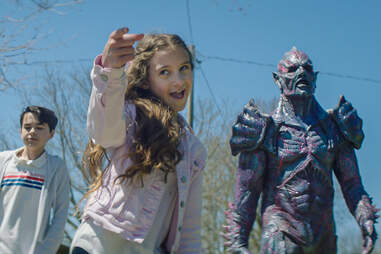 RLJE Films
7. Psycho Goreman
Release date: January 22
Cast: Nita-Josee Hanna, Owen Myre, Adam Brooks
Writer: Steve Kostanski (The Void)
Director: Steve Kostanski (The Void)
Why it's good: It's a gleefully goofy '80s throwback in which a pair of kids befriend (enslave?) a monstrous alien killer. It's all very gory and silly and fun, like a sardonic yet affectionate mockery of Harry and the Hendersons that lands a lot of good laughs through amiable shock value and unapologetic weirdness. The Astron-6 vibe may not work for everyone, but it sure does for me. (Also check out Manborg, The Void, and/or The Editor.)
Where to watch it: Shudder
RLJE Films
6. Prisoners of the Ghostland
Release date:
TBD
Cast:
Nicolas Cage, Sofia Boutella, Nick Cassavetes
Writers:
Aaron Hendry, Reza Sixo Safai
Director:
Sion Sono (
Cold Fish
)
Why it's good:
Nicolas Cage leads an eclectic international ensemble in an equally bizarre casserole of sci-fi, western, horror, and dark comedy. Here, Cage is tasked with venturing into a violent netherworld in an effort to rescue an insane kingpin's granddaughter. This movie, which screened at the
2021 Sundance Film Festival
, might be 10% too gonzo for most mainstream viewers, but those who appreciate Cage's brand of genre insanity will find much to like here.
Where to watch it:
TBD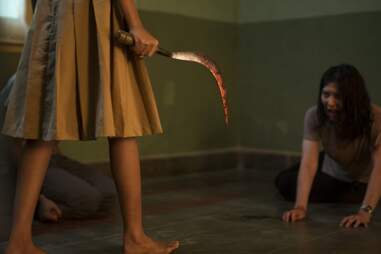 Shudder
5. The Queen of Black Magic
Release date: January 29
Cast: Ario Bayu, Hannah Al Rashid, Adhisty Zara
Writer: Joko Anwar (Impetigore)
Director: Kimo Stamboel (Macabre)
Why it's good: A group of old friends gather at the creepy old orphanage in which they were raised, and all hell breaks loose from the jump. It's a remake of a 1981 film, and one of the coolest, craziest Indonesian horror films of the past several years. If you enjoy this one, you should also check out Satan's Slaves, May the Devil Take You, and May the Devil Take You Too.
Where to watch it: Shudder
Dark Star Pictures
4. Dementer
Release date: March 2
Cast: Brandy Edmiston, Larry Fessenden, Katie Groshong
Director-writer: Chad Crawford Kinkle (Jug Face)
Why it's good: This shocker deals with a former cult member who begins to worry that her disturbing past is about to catch up with her and spill over into her new role as a caregiver. Backed by some excellent performances and some very disturbing themes, it's one of the year's strangest (and best) indie horror releases.
Where to watch it: VOD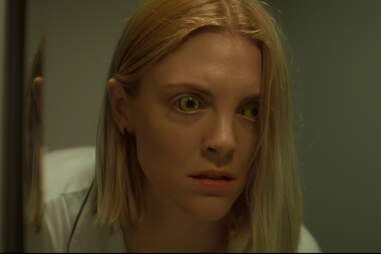 Raven Banner Entertainment/Brainstorm Media
3. Bloodthirsty
Release date: April 23
Cast: Lauren Beatty, Greg Bryk, Katharine King So, Michael Ironside
Writers: Wendy Hill-Tout, Lowell
Director: Amelia Moses (Bleed with Me)
Why it's good: A talented young singer gets the chance to work with a renowned but creepy producer. Of course his studio is located somewhere isolated, and of course she goes there anyway. But this woman is carrying a secret of her own, and it might be even worse than her new patron's. Like lots of very clever horror movies, Bloodthirsty starts out in one somewhat conventional direction before heading off in some more creative ones.
Where to watch it: VOD
2. Werewolves Within
Release date: June 25
Cast: Sam Richardson, Milana Vayntrub, George Basil
Writer: Mishna Wolff
Director: Josh Ruben (Scare Me)
Why it's good: Horror and comedy go together like peanut butter and jelly, but, as with the sandwich, the trick is to get the proportions right. This fantastic creature feature whodunnit, based on a 2016 video game and starring I Think You Should Leave's Richardson, gets it right: it's chock full of funny moments, colorful characters, clever filmmaking techniques, and just enough full-bore horror to keep the fans happy. It's one of the year's best genre surprises.
Where to watch it: VOD and theaters
A24
1. Saint Maud
Cast:
Morfydd Clark, Jennifer Ehle, Lily Knight
Writer-director:
Rose Glass
Why it's good:
Call it a character study, a slow burn psychological thriller, or just a deeply fascinating tale of religious fervor, but there's no denying that
this debut feature from Rose Glass is something special
. It's about a young caretaker who is dealing with a crisis of faith—and a crisis of mental health at the worst possible time.
Where to watch it:
Amazon and Hulu