The Best Horror Movies on HBO and HBO Max
For when you're in the mood for a good scare.
The greatest horror movies of all time get under your skin with original conceits. They sharpen your paranoia to burrow down into your brain. They grab hold of your heart with iconic imagery—you'll never forget Freddy's claws, no matter how hard you try.
Most of the major streaming services take spooky, scary dramas quite seriously, including HBO and HBO Max, which are able to house a number of creepy classics you can't find anywhere else based on their deals with 20th Century, Warner Bros., and Turner Classic Movies. So switch off the lights, grab a blanket, and hold onto your nearest loved one—these stream-ready horror movies are here to fill your head with nightmares. Have fun!
Can't get enough horror? Make sure to check out our list of the best horror movies of 2021 and the best horror movies of 2020.
*Denotes titles available on both HBO and HBO Max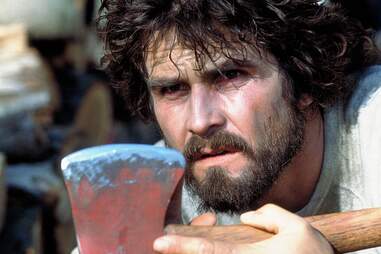 American International Pictures
The Amityville Horror (1979)*
In 1974, Ronald DeFeo Jr. murdered six members of his family, claiming he heard voices in the family home that convinced him to do it. The following year, the Lutz family moved into that same home and started to experience what can only be explained as a haunting, which is where this nightmarish tale really begins. The film is inspired by unexplainable true incidents in that real, eerie Amityville home on Long Island, and is just one of the many installments of the film series; but the 1979 original is by far the scariest, focusing on the original paranormal events that continues to baffle audiences.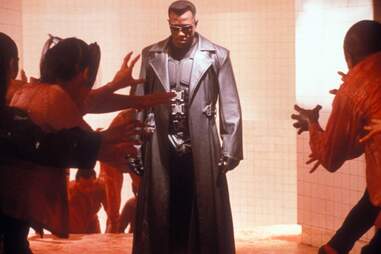 New Line Cinema
The Blade Trilogy (1998, 2002, 2004)
It's hard to imagine Wesley Snipes' Daywalker, decked out in his Oakleys and leather trench coat, as a character that would fit neatly into the modern Marvel Cinematic Universe. From its vampiric blood rave aesthetic to the icky effects of its hunted revenge, the Blade movies have only grown more impressive with the passage of time. Snipes gives some of his most badass performances, staking vamps and tossing off one-liners with an effortlessly cool demeanor. It remains slick, corporate-approved entertainment with a gonzo, cult-film soul.
Columbia Pictures
Bram Stoker's Dracula (1992)
Francis Ford Coppola's adaptation of one of Bram Stroker's gothic classic is an operatic spectacle. While there's been more than a few adaptations inspired by the 1897 novel and its eponymous bloodsucker, the filmmaker returns to the text for a faithful interpretation that comes alive (undead, rather) in its extravagant production and costume designs that's just as romantic as it is eerie. Gary Oldman terrifies as the longing, ancient monster, Winona Ryder is beguiling as his long-lost lover Mina, Anthony Hopkins delivers as Van Helsing, and Keanu Reeves has gotten a fair amount of criticism for his accent and portrayal of Mina's lover Jonathan; you'd be remiss not to sink your teeth into it.
Columbia Pictures
The Craft (1996)
Neve Campbell, Fairuza Balk, Robin Tunney, and Rachel True star in this mid-'90s gem that imagines a high school group of misfits as a literal witch coven. The in-fighting, backstabbing, and jealousy that might be found in any stereotypical teen movie culminate in a series of competing spells, attempted murder, general mayhem, and a climactic fight scene between Tunney's Sarah and Balk's Nancy. It's as action-packed as a teen movie can get.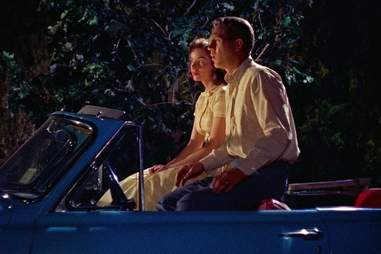 Paramount Pictures/Sony Pictures Releasing
The Blob (1958)
There's not a whole lot to the tale of a giant glob of goo that lands in a small town and begins devouring everyone, but there's something so damn fascinating about the monster itself that this oldie still calls for your attention. It's still so gloriously gross, it's hard to look away.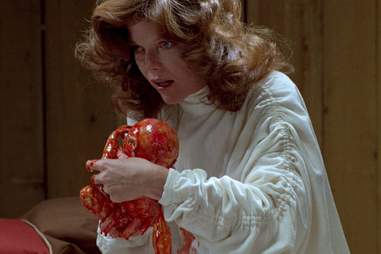 New World Pictures
The Brood (1979)
Body horror purveyor David Cronenberg's The Brood is one distorted film about the monstrous sides of motherhood. Conceptualized as the filmmaker was going through his own divorce, it cozies up to a father (Art Hindle) in distress as his mentally ill wife (Samantha Eggar) seeks treatment from a controversial psychotherapist (Oliver Reed) who supposedly transforms his patients with his mind-and-body-altering practice known as "psychoplasmics." It's not technically a creepy kid movie, but there sure are the creepiest "kids" (AKA inner child/traumas/literal multiplying monsters) you've ever seen running loose and committing murder after murder in this late '70s cult classic. They'll give you the creeps, but even more so, The Brood will leave you feeling sick, thinking about the repercussions of parenthood gone wrong and just how powerful the inner demons left by those relationships are.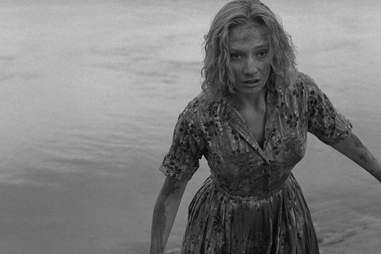 Herts-Lion International Corp
Carnival of Souls (1962)
This low-budget black-and-white indie didn't make much noise when it was released onto the drive-in circuit in the early 1960s, but it's gone on to become one of the most celebrated horror films of the decade. It's a hallucinatory tale of a young woman who believes she's being stalked by a mysterious man—or maybe she's simply losing her mind. Stick with it through the dry spots because act three is straight-up terrifying, provided you've been paying attention and have all the lights off.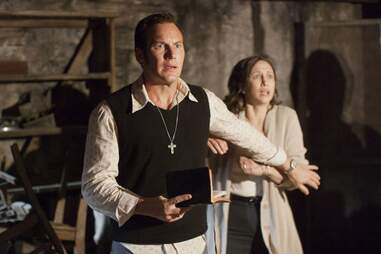 Warner Bros. Pictures
The Conjuring (2013)
James Wan scared the shit out of moviegoers and restored faith in horror films when he dramatized Ed and Lorraine Warren's
haunted farmhouse visit
for the big screen. As the two paranormal investigators (played by Patrick Wilson and Vera Farmiga) go head-to-head with a wicked presence, you'll find yourself audibly yelping and wanting nothing to do with the dark. The impeccably choreographed jump scares are damn good, but the Warrens' nail-biting heroics and the family's intoxicating paranoia woven throughout are even better—proof that big-budget horror flicks don't have to suck.
Warner Bros. Pictures
Doctor Sleep (2019)*
If you're going to make a
sequel to The Shining
, here are two essential requirements: Stephen King has to write it, and there's probably nobody better to adapt it than
Mike Flanagan
, who did a great job with King's
Gerald's Game
. Here, Flanagan delivers another smart, dark, fascinating adaptation; Ewan McGregor plays the now-grown Danny Torrance—and rather excellently—who is forced to hit the road and do battle with a "shine"-swallowing vampire (Rebecca Ferguson, also great) who's nearly immortal.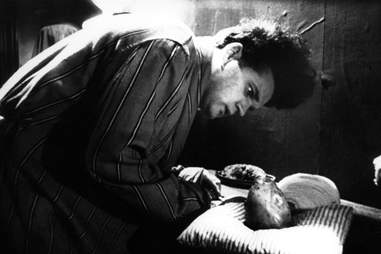 Libra Films
Eraserhead (1977)
Despite being reviled upon its release, David Lynch's (Twin Peaks, Mulholland Drive) Eraserhead is a grotesque masterpiece. About a man (Jack Nance) living in an industrial environment who finds out he's the father of a deformed infant, it's an uncomfortable journey into body horror, as well as the primal fears and anxieties of parenthood, that's made even darker by the accompaniment of Lynch's haunting score. Eraserhead got its cult film status and critical reevaluation playing as a midnight movie back in the day, and it's just as horrific and stunning of a visual experience to watch in the witching hour now. (Plus, you'll be officially clued into what you friends mean when they call something "Lynchian.")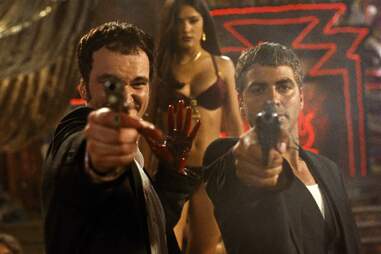 Miramax Films
From Dusk Till Dawn (1996)
You've see pulpy crime movies and you've seen vampire movies—but have you seen the ultra-violent mash-up of them both? From Dusk Till Dawn, written by Quentin Tarantino and directed by Robert Rodriguez, criticizes the cheap, big studio genre movies of the time by throwing the concepts into a blender, along with some Tarantino-esque bloodiness, to create a ridiculous, yet trendy, cult film. Tarantino takes a leading role in the film, opposite George Clooney, as the two play criminals who take a family (featuring patriarch Harvey Keitel) hostage and across the Mexican border. It's there at a dingy desert strip club that they make the fine introduction with a group of bloodthirsty vampires—including Selma Hayek in an iconic appearance—and campy gruesomeness ensues.
Warner Bros. Pictures
The Girl With All the Gifts (2017)*
If you're fed up with "young adult dystopia," and equally over the zombie movie, The Girl With All the Gifts is good news. The movie combines both genres into one tasty combo plate that's unexpected at every turn. It's about a group of survivors who accompany a young zombie/human hybrid into the wilderness after their facility is invaded. A weird one, but it's also really quite good.
Toho
Godzilla (1954)
The horror of nuclear weaponry is manifested as movie history's greatest monster in the signature science-fiction film from Japan. Monster movies had been around for decades, turning common fears into cinema boogeymen, but there was nothing quite like a giant lizard with radioactive breath and an oddly pleasing roar as a symbol for the dangers nuclear weapons posed to man and nature alike. The fact that Godzilla was such a perfectly designed creature helped, of course. This first film set in motion a series of wildly inventive characters and stories that continue to decimate cities on camera even now.
Warner Bros. Pictures
IT

(2017)*
The creepy clown. The red balloon. This adaptation of what's often considered horror genius Stephen King's biggest, toughest, and most popular books didn't disappoint fans. This film is special, turning the story into one of the creepiest, classiest, most well-received King movies in years, largely due to the talented young cast and their portrayal of how damn frightening adolescence is. Bill Skarsgård will make all of your fears very real as the razor-sharp-toothed Pennywise, but the heartwarming ensemble makes conquering them very possible. IT: Chapter Two is also streaming, so you can make a (very long) marathon of it—although the second installment isn't as good as the first, but you do get to see big names like Jessica Chastain, Bill Hader, and James McAvoy as the grown-up versions of those adorable kiddos.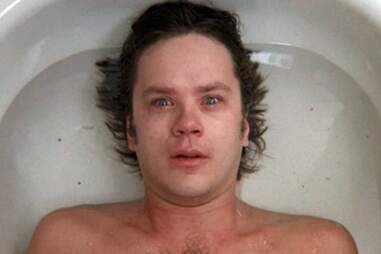 Tri-Star Pictures
Jacob's Ladder (1990)*
Yeah, yeah, we've all heard this twist before: "Turns out the main character was actually dying, and the whole movie was happening in his head!" But few movies have been able to nail that landing as cleverly as Jacob's Ladder. Tim Robbins plays a troubled Vietnam vet who suffers from horrific hallucinations and begins to suspect that the military poisoned his platoon somehow. Turns out that not only was he correct, but he also never made it home from Vietnam. We're actually being treated to the poor guy's final dreams, nightmares, and memories.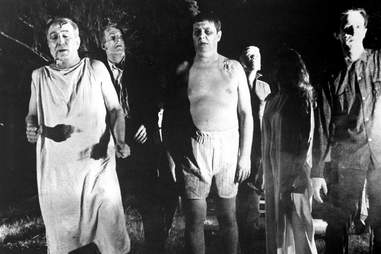 Continental Distribution
Night of the Living Dead (1968)
You don't come across too many horror films that create their very own subgenre, but that's pretty much what George A. Romero's original Night of the Living Dead pulled off. The word "zombie" was around long before 1968, but this was the film that introduced legions of re-animated corpses who wander around in large groups and devour any living human they can get their hands on. The original film remains one of the most influential horror movies ever made, and the sequel is pretty much the Casablanca of zombie cinema.
New Line Cinema
A Nightmare on Elm Street (1984)
The movie that first unleashed Freddy Krueger on your dreams is a reminder that monstrous designs don't have to be corny. Robert Englund's original version of the character is a sadistic serial killer, plunging his knifed hands into victims, and occasionally blowing them up into geysers of blood. Confront this horror story on an all-too-quiet night.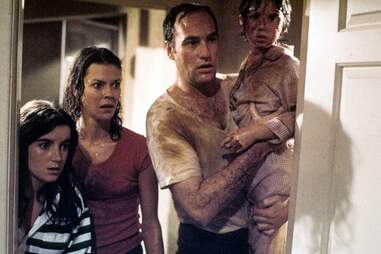 MGM/UA Entertainment Co.
Poltergeist (1982)
If you saw
Poltergeist
growing up, chances are you're probably equally as haunted by Heather O'Rourke as she is in the film, playing a little girl tormented by ghosts in her family home. This Steven Spielberg-penned, Tobe Hooper-directed (
The Texas Chainsaw Massacre
) paranormal flick is a certified cult classic and one of the
best horror films of all time
, coming from a simple premise about a couple whose home is infested with spirits obsessed with reclaiming the space and kidnapping their daughter.
Poltergeist
made rearranged furniture freaky, and you may remember a particularly iconic scene with a fuzzed out vintage television set. It's may be nearly 40 years old, but the creepiness holds up.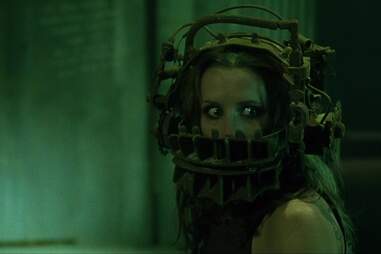 Lions Gate Films
Saw (2004)*
Say what you like about the sequels, but those who caught Saw before all the surprises were spoiled were in for a big, bruising treat. Now-seasoned vets James Wan (director) and Leigh Whannell (writer) as first timers are clearly having a ball with this buffet of horror delights. The low-budget, high-energy horror show goes from suspense to shocks and from police procedural to outright gory mayhem without skipping a beat. We're not ashamed to admit that the ending, with the reveal of the Jigsaw Killer, totally got us. If you think this movie is little more than "torture porn," then you need to give it another spin.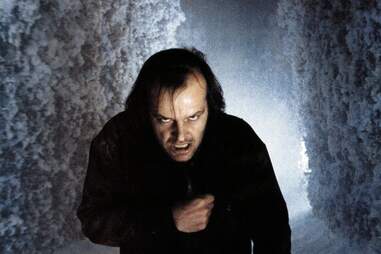 Warner Bros. Pictures
The Shining (1980)
Stephen King hates this psychotropic adaptation of his 1977 horror novel because director Stanley Kubrick took too many liberties. Well, sorry, Mr. King—Kubrick shot a classic. The Shining swaps the book's creaky floor boards and vivid premonitions for silence and a seeping sense of dread. Kubrick preys on his viewers by hanging on the terror—those twins, that wave of blood, the pages and pages of "ALL WORK AND NO PLAY"—and leaving the explanation blank. There are ghosts haunting its every corner of The Overlook Hotel, poisoning Jack Torrence (Jack Nicholson) until he's pure evil. For all the "Here's Johnny!" spoofs in the word, Nicholson's snarling rendition will always cut like an axe.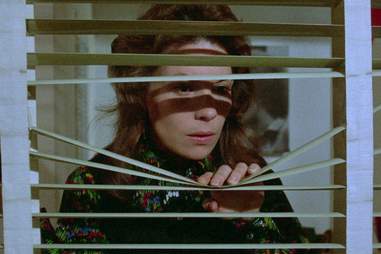 American International Pictures
Sisters (1972)
Brian De Palma's (Scarface, Carrie) first entry into thrillers may be a low-budget slasher, but there's a lot more to this psychological horror show that meets the eye. A blatant homage to Hitchcock, the film follows a murder and cover-up committed by a young model (and maybe/maybe not her twin sister) played by Margot Kidder and the investigation by a journalist (Jennifer Salt) who witnesses the event through her window across the way. Sisters takes a few turns, but De Palma's stylish split-screen shots and experimental methods to get into his subjects' psyches is a trip worth taking. This madhouse of a horror movie is disturbed in all the right ways.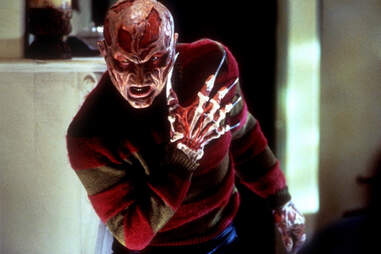 New Line Cinema
Wes Craven's New Nightmare (1994)
Follow up your viewing of A Nightmare on Elm Street with Wes Craven's New Nightmare, which is by no means just a meta warm-up for the director's late-career resurgence. By casting the actors from his 1984 original Nightmare on Elm Street as themselves, he finds a surprisingly thoughtful, poignant way back into a franchise that was almost swallowed by camp after years of catchphrase-filled sequels. Funny, subtle, and genuinely frightening, New Nightmare is a work of keen-self-criticism from a genuine master of horror.