The Best Horror Movies on Hulu
Get your spooky movie fix.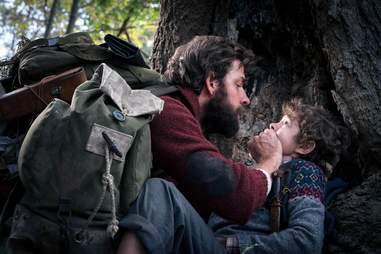 Paramount Pictures
A Quiet Place (2018)
The world has been overrun by creatures who are completely blind, but have uncanny hearing and will kill anything they sense nearby. So how does a family with small children survive in a forcibly silent world? Find out in this unexpectedly excellent chiller from John Krasinski in his directorial debut that doesn't need a whole lot of dialogue to deliver tons of suspense, tension, and plain old scariness. See this one with a bunch of friends, and make sure they all stay completely quiet. It's part of the fun.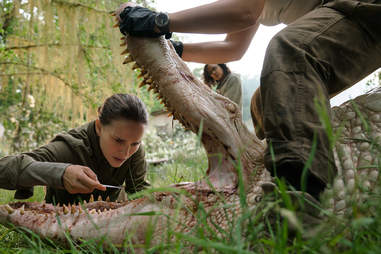 Paramount Pictures
Annihilation (2018)
Filmmaker Alex Garland adapted Jeff VanderMeer's sci-fi novel into an equally kaleidoscopic, unnerving film that questions the nature of identity. While Garland doesn't stick to the book's plot entirely, he keeps the core concept: A team of women, including Portman's grief-stricken biology professor, venture into a quarantined territory of Florida known only as "Area X" to investigate a series of unexplained phenomena and disappearances. The journey quickly turns perilous, and it becomes clear that group won't make it out alive; as the viewer, you also won't want to turn back from this insane, mind-boggling adventure.
Neon
Assassination Nation (2018)
Assassination Nation is sort of like what would happen if a woke Instagram account came to life and got really, really violent. It's a tale of social media gone wrong, and a nasty 2018 time capsule. Telegraphing exactly what's going to happen, director Sam Levinson (Euphoria) sets his town in modern day Salem, where everything goes haywire once the residents' cell phones start getting hacked. The townspeople head quickly into hysteria, and our heroine Lily (Odessa Young) and her four girlfriends are at the center of their ire. Levinson has an eye for horror -- and one sequence that watches a home invasion from the outside is particularly stylish and chilling -- but it's the vilifying of liberated young women and their bodies, and the subject of self-righteousness that's most terrifying here. 
Lionsgate
Cabin in the Woods (2011)
Drew Goddard's (The Martian) horror-comedy Cabin in the Woods plays off the classically creepy, tried-and-true trope of the, you guessed it, cabin in the woods. It's set up with a handful of cliches -- a group of college kids, representing each stereotype you'd expect in a horror flick, go away for a weekend stay in a desolate cabin -- but takes a turn, and a smart one at that. There isn't a group of cannibals or a psychopathic innkeeper out to get them, but rather a whole organization unleashing supernatural beings onto them for their own entertainment. Starring a freshly Thor-ed out Chris Hemsworth and produced by Joss Whedon, Cabin in the Woods goes in hard to subvert its own premise from the (under)ground up to become an unexpectedly fun and bloody type of creature feature.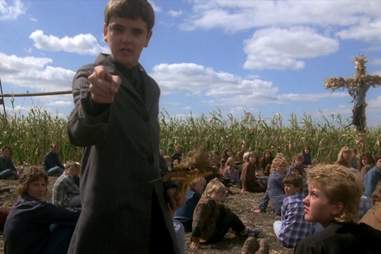 New World Pictures
Children of the Corn (1984)
This adaptation of Stephen King's horror short story is campy and light on production value, but hell, those kids. From the opening massacre at a local diner to the several deaths at the hands of "He Who Walks Behind the Rows," this rural shlock pairs perfectly with a bucket of your own (popped) corn.
Warner Bros. Pictures
The Conjuring (2013)
James Wan scared the shit out of moviegoers and restored faith in horror films when he dramatized Ed and Lorraine Warren's haunted farmhouse visit for the big screen. As the two paranormal investigators (played by Patrick Wilson and Vera Farmiga) go head-to-head with a wicked presence, you'll find yourself audibly yelping and wanting nothing to do with the dark. The impeccably choreographed jump scares are damn good, but the Warrens' nail-biting heroics and the family's intoxicating paranoia woven throughout are even better -- proof that big-budget horror flicks don't have to suck.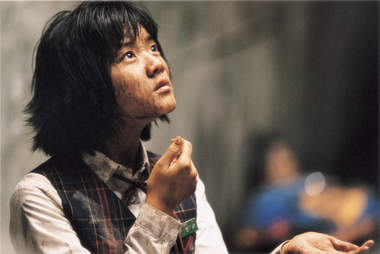 Magnolia Pictures
The Host (2006)
This monster movie from Bong Joon-ho, the gifted director behind Snowpiercer, was a huge hit in South Korea, and it's easy to see why: Thrilling action scenes, incredible effects, and slapstick humor make it the perfect antidote to Hollywood's self-serious blockbusters. Switching tones, moods, and even genres between scenes, it's a movie that defies easy categorization, and flits adeptly between the sentimental, the political, and the horrific. You'll never believe that a movie about a mutated killer fish can make you feel so many complicated emotions.
Gunpowder & Sky/Arrow Films
Hounds of Love (2017)
A young woman (Emma Booth) is abducted by a monstrous husband & wife (Ashleigh Cummings, Stephen Curry) -- who have clearly killed before -- and does all she can to stay alive (or escape) by generating suspicions between her two captors. Loosely based on actual events, this stark Australian import may sound wildly familiar to those who appreciate crime fiction, but this film manages to hook you early and suck you in like quicksand, thanks in large part to some great actors, but also because of director Ben Young's gradual, persistent escalation of tension.
Hulu
Into the Dark: All That We Destroy (2019)
A brilliant scientist has discovered the key to human cloning, and what does she use it for? Crafting a collection of victims for her psychotic son. Yeah. This one's pretty dark. But it's also fairly smart, focusing as it does on the prickly moral quandaries that inevitably arise when someone pushes Mother Nature too far -- or when you've got a bloodthirsty lunatic locked inside your house. Hulu's Into the Dark horror film series has been a decidedly mixed bag -- although certainly worthy of a look if you dig the scary stuff -- but this one is easily one of the best of the series.
Sandrew Metronome
Let the Right One In (2008)
The timing was perfect for this grimly brilliant Swedish import: vampires were getting more than a little anemic (sorry) and long in the tooth (sorry again), but this fascinating adaptation of John Lindqvist's celebrated novel popped up and reminded us that vampire movies could still draw blood (very, very sorry). It's a simple story of a bullied young boy and an old vampire trapped in a teenager's body -- but it manages to branch off in a variety of unexpected directions. And hey, the American remake (Let Me In) is pretty solid in its own right.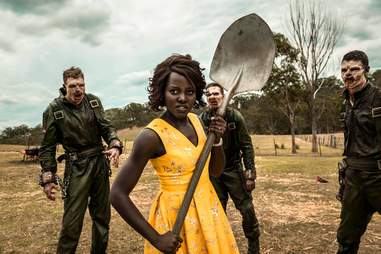 Hulu
Little Monsters (2019)
Just when you think the zombie comedy is played out, we get this energetic winner from Australia. Lupita Nyong'o (who proved to be an excellent horror leading lady in Us) plays a lovable schoolteacher who has to contend with an obnoxious new suitor, a whole bunch of adorable kids, an astoundingly annoying TV host, and a sudden zombie invasion. It's a lot of fun.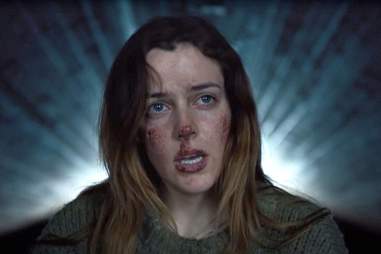 Neon
The Lodge (2020)
Two unhappy kids are forced to spend some time at an isolated lodge with their new -- and highly unwelcome -- stepmother (Riley Keough), only to discover all sorts of horrible secrets. Beautifully shot and consistently creepy, this new spin on old fairy tales tropes is loaded with great performances, fun jolts, and unexpected surprises of the nastiest kind.
Universal Pictures
Marrowbone (2017)
This Spanish film seamlessly spans a number of genres -- one moment you'll feel as if you're watching a haunting, and then next you'll be convinced it's a psychological thriller. Telling the story of a family of four siblings (including new genre stars Mia Goth and Charlie Heaton of Stranger Things) who live at the classically mysterious, decrepit home at the end of the lane, the plot unfolds as you learn they may be running from someone, or perhaps something in their own home. At its climax, you're in for a twist, though throughout the film, you'll be feeling chills deep in your bones from Marrowbone's eerily beautiful aesthetics. 
Momentum Pictures
Mom & Dad (2018)
We've all see horror movies in which kids lose their minds and start attacking their parents. Now we have the reverse. In Mom & Dad, a mysterious ailment makes caregivers want to kill their own children. It's a gruesome joke, but fortunately Nicolas Cage and Selma Blair are in on it. Whether or not the film goes too far with this premise, or plays it a little too safe, is up to the viewer, but it's certainly an entertaining dark comedy-horror combo.
Paramount Pictures
Overlord (2018)
While many films based on video games turn out to be... underwhelming, to say the least, a solid handful of them actually manage to wring some of the same memorable fun out of the games and sprinkle it into the movies. Overlord, for example, feels like it could be called Castle Wolfenstein: The Movie. In other words: It's about a platoon of American soldiers in WWII who are dropped behind enemy lines and ordered to destroy an important communications tower. That's inside a horrific fortress. Where horrible experiments have taken place. And now there are monsters. With Game of Thrones' Pilou Asbæk giving a gonzo performance that puts the cherry on top, Overlord is bloody entertaining. 
Neon
Parasite (2019)
Call it a domestic thriller. Call it a (very) dark comedy or a scathing indictment of capitalism. You could even call it a horror movie, in some ways, but to explain precisely why would ruin some of the fun. Suffice to say that all the praise you've heard about Bong Joon-ho's Korean Oscar-winning masterpiece is well-deserved. This is social satire wrapped in a twisted soap opera with a side of unflinching brutality.
Paramount Pictures
Pet Sematary (2019)
There's not much here that fans of the Stephen King novel (and Mary Lambert's 1989 adaptation) haven't seen before, but this one avoids the "stinky remake" curse because it does manage to throw in a few new twists you won't see coming. The cast featuring Jason Clarke and John Lithgow is great, and the titular "sematary" is brought to life (relatively speaking) in very creepy fashion. Fair warning that this is definitely a downbeat horror story about the risks of resurrection, but hey, so is the source material.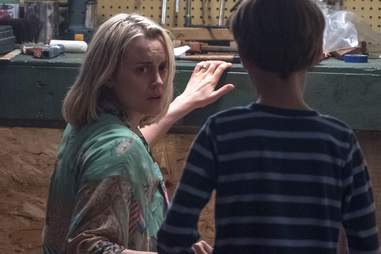 Orion Pictures
The Prodigy (2019)
There's always room for another "killer kid" flick, and while this one borrows quite a bit from both The Omen and Child's Play (yes, really), it also earns a lot of credit for being well-crafted, consistently creepy, and unexpectedly, well, dark. Plus, that lead kid (Jackson Robert Scott) is pretty damn great as he starts to ceaselessly freak out his mom (Taylor Schilling) who doesn't know if she should tap into her maternal instinct or stray from it.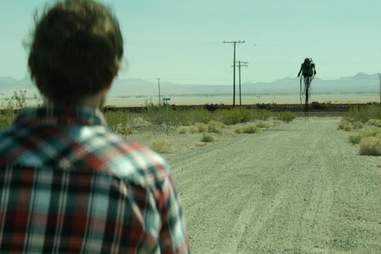 The Orchard
Southbound (2016)
Every year we see one or two horror "anthology" movies reinvigorate the medium just by existing. Slightly more impressive is a multi-story anthology that somehow manages to tie all the stories together at the end. There isn't a weak link in Southbound, which entwines five stories into a tangible desert highway purgatory. Those who hold a fondness for old EC horror comics (or the original Creepshow) would do well to track this one down.
Gunpowder & Sky
Villains (2019)
This strange little horror-comedy from filmmaking duo Dan Berk and Robert Olsen may be stuck in the humble confines of a middle class home, but its creepiness holds no bounds. When a millennial couple of Bonnie and Clyde wannabes breaks into a home, they discover something rather disturbing and find they're up against an actual pair of vile criminals. Kyra Sedgwick and Jeffrey Donovan bring on the weird so very well, and the chemistry of their young counterpart of Bill Skarsgård and Maika Monroe is through the roof. It's a quick, at times silly watch, and will put all of your bad boy or bad girl fantasies to bed. 
Oscilloscope Laboratories
We Need to Talk About Kevin (2011)
Horror at its most primal. Director Lynne Ramsay teams up with the incredible Tilda Swinton for a stylized, psychologically rich portrait of a mother sent into crisis after her son commits an unforgivable crime. Featuring winning turns from John C. Reilly and Ezra Miller, the movie explores visceral, ugly truths without blinking. It's the type of movie that will get you talking -- unless you're left in stunned silence. 
Need help finding something to watch? Sign up here for our weekly Streamail newsletter to get streaming recommendations delivered straight to your inbox.