The Most Underrated Horror Movies of Summer 2016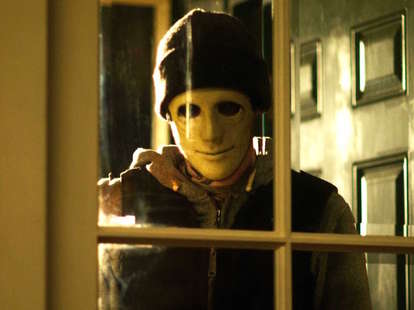 Hush

| Netflix
Hush

| Netflix
Most diehard multiplex-goers would agree that, aside from a few standouts, this hasn't been one of the all-time great "movie summers." There's no universal hit, no Mad Max equivalent barreling towards Oscar season. Still, horror fans were well-nourished, with hits like The Conjuring 2, Lights Out, The Shallows, and Don't Breathe, and (on Netflix) the smoothly enjoyable Stranger Things. The season was so solid for genre movies, we're willing to bet there were a few you missed. Here are the under-the-radar horror/thriller picks to chill you over these final days of summer heat.
Carnage Park
In some ways, this '70s-grunge-inspired indie is your standard "psycho chases victim" story. In other ways, it's one of the most visceral and perceptible movies of the year, thanks in large part to a uniquely ominous setting and a handful of excellent performances. The title location is a remote patch of California owned by a Vietnam War sniper. When two thieves stumble into it... that's where the "visceral" kicks in.
How to see it: Rent on iTunes, Amazon, and VOD
Clown
Before Marvel recruited him to shoot the new Spider-Man movie, director Jon Watts reinvented the horror-movie clown with this novel and decidedly bizarre portrait of madness. This gleefully nasty indie, produced by Hostel director Eli Roth, is about a guy who becomes "possessed" by an evil clown suit. While it sounds like it could be a comedy sketch, the movie actually has energy and ingenuity to spare.
How to see it: Rent on iTunes, Amazon, and VOD
The Darkness
This quietly engaging horror story about a potentially possessed kid isn't the most unique campfire story you'll ever hear, but it does feature fun work from Kevin Bacon and Radha Mitchell, as well as a handful of legitimately creepy moments. The Darkness didn't make much of a splash at the summer box office, but it seems tailor-made for home viewing, where mildly surprised reactions can become legit nightmares.
How to see it: Rent on VOD
High-Rise
A J.G. Ballard adaptation by way of Ben Wheatley (Kill List), High-Rise is a darkly comedic thriller awash in snarky social commentary. With a spine-tingling performance by Tom Hiddleston, it's still a darkly cool, oddly clever, and visually dazzling piece of genre pulp. You have not seen true terror until you've seen Hiddleston gnawing on the bones of bonfire-cooked house pets. High-Rise is dark.
How to see it: Rent on iTunes, Amazon, and VOD
Hush
This Netflix exclusive is about an aurally challenged but entirely self-sufficient young woman who spends one horrific evening being stalked, chased, and terrorized by a mysterious psychopath. Refreshingly simple, cleverly efficient, and powerfully suspenseful, Hush should wind up on a top 10 or two by year's end.
How to see it: Stream on Netflix
I Am Not a Serial Killer
A teenager worries that he may have homicidal tendencies, so he keeps himself busy by stalking an old man who absolutely does have homicidal tendencies. I Am Not a Serial Killer, based on the novel by Dan Wells, strikes a great balance between character-based melodrama, insightful character study, and fascinating terror. Plus, it's got Christopher Lloyd!
How to see it: Brand new to iTunes, Amazon, and VOD
The Neon Demon
Indie darling Nicolas Winding Refn summons the spirit of Suspiria director Dario Argento and delivers one of the weirdest genre flicks of the year. The Neon Demon tells the story of a young model who gets caught up with a plainly dangerous group of women. A creepy mood eventually blossoms into full-blown body horror, but saying anything more would spoil the fun. With dazzling color and geometric designs, Refn's rumbling thriller is easily one of the most visually decadent movies of the year.
How to see it: Rent on iTunes, Amazon, and VOD
Nerve
Before it devolves into a finale of outright lunacy, this energetic and ludicrous thriller follows two young lovers who meet while participating in an online version of Truth or Dare. Nerve is from the guys who brought us Catfish and Paranormal 3, and plays a little like the 20-something version of Crank. That's an endorsement.
How to see it: In limited theaters
The Ones Below
A couple with a baby on the way butts heads with their new downstairs neighbors, and things get all sorts of creepy and uncomfortable. Not the flashiest of the summer's indie thrillers, but it is a quietly compelling little psycho-thriller, starring Clémence Poésy (Harry Potter and the Goblet of Fire) doing a take on Rosemary's Baby.
How to see it: Rent on iTunes, Amazon, and VOD
Sun Choke
An emotionally disturbed young woman relies (perhaps too much) on a therapist who doesn't exactly have her patient's best interests in mind. Solid performances and a starkly eerie tone make this a memorable indie.
How to see it: Rent on iTunes, Amazon, and VOD
Sign up here for our daily Thrillist email, and get your fix of the best in food/drink/fun.
Scott Weinberg is a film writer and critic who has written for outlets such as
Playboy
, FEARnet, Nerdist, and many others. He tweets @scotteweinberg but ignores mean people.